If you follow me on Instagram then you saw that our kitchen, hallway and dining room got flooded at the beginning of the summer. 🤦🏼‍♀️ We had taken the kids to my parents while we went on our anniversary trip. We were gone less than 24 hours and in that time our fridge water filter busted and flooded our engineered hardwood floors.
We had come back to town to attend a funeral, then stop by the house to change our clothes and pack a few more things, then head out of town. Imagine our surprise when we came home to 2 inches of water on the floor and water spewing out of our fridge.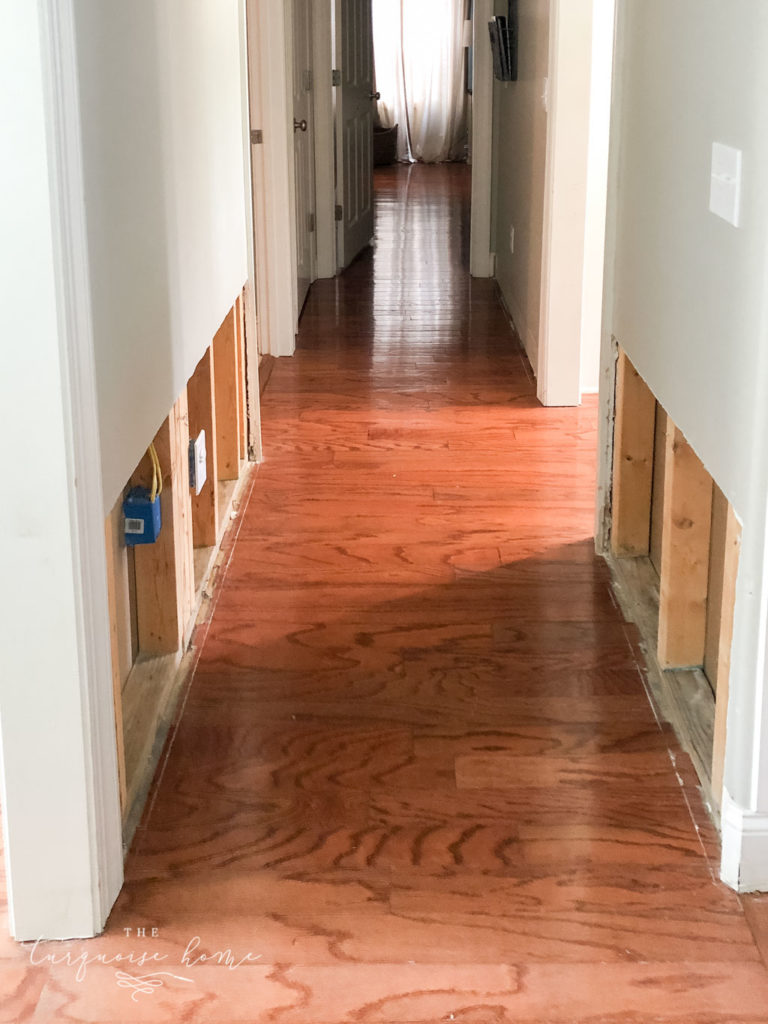 Less than 24 hours of water on the floor and they were ruined!
I can't say enough about our State Farm agent who sprung into action. It was 4:30 on the Friday of Memorial Day weekend and he had Roto Rooter at our house 45 minutes later to start the clean-up process. They were able to dry out the floors while we were on our trip, which was a huge blessing!
But since our floors are continuous through most of our house, we are going to have to replace it all. (Only 3 bedrooms have carpet and the bathrooms and laundry room are tile. Everything else is the same engineered hardwood.)
Even though they got there quickly to dry out the floors, the glue was already unstuck, some of the boards buckled and the finish was messed up.
Honestly I've wanted to replace the floors since we moved in. 😜 They were standard reddish-brown engineered hardwood. Way too red for my taste. I've long-time dreamed of getting something with a wider plank, hand-scraped and a gray/brown tone instead of red.
So while this was unexpected and a pain to have to do it now, I'm excited to finally get rid of the red floors! 🎉
The Shopping Process
Narrowing down what I liked was a lot harder than I thought it would be. First, we had to decide what type of flooring to choose. I looked at engineered hardwood, laminate, luxury vinyl plank and even tile.
The flooring that rose to the top quickly was luxury vinyl plank. It's pet and kid resistant (no scratching) and typically waterproof. The higher end products have a cork backing, which helps prevent mold and mildew and helps with that hollow sound when you're walking on it.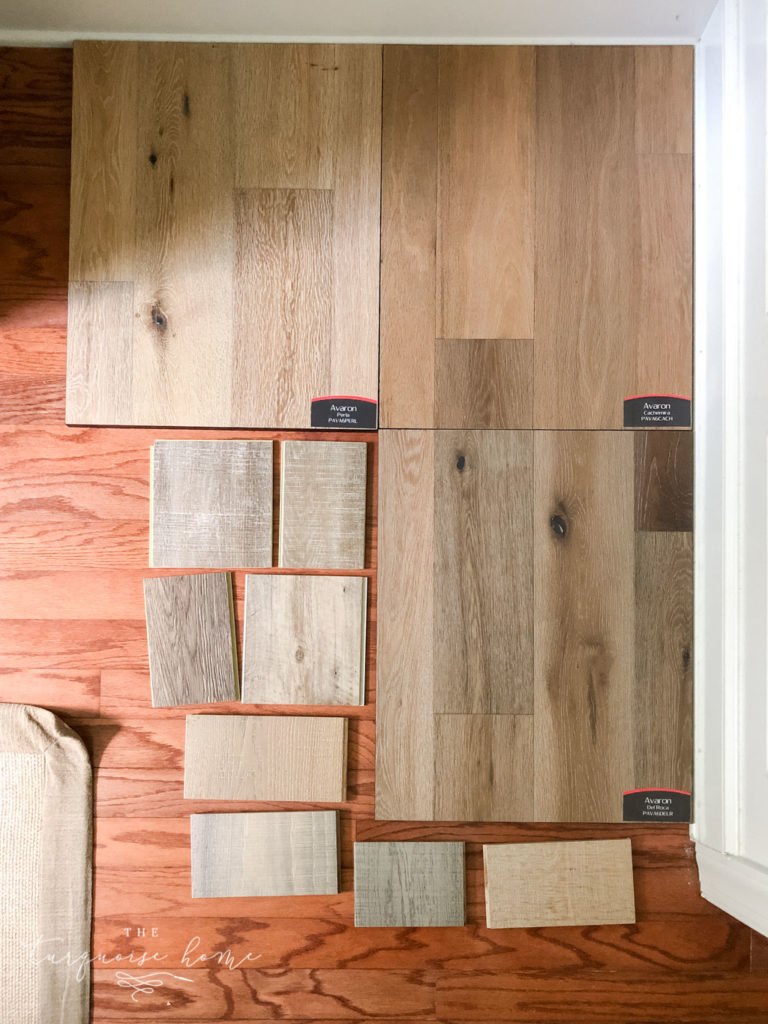 We sampled a bunch of engineered hardwood, but we kept coming back to the finishes/colors of the luxury vinyl plank. They had the color ranges and the look I was going for.
All of the flooring professionals that I talked to kept assuring me that Luxury Vinyl Plank is mostly what people are putting in the new homes in our area, so it shouldn't hurt resale value at all!
I'm a little bit nervous about how it will look and feel once it's in, but I'll be sure to share it all as it's done. Follow me on Instagram for the most up-to-date happenings and behind-the-scenes process.
Which Floors Did We Pick?
Wondering which one we picked?? It's in this small section of samples…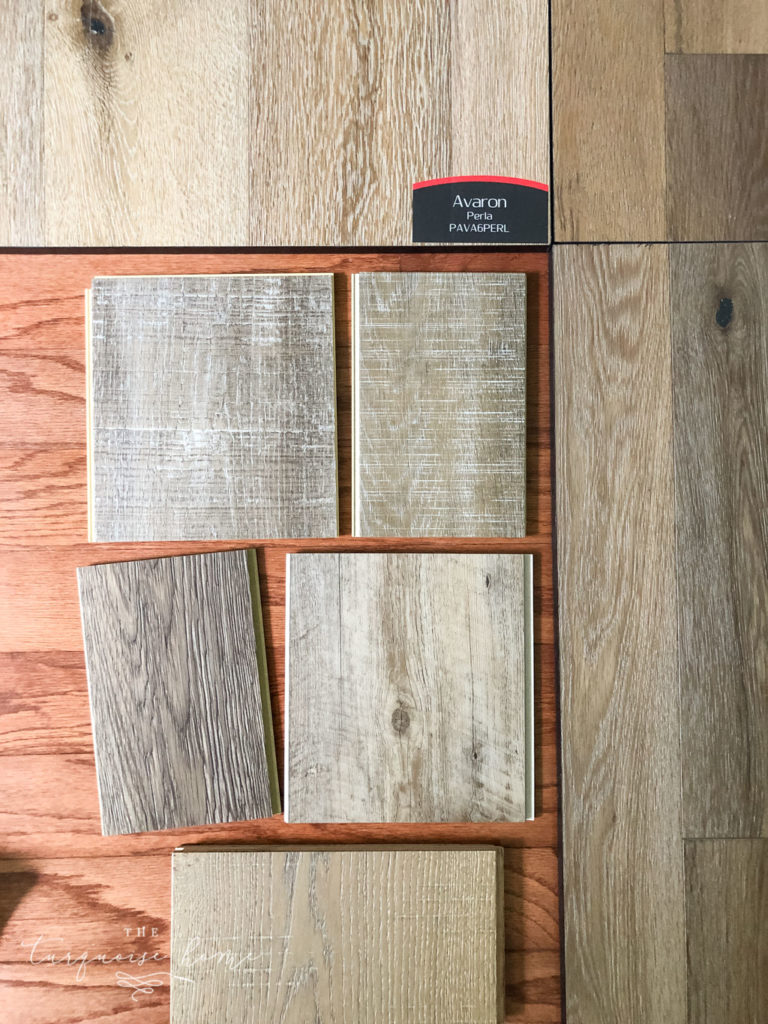 It's Boardwalk Oak by COREtec, which is the sample directly under the "Avaron" sticker. It's the one I fell in love with first and kept coming back to over and over again. We saw a larger sample in a showroom and it's gorgeous with low color variation.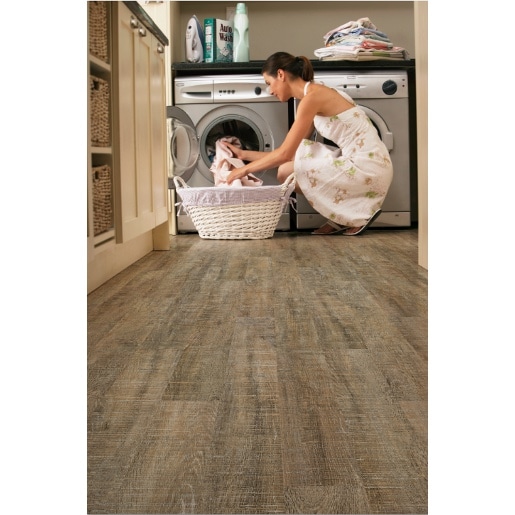 It's a 5 inch-wide plank. We would have preferred a 7″+ plank, but we loved the color so much that we decided a 5″ plank would be fine. The Nantucket Oak is a veeeerrrry similar, but a tad more gray, less brown than Boardwalk Oak.
They should start the flooring removal process next week and have everything installed by the end of July! I'm so excited to see how it all looks!
Let me know in the comments if you have any questions about the process and I'll be sure to answer them!
MORE POSTS YOU WILL LOVE: