These Christmas tree decorating ideas will have you feeling extra festive this season. Here's everything you need to know about decorating your tree like a pro.
Christmas is in the air, and you can almost smell the fresh-cut trees (or the artificial ones, no judgment)! I love the traditions of hunting for the perfect tree then bringing it home to decorate it.
If you are looking for some inspiration this year, I have this lovely list of Christmas tree decorating ideas for you to look at. The thing I love about all of these Christmas tree ideas is that you can basically do no wrong.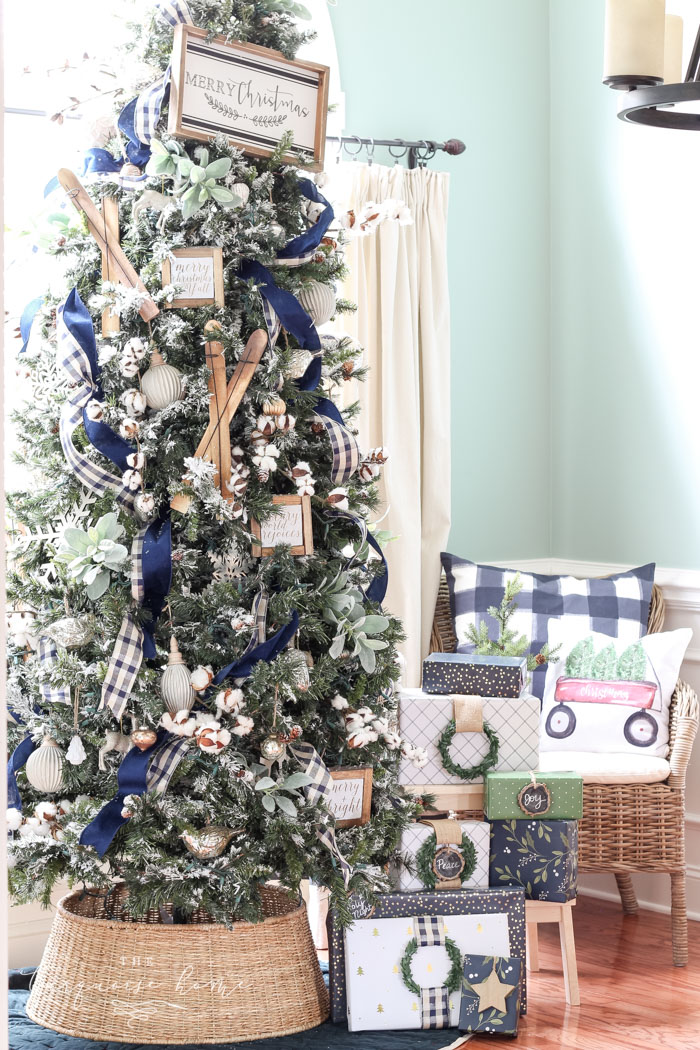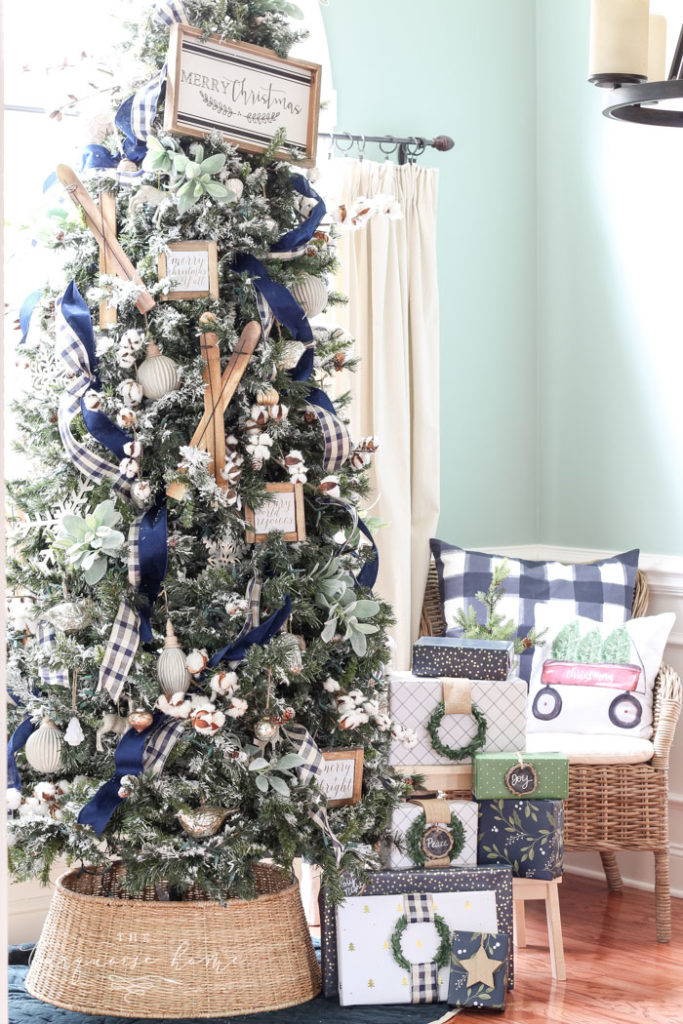 You can go as simple or bold as you want with your festive decor—don't be afraid to add your personality in. Many of us struggle with how exactly to master tree decorating—I am happy to help remedy that. You'll be decorating like a pro before you know it.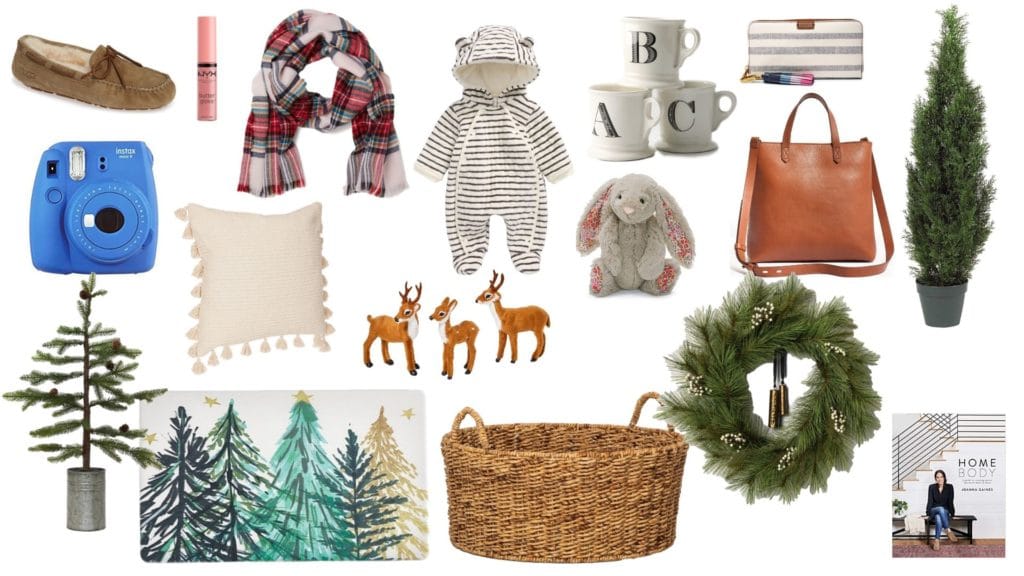 Shop Gift Guides for Everyone
& My Christmas Decor Shop
How To Decorate A Christmas Tree
There isn't a wrong way to decorate a Christmas tree, but the process can be much less stressful and feel more cohesive if you follow these tips:
Pick a tree. Whether you are going with an artificial tree or a fresh cut one, it's important to start here. ☺️ I gathered the BEST artificial Christmas trees in this post (click here). Happy shopping!
Choose a theme. I love to make a themed tree because it adds so much beauty while also keeping the decorating process very streamlined. You can choose a more eclectic design or opt for a classic one if you prefer. The options are endless either way.
Add those lights. The first thing to add is always the lights. It will make your experience much smoother. Plus, having your lights in place will help you decide where to put everything else. Make sure to keep the lights turned on as you decorate, so you can see how everything looks together.
Hang the ornaments. Spread out your ornaments, so they are evenly placed on the tree. A general rule of thumb is that you should have about 10 decorations per foot of tree. So if you have a 7-foot tree, you are going to need 70 ornaments to fill it appropriately.
Place garlands, tinsel or ribbons on the tree. If you are planning to add garland, tinsel or ribbon, this is the next step. You can do a variety of all three, or just one, or even skip this step entirely—whatever you like.
Don't forget the tree topper. Use a ribbon, angel, star, or anything else that you love as the topper. It's going to be the focal point of the tree, so make sure it's a piece you love.
Easy Christmas Tree Decorating Ideas
Now that we've covered the basics of how to decorate a Christmas tree, it's time to get to the Christmas tree decorating ideas!
Add DIY Accent Pieces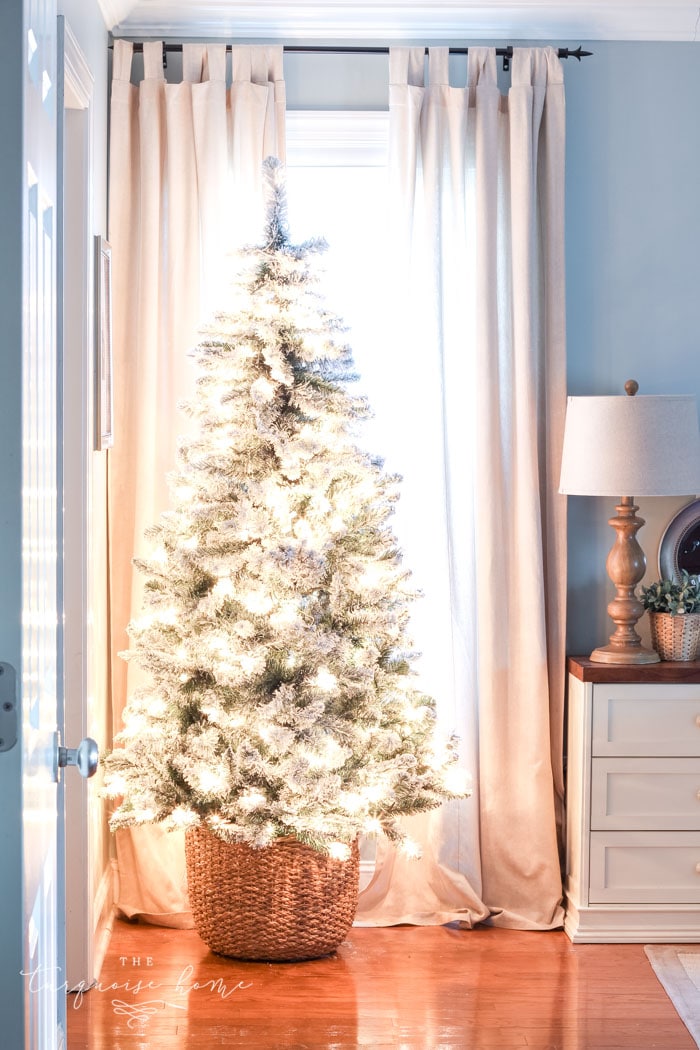 For this flocked Christmas tree I added to our master bedroom, I opted to keep it simple. Using white lights to add charm and character, I was able to create the perfect classic, elegant farmhouse look.
I also made this DIY tree basket with some basic supplies. It was super easy! I didn't have to spend a lot of time, energy, or money on this project, and the result is fantastic and festive.
Fill Your Tree with Vibrant Colors
Color lovers, this Christmas tree is for you! This tree is breathtaking with all the ombre vibrancy—it's definitely one that made me stop mid scroll!
Michael at Inspired by Charm created a delightful look that will go with most decorating styles. Placing the tree in front of the two large windows puts lots of natural light on the Christmas tree too.
You can recreate this look with just one color as well, rather than a rainbow. If you love blue, for example, put your dark blue ornaments on the bottom of the tree and the lightest ones on top for that ombre effect. Just choose your favorite colors and get to work.
Add Natural Elements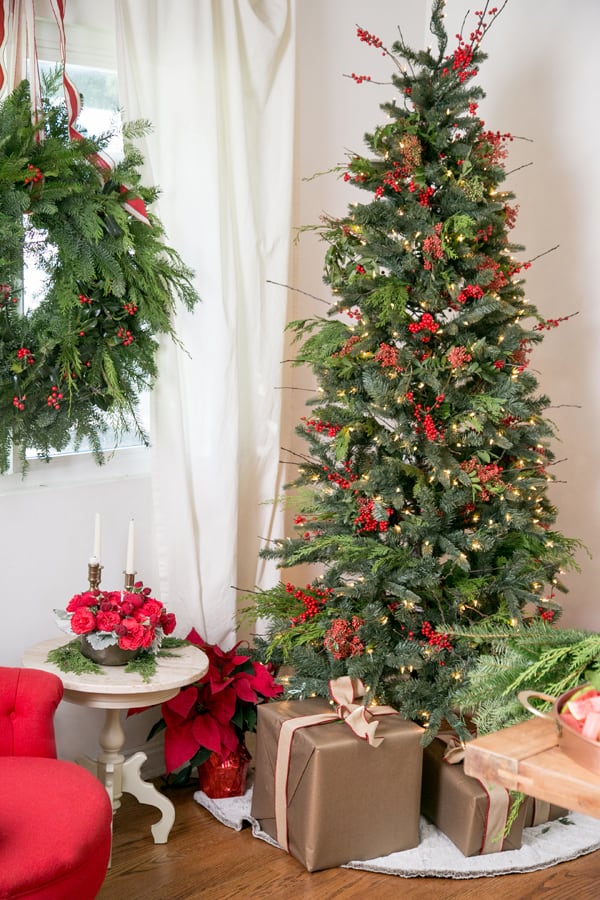 You can even skip the ornaments all together like Eden at Sugar and Charm did. Instead of opting for decorations, she chooses vibrant and colorful berries to decorate her tree.
While I am not always a fan of red, I love how subtle and beautiful it is, and am inspired to add red berries to my own decor this year. The greenery, white lights, and berries are a perfect complement to each other. Take a look at her whole home Christmas tour for even more inspiration.
Use Timeless Metallics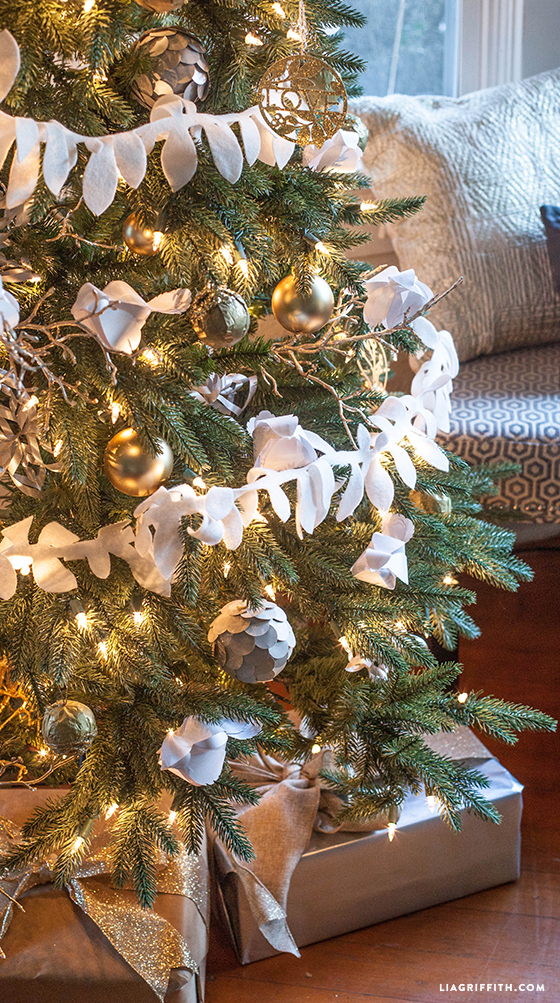 Metallic ornaments are a long-time favorite when it comes to Christmas tree ideas because they are timeless. Decorating with metallic ornaments has been around forever, and I hope it stays that way. Lia Griffith at Craft Your Life used a lot of homemade Christmas ornaments, and it couldn't have turned out any more gorgeous!
Layer in Buffalo Check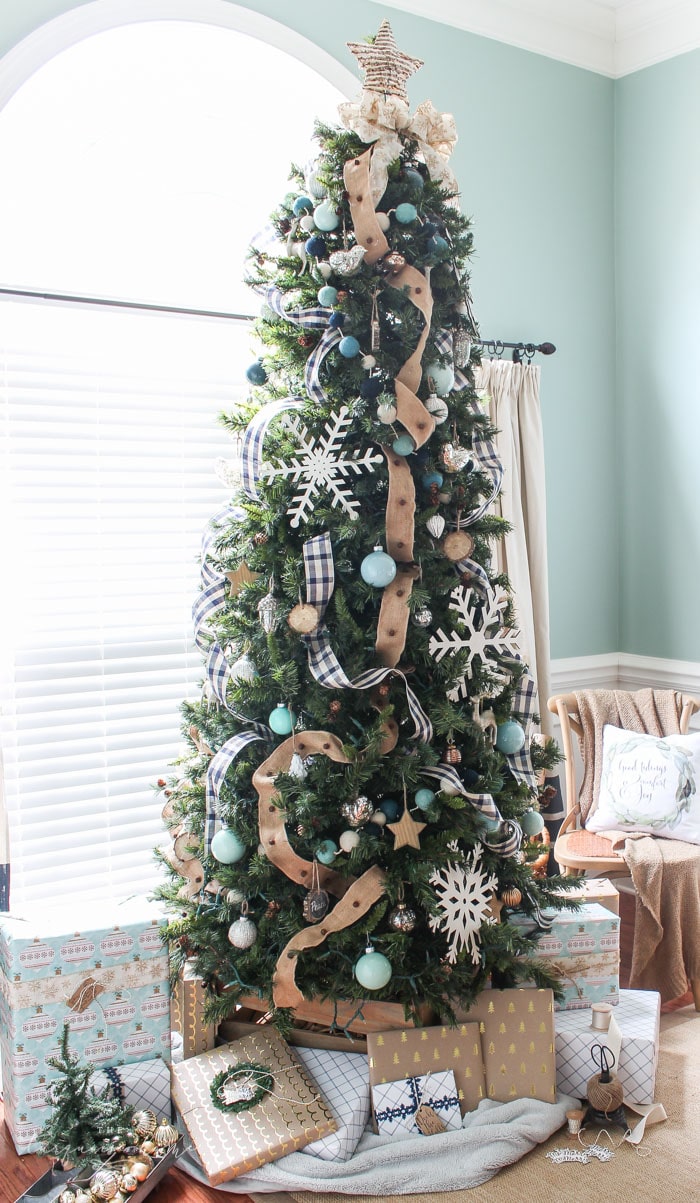 I never get tired of finding all sorts of Christmas tree decorating ideas. One of my favorites from the past is this buffalo check tree!
However, I didn't want to opt for traditional red and black; I wanted something different. When I saw the navy colored buffalo check, I knew right away that I needed it!
Combining the checkered ribbon, with the rustic burlap ribbons, turquoise ornaments, and large white snowflakes created a look that I absolutely loved.
Add Charming Farmhouse Style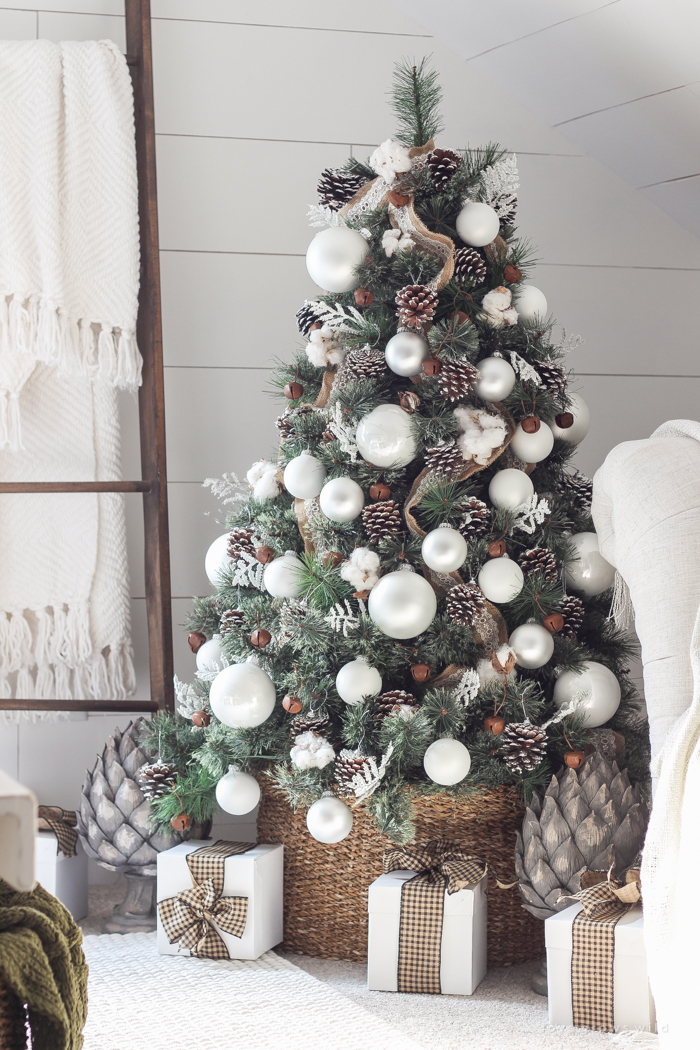 This tranquil and inviting farmhouse tree is perfect for the holiday season. Cotton, pinecones, a variety of white ornaments, and rustic ribbon with lace create a beautiful, serene tree. Liz at Love Grows Wild, really knew what she was doing when she came up with this Christmas tree decorating idea!
You'll also notice that all of the packages are wrapped to match each other too. That's a small detail that adds to the charm of this cute Christmas tree idea. She also opted to add a large wicker basket to the base of the tree, which you know I love
Country Plaid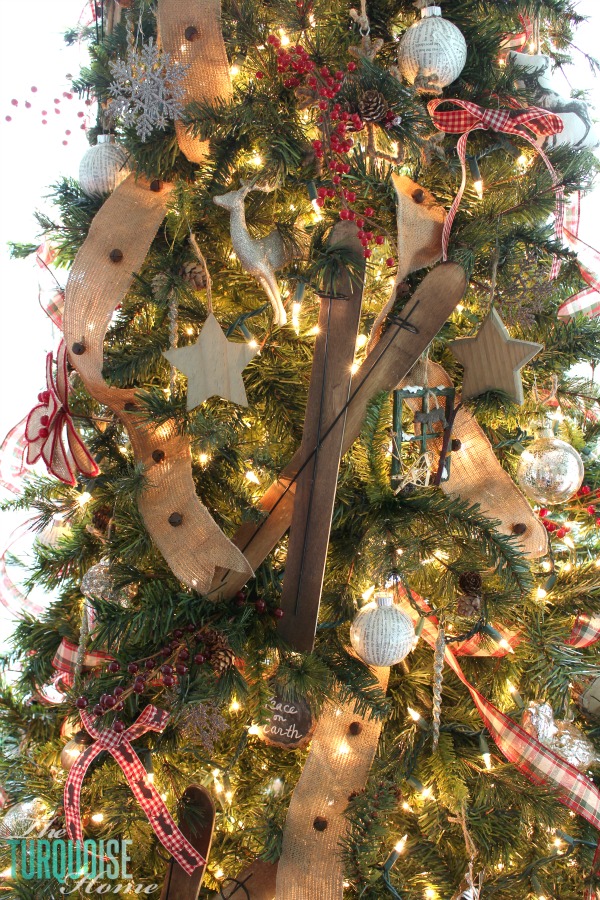 Here's another one of my favorite Christmas trees from years past. Country plaid adds just the right touch of red for that festive pop. There's a reason it is always a popular choice for decorating with country style—it looks amazing.
As you can see, I added some berries to give the tree some depth, as well as various styles and shapes of ornaments. Add some variety to the style of ornaments because they don't all need to be balls. You'll love the different texture your tree has when you use lots of different sizes and shapes.
I also chose to add some chalkboard ornaments with Christmas themed sayings on them. The entire look just invites you to pull up a chair, sip on a warm drink, and get cozy.
Are you inspired to start decorating? Grab your Christmas PJs, put on a cheesy Hallmark movie, and get to work! ☺️
MORE POSTS YOU WILL LOVE: