What's a girl to do when she loves to have a decorated mantel, but Christmas is over and Spring has not sprung yet? Well, she creates a winter mantel, of course!
You all probably laugh at me because I always have to have my mantel decorated just so. But it's the focal point in my open concept floor plan. And it's the first thing you see when you walk in my front door. I really love it that way. (That's why I don't put my flat screen TV up there … I don't want it to be the first thing I see when I walk into the room!)
Let's back up a bit. The day after Christmas I went on a shopping extravaganza. I wanted to find some specific Christmas items for my house at a deep discount. One of them was a Christmas table runner. And I was drooling over this particular one at Pottery Barn. While I was in PB buying my table runner, I spotted these cute little fir trees with the base wrapped in burlap. Oh so cute! (I can't find them online, so they must just be in the stores.) And I just knew I had to have two of them. They were marked down to $17/each. Happy me!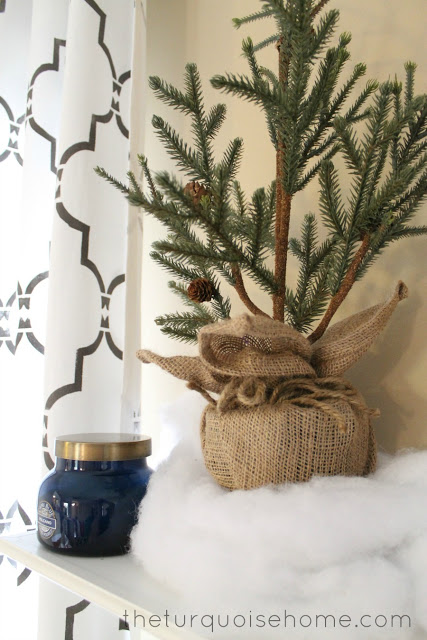 And as I walked around shopping the rest of the day I knew that I didn't want to put them in the attic with the rest of the Christmas stuff. I was going to use them on my winter mantel, of course! It all came together in my head while walking the mall. 🙂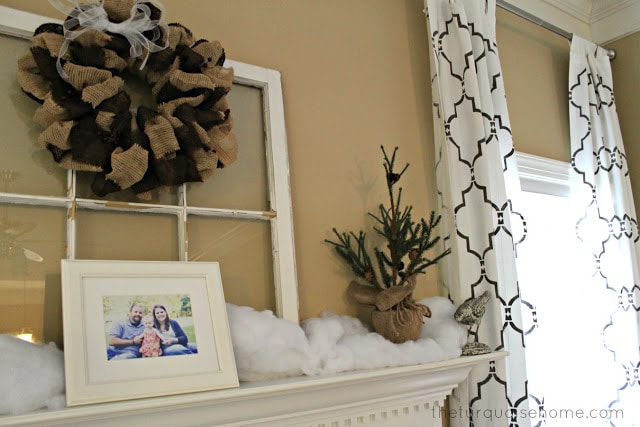 I wanted it to be simple. I just left the twinkle fluff (yes, that's what the fake snow is actually called. Twinkle fluff … haha!), the window and the bird (from Hobby Lobby) up there from my Christmas decorations. I added the cute little trees, a picture of the family, my burlap wreath from my front door (remember it from my Christmas Home Tour?) and my Anthropologie candle.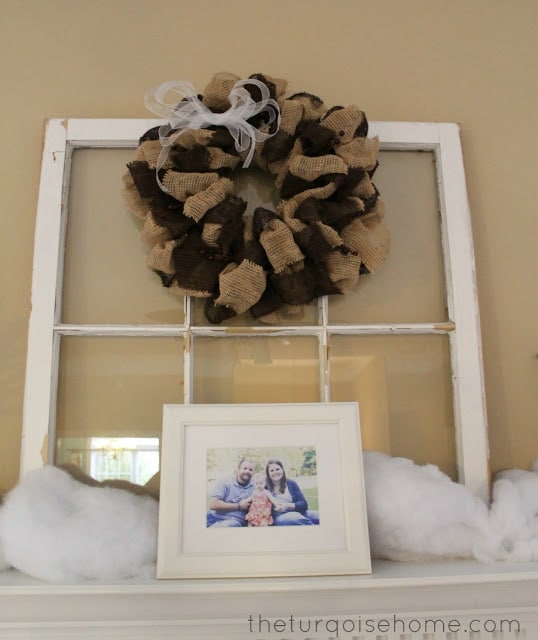 Of course, now that my front door wreath is on my mantel, I need to make a bigger one for the front door. That's been my plan all along. And this time I promise to take pictures and give you a tutorial. It's really a great winter wreath.
What do you think? Did you decorate for winter-time? (I think it's the most difficult season to decorate, but needed in order to not get so down from the cold dreary weather.)
Happy Friday!
More Posts You Will Love: