A Winter Wonderland Dining Room & Tablescape
As I was decorating my home for Christmas just before we moved out of it, I couldn't help but create one last tablescape in the dining room. With icy blues and lush velvet navy, this look will carry you right into winter!
The arched window and wainscoting with Wythe Blue walls were some of my favorite features of this home. In fact, that paint color was the very first paint color I knew I would paint my walls when we moved in. So, I just had to dress her up one last time!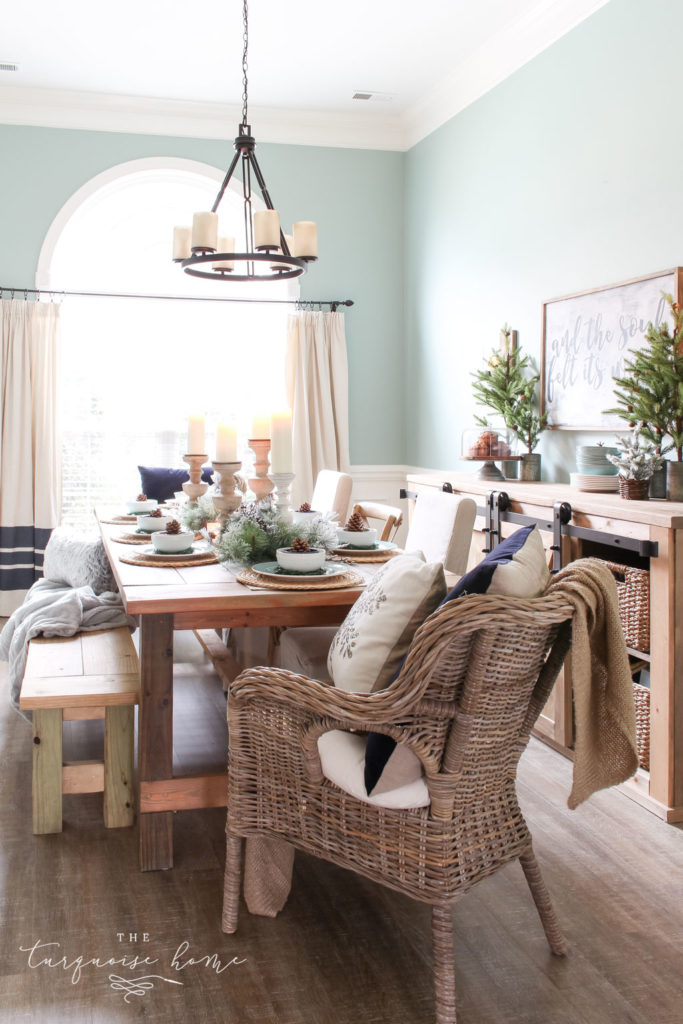 The furniture in this room was pretty rustic and I made both the dining room farmhouse table and the sliding barn door buffet. It was always so fun to be able to host dinners (for Christmas, usually) and know that I actually built the table with my two hands. I even made the curtains – from a super inexpensive material you can find at the hardware store.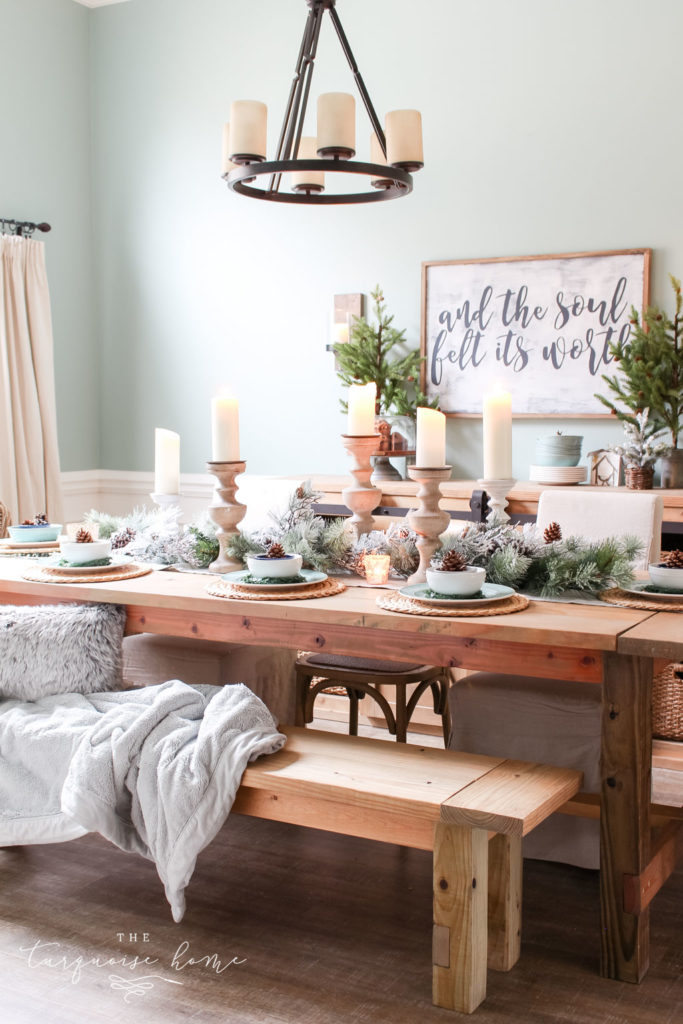 But now that the furniture is in the new house, I think it's too rustic. So, I have big plans to build a new table for my new dining room once the weather warms up some!
When I stepped back from decorating the table and buffet, though, I laughed out loud because the icy blue tones felt like I was channeling a little bit of Frozen II. ❄️☃️ We took the girls to see it right around that time, so I'm pretty sure it was coming out in my decor. 😂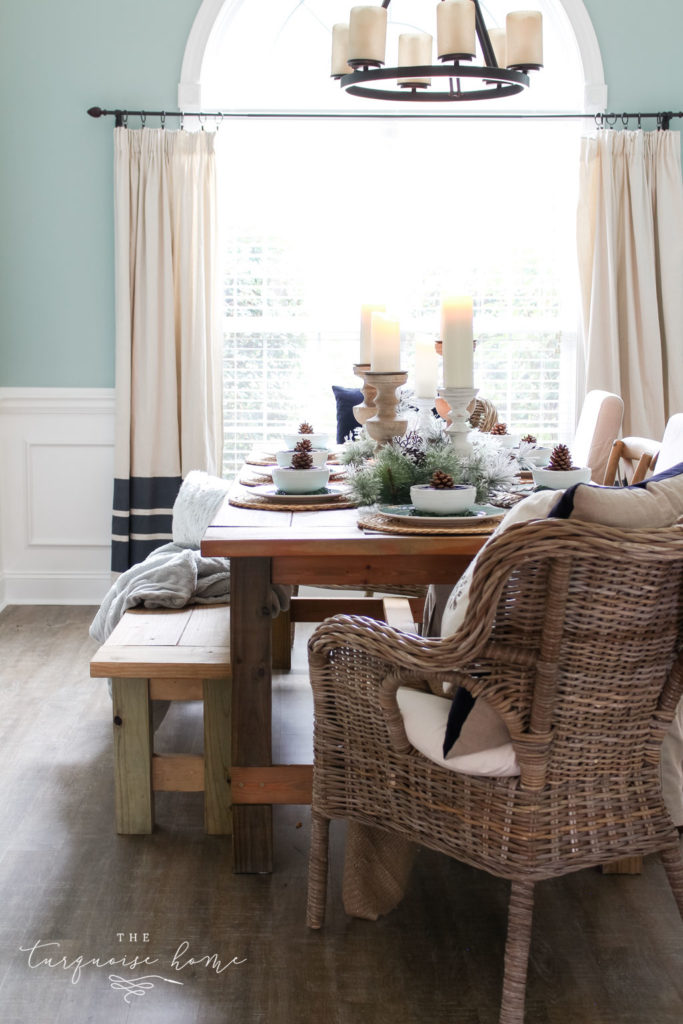 We loved the movie, by the way, and even though I couldn't follow the plot to save my life, 😜 Kristoff's 80's power ballad was my favorite part. 🎙🎸🎶 Did you see it yet??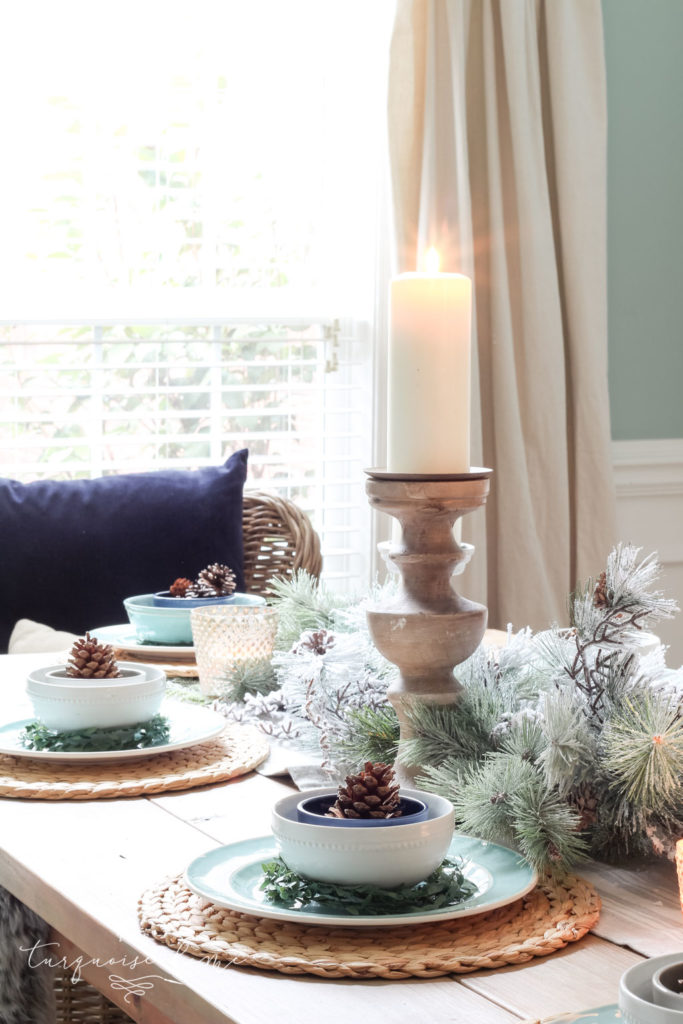 One reason why I wanted to create this tablescape, though, was to show you how easy it is to make a table look festive! It really doesn't take a whole lot of effort to look really pretty!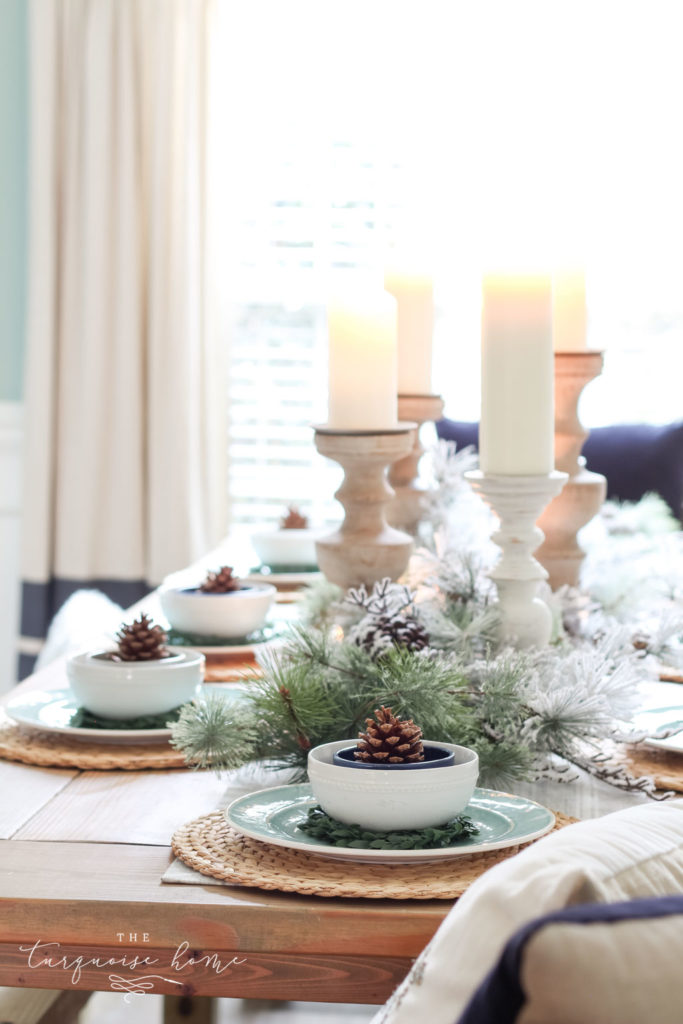 These hyacinth plate chargers have been in my stash forever and I use them each and every season. The same goes for my blue striped table runner. They are truly "capsule wardrobe" staples in my home decor stash.
And I have a few options for plates and bowls that I merely interchange each season. Adding a seasonal "topper" to your plates or bowls, like these pine cones, really finishes the look without much fuss. You could even stick name cards in those pine cones if you wanted to be a little fancy!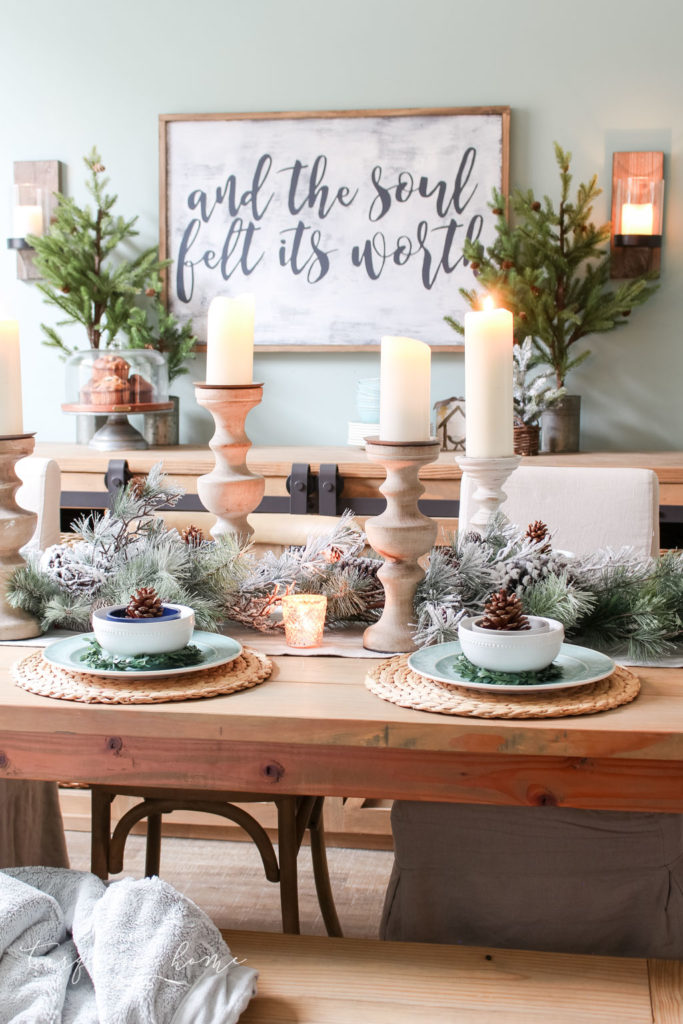 I like simple centerpieces, too. I thought about converting my fall dough bowl centerpiece into a winter centerpiece, but I decided to use one long garland in the center of my table instead.
I added some chunky candlesticks intertwined in the garland for a simple winter look!
I really wanted to buy some thin, yet curvy brass candlesticks for this look, but I decided to hold off until after everything settles down after the move. It was a lesson in just using what I already had–and it was fine!
The sign over the buffet is one I painted a few years ago. While they ARE the lyrics to a Christmas song, I think the message still rings true in the new year, so I leave it up through the winter, usually. I made it using my "DIY large wooden sign" tutorial.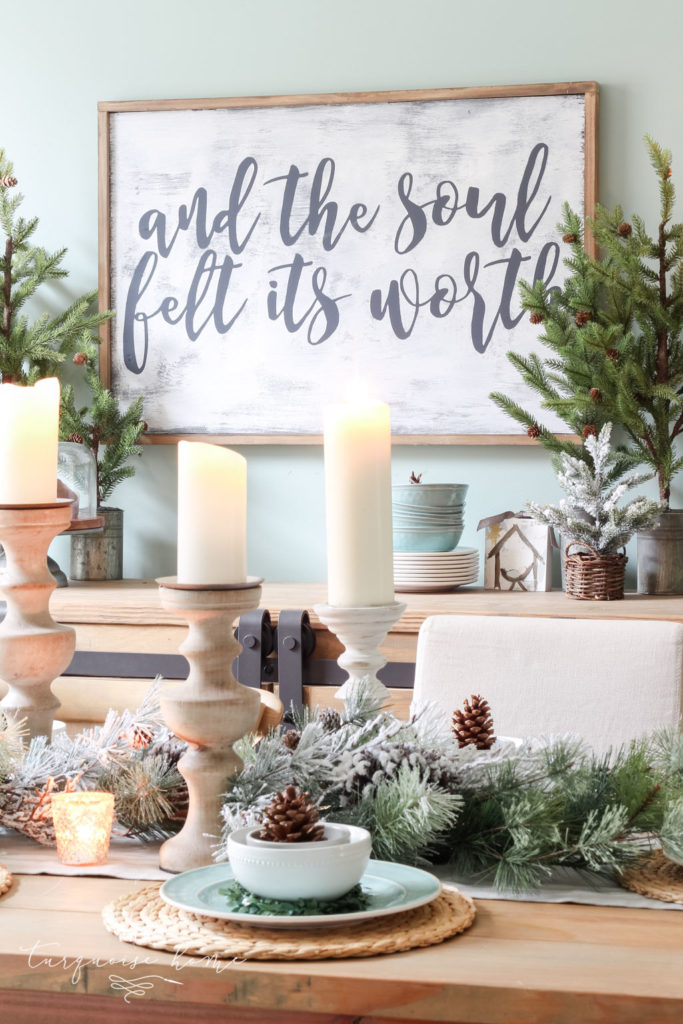 I hope you enjoyed my last look at my dining room in the old house. I look forward to painting the current lime green walls in my new dining room and making a fresh new look for winter and spring very soon!
Sources for the Winter Dining Room Look:

See MORE of my Christmas Decor this Year: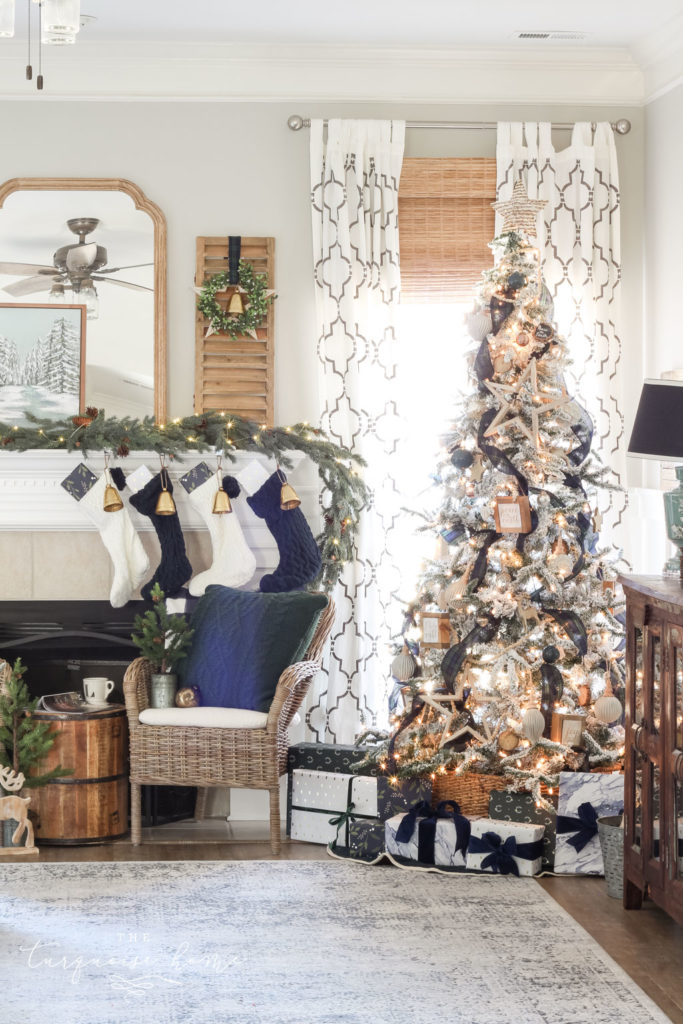 My Plaid Navy & Green Christmas Tree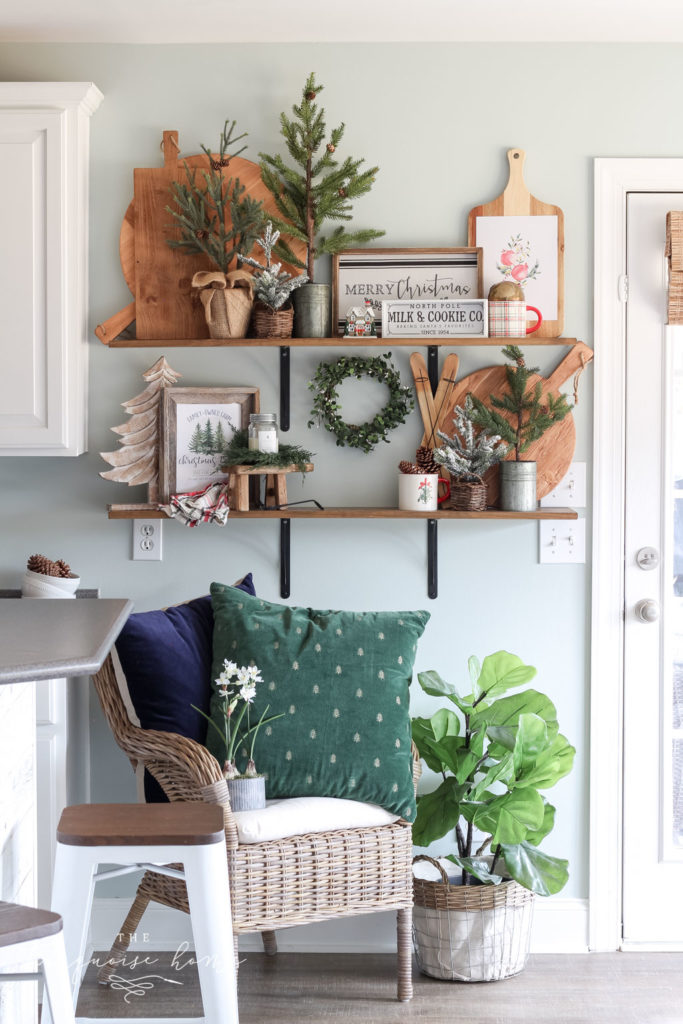 My Christmas Kitchen and Living Room Tour
MORE POSTS YOU WILL LOVE: