Installing cabinet hardware can be intimidating and overwhelming, but it doesn't have to be with this little tip! Use this quick little tool to install new cabinet pulls with precision and ease!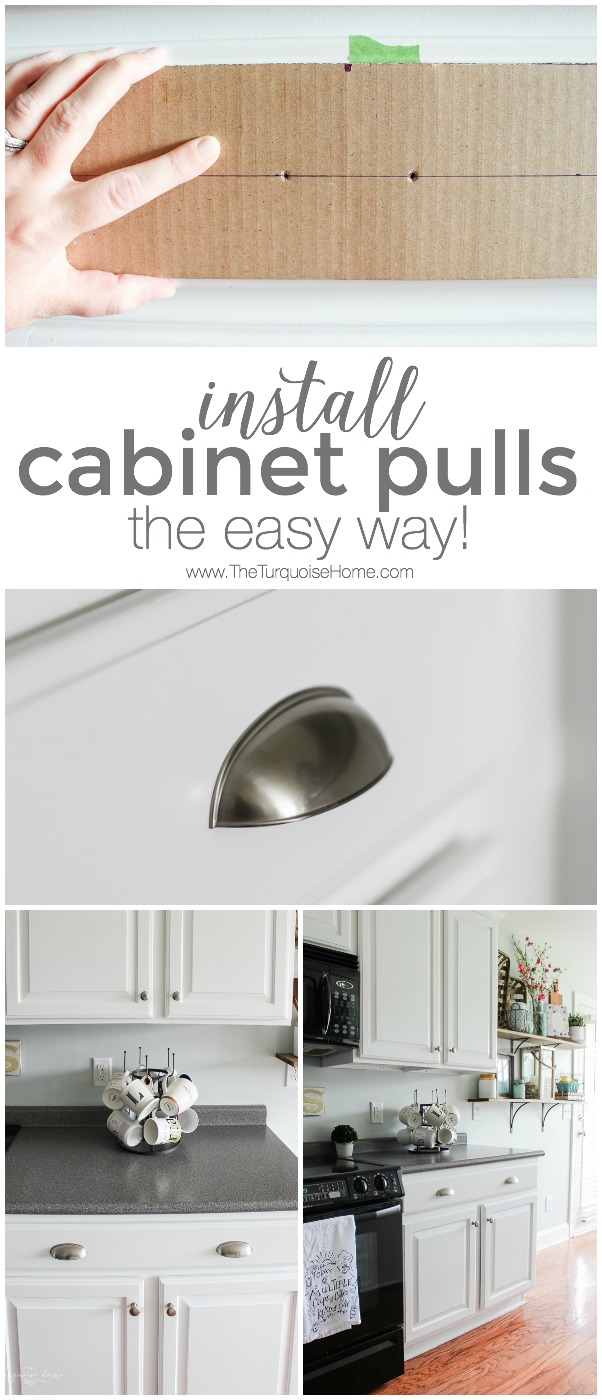 If you've been following along for any length of time, you know that I've been slowly working on my kitchen. Ever since I moved into my home 4+ years ago, I've wanted to change a few things in the hub of my home.
Last winter I finally painted my cabinets white. Yay!! Happy dances all around.
And they sat there just like this, without hardware on the drawers for exactly 8 months now. #hangsheadinshame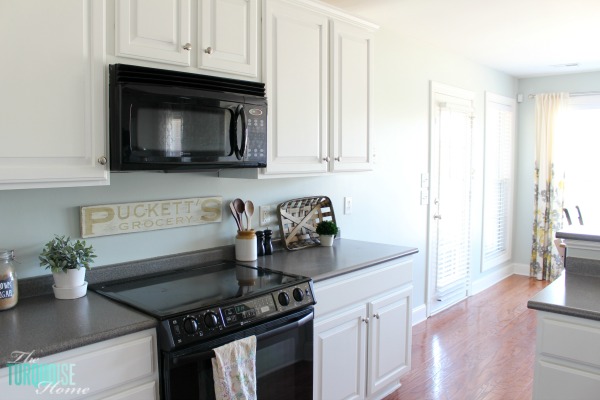 Since then I've done quite a few DIY projects in here. I made some DIY farmhouse shelves, added reclaimed wood to the bar and painted the walls Sea Salt. I still have a few more updates to make, like the sink and counter tops, before I'm finished, but I'm waiting on some room in the budget for those.

In the meantime, while I'm waiting for the next project, I thought I'd finish off those cabinets. You know, the ones I've been using for the past 8 months without drawer pulls.
And it wasn't like I didn't have the hardware or the tools…
I had them sitting right there on the counter, but I just wasn't quite ready to tackle the installation part. I was kind of nervous about messing them up and having wonky cabinet pulls in my kitchen. Nervous Nelly, that's me!
That was until I saw my friend Krista's post. It inspired me to take the bull by the horns and get 'er done (as they say around here)! Read her post to get the full tutorial, but I'll show you what I did, too.
Before we dive into the semi-tutorial. I'll tell you what hardware I used. I kept the original knobs on the doors, so those were easy to reinstall. Sure, I could have changed them out, but they were fine. I liked them and didn't feel the need to spend extra money on them.
But I've loved and wanted cup pulls on the drawers for forever, so I ordered these 3″ cup pulls from D. Lawless Hardware. I knew I'd be changing them out, so I went ahead and puttied the old hardware holes when I painted the cabinets white.
How to Install New Cabinet Pulls
What you'll need:
Thin piece of wood, cardboard or paper for the template
Cabinet hardware (I used these cup pulls from D. Lawless Hardware.)
Level
Sharp object like an awl, a pointed pen or sharp pencil
Drill and drill bit
I grabbed a piece of cardboard from a large Amazon box (because I'm an Amazon Prime junkie) and cut it down to the height of the front of the drawers. And then I made it the width of the smallest drawer.
I also located the middle of the cardboard piece so that I could line it up in the middle of the wider drawers.
I figured out where the middle of the pulls were and then placed the screw holes on the cardboard. I pressed my pen through the holes and made a mark where the screws would go.
You can see that I marked the middle of the drawer, where the pulls should go, with some painters tape. And then made a mark in the middle of the cardboard and lined them up, as seen in the above photo.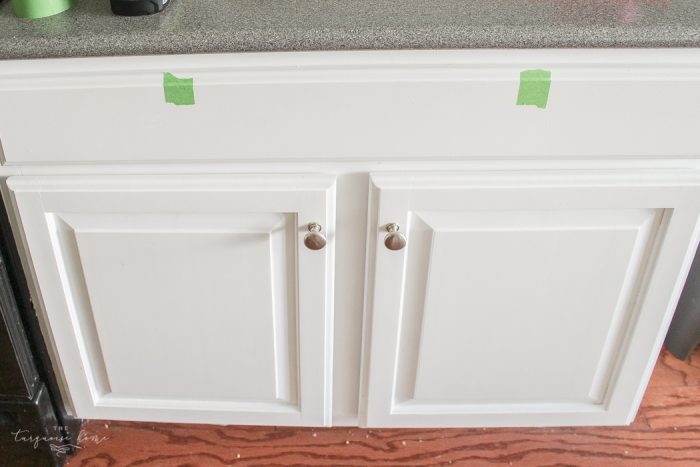 (Don't mind the crumbs on the floor. No time for cleaning when I'm on a mission!)
I did tape the pulls up on this one drawer before I drilled anything to make sure I liked the spacing! They aren't centered over the doors below, but centered on the drawer.
Now that I knew exactly where to put the pulls, I grabbed my drill and drill bits. Make sure to pick the right sized drill bit for your screws. I like the holes to be just a bit bigger than the screw in this instance. It makes putting the pulls on the drawers so much easier!
Just drill through the wood where you made your marks.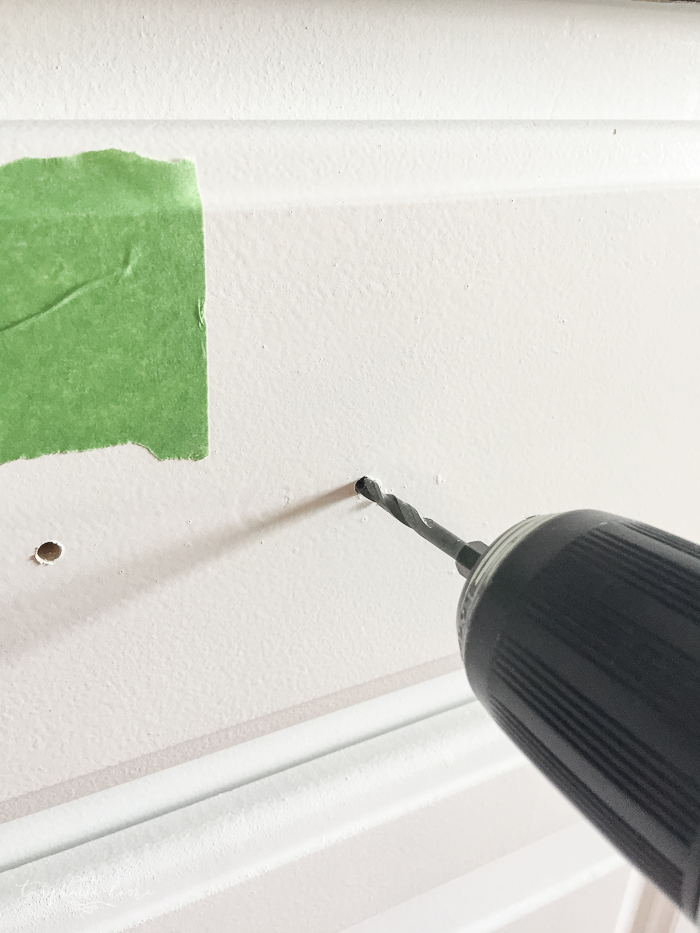 There's a LOT of measuring involved and you definitely want to measure twice and drill once. My advice is to take things slow. Don't rush it and you won't make a mistake. Hopefully. 🙂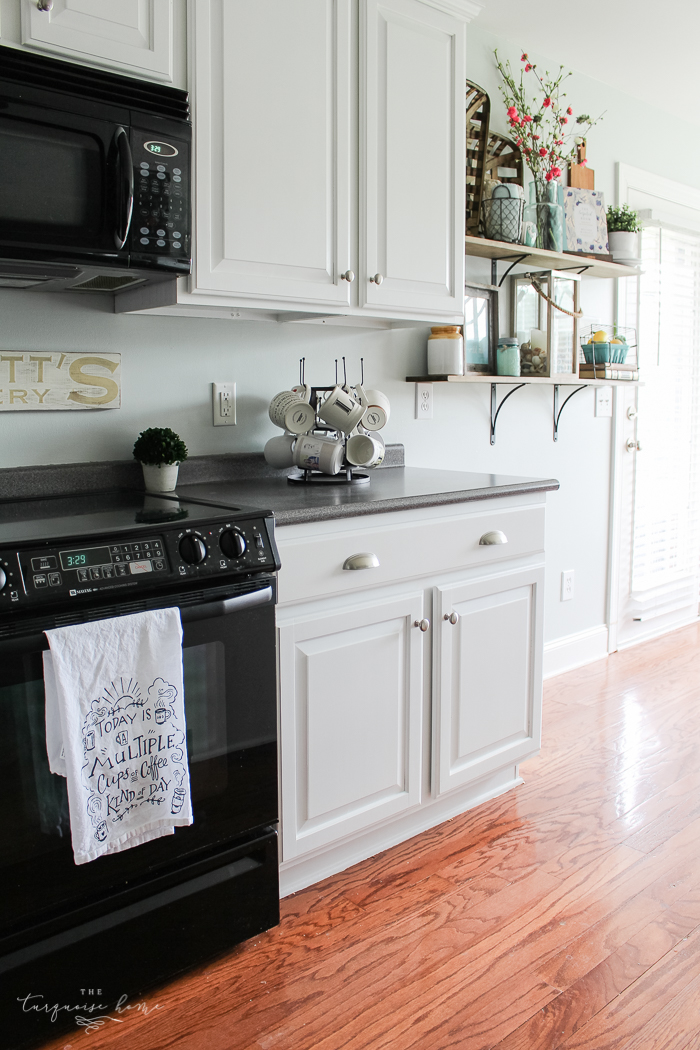 And now we can open the drawers with ease! Yay!!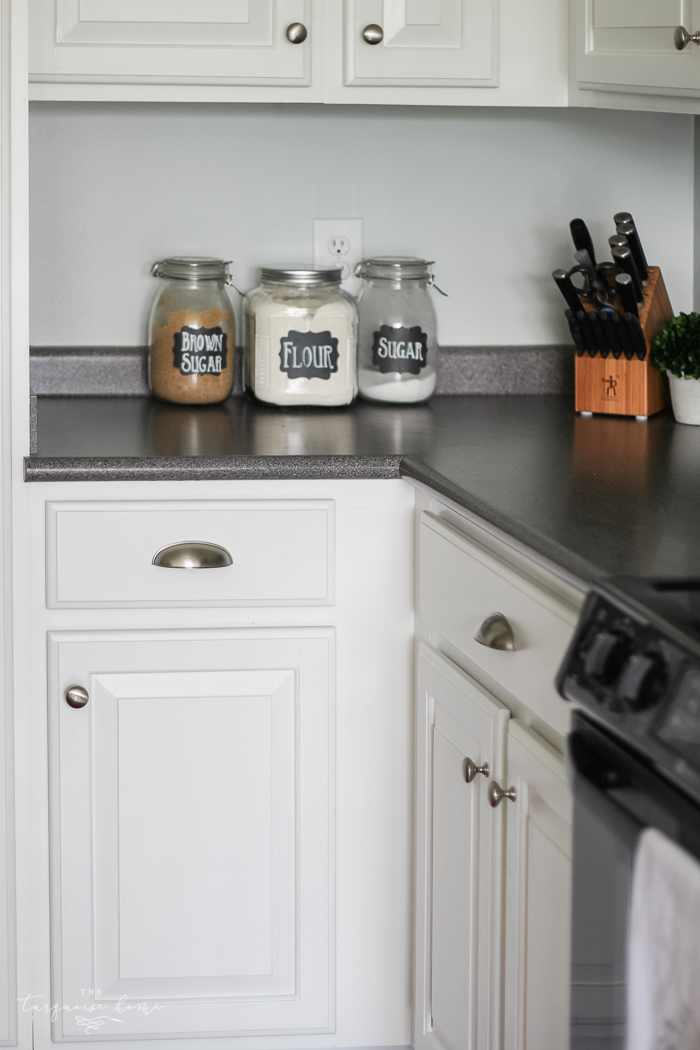 I love how they complete the look of the new white cabinets!
And no more anxiety over chipping or scratching the new paint job by opening the cabinets from underneath.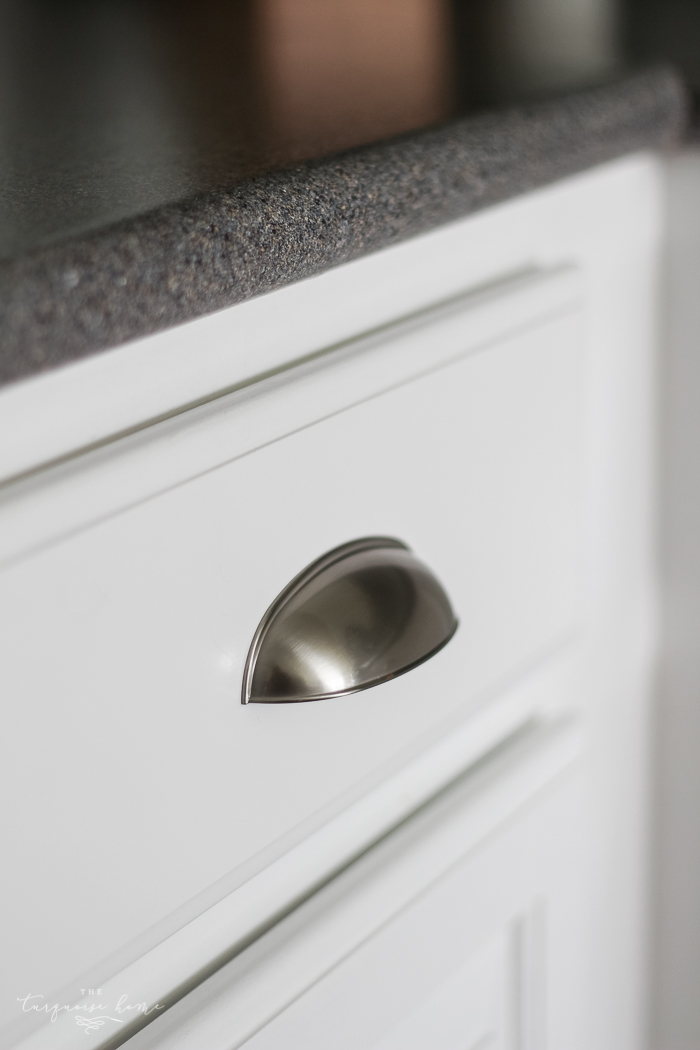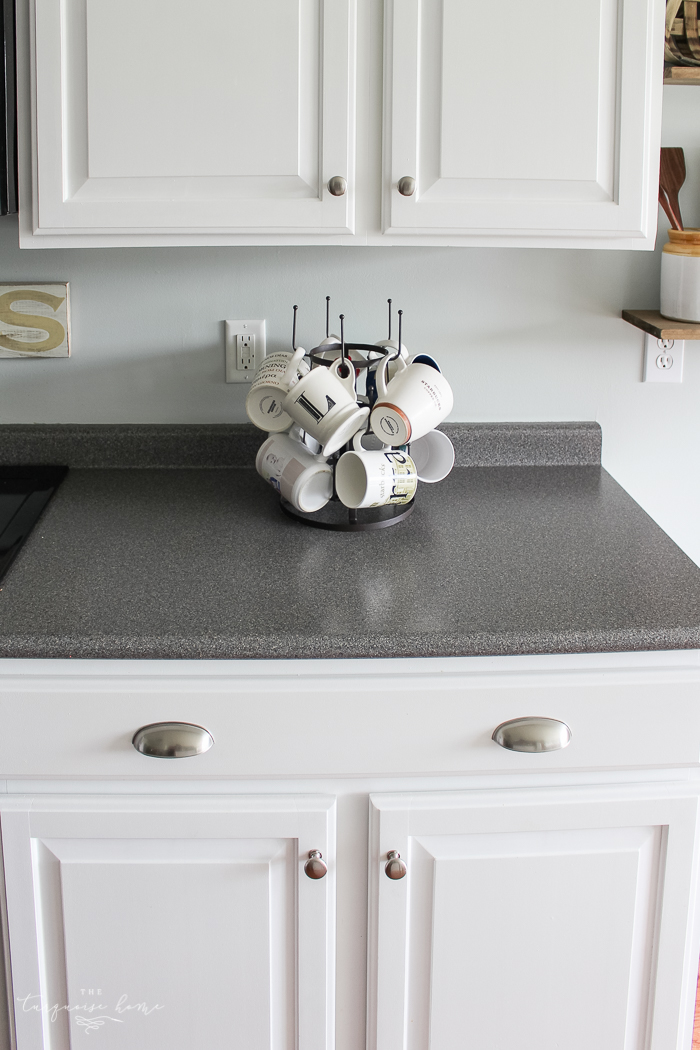 Ok, so now I have a question for you. I have two more cup pulls that I haven't installed yet. I'm torn about whether I should or not, so I'm hoping you can help me make a decision.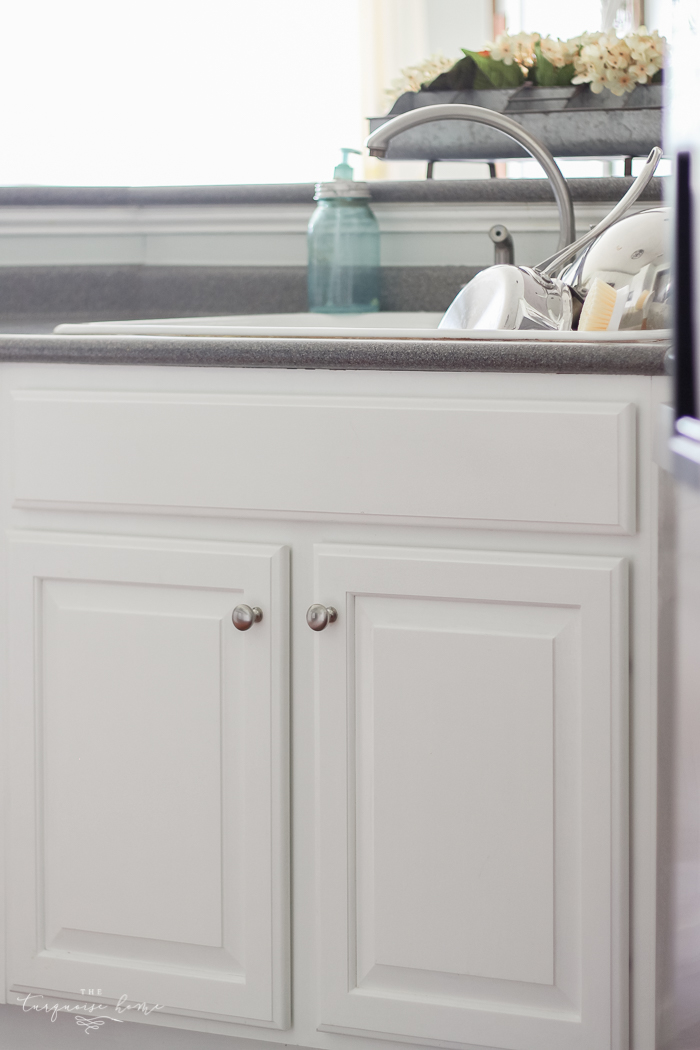 Should I put them on the faux drawer in front of the sink? I am planning on replacing the sink with a farmhouse sink someday, so that drawer will be done. But until then, do you think it needs hardware?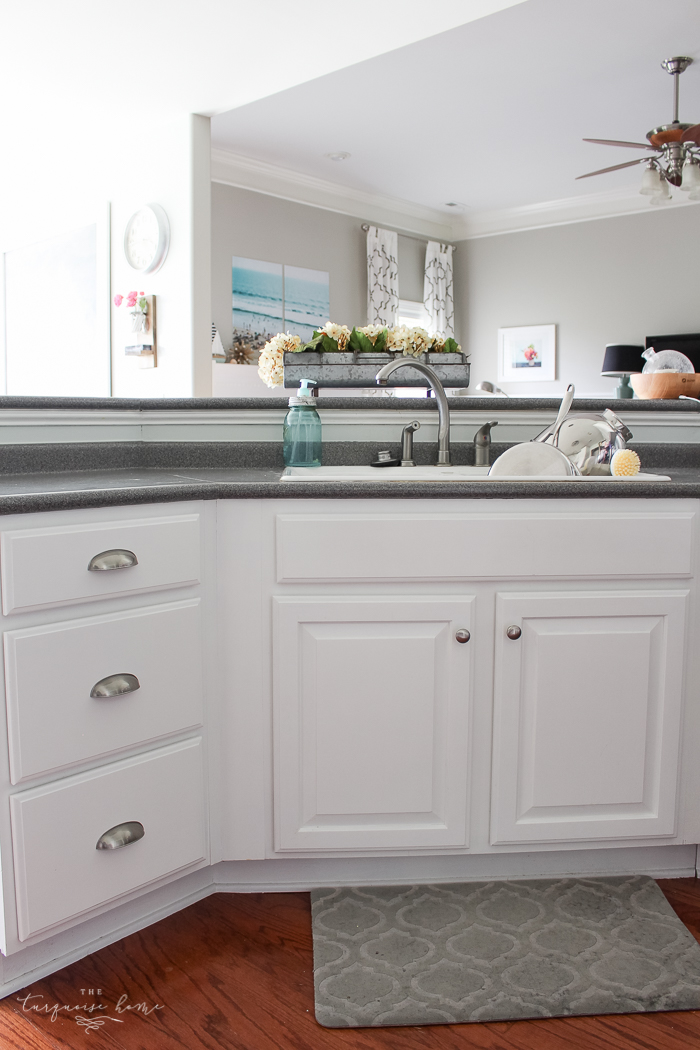 Whatcha think?! Let me know in the comments!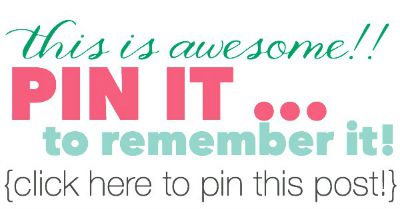 Get Instant Access to my Guide to Customize Your Home on a Budget
Grab your FREE guide for 10 Ways to Customize Your Home on a Budget: simple projects to transform your home from builder beige to a home with character and charm!