Adding an area rug to a room creates a cozy atmosphere while also adding a fun opportunity for appealing decor and unifying a room. Use these tips to help you size, choose, and buy your next area rug for your home.
When you decorate your home, there are certain must-haves that you take care of or arrange first, like the essential furniture and the paint color for the rooms. Then maybe you hang pictures on the walls to fill the empty space. At some point, you style an end table or some shelves, and then you make your way to throw pillows and area rugs.


Similar to the way that well-styled throw pillows make a room feel cohesive and intentional, area rugs do a similar job. Through the use of size, shape, and placement, area rugs can go a long way toward unifying your decor from the floor all the way to the ceiling.
Choosing a rug for a space is a fun (and possibly daunting) endeavor. What size do you need? Is the rug affordable? How do you place furniture on or around the rug?
Related Post: My Favorite Sources for Affordable Area Rugs
We are going to take it room by room and give you some tips and pointers for finding that perfect rug (or rugs, in some cases) that will tie together an entire room. Hint: it's easier than you may think!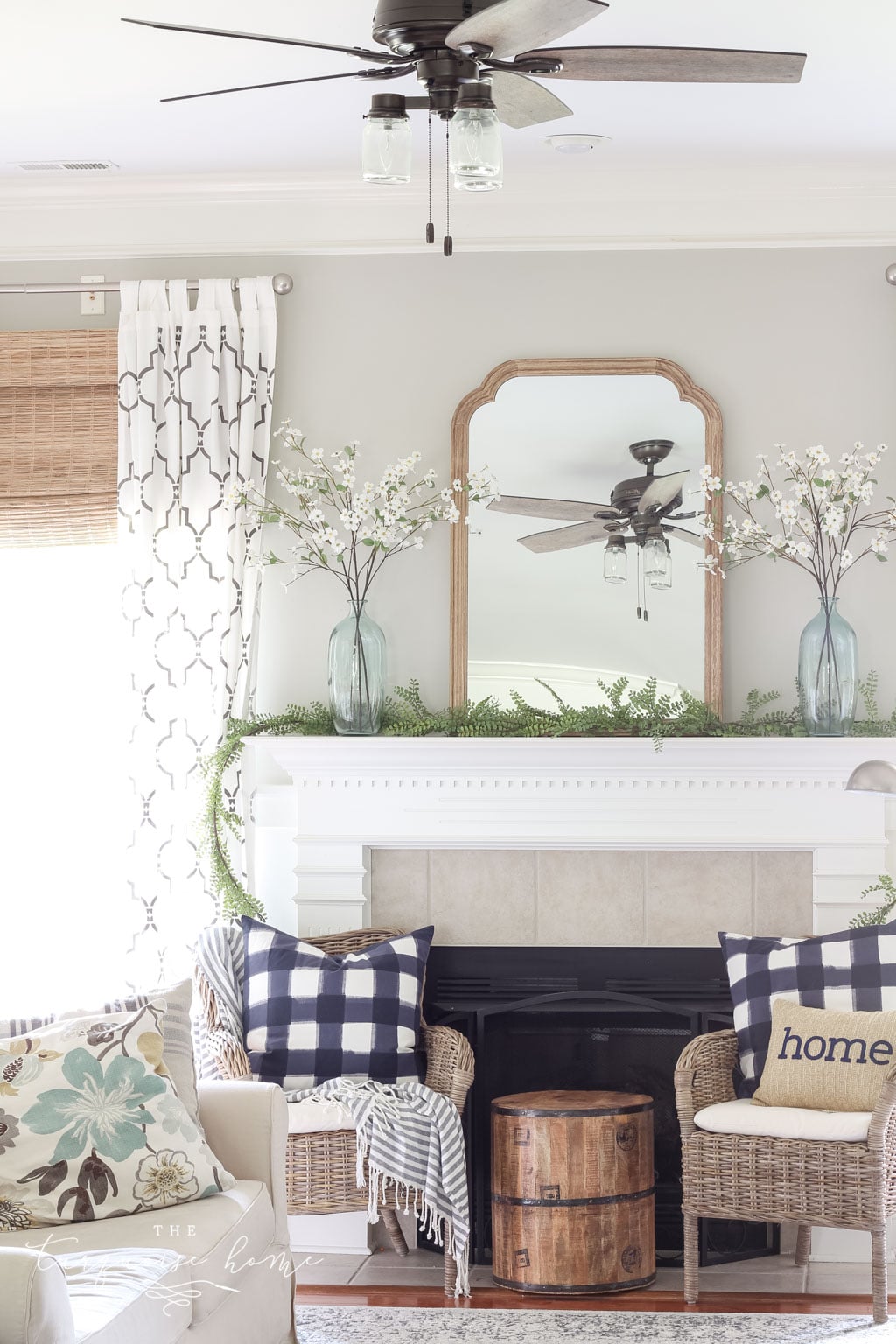 FREE BONUS!
5 Secrets Every Home
Decorator Knows
… to transform your home into your dream home!
Your Guide to Rug Sizes By Room
If you've ever shopped for rug sizes (especially online), the list of size options is pretty large and can leave you wondering what size rug you really need. Here are common and recommended rug sizes room-by-room as well as possible furniture and rug placement ideas.
Entryways and Hallways
Entryways give visitors a first impression of your home, so you want to create a welcoming ambiance for guests. In addition, they provide a level of protection for your floors.
What Size Rug to Buy: this is hard to recommend since entryways and hallways can exist in many different shapes and sizes. Runners are a good option for long narrow spaces. For entryways, let the shape of the area determine the shape of your rug.
How to Position Your Rug: Whether in a hallway or entryway, center your rug in the space. For entryways, you can center the rug around the doorway as you can see here from Clean and Scentsible.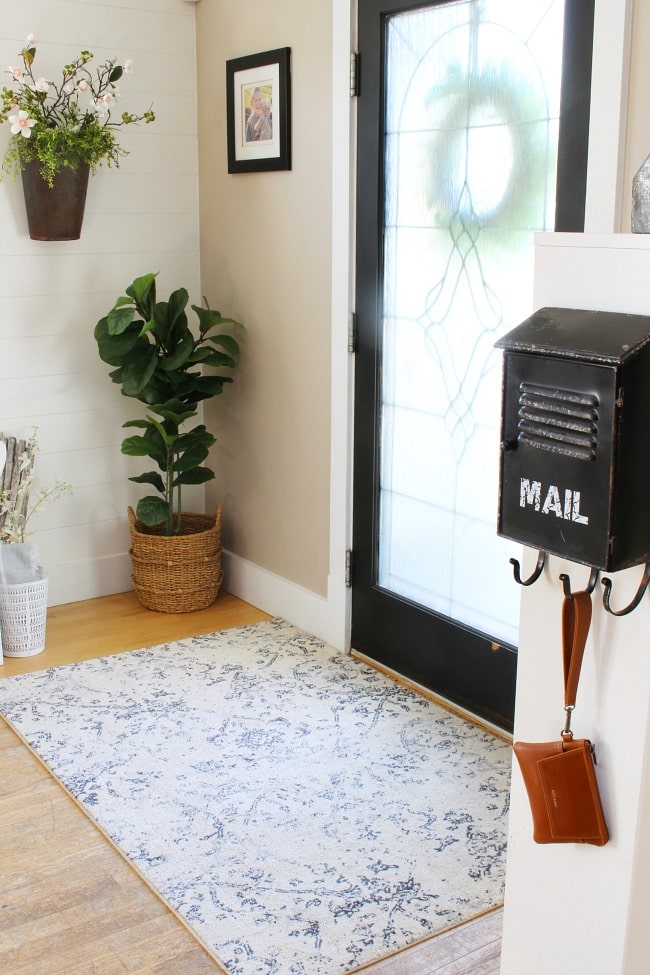 How to Position Furniture On or Around Your Rug: Leave narrow spaces like hallways uncluttered by keeping all furniture off of the rug in these areas like this example from my previous foyer.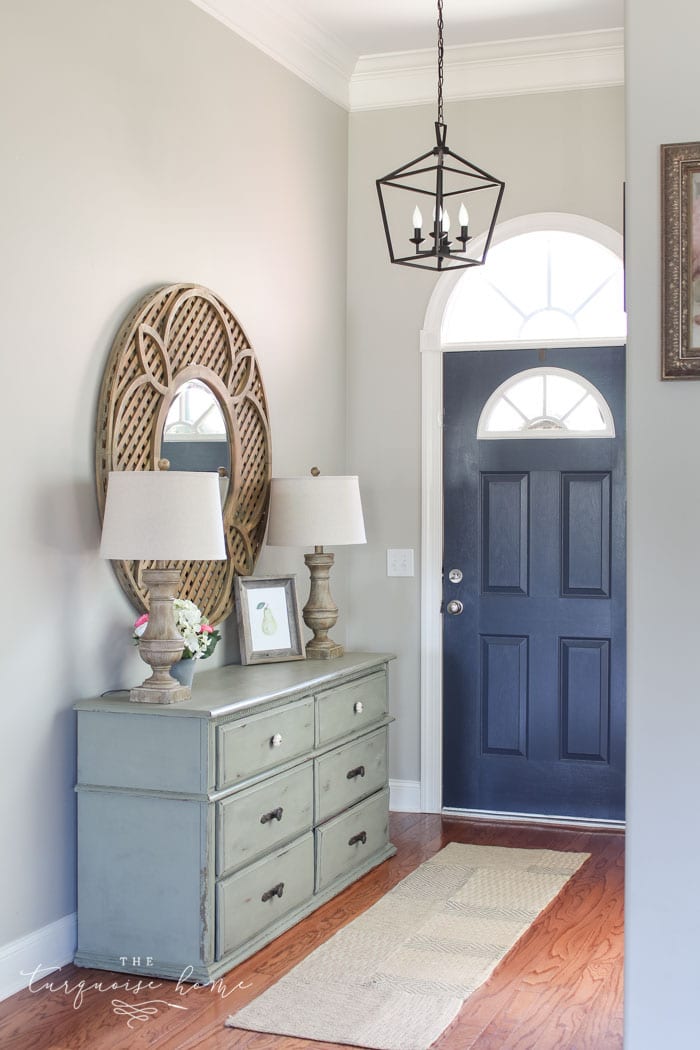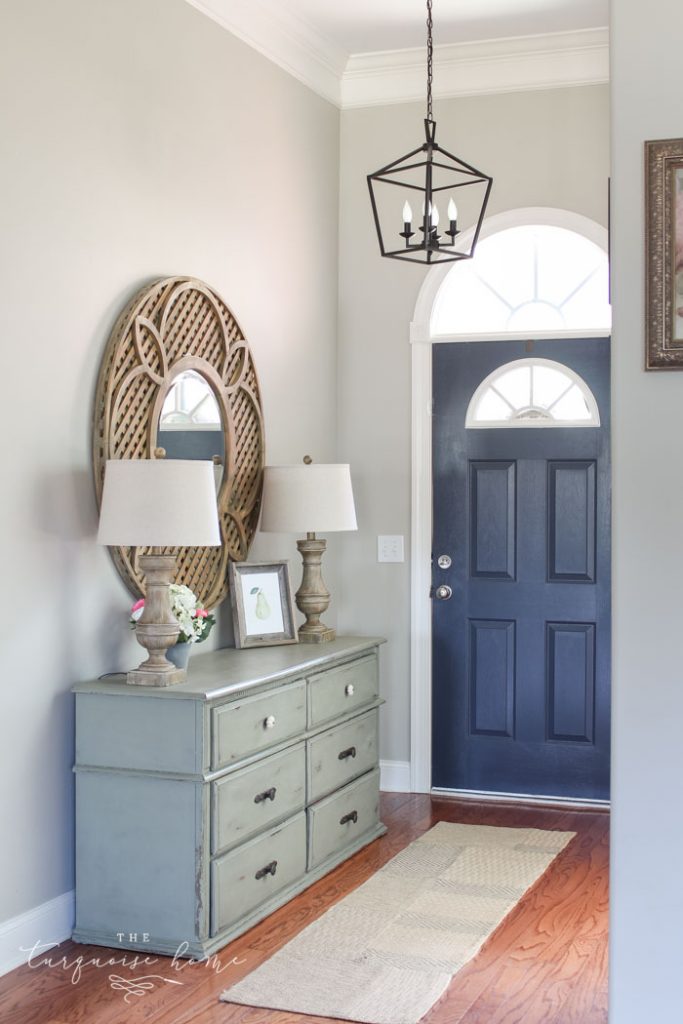 Living Room
For living rooms, let the shape of your room and the size of your seating area determine the size, placement, and orientation of your rug in order to maximize the sense of space and cohesiveness in the room.
What Size Rug For a Living Room: choose a rug that is large enough to fill your seating area to the degree that you desire. A general rule of thumb is that at least the front two legs of each piece of furniture will fit on the rug.
If you need a visual to help you, put masking tape down on the floor where you want your rug to be. Once you have your tape where you would prefer your rug to fit, measure the space to determine the size of your rug.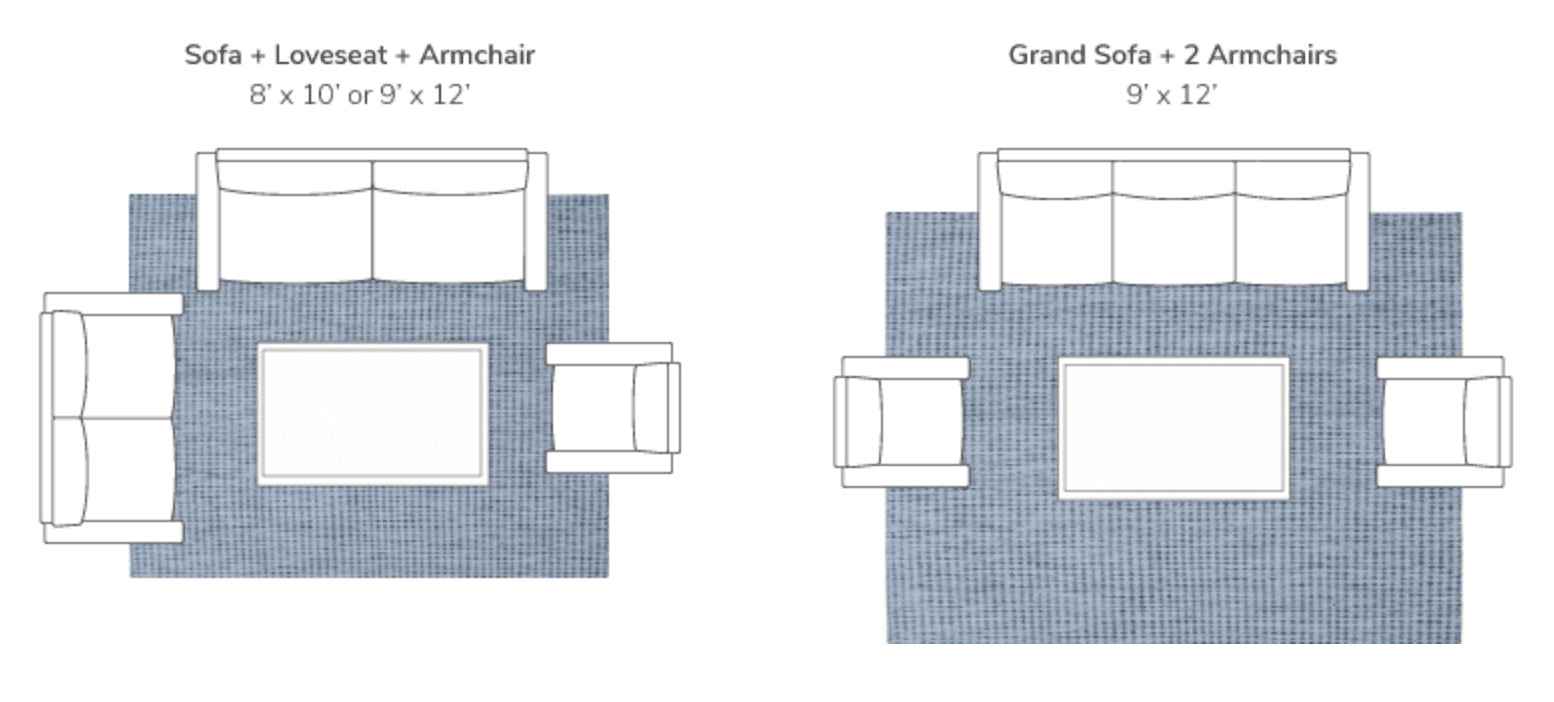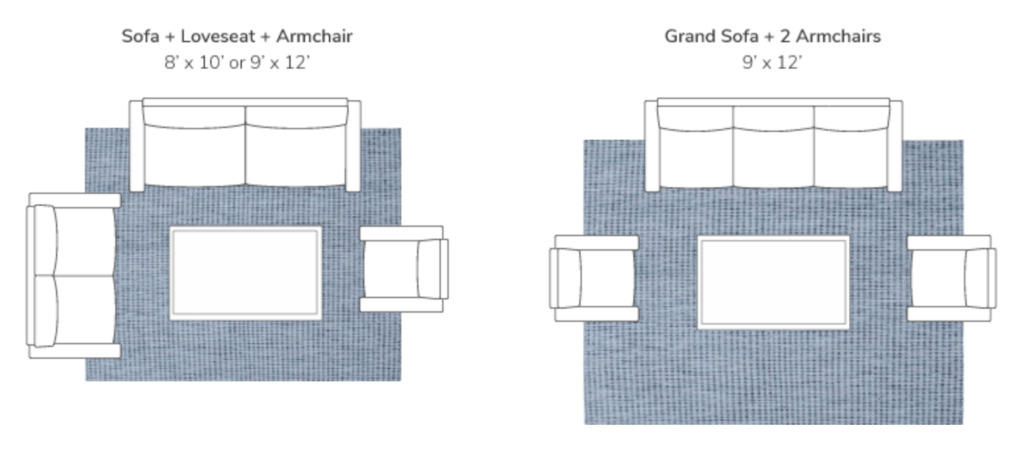 How to Position Your Rug: Position your rug in such a way as to make the entire space feel connected and intentional. But don't make the rug look like wall-to-wall carpet either! Leave at least 12-18 inches between the edge of the rug and the wall.
How to Position Furniture On or Around Your Rug: Typically, there are 3 main ways to layout your living room furniture around your rug:
All furniture legs on the rug – this requires the largest rug and is best for creating a cozy space like this example from Dhoumm.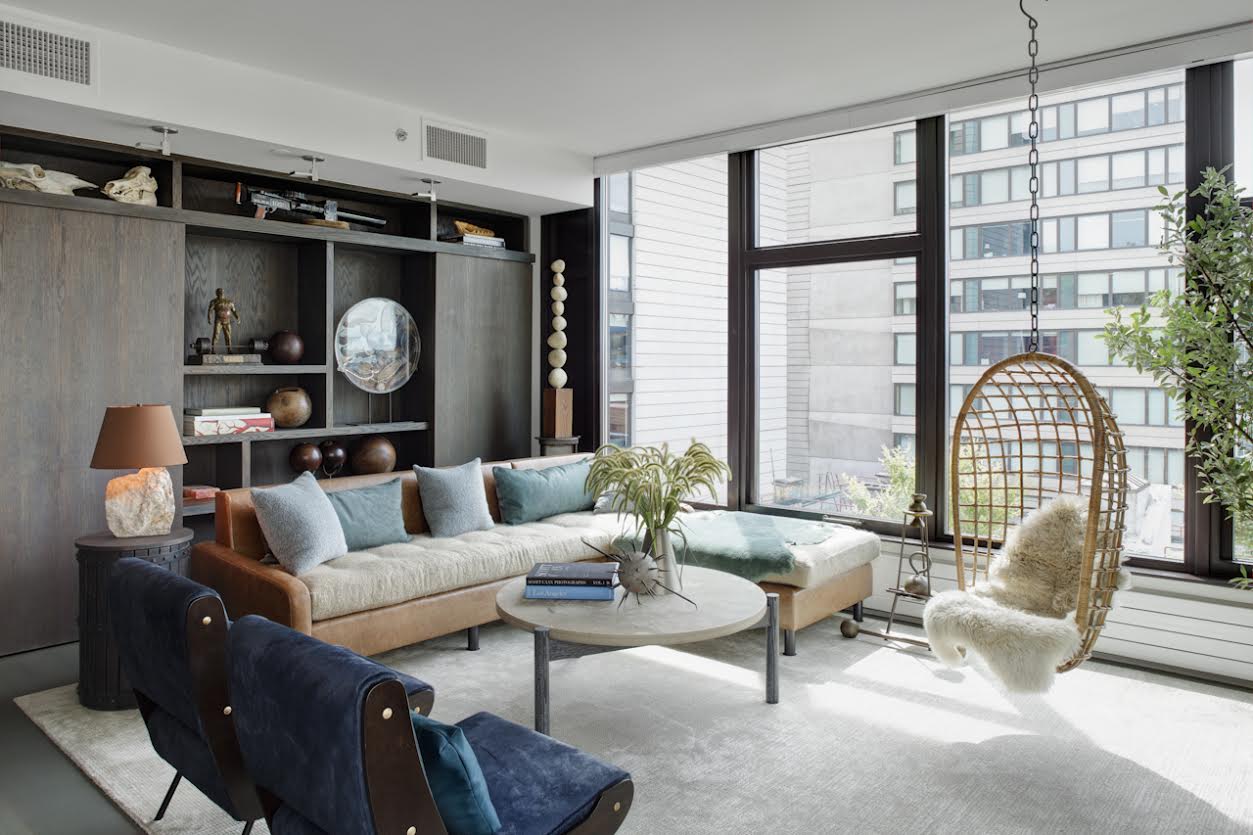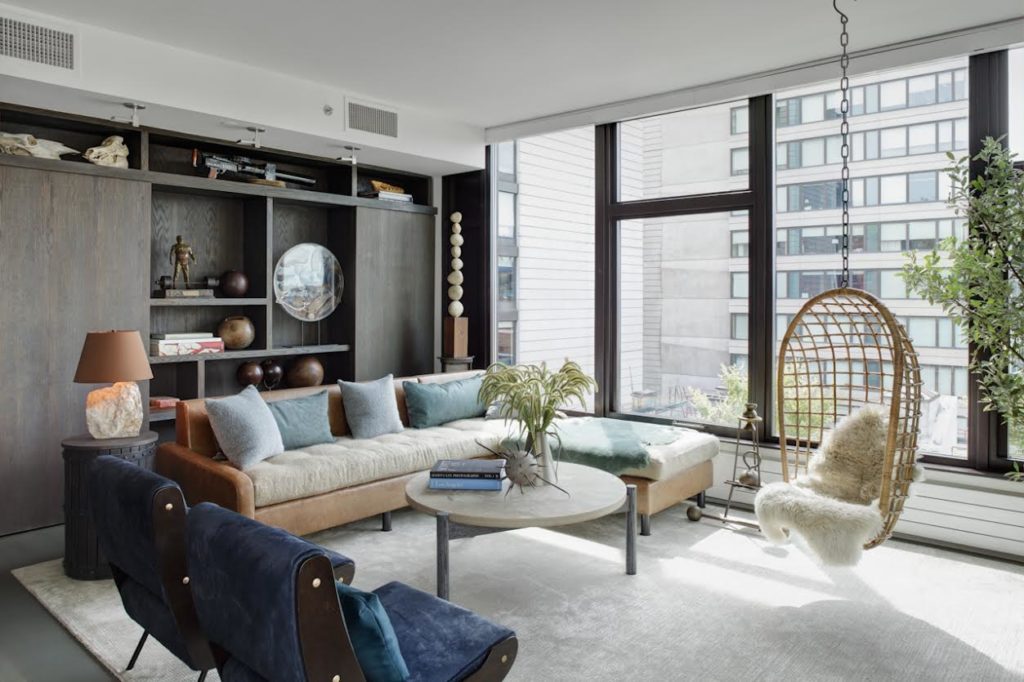 Only front furniture legs on the rug – ideal for rooms when one side of the furniture is against a wall or an open-concept area to create a defined sitting area as seen here from Rug and Home.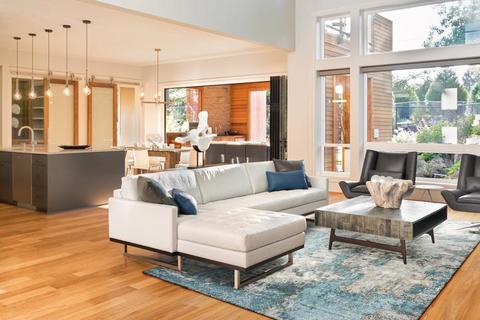 All furniture (with the exception of the coffee table) off of the rug – this setup works best in a small space to make the area feel larger. Base the size of your rug off of the interior dimensions of the entire seating area as Alexis Vargas did.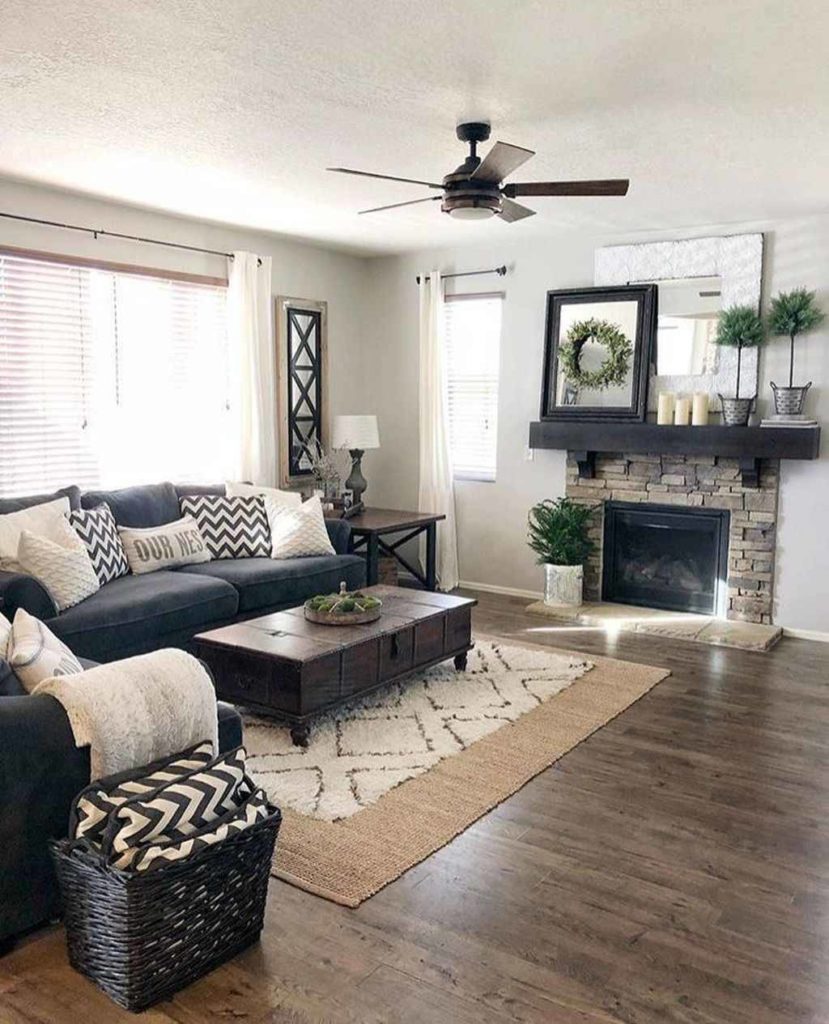 Dining Room
Factor in both the shape of your room and the shape of your dining table when deciding whether to purchase a round or rectangular shaped rug.
What Size Rug to Buy: Buy a rug large enough to extend between 24 and 36 inches beyond the measurements of your table (don't forget to factor in leaf extensions!) on all sides. That way chairs can stay on a flat surface, even when pushed back like in this example from Ciara Decor.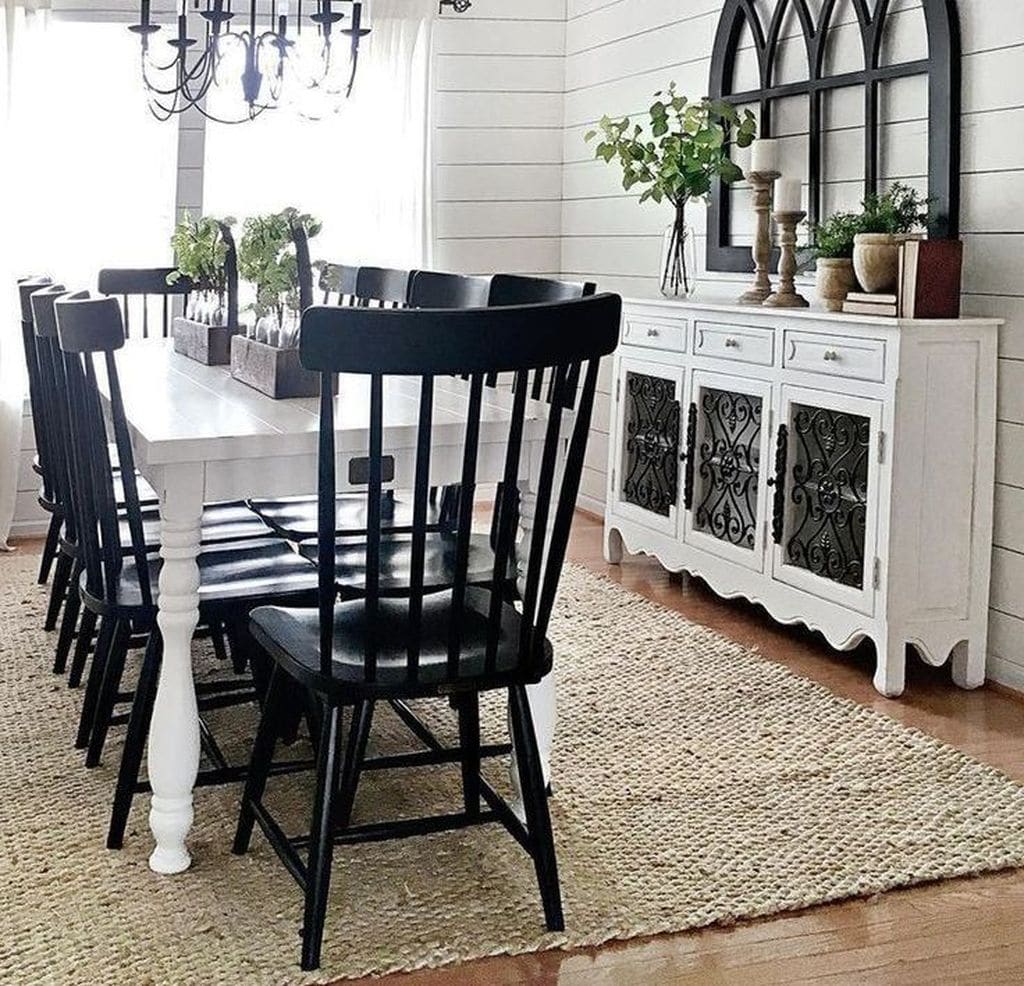 How to Position Your Rug: Center it within the room and under your table, leaving at least a few inches between the rug edge and the walls on each side.
How to Position Furniture On or Around Your Rug: For a dining room, keep all legs of your table and your chairs on top of the rug so they are all on a level surface, for safety.
Kitchen
Not only can putting a rug in your kitchen enhance the decor of the room, but it can also make common everyday tasks such as washing dishes more comfortable.
What Size Rug to Buy: If you want to add a rug to your kitchen, I recommend opting for a non-slip runner that will fit between your counter and island or run alongside your counters similar to how the 2018 HGTV Smart Home has shown.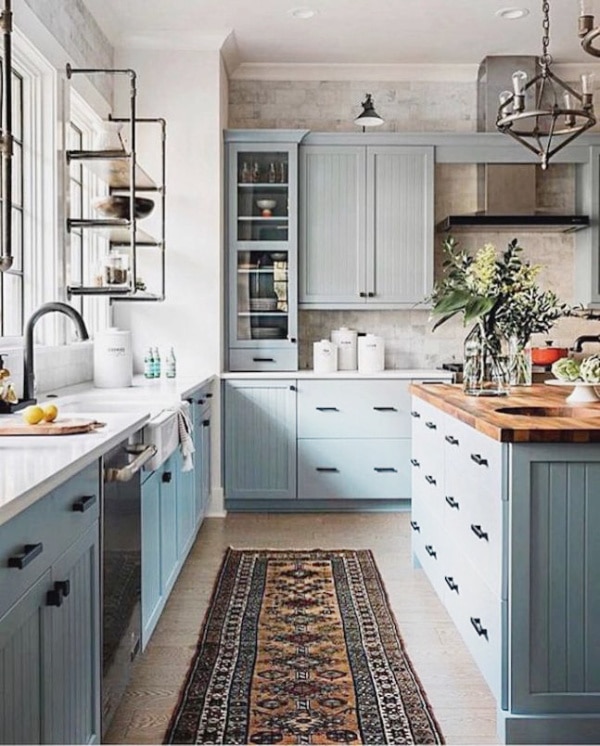 How to Position Your Rug: Center it within the space where you work the most.
How to Position Furniture On or Around Your Rug: The kitchen is likely the highest-traffic room of the house, so keep your rug clear of any furniture.
Bathroom
Use a rug in your bathroom to add warmth and prevent slipping when getting out of the shower or bathtub.
What Size Rug to Buy: The most common rug size for bath runners is 24" x 60". Let the size and layout of your bathroom help you determine the rug size.
How to Position Your Rug: Place the rug in front of the shower or bathtub to avoid slipping on a bare floor as shown by designer Kate Lester.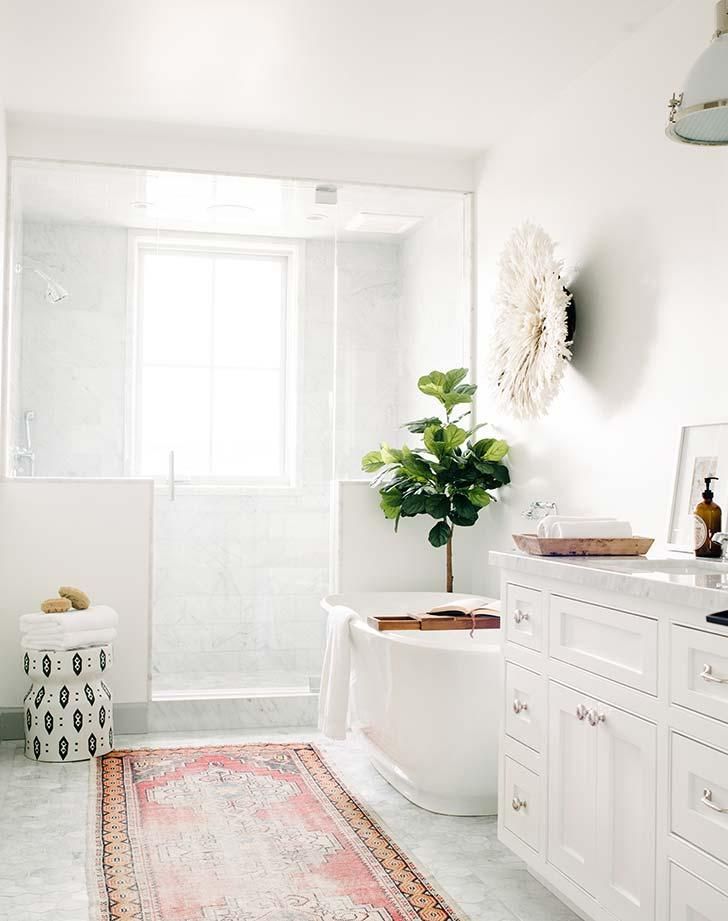 How to Position Furniture On or Around Your Rug: If you have additional furniture in your bathroom, try to keep all legs off the rug and on the bare floor in case your rug slips or shifts.
Bedroom
A rug in the bedroom may function not only as a visual enhancement within the space but also as an element for adding comfort for bare feet. For that reason, let the size of your room and the size of your bed help you determine your rug choice.
What Size Rug to Buy: standard rug sizes for a bedroom can vary in size from 5'x8' to 9'x12'. Check out how to buy bedroom rugs to learn more.
How to Position Your Rug: Use your bed as the base for placing your rug.
How to Position Furniture On or Around Your Rug: Similar to the living room, there are several common furniture layouts and placement options in a bedroom, including: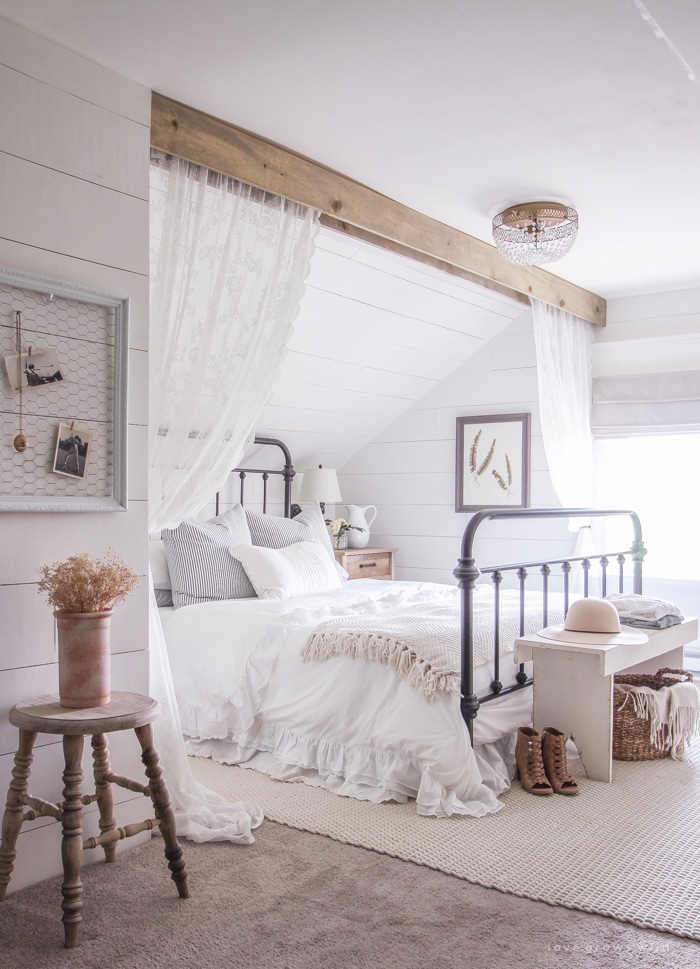 Two-thirds of the bed on the rug like in my previous master bedroom!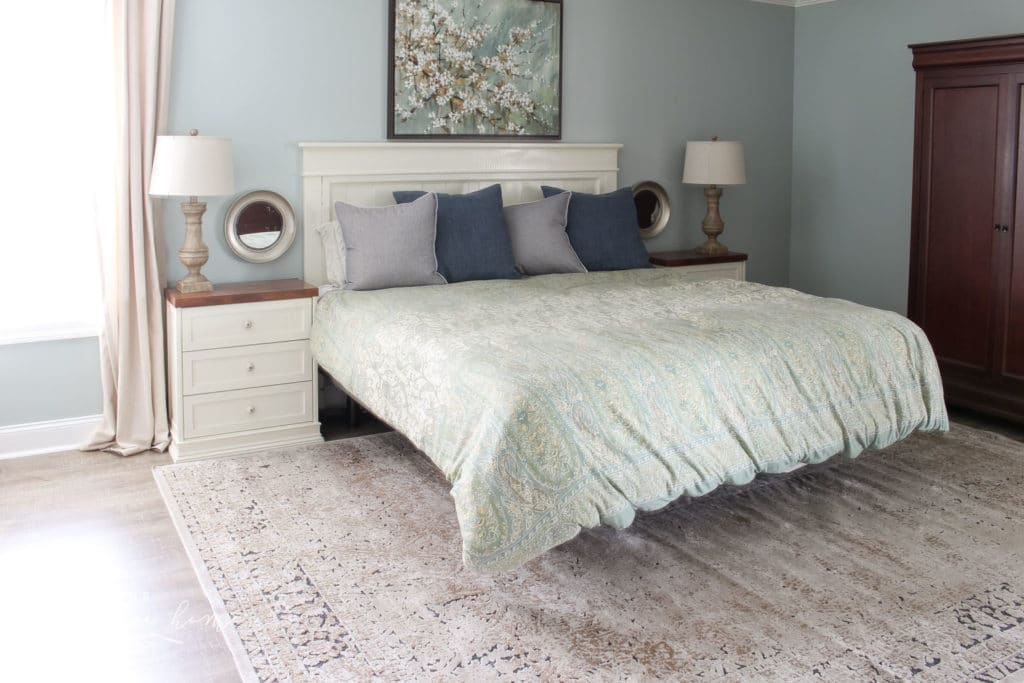 Runners on each side of the bed like this example from Pottery Barn.
I hope these tips help you find your new favorite area rug for each room of your home. Don't forget to check out my favorite places to find affordable area rugs!
MORE POSTS YOU WILL LOVE:
Get Instant Access to my Guide to Customize Your Home on a Budget
Grab your FREE guide for 10 Ways to Customize Your Home on a Budget: simple projects to transform your home from builder beige to a home with character and charm!