This simple 6-step formula for how to make a bed beautifully, motivated me start making my bed every morning! Try these easy steps help you make a beautiful bed without going overboard on unnecessary layers or throw pillows!
For years I thought I just wasn't someone who made her bed every morning. While I could see the benefit of starting out your day with order and beauty, I couldn't find the motivation to make my bed a daily habit.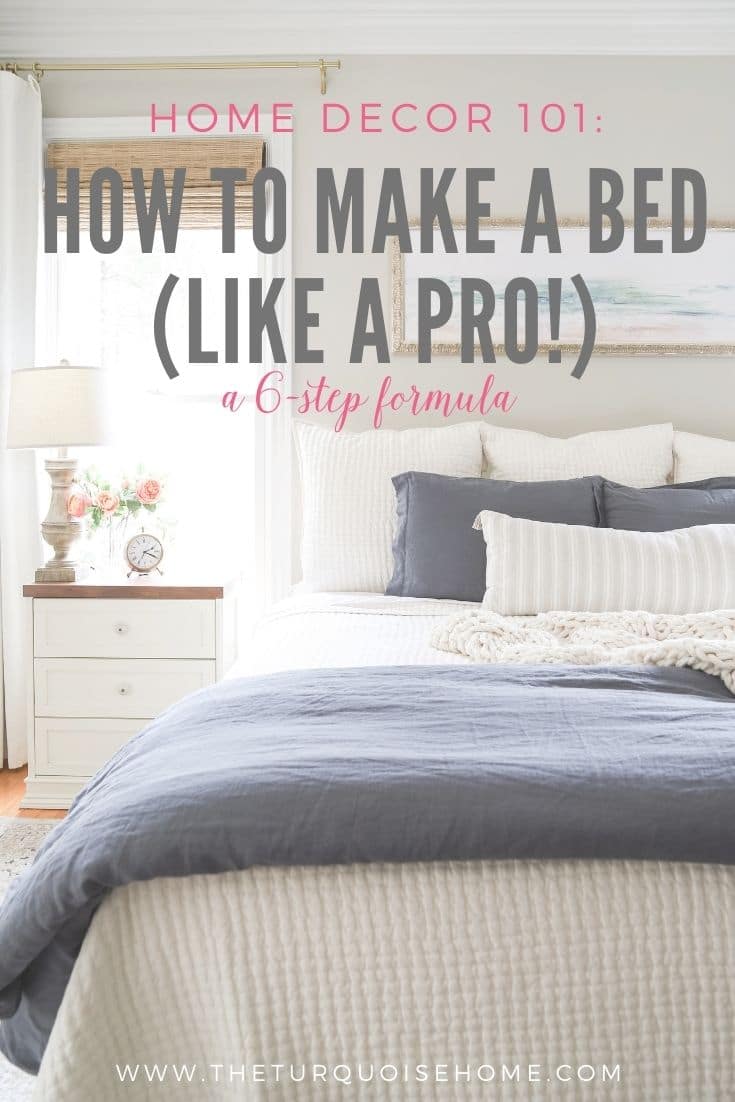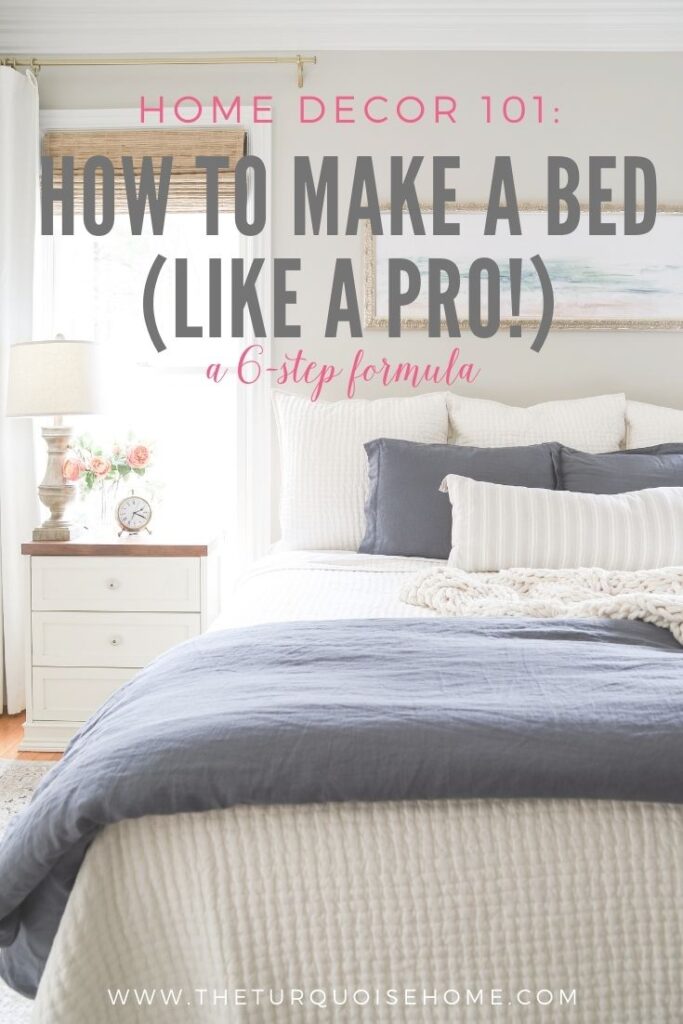 When I started our master bedroom makeover last fall (since put on hold until we finish the kitchen & outside makeovers), I finally researched what kind of bedding to put on a bed. And I invested in beautiful bedding pieces that will last for years to come. (I've shared all of the sources for the bedding pieces at the end of this post.)
Just by building the right layers to a beautiful bed has turned me into a routine bed maker. Ha! Instead of being an internal slob, I just needed the external materials to make a bed beautiful, thus giving me the motivation to make my bed! 🎉
For years we just had a duvet and duvet cover and two matching pillow shams. You know, the traditional box set of bedding.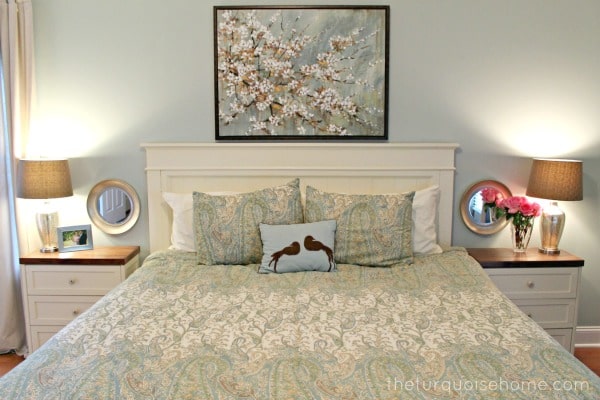 I would see beautifully styled beds in magazines and online and just didn't want to take the time to figure out how to do that myself. Truthfully, I was overwhelmed by all of the various layers and pillows. I thought all of those pillows would be hard to keep up with and make the art of making my bed complicated.
But I've found the opposite to be true! The pillows and layers actually give the bed a formula for a simple and beautiful bed.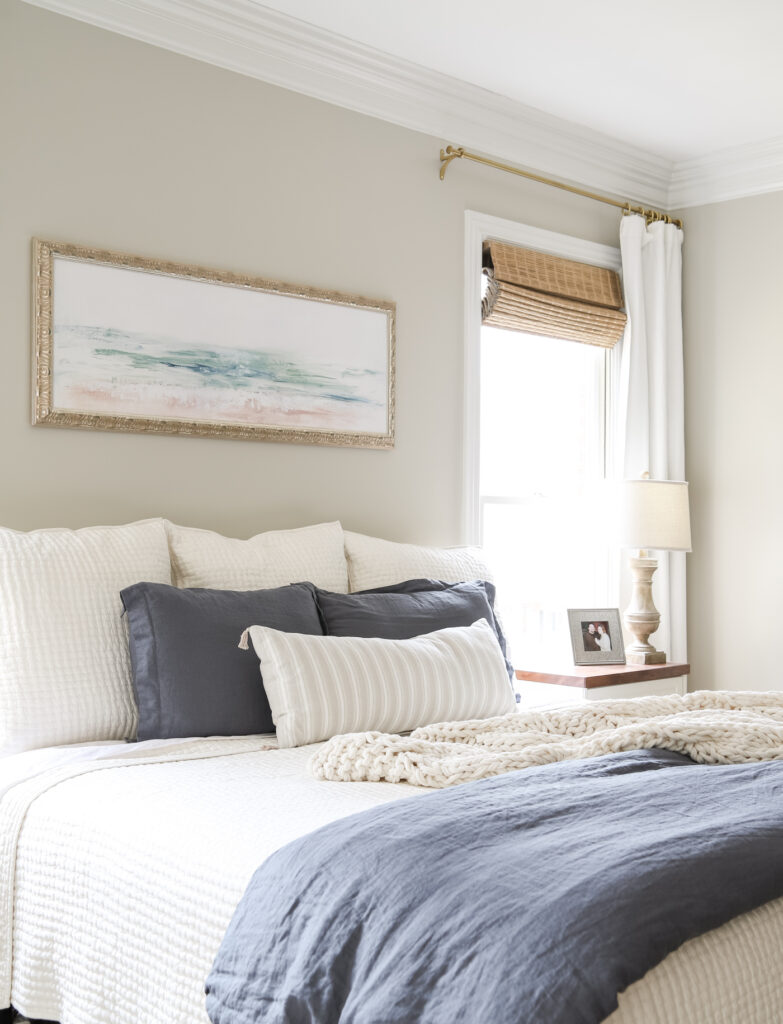 If you look the internet over, you'll find various ideas of "right" ways to make a bed. But I'm going to share a simple formula with you today that will change the feel of your whole bedroom. And I'd love to hear if you try this and get converted from a non-bed maker to a bed maker in the process!
When we moved into our new house and all of the natural light poured in, I decided to make the bedding a priority. It was time (at almost 40-years-old) to invest in some new bedding. I loved the old paisley duvet cover I had, but it was time for something fresh!
This post contains affiliate links for your convenience. See my full disclosure policy.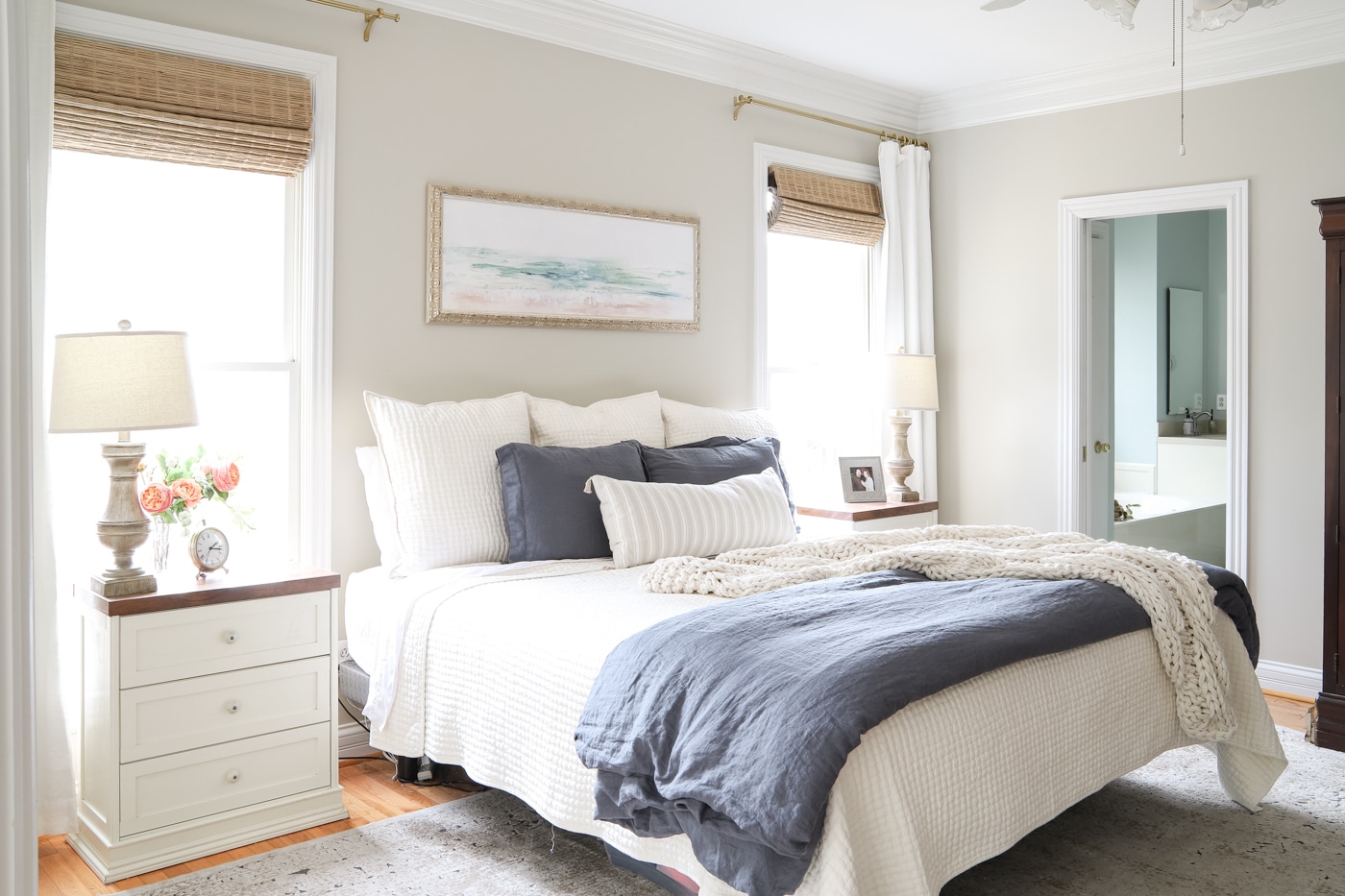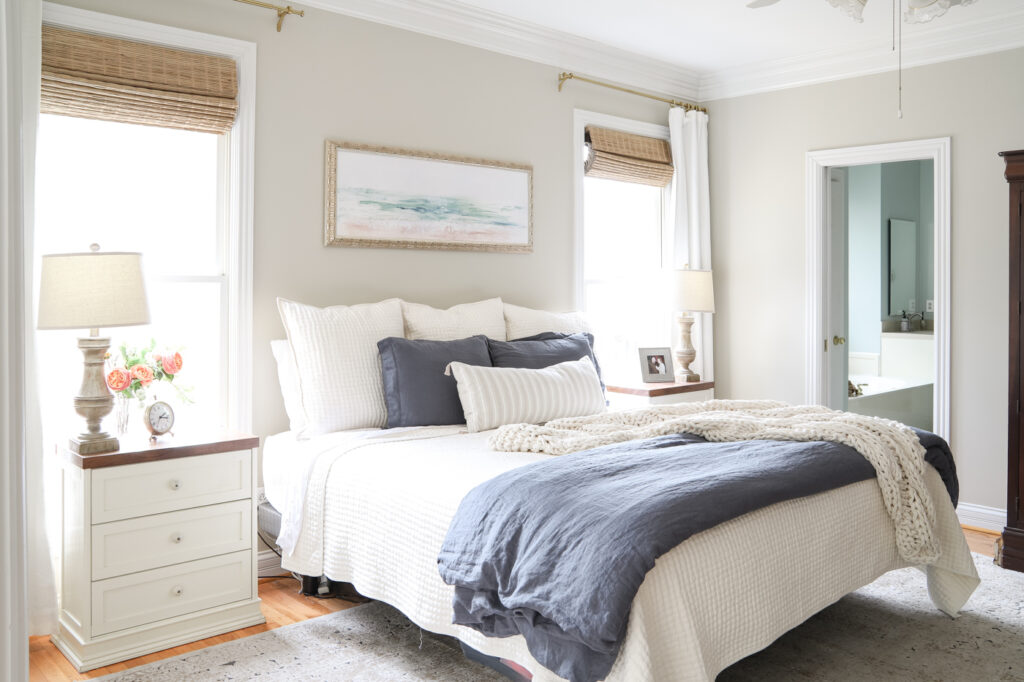 The Formula for Bed Making Like a Pro
This is the simplest way I've found to make a beautiful bed! I hope this formula helps you make a beautiful bed without going overboard on unnecessary layers or throw pillows!
Layer 1. The Fitted and Flat Sheets
I love these 400-thread count cotton sheets. I have them on all of our beds and have been buying them for years! They are cozy in the winter and cooling in the summer.
I love that they have multiple elastic bands in the corners to accommodate all mattress sizes. I even love their tags that tell you which way is the top/bottom and which ones go on the sides of the bed.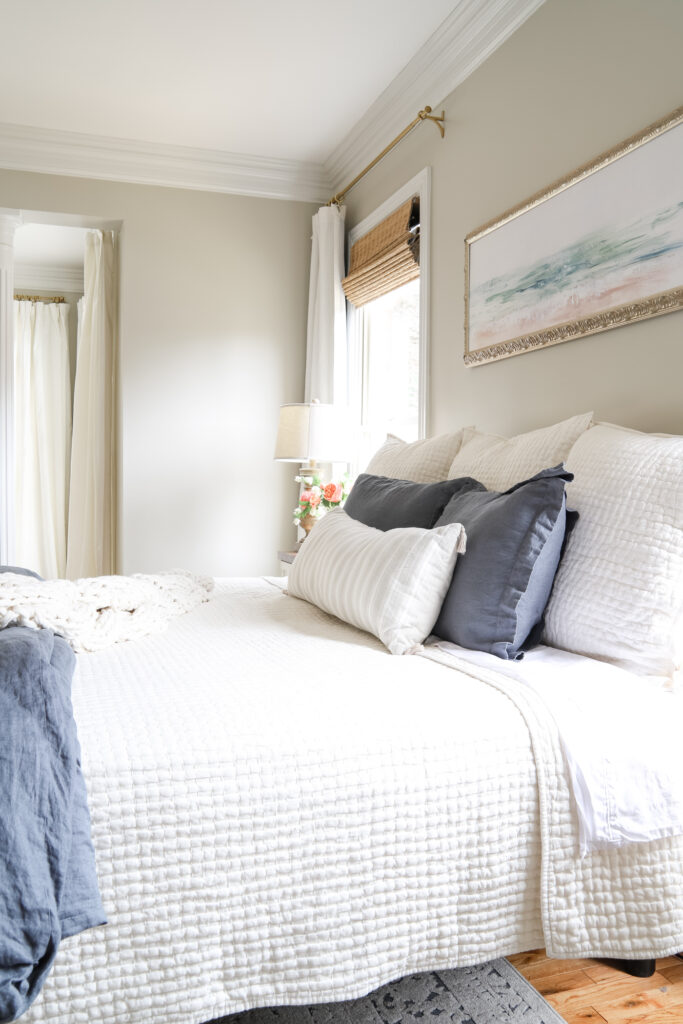 Layer 2. A thin, solid quilt or blanket (that works in all seasons)
I love this pick stitch quilt in ivory. It's not stark white, but will show dirt and let me know when it needs to be washed. It's the perfect weight to keep you cozy in the winter when you combine it with the next layer, or sleep with it alone in the summer!
Layering your bedding gives you options in the different seasons and I love that!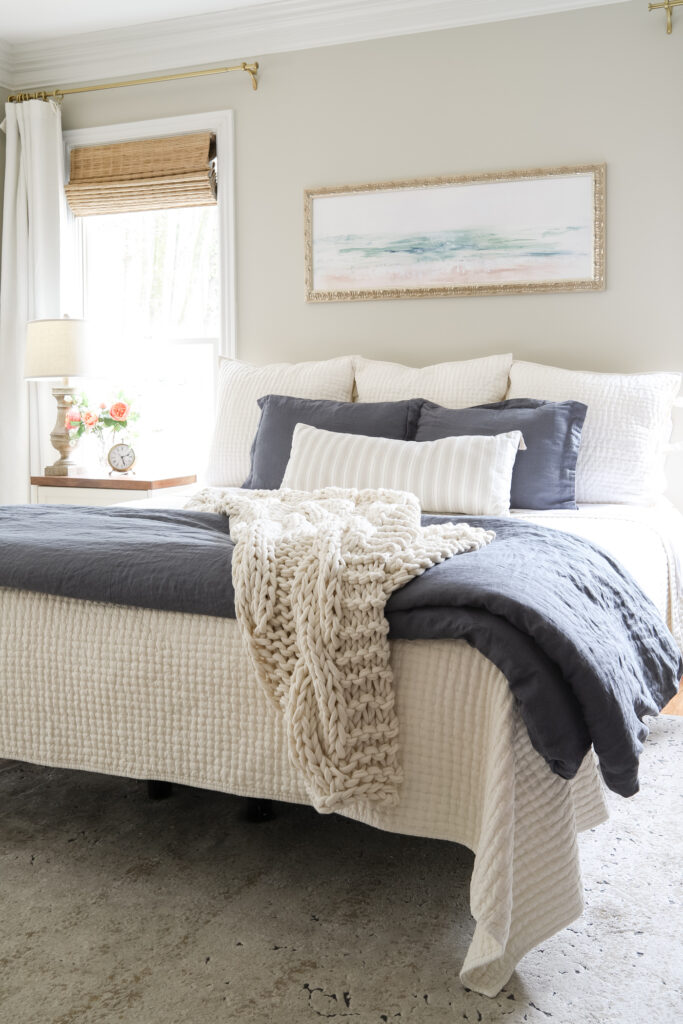 Layer 3. A Duvet or Comforter in a solid or pattern
The next layer is the duvet insert with a duvet cover. You could also use a comforter here, but I prefer the duvet and cover.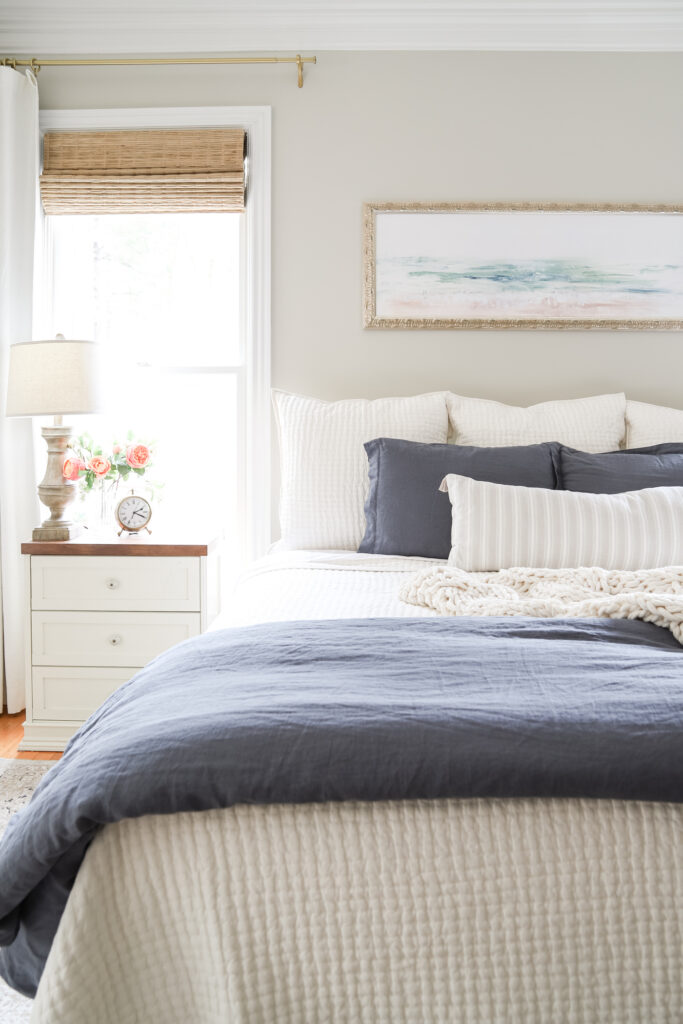 This is a perfect spot to add some color and/or pattern to your bedding. I love all of the various duvet styles and covers out there, and buying more than one can allow you to change them out for different seasons. You know I'm a sucker for changing things with the seasons!
After years of having a paisley duvet cover, I went with this solid steel blue linen duvet cover. I love how it pulls some of the color from the coastal art above the bed and how it grounds the bedding as well.
Layer 4. A throw blanket or another quilt
I think the choice between another quilt or a simple throw blanket will depend on the climate you live in. Because we live in Alabama and don't have super cold winters, I find that a throw blanket works great!
I find that another quilt is too much bedding. So, I like to have a throw blanket on top in case someone (me!) wants to take a nap during the day and not mess up the whole bed. Just pull that throw blanket up and snuggle in.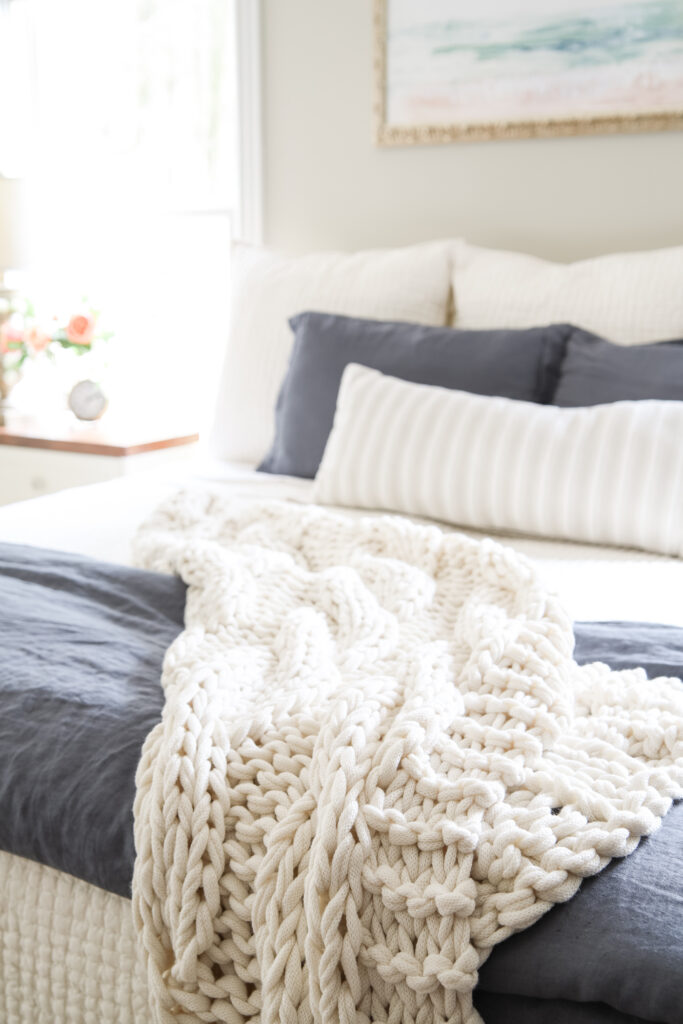 If you are using a quilt , then you'll want to pull the duvet cover up to cover two-thirds of the bed and the quilt will be anchored at the end of the bed, like I have my duvet cover in the photos.
Warning! Do not confuse the throw blanket with a bed blanket. A bed blanket will be large enough to cover the entire width and depth of the bed, while a throw blanket is smaller and will be draped over the edge of the bed for decor and texture. You can use either one in this step, but I wanted you to know the difference!
Layer 5. Euro Pillows
A Euro pillow is just a large pillow that is 26″ x 26″. This is a huge piece I was always missing in my previous bed set up!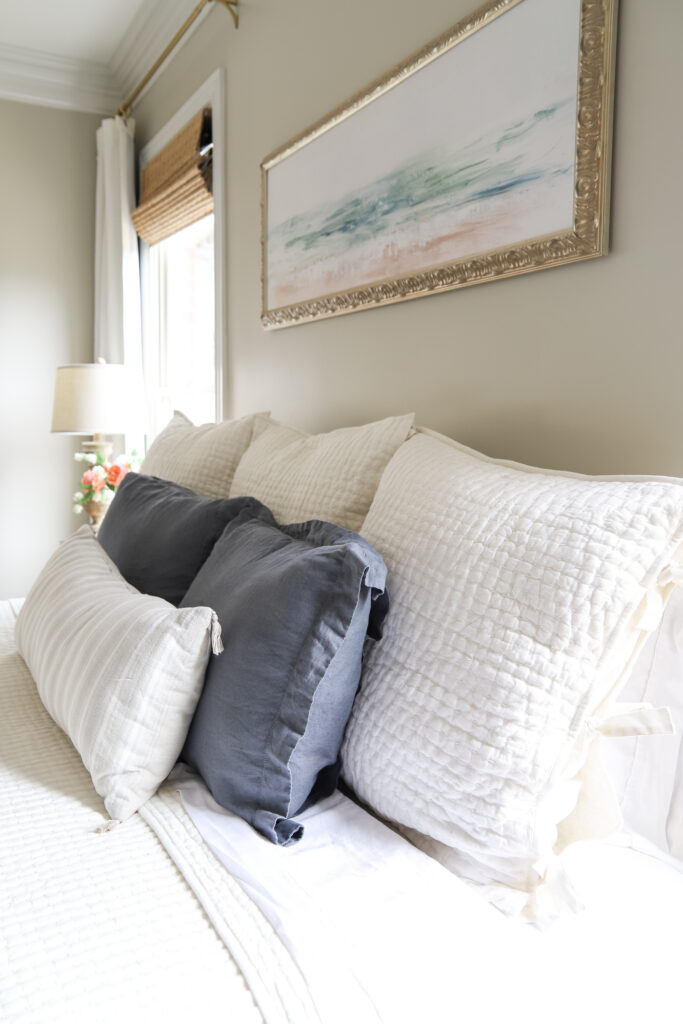 And a simple rule of thumb is that for a king size bed you want to have 3 euro pillows on the bed. And for a queen size bed, you'll want to have 2 euro pillows. Same goes for a full size bed.
For an easy formula, keep these pillows the same material and color as your 2nd layer – the thin quilt or blanket. I chose the ivory pillow covers in the same pick stitch style as my quilt. I love how repeating the colors and materials make it look cohesive.
Pssst… we just put our sleeping pillows behind the euro pillows and you can't see them at all!
Layer 6. Decorative pillows
There are so many ways you can do this next bed layer, but to keep things simple, you can just copy what I did!
I used the two standard size pillow shams that came with my duvet cover in front of the euro shams. And then I grabbed a long lumbar pillow to go in front. The fun thing is that you can change out the lumbar pillow easily and give the bed a whole new look!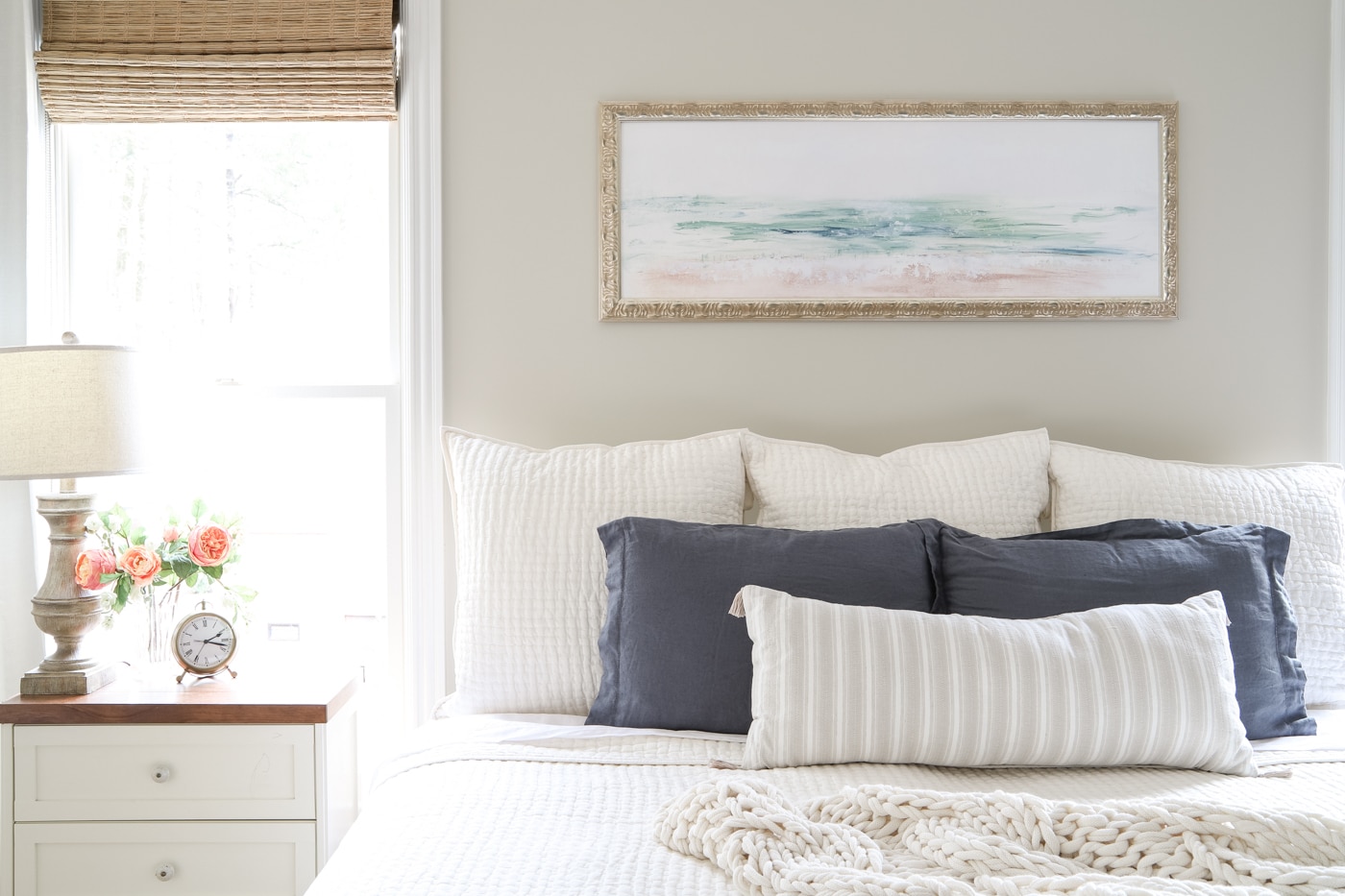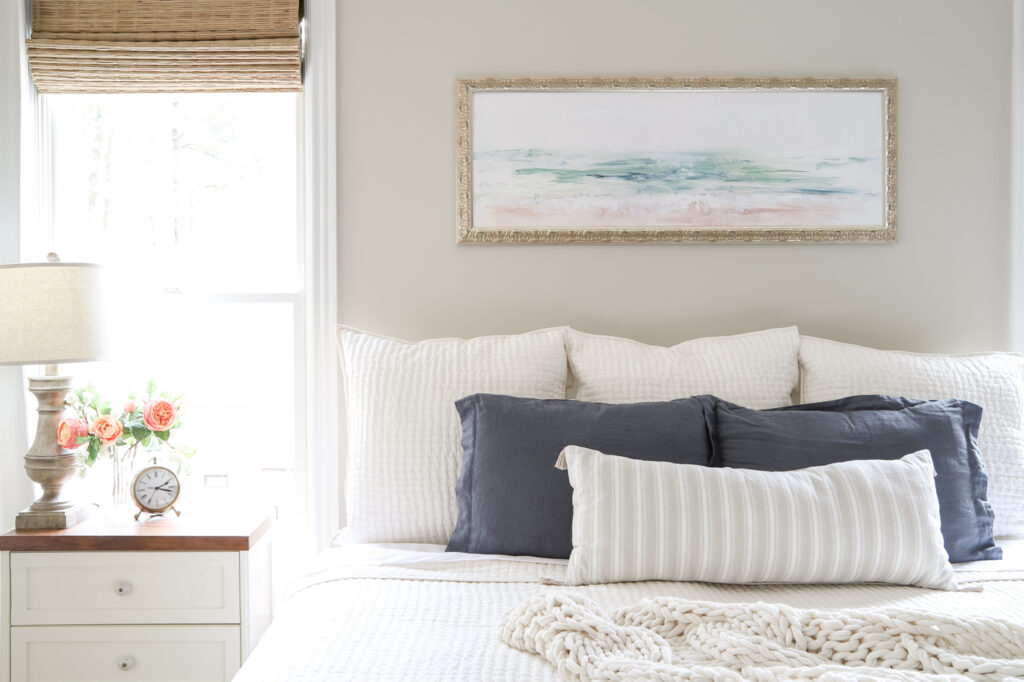 You really could use any favorite decorative pillow as that last pillow and it would look good, but I love the long lumbar.
---
This is the easiest way that I've found to to pull a bed together. And now it's soooo easy to make it every morning. I think knowing that it will look put together and beautiful with less than 5 minutes of effort motivate me to keep it looking nice each day.
Now to find a bed frame that I love and is also in my budget!
Bedding Sources
Wall Color: Revere Pewter | Bamboo Blinds in Jute Wheat (Use my discount code TURQHOME for an additional 5% off your order!) | Coastal Abstract Art | Ivory Linen Curtains | Brass Curtain Rods | Curtain Rod Finials |Brass Curtain Rings | Favorite Cotton Sheets | Classic Ivory Pick Stick Quilt & Matching Euro Shams | Steel Blue Linen Duvet Cover & Standard Shams | Lumbar Pillow | Woven Throw Blanket | Table Clock | 9 x 12 Area Rug | Lamps: old from HomeGoods | Night Stands (DIY) | Favorite Mattress
More Master Bedroom Posts You'll Love:
MORE POSTS YOU WILL LOVE: