Family Board Game Gift Guide
Give the gift of quality time with your family when you choose a favorite from this family board game gift guide. Get them a gift they will love playing all year long.
This post contains affiliate links for your convenience. See my full disclosure policy here.
My mom is the game queen and she got it honest, because I grew up playing games with my grandparents and aunts and uncles. Now my family plays games anytime we get together. Ticket to Ride, Telestrations and Say Anything are the most common ones we pull out, but these are all great options!
Happy playing!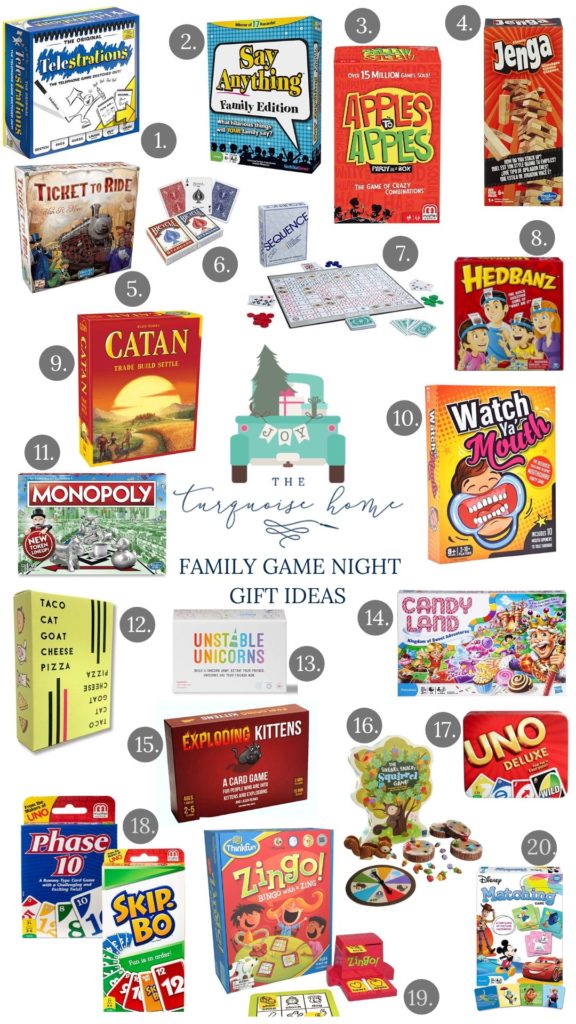 Telestrations: This is a family favorite for my large family! It's like the telephone game, but using drawings instead. Our family never laughs harder than while playing this game. The worse your drawing skills are the better!
Say Anything: Another family favorite! You read a question, everyone else writes an answer, then you chose your favorite one. It gives people a chance to "say anything."
Apples to Apples and Apples to Apple Jr: This easy to follow game is perfect for all ages! We've been playing it for years and never get tired of it.
Jenga: This timeless game uses skill, luck, and strategy. Because it's so simple, it is a crowd favorite!
Ticket to Ride: Our family received this game for Christmas last year and it quickly became an extended family favorite! Adults love this game as much as kids do. The goal is to connect routes with the chain of trains you have and get points. The person with the highest number of points wins! It is a great game to begin teaching strategy. Think of it as a beginner's Monopoly. We loved it so much that a couple of the families in our larger family bought the Ticket to Ride (First Journey) for kids and it's so good, too!
Playing Cards: Don't forget about traditional playing cards for your next game night! You can play a variety games like poker, war, rummy, blackjack, spades and many more.
Sequence: This fun game is another favorite for all ages. It can be play individually or with teams, and uses strategy to win.
HedBanz: Wearing a headband with a card on it, try to guess what the card is by asking simple yes or no questions. This game is so simple even the littlest ones can play!
Catan: Best for kids older than 10 years old, Catan is a game of trading, strategy, skill and luck. The players are seeking to tame the remote but rich isle of Catan, but beware of robbers!
Watch ya Mouth: Be prepared to laugh out loud with this game! A player wears a mouth-guard and says a phrase, and teammates try to guess what the phrase is. You will not be able to keep a straight face during this one.
Monopoly: The classic game of property trading! If you have young ones (between 5-7), I recommend Monopoly Junior. It is a simpler game that teaches the concept of Monopoly without the complicated rules. You could also buy the Frozen II edition, Lion King edition, Toy Story Edition or Unicorns Vs. Llamas.
Taco Cat Goat Cheese Pizza: A card game that is fast paced and highly entertaining. Elementary and middle school aged kids will enjoy this one!
Unstable Unicorns: In this award winning card game, you use strategy to collect unicorns in your area, but watch out for your opponents who are trying to destroy you.
Candy Land: A classic game for kiddos that are pre-school aged!
Exploding Kittens: This hilarious game is kitty-powered version of Russian roulette. Be careful of the Exploding Kitten cards, or you may end up dead. My girls, ages 8 & 4 love this one!
Sneaky Snacky Squirrel: This is a great game to introduce family game night if you have toddlers. It helps teach matching, sorting, hand-eye coordination, and strategic thinking. My kids loved this game when they were between the ages of 2 and 4.
Uno: A classic game we all played when we were younger! It's a great beginner card game for kids. We've been playing since my oldest was 6 years old. Uno Attack is also fun alternative for kiddos too!
Phase 10 and Skip-Bo: Both fun card games to play with crowds. Similar to Uno, but with twists. In Phase-10, you have 10 "phases" or combinations of cards to complete. Skip-Bo uses strategy to build stacks of sequentially numbered, ascending cards. Both cards games are fun to play on vacation or camping when you don't have room to pack large board games.
Zingo: Like Bingo but for toddlers! Another great game when your little ones are below 5.
Memory: My girls love a simple game of matching "memory". It's not only fun, but helps develop their memory skills. If you have littles who want to play, this is a perfect game. My 4-year-old can beat the rest of us with no trouble! Also comes in Toy Story 4, Disney Princess, PJ Masks versions.
Sleeping Queens: Such a great game for elementary-aged kids! My girls are 9 and 5 and both can play this game and love it! It's pretty quick (under 20 minutes) and is the game we played most during quarantine.
What is YOUR favorite family game to play?! Share with us in the comments below!

MORE POSTS YOU WILL LOVE: