Replacing your flush mount ceiling light is an easy way to make a big impact in your home. Here are 15 gorgeous flush mount lighting ideas for every budget and style to inspire you!
Ah, flush mount lighting.
We've all had ugly light fixtures in our homes at one time or another. You know what I'm talking about: those infamous, builder-grade favorite "boob lights" that are often found in hallways. You don't have to suspend your imagination to figure out why they've earned such a nickname.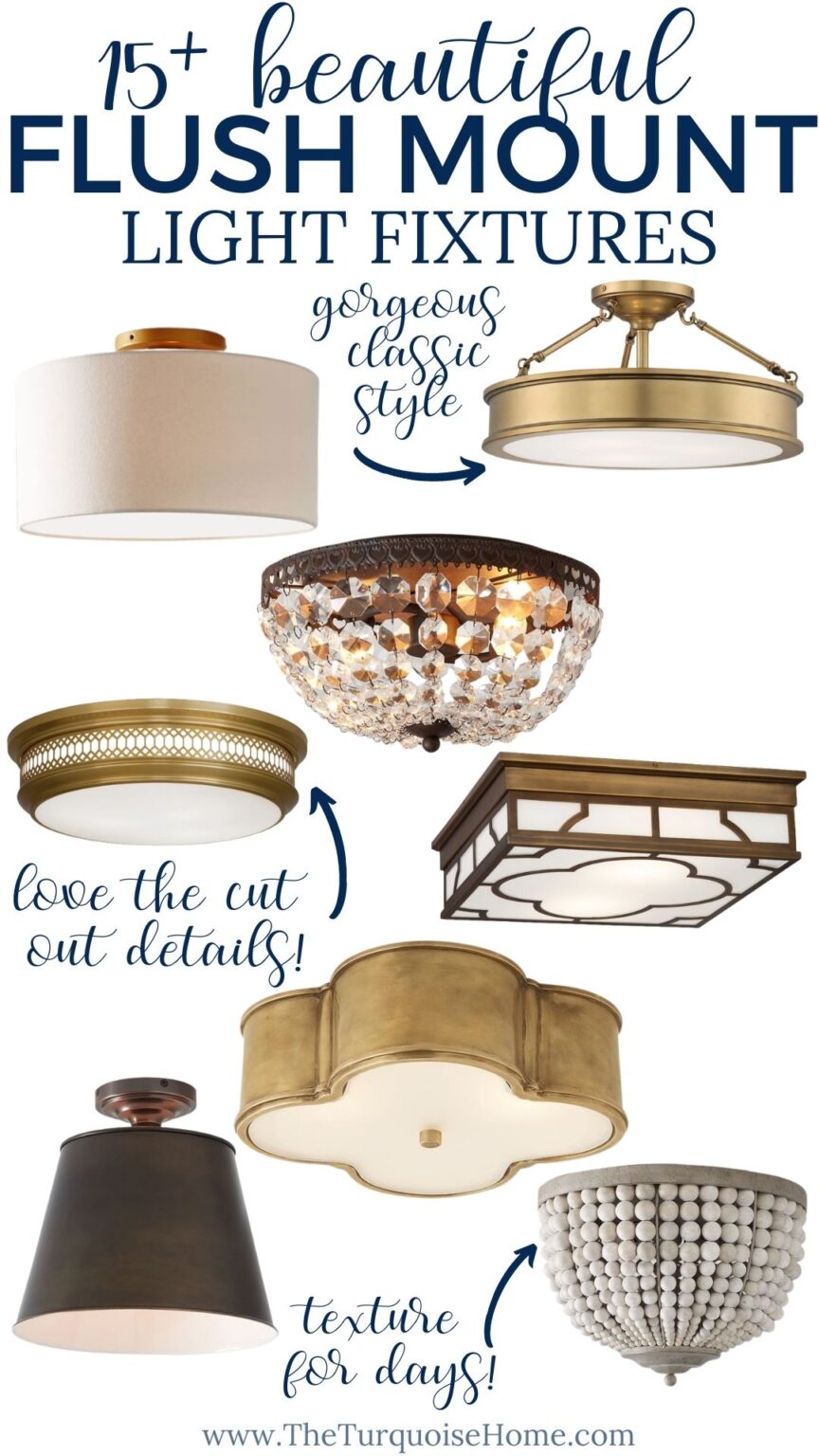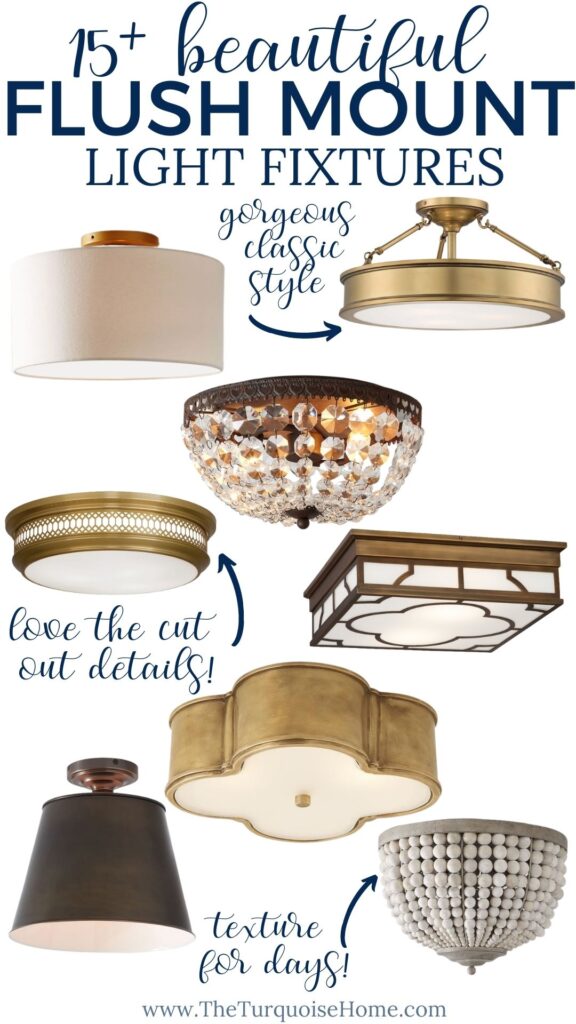 Flush mount ceiling lights are designed for utility, not for aesthetics.
When you move into a new home, one of the first things you probably think is, "I'm going to replace that light fixture." Chances are, you probably go years before finally doing it.
Why? Flush mount ceiling lights do the job they were meant to do, so the task of replacing them never reaches the top of your priority list.
"Boob" lights are incredibly cheap. I'm talking under 20 bucks at any Home Depot. For landlords, there is literally no incentive to install attractive fixtures for their tenants. Renters don't care enough about flush mount lighting for an ugly one in the hallway to be a dealbreaker.
I do have good news for you: you don't have to stay committed to ugly flush mount ceiling lights! There are so many options for beautiful flush mount lighting and semi flush mount lighting that don't have to break the bank.
This post contains affiliate links for your convenience. See my full disclosure policy.
The Flush Mount Ceiling Light I Chose
I'll be the first to admit that I put off replacing ugly light fixtures for way too long in my old house.
Why did I put myself through that? It's so easy and inexpensive to just change out your flush mount lighting!
So I swore to myself I wouldn't make the same mistake in my new home. I've been working hard to replace all of the light fixtures I don't really like (hello cheap and hideous boob lights!), starting with my entryway lighting.
Thankfully, my husband has gotten really good at changing them.
Ultimately, I chose this Simple Bowl Flush Mount for my butler's pantry, to take the place of the boob light from the 90's. It's sooooo simple and understated, but it makes a huge difference to upgrade the metal finish and do away with those weird finials. It also comes in four finish options, so you can pick the one that matches other finishes in your home.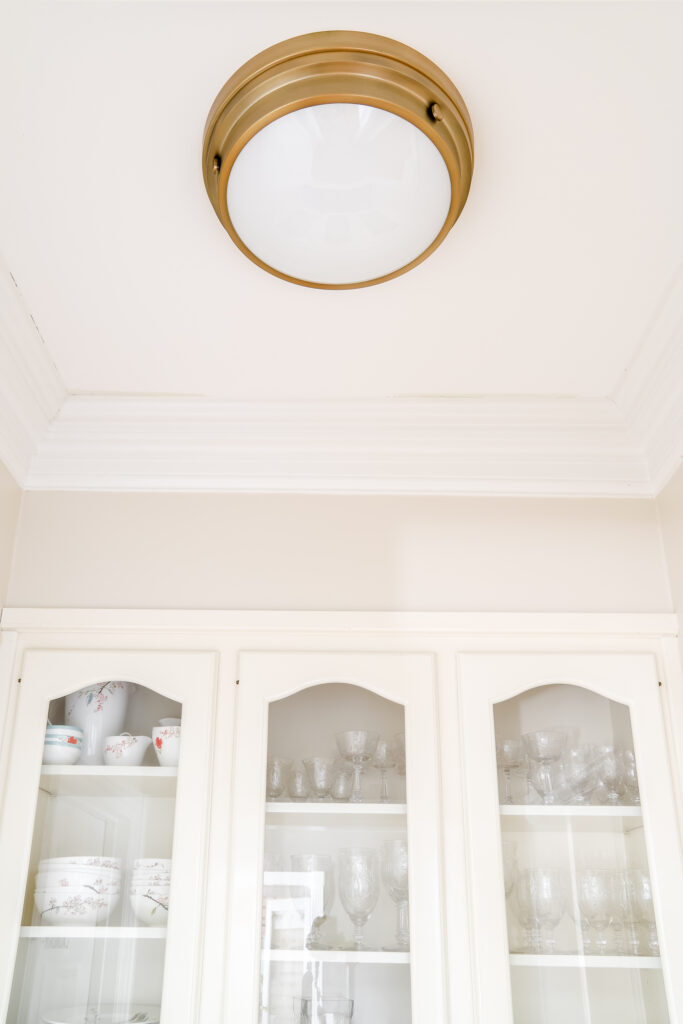 It's such a hard space to photograph because it's so small, so I snapped a picture so you can see the rest of the space, too.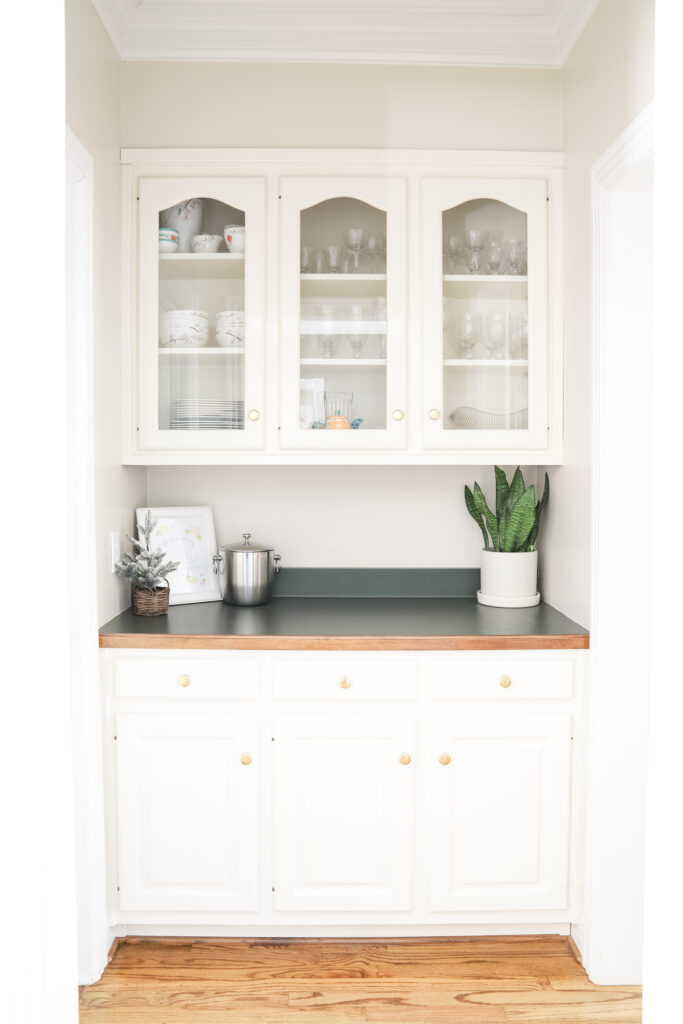 This view is looking in from the dining room. The kitchen is through the door on the right and the laundry room to the left.
But if this flush mount ceiling light doesn't float your boat, don't worry. You're sure to find a gorgeous option that suits your unique decor style.
Keep reading!
Tips for Choosing a Flush Mount Ceiling Light
Flush mount lighting can theoretically work in any room of the house.
However, in prominent places such as living and dining rooms, you'll often find more intricate chandeliers or perhaps recessed lights. Bedrooms usually have lighting fixtures combined with a ceiling fan. That leaves the hallway as the most likely spot to find a flush mount ceiling light.
It's not hard to see how hallway light fixtures can become overlooked and ignored. However, that doesn't mean you can't have a little fun choosing the right fixture that shows a bit of your personality.
Here are a few tips to help you begin to narrow down your options:
Hang your fixture in the center of the room. This means it should be central to the width of the hallway as well as the length. If there are multiple fixtures in the room, be sure that the distance between the wall and each fixture is the same – and that they are spaced evenly from each other.
Make sure the bottom of your entryway light at least seven feet off the ground. You never know when you might have a tall friend come over!
Try to match the finish (as in the metal part of the fixture, or in some cases, wood) to other light fixtures in your home. Matching finishes from room to room will create a sense of continuity in your home.
Don't forget to consider lightbulbs. With enclosed spaces such as hallways, you can easily get away with diffused softer lighting, while a large space needs more brightness.
The Best Flush Mount Lighting Fixtures
Now that you have some quick tips for choosing the right flush mount ceiling light for your home, let's start shopping! There is truly something for every home on this list.
Here are some of my favorite flush mount lighting fixtures to consider.
The Best Classic Flush Mount Lighting Fixtures
If you're looking to upgrade your builder grade fixture but don't want to draw too much attention, start with this list of classic flush mount lighting fixtures.
When it comes to simple and unassuming yet attractive decor, West Elm delivers the best.
This Fabric Shade Drum Flush Mount is perfect for those needing an upgrade but not wanting anything fancy or elaborate. The drum-shaped fixture features a linen diffuser that creates a soft glow in your space and comes in a Brass finish base with an off-white shade (my personal favorite) or Bronze finish base with a natural-toned shade.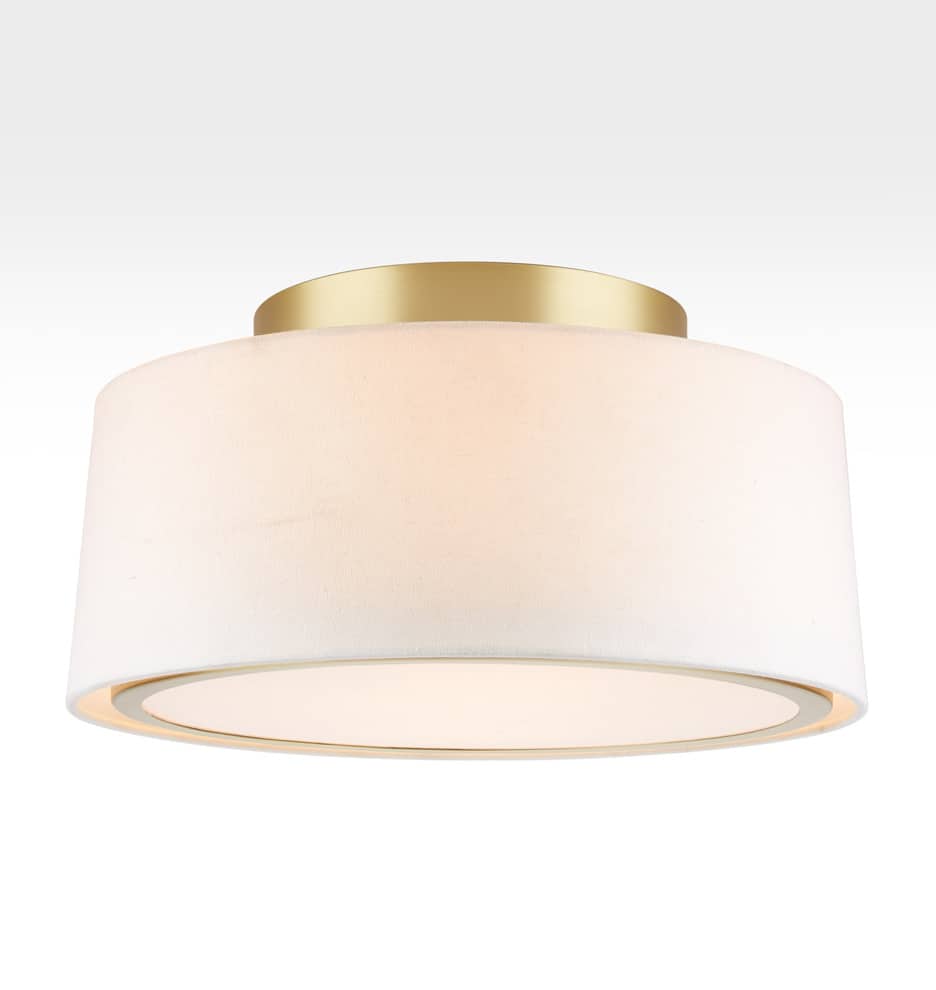 This Cedar & Moss Conifer Flush Mount by Rejuvenation has classic, modern lines and a linen shade that would look lovely in any home.
With a choice of brushed satin (a golden look), brushed nickel, or oil-rubbed bronze, this flush mount ceiling light is a no-frills replacement for that builder-grade fixture that came stock in your home.
If you want just a little more pizazz but still want something classic and simple, this Liberty Gold Flush Mount Light is a good bet. Its antique-gold finish and clean lines are all sophistication, while the frosted glass shade diffuses light for a soft glow in your space.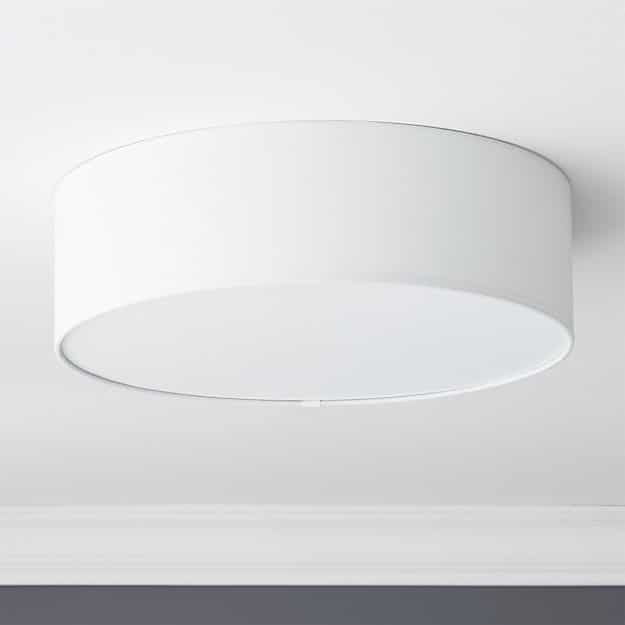 Does all this talk about metal finishes make you cringe?
For the very minimalistic homeowner, CB2 designed this beautifully simple Drum Flush Mount Light. There's absolutely no metal base or embellishments in sight – just a white linen drum to softly diffuse light.
Its shallow profile is ideal for lower ceilings, too!
This slim and sleek two-light ceiling Flush Mount is so unassuming, it doesn't even have a fancy name!
With a white glass shade, Natural Brass finish and low price tag, this fixture is the perfect upgrade for those who would rather not spend too much time thinking about it.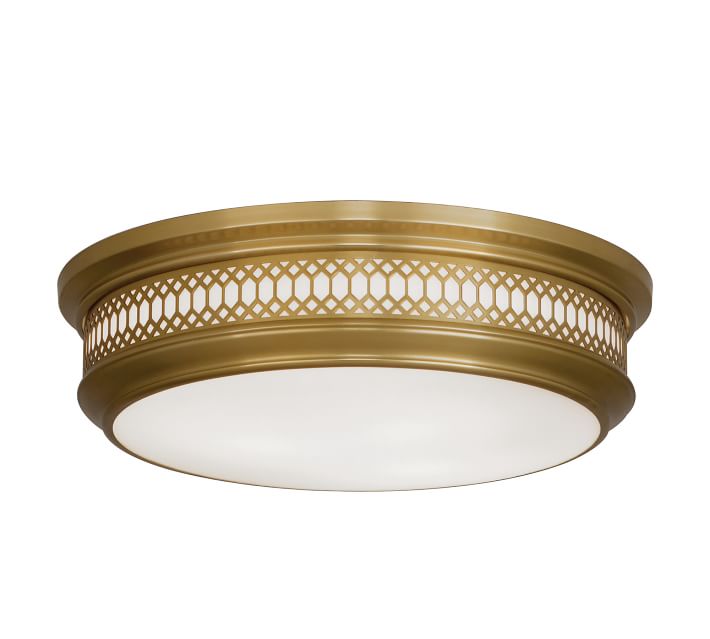 Isn't she just gorgeous?! 😍 This lovely Flora Flush Mount offers just the right amount of embellishment to the standard flush mount profile, and adds just a hint of a vintage vibes.
Whether Art Deco or Victorian style is your jam, you'll love this subtly detailed fixture in brass, nickel, or oil-rubbed bronze finish for your home.
Click/Tap the Images Below to Shop these Classic Flush Mount Lights

The Best Statement Flush Mount Lighting Fixtures
Okay, now on to the fun stuff!
If you love to give 'em the old razzle-dazzle, you'll love these stunning statement flush mount lighting fixtures.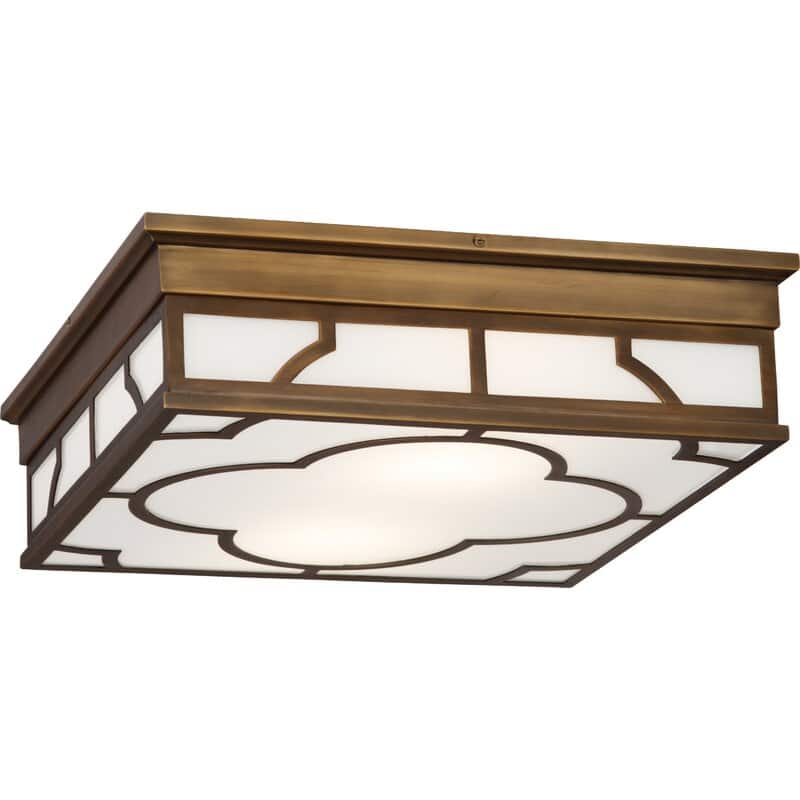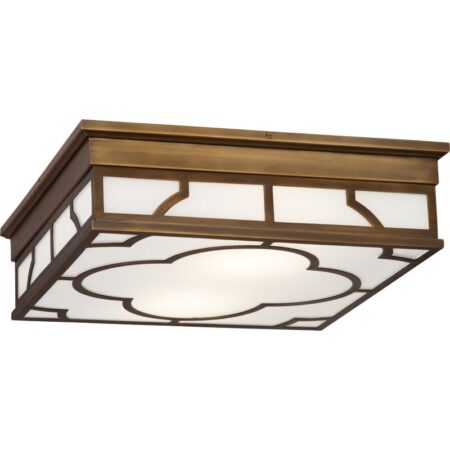 This Addison Square Flush Mount makes quite the statement.
Available in two vintage finishes: Weathered Brass and Patina Nickel, the unique, square shape and decorative design will bring an old-world flair to your home. It has a very low profile, in that it sits very flush to the ceiling, but will still draw attention.
Transform your dim hallway with this impressive conversation piece!
Proudly display this Leila Wood Bead Flush Mount in your home, and guests will think you have a gift for antiquing. The handcrafted wood beads have a whitewashed look to them, and the metal frame features a rustic gray wash that contributes to a continuity of the wood look throughout the piece.
Since the entire fixture, including the frame, is built by hand, each one will look unique. I won't tell anyone you bought it at Pottery Barn, and no one will be the wiser.
All the low profile appeal of a boob light – but with dazzle! This Mia Crystal Flush Mount from Pottery Barn is a festive display of sparkling, faceted-glass crystals with an antique bronze decorative base and will transport you to a time of velvet, lace and sipping sherry in the salon. Instant sophistication!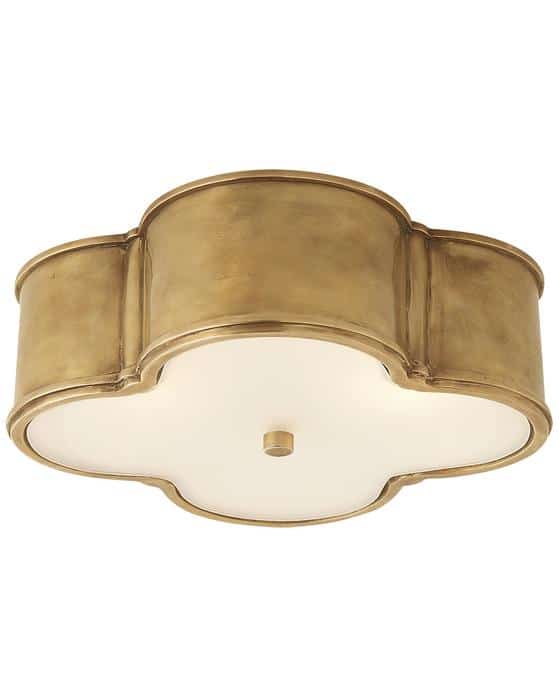 The clover-shaped Basil Flush Mount is quite possibly the cutest darn flush mount ceiling light fixture I've ever seen! 😍 It's incredibly compact, making it perfect for low-ceilinged rooms and hallways (even its larger option sits very flush to the ceiling), and comes in a variety of styles and finishes.
Take a peek at the Clear Glass Rods & Frosted Glass options if you have a penchant for all things Art Deco.
I'm thinking this one might find a home in my laundry room! 🎉
Click/Tap the Images Below to Shop these Statement Flush Mount Lights

The Best Semi Flush Mount Lighting Fixtures
If you're looking for a little more visual dimension than a traditional flush mount ceiling light, why not try one of these gorgeous semi flush mounts? Semi flush mount lighting hangs a little lower than flush mounts, but only by a few inches. See the semi-flush mount I chose for my old kitchen here!
One of these fixtures might look stunning in your space.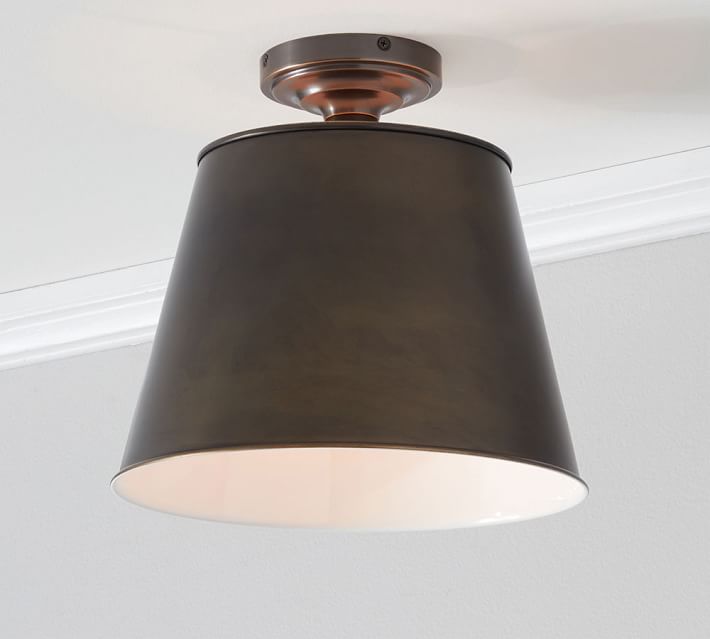 This Custom Tapered Semi Flush Mount comes in three finishes: bronze, brass, and nickel – and a variety of mounting hardware styles. The bronze finish especially has a decidedly farmhouse chic look to it.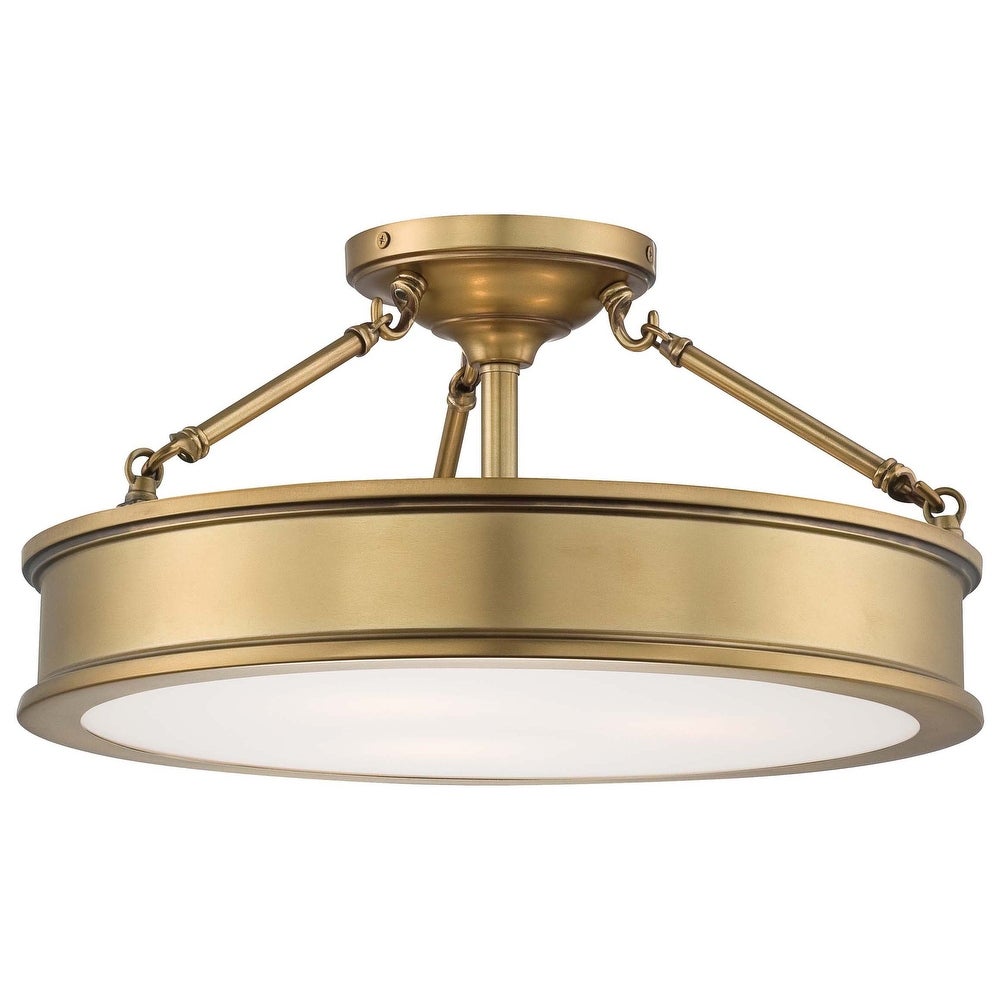 Add a touch of nautical sophistication to your home with this Harbour Point Semi Flush Mount. The Liberty Gold finish has a classic, stately vibe that will not only upgrade your old ceiling light, but take your overall home decor to the next level.
I want to use this light in my office whenever we finally hire an electrician to come out and make an overhead light in there!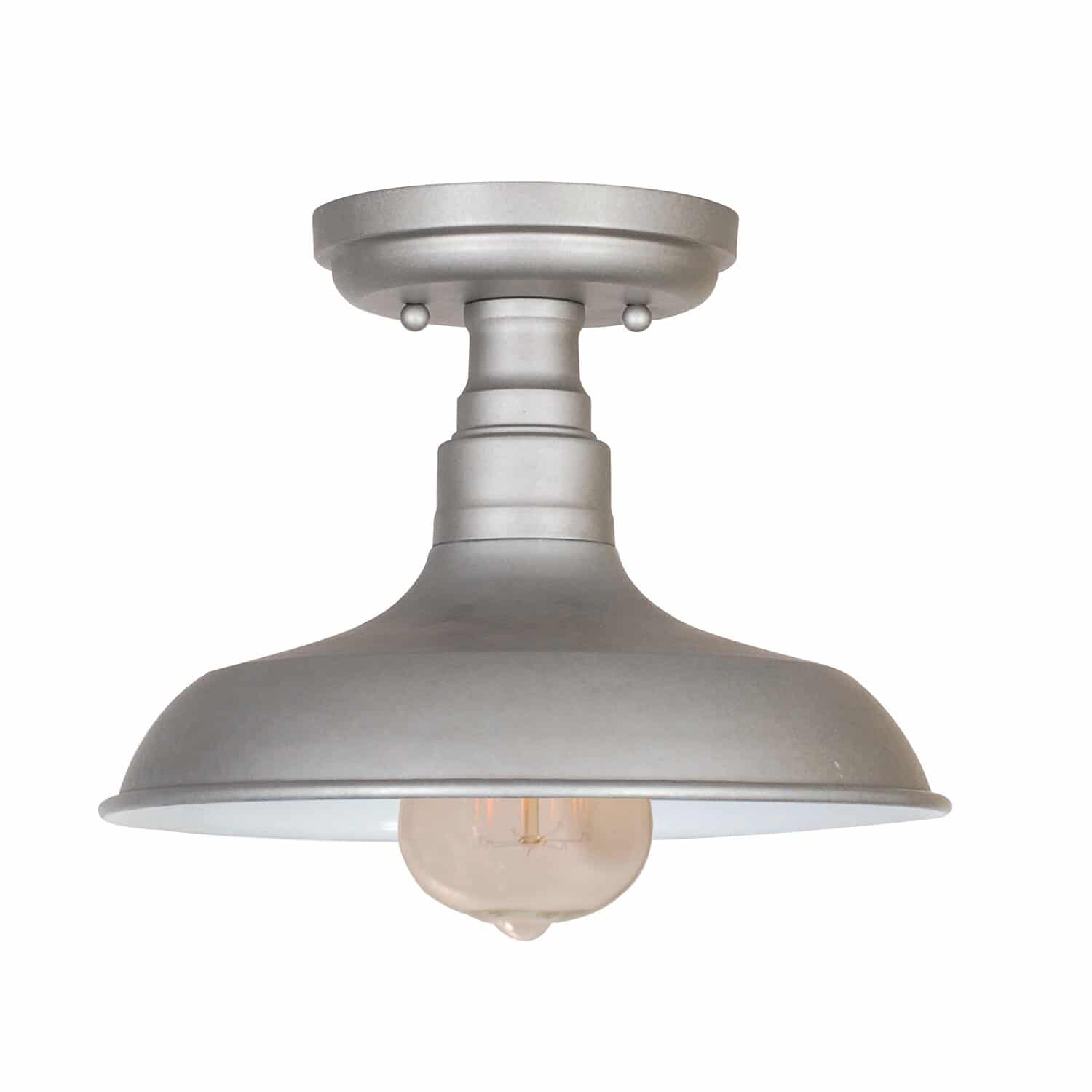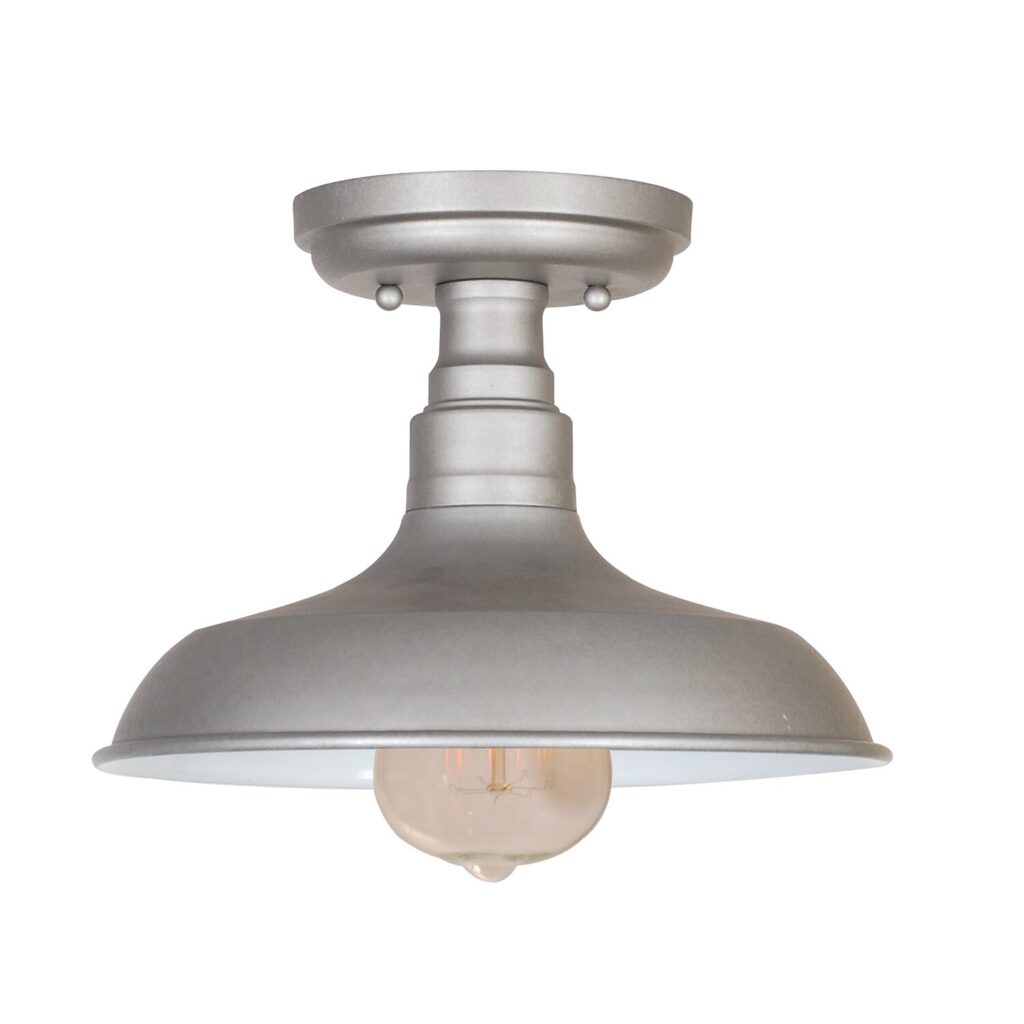 This simple, inexpensive Stephine Semi Flush Mount looks great and complements a variety of decor styles, from farmhouse to classic/traditional to nautical. Its wide, flat bell shade comes in galvanized steel and coffee bronze finishes and will give your home a subtly industrial touch.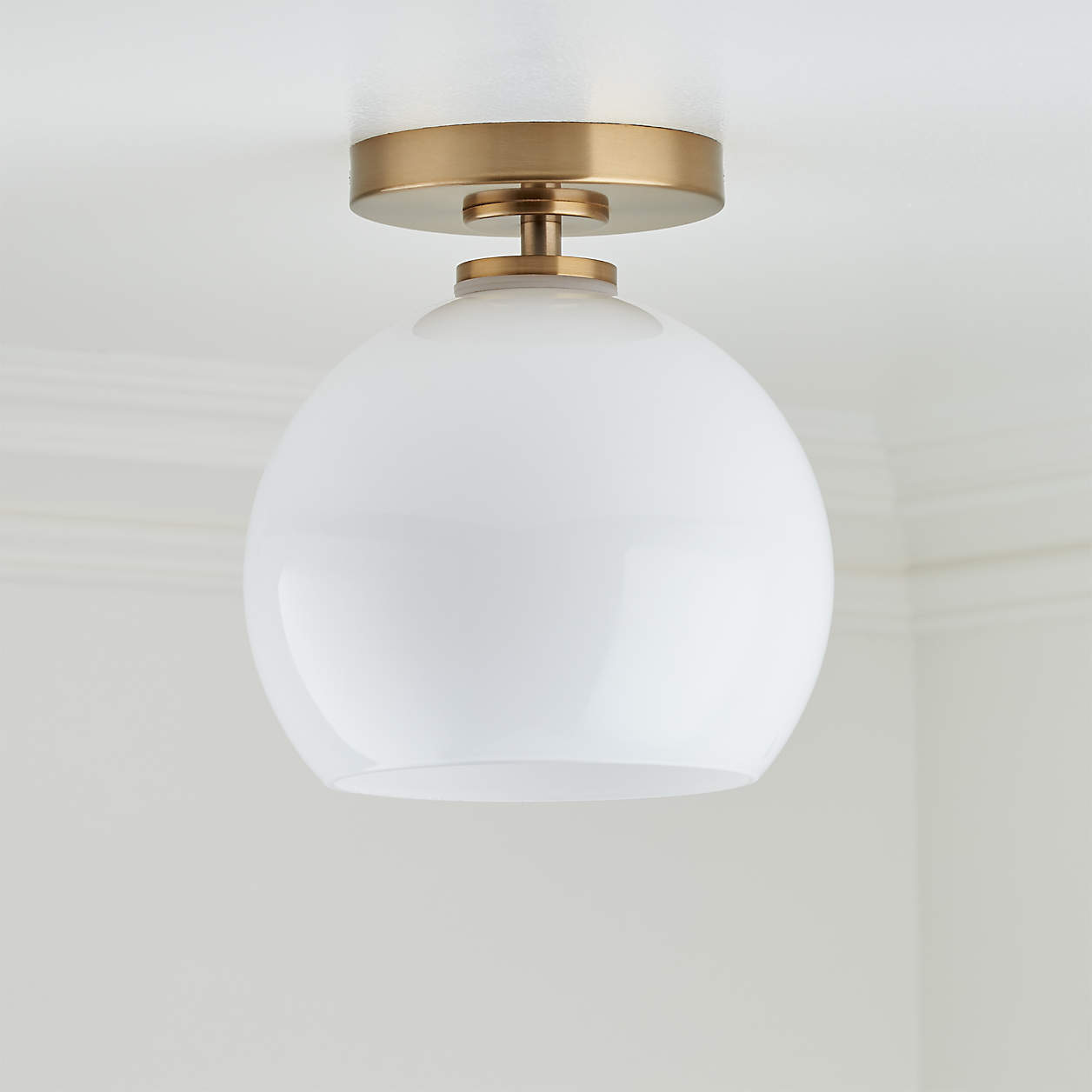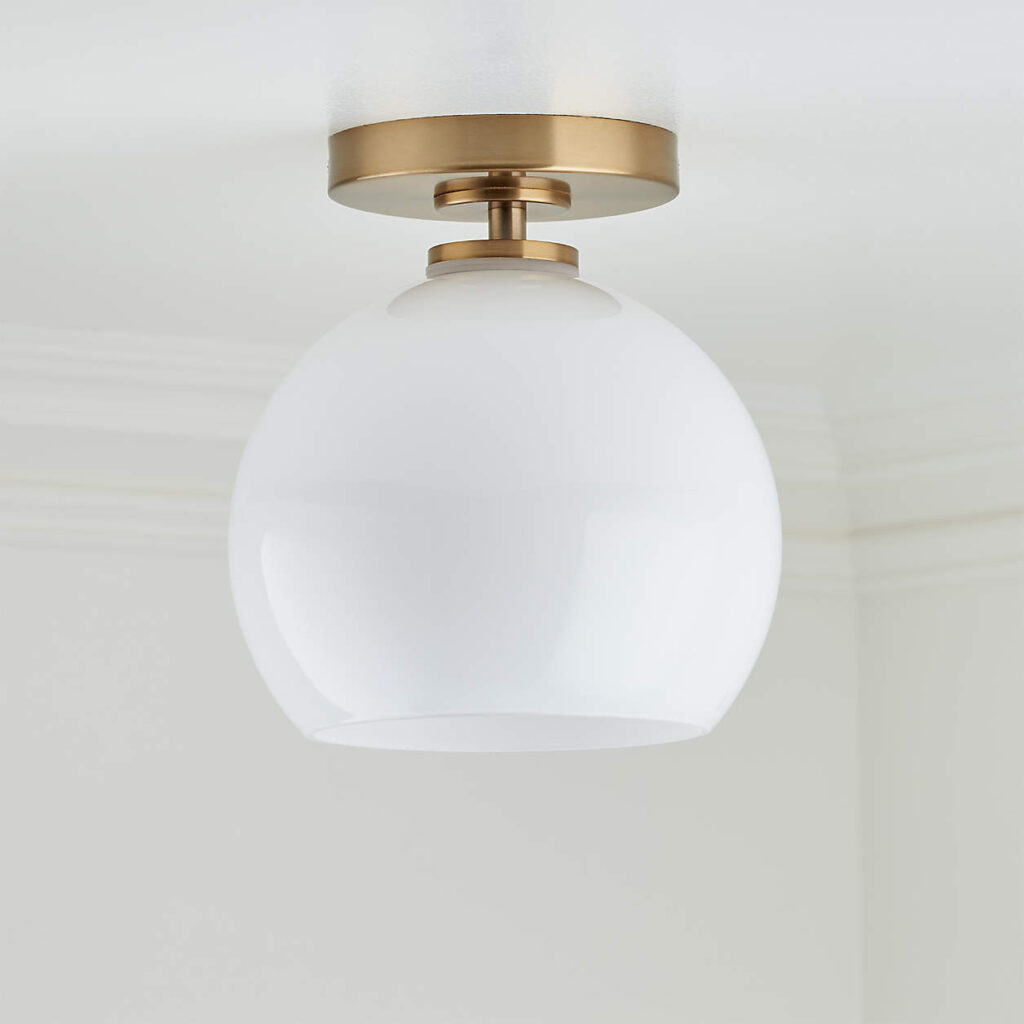 Where are my midcentury modern fans? This Arren Semi Flush Mount is for you! Clean, simple and sexy, this beautiful fixture will give your home the appeal of Don Draper's high rise apartment.
Featuring a gorgeous round milk shade, the base comes in your choice of brass or matte black finish.
Click/Tap the Images Below to Shop these Semi-Flush Mount Lights

---
There you go – 15 reasons to replace the ugly boob lights in your home! Which of these flush mount lighting ideas was your favorite?
MORE Lighting Ideas for Your Home
Get Instant Access to my Guide to Customize Your Home on a Budget
Grab your FREE guide for 10 Ways to Customize Your Home on a Budget: simple projects to transform your home from builder beige to a home with character and charm!