Charcoal Painted Walls in my Dining Room
Let's take a look at my charcoal dining room wall color! It really makes the farmhouse decor look great!
Yesterday I did a deep dive into this new wall color I painted in my dining room: Kendall Charcoal. And today I'm sharing the full reveal of it on the walls of my dining room.
If you remember the before photo when we moved in, the wall color was a wild shade of pistachio. 🤷🏼‍♀️ And it wasn't doing anything for the room, in my opinion. And since it's one of the first rooms you see when you walk into my home, I know I had to change it ASAP.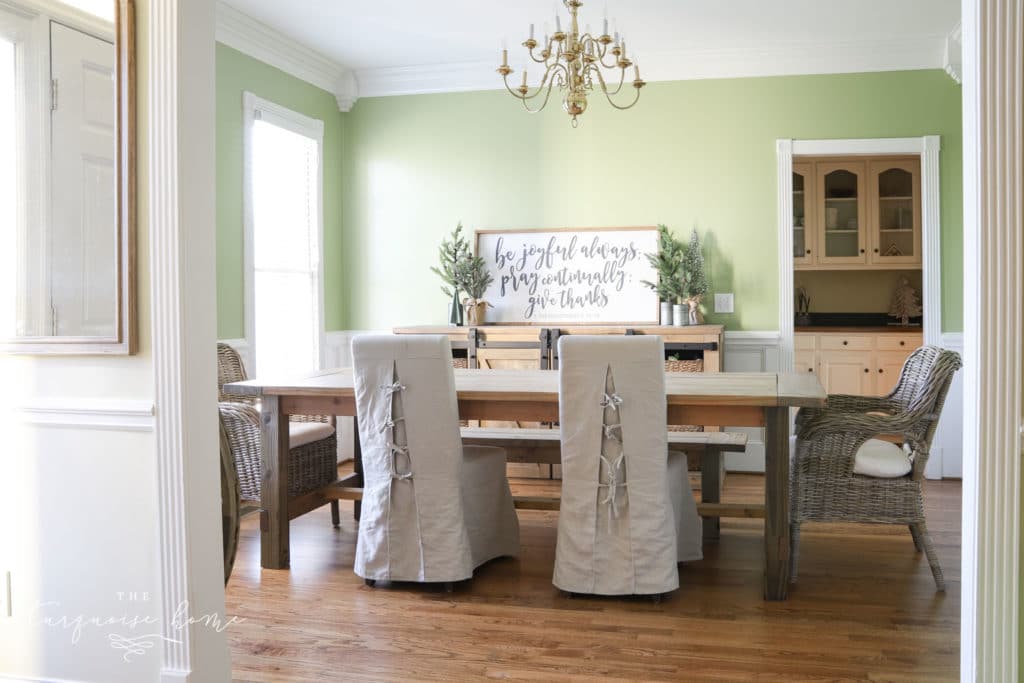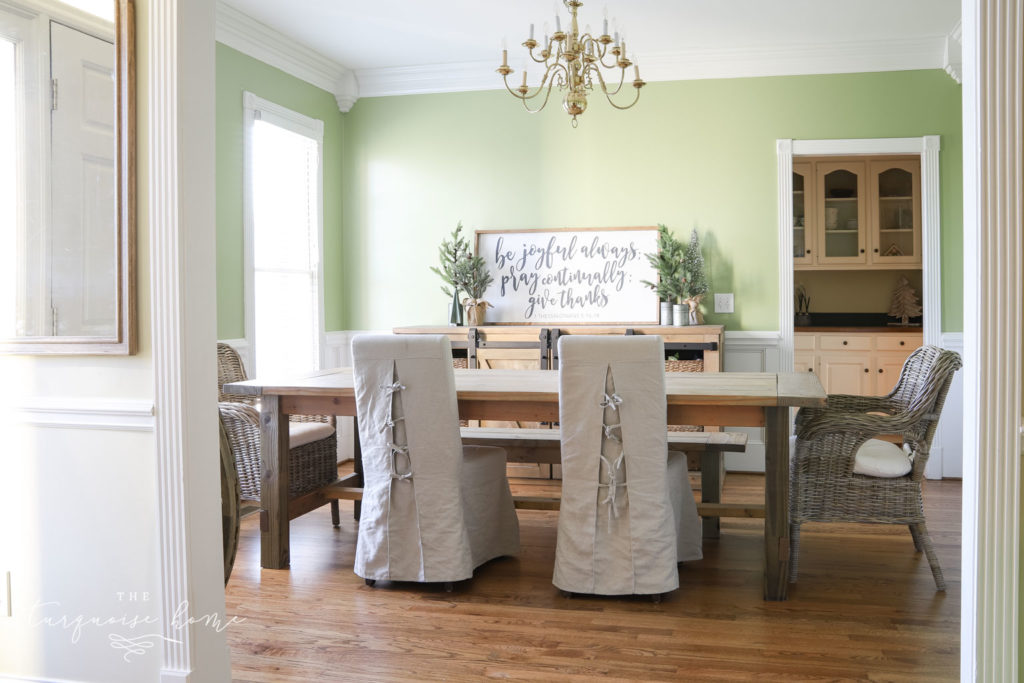 And this above photo is my view from my office, which was depressing me to the max. Ha!
I've known for a long time that I wanted to use this deep, neutral color in my home. Ever since I saw Kendall Charcoal on the cabinets in The Inspired Room's old kitchen, I tucked it away in my "colors I'd like to use someday file." Since then I've seen it painted in a variety of dining rooms with white trim on the lower half of the room. And I LOVED it even more.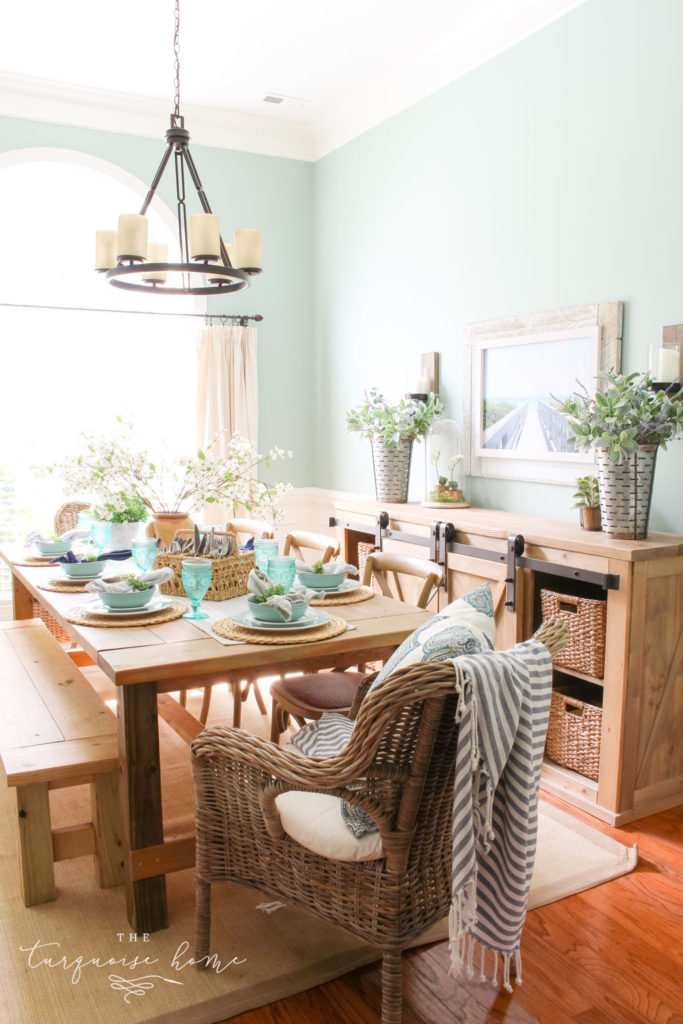 New House, New Colors
And yes, I had wainscoting on the bottom half of my walls in my old dining room, as seen here. But that color was Wythe Blue, which I loved. So, I never changed it. And while I never wanted to change that old color in my old house, I knew I wanted to try something new and bold in the new house. New House, New Colors. 😂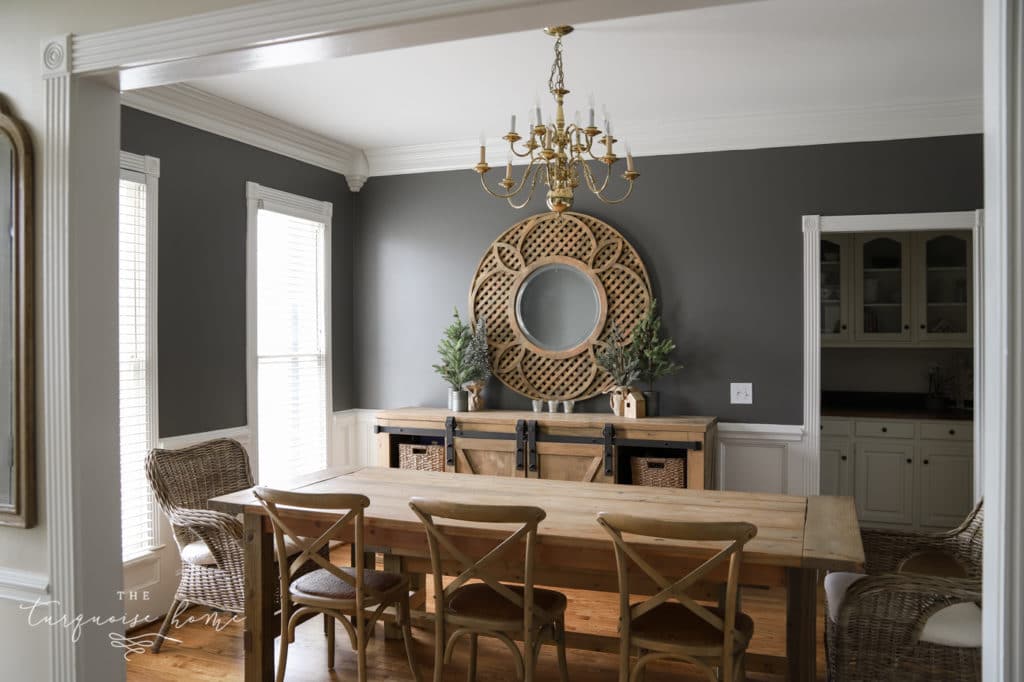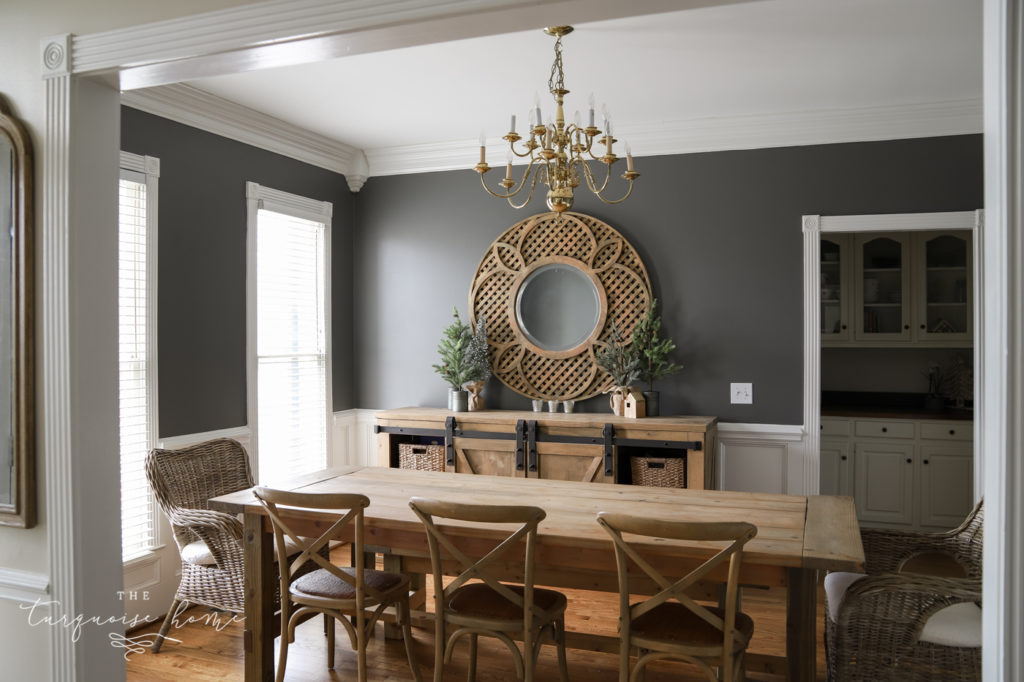 I even contemplated painting everything – trim and all – in Kendall Charcoal. But in the end decided to play it safe and just paint the top half. (I'm glad I listened to my gut!)
I'm so glad I did, because I think it's gorgeous!! It's one of my favorite rooms in the house right now. I'm so glad I get to look at it while I work every day.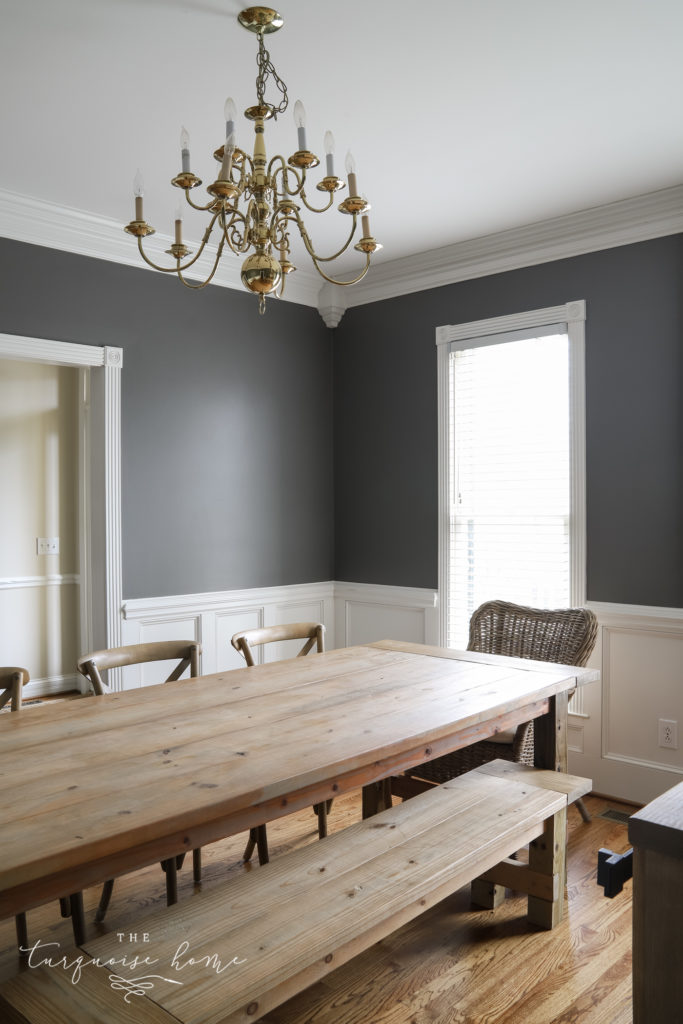 While I'm not quite ready to share my full plans for the room, I'm so happy with how it's turned out so far just with paint! All of this furniture came with me from the old house. And I dare say the brass chandelier that I was dying to replace even works in the space now!
I still plan on replacing it down the road, but will probably stick with something in the gold-tone family, because it looks so good with that dark charcoal backdrop.
Come see the dining room makeover reveal, including the new chandelier!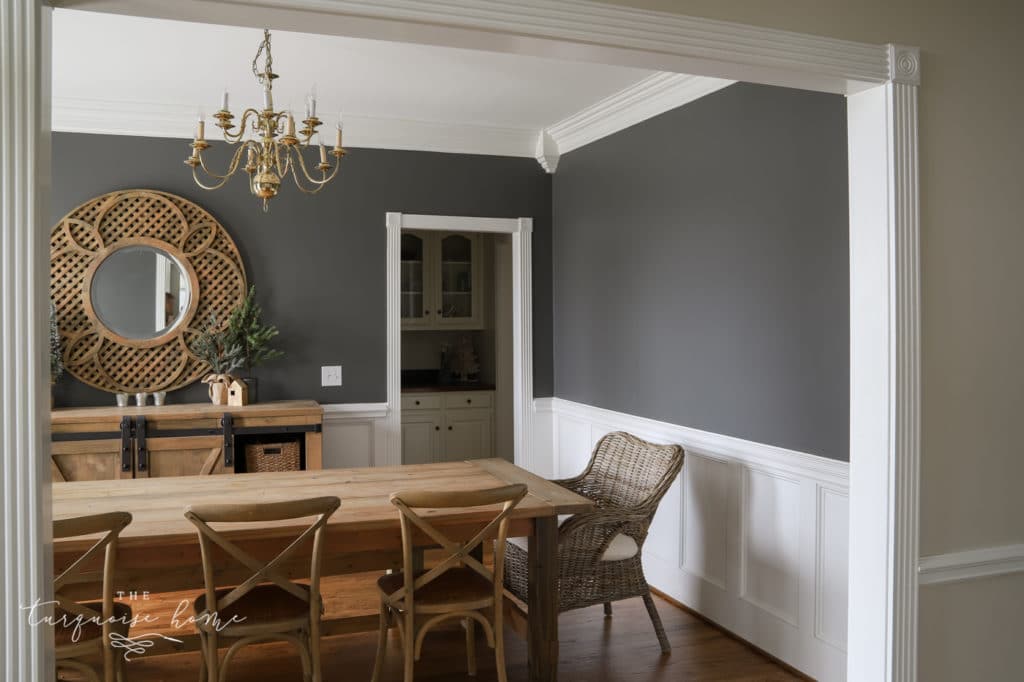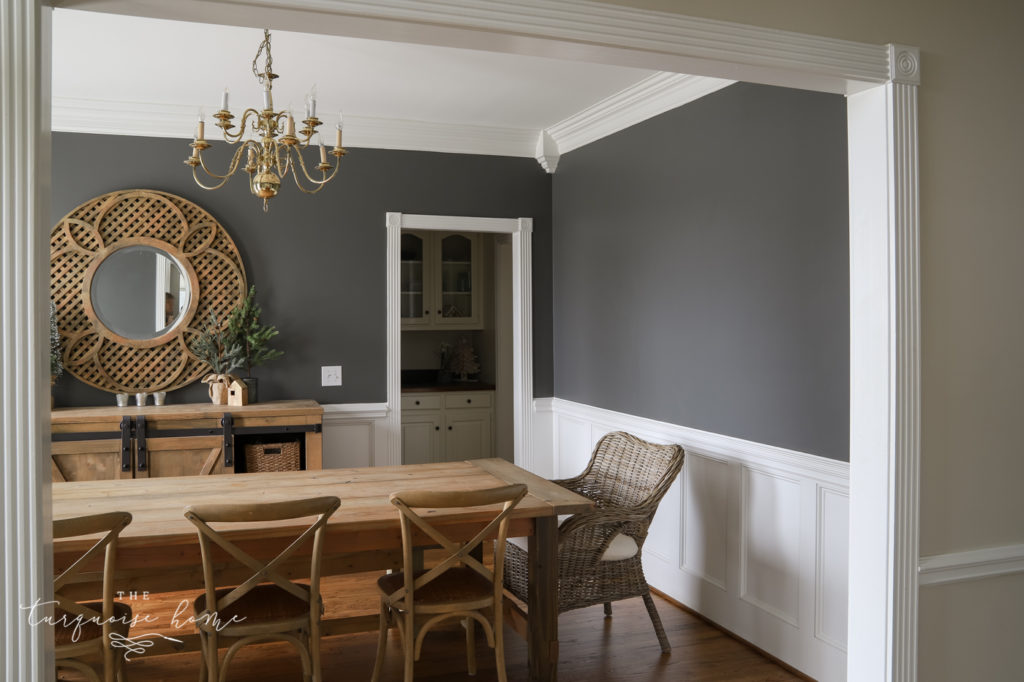 Gray Walls DO Work in a Dining Room
I even love how the wood tones pop against the background. A while back, I read a post by a popular decorator and paint color specialist that you shouldn't paint your dining room gray. I even commented years ago about how Wythe Blue was my perfect dining room color.
But I would beg to argue that gray DOES work in a dining room. The right gray with the right furniture and accents and lighting make it pop. Try it! You might like it, too. ☺️
I can't wait to bring some pops of color in here that I know will look so pretty with the charcoal back there. I have some really pretty artwork in mind for the large wall across from the windows. But again, I'm not quite ready to share the full plans yet. In time, in time! (For example, I have a rug just sitting in my cart, but the budget has to recover from so many other purchases first. Patience in decorating can be very hard.)
I'm trying to do one room at a time, so I have to wait until my office is finished before moving on to this room. But until then, I'll be enjoying these charcoal walls and the pretty decor that is already here!
Have you ever painted a bold, dark color on the walls of your home?
More Posts You Will Love: