Quick & Stylish Christmas Card Holder Ideas
Christmas cards are an essential part of the holidays and you'll want to use one of these Christmas card holder ideas to display them!
If you did not have time to make your own Christmas card holder, there are plenty of readymade options to choose from. You can buy one or get simple ideas on how card holders are made. Here are some ideas.
I love sending and receiving Christmas cards every year. It's my favorite thing to send them out the day before Thanksgiving so that we can kick off the season ASAP! And so I love to find a prominent way to display them in my home.
This post contains affiliate links for your convenience. See my full disclosure policy.
How I Display Christmas Cards in My Home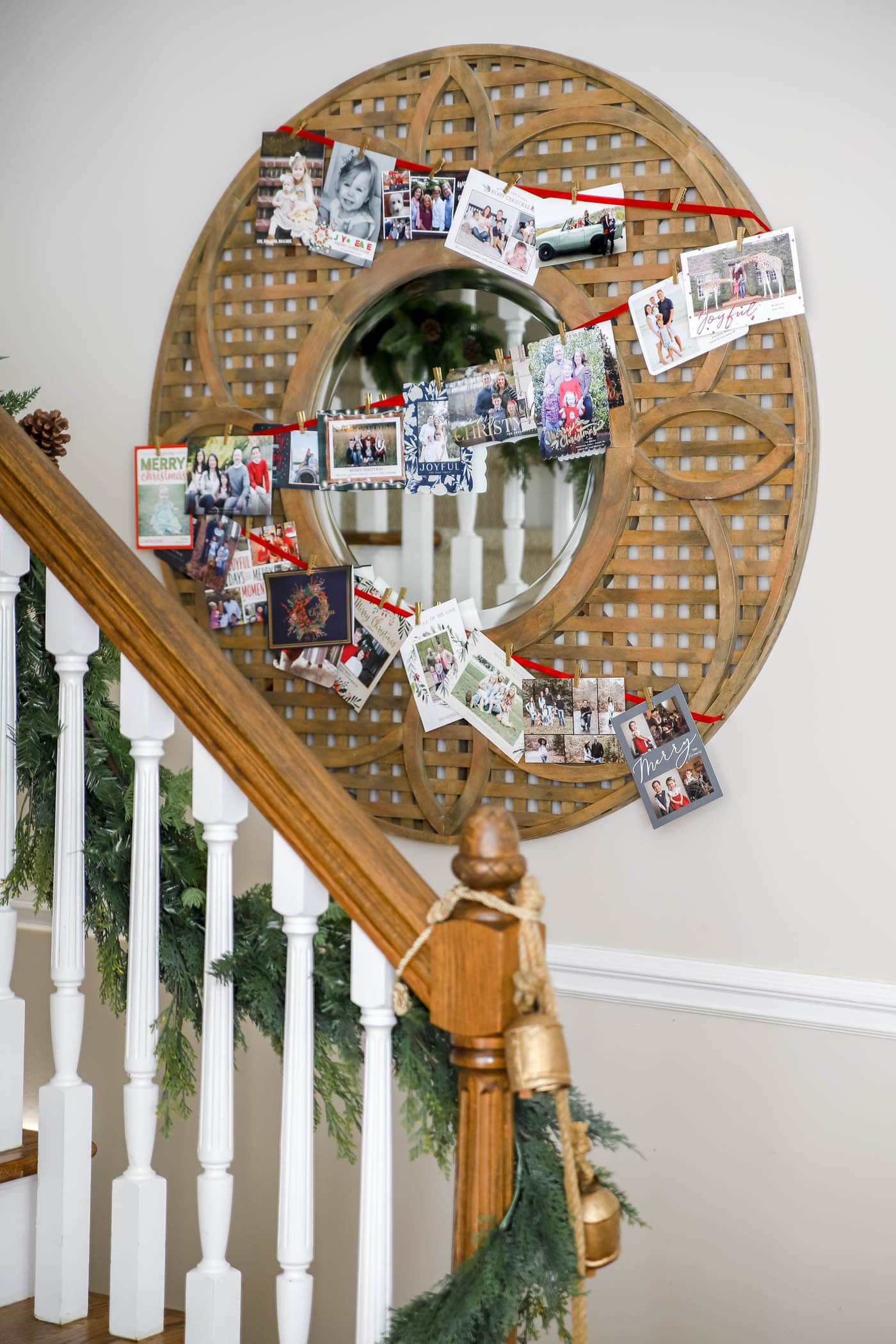 Our current set up utilizes the large mirror in our hallway off of the kitchen. We all pass it multiple times a day and can see it from the kitchen. I save cards from previous years so that it's full right when I put it up.
To make the display, I simply zig-zagged red velvet ribbon and pressed pretty thumb tacks into the sides of the mirror to hold it in place. I don't notice the holes left by the thumb tacks when I take it down. But I might find another alternative if it was a less rustic mirror.
Then I have these pretty gold clothespins for holding the cards in the ribbon. It's simple and can work in a variety of ways in your home.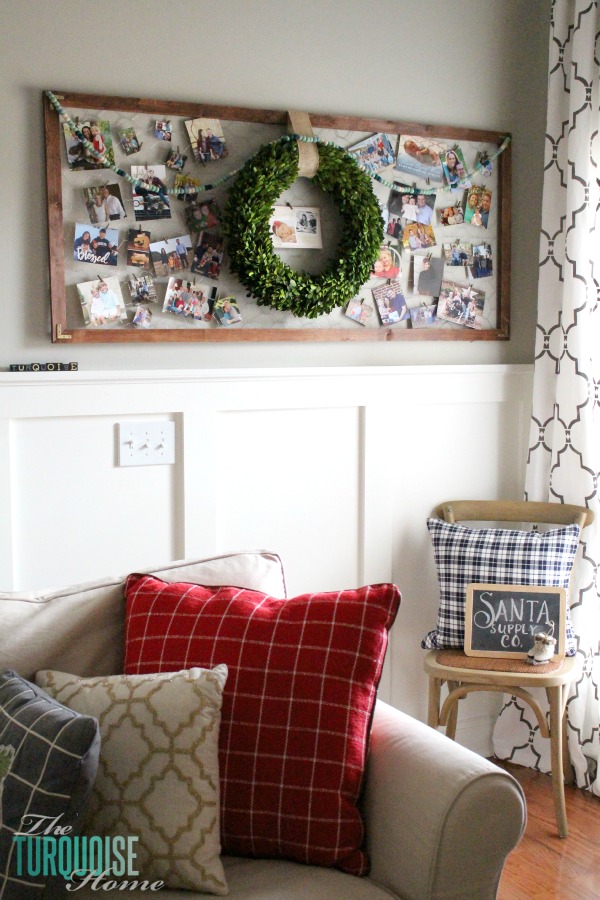 In our old house, I created this frame with chicken wire behind it, and displayed Christmas cards on it every season. I got rid of it when we moved, but it served us well for many years!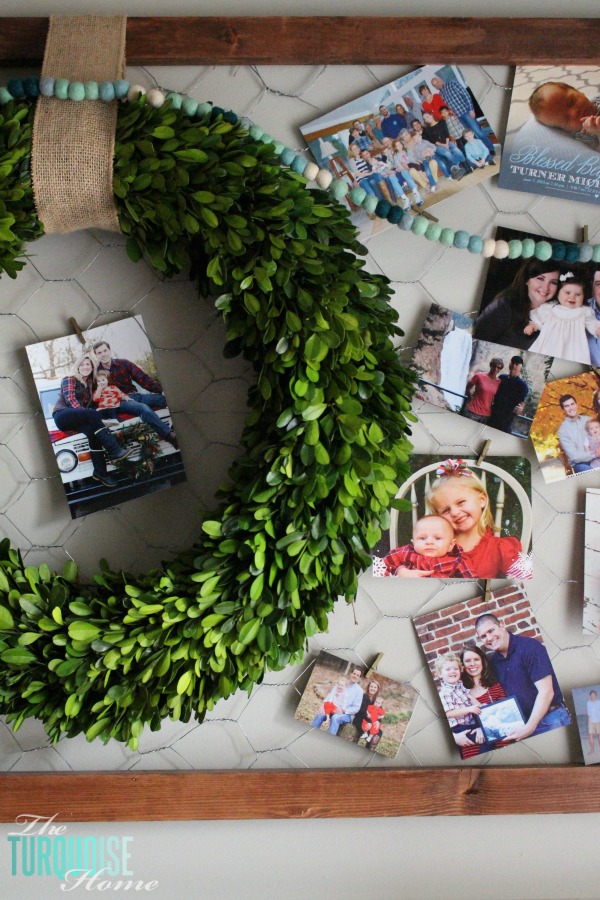 The first year we were in our current house, I just taped the cards to the framed doorway between the kitchen and living room. My mom does this at her house and it's so cute!
So, as you can see, it doesn't have to be fancy or elaborate, but I highly recommend finding some way to display your holiday mail in your home! It's so fun and my kids loving stopping by and seeing which new cards came in that day!
I've recently started displaying our own Christmas cards through the years in frames on our dining room buffet. It does double duty as holiday decor, but also taking me down memory lane every time I walk by. I love it!
I love sharing ways to decorate your home at Christmas time. Some of my favorite ways are decorating the mantel with garland or adding free Christmas printables to your home. I've even shared tips on choosing the perfect Christmas photo cards! My hope is that these posts will inspire you to create a home you love!
Navigate this post by using the drop down Table of Contents menu below. And don't forget to pin this for later!
The Best Christmas Card Holders
You can take the DIY route like I've done in the past, or buy a special holder to display yours and others' cards.
If you have the wall space, this adorable pre-lit card holder will make your Christmas cards shine!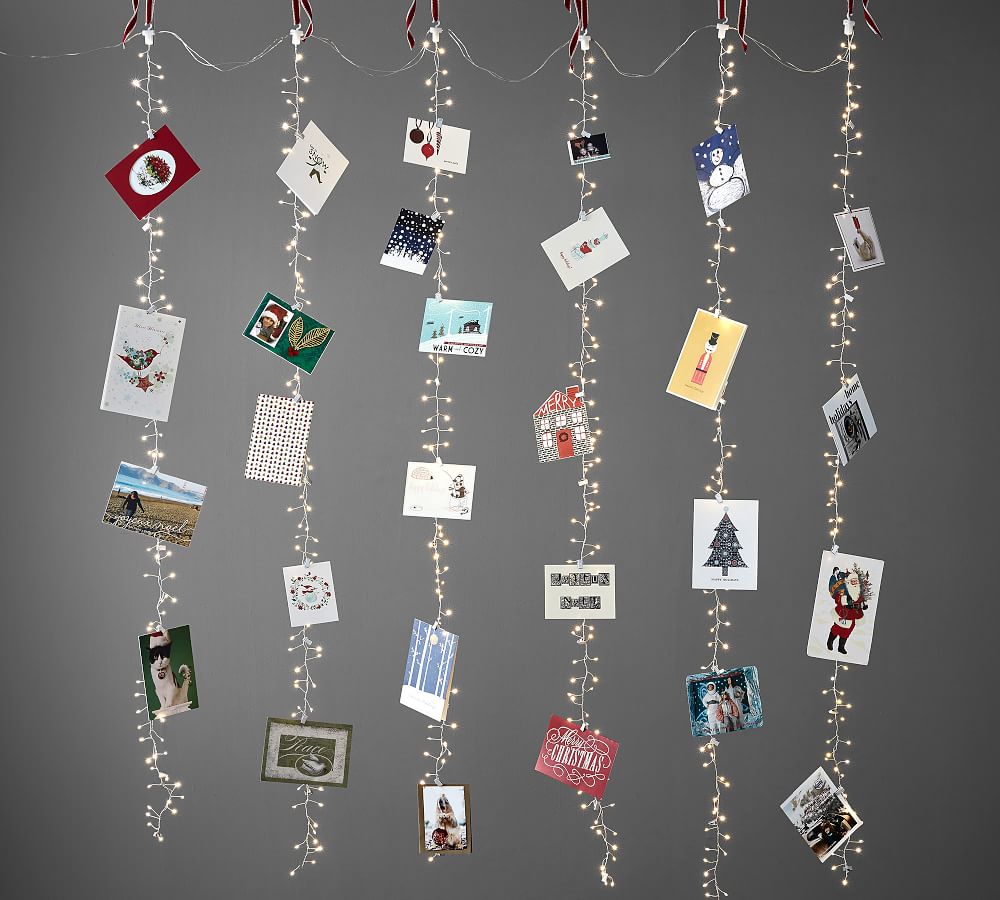 If you don't have a lot of wall space, but you have space on a table, this church is adorable! While it might not be able to see every card at once, you could rotate them throughout the season!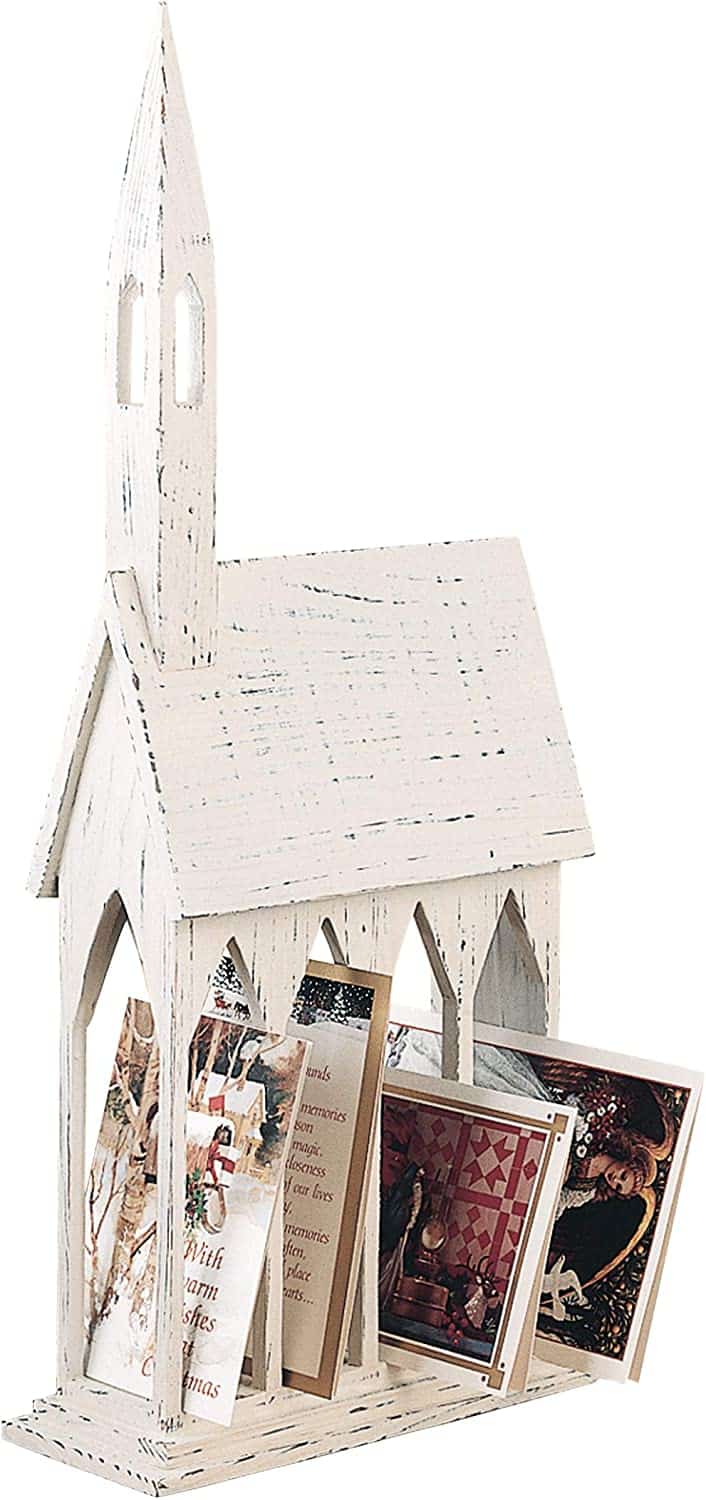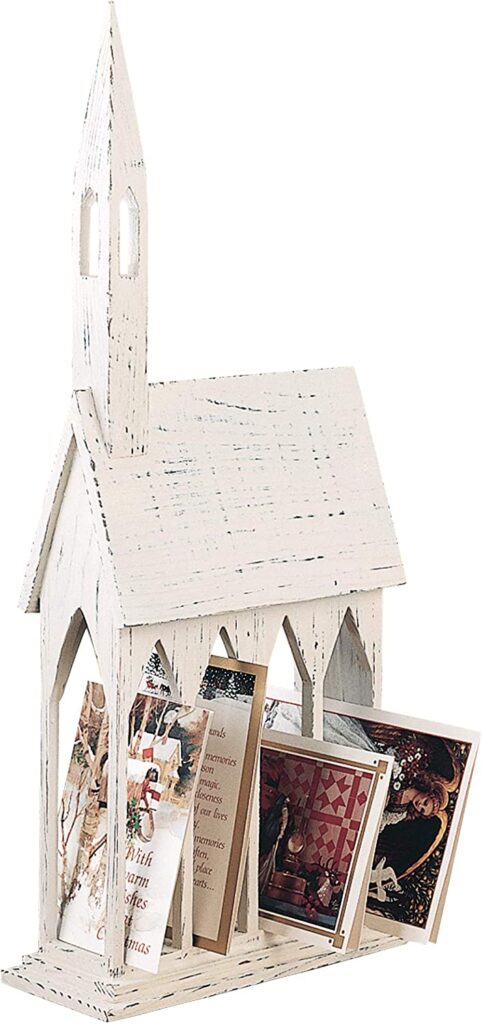 A card caddy is adorable and would be easy to make or purchase! Use my how to make a wooden box centerpiece tutorial for how to make a DIY Christmas card holder like this!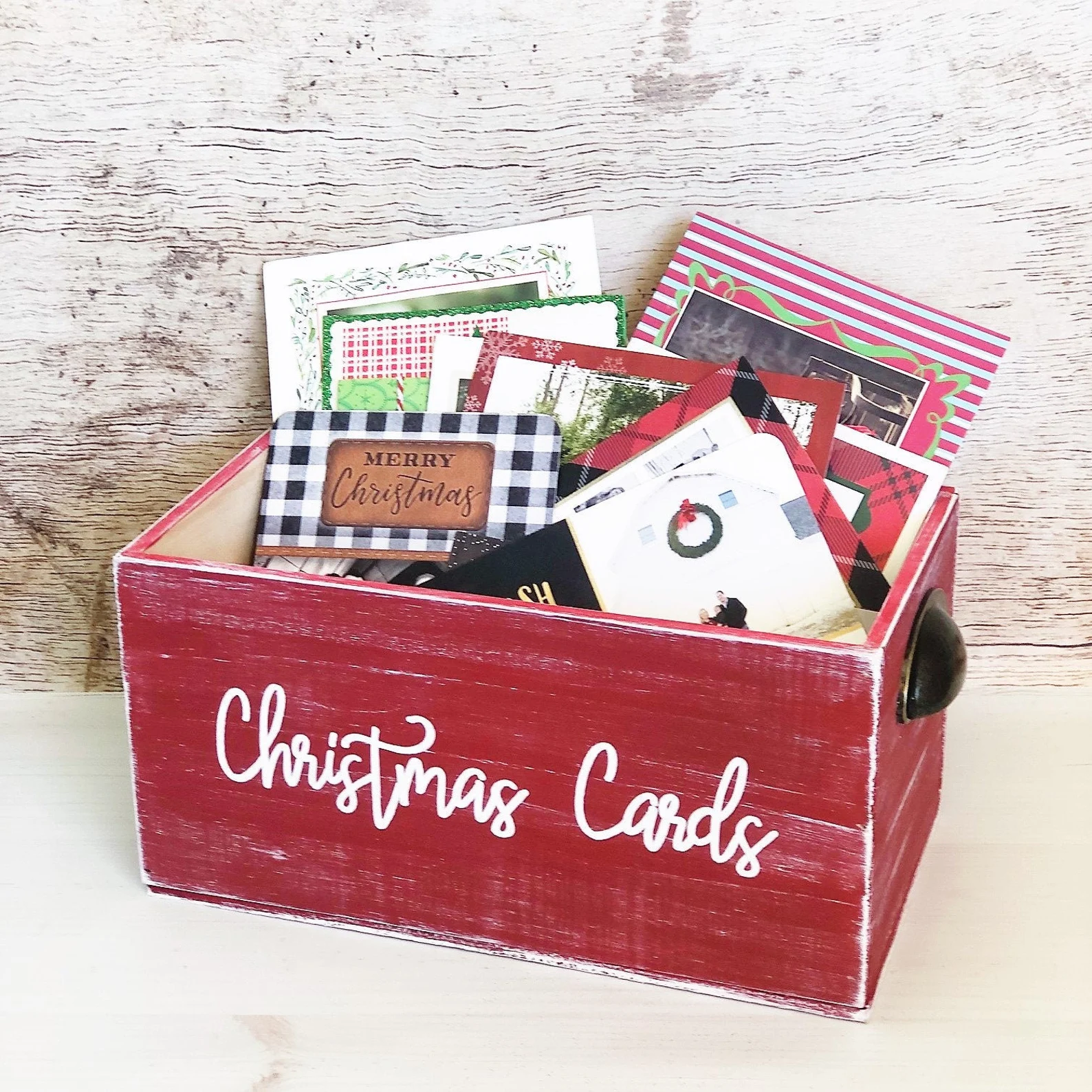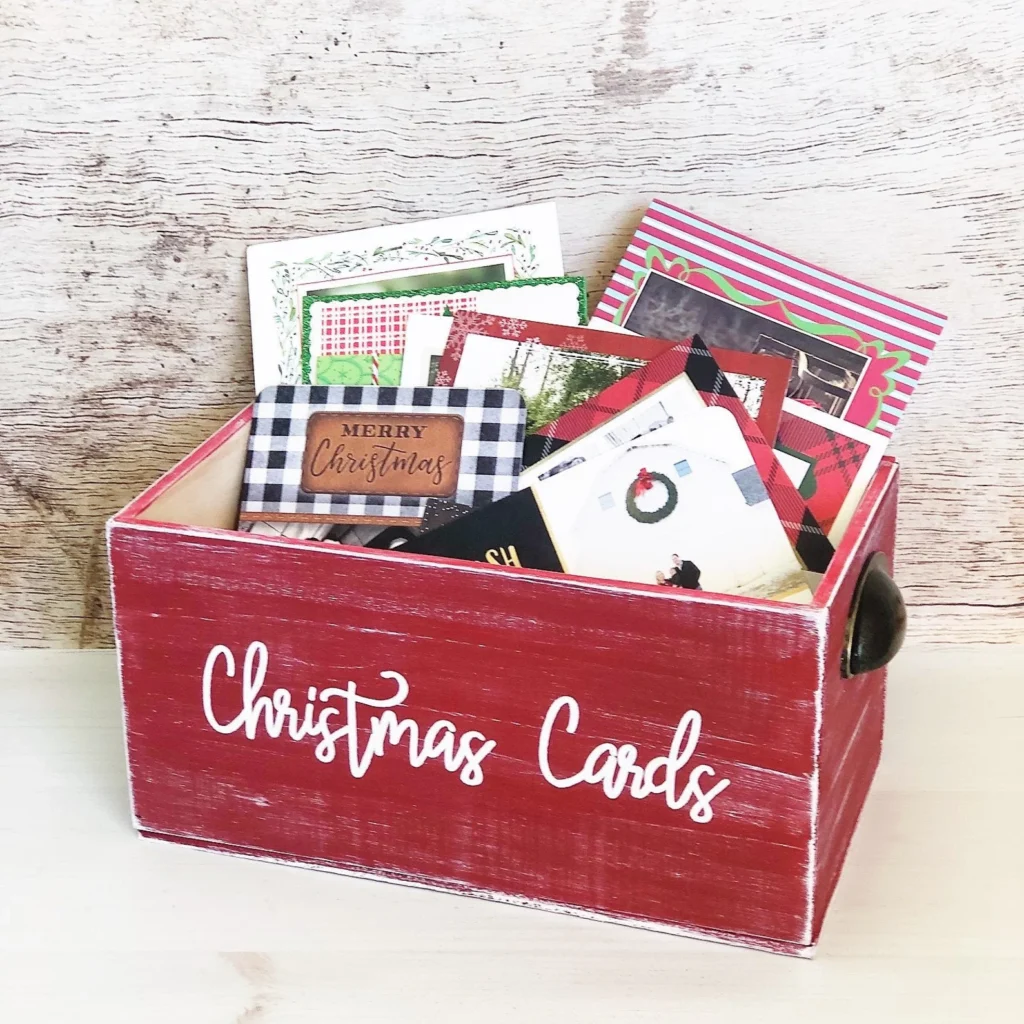 Make a blank wall look merry and bright with a pretty greenery garland and ribbon holder!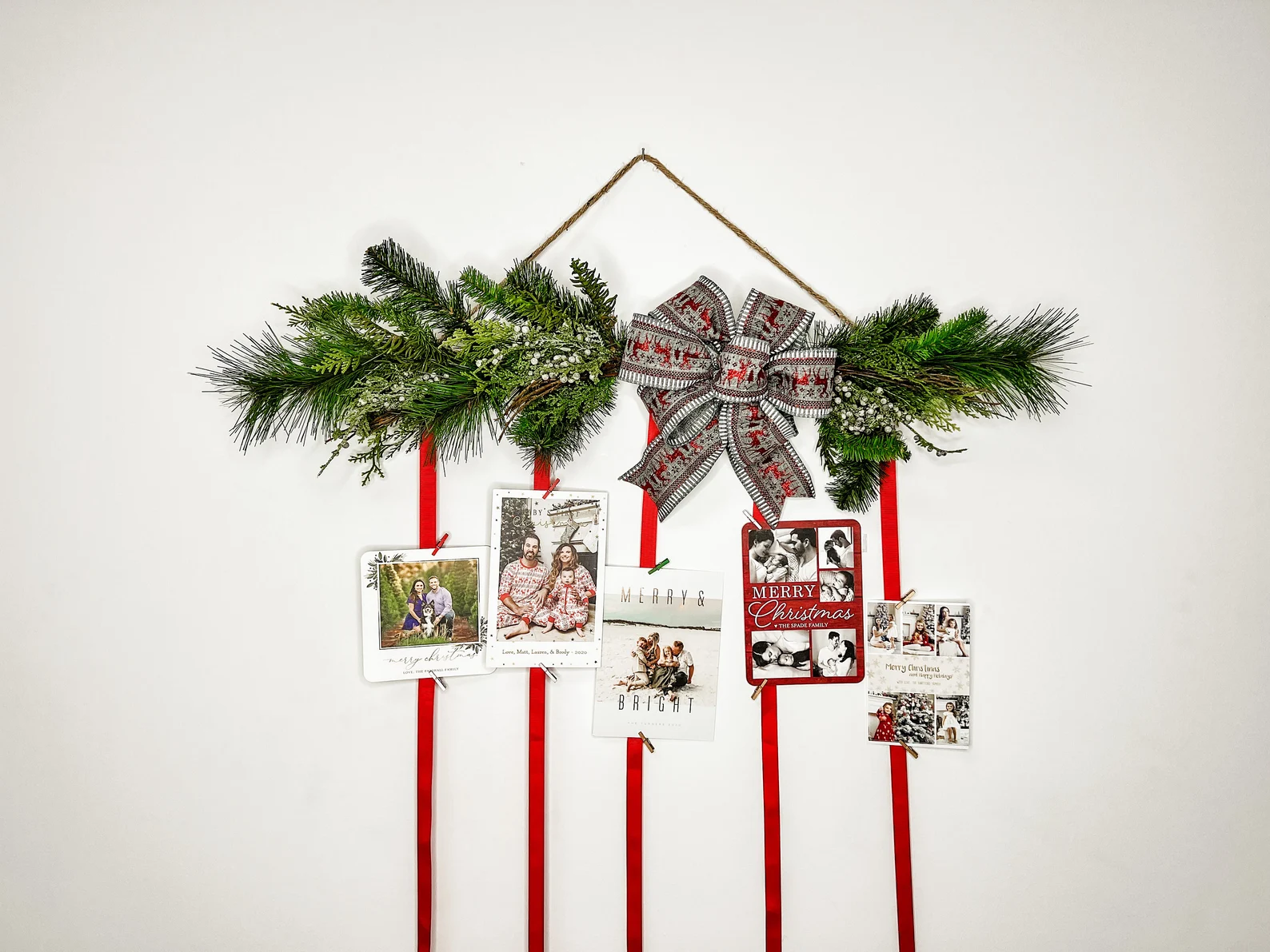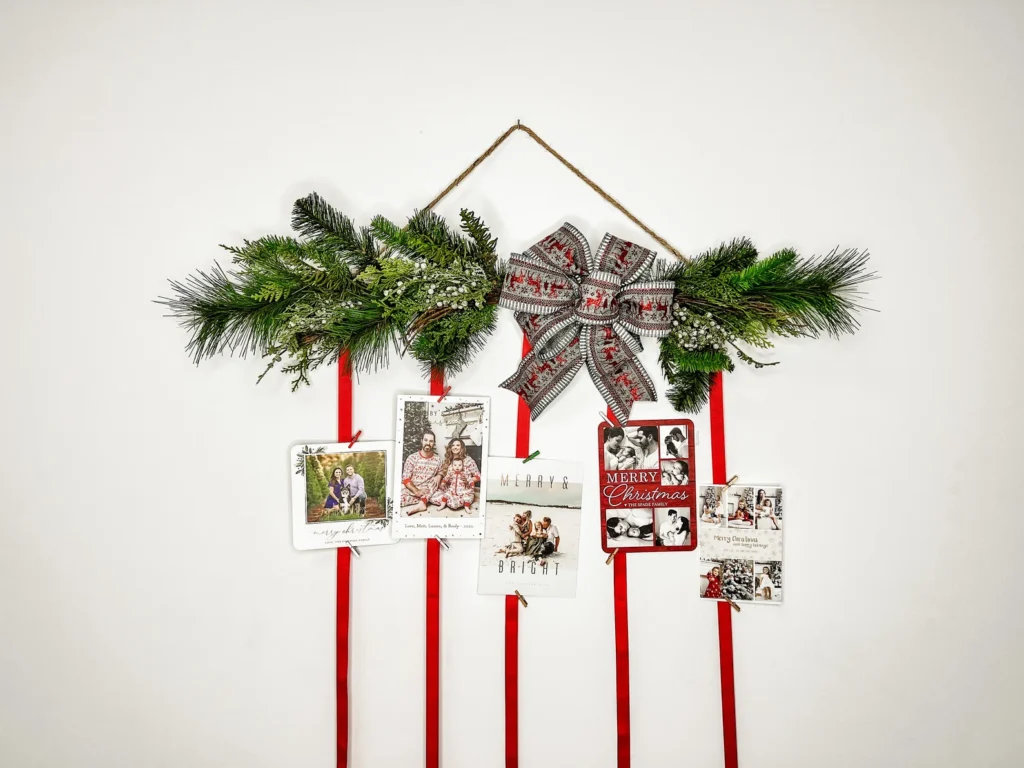 This adorable Christmas tree shape cut out makes hanging those cards up so easy and fun!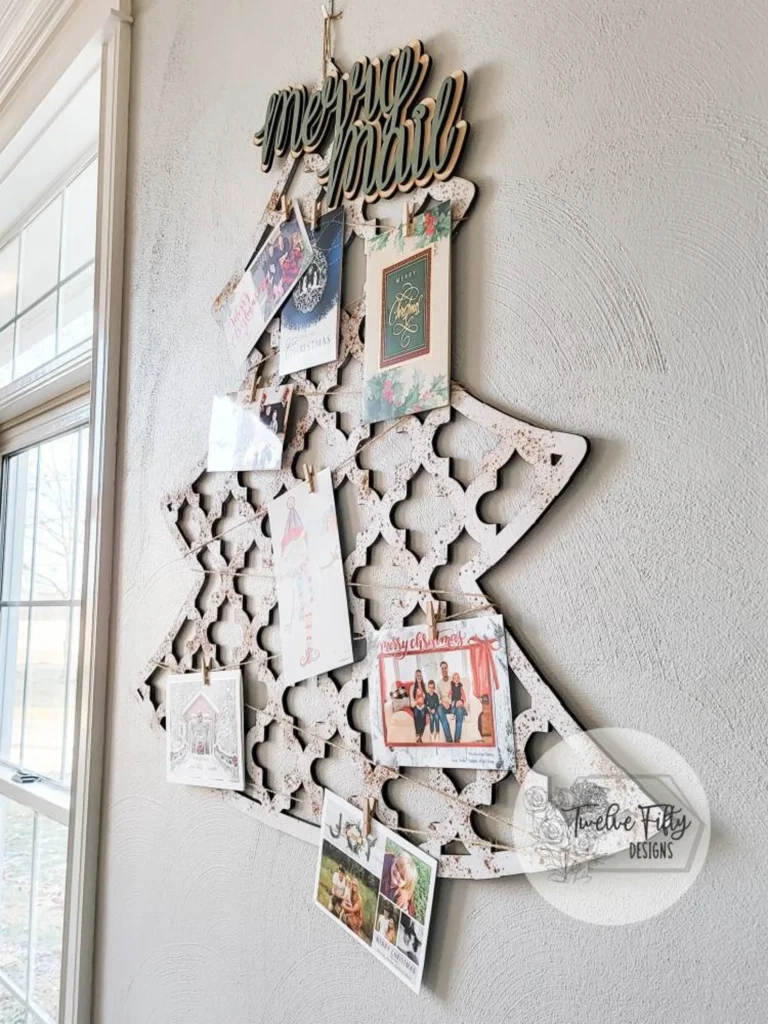 You will be able to leave this pre-lit wintery birch branch display up until February! It doubles as festive decor and a beautiful card holder!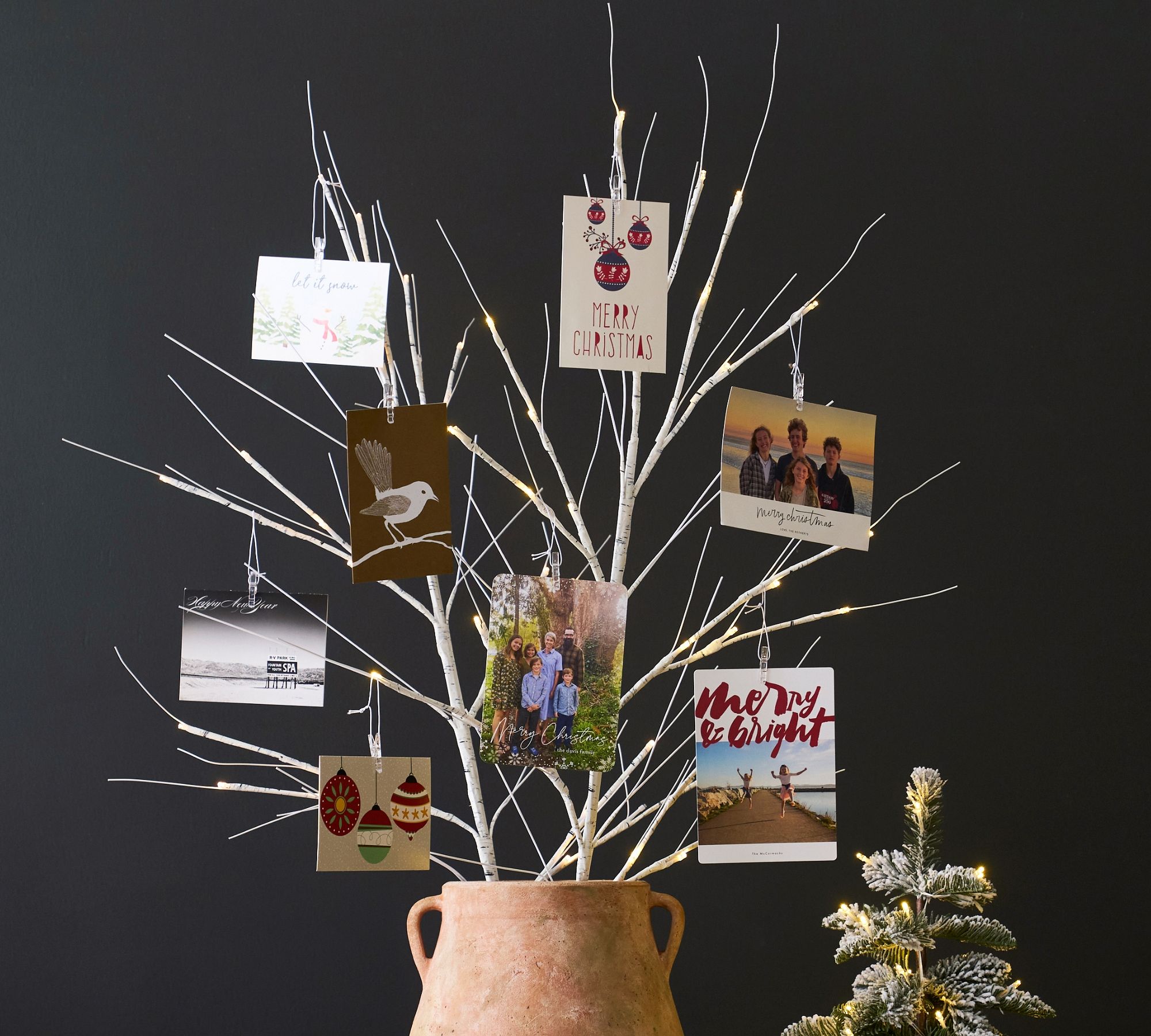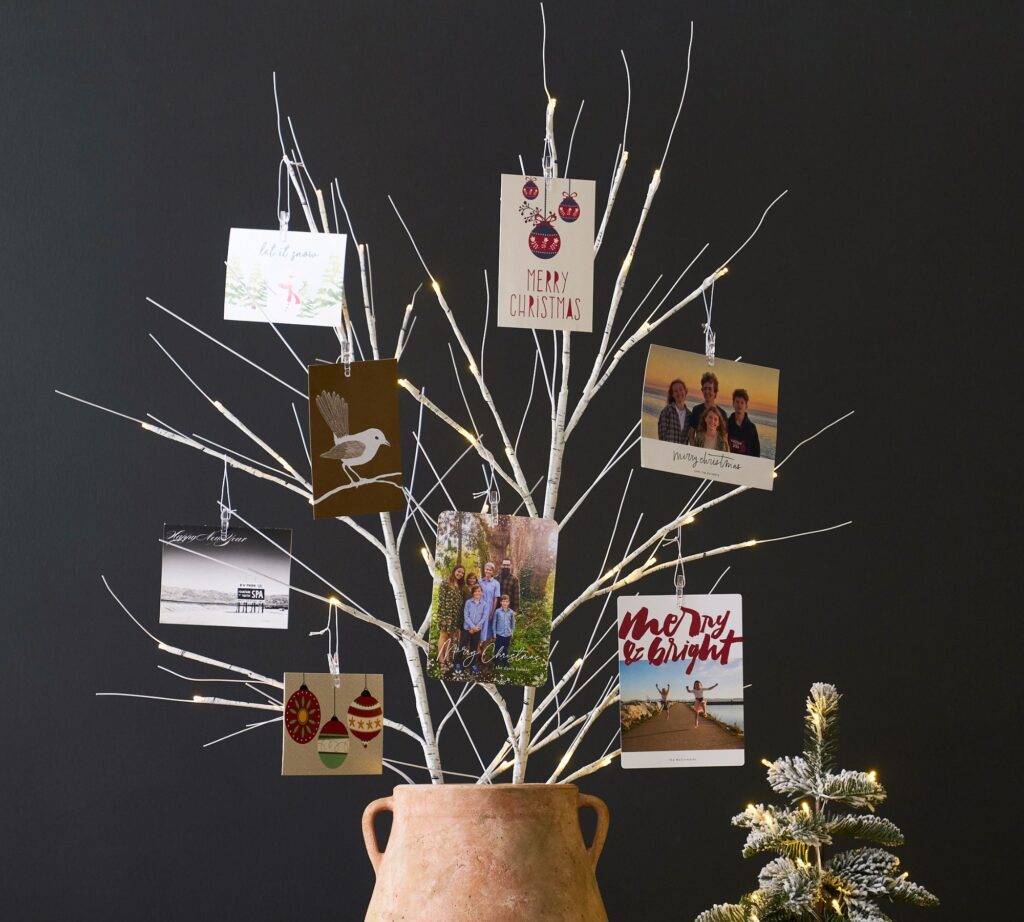 Grab this gorgeous dove table top card holder for a beautiful, nostalgic display!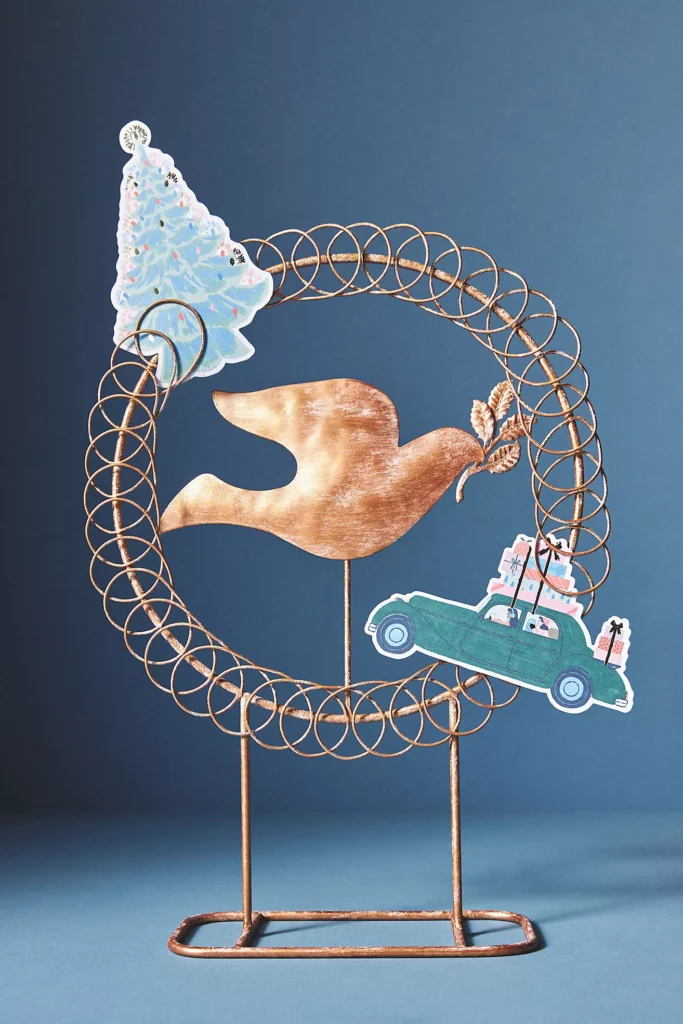 This holder can display the cards from your friends and family across French doors! What a perfect way to show off your pretty holiday cards without taking up any wall space!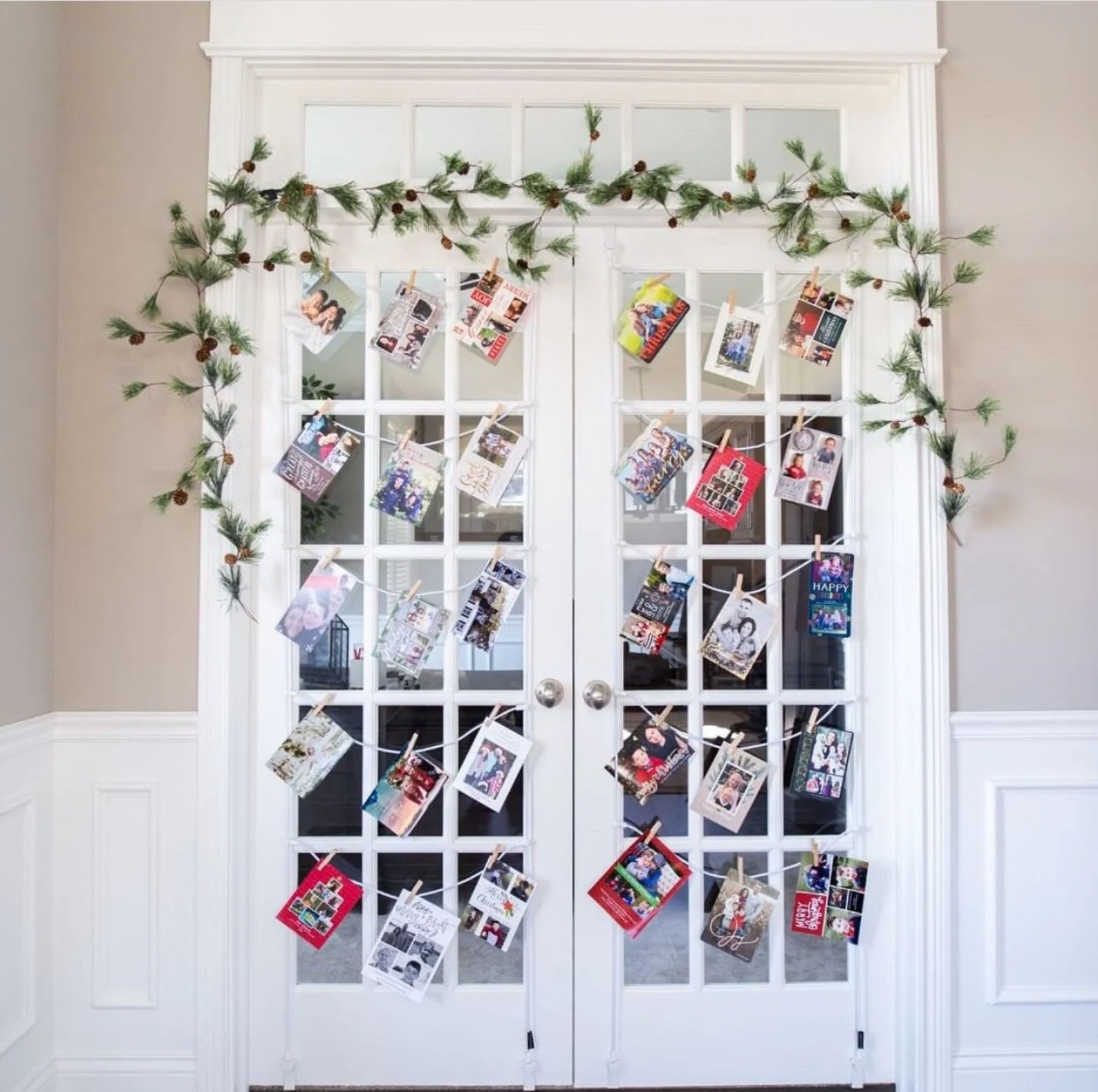 You can order this sign with your own name on it. Or make your own with my large DIY sign tutorial for how to make the lettering. It would be a really easy DIY Christmas card display project.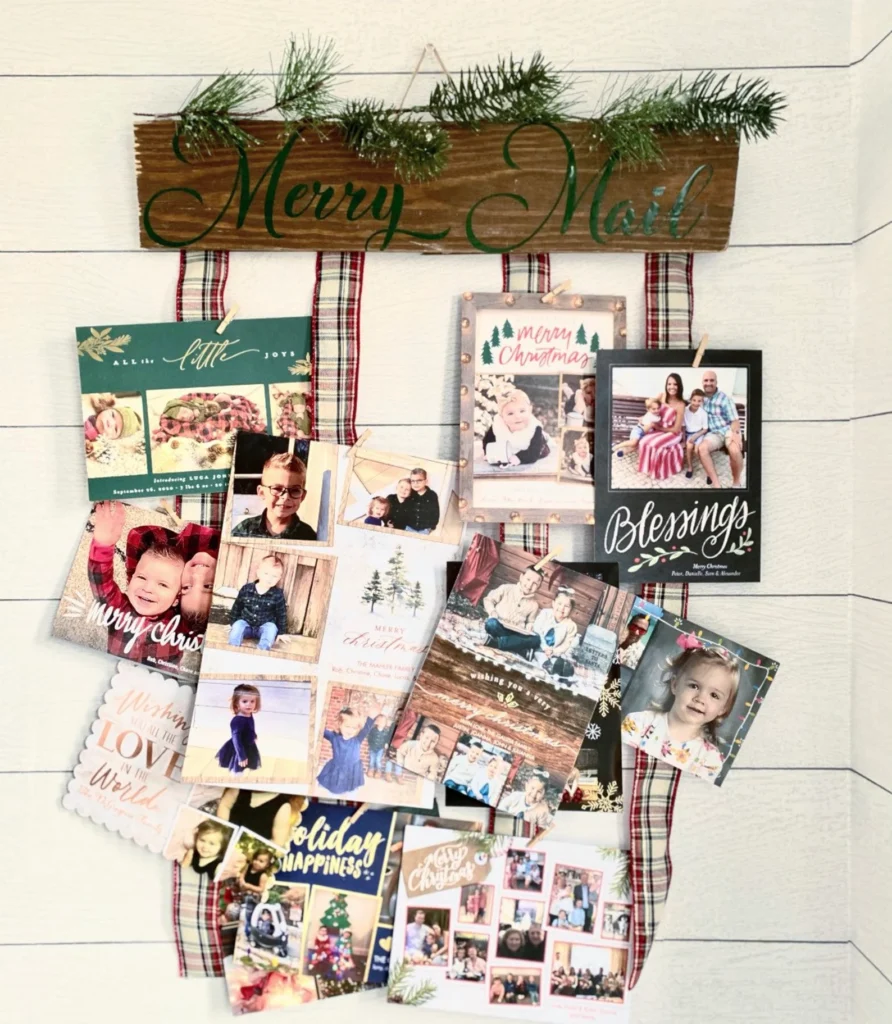 Drape this cute card holder garland over a mirror, piece of art, or a shelf, like pictured below. It would make the cutest addition to your Christmas decor!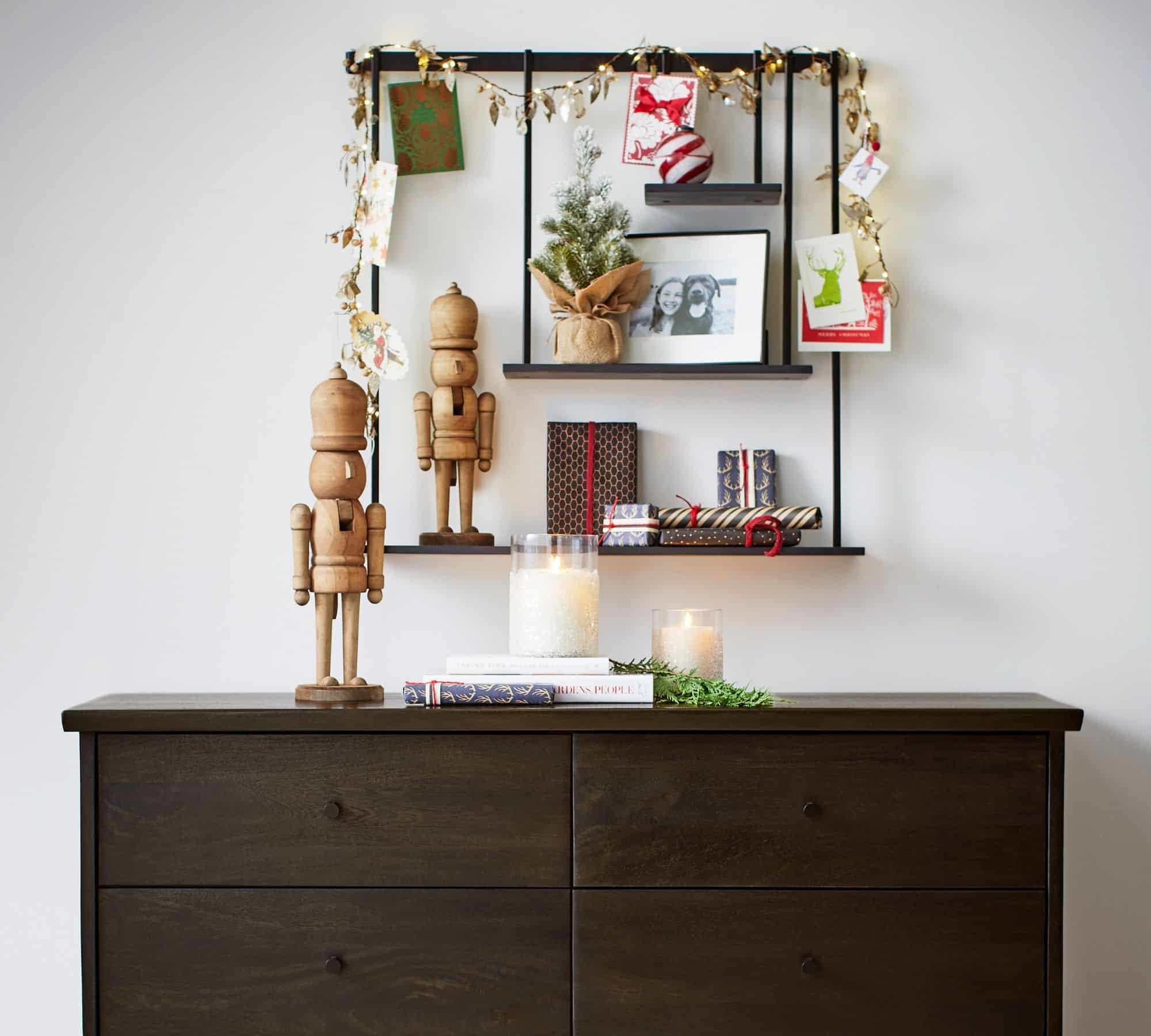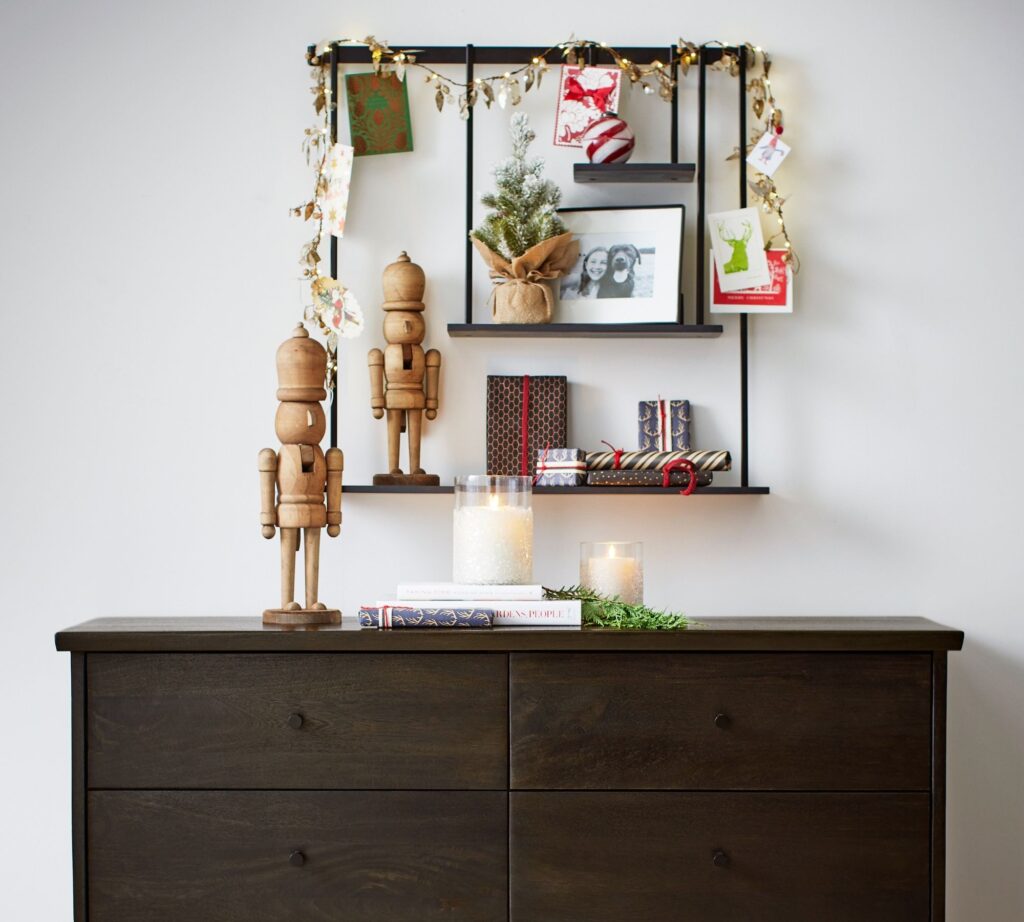 I hope some of these ideas have helped you find a festive and fun way to showcase Christmas cards in your home! It's really such an easy way to add more holiday cheer this year!
Frequently Asked Questions
What is the best way to display Christmas cards?
Any way that gets them up and on display is the best way to display Christmas cards! Buy a special holder or string up some ribbon and clip them on. Any way, just get them out there for an inexpensive festive touch!
How can I make a Christmas card holder?
It can be as simple as stringing a ribbon across a mirror, doorway or piece of art to have a Christmas card holder. Or make a wooden sign, then hang ribbon from it to clip your cards to it. It's really so easy to make a Christmas card holder!
Where do you store Christmas card addresses?
Keep them in an excel spreadsheet and update them yearly as you receive your Christmas cards. I always tuck away the envelopes, then after the season is over, I'll go through them and make sure my list is current.
How do you display Christmas cards on a door?
Use scotch tape or a non-paint damaging tape to tape them on the door frame. Or, string ribbon across the doorway to clip the cards up with clothespins!
More Posts You Will Love: