How to Hang a Christmas Mantel Garland + Video
Learn how to easily create a lush, full Christmas garland on your fireplace mantel for a beautiful holiday look! Using command hooks and a variety of garlands, you'll have a lovely layered look in no time!
This is the first year I've decorated a Christmas mantel with a TV above the it, so I challenged myself to use as much of the front real estate as possible for my holiday decor! See my whole Christmas living room right here.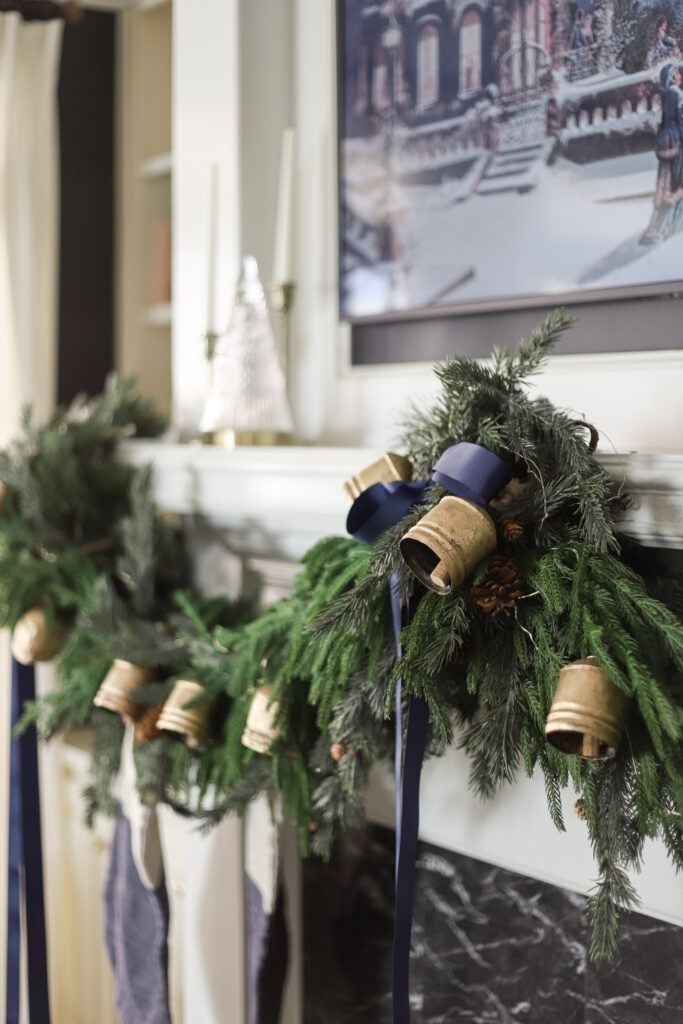 I knew that I wanted a full and beautiful mantle garland, but didn't want to spend a ton of money. I was able to use several garlands that I already had and only needed to buy two new ones to get the look I wanted! AND I'll show you exactly how I did it.
By using multiple garlands together, and a very inexpensive garland as the base, you'll get a full garland look without spending as much money! The first garland will set the shape of your whole design, so choose one that is pretty structured, yet bendable.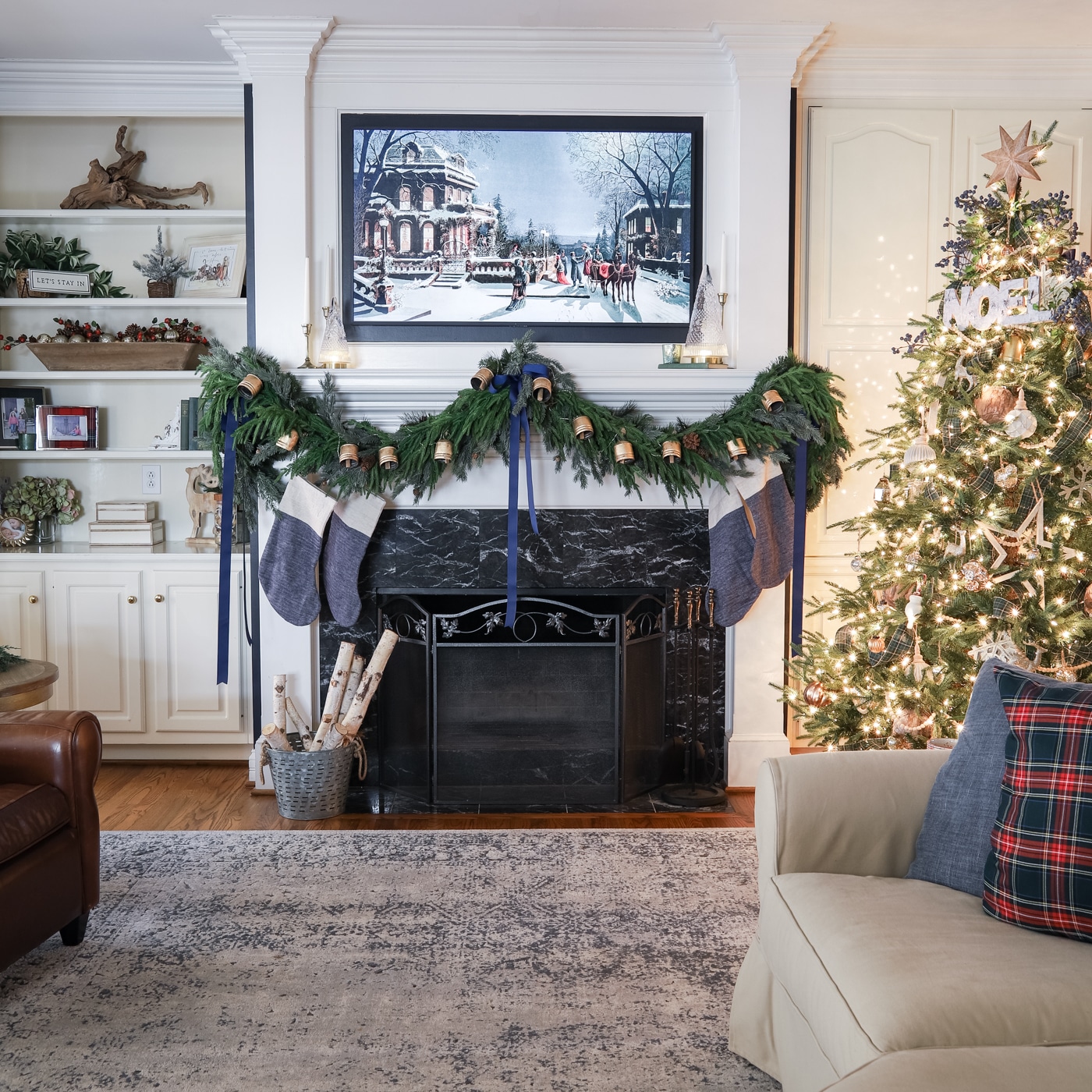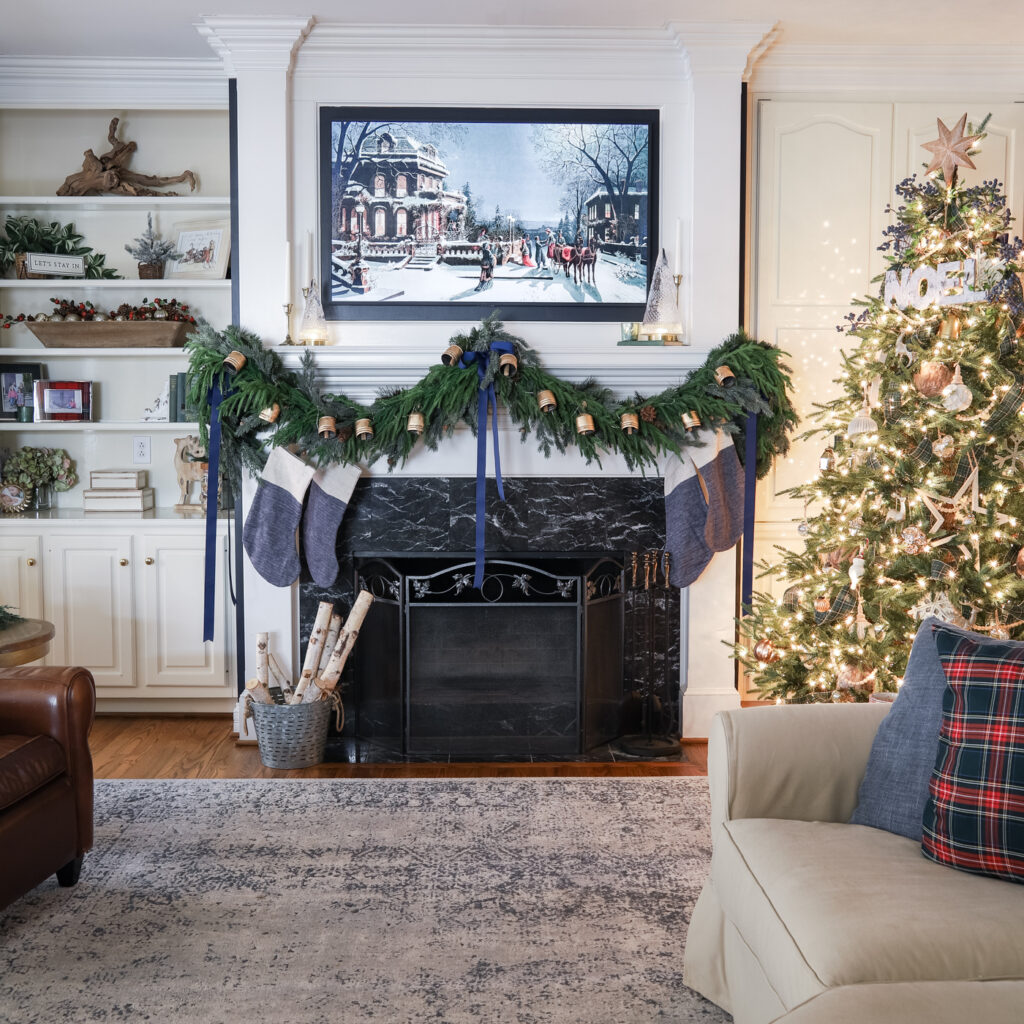 I chose not to use pre-lit garland because I don't have an outlet super close to my mantel. But if you do have an outlet nearby, I think a pre-lit garland would be so pretty!
If you really want to get a good idea for how this garland works, you'll want to watch the video I made below! It's so much easier to show it on video than through words and pictures. The video isn't anything super fancy, but it's easier to follow each step that way.
Supplies You'll Need to Create a Full Christmas Mantel Look
Command Hooks – I love this mega pack because I use these same hooks to hang wreaths on my kitchen cabinet doors.
2 Cheap Christmas Garlands – Use a really basic 6-9′ garland that's about $10-$20. I used two 6′ garlands, but if you can only find a 9′ garland, you can either use it all or cut off what you don't need.
2 Mid-Range Christmas Garlands – I got my mid-range cedar garland at Hobby Lobby for about $30-$40/each.
2 Luxurious Christmas Garlands – use something like a "real touch" pine or cedar garland. These will run about $60-$100 each.
Floral Wire (and floral wire cutters)
Bells (optional embellishment)
Battery-powered fairy lights (optional embellishment)
Ribbon for bows (optional embellishment)
Note on finding garland: Over the past couple of years, the greenery garlands have sold out in record time because factories were shut down, shipping delays, etc. So stores sold out way early. If you're still trying to find a garland, check your local greenery stores. I found some in a few places just this week, so hopefully you can find them too!
How to Make a Beautiful Christmas Garland without Damaging the Mantel
1. Attach Command Hooks to the top of the mantel.
Put 3 command hooks on the top of the mantel with the hook part facing outward: one in the middle and two on each end.
If you have a wood beam mantel or something more rustic than a white woodwork mantel, you might get away with just using nails.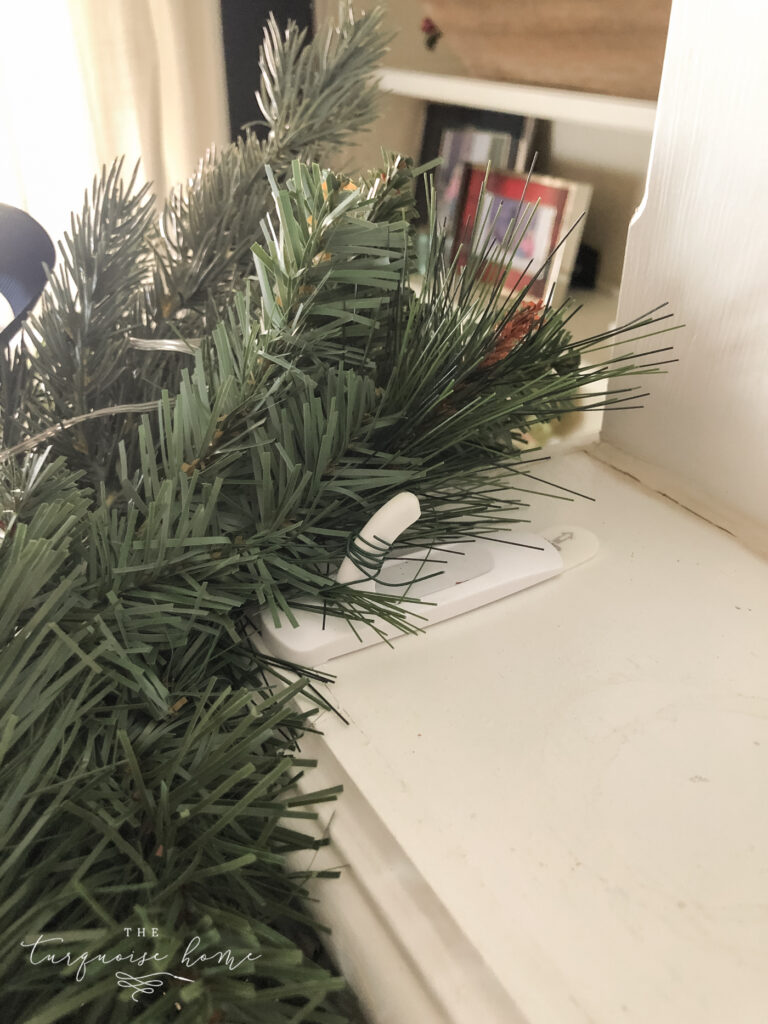 2. Fluff the Garland.
You'll want to fluff the garland and make sure it looks nice and full. Do not skip this step, because the more you fluff, the fuller the whole garland will look!
I like to fluff the garland after it's in place, so that I can see where the bare spots are, but you can also do it before you hang it up.
I used two 6′ long garlands and attached each one at the center of the mantel using floral wire. Then I draped each one in front of the mantel, and over the side command hooks (attaching with the floral wire) and let them cascade down the sides.
You will use this base to attach the rest of your garland, so make sure they are nice and secure on the command hooks.
4. Attach your next garland to the first one.
I don't even attach the second garland to the command hooks. Instead, I use the bendy stems of the first garland to "grab" onto the second one.
Once you have it securely in place, fluff the second garland as much as you can!
5. Attach the last, nicest garland to the first garland.
I just repeat the previous step with the final garland. There's plenty of bendy stems from the first garland to grab on to this third one.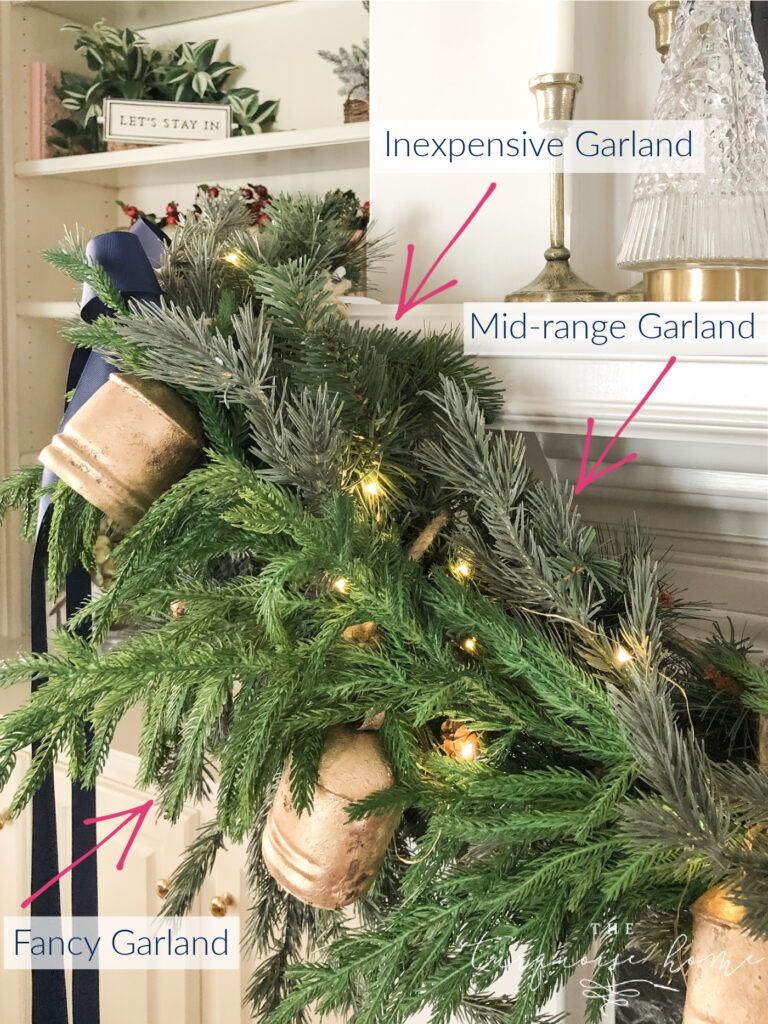 6. Optional embellishments: Bells, ribbons, bows and fairy lights.
These are the bells that come in a 4-pack all hung on one jute rope. They are sold all over the place, but sell out early each year. Hopefully you can find them if you are still looking for some!
I used three sets of bells on my mantel for a total of 12 bells peeking through. I simply hung the top of the bells on the corner command hook and positioned the main jute rope at the back of the garland while weaving the bells through the garland so they would peek out the front.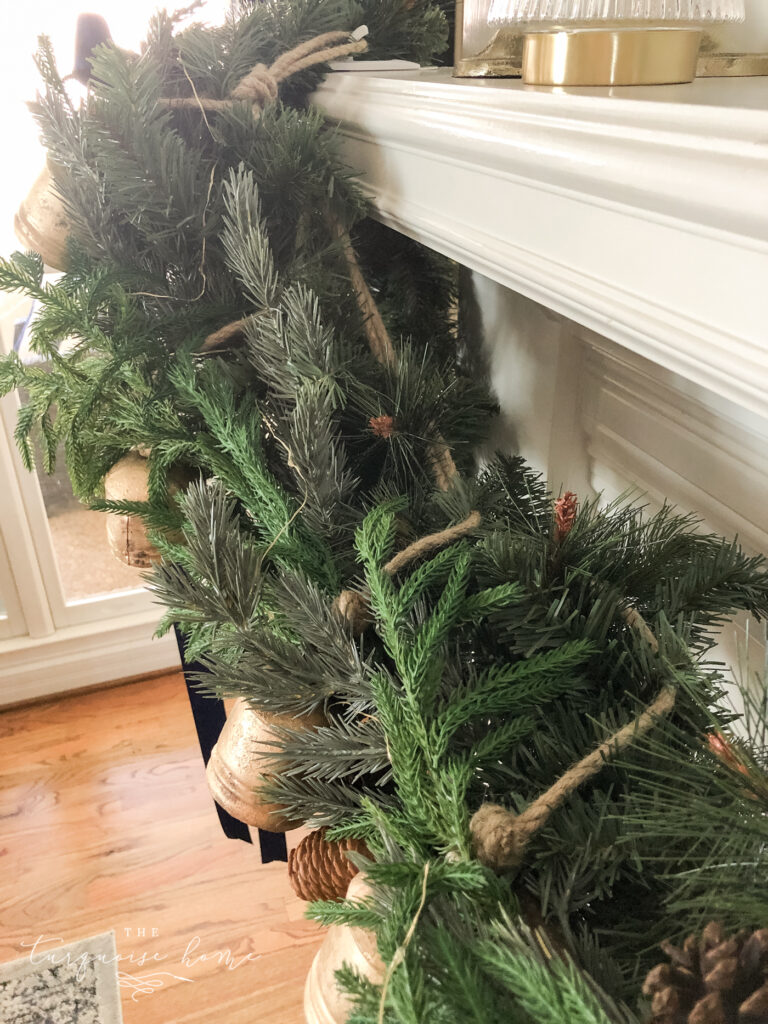 Hopefully the above photo helps you envision what I'm talking about, but it's much easier to see in the video below.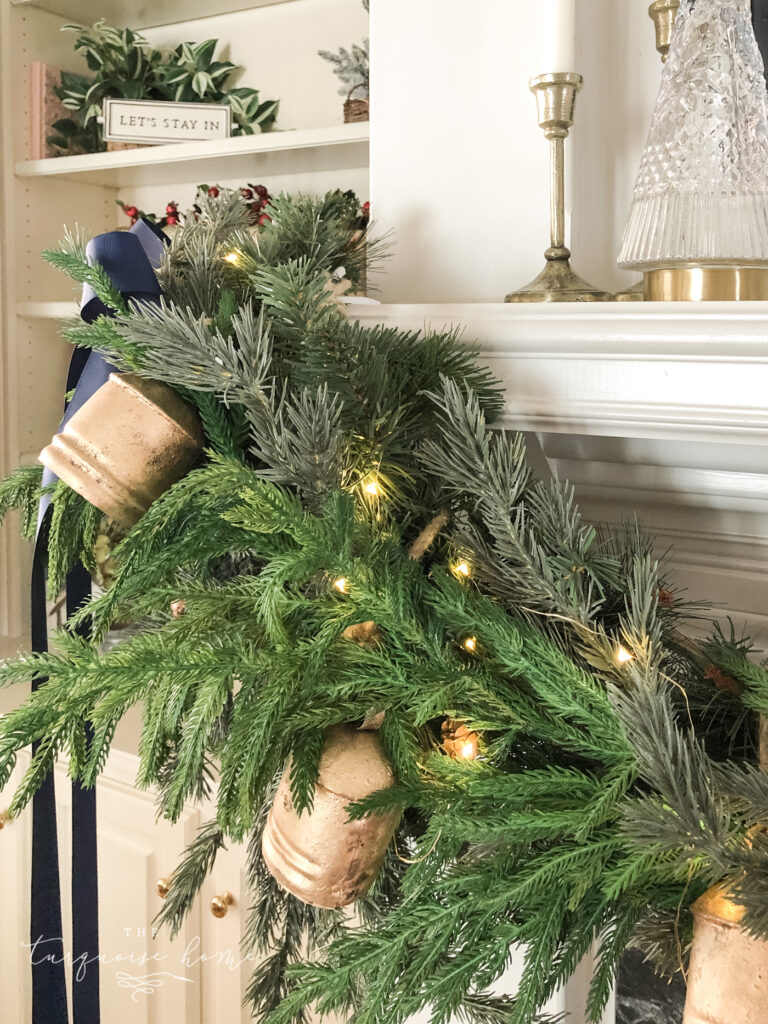 Then, I added some battery powered fairy lights to each side of the garland and attached the battery packs to those bendy stems in the back of the first, cheap garland.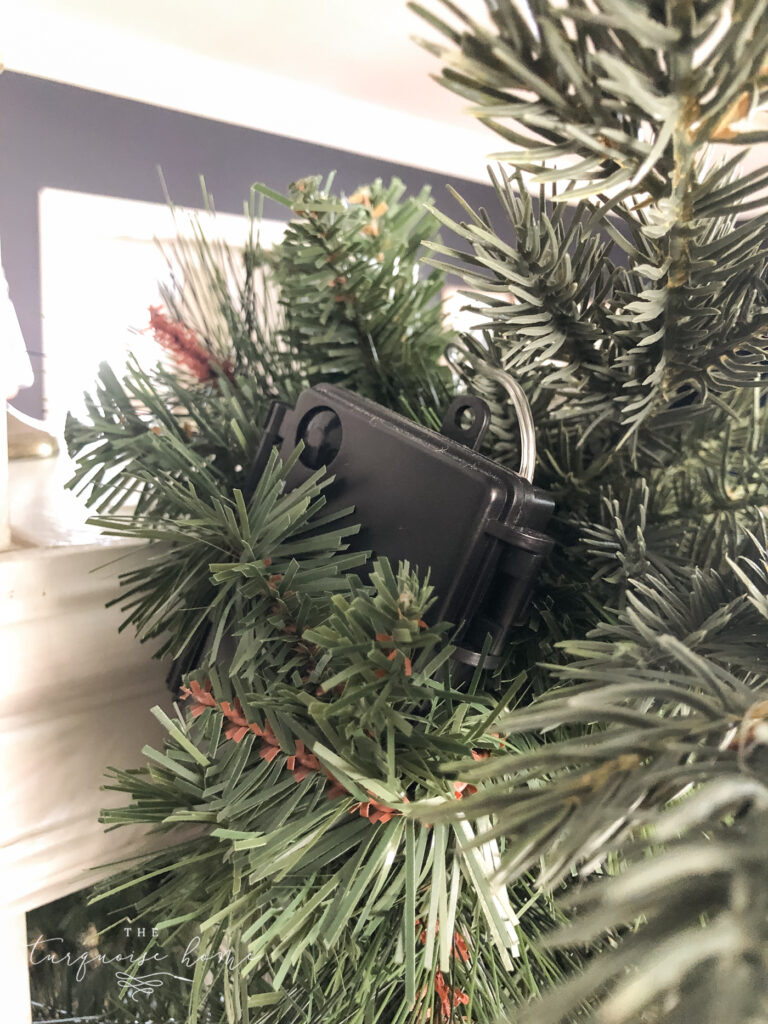 The navy bows are simply tucked into the garland on each point and they stay on fine! Red berries would be another cute addition!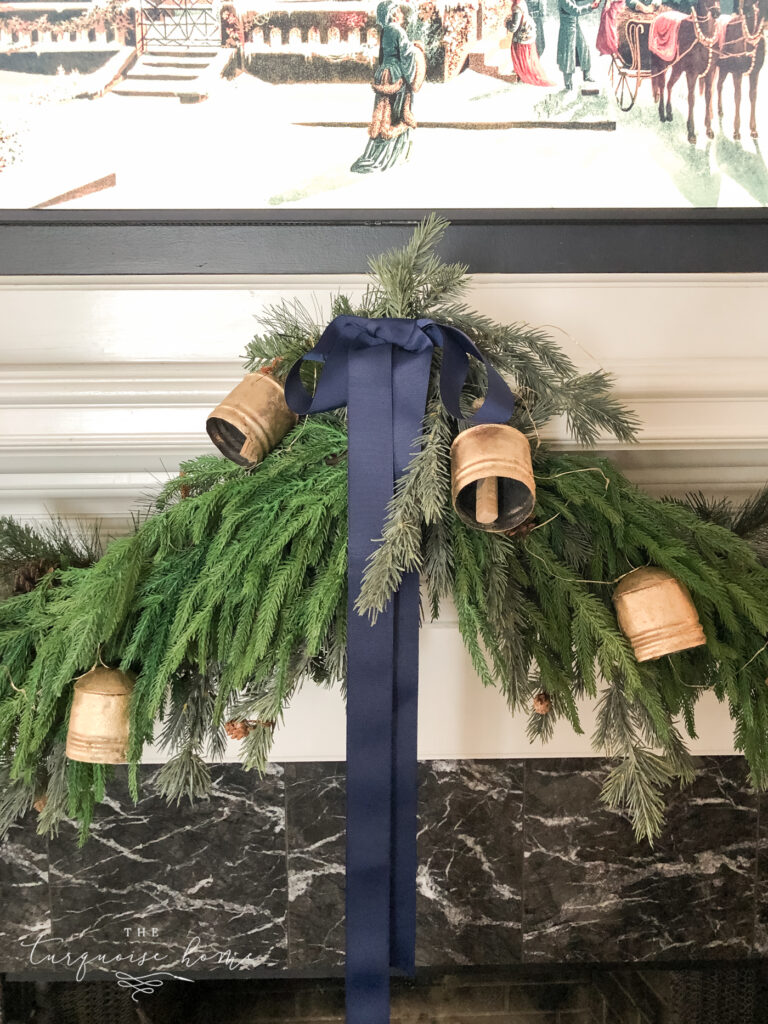 I would highly recommend watching the video, because I talk you through and share each step. Even though I don't take it apart, I think you'll understand it all better seeing it "in action." I will try to remember to take a video next year when I put it together again!
Also, I apologize for saying "just" & "and then" so many times! 😜 I did it in one take and didn't realize how annoying it was until I was almost done editing it.
You can also watch it on YouTube here.
I hope this helps you see how I made my mantel garland. I've been thrilled with how it turned out! I'd love to see yours if you add it to your mantel. Tag me on Instagram if you share it there: @turquoisehome.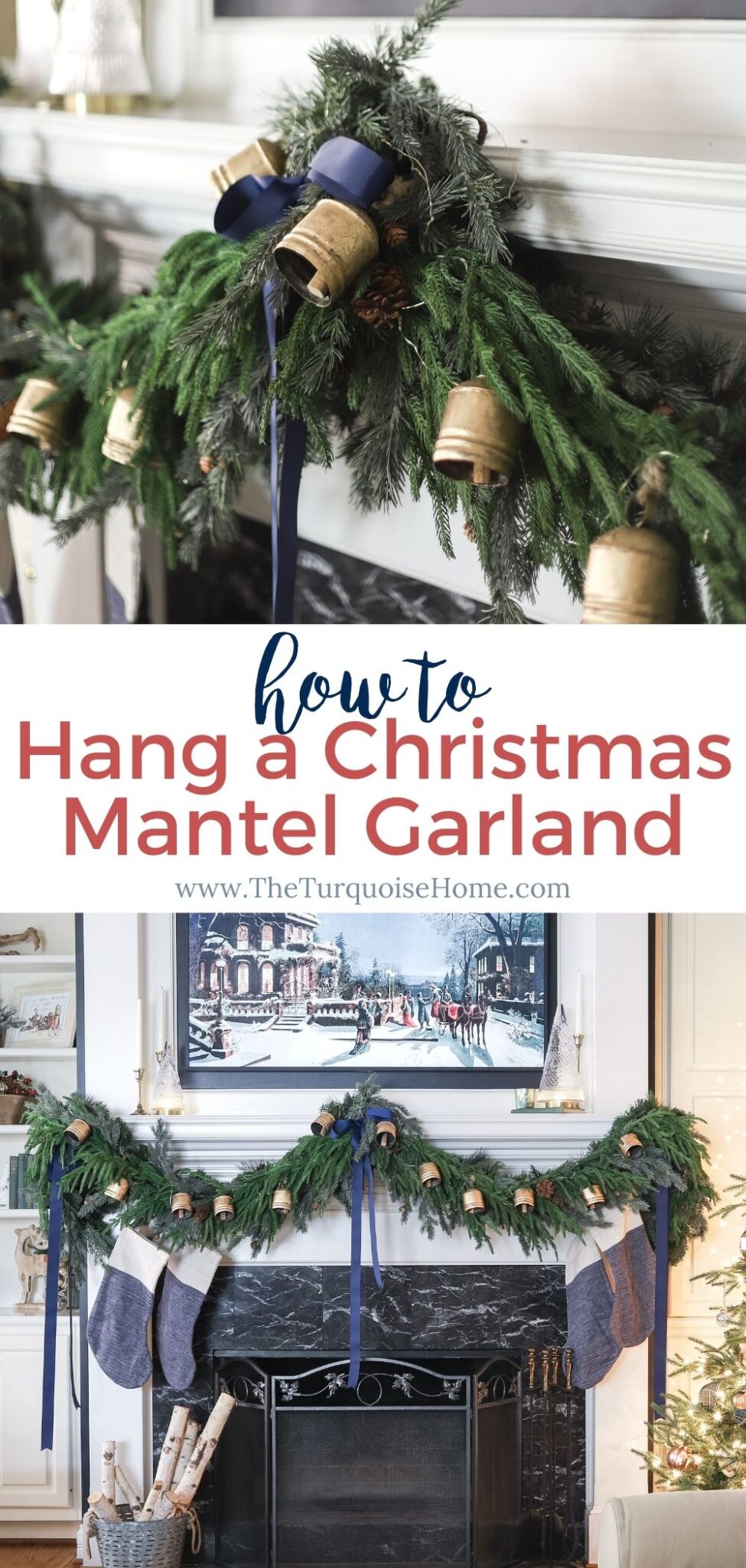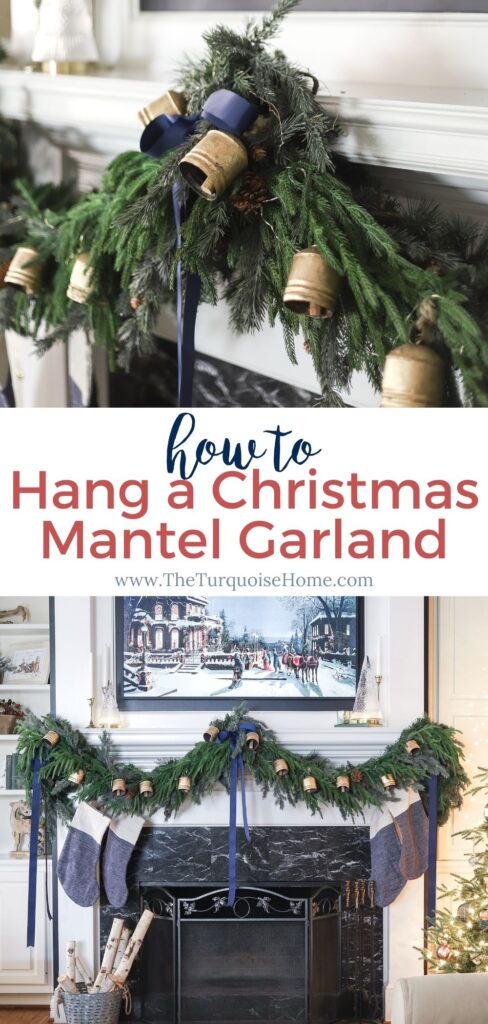 MORE POSTS YOU WILL LOVE: