My Easy Meal Planning Tips | Day 13: 30 Days to Less of a Hot Mess
Learn how to stay on top of the dreaded dinner-time blues with easy meal planning tips!
Ahhh, the dreaded meal planning. Well, let's just say that I used to dread it a whole lot more than I do now!
The once hated task that at one point had me planning a whole month in advance so that I only had to do it 12 times per year is now something that I don't even hate a little. I'll show you why!
Welcome to the 30 Days to Less of a Hot Mess Challenge! We're decluttering, reorganizing and taking a breath of fresh air to create a home we love. If this is your first time at the challenge, you may want to start here at the beginning. 
I have been a firm believer in meal planning since I first got married, but I haven't always had an easy time with it. I used to sit down with my 3-4 cookbooks and look over them trying to decide which meals we felt like eating that week. Then I would lug the cookbook around the house checking to see if I already had ingredients on hand or not.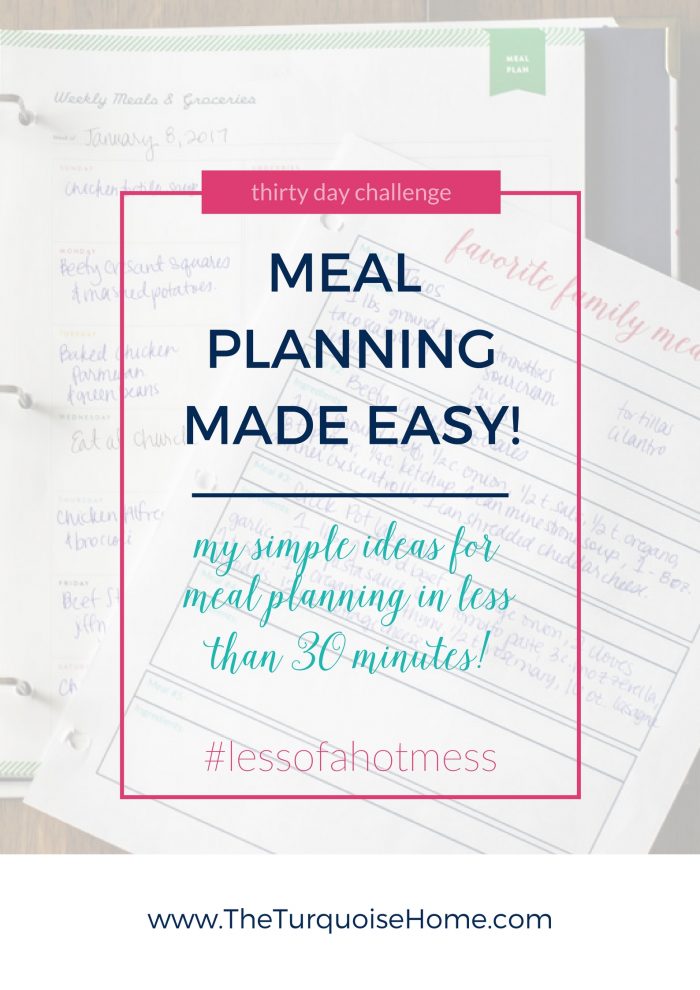 It was s cumbersome task that took me a couple of hours (at best!) each week and I hated it!!!! I hated it so much that I would avoid it altogether and just grocery shop without a plan and try to wing it. That meant more nights eating out because I couldn't figure out what I had. It also meant a lot of frustration and stress.
Then one day I realized that honestly, we only ate a handful of the recipes that were in my cookbooks. And that if I could narrow my list down even more and simplify it, then my meal planning days would be much easier.
If these struggles sound familiar at all, then you're going to love this new, easy, simplified meal planning solution!
My Easy Meal Planning Tips
For a 30-minute (or less) meal planning session, you will need:
A Family Favorites Meal Planning page (which I've created for you for FREE – see below)
12-14 recipes of your family's favorite meals
A Weekly Menu Plan (find free versions online via Google or Pinterest)
Grocery List or online grocery service
That's it!
Here's how I meal plan now …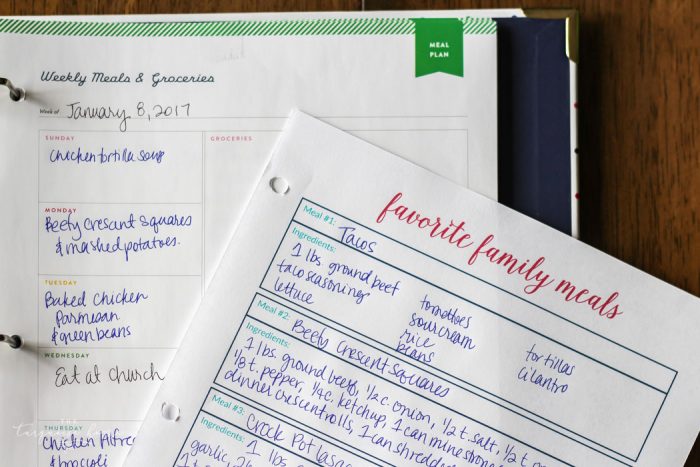 What you'll want to do first is collect 12-14 (or more!) of your family's favorite meals. For me, these are simple, quick meals that my family loves. It can sometimes be the most challenging part – finding something everyone loves – but do your best. 😀 I'm not a short order cook at my house and my oldest can be kind of picky, but she sometimes has to eat things she doesn't particularly like and that's OK.
Now, grab my free family printable below and write down all of the meals and their ingredients. You don't need to write the actual recipes, just the ingredients and how much of each one.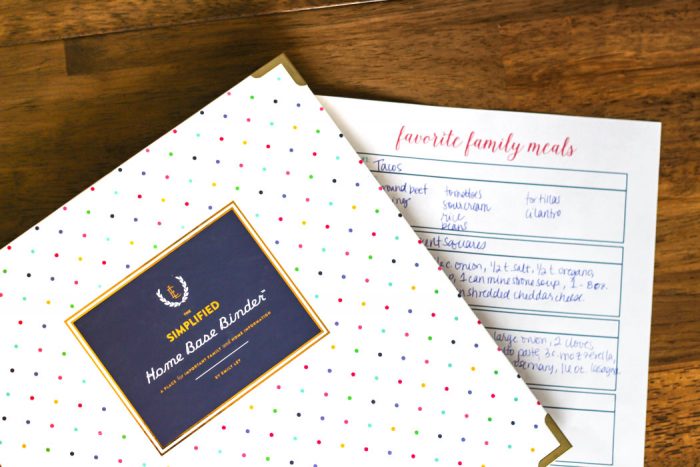 I keep mine in my Home Organizational Binder along with my weekly meal plan sheets. (My weekly meal plan sheets come with my binder from Emily Ley, but there are plenty of free weekly meal plan printables out there. Just do a Pinterest or Google search.)
I do my meal planning on Sunday evenings, so when it's my time to plan, I grab my Home Organizational Binder and that's all I need! I don't need my recipe books or anything else, just my binder. I grab a blank weekly meal plan sheet and look through my family's favorite meals and choose 5-6 meals based on when we'll be home that week. Then I make my grocery list based on the items next to each favorite meal (and take into account what I already have in my pantry and fridge).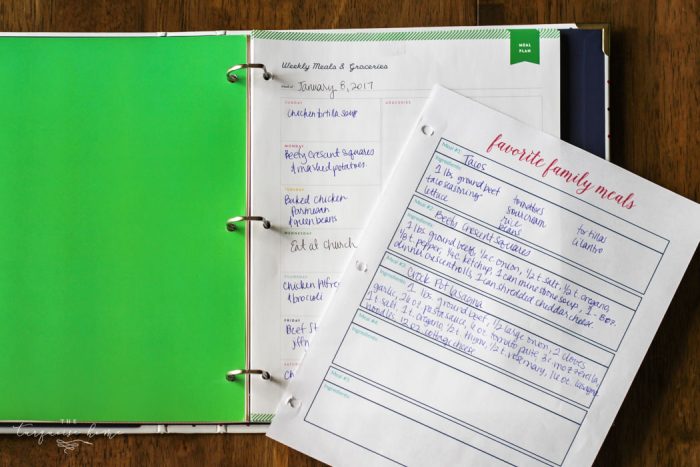 Personally, I use the free Walmart pick up grocery service, so I don't even write my grocery list down. If you have a service like this in your community, I highly recommend using it! I even do the Walmart+ service so that we can get free deliveries (and other great benefits)! I've used that when I've been sick and needed groceries and it's amazing!
OK, so I sit at the computer and find everything I need online and add it to my cart. I then schedule my pick up time for the next morning after I drop my youngest off at preschool and then pick them up! I love, Love, LOVE this service!!
Of course you can also write your list down and go to the grocery store like more people do. 😊 I know some people enjoy grocery shopping, but in this season of my life it saves a ton of time for me to just pick them up!
That's it!!
Once you get the hang of it, meal planning takes less than 30 minutes and is not even hard or slightly unenjoyable!
If your family likes more variety, you may want to plan more meals, but my family doesn't mind eating the same thing every 2-3 weeks, so we're good with 12-14 meals.
You can find several of my family's favorite recipes HERE.
And learn how I keep track of food items we run out of on a daily basis here. I grab that list, too, when it's time to make my grocery list!
Favorite Family Meals FREE Printable!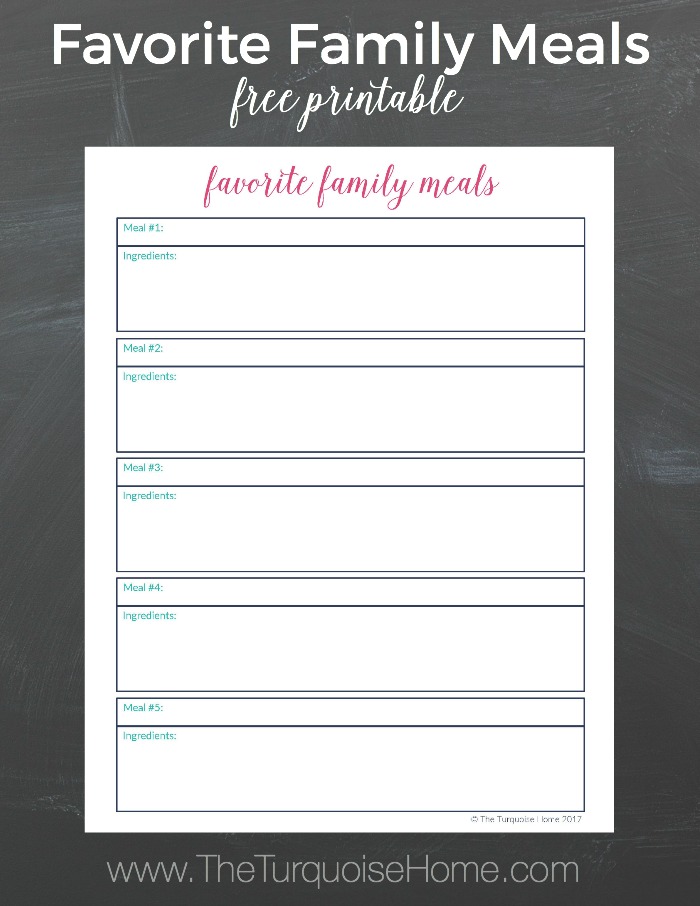 What's your favorite way to meal plan? Do you have any tips or tricks for the rest of us? Please share!
The Messy Work: Compile a list of 12-14 of your family's favorite meals today!
More Posts You Will Love: