How to select the right wallpaper for your space, where to find it and what kinds of wallpapers are out there – it's all here!
Wallpaper. Ahh, wallpaper. It's been around for centuries, but as with any design element, it has experienced the rise and fall of popularity.
It's been less popular for the past few decades because when it was trending back in the 1980's and even into the 1990's, there was a lack of quality installation.
If you've ever bought a home from the 80's or 90's and tried to remove wallpaper, then you probably hate it. It was probably incorrectly installed directly over drywall. And you spent days and weeks trying to remove it in little pieces and probably damaged the drywall in the process.
When the recession hit in the late 2000's, the DIY movement came along. People realized they could transform rooms for the cost of a bucket of paint. I LOVE paint with my whole heart and love that it makes transforming a space budget-friendly. BUT, I'm so thankful that the return of wallpaper is here.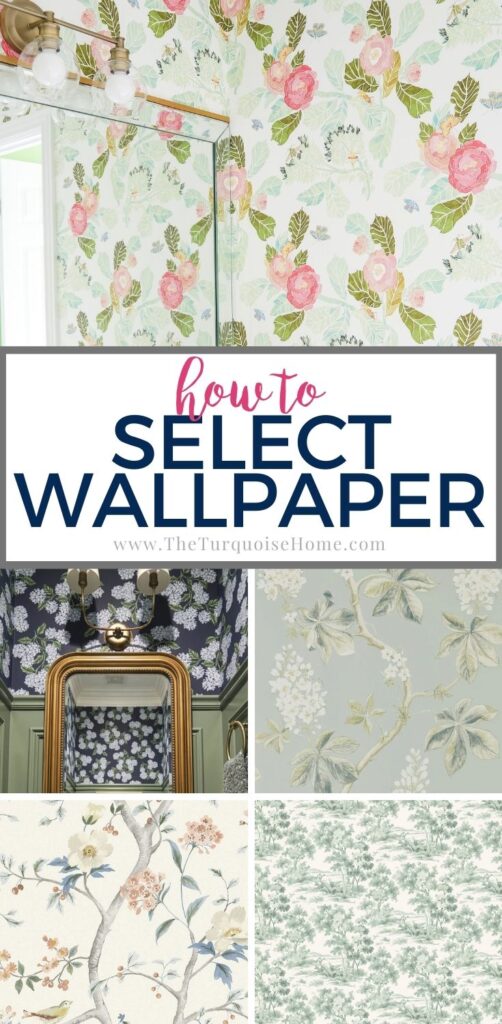 I've had so many people ask me lately about where to get wallpaper and how to install it yourself. I have installed wallpaper twice now, both in bathrooms of my home. And I'm about to install it again in my dining room and butler's pantry.
And I've used both pre-pasted wallpaper and unpasted wallpaper. I'll get into the different types of wallpaper in a minute. But I thought I would share my thoughts on wallpaper, which will hopefully answer some of your questions.
I'm definitely not an expert, but more of a novice user who is about to use it in two more spaces in the coming weeks and months. So, I definitely don't know everything about it, but I know enough to tell you something if you're a beginner.
This post contains affiliate links for your convenience. See my full disclosure policy.
Different Types of Wallpaper
So, I've seen 3 types of wallpaper in my shopping experience. And they all have to do with how you apply them to the wall.
Pre-Pasted Wallpaper
I used pre-pasted wallpaper in my daughter's bathroom. It comes with a dry adhesive paste on the back that has to be activated with water. I shared everything I learned in this post: How to Hang Wallpaper (tutorial for beginners).
It was my first time using wallpaper and I had a ton of corners and obstacles to wallpaper around, so it wasn't easy. But it was doable! I compared it to wrapping a gift, only on a larger scale and inside out. I'm glad I did my first project in an out-of-the-way space. Nobody goes in my daughter's bathroom except for us, so most guests will never see it.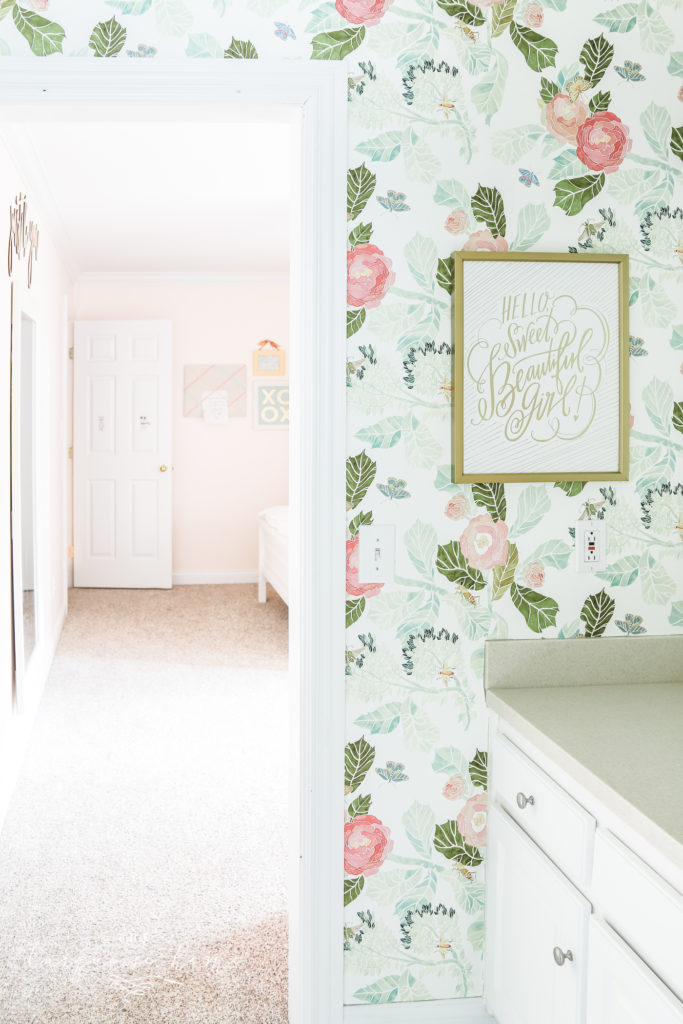 Paste on Wall Wallpaper
This is a wallpaper without any adhesive on the back. And you either have to apply the paste directly to the wall or directly to the paper. I think most high end papers are made this way.
I used this type of paper in my powder room makeover. This type of paper probably sounds the most daunting, but it was actually very easy!
I used a large brush to brush the adhesive paste on the wall, then placed the wallpaper on top of it! This bathroom had less obstacles than my daughter's bathroom, so it was much easier for a lot of reasons.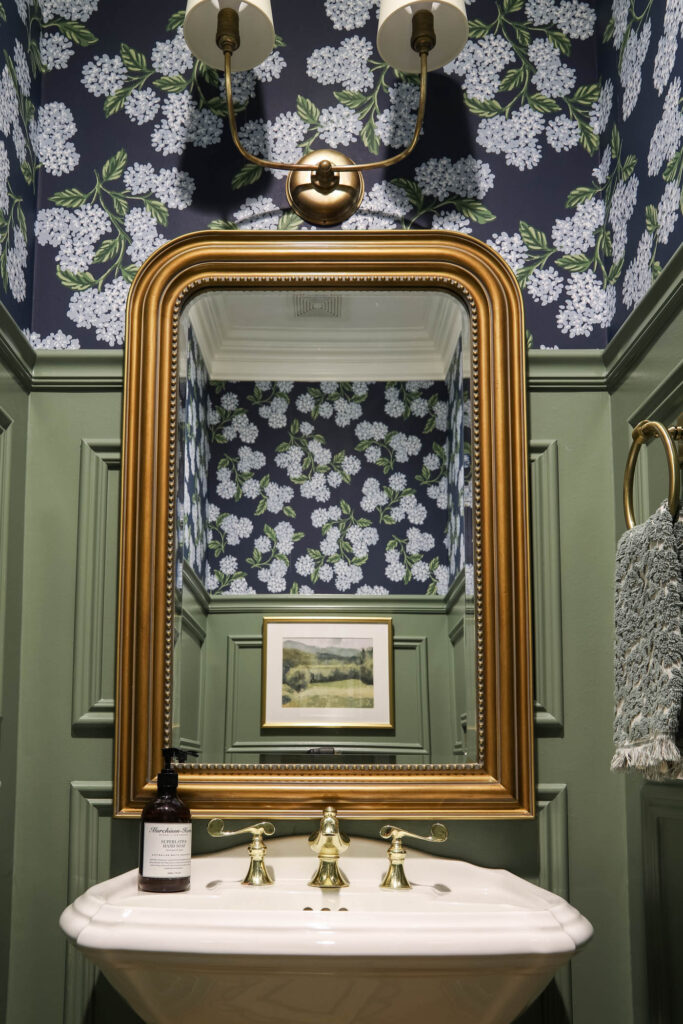 Of the pre-pasted and paste-the-wall, I prefer the paste-the-wall type. And that's good, because that's what both of the papers are that I'm about to use! 😜
Peel & Stick Wallpaper
This wallpaper comes with an adhesive backing covered with a paper liner. So, you just peel off the liner and place the wallpaper where you want it. This might be a great option for renters!
I've never used this kind of wallpaper, but I think most people think it would be the easiest to install. But I'm not so sure! I've heard it can be hard to get just right.
I've also heard that even though it's touted as easy to remove, it can sometimes be hard to remove without damaging the wall underneath. So, I personally don't plan to use this type of paper unless it's a very small space.
And I'd be hesitant to use it on furniture. I'll come back and share my experience if I ever try it! (Let us know in the comments if you've got experience with peel & stick wallpaper!)
How to Select the Right Wallpaper
Goodness, there is so much that goes into selecting the right pattern or type of wallpaper. And it can be so overwhelming, right?
Wallpaper Color Scheme
I typically start with a color scheme for my space and start searching from there. I will go to an online wallpaper source and filter by a color or two. Then once I've narrowed down a few selections, I'll order some samples.
Wallpaper can look so different in person than on a computer screen, so I always recommend ordering a sample, if you can!
I find that creating a mood board and bringing in all of the elements of the room is a great way to "try before you buy." And then when samples come in, test the paint colors and other patterns in the room in person!
Floral vs. Geometric
The same advice goes for wallpaper as any other decorating advice. You'll want to look at the other patterns in the room and choose something that complements the other patterns.
If your rug is a geometric pattern, then maybe your walls need a large floral pattern. If your draperies are a solid and your rug is a floral, then maybe a geometric pattern on the walls.
Coordinating elements of room, like the wallpaper, window treatments and floor coverings, follow the same rules as pillow pattern mixing:
Select one element in the room with a floral-type pattern with more than one color in it.
Then select another element with a large scale pattern: geometric, stripe or solid in one of those colors (or a complimentary color)
Then select a 3rd element with a smaller pattern or a solid in another color from the first element.
Repeat as needed!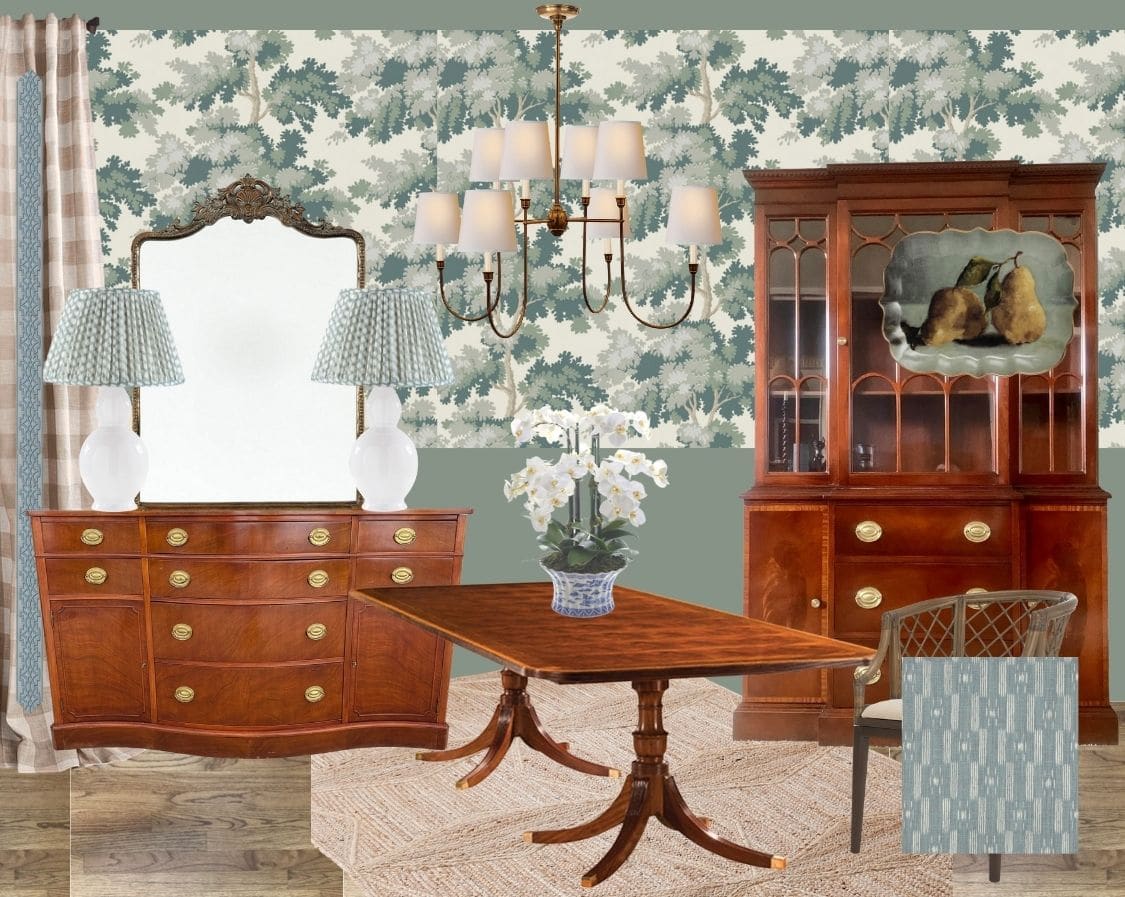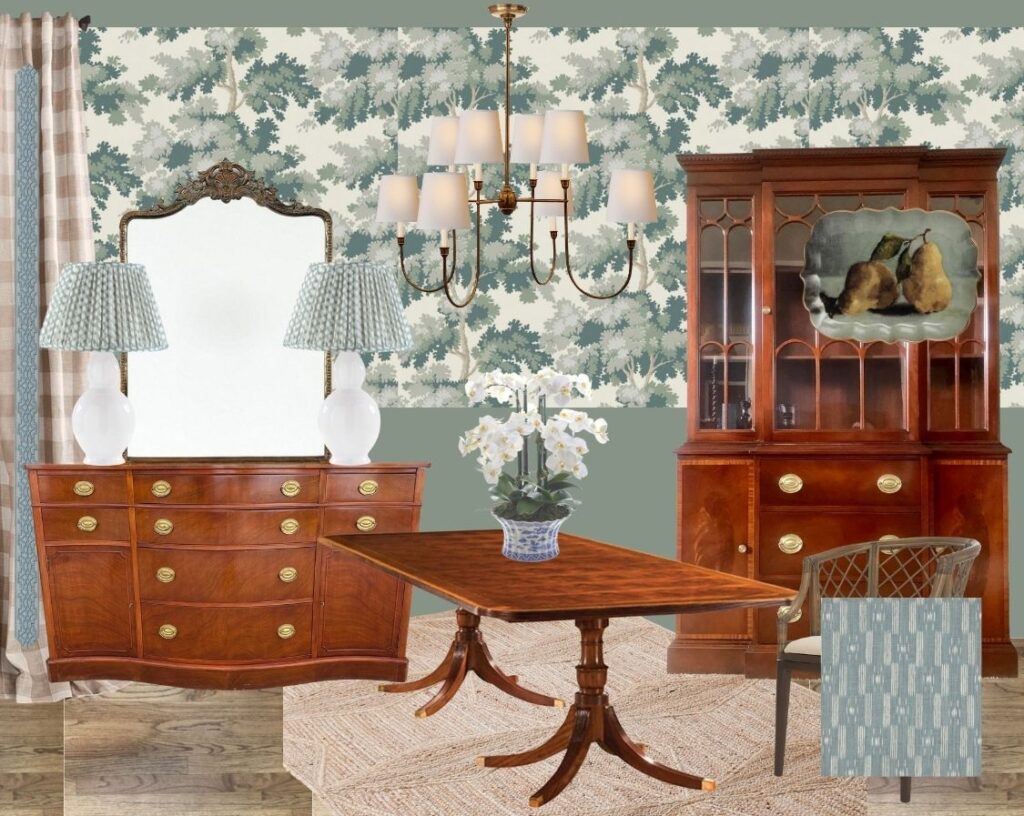 Ask a Designer
I hired my friend Sydney at Sydney Collins Interiors to help me select both of the wallpapers for my dining room and butler's pantry.
She's a great resource since she has a bunch of wallpaper samples that she can look through at her fingertips. And she pulled a larger floral wallpaper to go next to a smaller geometric wallpaper, which was essential for two rooms that flow together. I love them both so much and can't wait to get them installed and share them!
Tip for Picking Coordinating Paint Colors
I recently purchased a Color Muse tool for matching colors on a flat surface to a paint color. It's so cool! It scans the paper or whatever flat object you have, connects to the app on your phone, and tells you what paint color it is.
I've used it with a bunch of wallpaper samples now. But if you need to pick out a paint color without take a bunch of wallpaper samples to the paint store, you might want to try a Color Muse.
Where to Buy Wallpaper
I'm not an expert on this, but I know there are more options than Magnolia Home at Home Depot. 😉 I have bought mine from multiple online sources. And I've found that once I've picked out the exact wallpaper I want, then I do a Google search to find the cheapest price.
I got a great deal on my powder room wallpaper by shopping around. I found it $40 off per roll!
Definitely shop around for the best price! And most websites have a tool for figuring out how much wallpaper you need to buy for your space.
Favorite Wallpapers For Your Home
I've been looking at wallpapers non-stop lately and I've rounded up a few of my favorites for you! It's hard to narrow them down, but I've been shopping for several rooms of my house. And at one time or another these floral papers have all been contenders!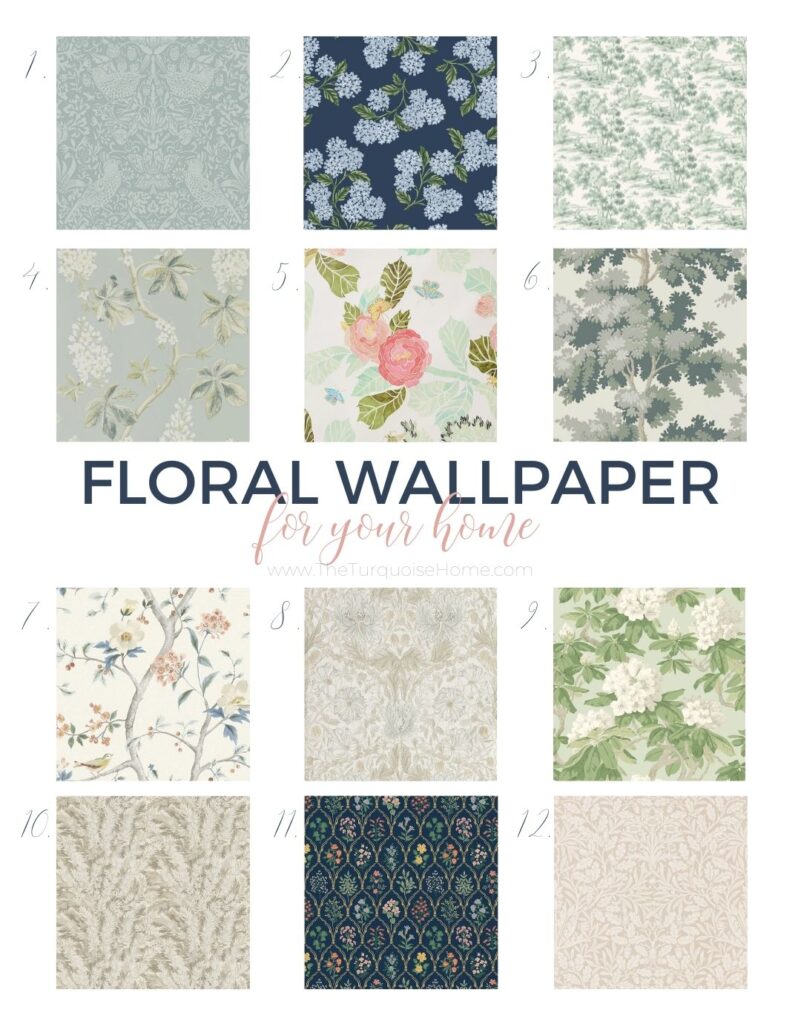 1. Inez Bird Floral | 2. Navy Hydrangea | 3. Countryside Morning (this is going in my dining room!) | 4. Woodland Walk Floral | 5. Watercolor Floral | 6. Scalamandre Raphael in Green | 7. Chinoiserie Floral | 8. Pure Honeysuckle and Tulip | 9. Cole & Son Bourlie in Duck Egg | 10. Cole & Son Florencecourt in Stone | 11. Hawthorne Wallpaper | 12. Pure Acorn
My favorite geometric wallpapers – coming soon!
---
I think that's about all I know about wallpapering! I hope this helped you get started on your wallpaper journey. It's hard to know where to start, but I think this will get you on a good track! I am loving wallpapers, so I'm excited to see how you all use them in your homes! Please always share with me on Instagram – I'm @turquoisehome!
Let me know if you have any questions in the comments below!
MORE POSTS YOU WILL LOVE: