Green paint colors can take your home to the next level. Whether your home decor style is sophisticated, rustic, or light and airy, there's a green paint shade out there that's perfect for your space. Here are some of the best green paint colors on the market!
Do you go green with envy when browsing green paint colors on Pinterest? I do, too! (It's taken me a few years to see past my love of blue paint colors and really love true green wall paint. But I have!)
I will often have dreams of soft, glowing green bedrooms, deep, bold green kitchen cabinets, and just-right sage green exterior doors. Why not humor your fantasies by considering one of the many beautiful shades of green paint on the market?
The Light Reflectance Value (LRV) Of Paint
First, a word about Light Reflectance Value, or LRV of paint.
As you peruse the list of green paint colors below, you'll see a couple of numbers. The first number is simply the number corresponding to the paint shade, which you can use to ask for a shade at your local store. The second number is the Light Reflectance Value of that paint shade, and I'll tell you why it's important.
The Light Reflectance Value (LRV) of a color refers to how bright or dark it is. Pure white has an LRV of 100, whereas pure black has an LRV of 0. So, LRV numbers closer to 100 will be brighter and lighter, and the lower the number gets, the darker the shade gets.
Make sense?
LRV can be a useful tool, but what's considered a light or dark color can be totally subjective. I did my best to dole out green paint colors among three categories: light, medium-toned and dark, but what I consider medium-toned, you might consider dark. It's all a matter of preference!
Without any further ado, here are some of the best green paint colors to try in your home!
The Best Light Green Paint Colors
There is so much you can do with light green paint colors! Set a dreamy scene in your bedroom with a soft seafoam shade, or give your bathroom some relaxing spa vibes with an earthy, light neutral green.
No matter how you envision light shades of green paint, here are some favorites from interior designers and homeowners alike.
SW 6204 / LRV 63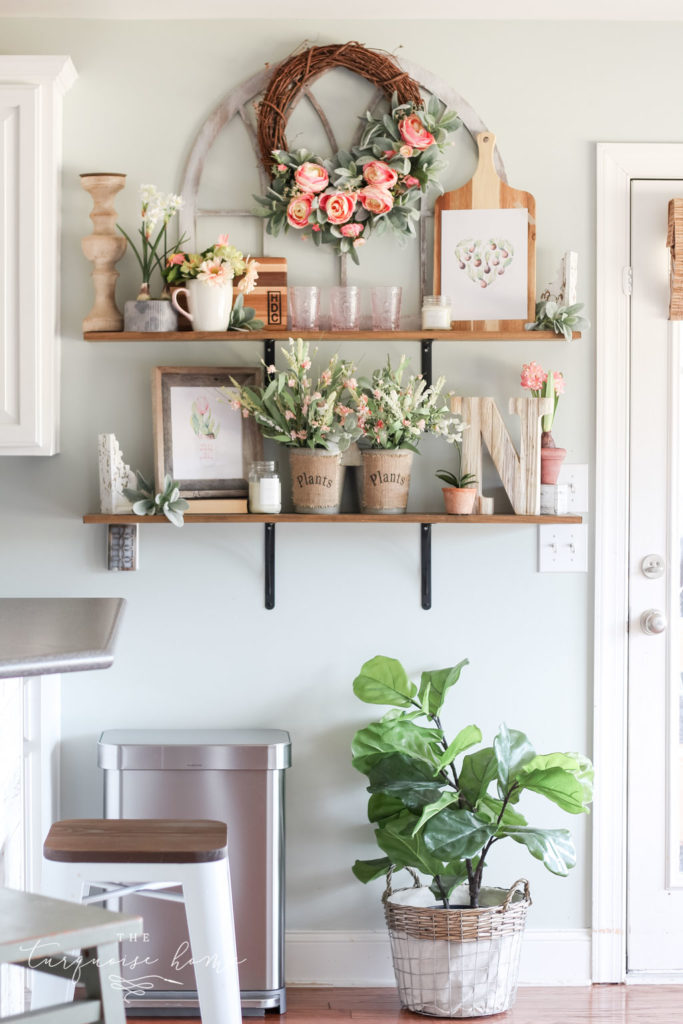 This serene, pale blueish-green has a cult following for a good reason: its gray undertones keep it neutral enough to work well in any space. With a Light Reflectance Value (LRV) of 63, it's light enough to be used with confidence in any room.
Plus, it's one of my favorite paint shades, having used Sherwin Williams Sea Salt in my kitchen in my previous home and now my bathroom.
2140-60 / LRV 68.28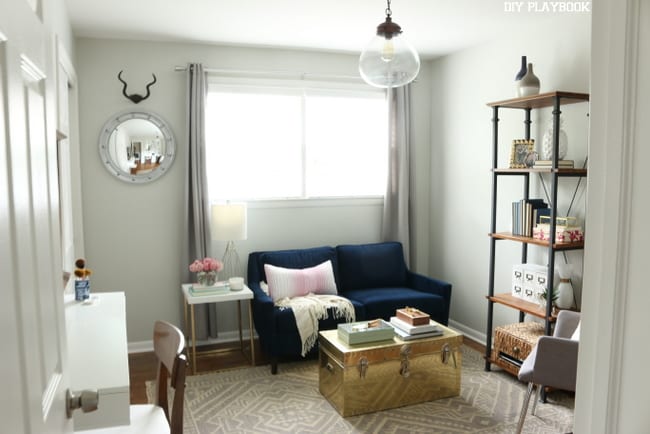 As its name suggests, Benjamin Moore Moonshine is an ethereal pale green that's more often described as a soft gray with green undertones that can sometimes lean blue.
When you get it up on a wall, it certainly looks gray and can morph depending on the directions the windows are facing, and even as the sun changes throughout the day.
It looks pretty light and neutral in this fun office from The DIY Playbook.
864 / LRV 68.94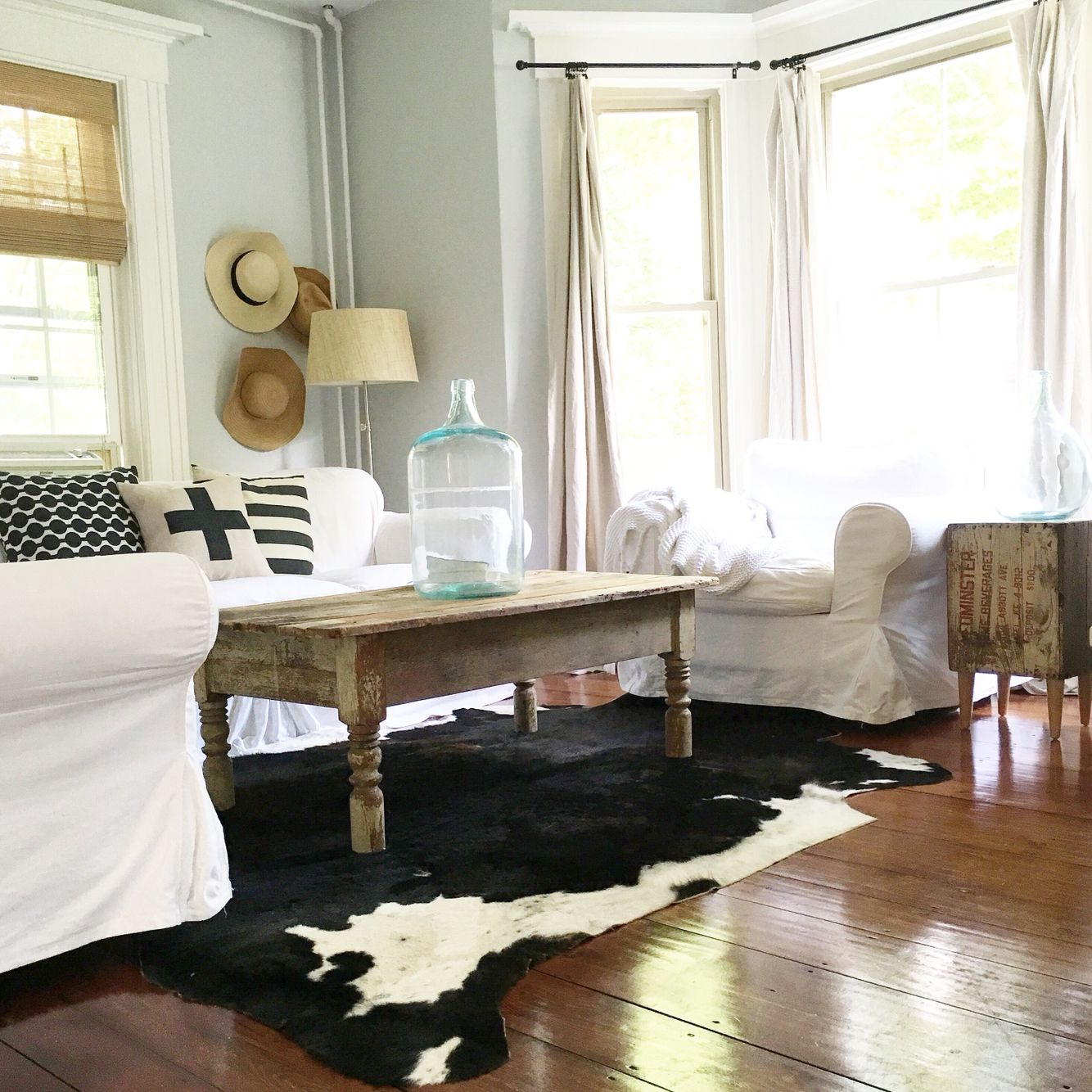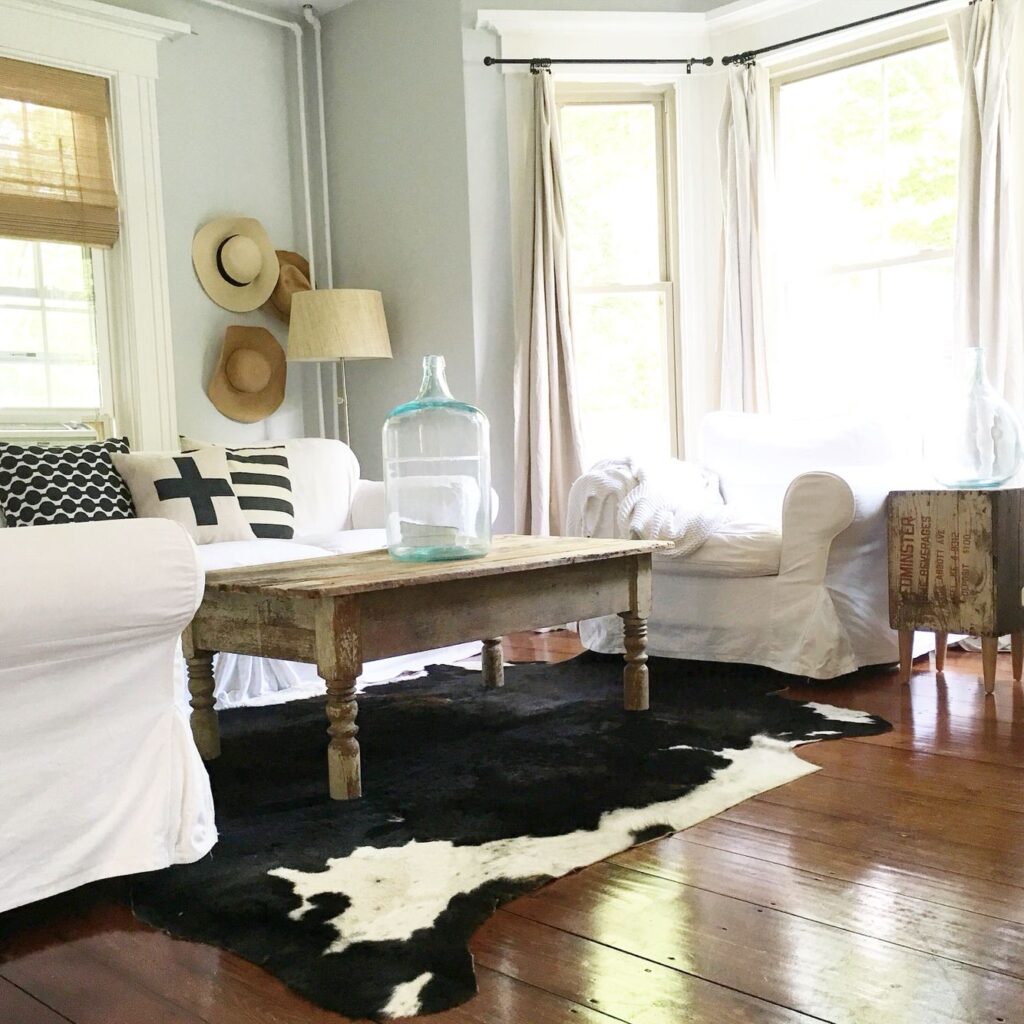 This is another shade that's classified as a light gray green paint, but certainly looks green on the swatch. It's cool and fresh, and casts a very subtle green glow (especially when trees outside reflect through the windows), but doesn't run into the problem of leaning too blue.
I love the look of Oyster Shell as a light wall color in this rustic-inspired room with a black, white, and neutral palette.
1562 / LRV 69.66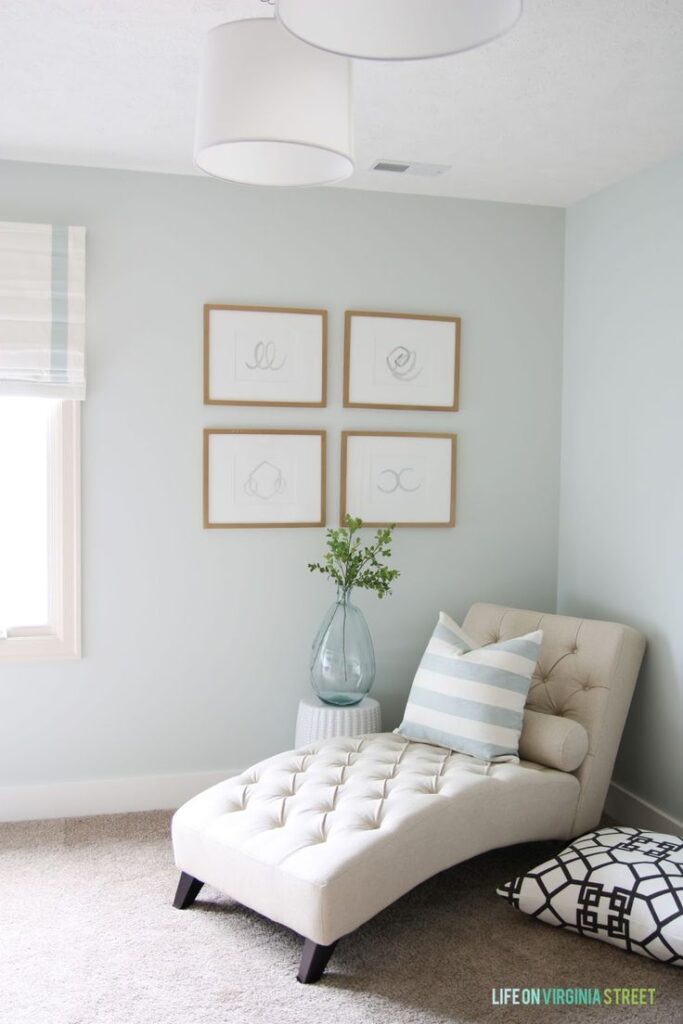 Healing Aloe is a wildly popular light green paint shade, beloved by designers and DIYers alike. This soft, pale green seems to glow in any space, making it ideal for nurseries, bedrooms, and bathrooms, but unobtrusive enough to work in any room of the house.
It's a perfect wall shade for this sweet room from Life on Virginia Street.
2142-50 / LRV: 54.9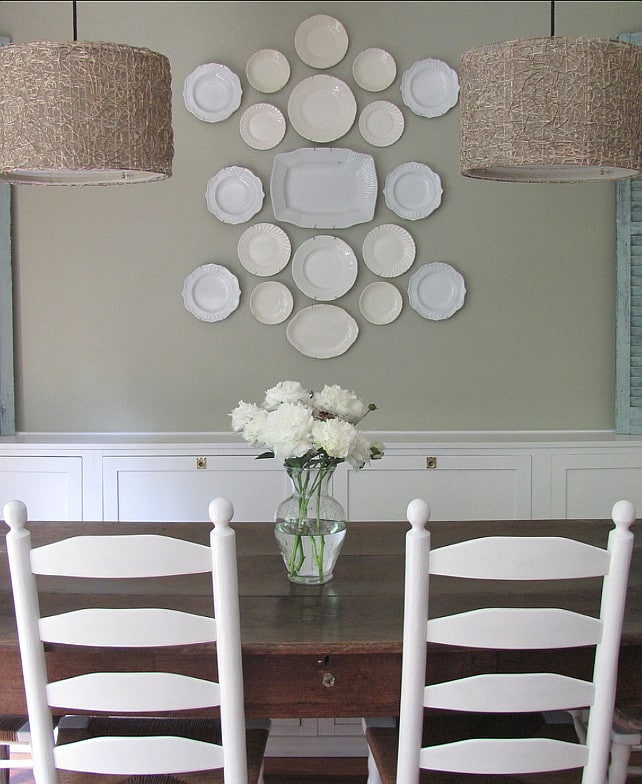 Benjamin Moore says it best: "An understated green with grey tones, gray mirage invites relaxation and calm. Perfect for turning a bedroom or bath into a tranquil sanctuary".
Gray Mirage is a great choice if you love sage shades but are looking for a very soft wash of color in your bathroom, bedrooms, or on bathroom or kitchen cabinets.
SW 6205 / LRV 54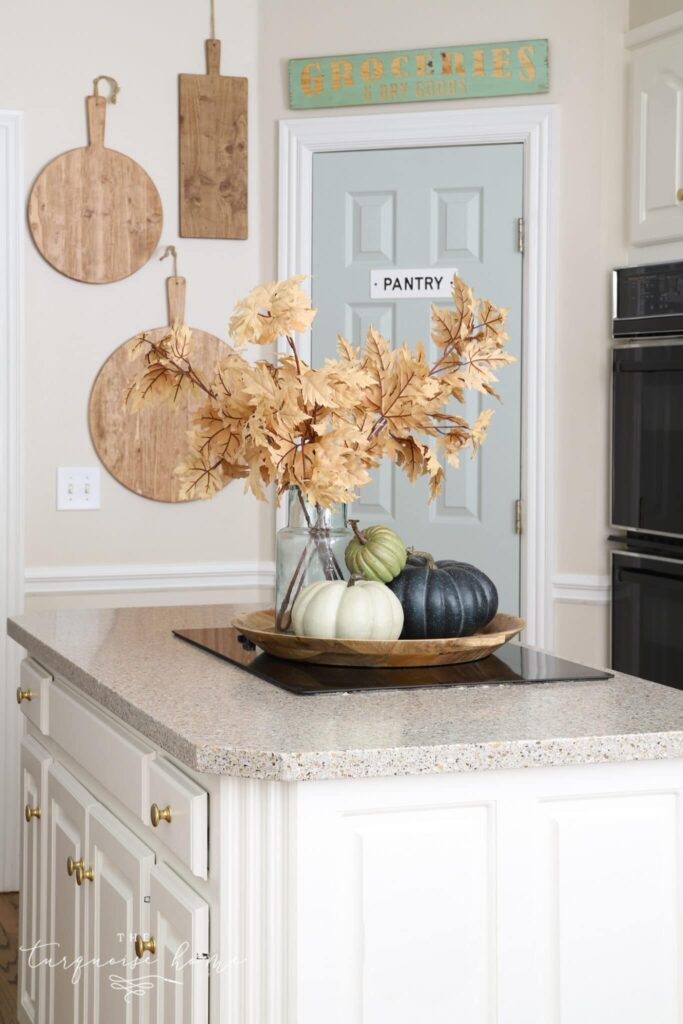 This stunning, stormy gray is the next step up from those beautiful pale blue/gray greens that homeowners tend to love. It's still light enough to be subtle on the walls in any room of the house, but just slightly darker, giving it some depth and body.
I love how pretty Sherwin William Comfort Gray looks on my kitchen pantry door.
The Best Medium-Toned Green Paint Colors
These medium-toned green shades are the earthy middle ground between soft and ethereal light green paint colors and bold and head-turning deep greens.
Earthy and botanical, one of these beautiful colors might just be the right shade for your powder room walls or built-in cabinets.
SW 6178 / LRV 41
This beautiful, medium-toned sage green is super interesting…and maybe for that reason, a little tricky to get right. While it may be too saturated to look good on most interior walls, how sweet is this exterior door?
Clary Sage adds just a pop of color next to the painted white brick. I'm officially in love.
SW 2860 / LRV 42
A highly pigmented sage green with some brown mixed in, Sherwin Williams Sage has just a slight hint of yellow in its undertones.
In this breathtaking kitchen remodel on Inspired by Charm, it looks spectacular as a cabinet color. There's enough depth in the shade to let it be an interesting pop of color, yet muted enough to look somewhat neutral, making it a wonderful green for exterior paint.
No. 19 / LRV: Approx. 34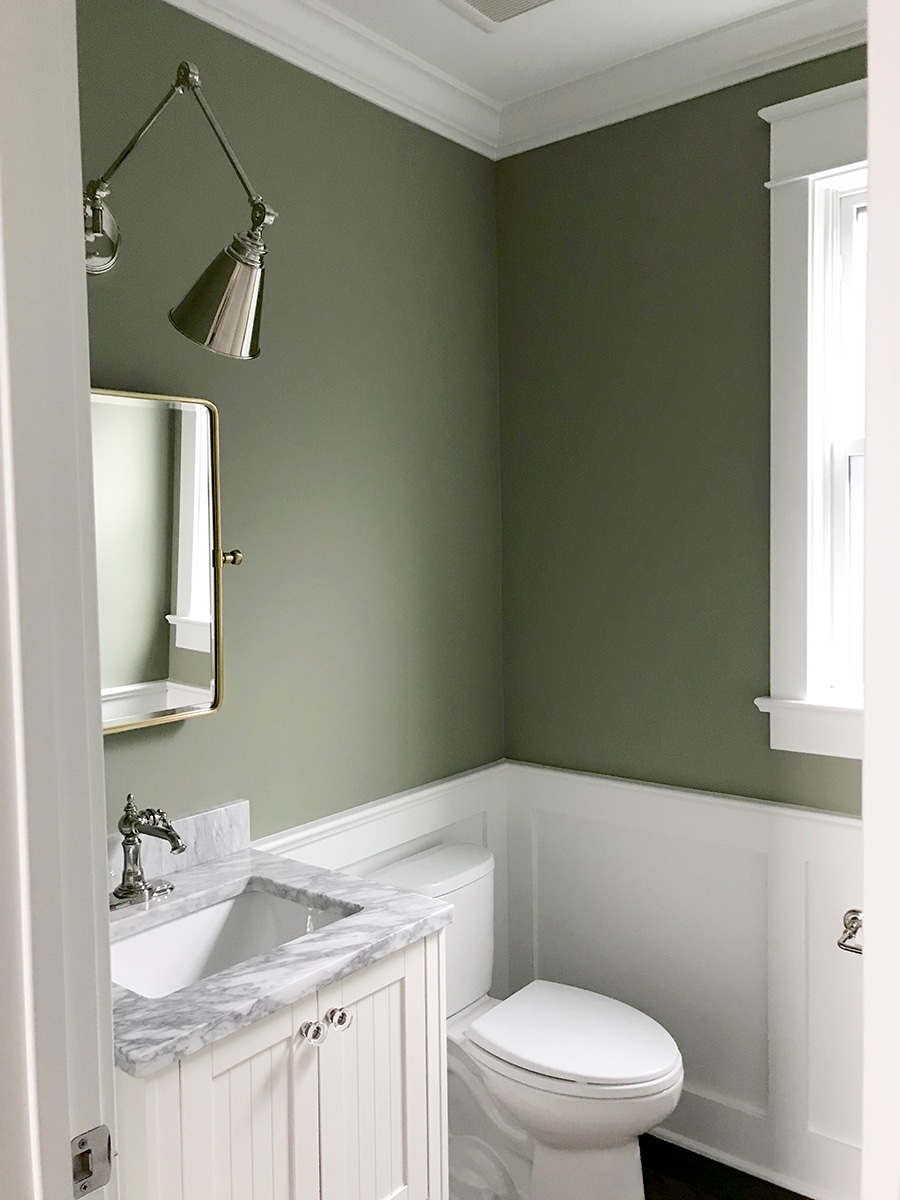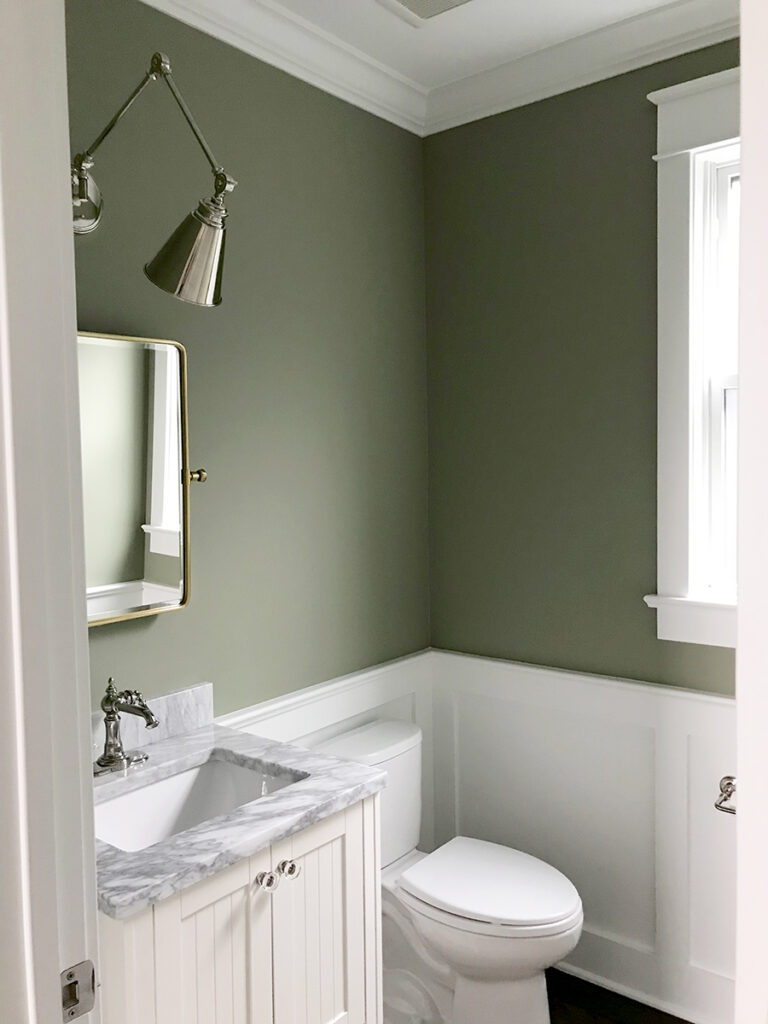 I have to include this description from Farrow and Ball: "This calm and muted green is named after the ever-changing, subtle colour of creeping algae which ages stone so beautifully".
Consider me sold!
A beautiful sage green that is starting to lean toward the dark side, this is a wonderful color if you covet an earthy feel for your home. How perfect is Lichen in this lovely powder room from Elizabeth Street Post?
2140-40 / LRV 27.85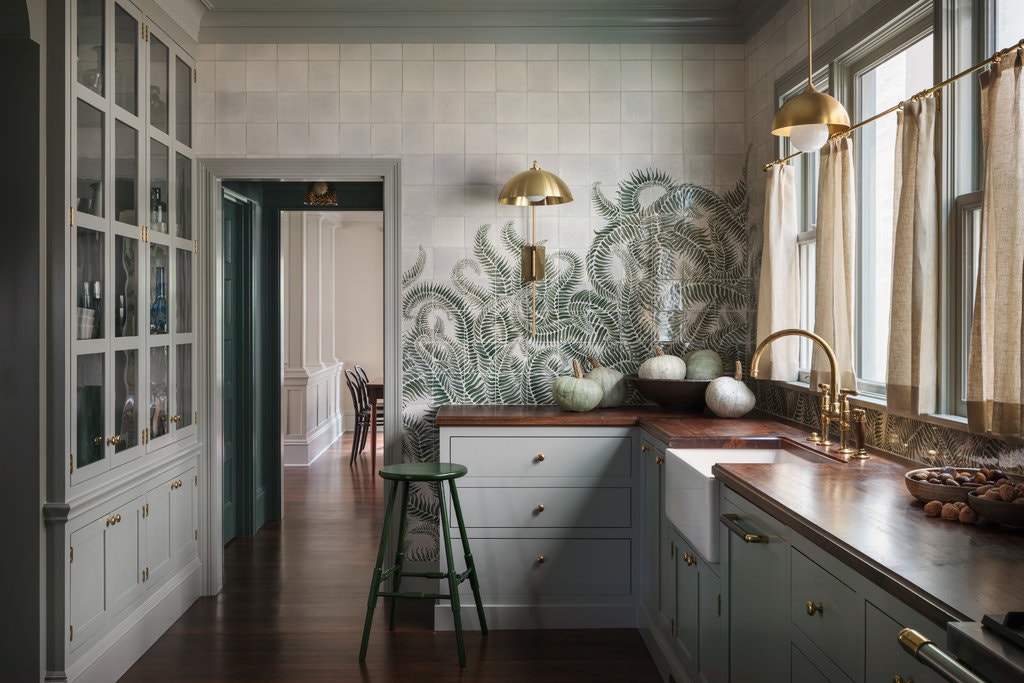 Turns out, folks just can't get enough of ambiguously almost-gray, almost-green shades. Why? They play the role of a neutral while adding just a hint of interesting color.
Take a moment to drool over this moody, earthy kitchen from Remodelista. Storm Cloud Gray is muted enough to be used all over – on the many kitchen cabinets and trim. Gorgeous!
SW 6206 / LRV 44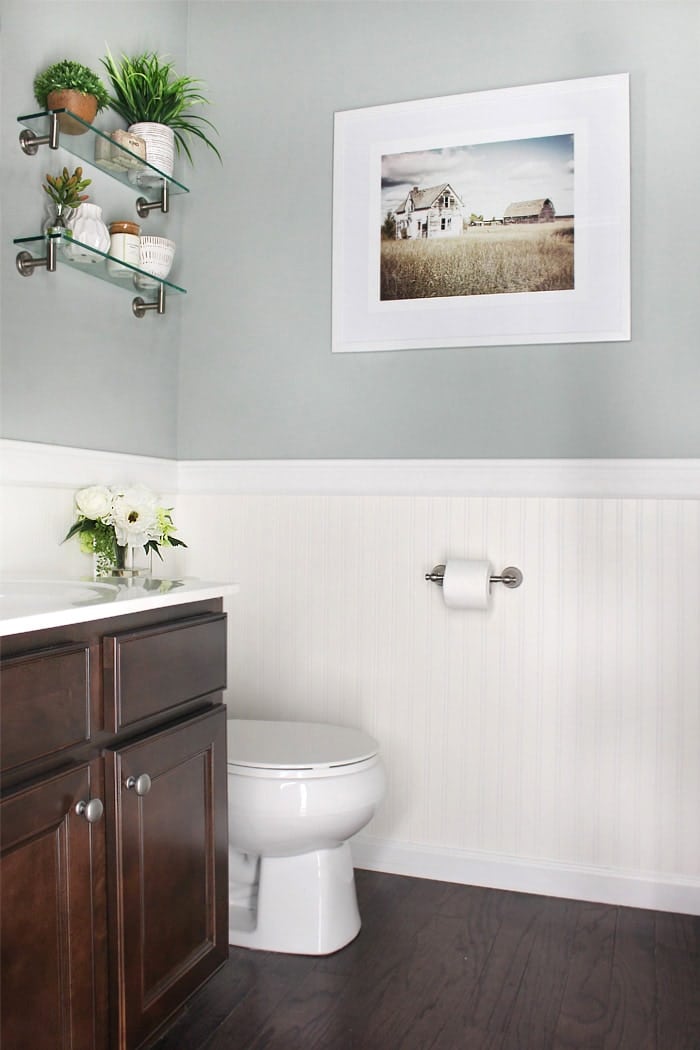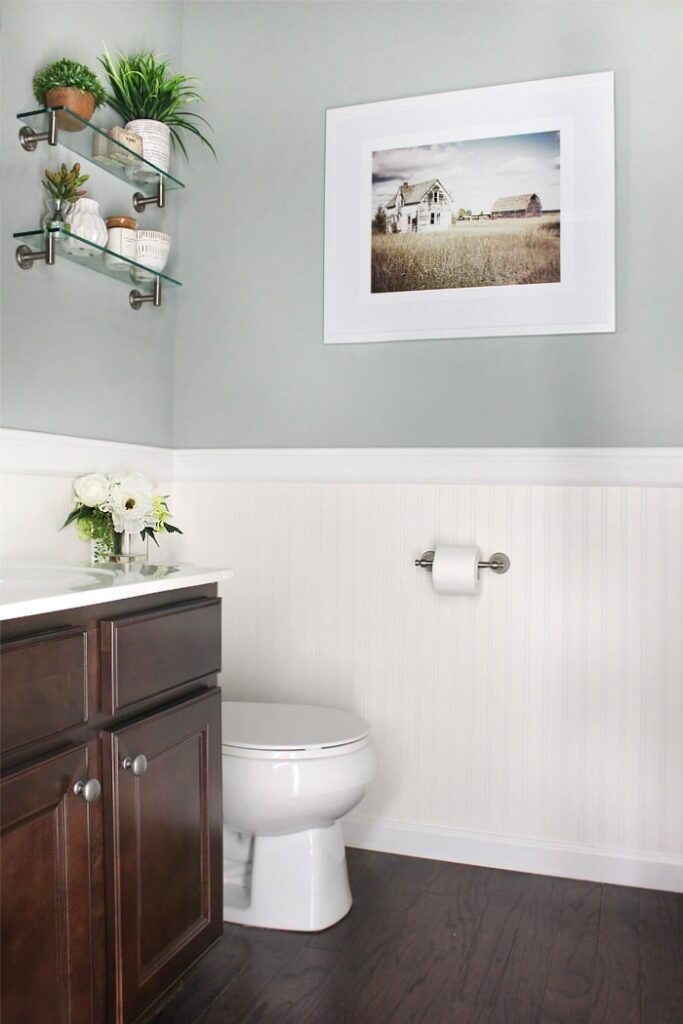 This lovely, moody green has some subtle sage characteristics but is confidently a blueish green with some gray undertones. It's perfect for powder rooms, and pairs nicely with white beadboard or wainscoting, like this fresh-feeling bathroom from How to Nest for Less.
The Best Dark Green Paint Colors
Bold, subdued or mysterious, deep greens are absolutely gorgeous on cabinets and accent walls, pairing decadently with brushed gold hardware.
Take a chance with one of these stunning dark green paint colors!
SW 6207 / LRV 21
Fans of blue/gray greens like Oyster Bay who want to push the envelope a little bit further should look to Sherwin William's Retreat.
This heavily grayish-green has rich botanical vibes, and if you couldn't already guess from the name, lends a level of sanctuary to homes that make you never want to leave.
SW 6208 / LRV 12
Don't be afraid of this dark and mysterious green – this may be the sophisticated dark shade you're looking for.
Allow your fireplace, home office/study or kitchen cabinets to be enveloped in this rich, grayish-green shade that recalls the depths of an unexplored forest. Is it weird to lust over a cabinet paint color?
I'm so taken with how lustrous SW Pewter Green looks paired with gold hardware.
No. 47 / LRV: Approx. 19
If you're looking to wow your guests with an incredibly chic bathroom, Green Smoke by Farrow & Ball may be your shade. It pairs splendidly with wallpaper containing dark leafy designs, and brushed gold accents will pop.
Use it to embolden the wainscoting in your powder room.
2045-10 / LRV 6.51
Searching for that perfect, bold emerald? Look no more!
Sometimes you just need that bright, saturated green of Green Bay by Benjamin Moore for your kitchen cabinets that would put the capital city of Oz to shame.
2050-10 / LRV 3.66
For that dramatic accent wall that's almost black but not quite, Salamander, by Benjamin Moore is a sophisticated and incredibly dark teal. It plays the role of a navy, but in my humble opinion, is so much more interesting.
How stunning is Salamander as an upper wall color in this bathroom?
2041-10 / LRV 4.31
Last but certainly not least, the stunning Hunter Green from Benjamin Moore is pretty dark, but undeniably green and beautifully saturated.
It's pretty much a deep forest green with some subtle, jewel-toned characteristics to keep it from appearing too muddy or moody. It works great as an accent color when paired with a neutral color palette.
MORE PAINT COLOR IDEAS FOR YOUR HOME
TIPS FOR PAINTING A ROOM YOURSELF
I've gathered some of the best tools for painting a room yourself. First of all, you'll want to check out this post I wrote: Painting a Room in 5 Easy Steps. These tools are the top tools I use when painting my own rooms, which is how they get painted 95% of the time!
Final Thoughts
There you have it – some of the best and most gorgeous green paint colors out there. Whether you're looking for a light, medium or dark green shade for your home, testing out one of the stunning shades on this list is a great way to start your search.
MORE POSTS YOU WILL LOVE: