Gold & Greenery Christmas Dining Room
I've had a great time decorating my dining room for Christmas this year – really for the first time! While this is our 3rd Christmas in this house, I haven't decorated this room for Christmas before.
We're calling this a gold & greenery Christmas dining room, because of all the accents with gold. But I've also got some plaid and Nostalgic Christmas in here too. So, Gold, Greenery & Touches of Nostalgia, might be a better name. ✨🌲🎅🏼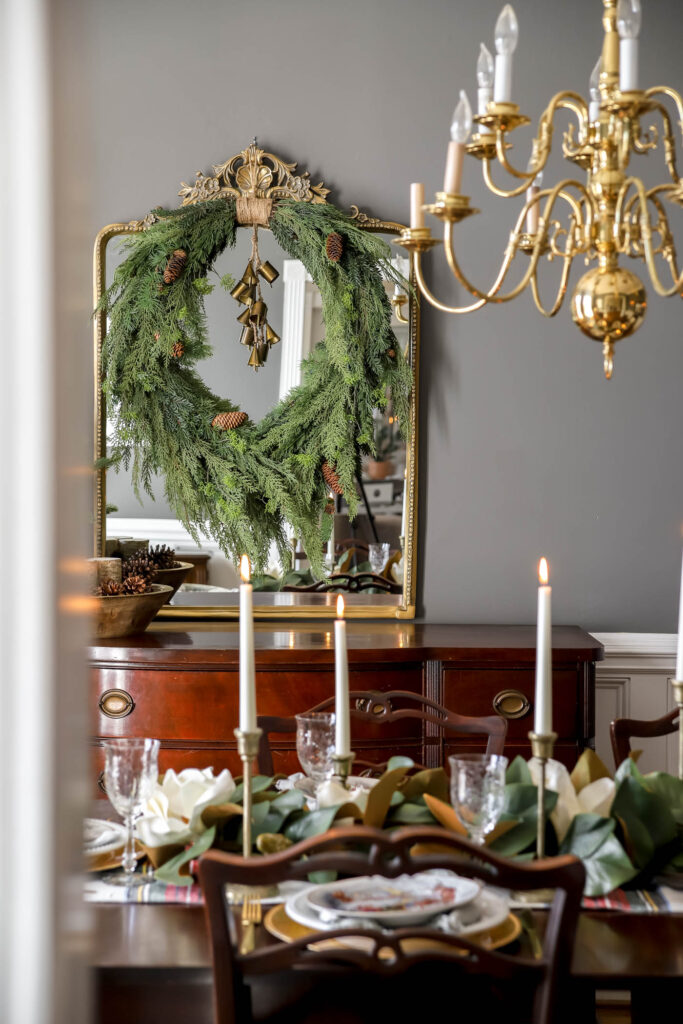 In our old house, our big 9-foot Christmas tree went in the dining room. It had a huge window at the front of the house, so it made sense to put the tree there. Oh, and those tall ceilings… so fun!
So, the dining room was almost always the first room decorated in our old house.
This post contains affiliate links for your convenience. See my full disclosure policy.
I don't know if you can tell from pictures, but that room was so much bigger than the dining room we have now.
So, when we moved that large farmhouse furniture into this traditional cape cod-style home, the furniture was just too big.
And then we hosted Thanksgiving in our dining room last year and so I really skipped decorating it for Christmas altogether.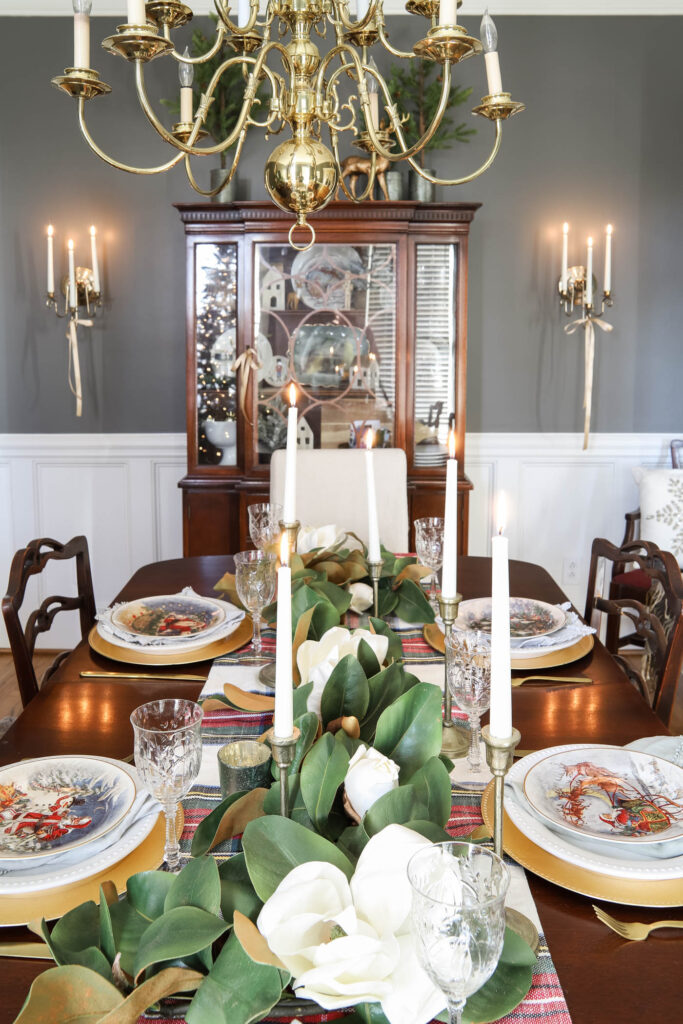 But this year I have all new-to-me (antique) furniture, didn't host Thanksgiving and had a fun time decorating! All the while keeping in mind how it will look in a newly made over room next year. I tried to only buy new pieces that will work again next year after we've finished the dining room makeover.
My wheels are already turning about how I will decorate it come next Christmas!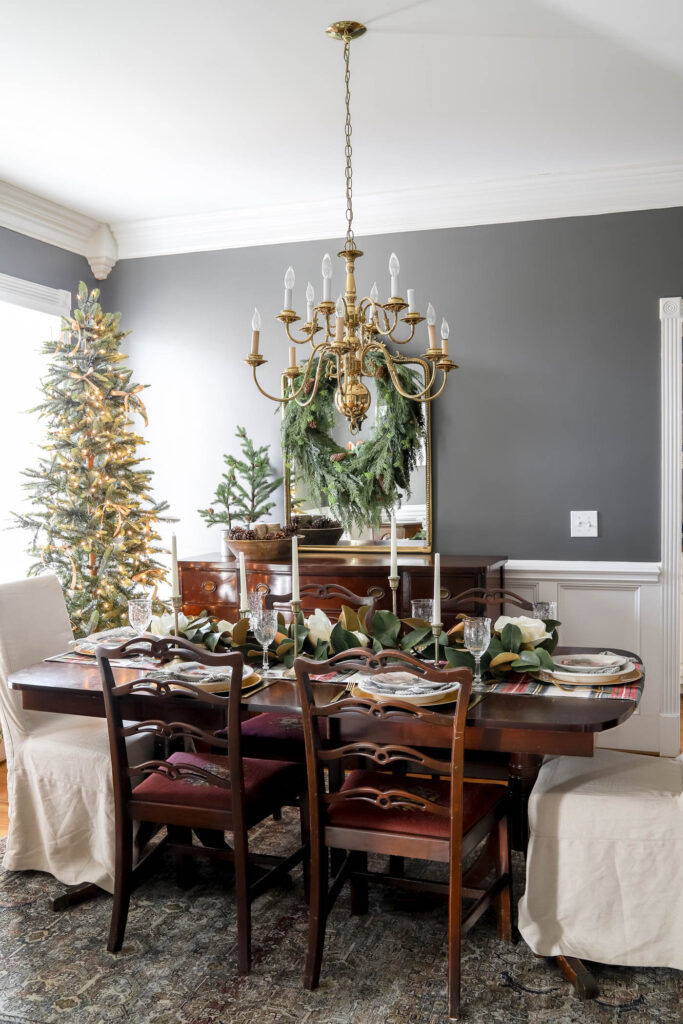 Dining Room Sources: 7.5 Slim Aspen Fir Tree | Christmas Tree Collar | Furniture is all antique or old | Large Greenery Wreath (sold out) | Hanging Clustered Bells | Table Top Trees | Wooden Bowl | Candle Sticks | Tapered Candles | Olive & Charcoal Area Rug | Nostalgic Christmas Salad Plates (already sold out 😔) | Nostalgic Santa Salad Plates | White Beaded Plates | Gold Chargers | Tartan Plaid Table Runner | Gold "Silverware" | Magnolia Garland (similar)
I was so excited that the new, smaller furniture meant I could have a Christmas tree in the dining room. I started with a new 6.5 foot flocked tree, but it never felt quite right. And the reason I bought it was because it matched the Christmas tree in my office across the hall.
Then I realized I needed a taller, non-flocked Christmas tree. So, I bought this 7.5 Slim Aspen Fir Tree and it was the magical missing piece! I love that I now have two Christmas trees in windows in the front of the house. And the glow of Christmas lights everywhere we turn makes my heart so happy. I added some gold ribbon bows to the tree for a festive look. (And added the gold ribbon bows a few other places as well.)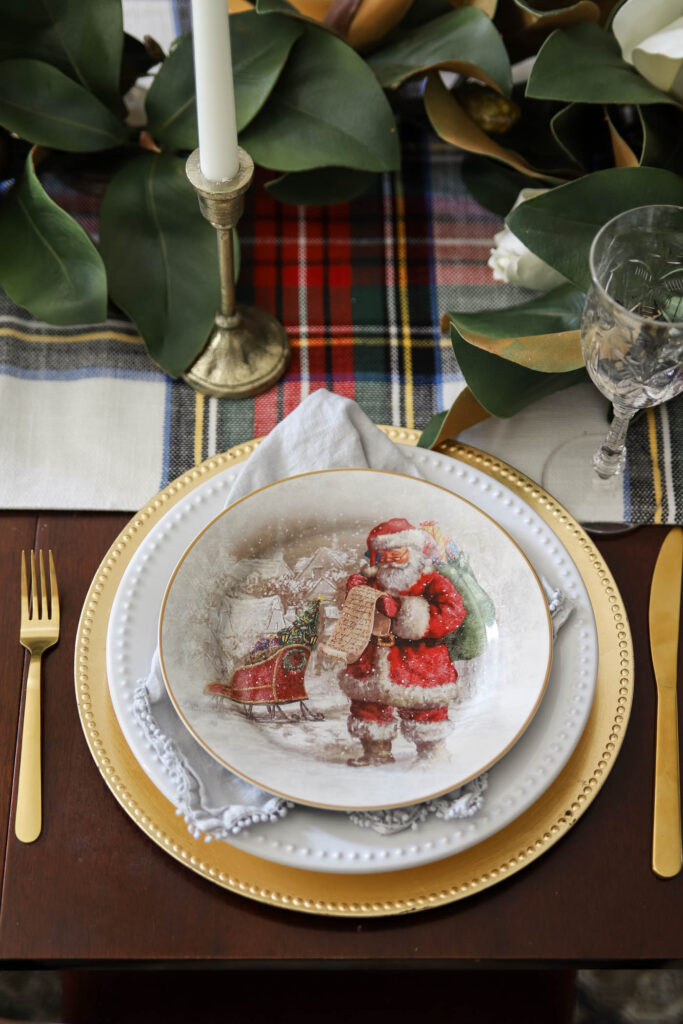 For the table, I knew I wanted a new runner. I love all things plaid for Christmas, so this Tartan plaid table runner was my first purchase. It's really the only plaid in this room, but I think it helps connect it to the other rooms in our house. It's just a little peek of plaid on the table, so it works!
I've been wanting to buy some Christmas plates for years, and now that I have more space, it was the perfect time to treat myself to these Nostalgic Santa salad plates. I love how they are all different scenes, and I especially love the train plate. (I bought both the Nostalgic Christmas plates and the Nostalgic Santa plates, but unfortunately the Christmas ones are already sold out.)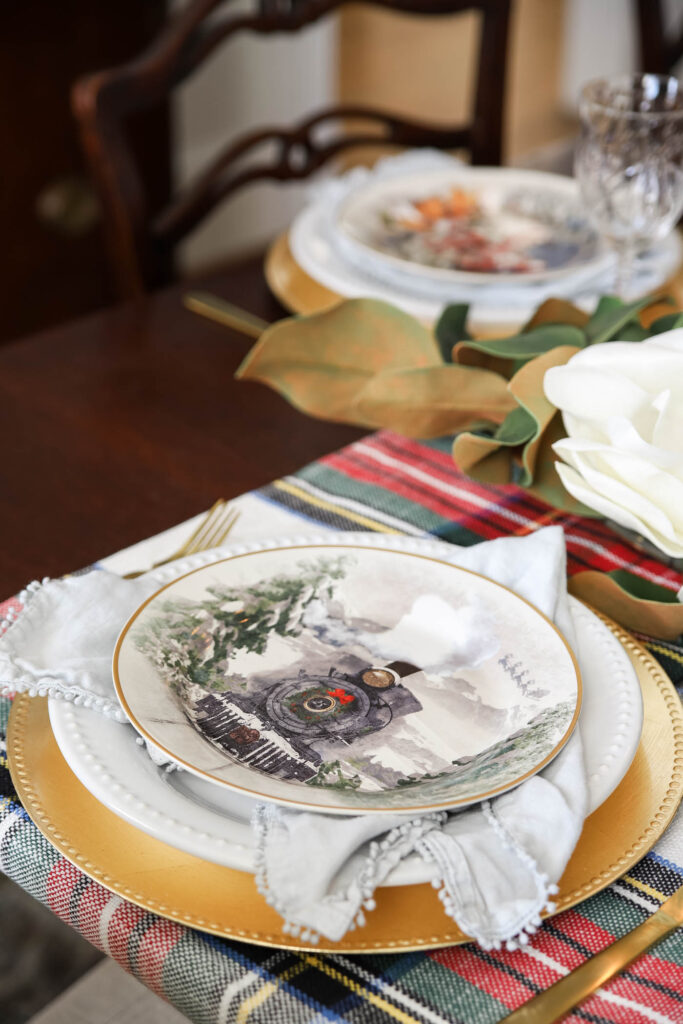 Christmas Dining Table Sources: Nostalgic Christmas Salad Plates (already sold out 😔) | Nostalgic Santa Salad Plates | White Beaded Plates | Gold Chargers | Tartan Plaid Table Runner | Gold "Silverware" | Magnolia Garland (similar)
I also finally bought myself a new set of white dishes. We got the Target version of these dishes for a wedding gift 12.5 years ago. (We thought everyone was as poor as us newlyweds, so I put cheaper things on my registry. 🤷🏼‍♀️ Why I didn't ask for the nicer Pottery Barn dishes?? I don't know!)
But now that I'm 40, and the Target plates were all scratched and chipped, I decided to treat myself to these white plates that I've had on my wish list for more than a decade.
The gold chargers I got for only $5 each, which I thought was a great deal. But I just checked and as I'm writing this, they are only $3.50. Ha! They aren't anything fancy, but they look great under my place setting, so I'm thrilled!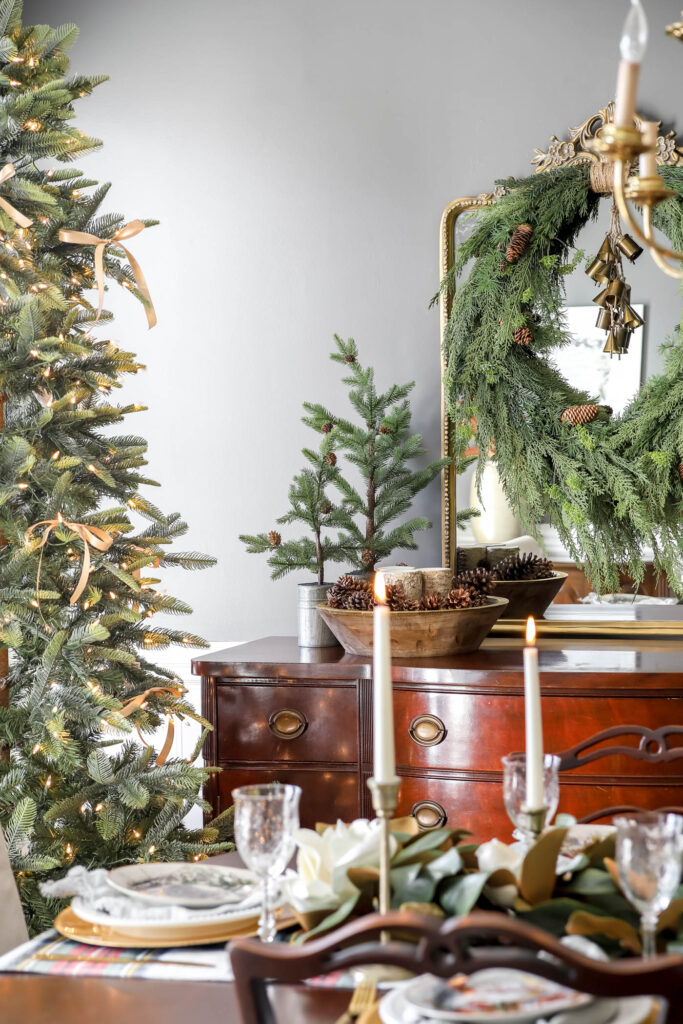 I went with a few simple, yet oversized decor items over on the buffet. This huge greenery wreath and bells came from McGee & Co. It's so much larger and more full than I could have even imagined! It's so nice! And the clustered hanging bells are a lovely accent. I will use this wreath in here for years to come! (It's sold out, but it's my first McGee & Co. wreath. I will not ever hesitate to buy another one, though. It's so well made!)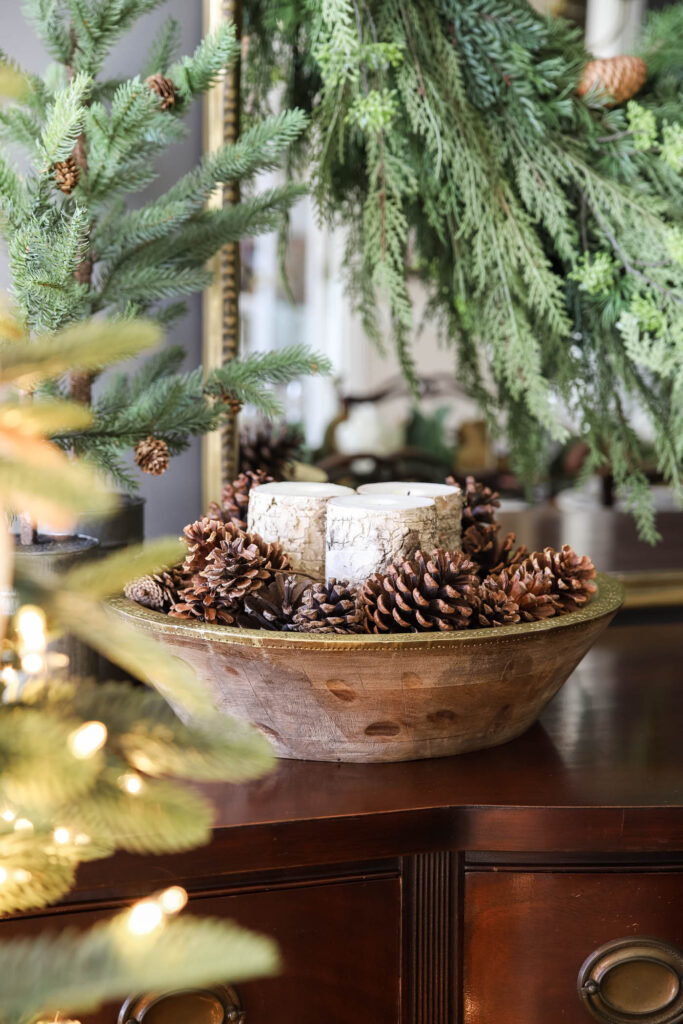 The large wooden bowl with candles and pine cones was a random purchase that I absolutely LOVE! I didn't even pay attention to the gilded gold egde, but I'm obsessed! It's so beautiful and makes the perfect statement piece no matter what you fill it with!
I simply added some of my old tabletop trees to the mix and called it done. I love decorating with larger pieces because it can be so simple.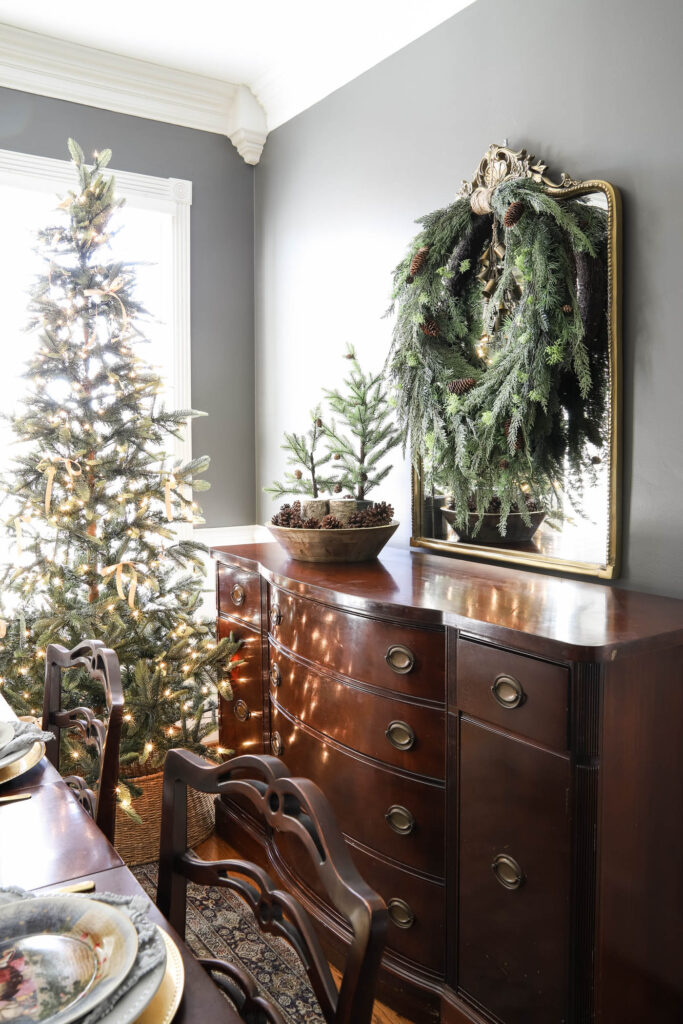 It was also fun to decorate the china cabinet with fun plates and holiday baubles. I realize I don't have many extra little Christmas decor items. So I'll have to collect things for this cabinet. But it was fun to decorate with things I already have!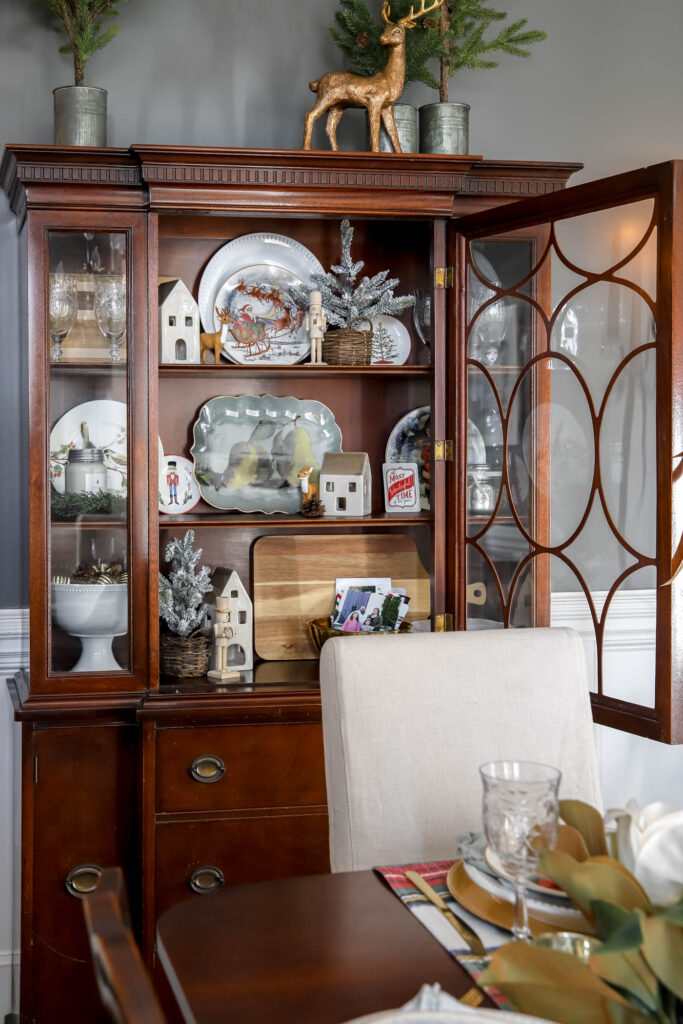 China Cabinet Sources: White Pedestal Ceramic Bowl | Ceramic Houses | Mini Nutcrackers | Pear Plate | Nostalgic Santa Plates | Mini Deer Figurines | Larger Deer Figurine | Tabletop Trees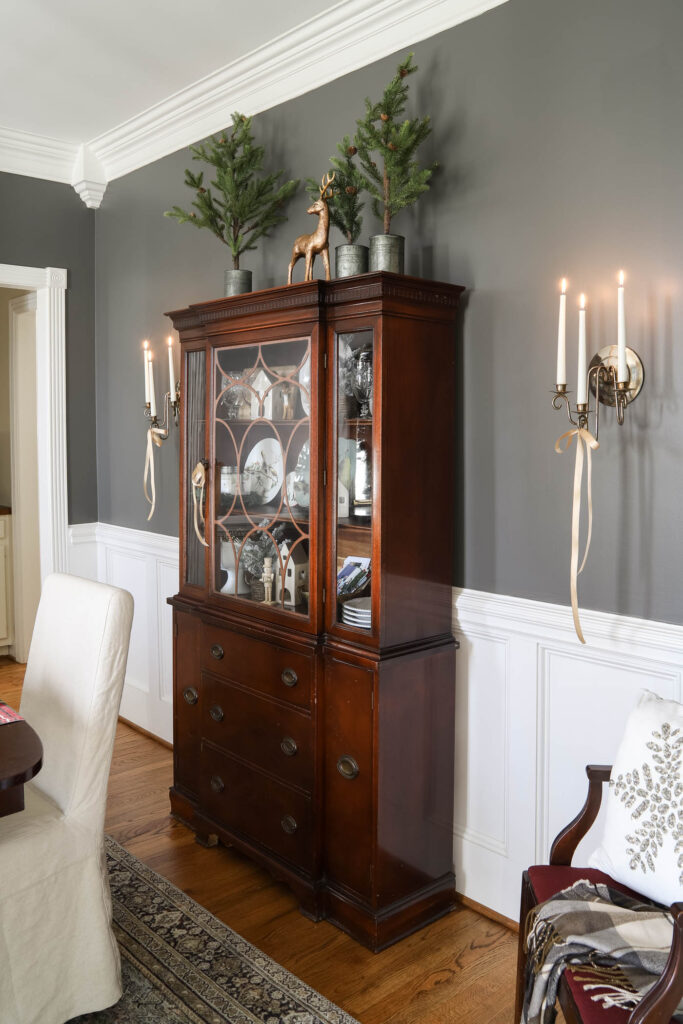 Christmas Foyer
I also snapped a few pictures of the foyer next to the dining room. I usually just add some mistletoe to the pendant light and add a couple festive items to the entry table.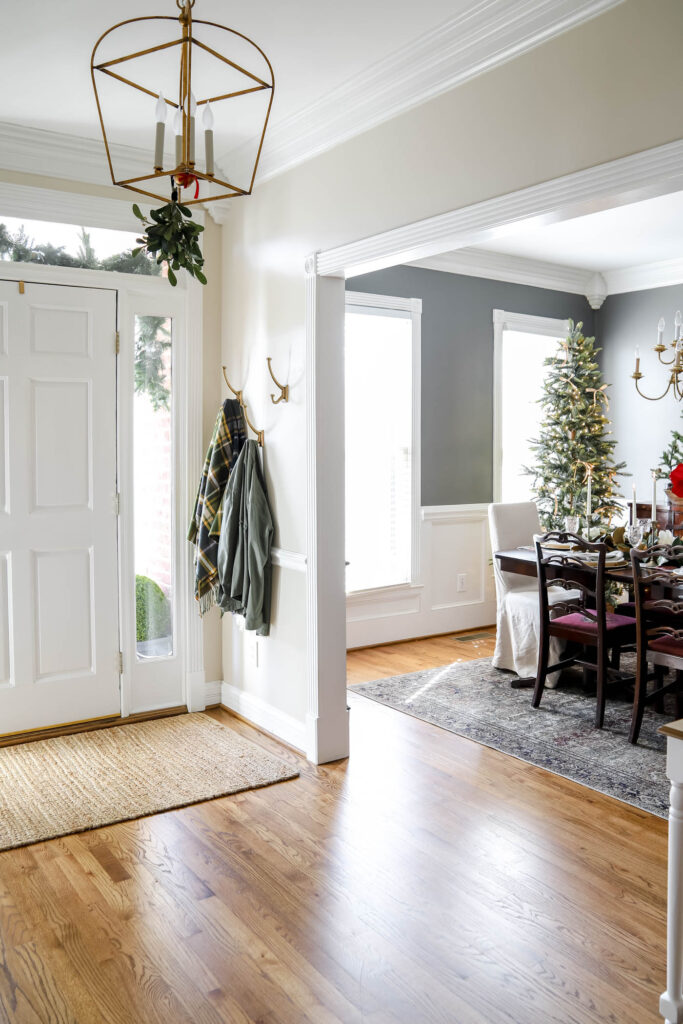 The plaid picture frame on the table is new and so cute! I love the picture of my girls in it! And it adds another touch of plaid, which I find so festive!
And then you can see my office reflected in the mirror across the entry way from the dining room. I'm not going to take new pictures this year because it looks exactly like it did last year. I love it so much and will probably decorate it the same every single year!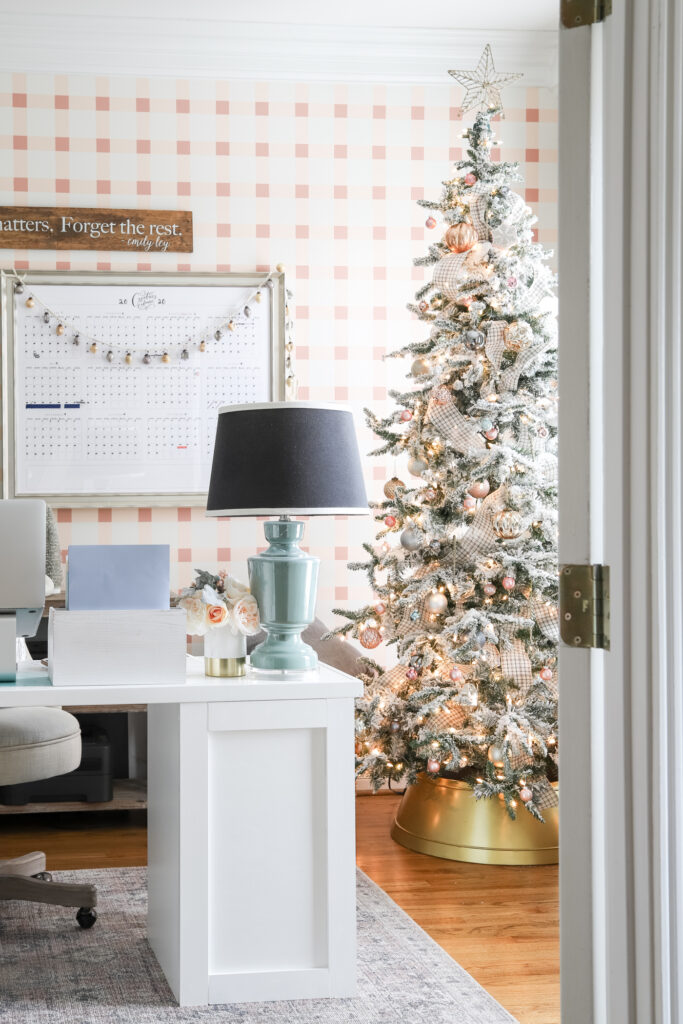 Thank you for coming to see my fancied up Gold & Greenery Christmas Dining Room and adjoining rooms. It makes me smile to look in there every day while I'm working at my desk. And I can't wait to tackle the makeover in January, and be able to decorate a whole "new" room next year!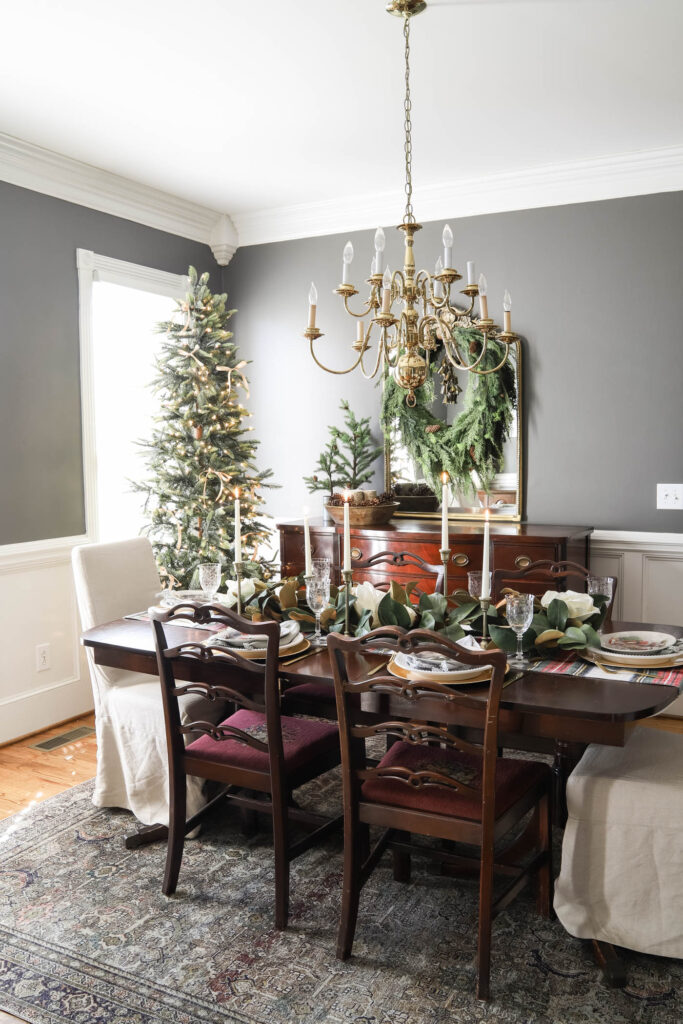 More Posts You Will Love: