A Neutral Christmas Dining Room
Come see my neutral Christmas dining room – all decked out for the holidays! I've featured my flocked farmhouse Christmas tree and new DIY media console!
Hi friends! I'm so excited to share my Christmas decor in my dining room this year.
I do love my decor on the main tree, which is definitely different from any direction I've ever taken with my themed tree in the past. I did a navy buffalo check and turquoise tree last year, which I loved. But I am mostly excited today about the mini-reveal of my newly built buffet that I finished last week!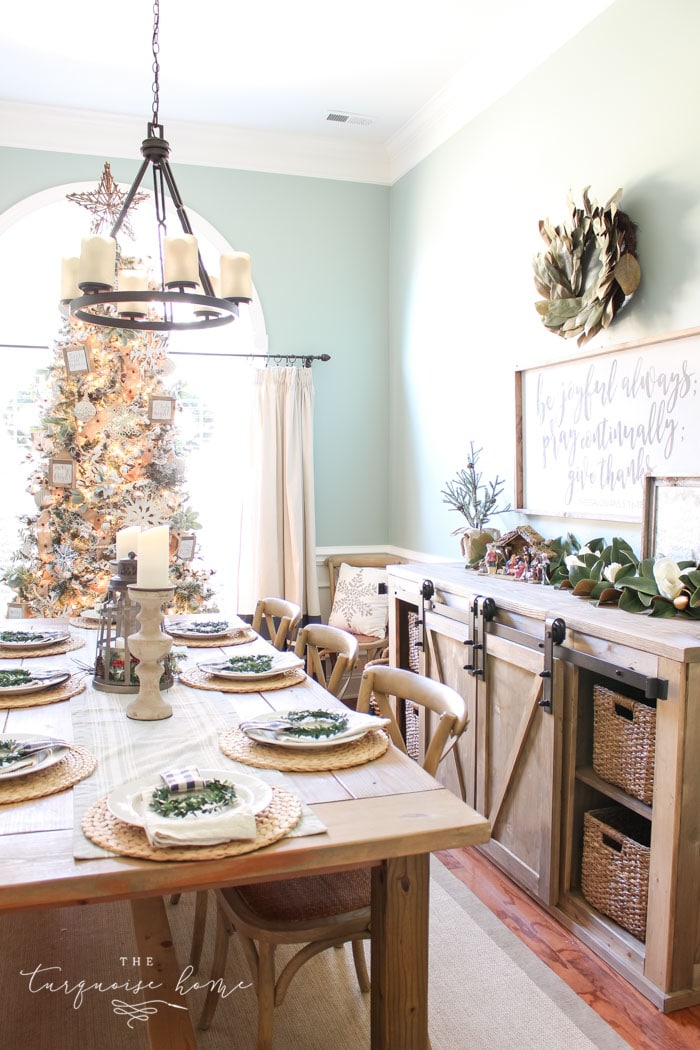 It's been a couple years since I built a large piece of furniture like this and it was daunting. So daunting, in fact, that it took me 3 years to muster up the courage to start the project.
And I literally bought the supplies back in September. Every time I go back to the hardware store to get another piece of lumber, the sweet cashier lady keeps asking me what I'm building now. I sheepishly have to tell her that I'm still building the same buffet that I started months ago. LOL
Come see the reveal of the media console/buffet.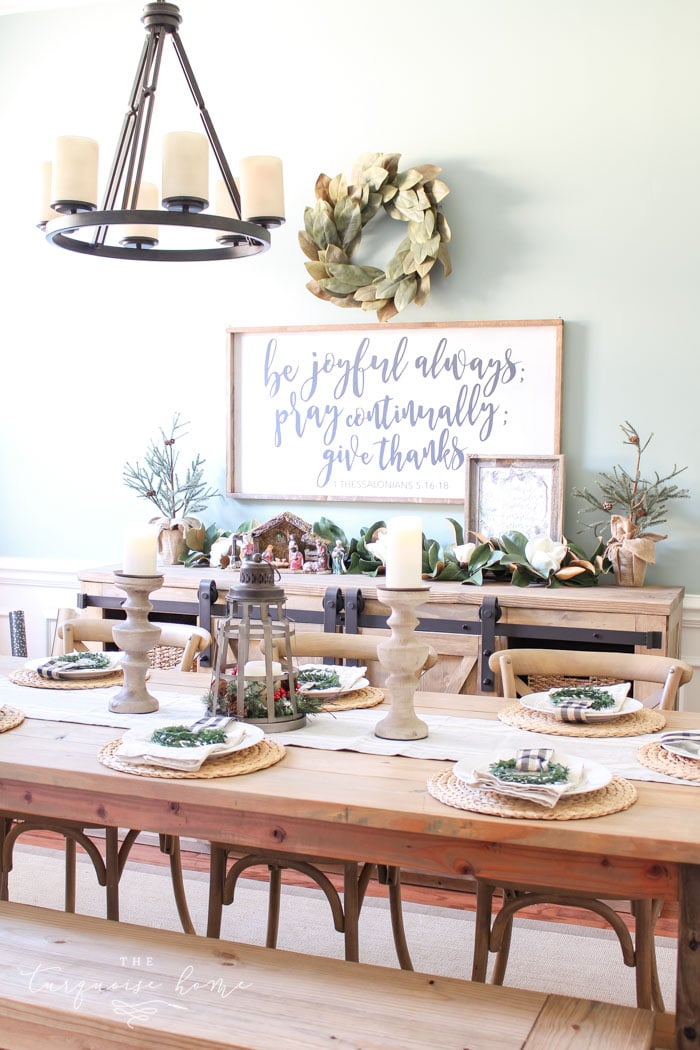 Since I don't have large chunks of time in which to work, I had to take an hour here and 45 minutes there and just build the next thing on the list.
OK but enough about the buffet, we're here to talk about Christmas!! I wanted to get it done in time for this tour because I wanted to decorate it so badly.
RELATED: How to Flock a Christmas Tree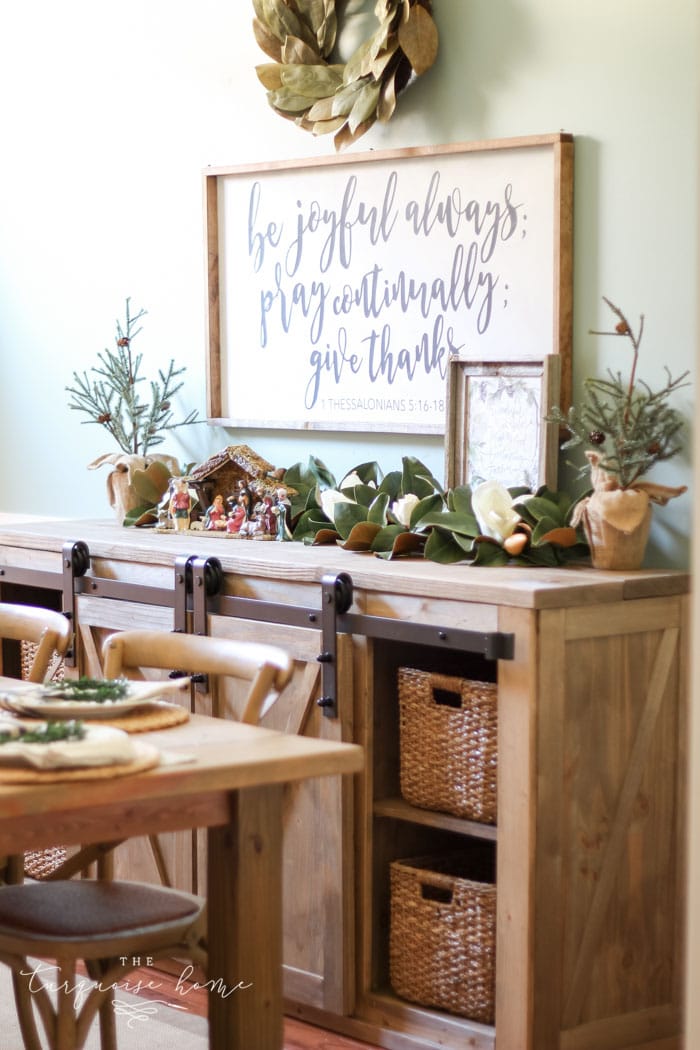 This year I stuck with a neutral theme with lots of wood tones and greenery. I just wanted to keep things simple. All sources are at the end of the post if you see something you would like to add to your own home. 😊
Our main tree in the front window here in the dining room is my "theme" tree. It's the one I change up every year and think about all year long as to how I'm going to decorate.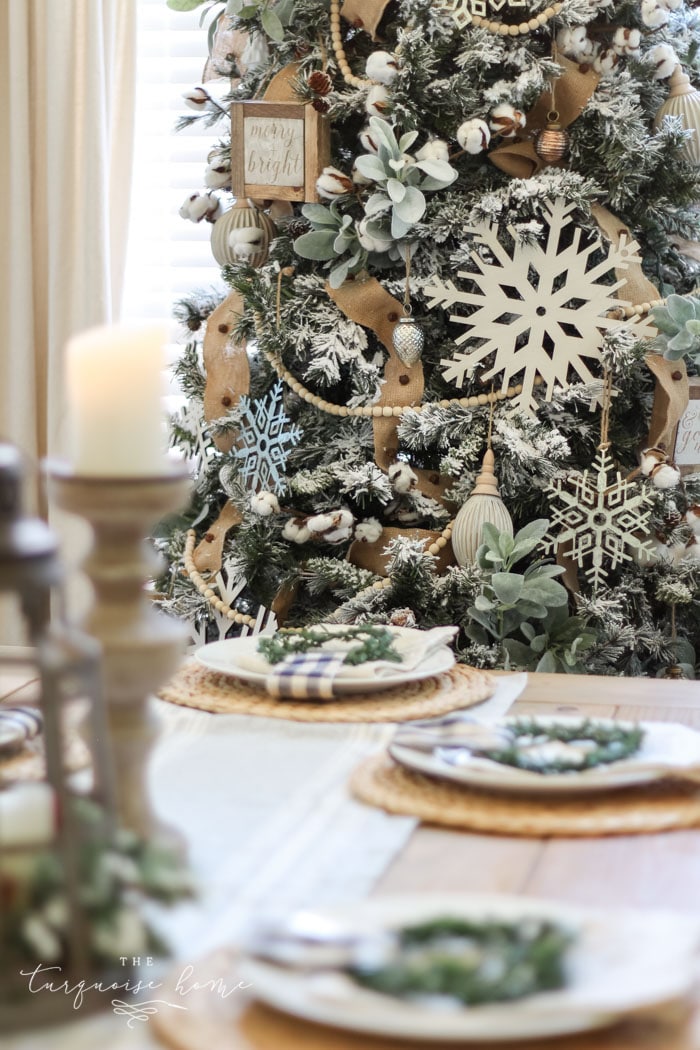 Last year I saw some of the prettiest trees with cotton stems and lamb's ear in them, so I decided to do that to my tree this year. I added my mini wooden sign Christmas ornaments to it and a few other simple decorations and called it a day!
I'll have a dedicated post to the tree very soon, so I'll try to remember and come back here and link it up.
Related: How to Decorate a Flocked Farmhouse Christmas Tree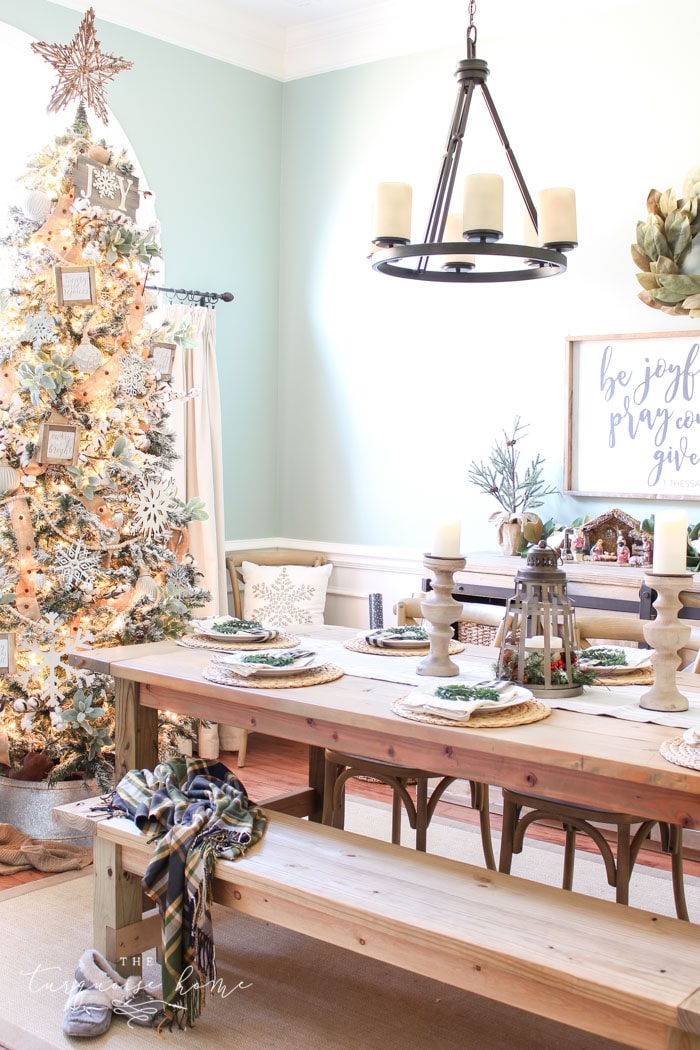 I just love how it turned out with the galvanized tree collar, which is also a new addition from the Hearth and Hand with Magnolia line from Target.
I had to build the buffet for no other reason than I wanted a perfect place to hang my large wooden sign from the fall. It's too pretty to put it up part of the year, so I decided it could keep a permanent home here in the dining room.
The top of the buffet is something I just get giddy about. Anytime I get a new surface to decorate, I want to do a happy dance.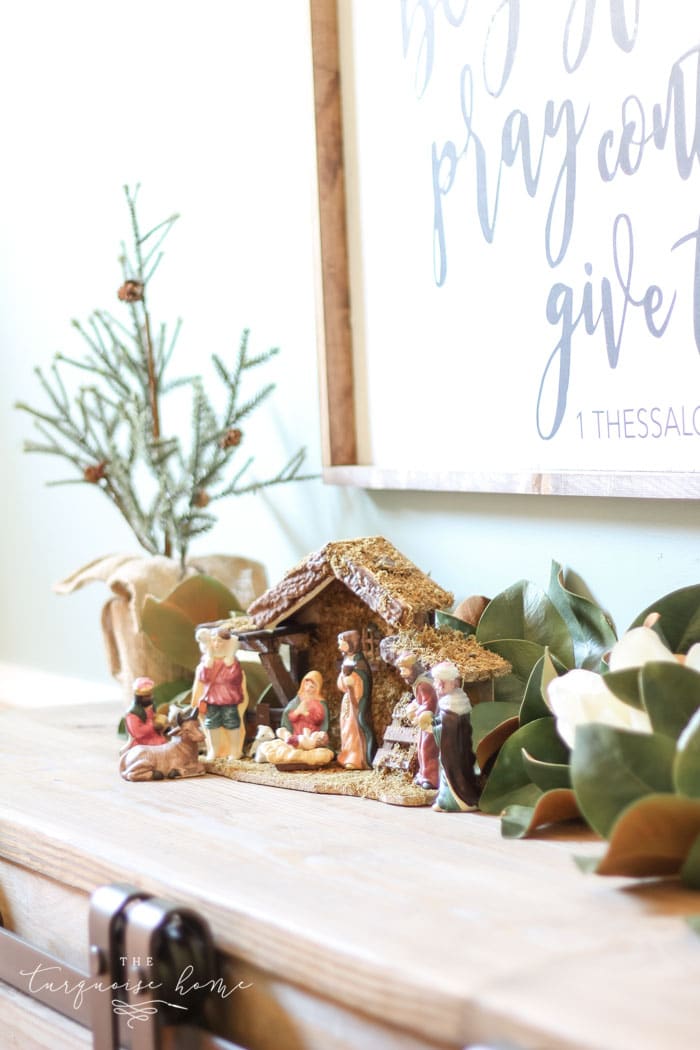 I know I haven't even scratched the surface of how I want to decorate this space, but this is what it looks like for now with my nativity scene, magnolia garland and a few more things.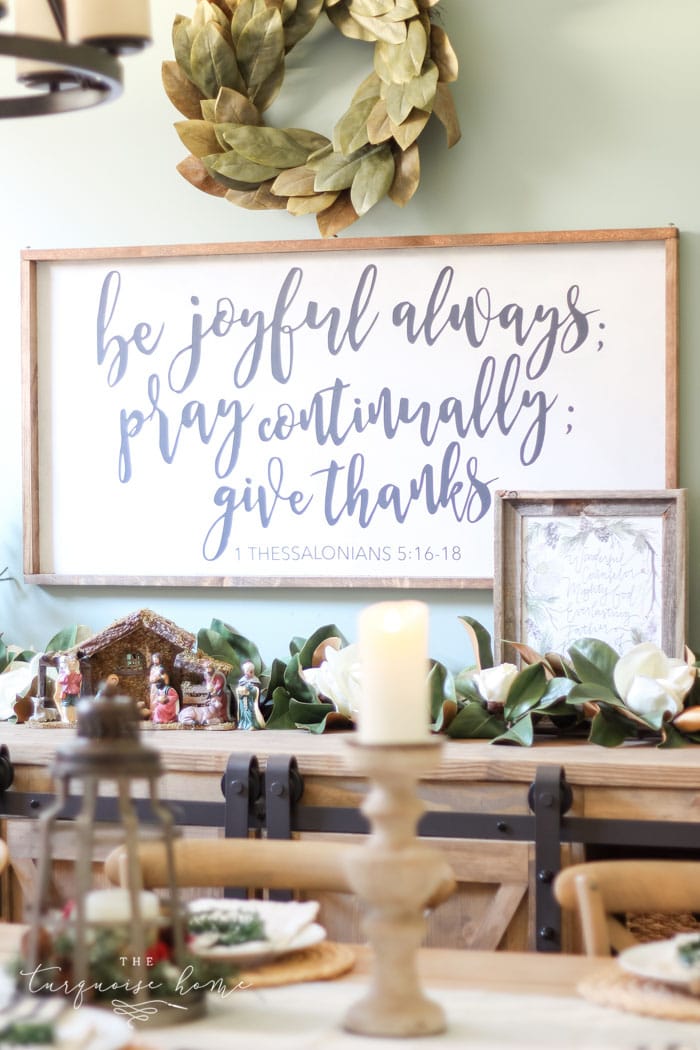 I really want to create a hot chocolate bar to reside on the buffet top. But I'm afraid little 2-year-old hands will get into it. I'll probably put everything in a tray and put it up when we're not using it or having people over. That way a certain someone won't be tempted.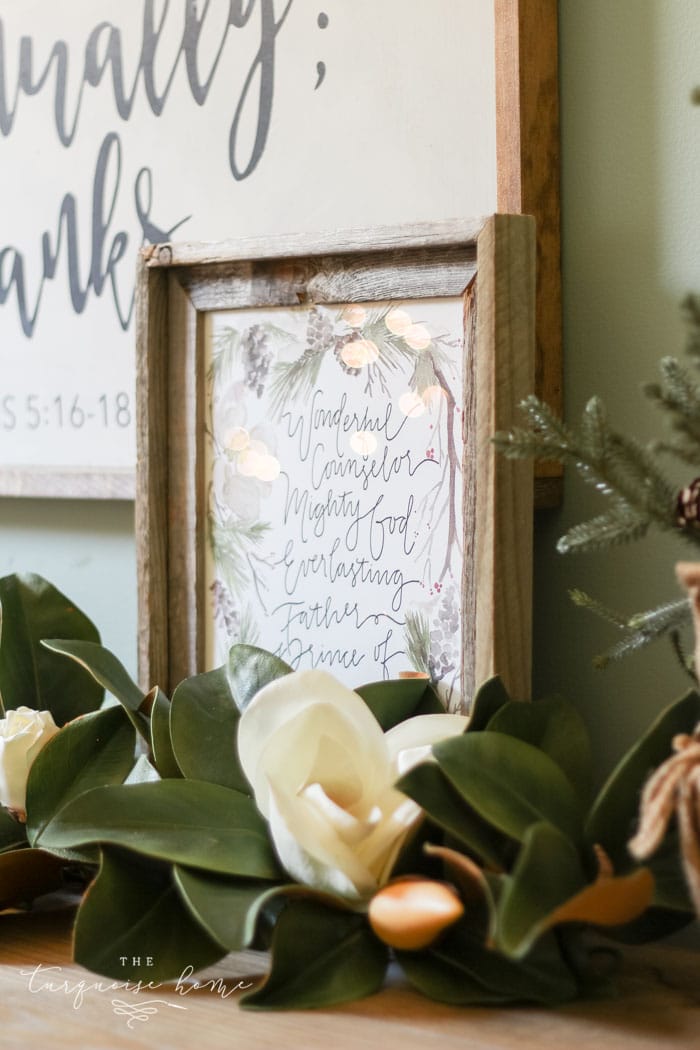 So be on the lookout for a an upcoming Hot Chocolate Bar post. It's been a dream of mine to have a beverage station in my home, so I can't wait to set it up!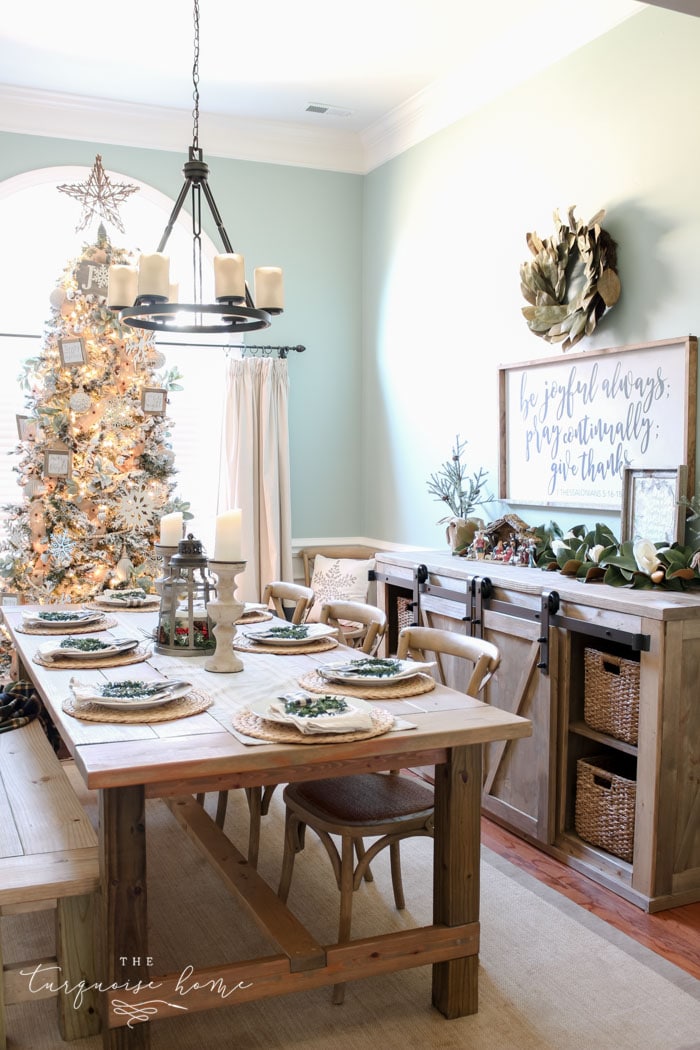 I feel like this is a preview post, because I have yet to share about the Christmas tree, the buffet and the hot chocolate bar. Haha! So be sure to check back for all of those coming very, very soon! I can't wait to share more!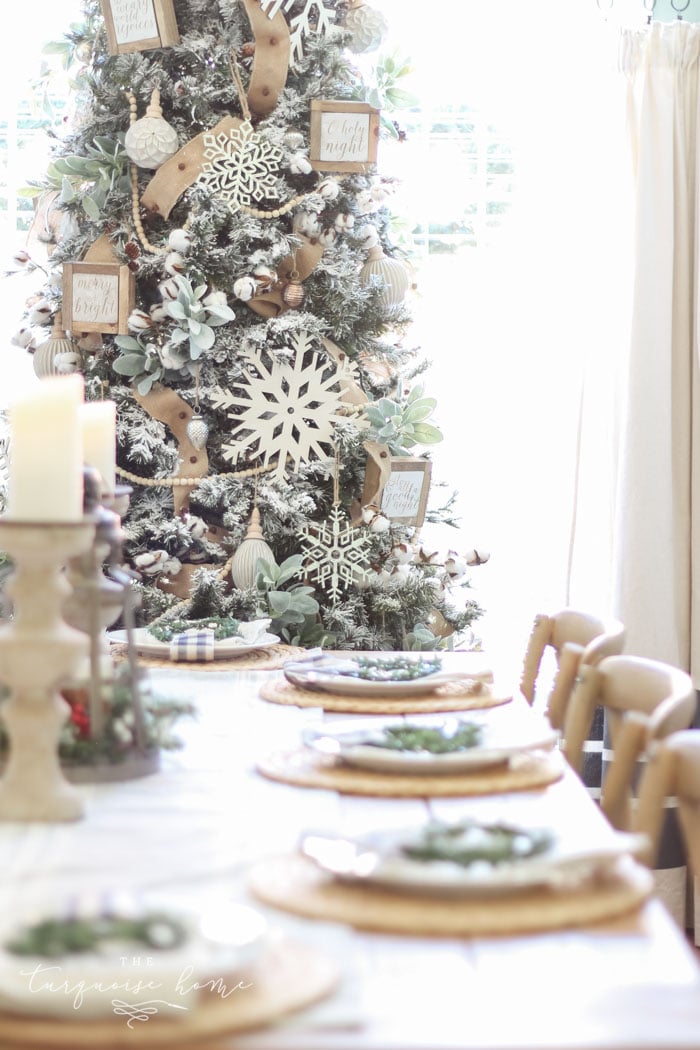 Sources:

MORE POSTS YOU WILL LOVE