I can't believe it's already time for another home goals post! But can I tell you that these are some of my very favorite posts to write?
I know that by simply writing down my top 3-4 goals for my home for a the next few months, I'll stay on task when I get frustrated and want to project hop around my house. The practice of writing down my focus goals for my home gets more accomplished. Really! Even if it feels like projects are taking forever!
In the same way that I write down my top 3 goals in my planner each day, I applied the same strategy to getting things done in my home. So, if you haven't tried this yet and you find yourself flitting from one project to another and never finishing anything, I highly recommend it!
Last year I set goals for every quarter, but this year I'm doing every 4 months. I found that the last quarter of the year is a wash anyway (because holidays), and it was taking me more than 3 months to start and finish some projects. So, this year I'm breaking it down by January-April, May-August and September-December.
When I started my first goals of the year I had no idea that what I started in January would almost all take place in April! But it did! We focused on outdoor projects over the spring because we had two major areas of concern: the trim & shutter colors and the yard. And I'm happy to say both have been completed!
Let's take a closer look…
How I Did on my Home Goals for 2021, Part 1
I'll share my updates with each of my goals from the past 4 months. But if you want to go have and read the original Home Goals 2021, Part 1 post, you can do that here. Unfortunately since most of these just finished up, I haven't had a chance to write the blog posts about them, but they are coming soon!
January through April
My goals for the past four months included a lot of focus on the outside of our home. We mostly neglected the garage and outside of the house last year, but with during the spring, it was time to tackle it!
1. Get an Estimate for Painting the Trim and Shutters
Man, I set the bar for myself really low. Ha! I thought finding the right painter, saving the money, picking the paint colors, getting HOA approval and having the perfect weather would take longer than a couple months.
But I'm thrilled to say that the trim, shutters and front door have all been re-painted!!! I could NOT love it any more if I tried!
I can't wait to share the full reveal. And even though it won't be a super dramatic before and after reveal, the smile I get on my face when I pull up to my house that is no longer yellow and green, is worth it! I'm so in love with how our house looks now and it's just so worth it to do the projects that you love! I'll share more about the process when I write the full post (which I need to do ASAP!).
If you need a teaser in the meantime, I shared one in my painting update here.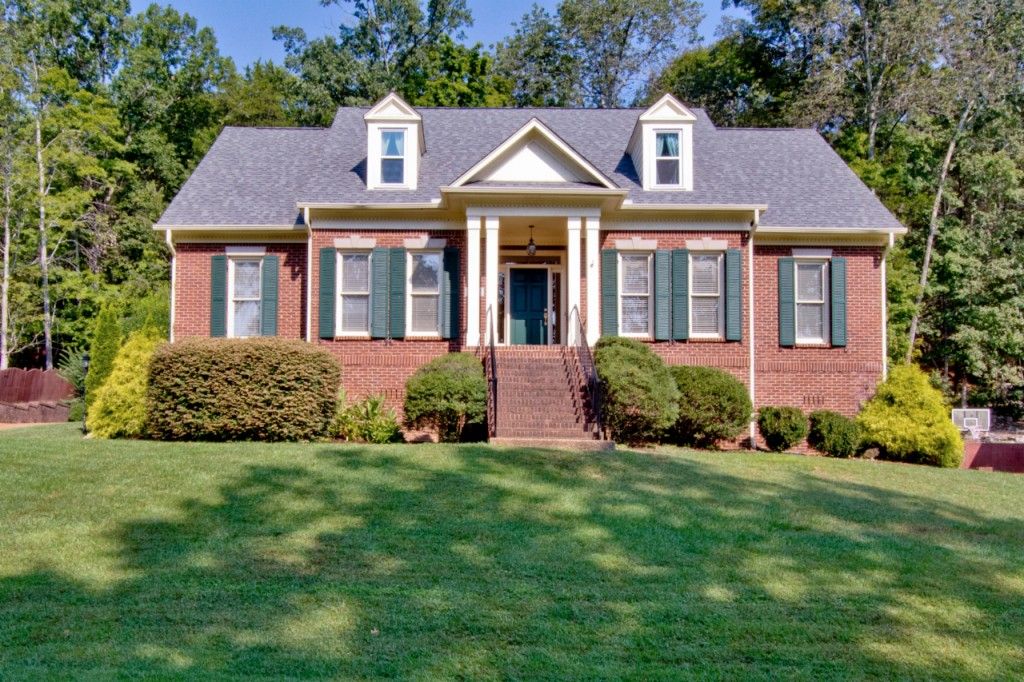 2. Fix the Grass
I shared the story of how our grass was killed last summer by a yard company and when they wouldn't fix what they destroyed, we realized we would have to sod the front yard.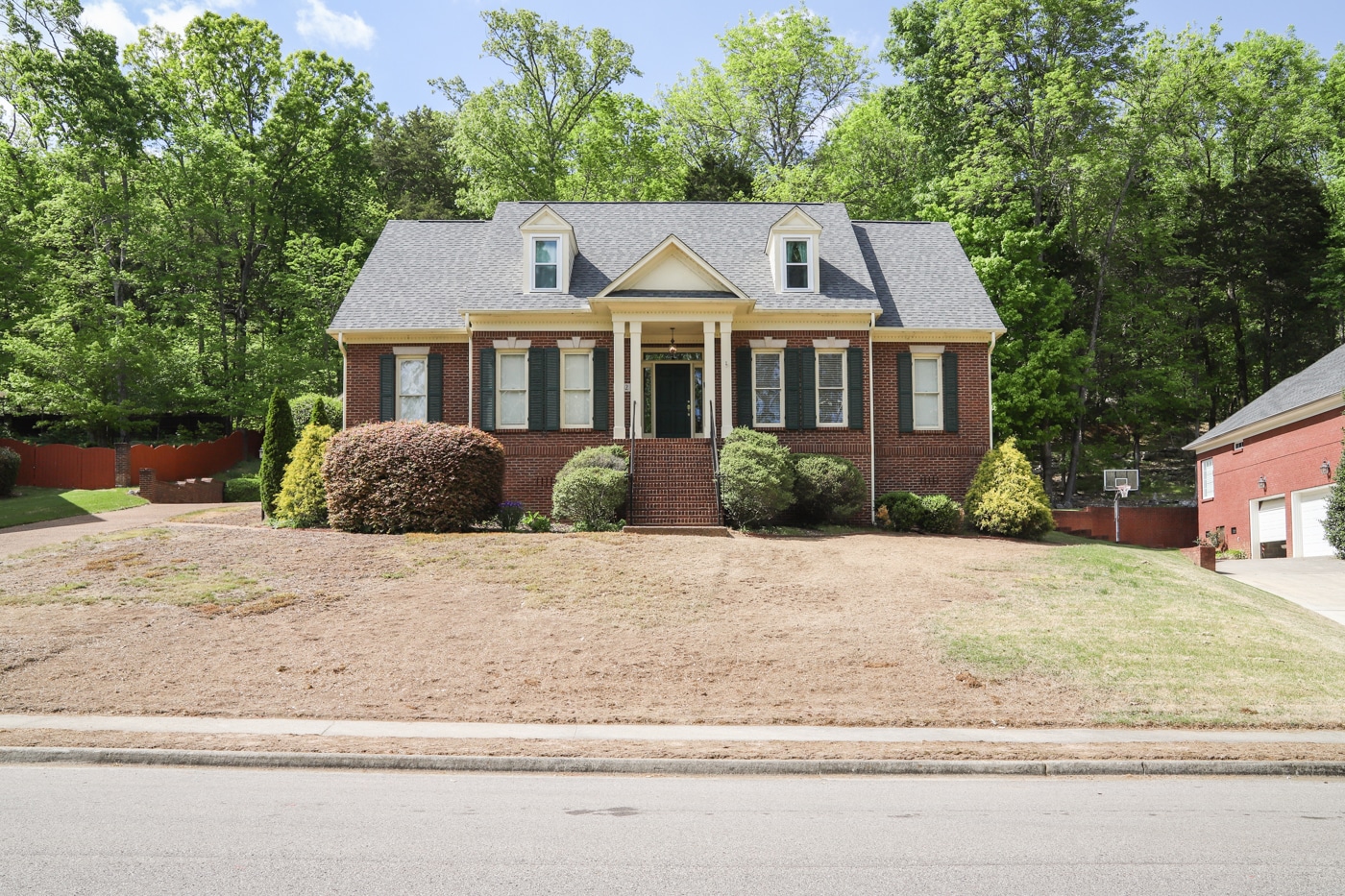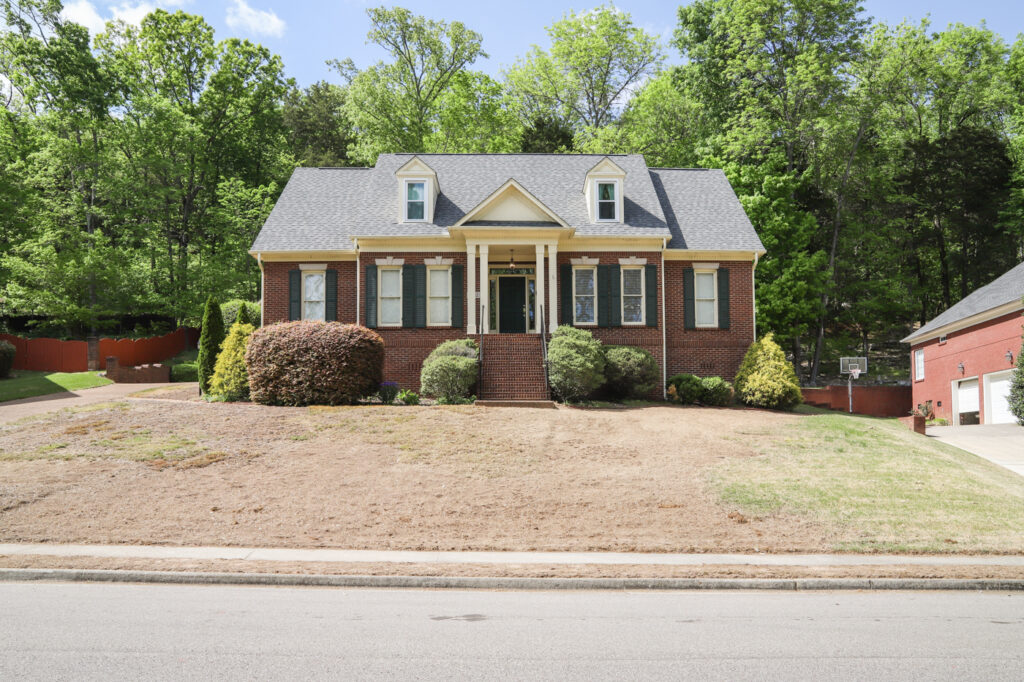 And I'm happy to say that it's done!! The sod arrived the last weekend of April and my husband and a team of 6 of his wrestlers (he's a coach) put the sod down. They did a fantastic job and we're just watering it like crazy and waiting for it to take root and grow.
It's already greened up a lot, but will take a few more weeks before we can start cutting it. I'm taking pictures periodically and will share everything we learned once it's greened up a bit more!
This one thing is so funny because it was the smallest thing on the list and yet it's still not done! Haha!
The two things I needed to finish were:
Get the stair runner picked out, ordered and installed
Order bar stools
Well, I ordered both and they still aren't done. 🤪
The Stair Runner. I ordered the original stair carpet that I fell in love with (after ordering some samples and other rugs that I just didn't love). And they came a few weeks ago to install the carpet, but the guy who ordered it had mis-measured it and we didn't have enough to finish the top 3 steps. 😂
So, they ordered a little bit more carpet, had it bound, and it's been sitting on the installer's truck all week while he's been on another job. He's supposed to be here in 5 minutes (as of this writing). Fingers crossed it gets installed today! 🤞🏻
The Bar Stools. If you saw my update a couple months ago, you remember that I ordered the bar stools of my dreams, but when they arrived they weren't quite as dreamy. You can read the update here.
So, I went back to the drawing board and ordered some other bar stools. This was back in February! And the stools are scheduled to SHIP on June 16. 😳 I know it's the nature of the furniture industry right now. But I'm going to throw a huge party when my kitchen gets finished. 🎉
This has been the longest mini-makeover of my life! LOL People have built entire houses in the time it's taken me to buy some barstools and add some hardware and carpet. My goodness!
See my original Kitchen Makeover plans from July 2020.
4. Organize the Garage
Y'all! I'm so excited to share that this is mostly done! I've got a couple more things to arrange before I can take pictures and write up the blog post. It's AMAZING what some simple organization can do for a space!
Stay tuned!
---
So while I'm working on writing and photographing those projects in the next few weeks, I'll be starting on these new projects below!
Home Goals for 2021, Part 2
Now that almost all of those items have been crossed off my list, let's move on to the next items on my to-do list! As a refresher, I try to plan 3-4 updates over a 3-4 month period. I know some people move much faster than me, but this is what I've found to be the best schedule for my time and budget. I highly recommend finding out what pace works for you and sticking with it! Don't worry if someone else is "making over" their space faster than you. (Preaching to myself, a little, too.)
And this time I'm going to do some smaller projects that are hopefully easier to finish!
May through August
1. More Updates to the Front of the House
Now that the sod is in the and trim, shutters and front door are painted, I'm itching to work on the rest of the outside of the house!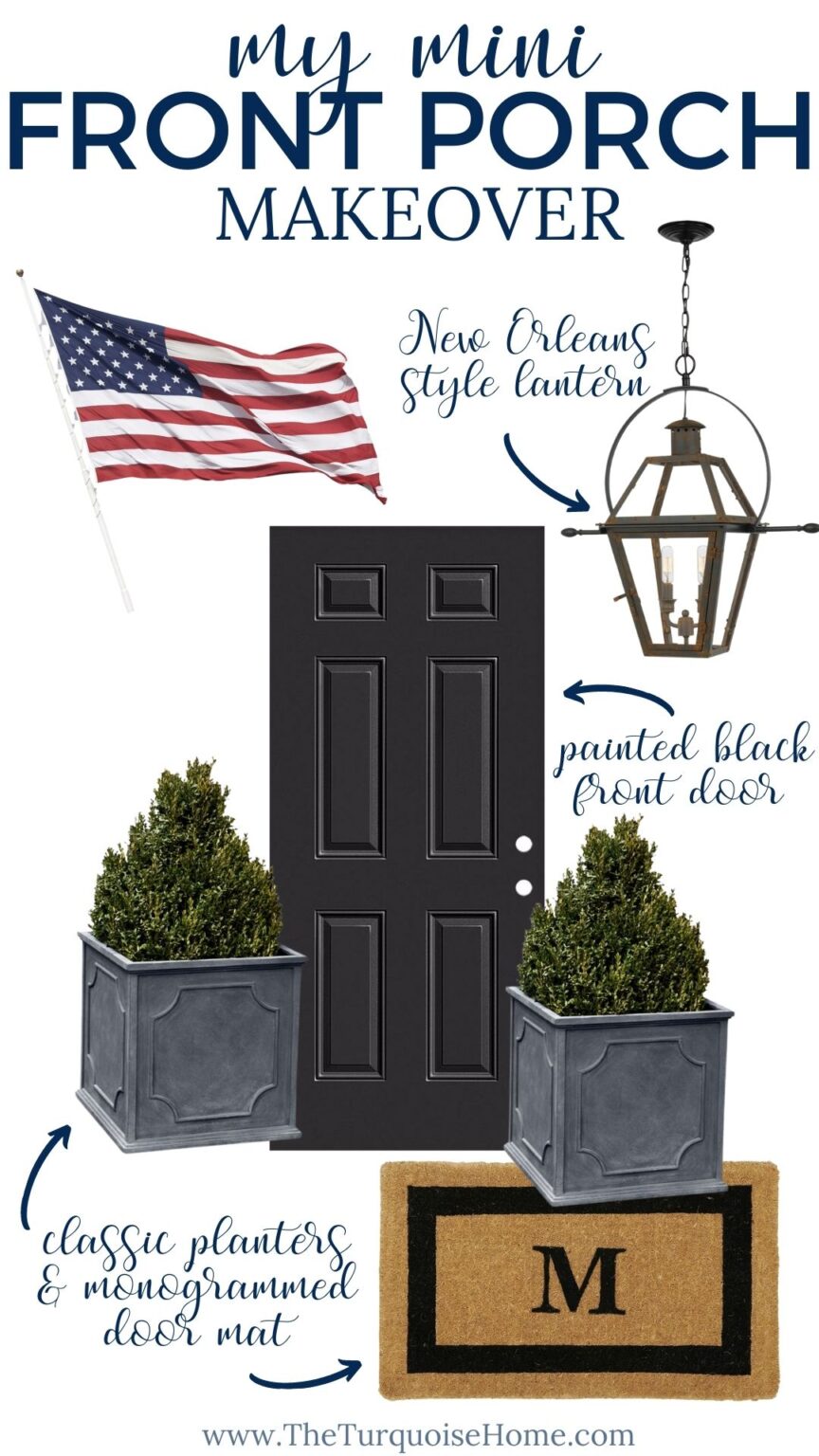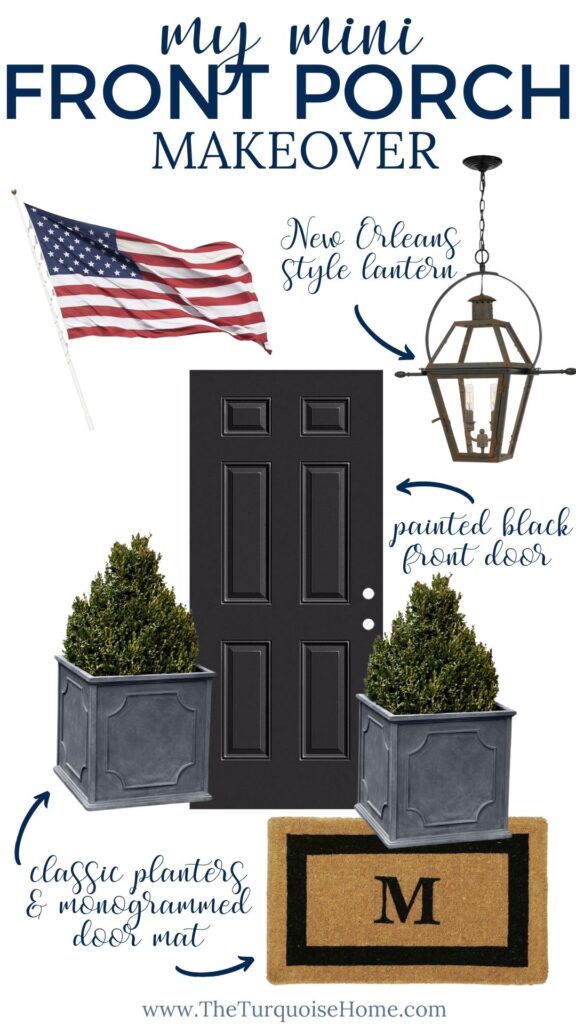 This is kinda what I'm thinking in regards to updating a few items at the front stoop: New Orleans style lantern, new classic planters, some faux boxwood topiaries, add an American flag and a new monogrammed front door mat. Voila! A fresh new facelift!
2. Mini Powder Room Makeover
I love giving a tiny room a big personality! There's just something about a pop of pizazz in a small room like a laundry room or a powder room.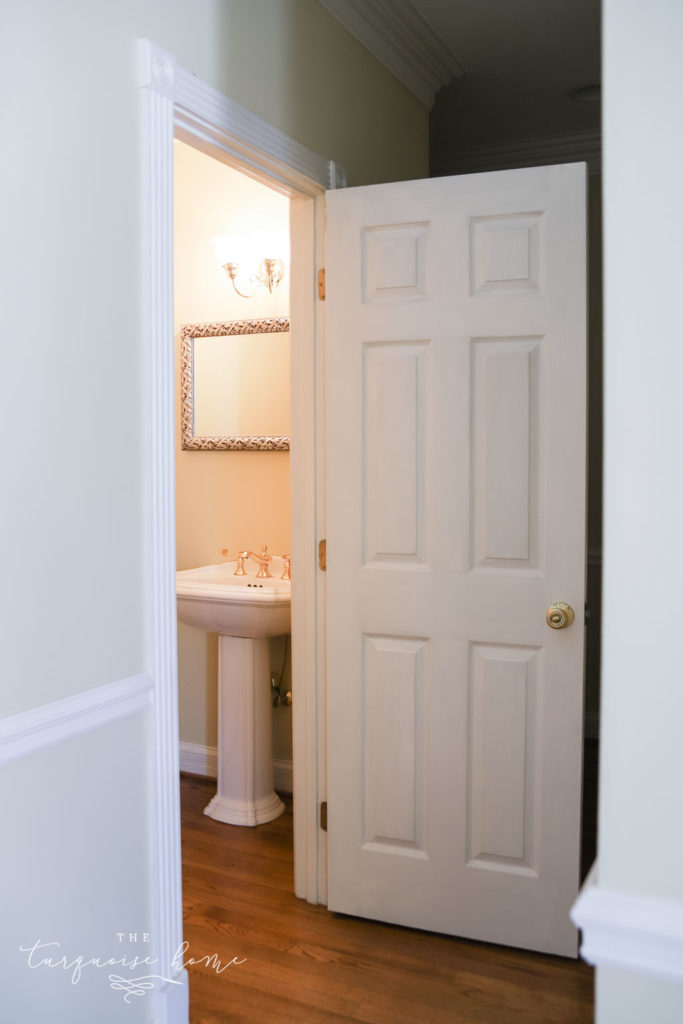 So, I've been pinning pretty bathrooms over the past year and will be revealing my plans soon! I'm pulling inspiration from some of these gorgeous spaces:
I'm not planning to change out the vanity or toilet, but the lighting, mirror and wall treatment will all be changed! To do:
Change out the light fixture
Wall treatment – maybe a board and batten treatment, but definitely wallpaper
Change out the mirror
That's it! I can't wait to get started!
3. Mini Butler's Pantry Makeover
Let's do another mini makeover, shall we?! See a theme here?? 😜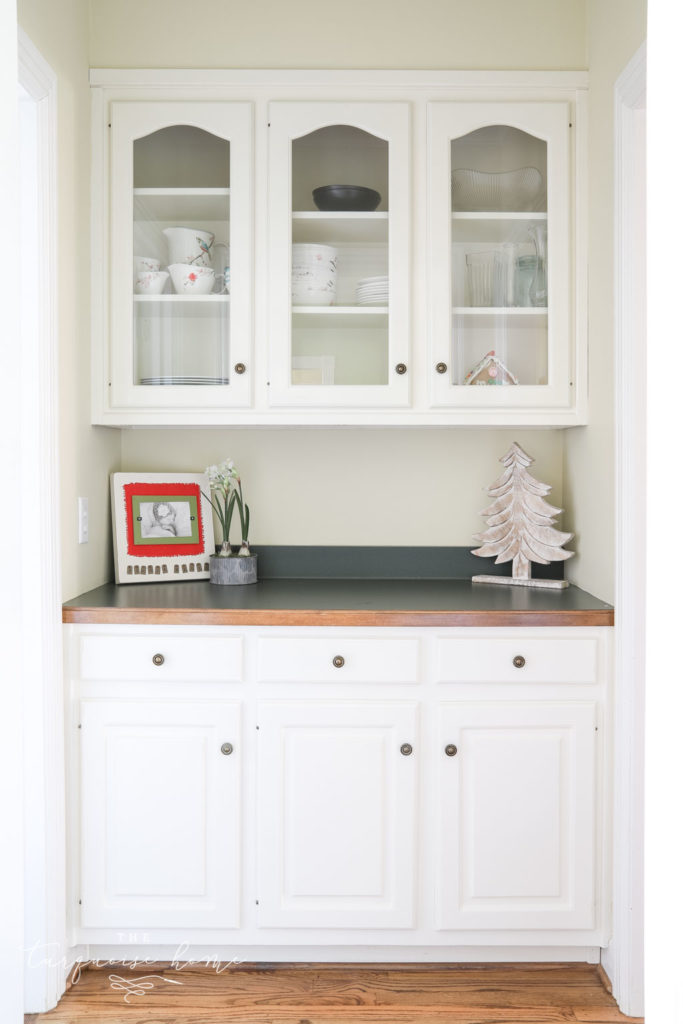 This cute little butler's pantry is right off my dining room and a pass through between my kitchen and laundry room. I love it for extra kitchen storage!
And again, I love to go bold in small spaces, so we're going to make a statement in this little nook!
Wallpaper all of the walls. It'll have to be something that works with the adjoining kitchen, dining room and laundry room. So, I'll need to make sure it coordinates from every direction.
Fix the glass in one of the cabinets. My daughter slammed one of the doors open when we first moved in and broke the glass. I'd love to get it fixed!
Paint the countertops!! I have never painted countertops before, but I think this space would be the perfect place to try it!
Replace the light fixture. I actually already did that!
Replace the hardware to match the kitchen. I've already done that, too!
So, as you can see, I already started with the hardware and the lighting...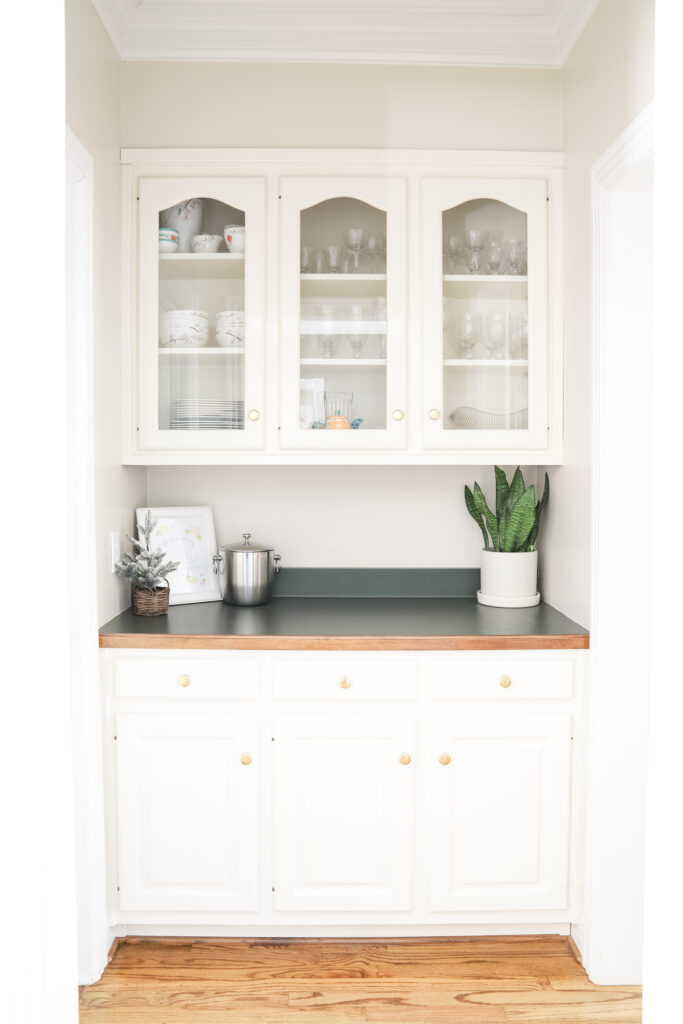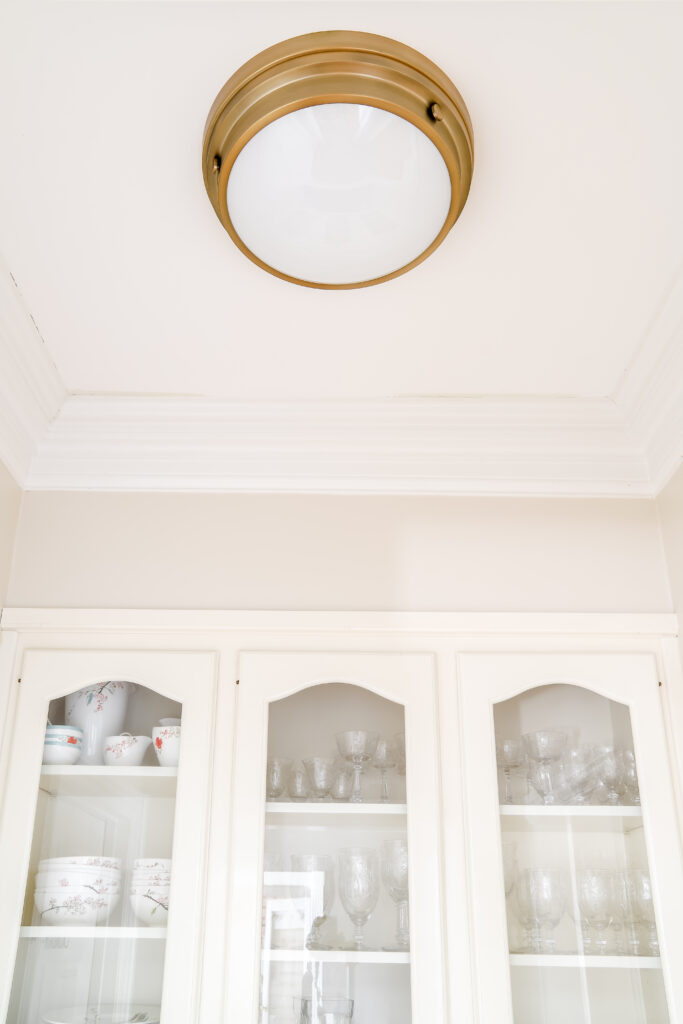 And now I just need to do a few more things in this space to make it feel like mine! See my great-grandmother's crystal collection in the picture above? I love that I have a place to display it in my home. 💗
4. New Window Treatments in the Upstairs Rooms
Both the girls' bedroom and the playroom have dormer windows in them that face the front of the house. The house came with cute tie-back curtains that looked good from the outside, but were not light blocking at all.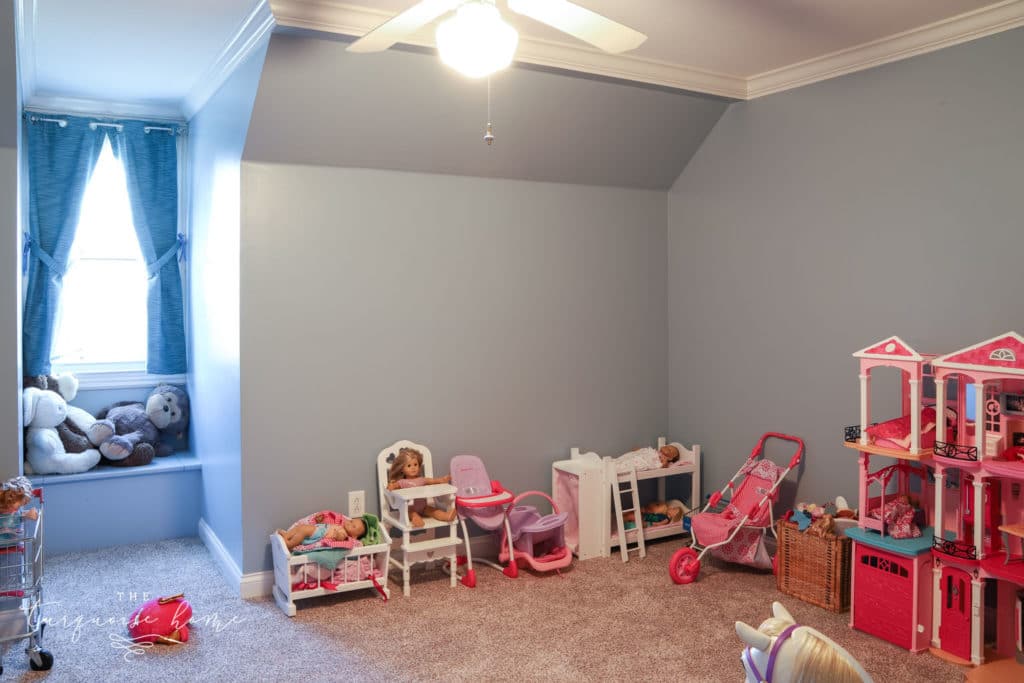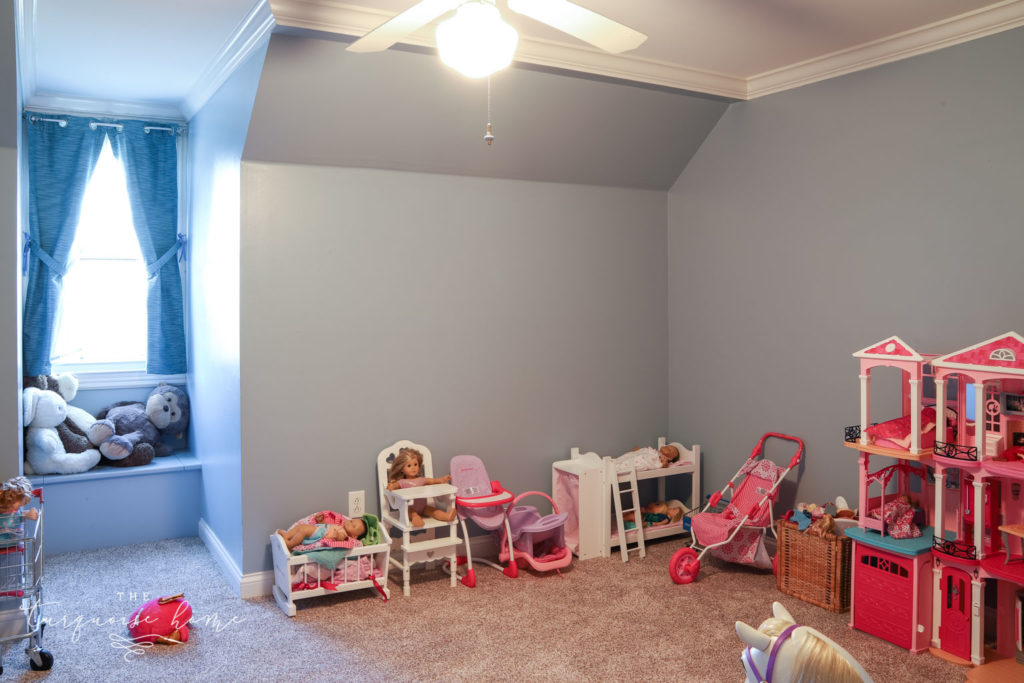 So, I changed out the girl's window covering for a curtain that does not fit the space.
I'd like to find a solution for both rooms that not only looks good from the outside, but provides room darkening at the same time!
I'm thinking some kind of roman shade, but we'll see what works!
---
That is all that's on the list for now! We'll see if I can crank these out and maybe add a few more items before the end of August. But with summer on its way and the kids' schedules being crazy this summer (thank goodness), I'll probably be pressed to get these done! But maybe while my kids are away at camp I'll knock a bunch of things out.
I'd better get to ordering!
What are your home projects you're working on right now? Share in the comments below!