How to Paint a Plaid Wall
Learn how to paint a plaid wall with only a couple of measurements and no math! This beautiful feature wall takes some time to create, but the outcome is so beautiful and so worth it!
When I was finishing up my office makeover, I knew the wall behind my desk needed some character! I looked into wallpaper, but at the time wanted to keep my budget down, so decided to paint something instead.
With the floral curtains, I wanted to bring in a geometric pattern, and what's better than plaid? I have seen painted plaid walls for years, and it was time I tried it for myself.
I'm happy to say that in the past 6 months since it's been up, I've had more compliments and questions that any other thing in my house. Everyone LOVES it and I love it, too! I'm so glad I did it!
And while this paint project is a little bit time consuming, the results are stellar. I think it's a great alternative to wallpaper and can easily be painted over (with some sanding).
This post includes affiliate links for your convenience. See my full disclosure policy.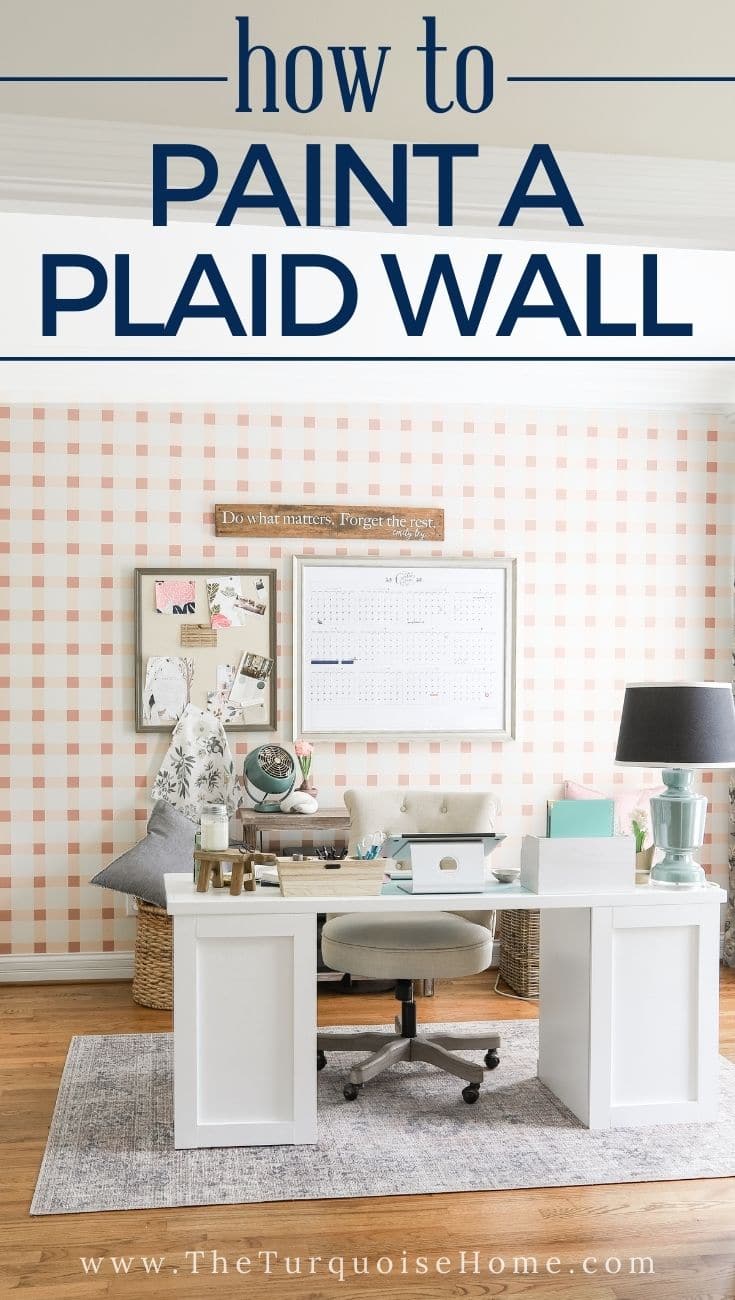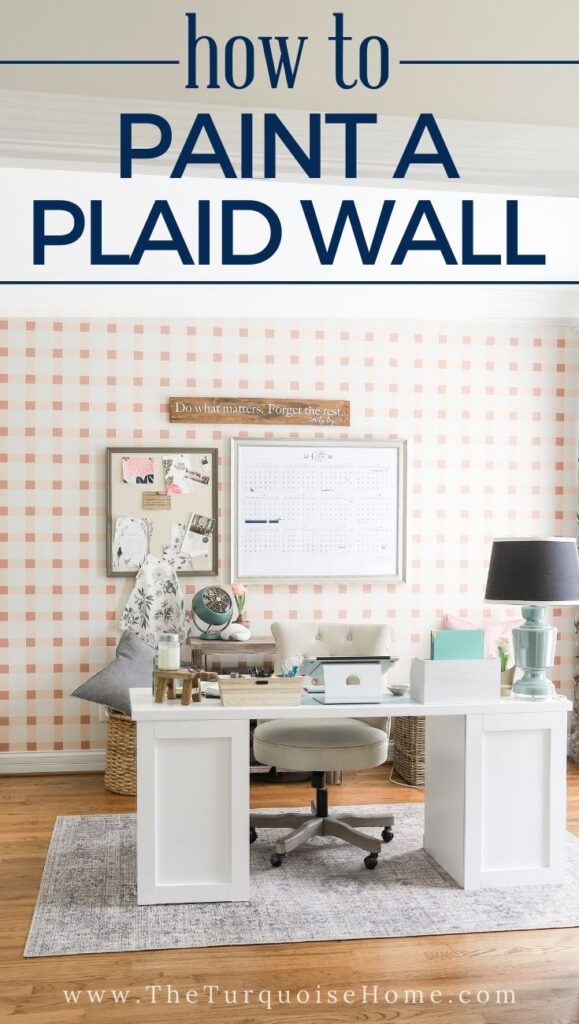 The Paint Colors
I debated about painting the plaid wall either gray or pink, but in the end decided to be non-neutral with pink and I'm so glad I did! It's a softer look and worked perfectly with my floral curtains in my feminine blush and brass office.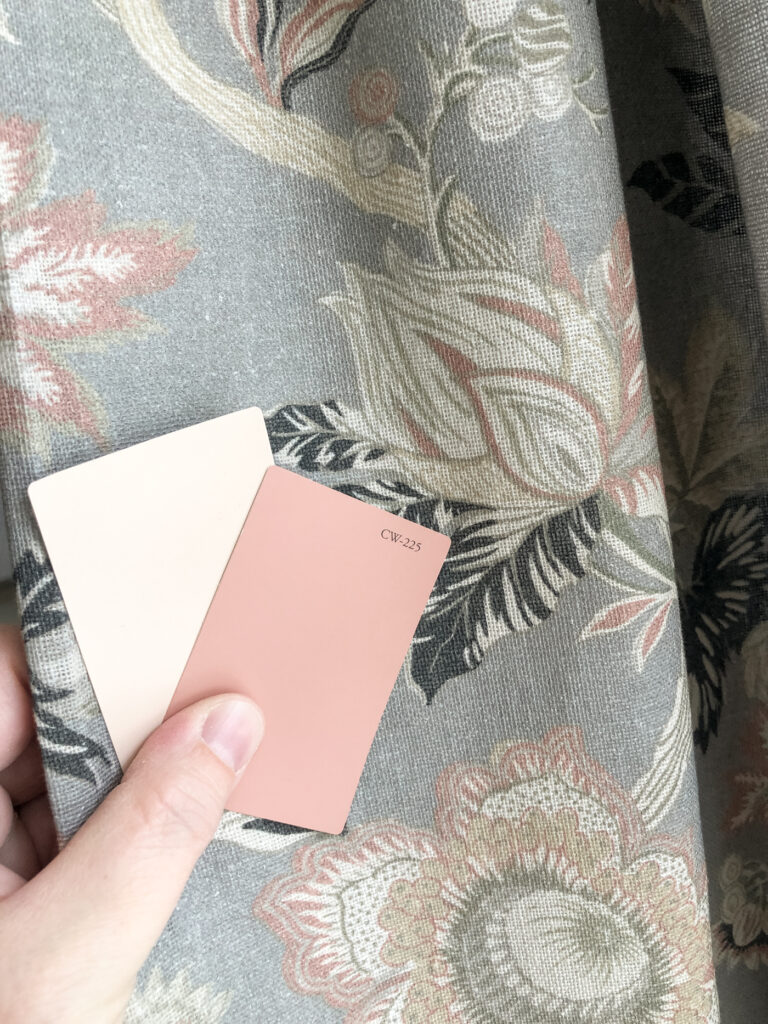 You will want to choose 3 distinct colors that coordinate with one another: a light, mid-tone and darker color. I chose:
Shoji White (SW) – light color
Raleigh Peach (BM) – medium color
Wythe Rose (BM) – dark color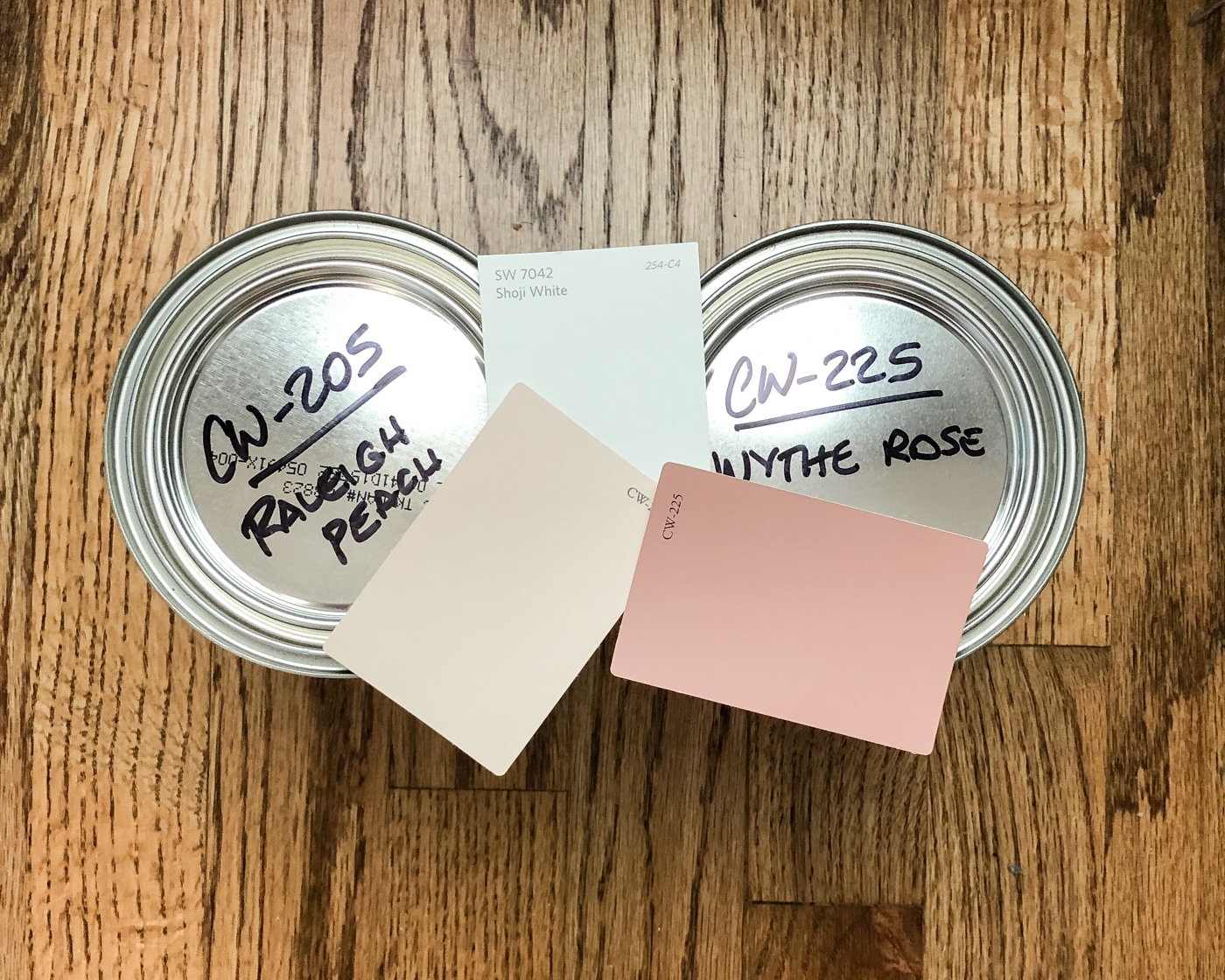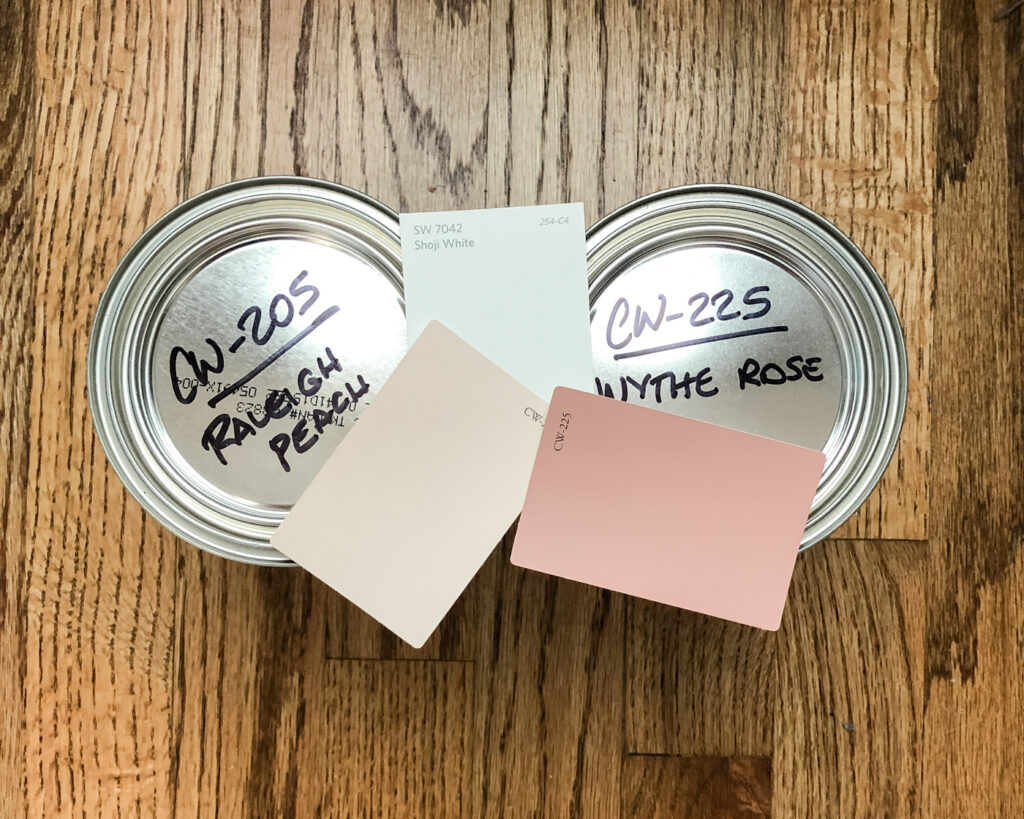 I knew the lightest color would be Shoji White before I ever started because it was already the wall color. But I just went into Benjamin Moore and eyeballed the pink colors. I don't recommend doing that, but thankfully it worked out and the colors went with the decor in the room perfectly!
If you want to make choosing a paint color easier on yourself, try choosing a light, medium and dark color from the same paint strip. That will keep everything in the same tone and color family.
I get compliments on it anytime someone new comes to the house. And they always think it's wallpaper! It looks that good, but they are always shocked when I tell them I actually painted it!
What You Will Need to Paint a Plaid Wall
How to Paint a Plaid Wall
Before we get into the steps, the method I used only requires two sorta measurements and NO math! Yay!
I based everything about this plaid wall on the width of the painter's tape I used. It's the Scotch Delicate Surface Painter's Tape, 1.88 inches. I made the light colored squares double the width of the painter's tape I used. This gives the large light squares at exactly 3.76 inches in width and height. You'll see what I mean in a sec.
If you want larger squares then you will have to do some math. But if you don't want to do math, then you're in luck! I'll show you how it's done! ☺️
As a rule, I painted each step with two coats of paint.
Step 1. Paint the Lightest Color
Paint the wall the lightest color of the three colors.
I had already painted my office Shoji White, so I didn't need to do this step. But if you do find yourself needing to paint the whole wall, my tips on painting a room like a pro are here. If you have holes to fill, do this before you paint. I didn't fill any of the holes in my wall because I planned to put everything back in the exact same spot!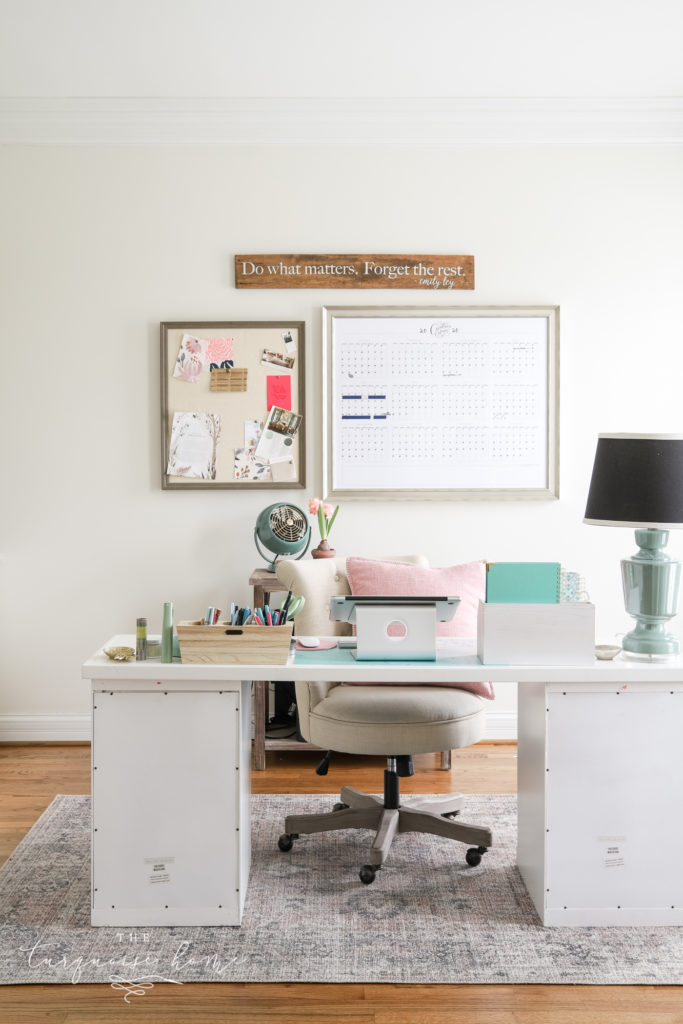 Step 2. Draw Middle Vertical Line
Make a level vertical line in the middle of the wall using a laser level.
This is your first of only two measurements! I used my laser level to make a line in the middle of the wall and placed a piece of tape on the line. You could also use any straight edge to draw a line, but make sure it's vertically level.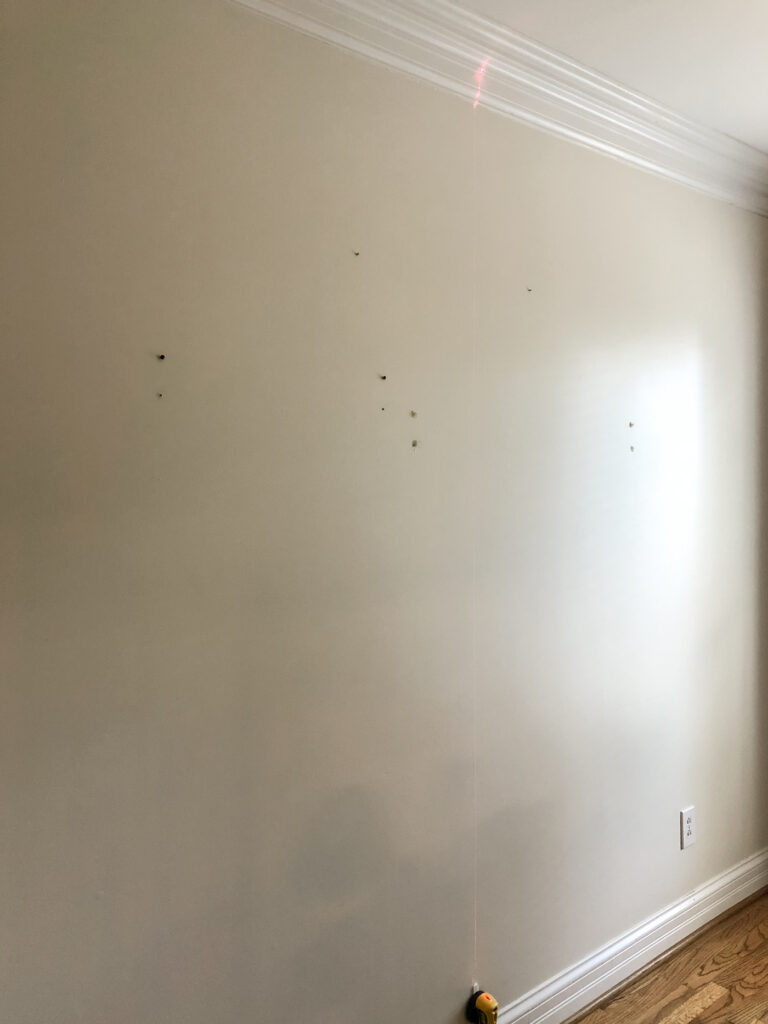 Step 3. Make Vertical Stripes with Tape
Tape two pieces of tape side by side from the top to the bottom of the wall. Then skip the width of one piece of tape and add two more pieces of tape all the way up and down the wall.
Repeat along the wall until you've covered it all.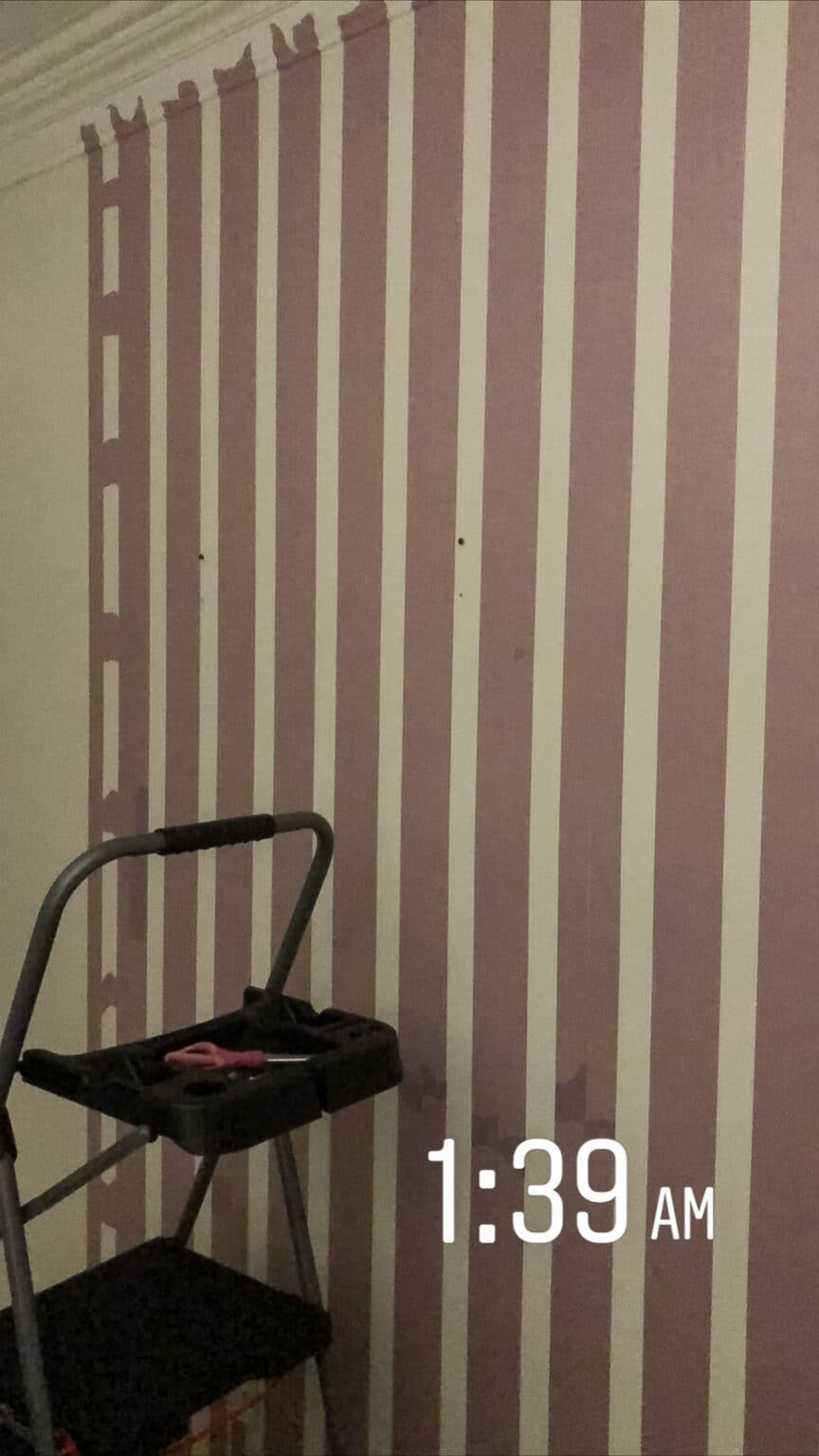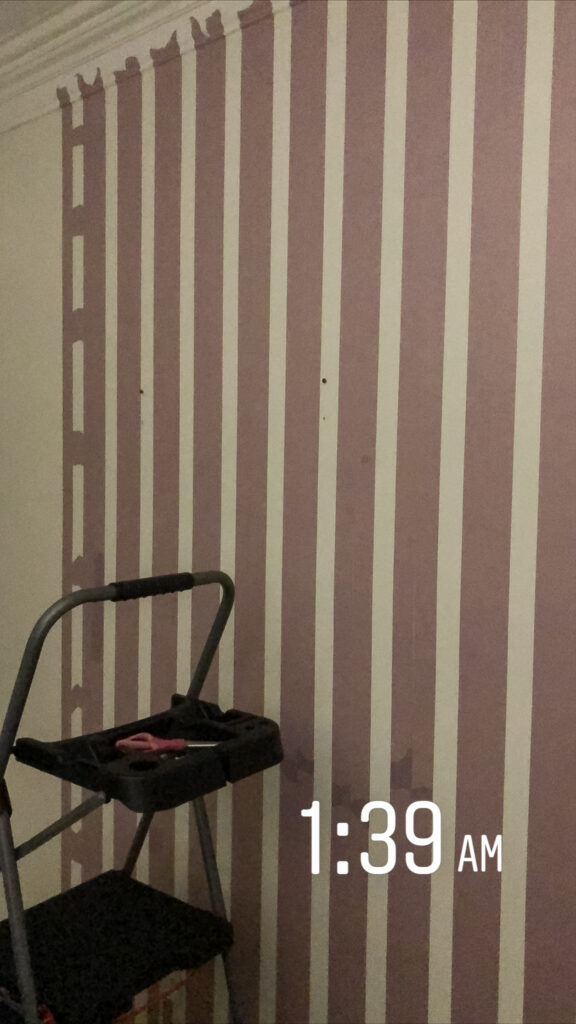 Do you see how in the left side of the photo above, I have small pieces of tape between longer pieces of tape? That's how I measured the width of one pieces of tape between the lines. It worked to keep everything even and level!
Check with a hand-held level periodically on the wall to make sure everything is staying level.
Step 4. Press Down the Tape
Make sure the painter's tape is pressed down tight by running a wallpaper smoothing tool along top of the tape.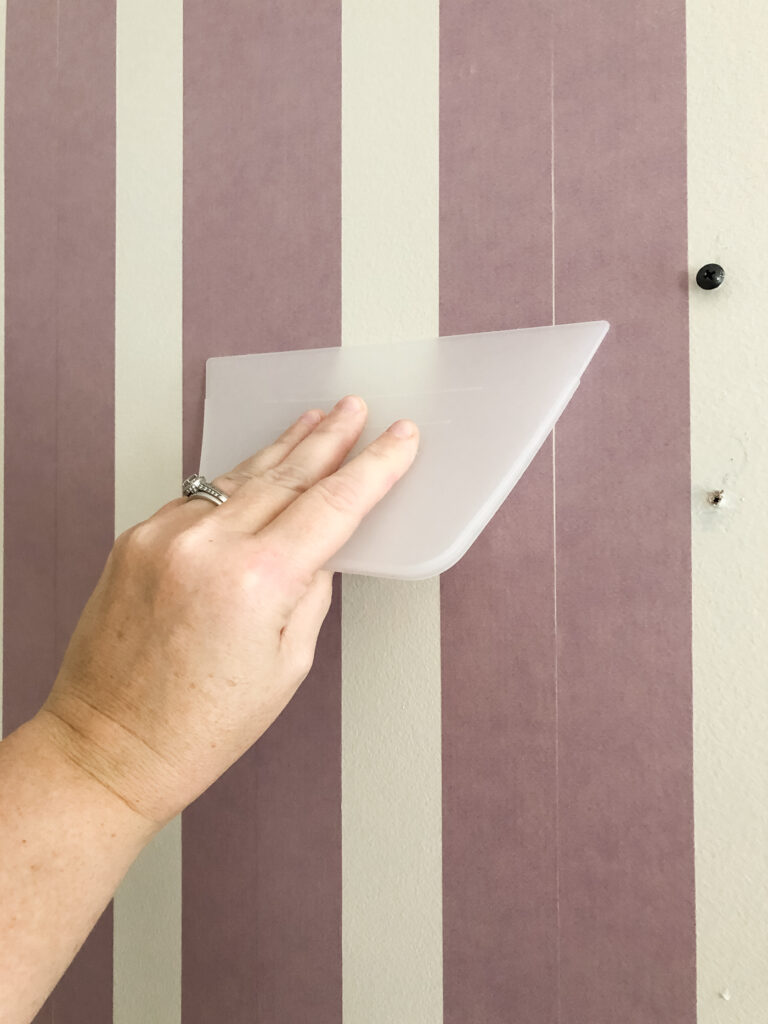 Step 5. Paint Medium Color
Paint two coats of the medium color paint on all of the lines with a 1-inch paint brush.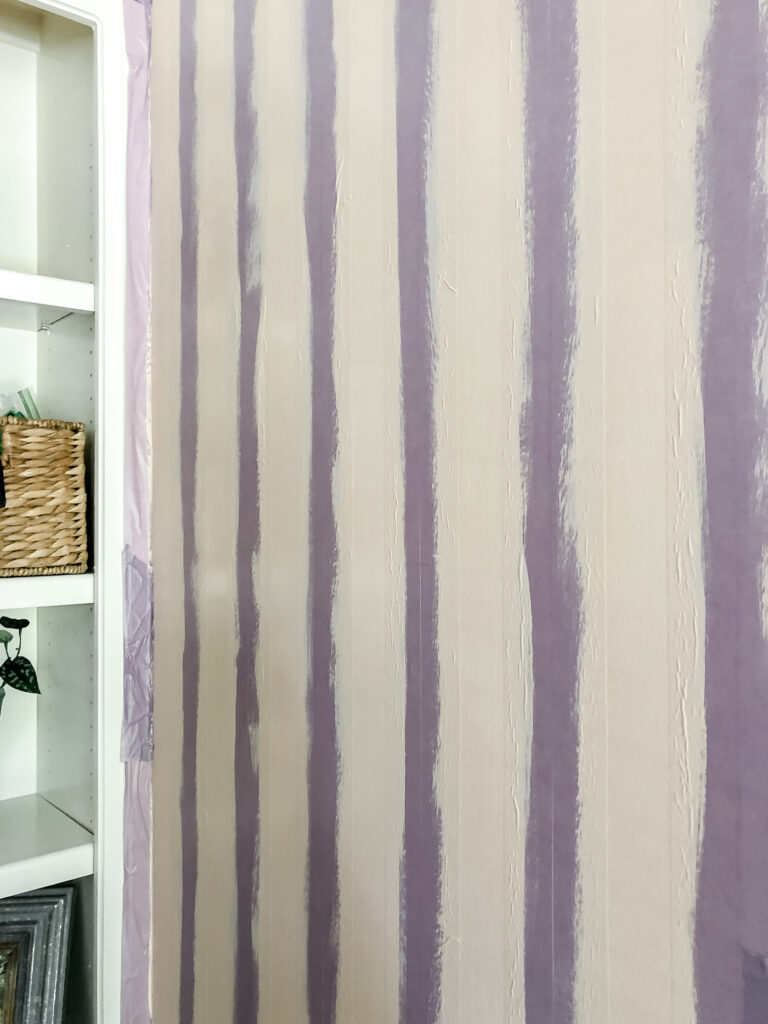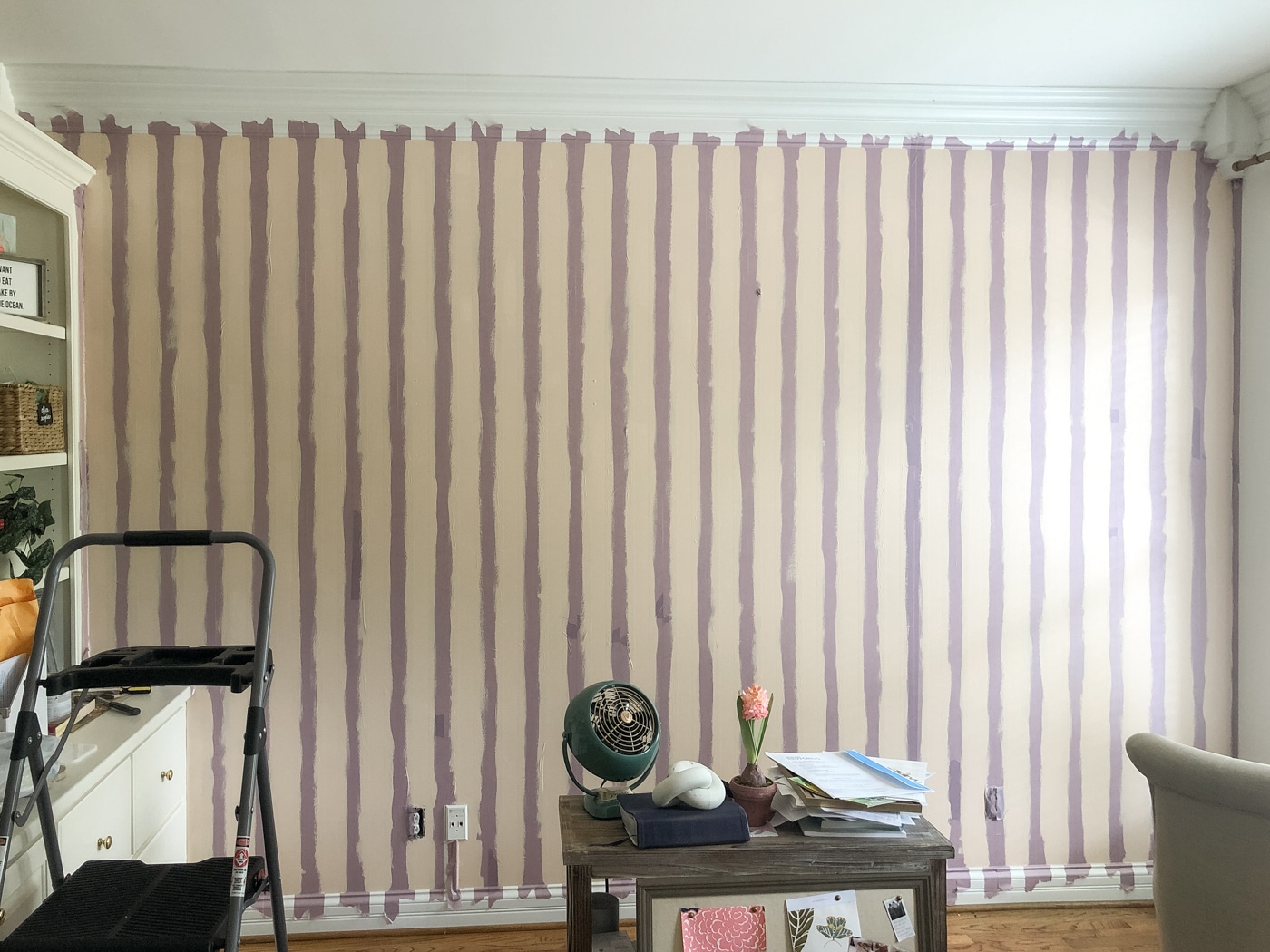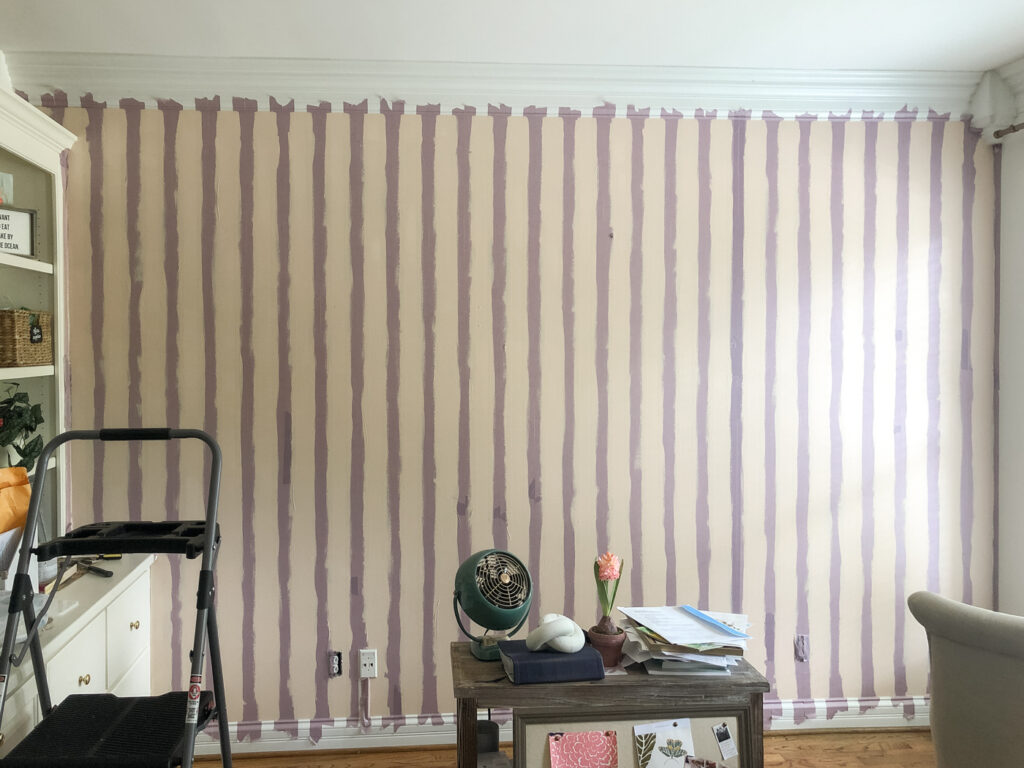 Step 6. Remove Tape and Make Middle Horizontal Line
Remove the painter's tape and use your level to make a horizontal line in the middle of the wall.
I know it will feel like it hurts your feelings to remove the tape after all of that work, but I promise it's worth it!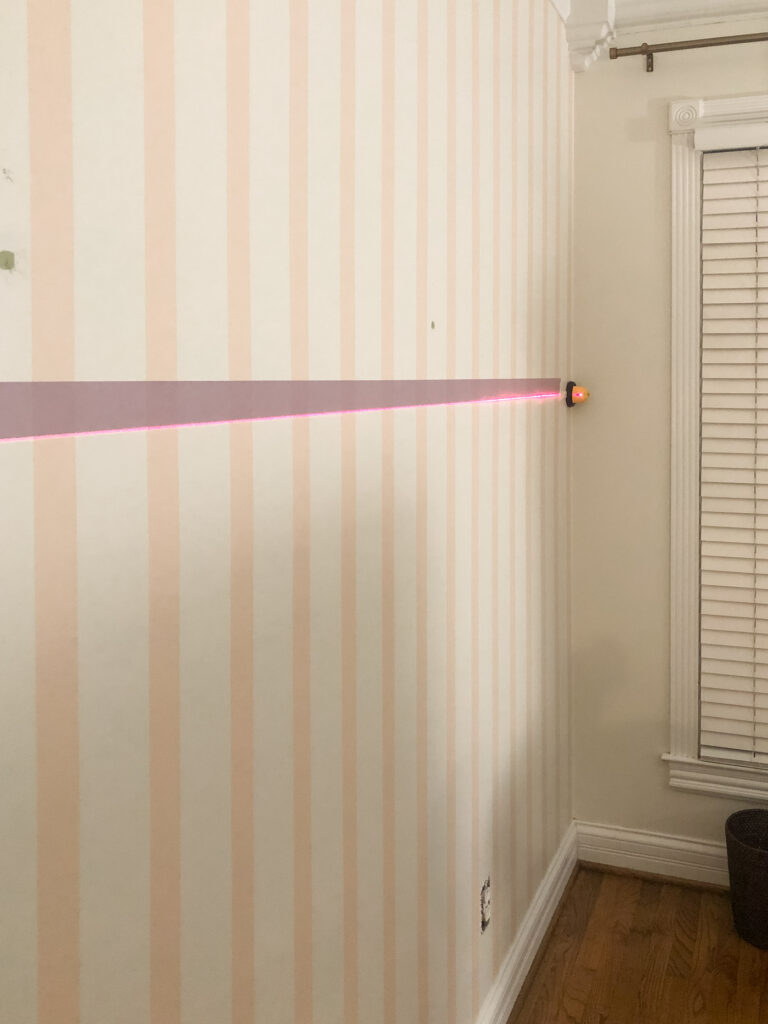 This is your only other measurement! Yay! And really it's just making a straight line on the wall, but if you go off of this line, you won't need to measure any more lines.
Step 7. Make Horizontal Stripes with Paint
Place a piece of painter's tape along the horizontal line and then add another piece of tape right next to it. Skip one width of tape, then add two more pieces of tape the length of the wall.
Repeat each line of tape until you've done the entire wall. Periodically check that the lines are still level as you tape them down.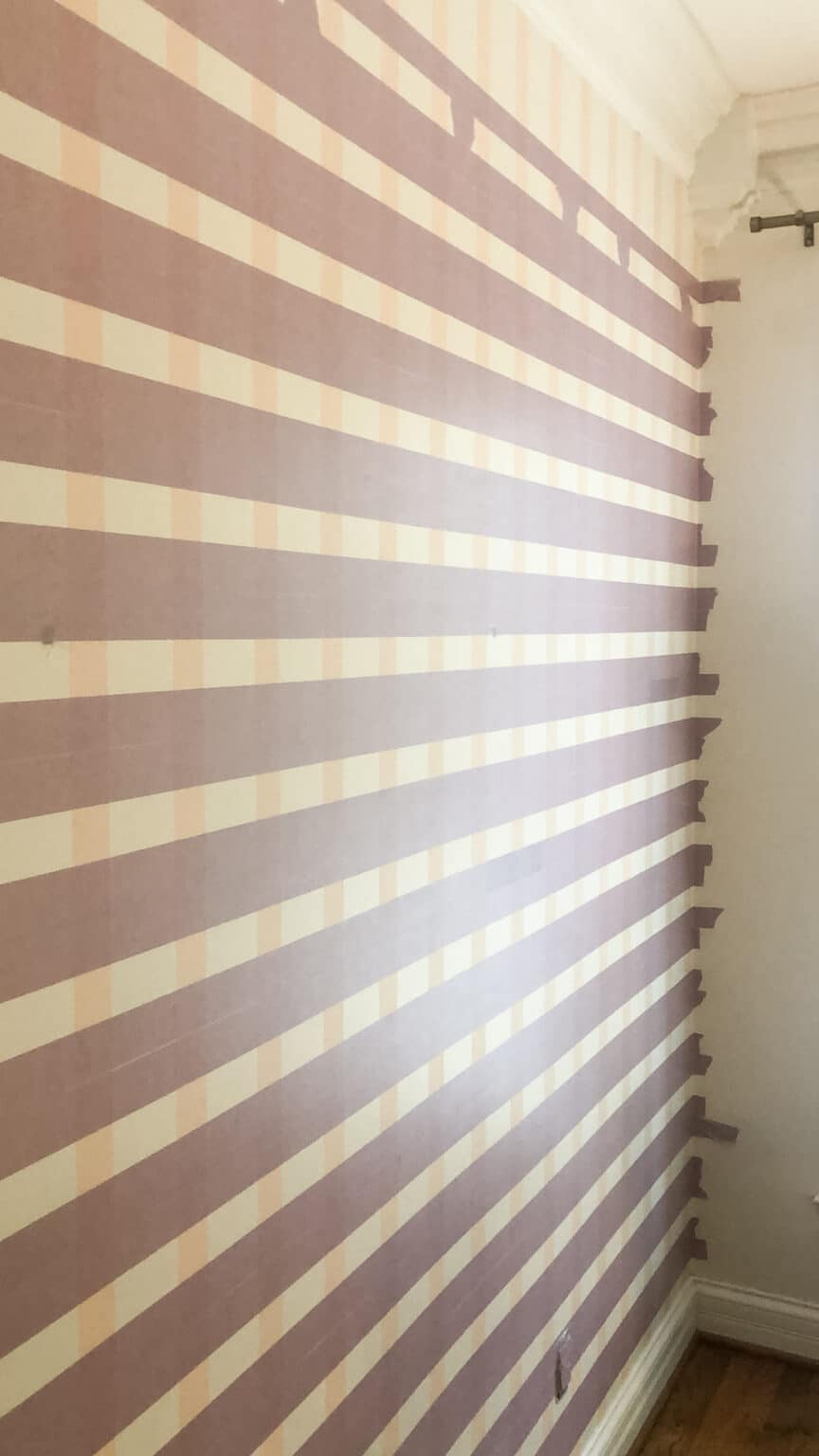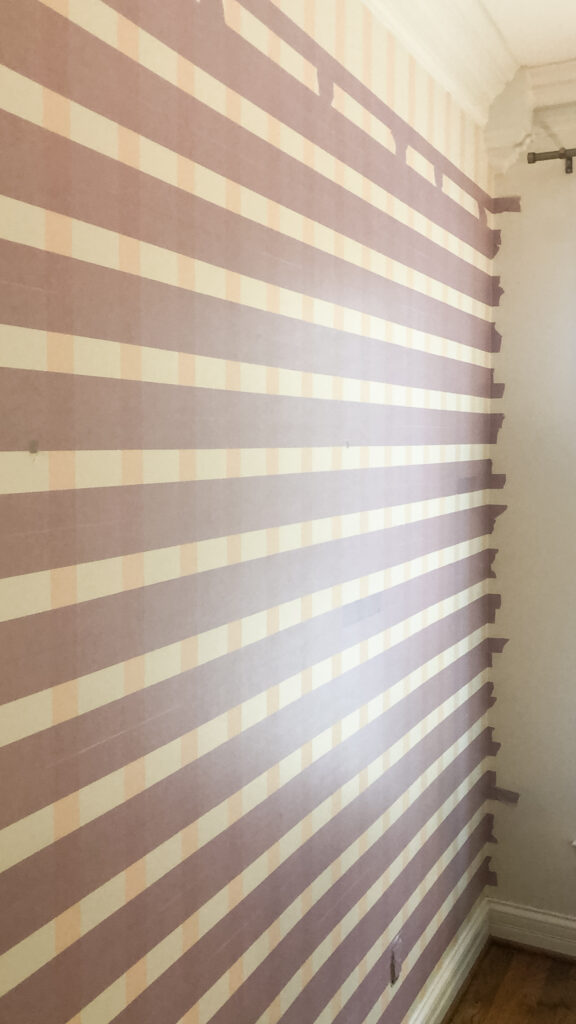 Step 8. Press Down Tape, again
Make sure the painter's tape is pressed down tight by running a wallpaper smoothing tool along top of the tape.
Step 9. Paint Medium Color, again
Paint 2 coats of the medium color paint on all of the lines with a 1-inch paint brush.
DO NOT remove the tape after you've painted the horizontal lines. We won't remove this tape until the end.
Step 10. Re-tape the Vertical Lines
Tape the vertical lines again, using the paint marks that are already there.
I found it easy to just eyeball it and tape the lines over where it was before.
Press this tape down with the wallpaper smoothing tool.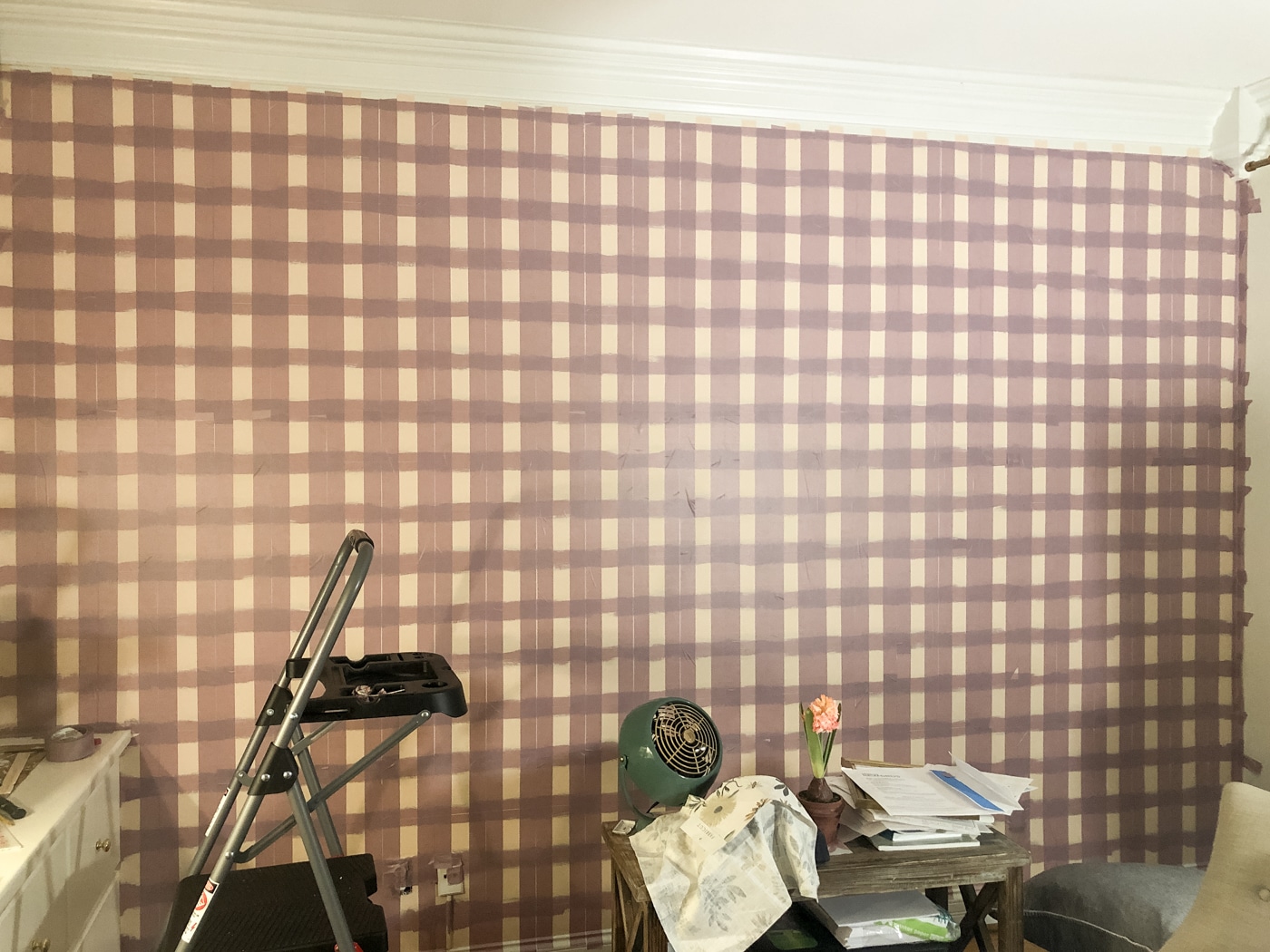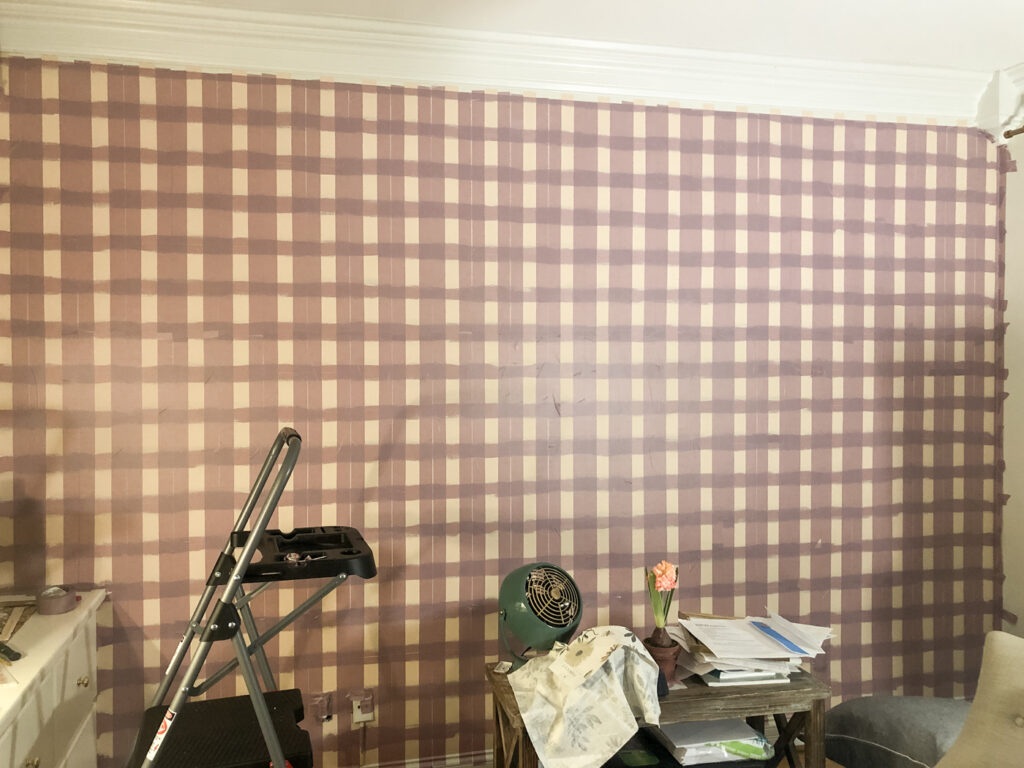 This leaves only a small square open on the wall where you will paint the darkest color of paint. The process feels a little insane at this point, but I promise the results will be worth it!
Step 11. Paint the Darkest Color
Paint two coats of the darkest paint color in the middle of each open space.
You're almost done! This will give the illusion that when the medium lines cross over, they create darker color. You know how plaid works, but I'm just sayin'. 😜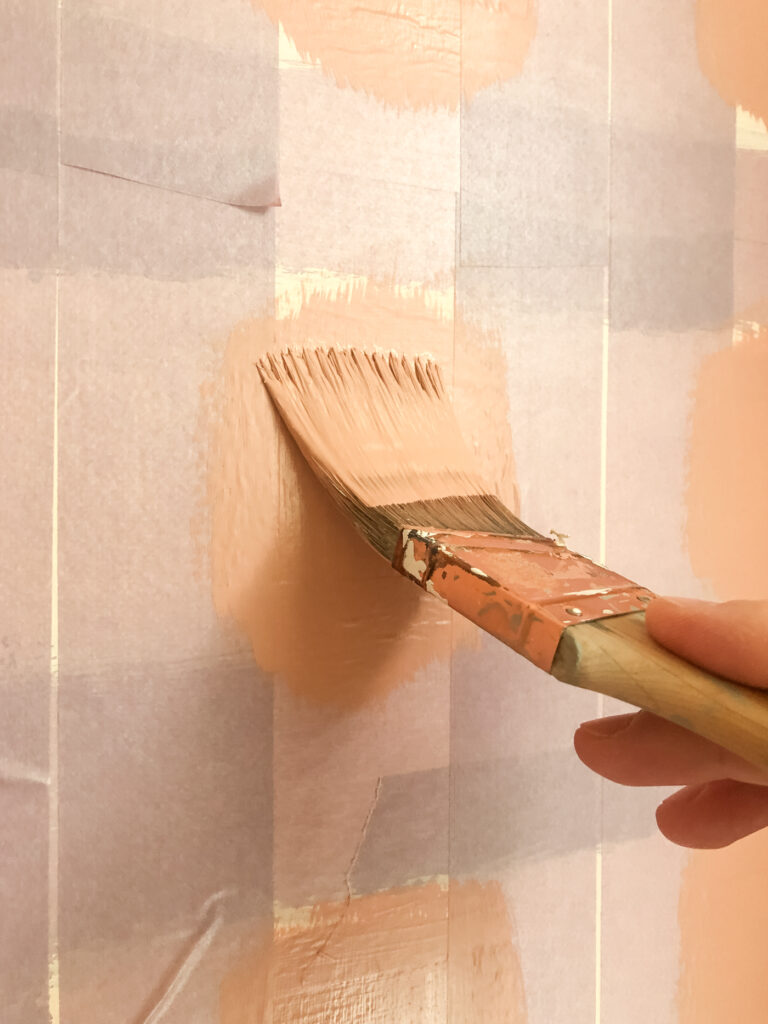 Step 12. Remove the Tape
Remove all of the tape, then step back and admire your amazing new plaid wall!
Isn't she a beauty?!
It's seriously one of my most favorite things in my house and I get so many compliments on it!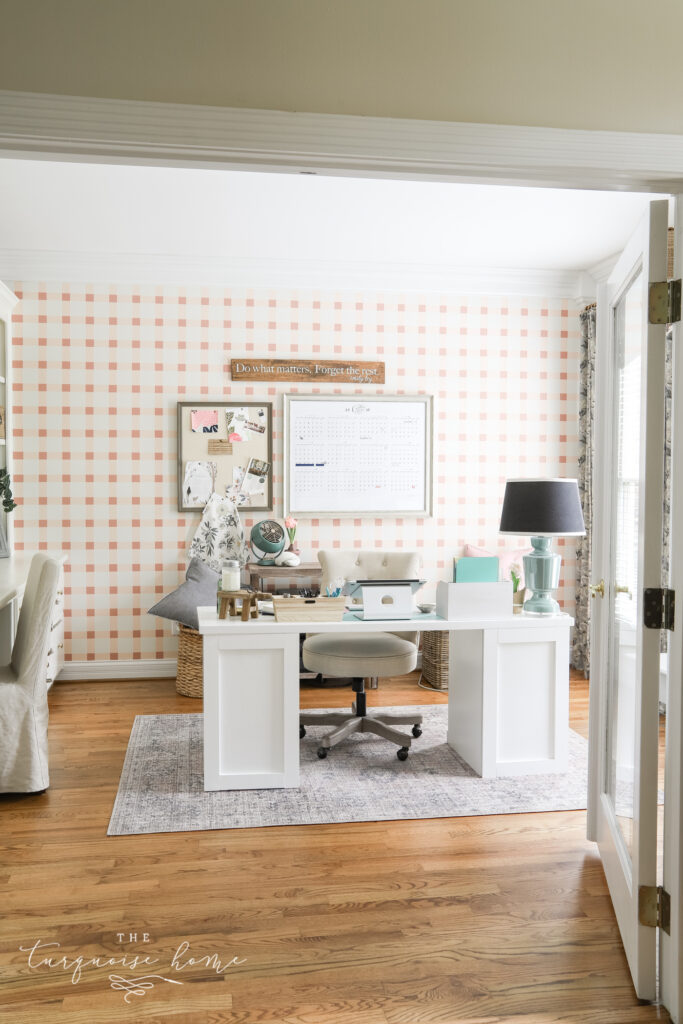 I love how it mimics the plaid or gingham curtain in my dining room makeover, too! The rooms are right across the entry way from each other, so it's a nice nod between the adjoining rooms.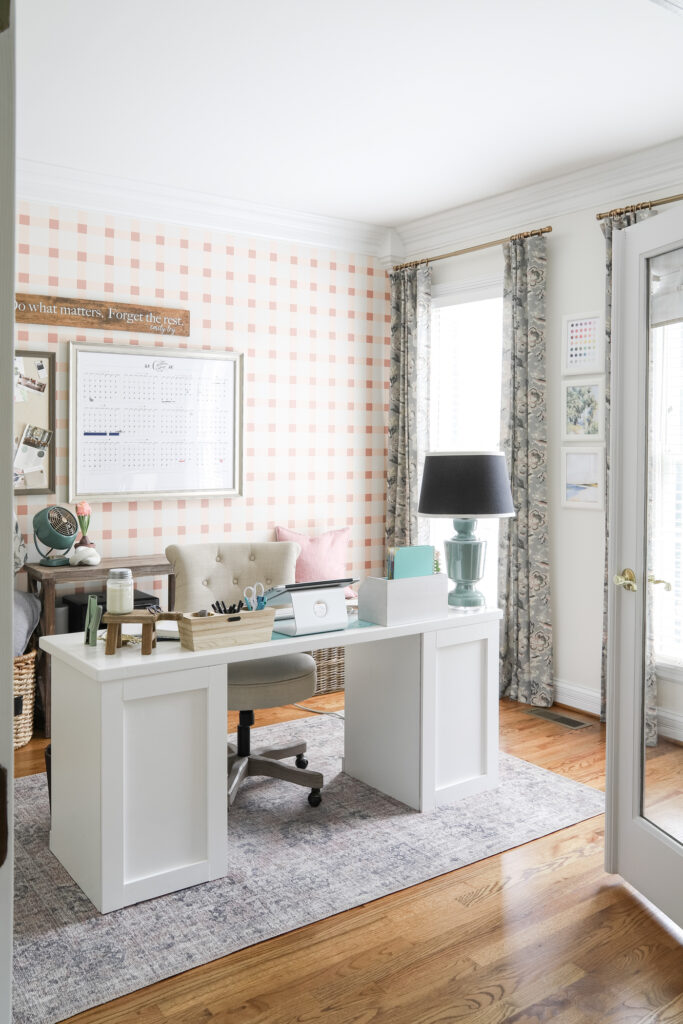 I would love to see if you try this in your home! If you do, tag me on Instagram @turquoisehome or send me an e-mail at [email protected]!
Happy Creating!
More Posts You Will Love: