It feels a little intimidating to title this post "How to Decorate a Mantel," because I'm not a interior designer or professional decorator. I just decorate my home, and occasionally have a little fun in other people's spaces. But anything I do or have learned along the way is totally self-taught and fly by the seat of my pants.
Really, all I'm saying is that I don't know all of the whys and hows behind what I do, and I can't be hired to replicate this, but if I can do it, so can you!
This is how my mantel started. I hadn't change it since the spring and so it was still looking like this September 1. 🙂
Psst! If you're wondering how to decorate a mantel WITH a TV over it, click here!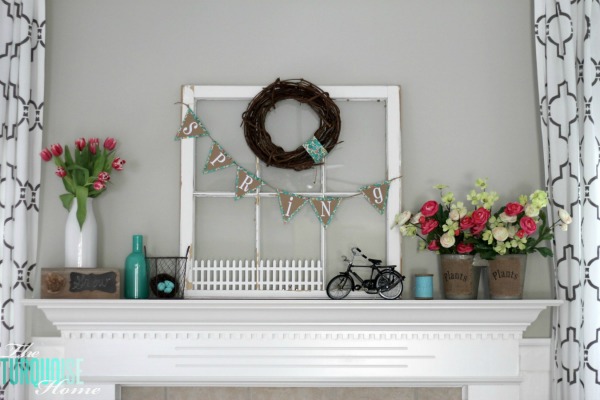 So, here's how I start each season with my mantel. I clear the mantel mostly off and begin by adding a pice or two at a time.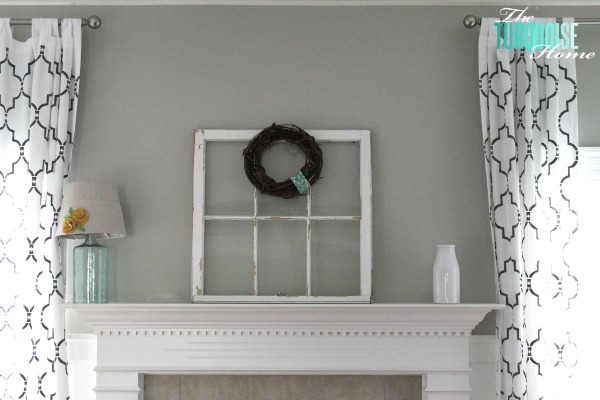 It always intimidates me a little to have to redecorate my mantel. I'm always, always, always afraid that I won't be able to pull something together that I love. But it always works out, so I should just stop worrying.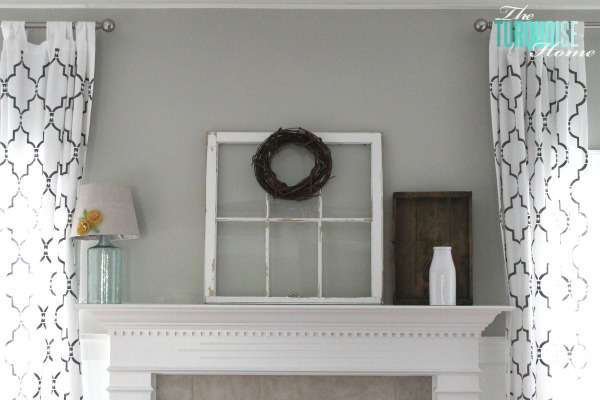 First I choose my large, statement piece in the middle of my mantel. So far my choices are either my old window or my pallet art thingy (I've used the pallet thingy here, here and here). I'm in the thinking stage of creating a new mantel statement piece of art, but we'll see how far I get with that. It may be on the back burner for a while.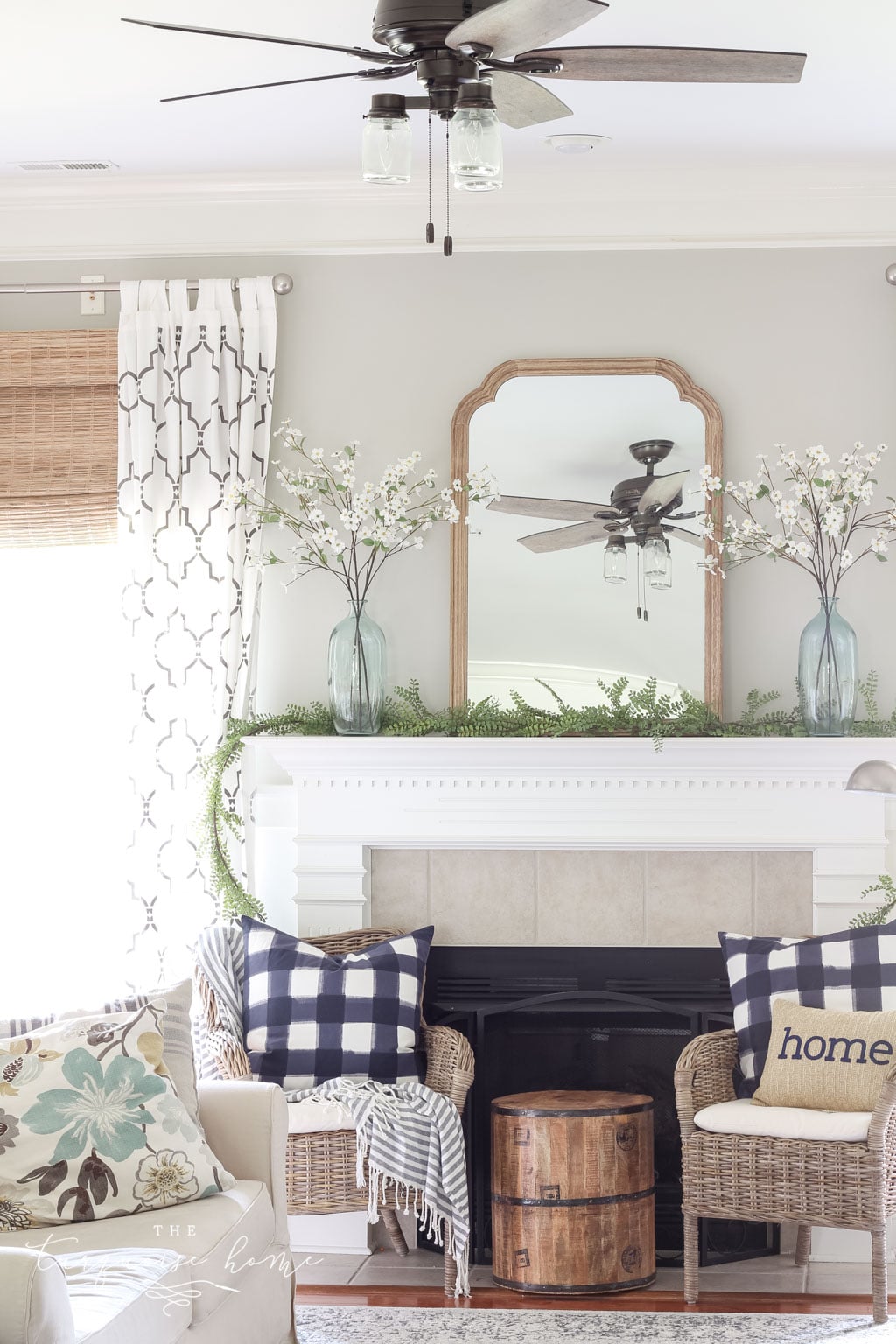 FREE BONUS!
5 Secrets Every Home
Decorator Knows
… to transform your home into your dream home!
I added in the lamp, kept the milk pitcher vase – just moved it to another side – and added my vintage tray from my kitchen table.
Until I read this post from Jennifer at Dimples and Tangles, I'd never thought about putting a lamp on my mantel. For shame, too, since it's easy for me to hide my lamp cords. I have an outlet on both sides of my fireplace and the curtains come so close that they hide the outlets and the cords. Awesome!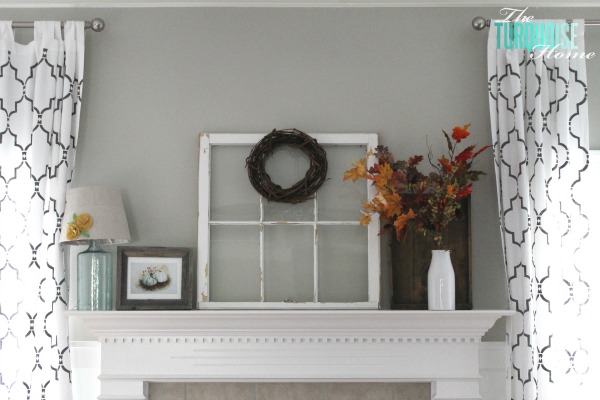 I already had the pumpkin watercolor from Craftberry Bush. It seemed to fit perfectly next to the lamp. And I went to Hobby Lobby for the faux foliage. I had just stuck it into the vase in the picture above, but I knew I wanted it to lean left and cover some of the picture frame.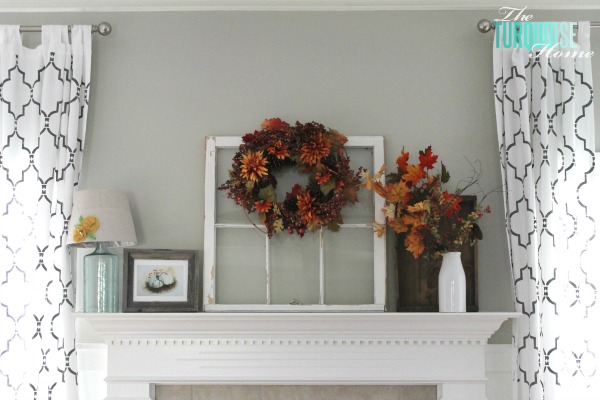 So, I arranged the foliage how I wanted it and added my fall wreath. I took a step back and it was just too much orange and red. I was going for something more simple.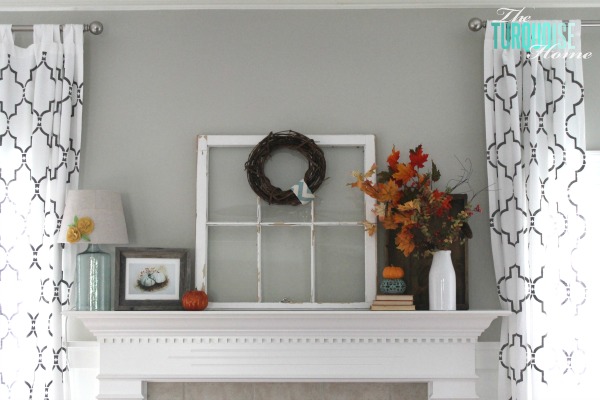 I took the big fall wreath down and added my simple grapevine wreath back to it, but cut a swatch of blue chevron fabric I had on hand to add some color. Perfect!
I also added the little details like the mini pumpkins (also faux) and that little blue tea light candle holder with wonderful rustic patina. I love my old hardback books for fall decorating. I mentioned several of these elements in my post on 11 Ways to Add Fall to Your Home.
One rule I try to follow in all of my decorating is the rule of thirds. You can see here that the left side of the mantel has three things: lamp, picture and pumpkin. And then the right side has two sets of three: vase, tray and foliage + pumpkin, candle holder and books. And I also used three books instead of one or two. And as a whole, there are three sections on the mantel: left, middle and right. It just looks more pleasing to the eye when you have three.
At this point I felt like the mantel looked good, but it was missing something in the middle. I went outside to my wood scrap pile – always handy to have a wood scrap pile – and found a 2×8 piece that was the perfect length for a sign.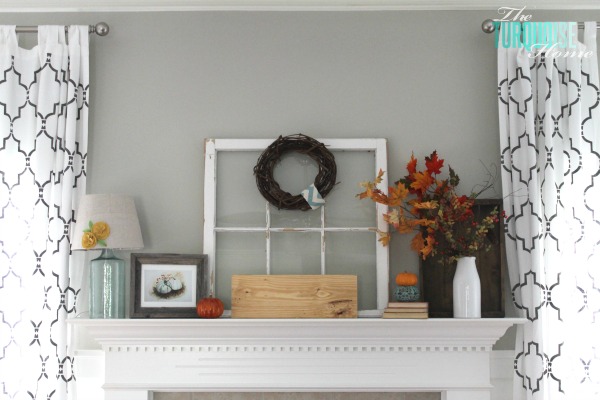 I'll share later this week how I was able to whip this Harvest sign up in about an hour. I have a great tool that I just recently discovered and I can't wait to share it!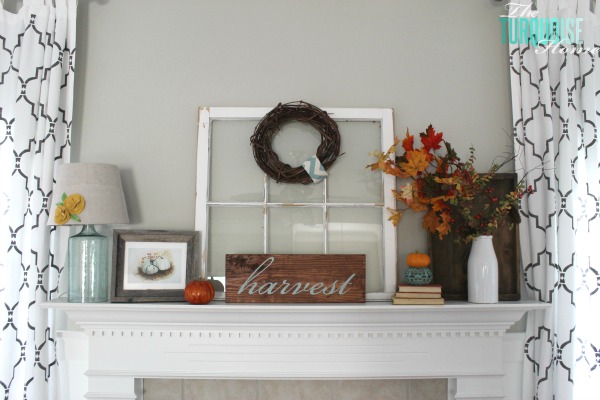 And one my sign was in place, I knew that I loved the mantel! Love, love, love it!
This whole process took me about two hours, including making the sign. So just under an hour to complete the rest of the mantel. Not bad for a totally new look for this new season.
Do you like to redecorate for each season, or are you a decorate one and forget it kind of person? There's no wrong answer. 🙂 Sometimes I wish I was a decorate and forget it kind of person. But then I change it out for a season like this and I just love it!!
Do you want to see all of my favorite mantels I've decorate over the years? Check them out HERE!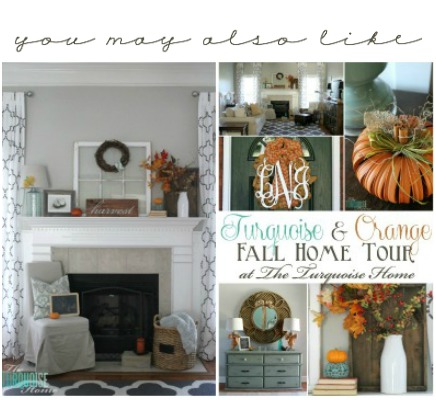 Turquoise & Orange Fall Mantel // Turquoise & Orange Fall Home Tour
MORE POSTS YOU WILL LOVE: