After years of wishing and looking and waiting, I'm so excited to share our new home with you today!! I shared a lot of how we decided to buy this home and sell our previous home in our "We're Moving" post last month, but I've been looking for a house that could be our "next 20-year home" for years now.
Just to recap: we purchased our previous home as a foreclosure to get into the school zone and the neighborhood amenities (gym, pool, etc.) that we wanted. The old house was certainly bigger than our previous home, but it wasn't our "dream" home by any means. And from the beginning, I told my husband that we wouldn't stay there forever (much to his dismay LOL).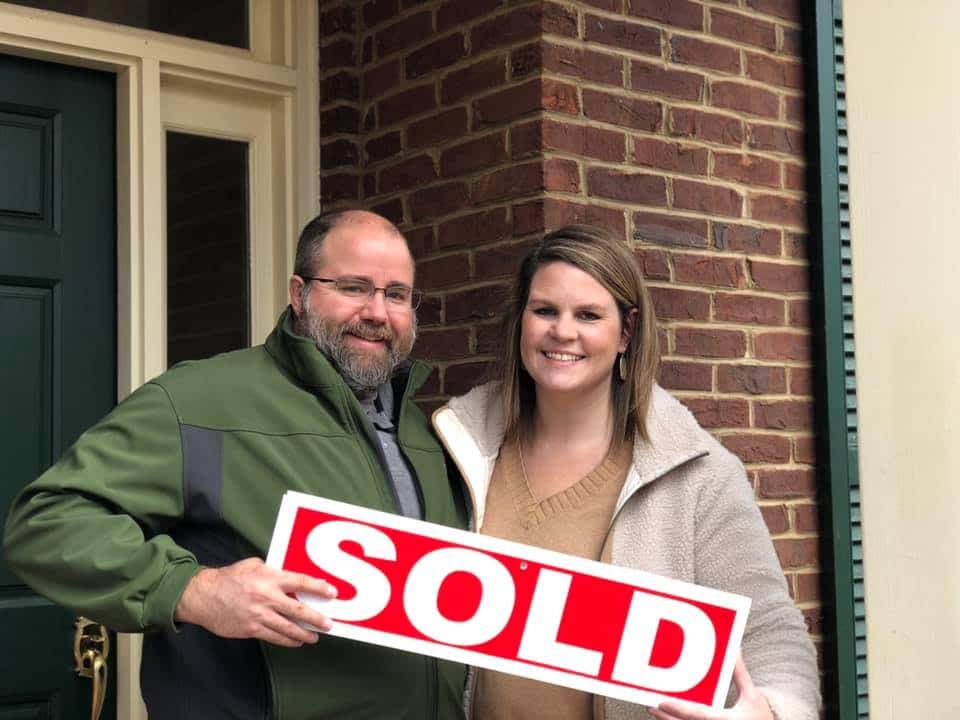 But as we lived there for 8 years, I kept a notes page in my phone of all the things I wanted in our "next 20-year home" and it had things like: a large kitchen with lots of natural light, a kitchen island, 9'+ ceilings on the main level, a screened-in back porch, an office (with built-ins!), a playroom space for the girls and no weird design feature that would have to be ripped out right away. 😂 (You know, like columns – see below! 😝)
It took years to find a house that met our criteria and was in our budget and IN our current neighborhood, but our patience and persistence paid off because she's so much more than we could have ever dreamed of!!
Also, please know that while I want to change a LOT of things in this house (I'm looking at you–yellow and green walls and shiny brass fixtures), I'm so grateful for this home. She is SO well built and the previous owners did a fabulous job taking care of her!
And I would want to change any home that we moved into, because that's just what I do! (And that's why you're here, right?! 😜)
I didn't get many pictures of the outside, because our home is on a hill and I'm still trying to figure out how to get the best shot. BUT I took lots of photos of the interior space and will share them all! I could have snapped pictures before we moved in, but I decided to wait until all of our stuff was in the space so you could see how we moved everything in.
It took us 2-ish weeks to get everything unpacked, with the help of my mother-in-law and parents helping at different times. Everything isn't organized yet, as evidenced by my office and the pantry. But I'll tackle those spaces in January!
Ready for the tour?? Let's go!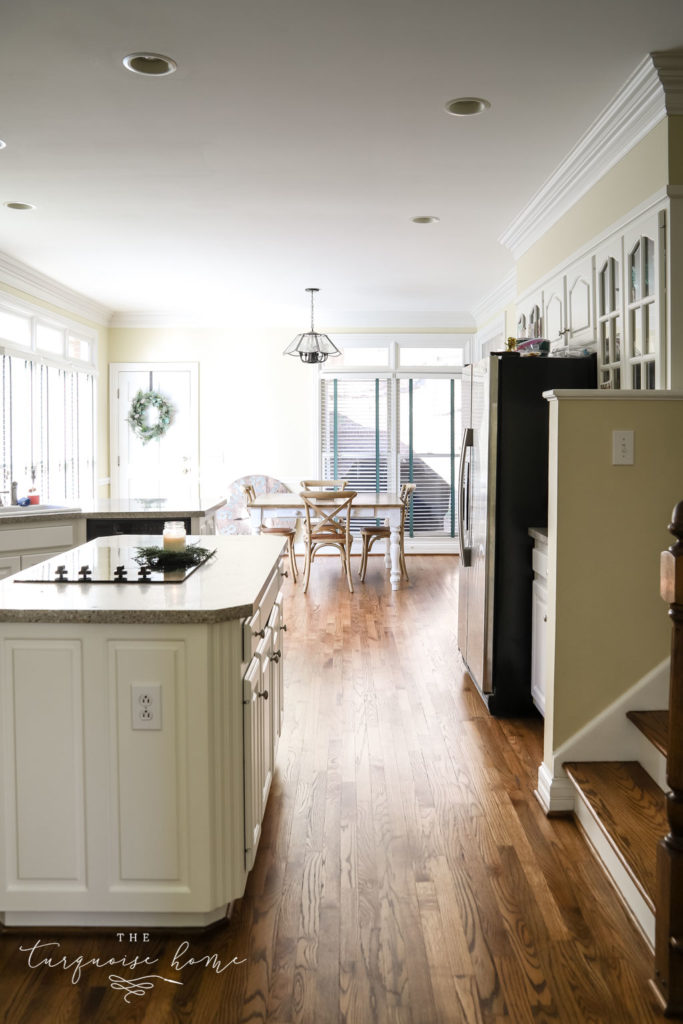 We'll start with the kitchen! It's large and I love having a working island. The layout and cabinets are something I'd love to change down the road, but for now it's an amazing thing to have so much room in the hub of the home!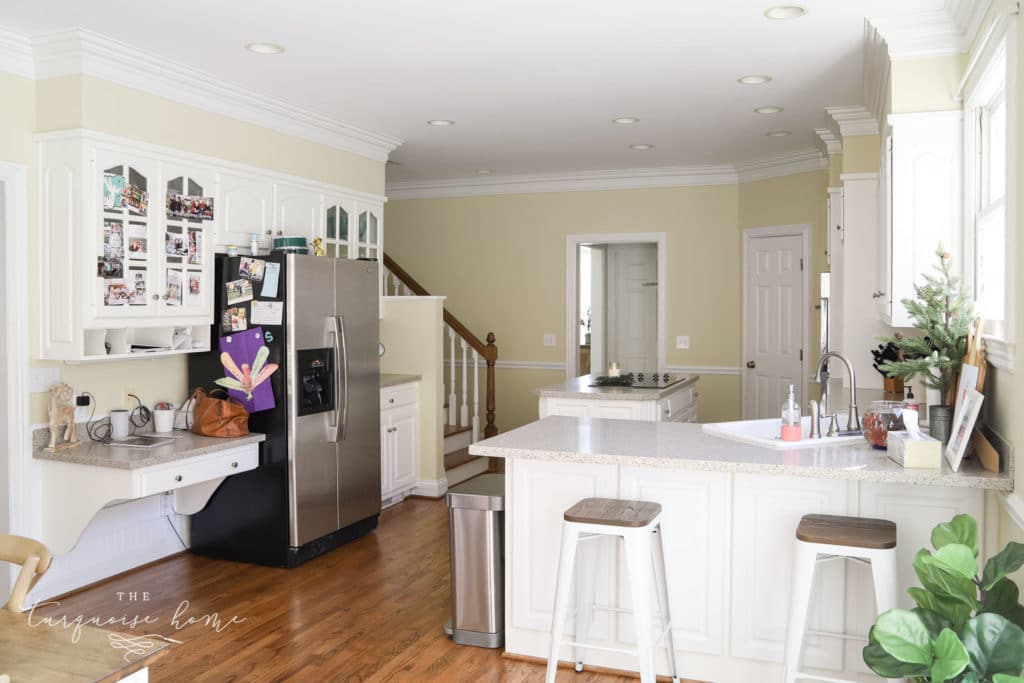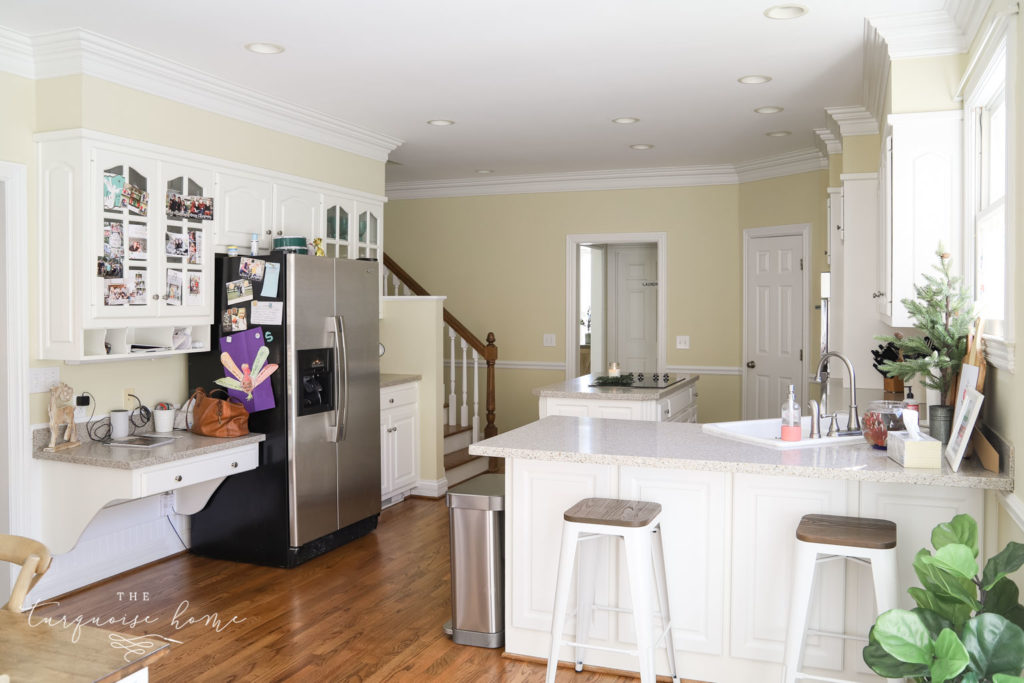 The color of the walls will obviously change, probably to a gray, but I'll start painting everything in January. The countertops are a solid surface, but I really like them, and thankful that I don't want to tear them out ASAP.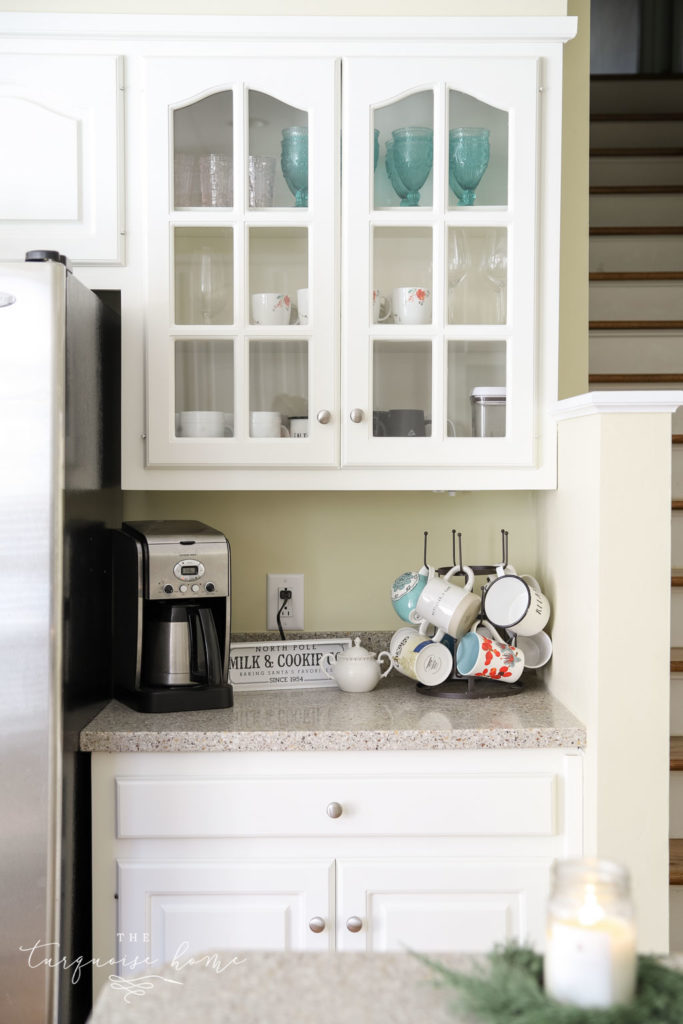 The coffee bar is a favorite spot! I have big ideas and plans for this kitchen, but I'm going to live with it for a few years before we do a major renovation!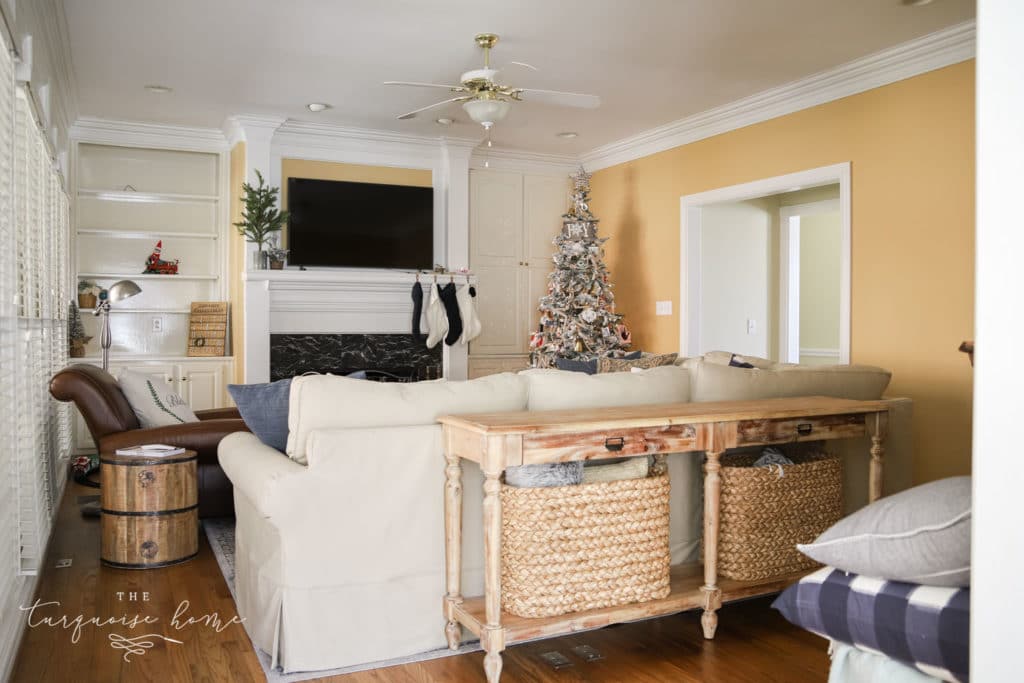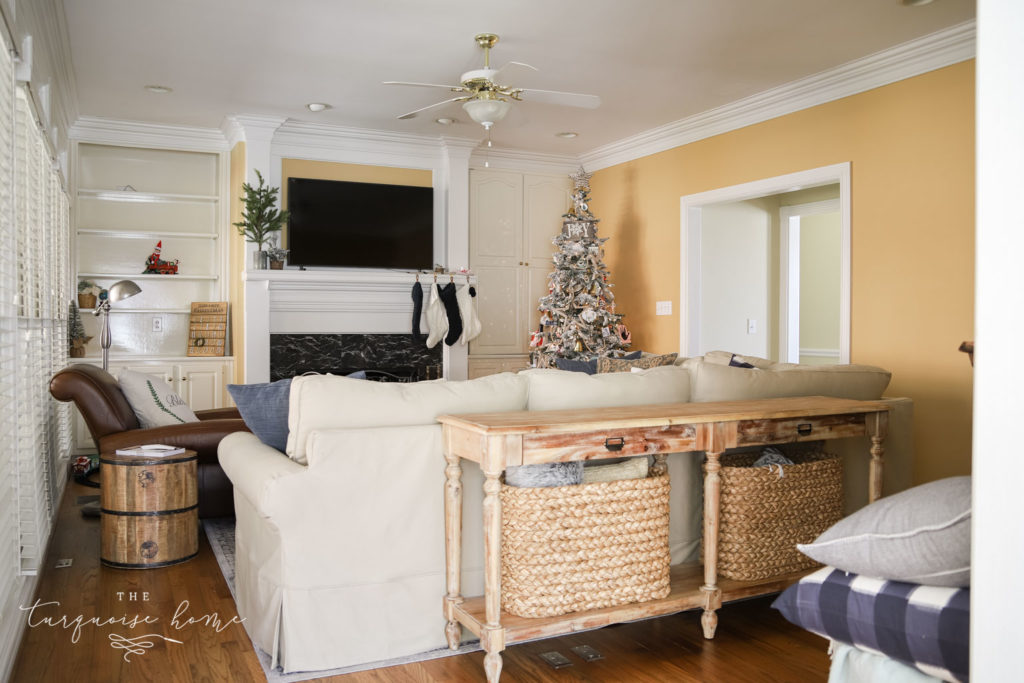 The living room is just off the kitchen and while it's smaller and the ceilings are lower than our last living room, I love the coziness! And do you spot the sectional that I ordered back in July finally arrived?!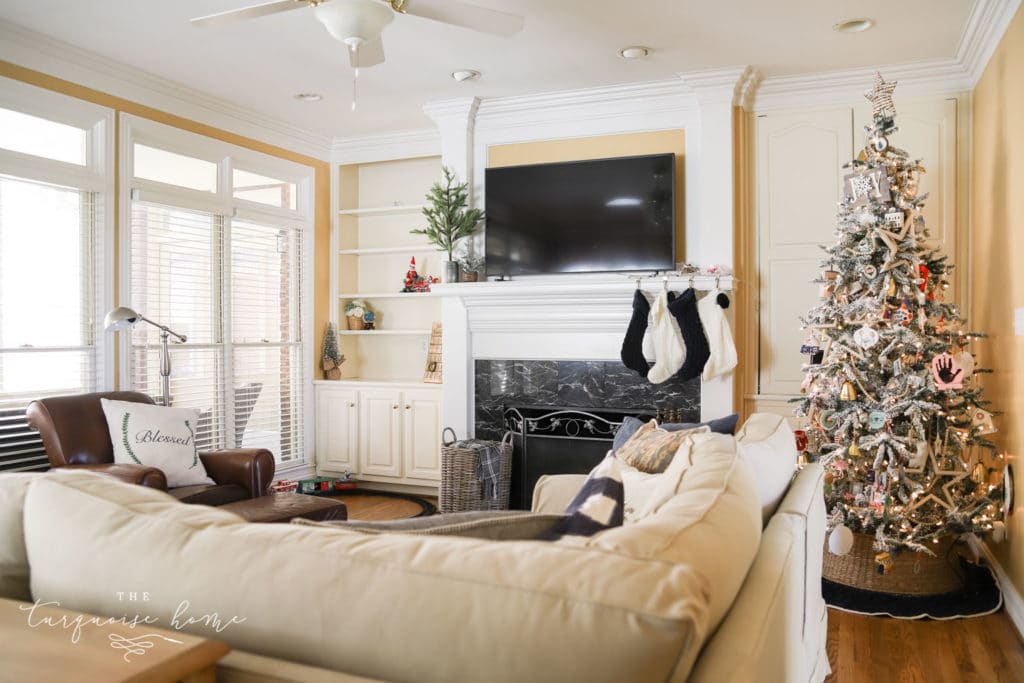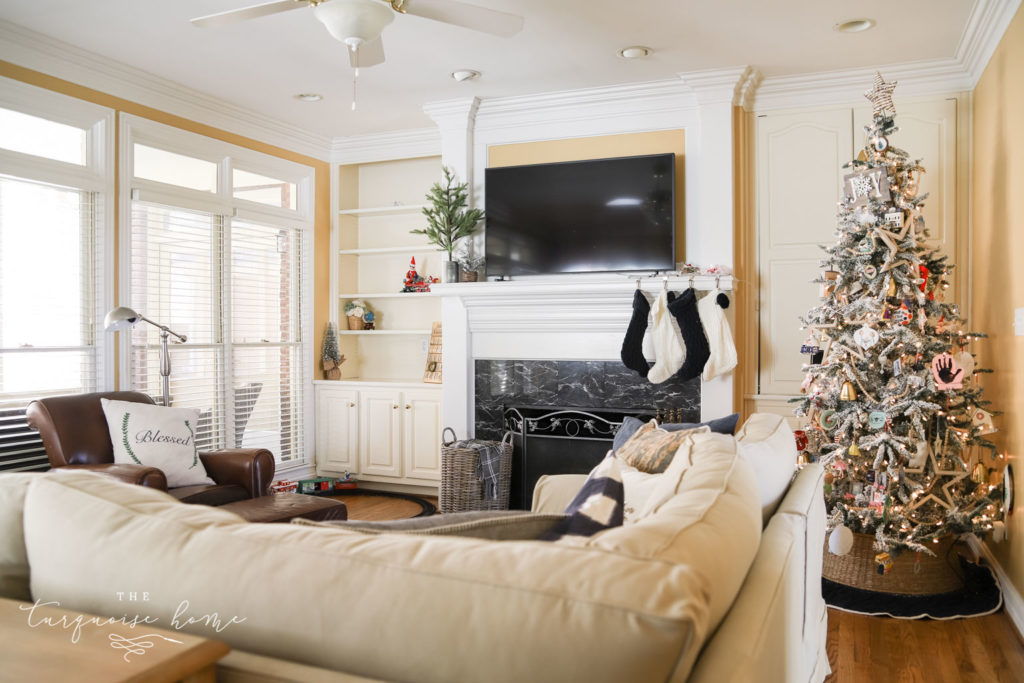 Pottery Barn called in November and said it was ready for delivery, but I told them to hold it until we got into the new house. They were super accommodating and I'm grateful we didn't have to move it!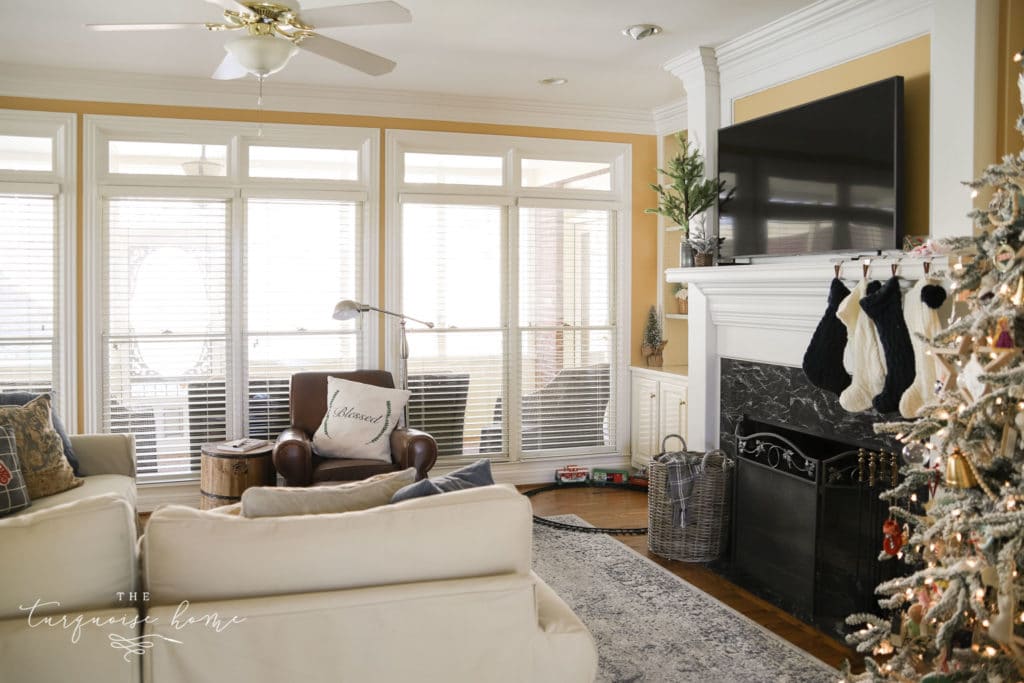 The couch faces the back of the home with a screened in porch and beyond that is the woods. It's a lovely view to see while resting on the sofa. (I'm not sure I've ever actually rested on the sofa during the day, but I've heard it's lovely. 😂)
P.S. This gold color on the walls cannot change fast enough. I may have to paint it before Christmas. 🤪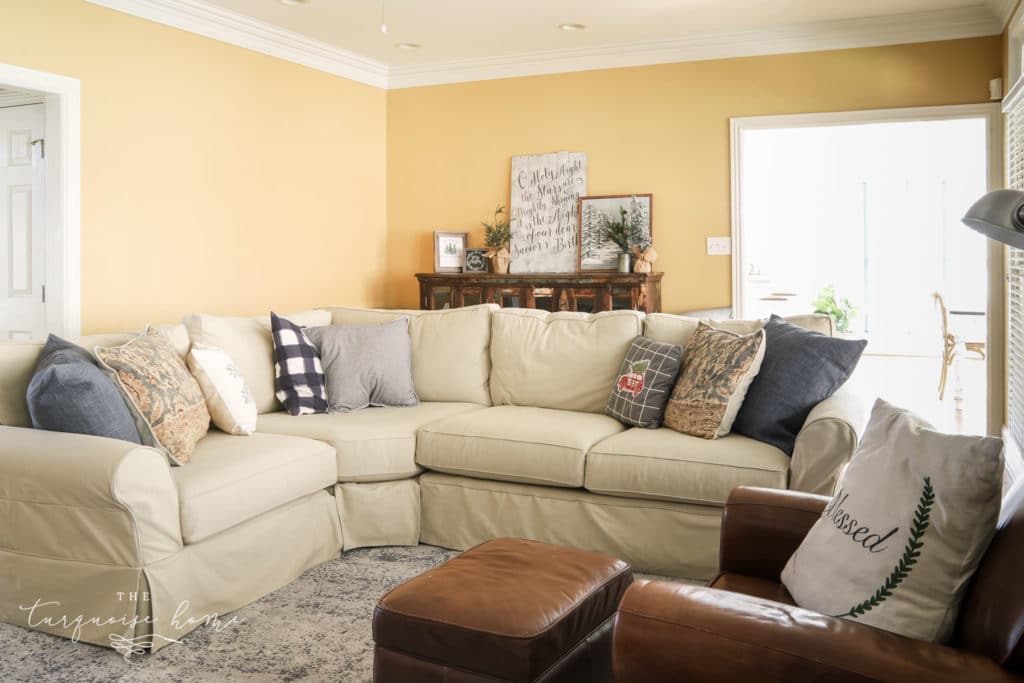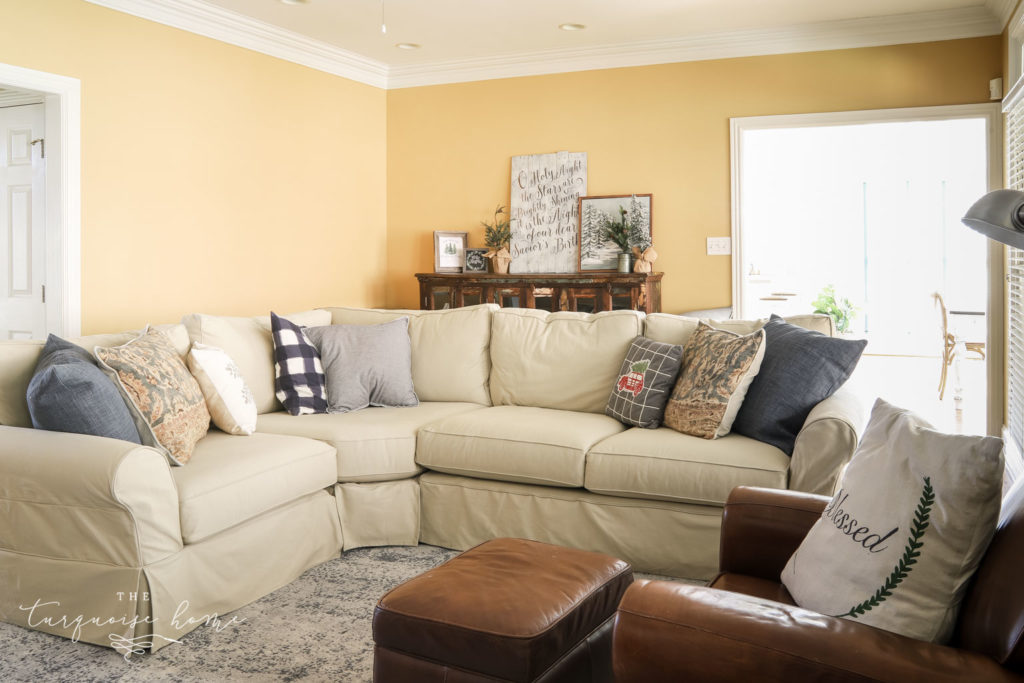 I'm not sure the leather chair is staying in here, but it will work for now!
Also on the main floor, we have the dining room…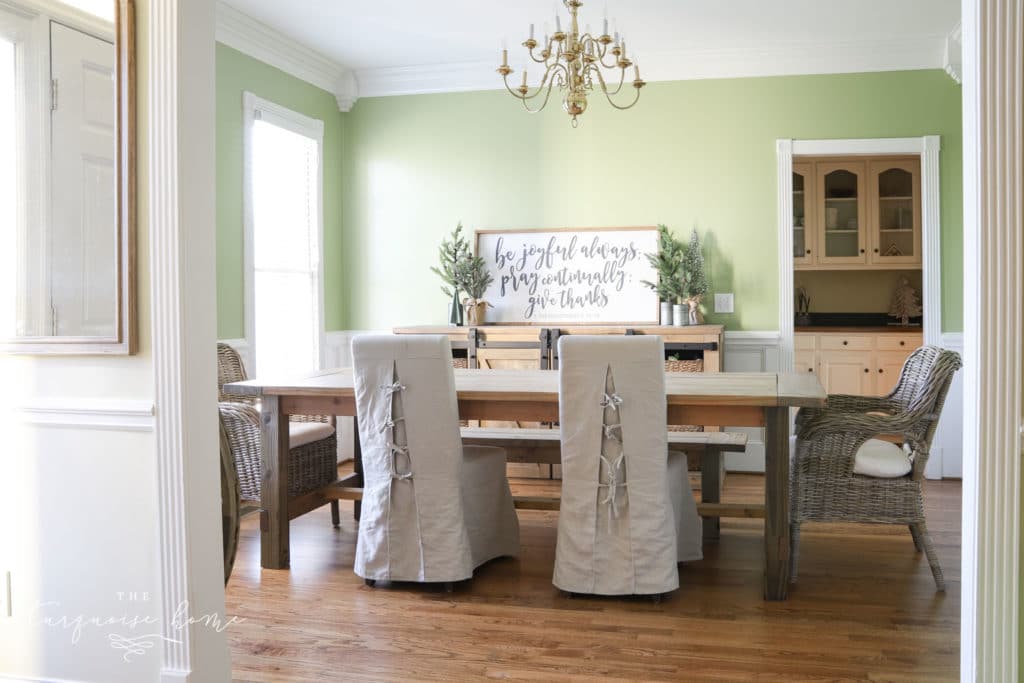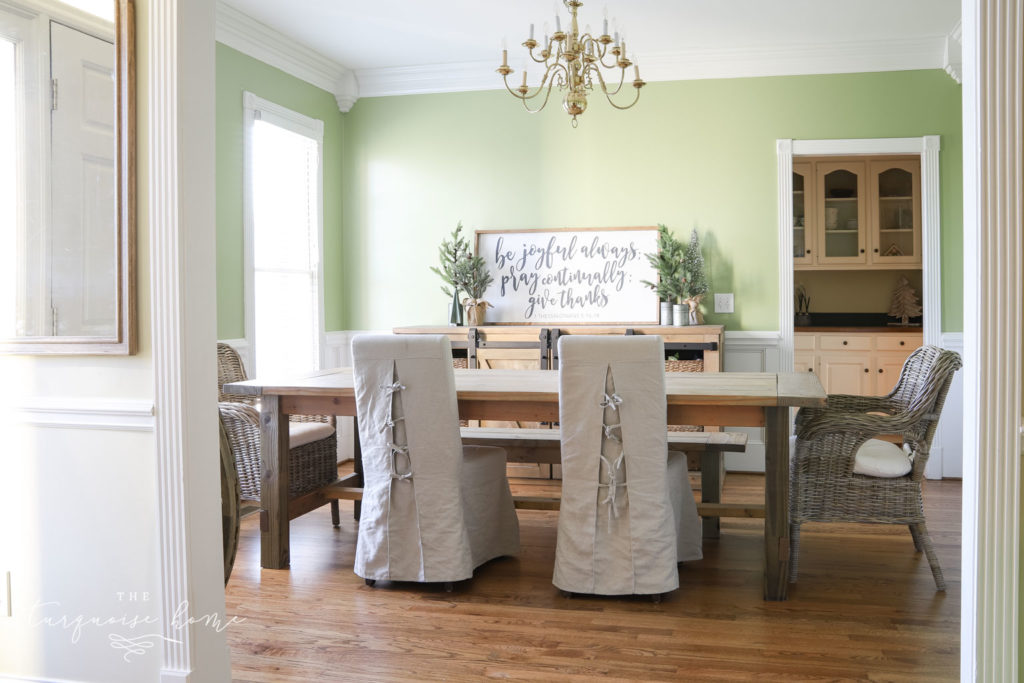 … with a lovely pistachio green shade on the walls. And a butler's pantry with original hunter green countertops!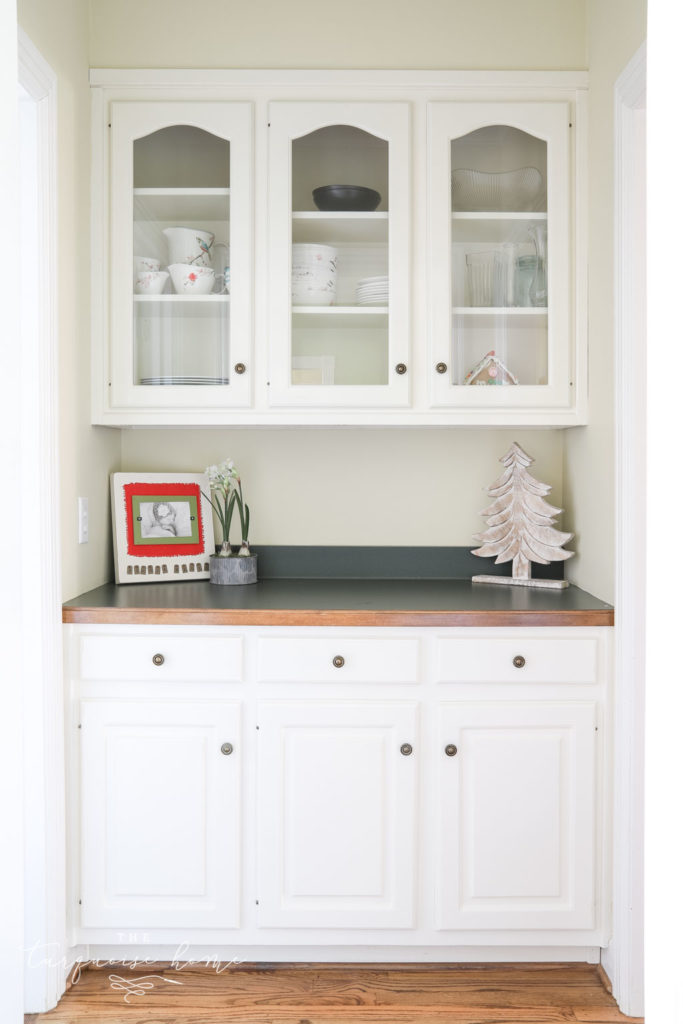 I do LOVE that I have a butler's pantry and those pretty glass-front cabinet doors. So fun!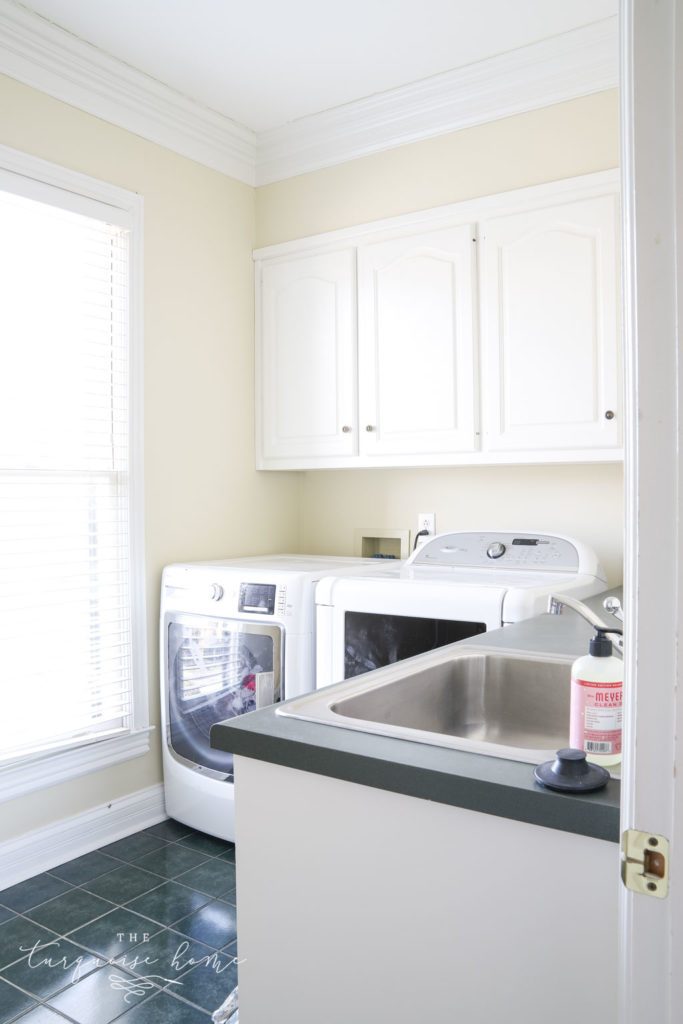 This leads into the laundry room, with hunter green tile and countertops. 😝 But I'm so grateful to have a laundry room where it's not a walk-through space and has enough wall space for a drying rack. I bought a drying rack the first day we lived here, because I was so excited to no longer have to dry my hang-dry clothes on the backs of the kitchen chairs! 🎉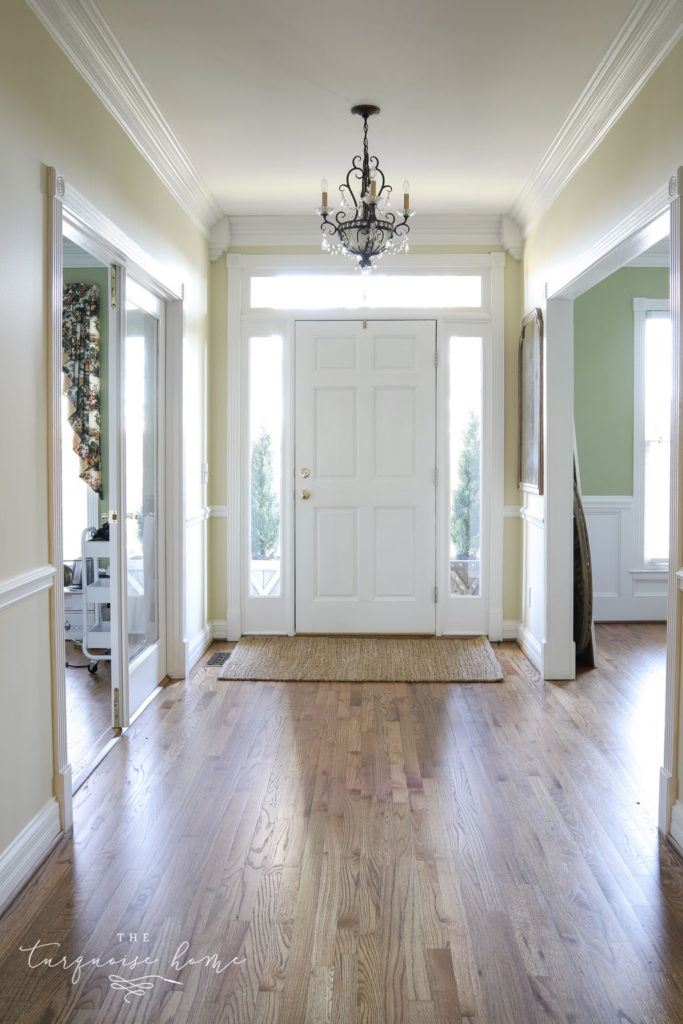 There are hardwood floors throughout the main level (except for the master bath and laundry room) and I LOVE them! They were refinished this year and I love the color!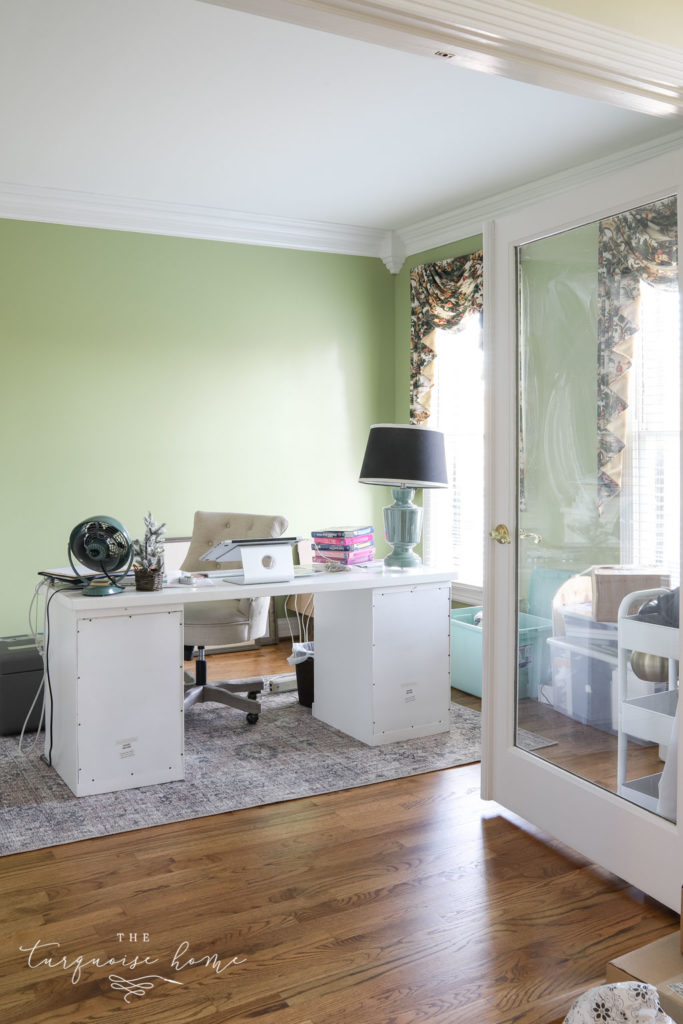 And the crown moulding in this house is stunning. I'm THRILLED about my office and the space with the built in bookshelves. Even though I can't wait to paint it and organize it, I feel like I'm living in a dream each day that I walk into it to work.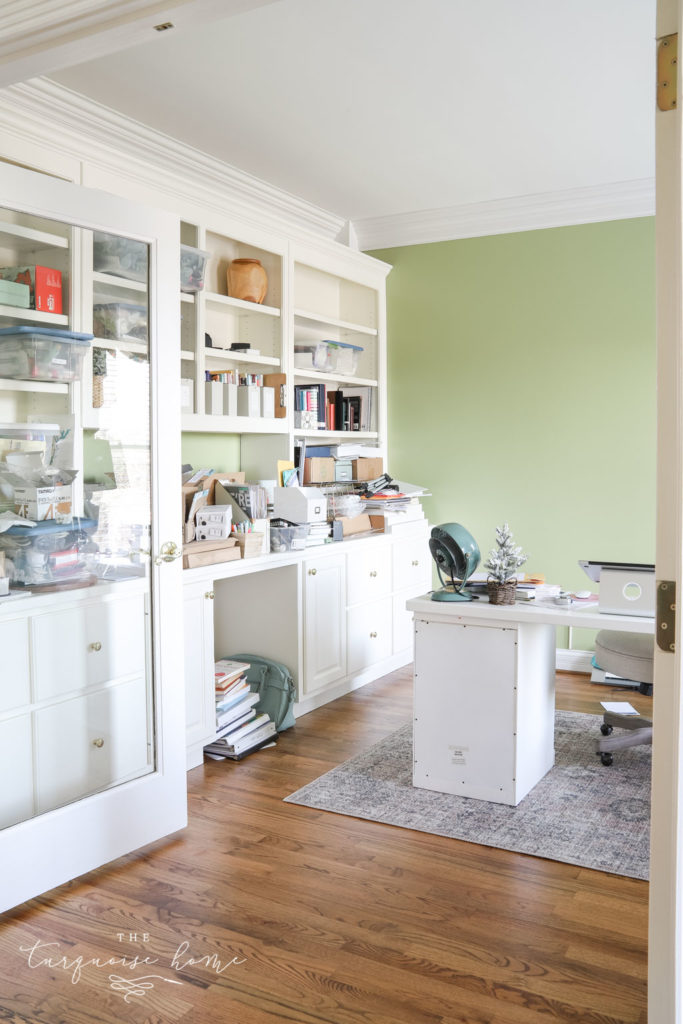 Those 8 deep drawers in my office built-ins are a storage dream come true. Let me tell ya! As someone who has maybe 1 drawer worth of files, I can't wait to have all of my crafting and DIY supplies stored in them!
Rounding out the main floor is the powder bathroom (I've always dreamed of a powder bath for guests!) and our master bedroom…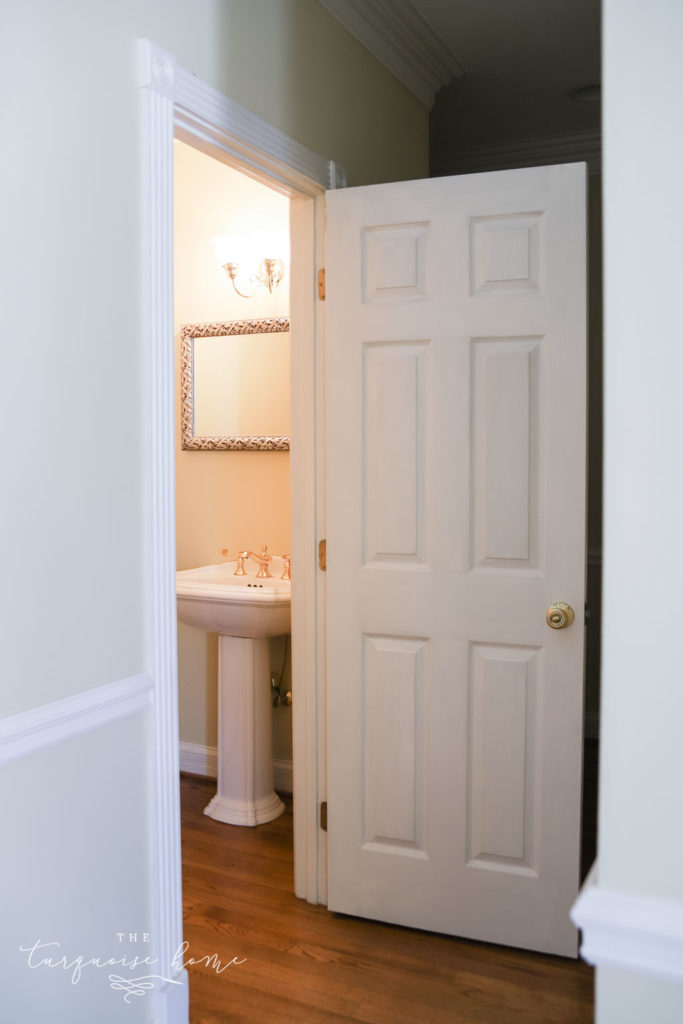 Our master bedroom is similar in size to our previous bedroom, but I love that it has designated uses of the room. The windows on each side of the bed were a big wish for me when looking for a house.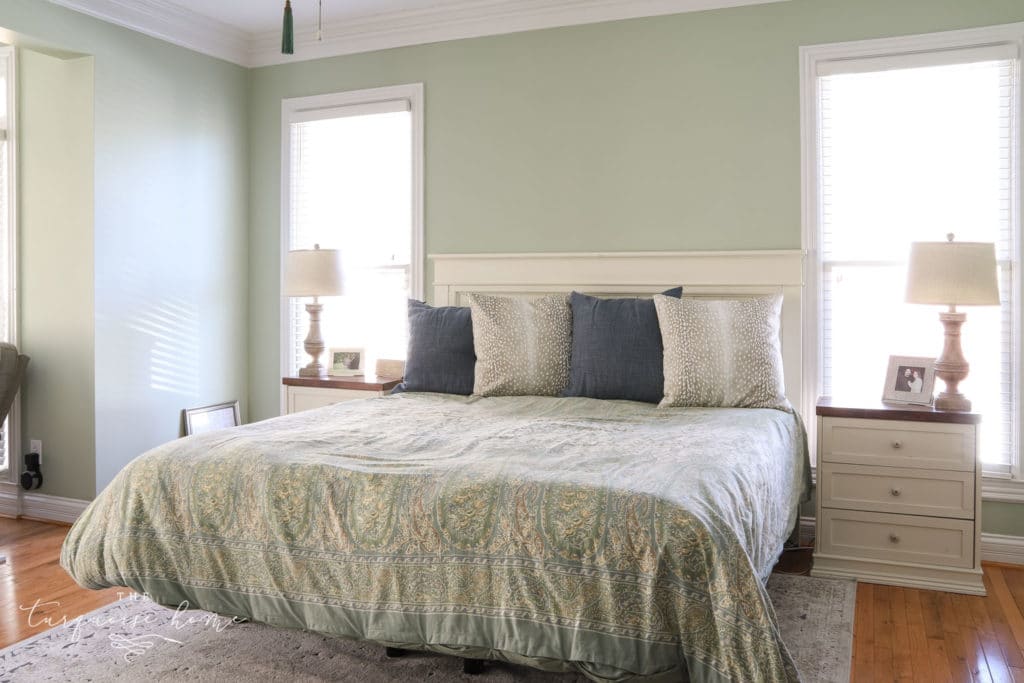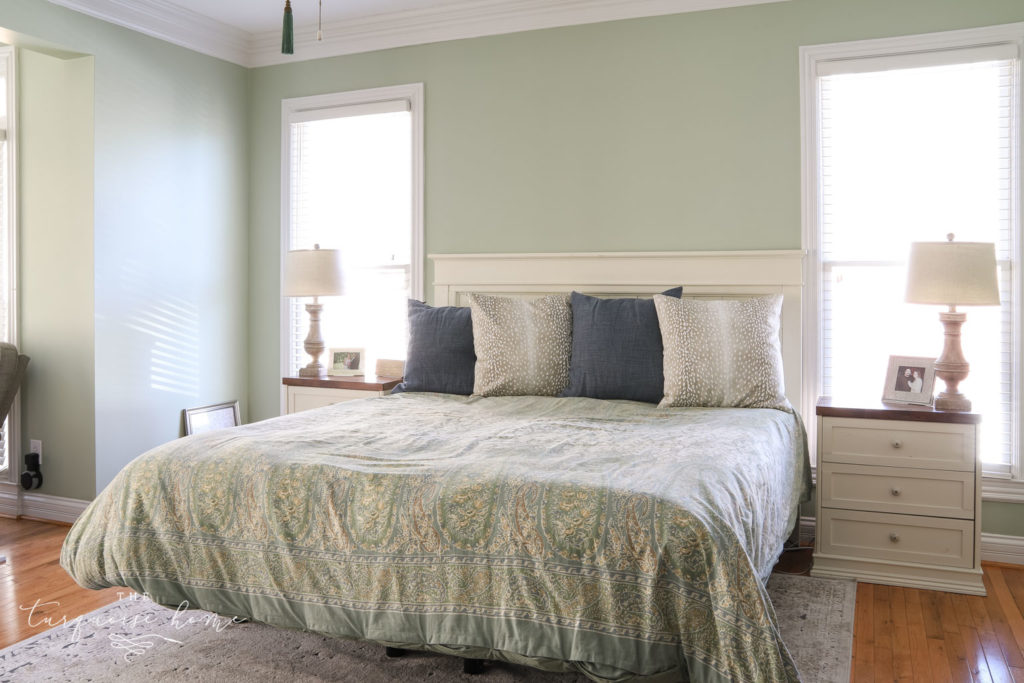 And then our seating area overlooks the backyard and the woods and has a doorway to our screened-in back patio.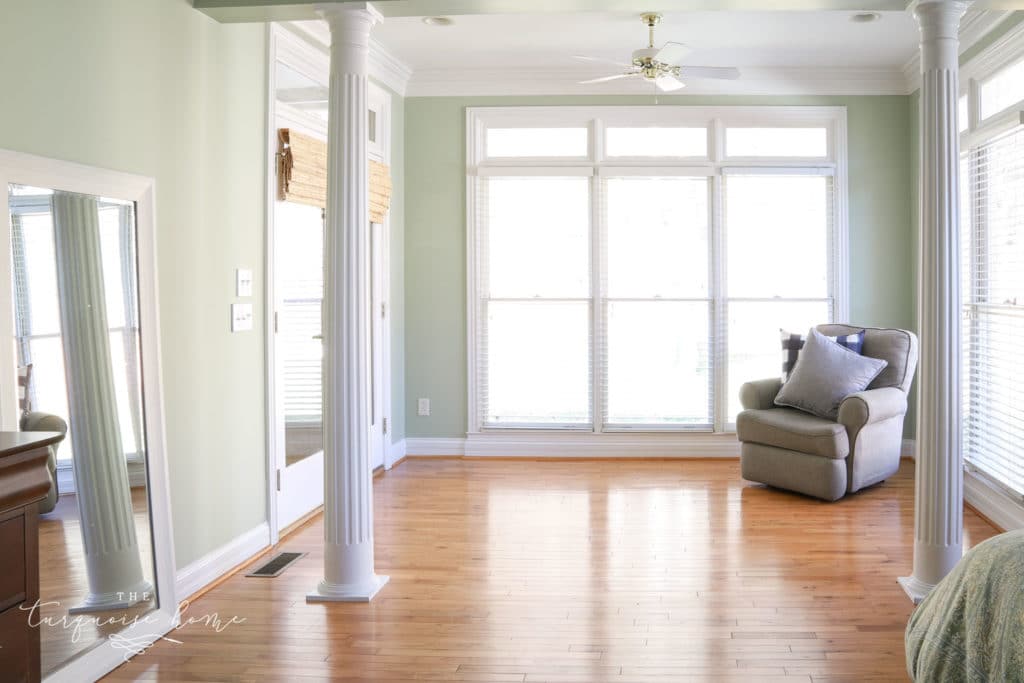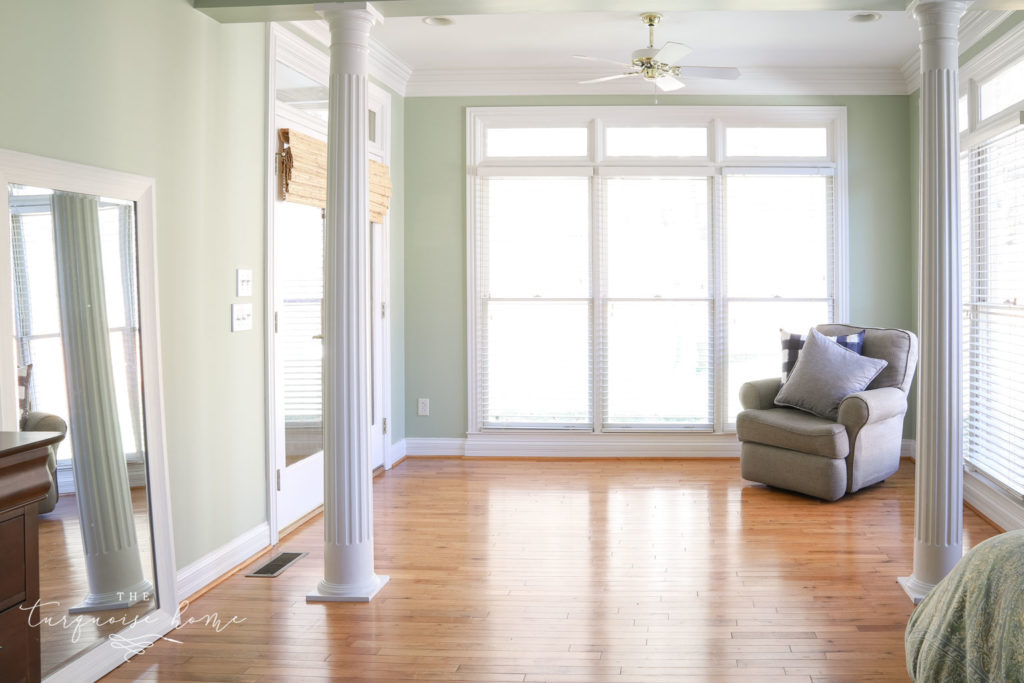 I'd LOVE nothing more than to knock those columns down today. 😆 I swore I'd never buy a house with columns. But thankfully this home only has two! And we hope to see if they are load-bearing and take them out soon. We'll have to patch the floors when we do, and refinish them in the bedroom because they installed the floors around the columns. But, one day at a time. The view is gorgeous and we love the space!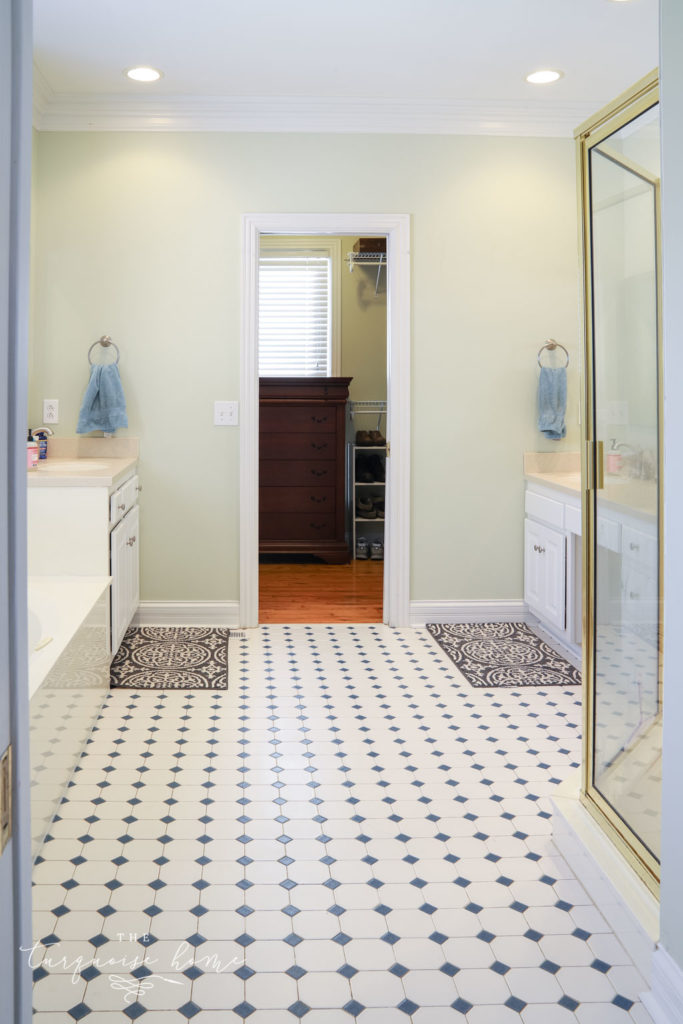 The master bath and closet off of the master bedroom are a great size. I'd love to paint those tile floors and all of the shiny brass as a phase 1 project!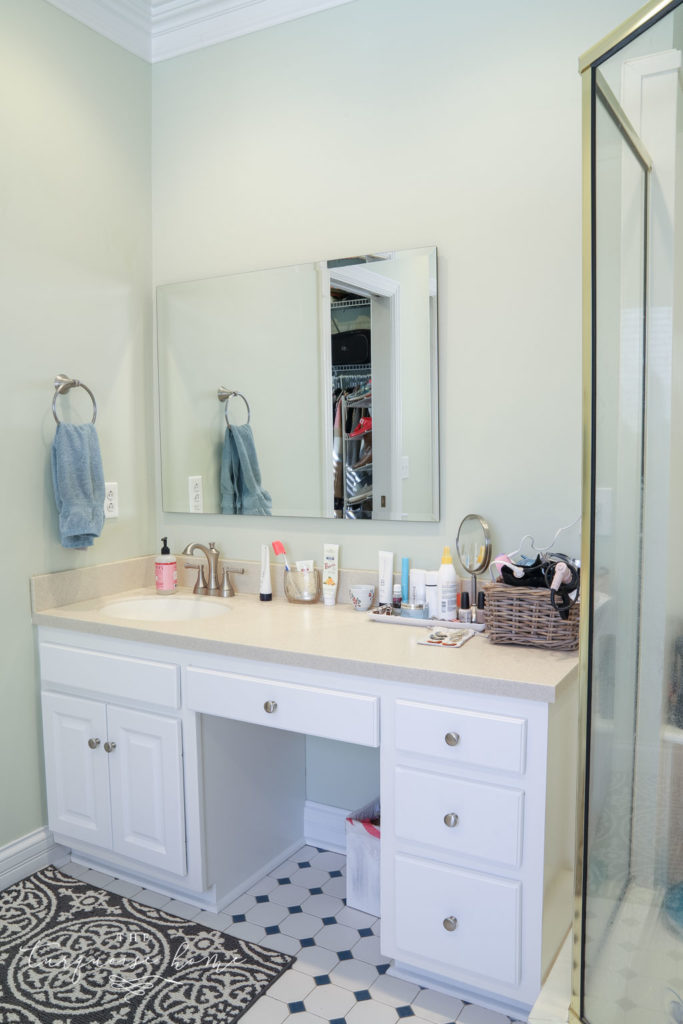 And the master closet is a little bigger than our previous closet. The 9-foot ceilings help with vertical storage. And I obviously still need to do some organizing in here. (Don't mind the pile of stuff on the shelf. 🤦🏼‍♀️) Someday I'd love to have a custom closet system in here!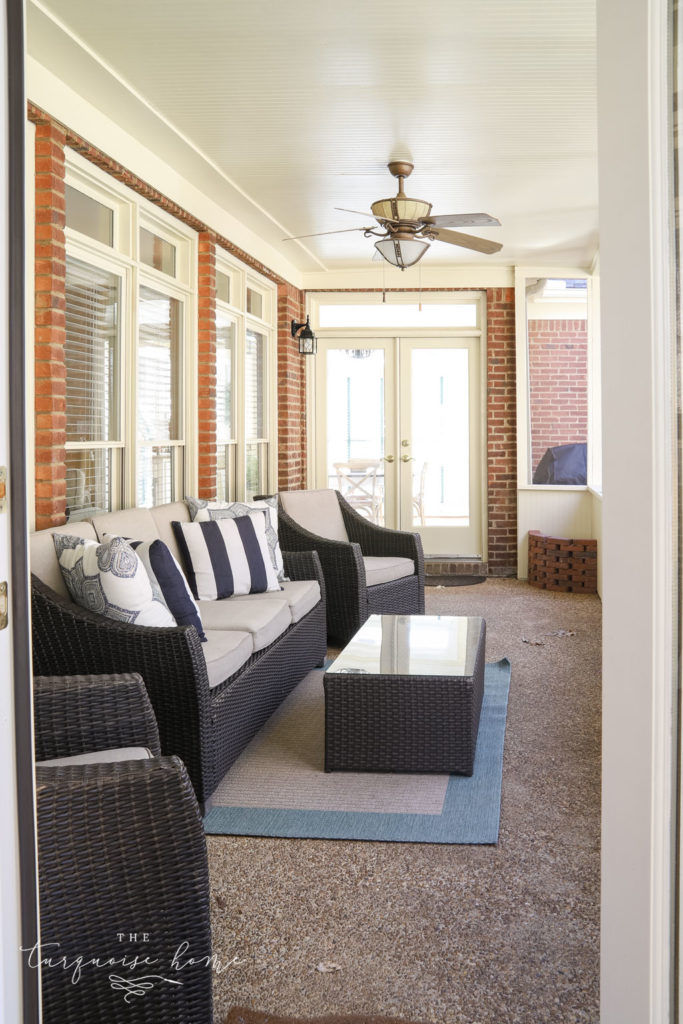 We LOVE this outdoor space and hope to host many parties back here with friends and family.
The stairs from the kitchen lead up to 3 bedrooms, two baths and a loft space. Can I just say that I love that the stairs lead down into the kitchen, instead of the front of the house? Whoever picked that option when building is a genius in my book.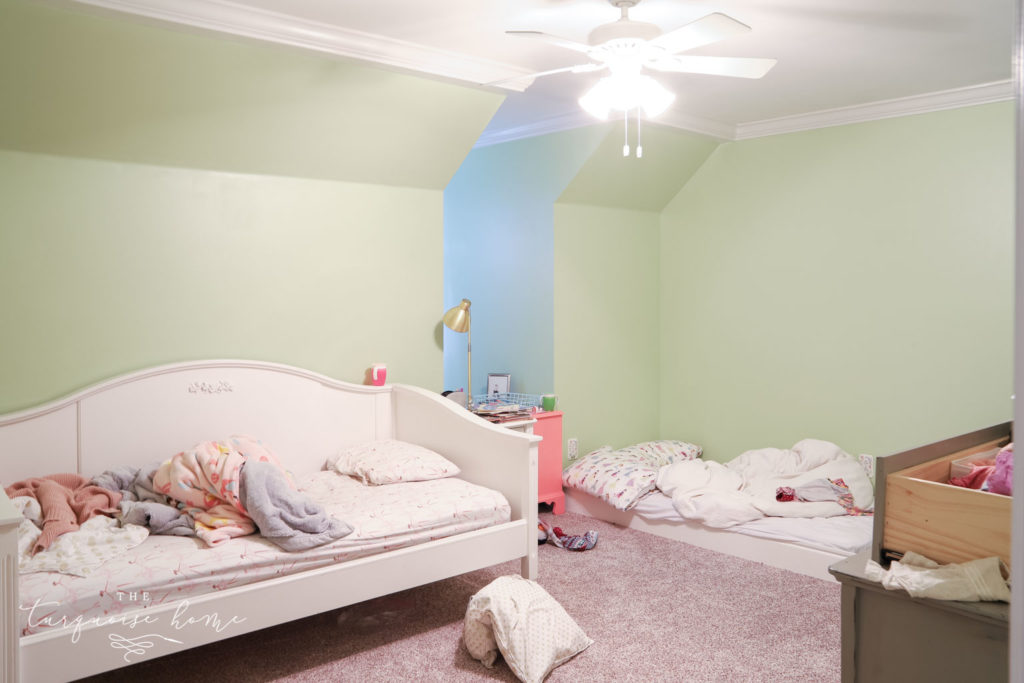 The girls decided they wanted to share the room with its own bathroom. So far, so good! I didn't even attempt to pick up or make their beds for this photo, so this is what it looks like 95% of the time. 😜 We plan to get them bunkbeds in the not-too-distant future.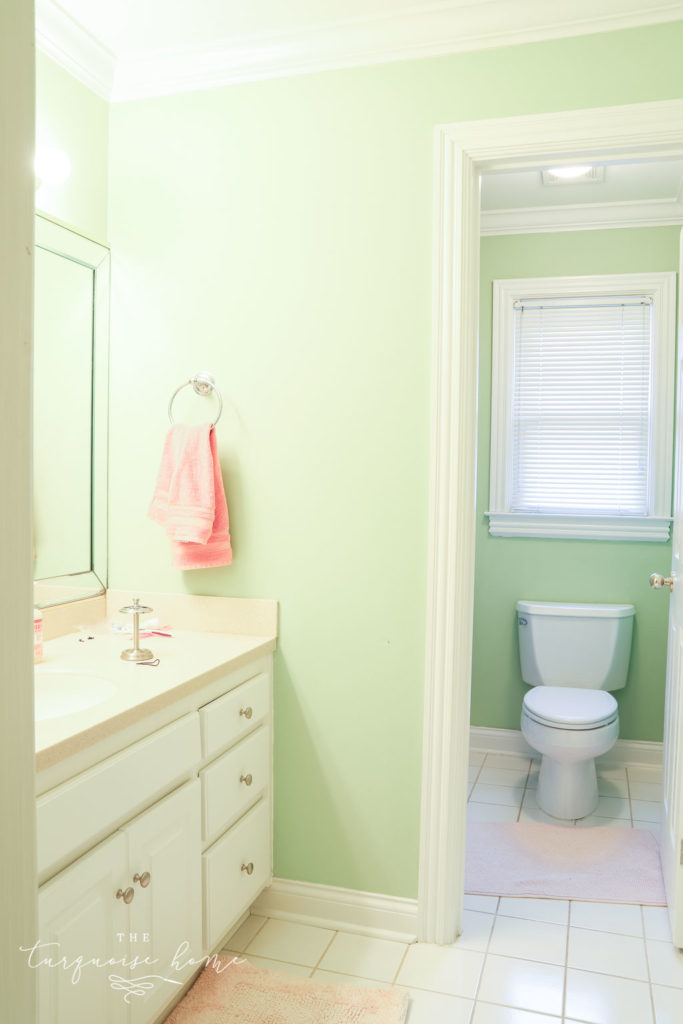 I think they will get tired of this option in a few years, but for now they chose to share a room and make the other bedroom their play room.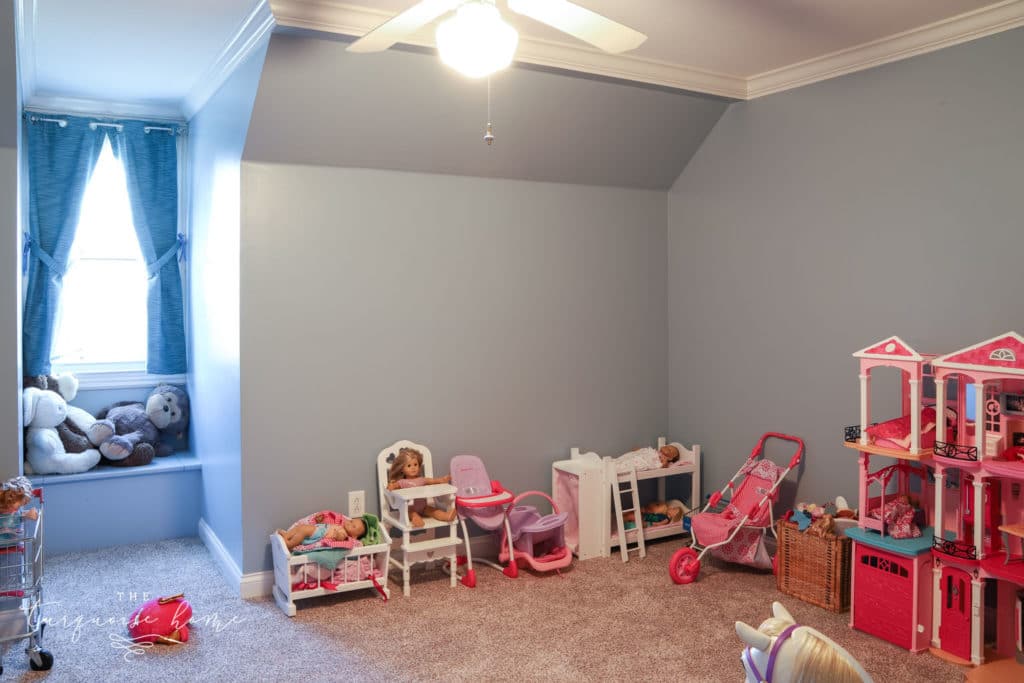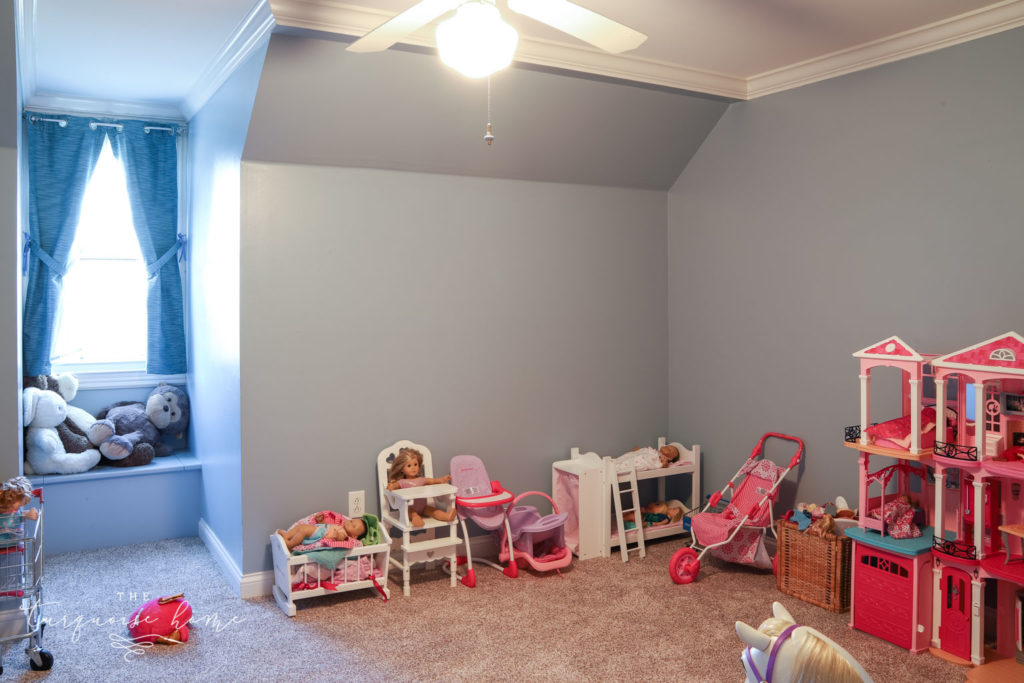 Then the loft space is being used as a TV room/reading nook. Our old sofa fits perfectly up here and all of their books are tucked nicely in the bookcase under the TV.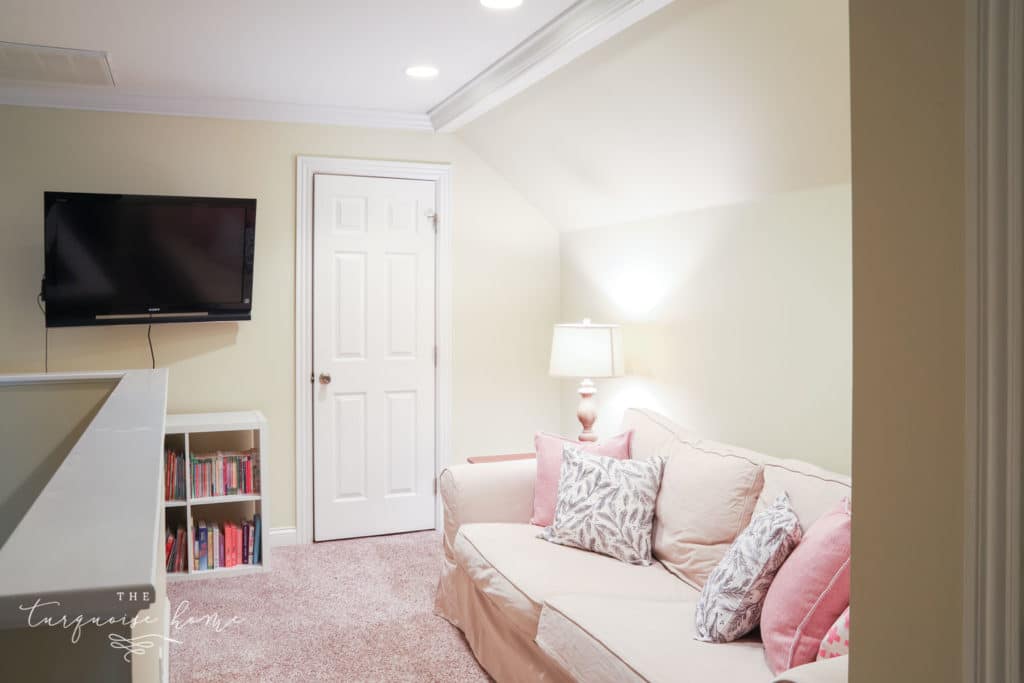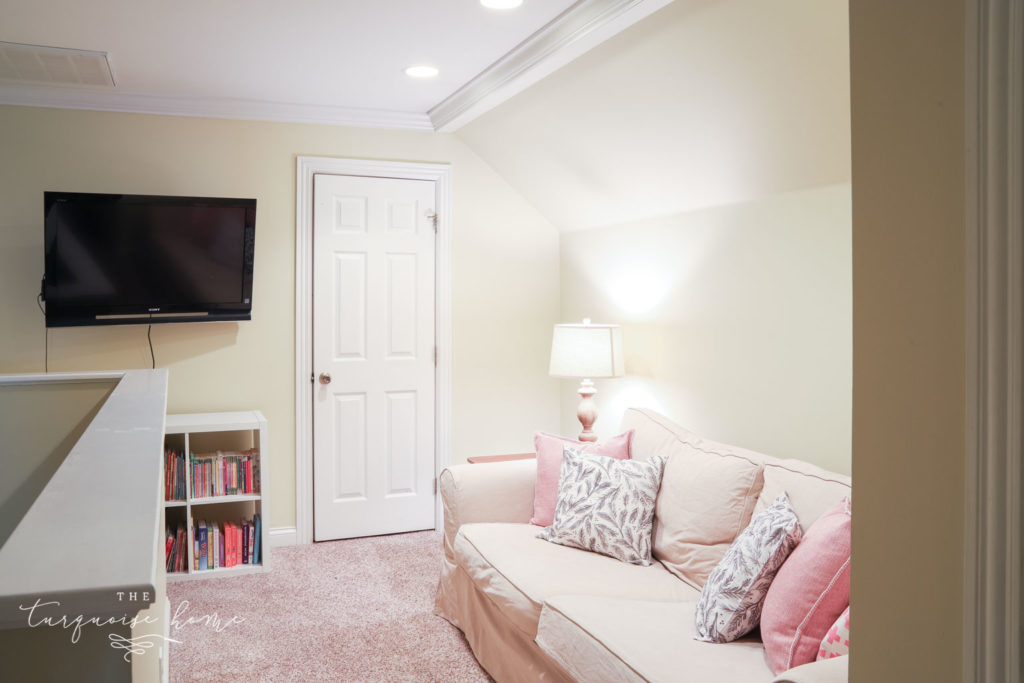 I really love how this space turned out so far. That door next to the TV leads to a large cedar closet, which currently houses all of my decor. And then off of that is a large walk-in attic space. The storage is ahhh-mazing in this house!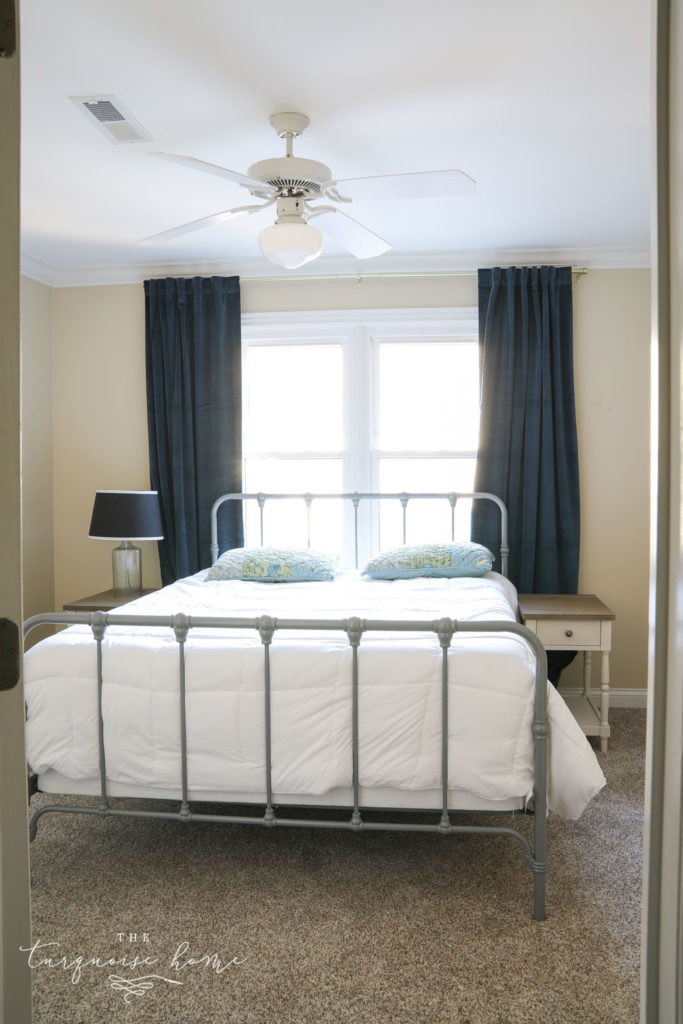 The guest bedroom is something I've dreamed about forever! In our last house my office was in the 3rd bedroom and it was always a mess because I didn't have enough storage for all of my office stuff & decor. So, high up on my wish list was a dedicated guest bedroom. We have a lot of friends and family out of town, so being able to host them comfortable will be such a blessing!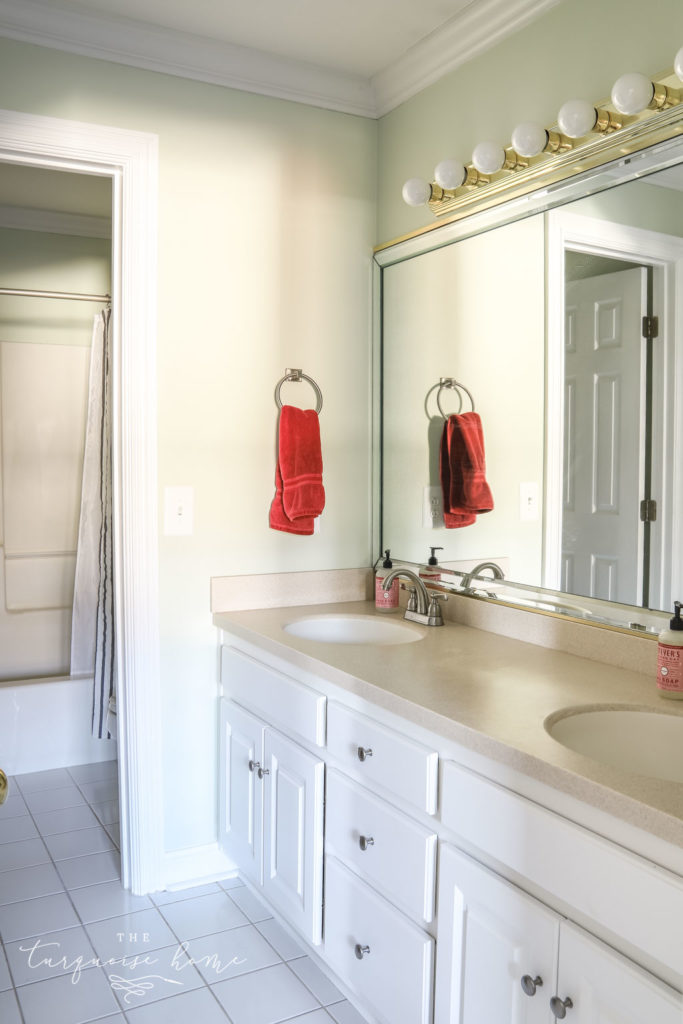 It even had an adjoining bathroom, which also exits into the hallway, so it can be shared with the 2nd bedroom upstairs.
The new home tour is now complete!
Thank you so much for being so excited for us as we shared about the move, and then as I've taken some time off to get everything unpacked while doing all of the Christmas stuff! I'm so thankful that you're here and am excited to share the transformation of this house as I go room-by-room and make it our own space that we love!
xo, Laura & family
Shop My Home:
I've linked to as many items as I can find that are in my home, in case you'd like to know the sources. And if I missed anything, feel free to ask in the comments or e-mail me at [email protected]! This contains affiliate links for your convenience.

MORE POSTS YOU WILL LOVE:
Get Instant Access to my Guide to Customize Your Home on a Budget
Grab your FREE guide for 10 Ways to Customize Your Home on a Budget: simple projects to transform your home from builder beige to a home with character and charm!