Painting your living room doesn't have to be a painful experience! These are, in my opinion, some of the best living room paint colors out there!
It's incredible the vibe your home can give off with a fresh coat of paint. I know there are a lot of people who repaint all the rooms in their homes often because it makes them feel more relaxed and comfortable in the space.
This post contains affiliate links for your convenience. See my full disclosure policy here.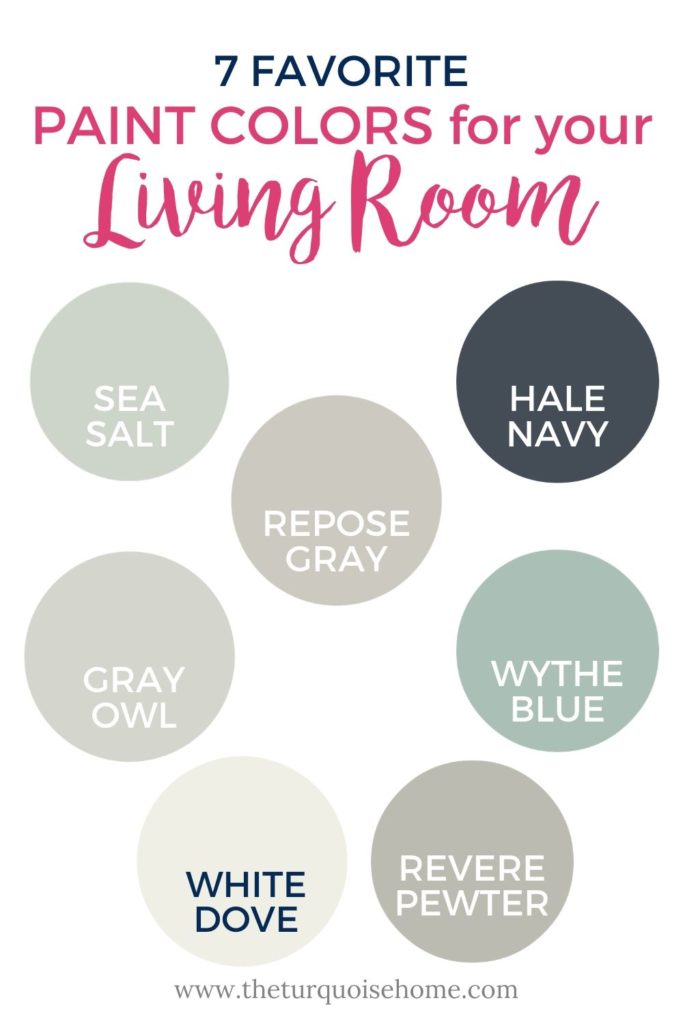 I've found that the living area is the one space in the house that tends to get the most makeovers as it's the first room many people first see when they walk in through the door. Also, living rooms tend to be one of the most lived-in spaces in a house, especially with guests and big families.
So, this tends to open up the need for touch-ups and new wall paint. The question that follows is what color paint should you choose?
Trust me, I understand. There is nothing worse than going through the trouble of painting a room only to hate the color on the walls! That's why I wanted to take my experiences with choosing living room paint colors and give you a heads up on the process and share some of my go-to colors.
NOTE: If you're painting the room yourself, these tools will help tremendously. And this post will give you my best tips for painting a room in 5 easy steps.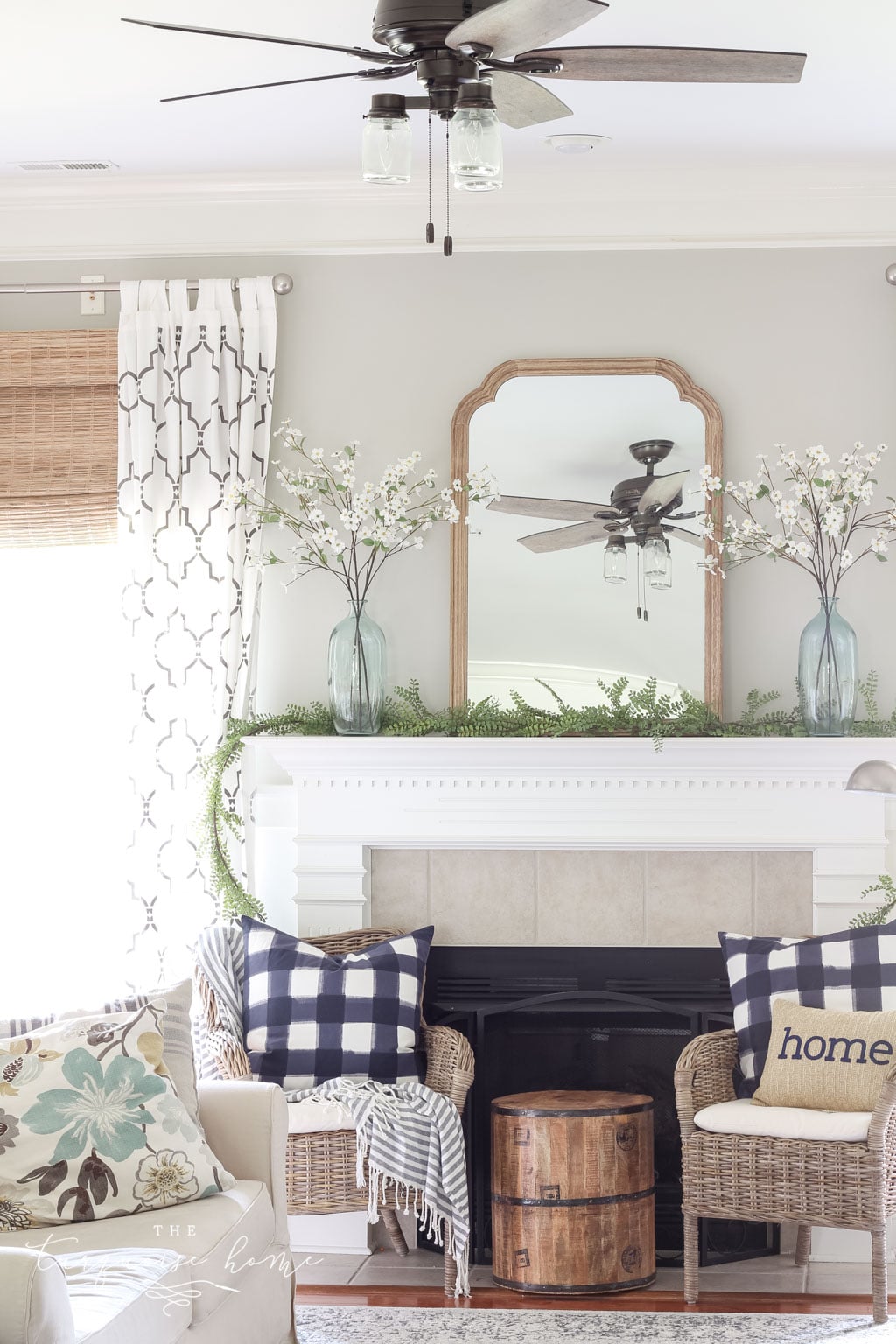 FREE BONUS!
5 Secrets Every Home
Decorator Knows
… to transform your home into your dream home!
New Paint Color For the Living Room
I just recently went through the process of choosing a paint color for my living room in my new home. The gold just had to go! 😜 Because we have a whole wall of windows and a whole wall of built-ins and a fireplace, that only left two walls for paint color and both of those have large openings.
So, I decided to go with a bold, blue color – one of my favorites that I've shared below.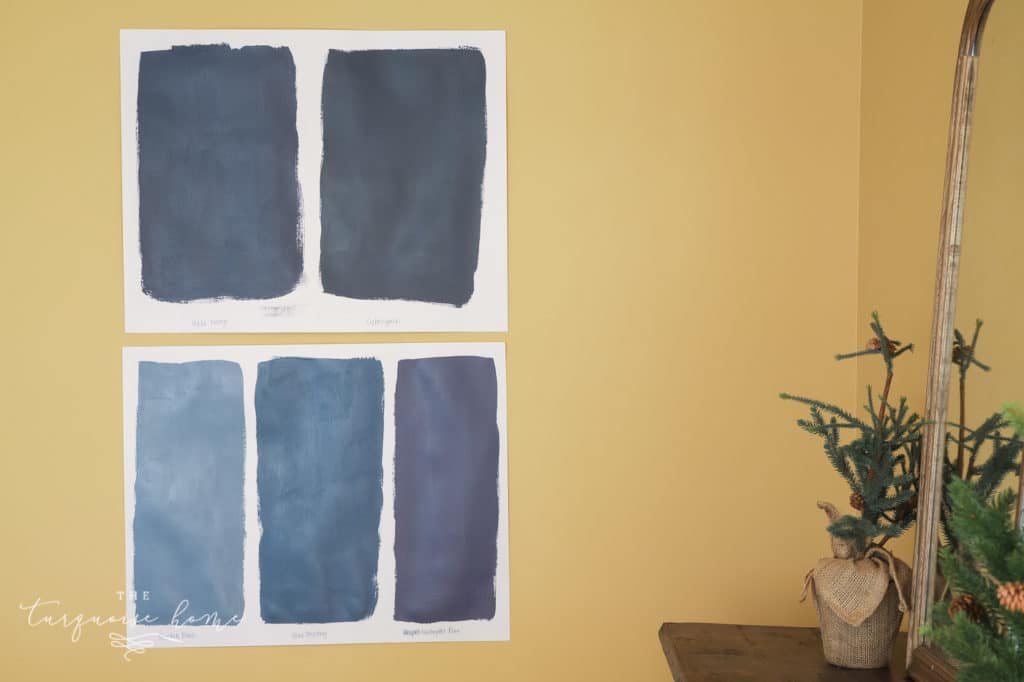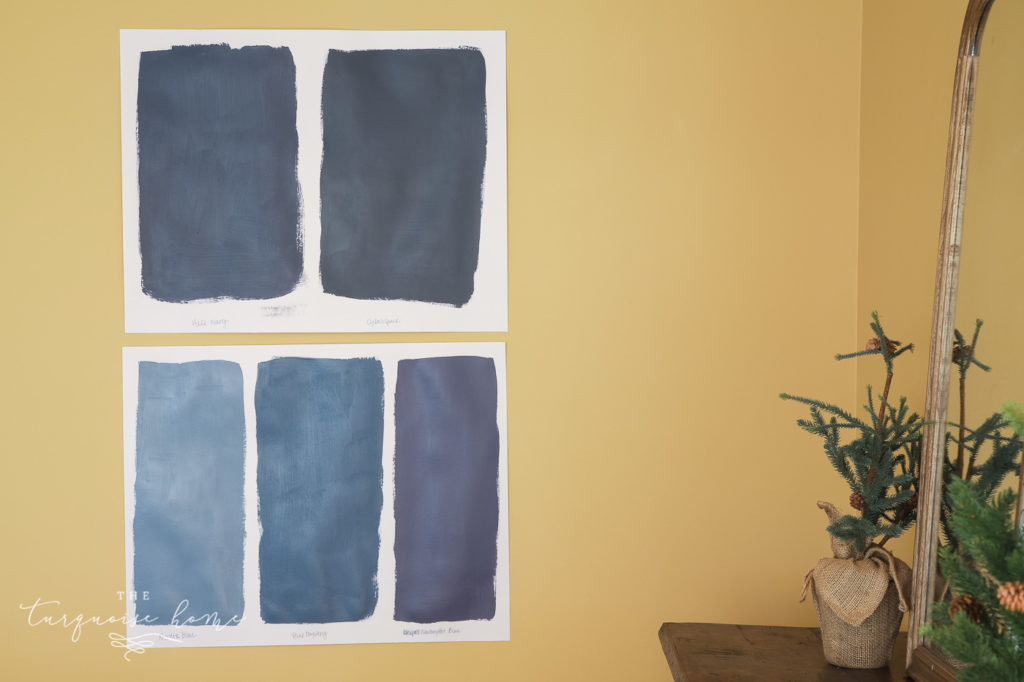 And that is Hale Navy! It's the top left color and you can see it in a living room below. (The other colors in the running were Cyberspace (SW – top right), Nordic Blue (SW – bottom left), Blue Mystery (SW – bottom middle) and Newburyport Blue (BM – bottom right).)
By the way, I always paint my top paint choices on a piece of white poster board before making my final decisions. This helps me to see it in the exact light and on the same plane that the color will eventually be. I will leave it up for a few days and move it around the room to see it on different walls as light will touch each wall a little bit differently.
I'm in the middle of painting it as I'm writing this and I'll be sure to come back and update this post with after photos when I've painted the walls! I think it's going to be gorgeous!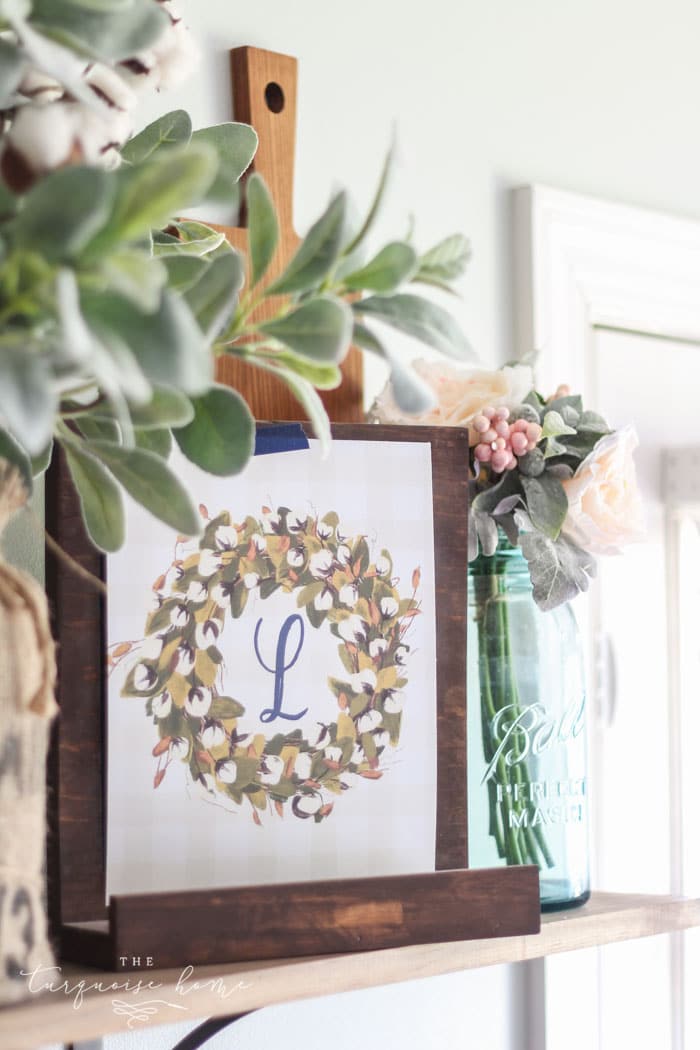 The Home Decorator's Free Printable Library
Get 40+ beautiful FREE printables for every season and every room!
The Best Living Room Paint Colors
Let me first say that as long as you are happy with your paint choices, that's truly all that matters. 🙂
I want to help those who are struggling with making a decision. Picking paint colors is hard! I know. I shared my whole paint journey with you guys so you know you're not the only one.
But, don't worry. While picking paints can be stressful, it's okay! I'm here to help and give you some inspiration. This will save you hours of standing in the paint aisle looking at paint chips too.
Okay, let's get started because you have some work to do!
Oh, there are so many reasons why I love Benjamin Moore White Dove! First of all, it's so inviting and will brighten your space without being overwhelming.
It looks gorgeous in your living room or any other room in your home or office. You can pair White Dove with many other colors such as Classic Gray, Chocolate Fondue, Flint, Cheating Heart, Silver Lake, Horizon Gray, and Hale Navy. Because it's so versatile, the list of complementary colors goes on and on!
If you've been craving a pop of color in your living room, this Benjamin Moore Wythe Blue just may be the answer. The color is a blue-green hue that is out of this world amazing. It pairs nicely with white trim and accents, or you can go for a more dramatic look with dark wood.
I've used Wythe Blue in my own home because it's truly stunning! If you happen to have a lot of yellow or brown tones to your living room, you'll notice that it is more of a green color.
Some of the best pairings with Wythe Blue are Hale Navy, Sea Salt, Agreeable Gray, Repose Gray, Gray Owl, and Revere Pewter.
I couldn't give you a list of the best living room paint colors without including one of my ultimate favorite colors…Benjamin Moore Gray Owl! The versatility of this color is amazing.
It will take on several different undertones, depending on your space and additional accents and colors. It may appear to have a greenish or blueish tint. Often you will find it as a true gray color depending on the time of day and the surroundings in your room.
You can pair Gray Owl with Cloud White, Simply White, Chantilly Lace, Burnt Ember, Peacock Blue, and White Dove.
For all you lovers of greige, this is one of the most popular living room colors! It's warming and cozy! Looks lovely in large rooms, and sometimes you'll even notice a little bit of green that comes out in it. You can use this color to bring out earth tones or even make a room have a more blueish shade if there is a lot of light.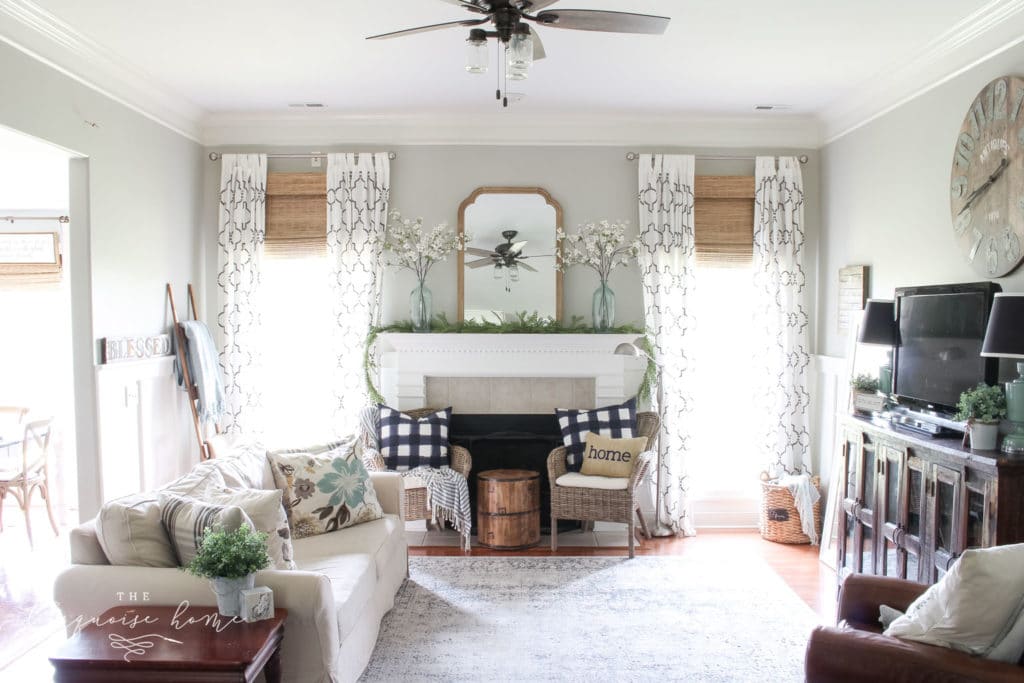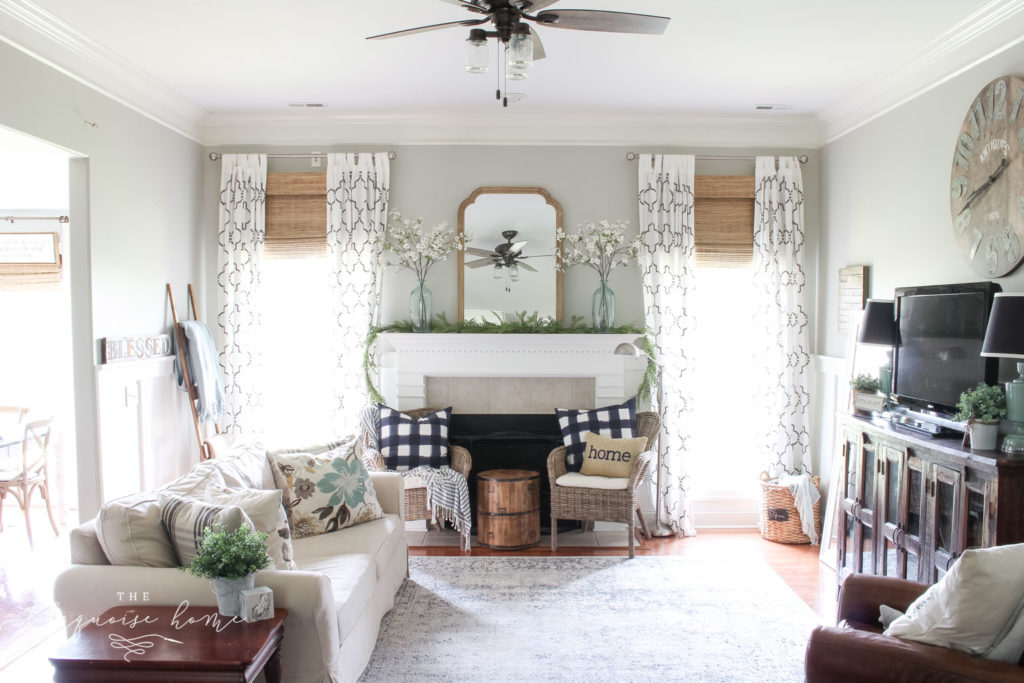 The options are endless with Benjamin Moore Revere Pewter, and that's why I love it so much. Revere Pewter goes with so many different colors that I can't even come close to naming them all. Some of my favorite combinations with Revere Pewter are Mink, Silver Gray, Raccoon Hollow, Chelsea Gray, Winding Vines, Cloud White, and Soft White. It's one of the most lovely living room paint colors because you can do so much with it.
In fact, I like this one so much I used it on my own living room (pictured above).
If you want a color that has a stunning impact on your living room, consider Benjamin Moore Hale Navy! The gorgeous color is a great way to add an accent color without being overwhelming. And it's one of my very favorite blue paint colors.
Whether you use it to accent one wall or paint some furniture in Hale Navy, it's sure to look incredible. (I'm painting my living room walls this color and will update it here when I finally take pics!)
You won't believe how easy it is to find colors that go with Hale Navy either! It's perfect for a variety of design styles and a go-to color for many interior designers. It goes beautifully with paint colors like Cloud White, Simply White, Gray Wisp, Spring Meadow, Wythe Blue, Fawn Brindle, Woodmont Cream, Hidden Oaks, Butterfield, Sea Salt and so much more.
When I think of Repose Gray, I get giddy because it will work with almost all rooms, styles, and lighting situations. It's a lovely color that is warm gray and has green and purple undertones depending on the lighting.
I find it to be one of the best living room paint colors because it's adaptable. It looks gorgeous with Sherwin Williams Coral Clay, Pavestone, and Elder White. You won't have any trouble giving your living room a facelift with this fantastic paint color.
As you can imagine, Sea Salt is a beautiful way to add character to your living room. It's a really popular color that has warm undertones and goes beautifully in bright rooms as well as darker rooms. Keep in mind that it will look completely different depending on how bright the room is and what other colors you are using.
Some gorgeous colors that go well with Sherwin Williams Sea Salt are Stardew, Kilim Beige, Malabar, Fleur de Sel, Summit Gray, Accessible Beige, and Spare White, all from Sherwin Williams.
There you have it! Several living room paint color ideas that are perfect for any home! Choose colors that are more grays, whites, blues, and even light greens or opt to go with bright colors depending on your preferences. These are some of my very favorite colors for living rooms and wanted to share.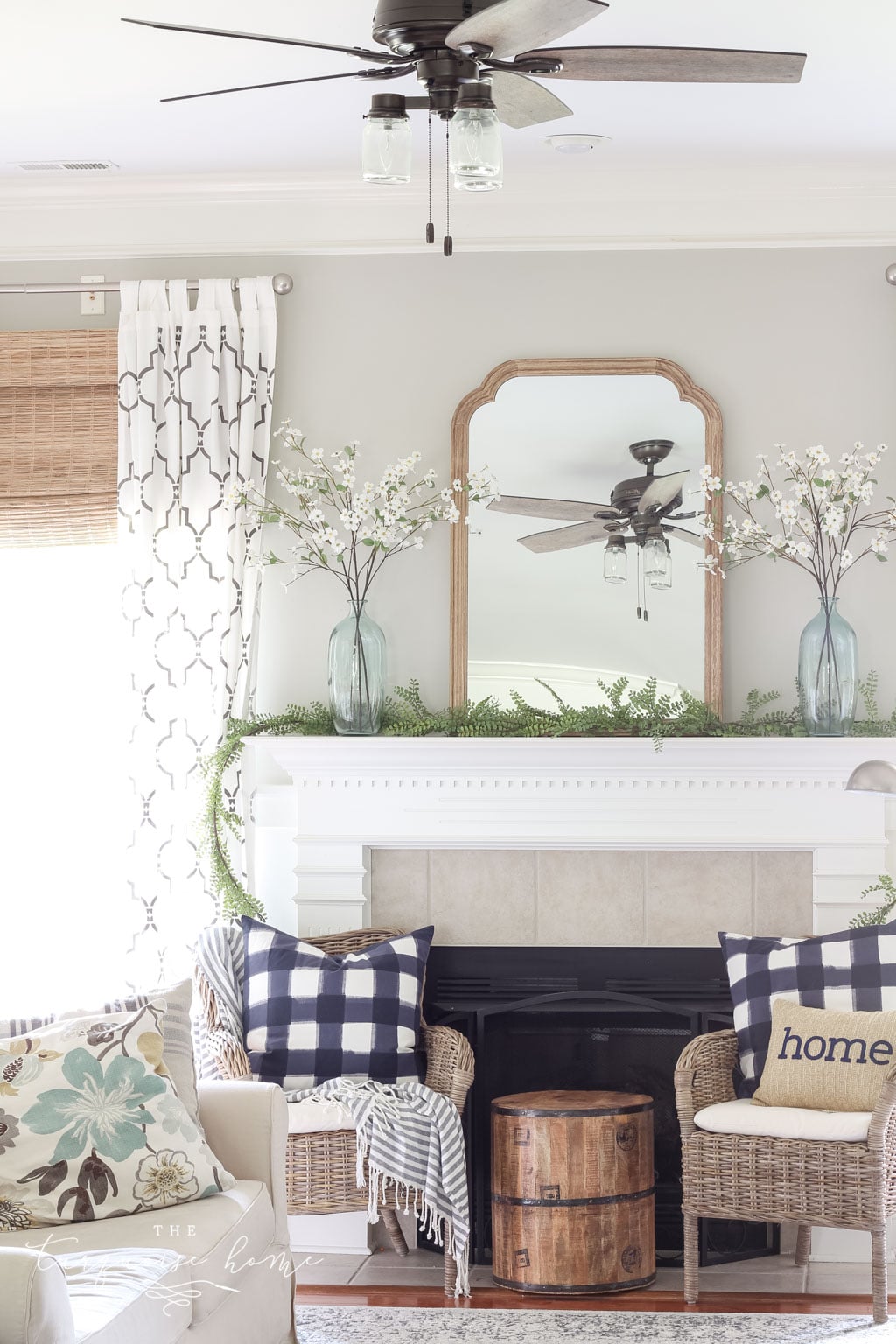 FREE BONUS!
5 Secrets Every Home
Decorator Knows
… to transform your home into your dream home!
Tips for Painting a Room Yourself
I've gathered some of the best tools for painting a room yourself. First of all, you'll want to check out this post I wrote: Painting a Room in 5 Easy Steps. These tools are the top tools I use when painting my own rooms, which is how they get painted 95% of the time!
Paint Brush – These paint brushes are a little more expensive than your basic brush, but they're worth it! I've used these brushes for more than a decade and if you wash them out well after each use, they will last for years.
Painter's Tape – a MUST have for taping off edges. You'll need to tape off all edges if you don't have a steady hand.
Drop Cloths – a must have if you don't have any laying around the house already.
Paint cup – Sure you could use any old cup, but I've come to swear by this one. The magnetic piece holds your brush cleanly in place when you need to take a break. And it fits my hand perfectly, keeping it from cramping.
Roller Tray – I've found the only paint tray I'll ever use again. The magnetic piece is great for holding the roller in place. And the liners are a luxury, but I won't paint without them because it makes clean up a breeze!
MORE PAINT COLORS YOU WILL LOVE: