Everything You Need To Know About Built-in Bookshelves
Built-in bookshelves are a design trend as sure as hardwood floors. They simply will never go out of style! Most often simple and elegant, they're not only an aesthetic design feature but are also incredibly useful.
Just about every homeowner aspires to have built-ins in their home for their next renovation or make it a must-have when shopping for a new home. Many people worry that they'll be an expensive or difficult addition to the home, but it doesn't have to be that way! All it takes is a little bit of creativity and an eye to see the design possibilities.
The reason built-ins are such a great investment in a home is because they are not only beautiful, they are functional as well! There's nothing better than having a beautiful landing spot in your home that pulls double duty for hidden storage.
And whether or not the built-ins have cabinets or not, you can always use baskets or boxes to store items in plain site!
This post contains affiliate links for your convenience. See my full disclosure policy.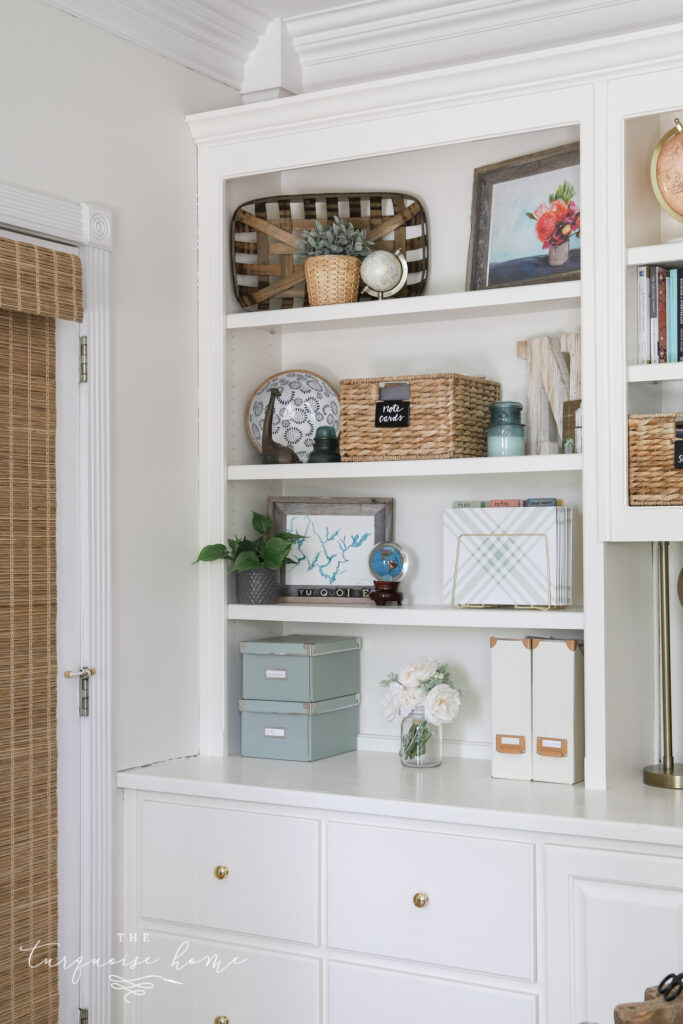 There's an art to making open shelf storage look beautiful, but I shared my methods in my Simple Formulas for Styling Bookshelf Decor. You can do it too!
Shop my Favorite Boxes and Bins

What is a Built-In Bookcase?
Built-in bookshelves are a wonderful thing to have in the home. From the living room to the office, they offer plenty of storage and a place to display your favorite objects. Most built-in bookshelves extend from the floor to the ceiling, some completely shelving and others with cabinetry at the bottom.
They're permanent fixtures, meaning they cannot be moved like other bookcases. Typically, they're encased on three sides with the front exposed. The sides can either be the wall or the side of the bookshelf.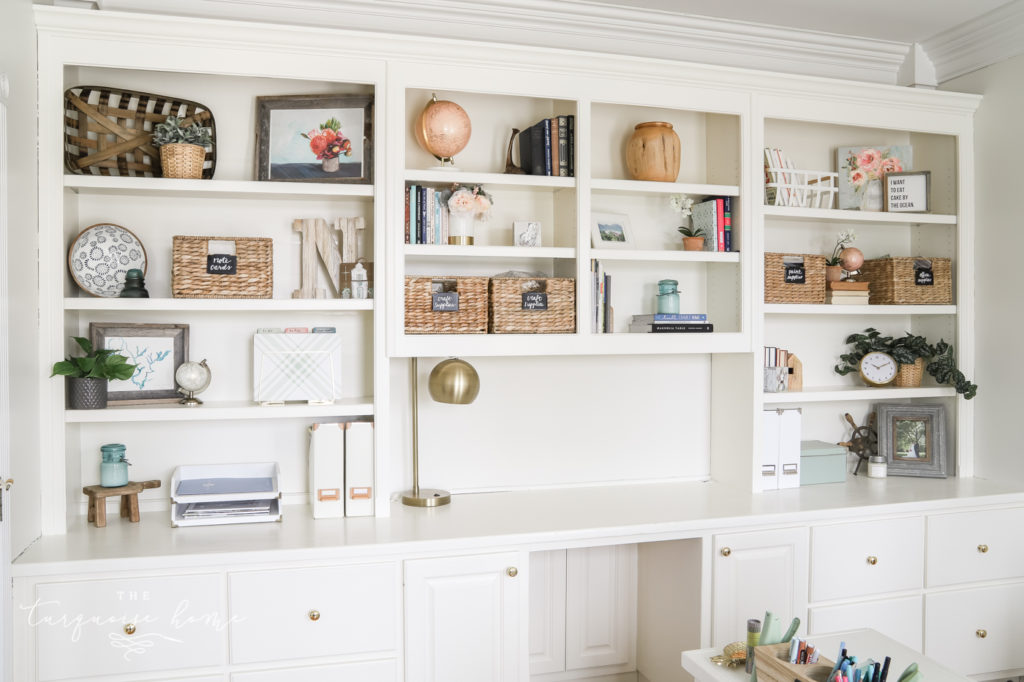 What are the Benefits of Built In Bookshelves?
Built-ins are by far the most beautiful storage out there. They blend seamlessly into your home's foundation and quickly become an integral part of the room. When customized, they can go in just about any space and fit right in.
Most people use them for storage, either adding cabinetry or stylish baskets and bins to hold extra belongings. You can also use them to show off your best objects and to display decor. People have so much fun decorating bookshelves, and it's really a place to let your decorative side shine.
Built-ins can be made however you want them to be. Some people even incorporate seating into their built-ins or completely close them off for hidden storage. Really, they're a luxury that every single homeowner should have.
Where to Use Built In Bookshelves?
You can place a built-in bookshelf just about anywhere you like! They're a great way to utilize space and act as a focal point for the room. Here are some ideas to get your inspiration gears running:
Living room: the most popular room to see a built-in, they typically fall on either side of a mounted TV or fireplace mantle.
Home office: turn your office into a bookworm's getaway by placing built-in bookshelves along one wall of your office and filling it with books. You can see how I styled my own office's built in bookshelf here!
Kid's room or nursery: a small built-in for a kid's room allows for tons of storage for their toys, books, and even clothes.
Laundry room: add built-in bookshelves along the top of your washer and dryer for plenty of extra storage for linens.
Bathroom: a small built-in bookshelf in the bathroom can be used to house extra towels and toiletries.
Kitchen island: add some almost hidden shelves to one end of your kitchen island for storage for cookbooks and magazines.
Dining room: display your best china and add extra storage for dishes outside of the kitchen.
Nooks and crannies: honestly, built-in bookshelves can fit pretty much anywhere. For extra storage or to spice up blank space, make a small built-in as narrow or small as necessary. This is great for hallways!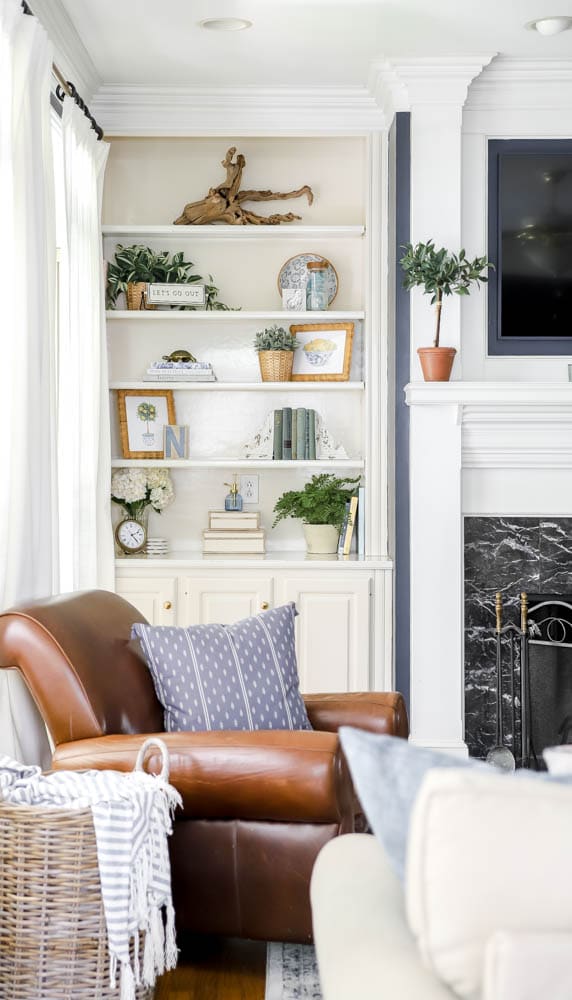 Click/Tap the Images below to shop my Living Room:

How to Install Built-in Bookshelves
Built-in bookshelves can quickly get pricey, especially when you have them custom built and installed into your home by a professional. However, I've seen tons of amazing hacks online for how to build them yourself, which makes the cost go down significantly.
If you want to make a custom bookshelf, try out this tutorial from Henry of Plank and Pillow. Henry made his own unique built-in for his office and takes you through the steps he did to make it.
One of the easiest ways to get that built-in look is to use the Billy bookshelves from Ikea. Lauren from Bless'er House used them in her playroom/media room, and you can't even tell they're not custom-built for her home!
I also love these built-in bookshelves made by Katrina Blair. She used ready-made upper kitchen cabinets to make her bookshelves in her living room.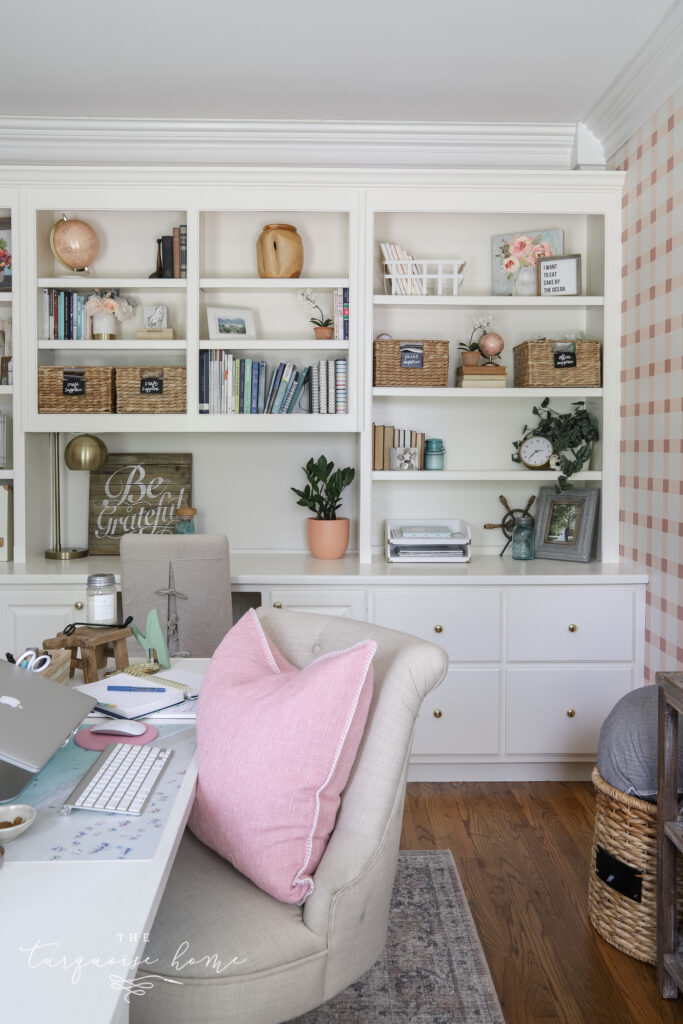 Built-In Bookshelves Decorating Ideas
Now for the fun part! When you have your built-in bookshelves ready to go or are trying to envision how you will utilize the space, here are some great decorating ideas
Wicker baskets: these are great for open shelves that don't have their own storage cabinets. Use these in laundry rooms, bathrooms, and playrooms to store items while keeping them easily accessible and out of sight.
Hardware: if you do have built-in cabinetry, try to brighten things up with fun hardware. Add a pop of color or a metallic finish to make them a statement all on their own.
Picture frames: place horizontal and vertical frames amongst your shelves. Showcase family photos and adventures or frame prints from artists.
Plants or flowers: adding a touch of greenery, real or fake, will instantly add some naturalistic elements to your room and make it alive…literally!
Candles: I love how versatile candles can look. From jars to candlesticks, adding elements of various heights and finishes makes your décor more exciting. But just be sure to remove your candles from your bookshelf before lighting it!
Vases: just like the candles, find different finishes, shapes, and heights of vases to showcase on your shelf.
Color-coordinated shelves: one of the easiest ways to make your shelf look that much more luxurious is by color coordinating books and items on each shelf.
Sculptures: from small figurines to abstract works of art, find sculptures that match your style made of all kinds of materials, including clay, metal, wood, porcelain, etc.
Keepsakes and antique finds: to really make your bookshelf unique to you, place some of your mementos, heirlooms, and cool finds out on display.
You can see even more ideas for decorating bookshelves here!
Shop my Favorite Boxes and Bins

Dreaming of adding a built-in to your home yet? Let me know your plans for your built-in down in the comments!
MORE POSTS YOU WILL LOVE: