10 Best Ideas for Decorating a Mantel With a TV Above It
Decorating a mantel with a TV above it can be a challenge. Keep the TV front and center and have a gorgeous home with amazing inspiration for TV mantel decor!
When you move into a new home, you have to decide whether to put the TV over the mantel. It can be determined for you by the location of the electrical connections. But sometimes it's simply a personal decision!
This post contains affiliate links for your convenience. See my full disclosure policy.
I've always resisted the idea of putting a TV above a mantel. But when we moved into our current home that was the only place it could go in our living room layout!
But when the Frame TV came along, it really changed the game for decorators. The age old struggle of whether or not to put the TV above the mantel was eliminated. Since this television displays art when not in use, it changes everything about decorating around a TV.
But, even if you don't have a Frame TV, you'll find lots of inspiration here. And you'll learn how to decorate your mantel around any big old television!
I love sharing home decorating ideas with you! More ideas for decorating your living room include choosing and styling sofa pillows, decorating end tables and styling a console table 4 ways. I hope they help you create a home you love!
Navigate this post by using the drop down Table of Contents below; and don't forget to pin this for later!
How to Decorate a Mantel with a TV Above It
The bottom line is that you want to keep things simple. When you're dealing with decorating around a big black box, too much decor will overwhelm the space. So less is more! But here are a few simple things to consider before we look at inspiration.
Add low, linear decor under the TV and anchor the sides with larger, taller decor of varying heights. The taller side decor can be symmetrical or asymmetrical, but it doesn't need to be overdone. A simple lantern, vase or greenery will work just fine!
Add sconces to the side of the TV. Use a battery operated light bulb or candle if you can't hardwire it. Or hire an electrician to hardwire the lighting.
Use a Smart TV that displays art, like the Samsung Frame TV.
Hide the TV completely. If you really don't like to see your TV all the time, make something to cover it.
10 Mantel Decor Ideas with a TV
1. Upgrade to a Smart TV with Art
This is the BEST option for decorating your mantel with a TV. It may not be in everyone's budget, but wait for a sale. Or save up your money and get the TV that displays art when you're not using it.
Then you don't have to add much in the way of decor because your art is the focal point!
I tried to simplify my mantel decor this spring when I pared it down to two chinoiserie pots and boxwood topiaries. They let the art be the point of interest instead of overwhelming it with a bunch of decor.
2. Maximalist Decor
In this example, Thrifty Decor Chick added a low, linear decor piece in a wooden tray with topiaries on either side.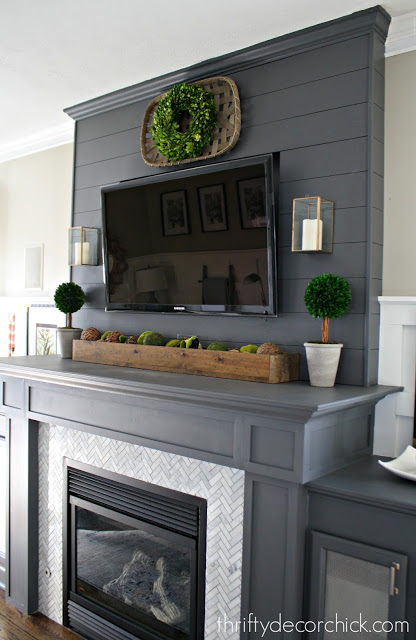 Then she added candle sconces, and a basket overhead! She also has shiplap millwork on the walls. This would be the most decorating I would do around a TV, but it's beautiful and it works!
3. Use Greenery to Soften the Harsh TV
Lauren from Blesser House decorated her mantel with pumpkins, magnolia leaves, and lanterns, making it look very pretty! The beautiful greenery adds a natural element to an otherwise harsh space.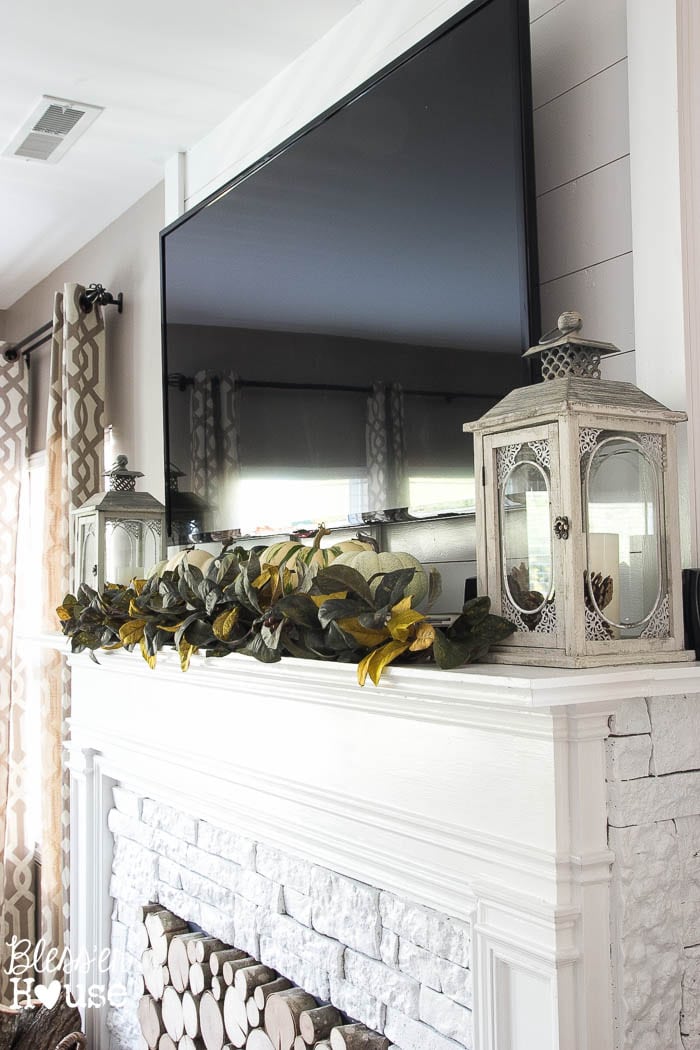 You can use any type of garland underneath the TV to achieve this look. Use an evergreen garland in the winter and a eucalyptus garland in the spring and summer!
4. Hang Garland in Front of the Mantel
Before I had a TV over the mantel, I always decorated on top of the mantel. So now, when it's time to pull out my Christmas decorations, I hang my garland in front of the mantel. And I think it's just as beautiful!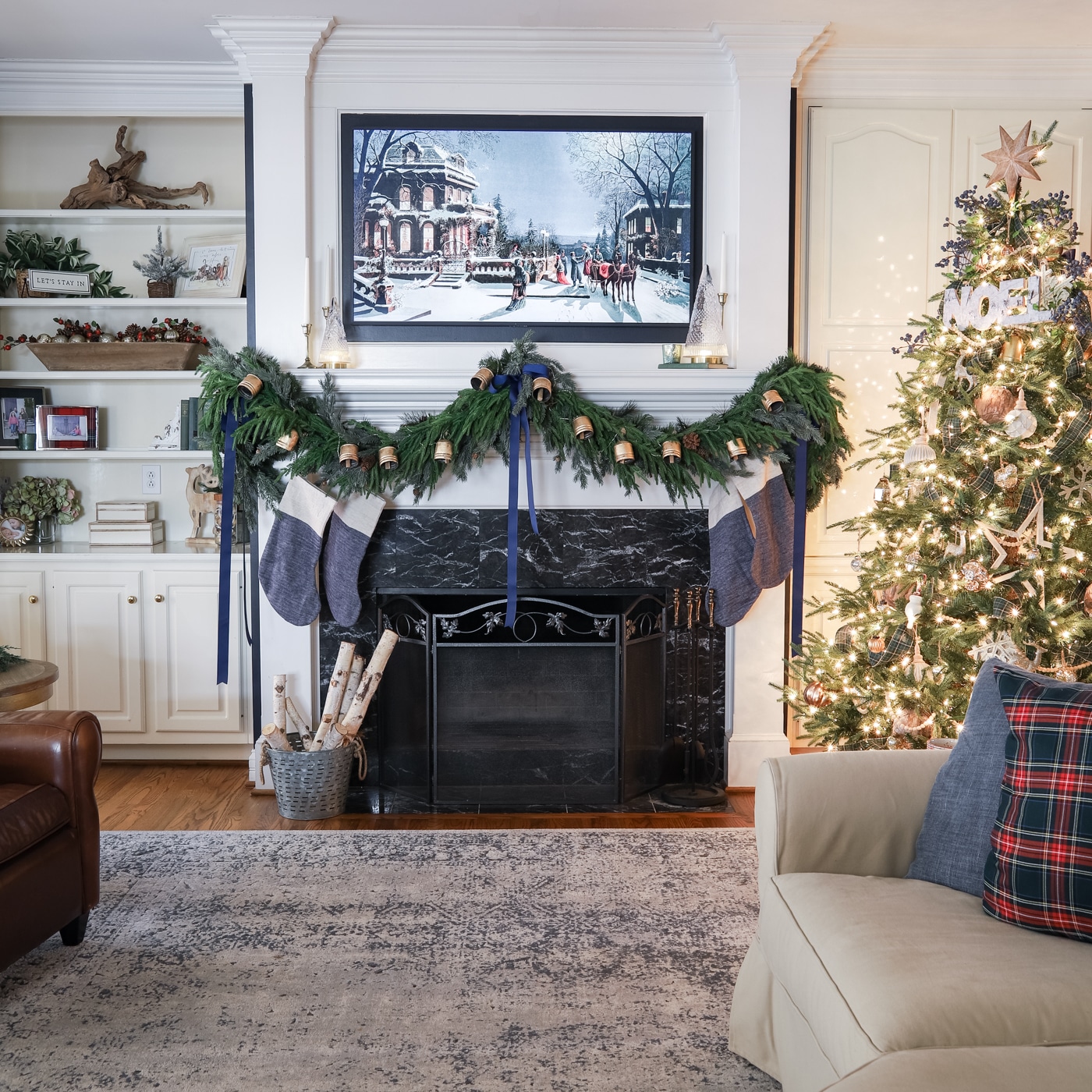 I filled in the corners of the mantel with glass fair isle trees, books and brass candlesticks. These add some decorative interest without blocking the view for anyone who wants to watch TV.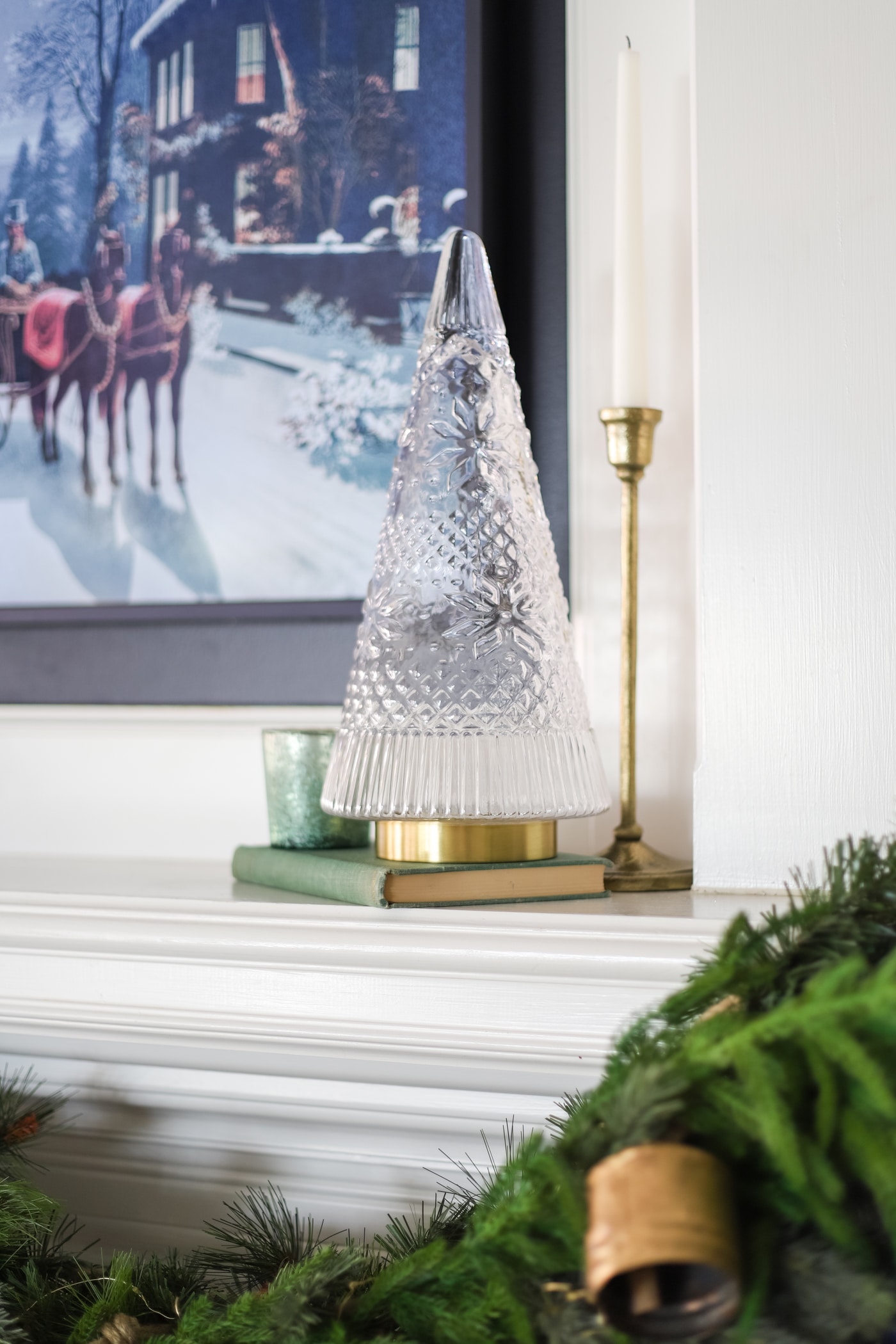 5. Frame the TV
Obviously you can purchase a frame for a Frame TV. But what if you have a different kind of TV? You can build a frame for it! It will level up any TV.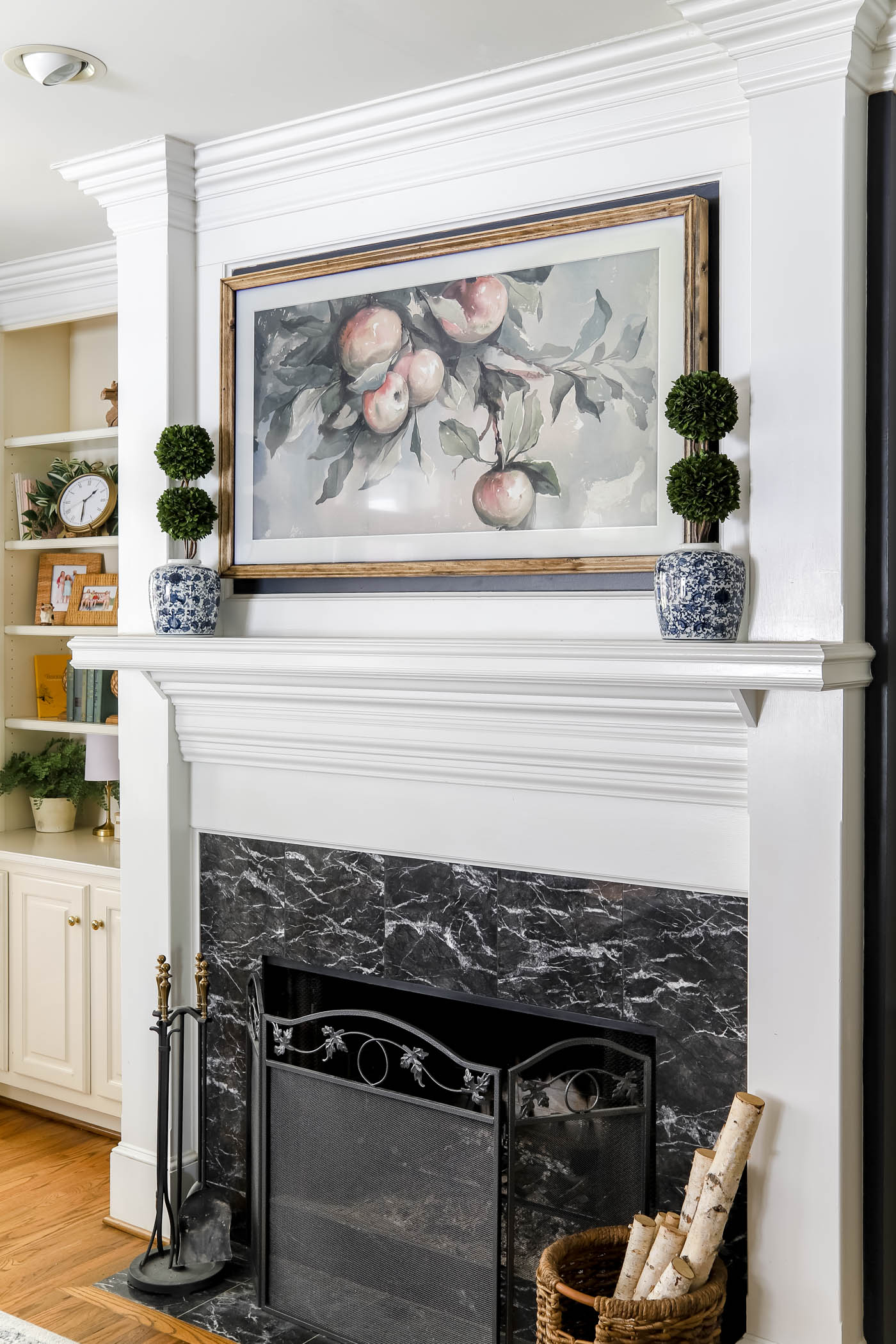 I actually built a frame for my Frame TV because I didn't like any of the ones on the market. And it just takes it to a whole new level. You can do this to any TV out there! If you're not into DIYing, you can buy frames for a Frame TV.
6. Add Sconces
If your fireplace surround has a beautiful millwork, using a couple of sconces highlights the beautiful trim! You don't need anything else.
Where to Place Sconces Next To A TV
When you hang sconces above the mantel, take into account the width of your TV and the mantel. Center the sconces in the gap between the edge of the TV and the edge of the mantel.
Height-wise, the sconces should be level with the top 1/3 (one-third) of the TV. The sconces should be 8-12 inches from the edge of the mantel and TV.
7. Use a Console Table and Lamps
If you don't have a mantel for placing your TV above, get a console table! And if you have room on either side, add a pair of lamps. Lamps provide a great back-lit glow in the evening.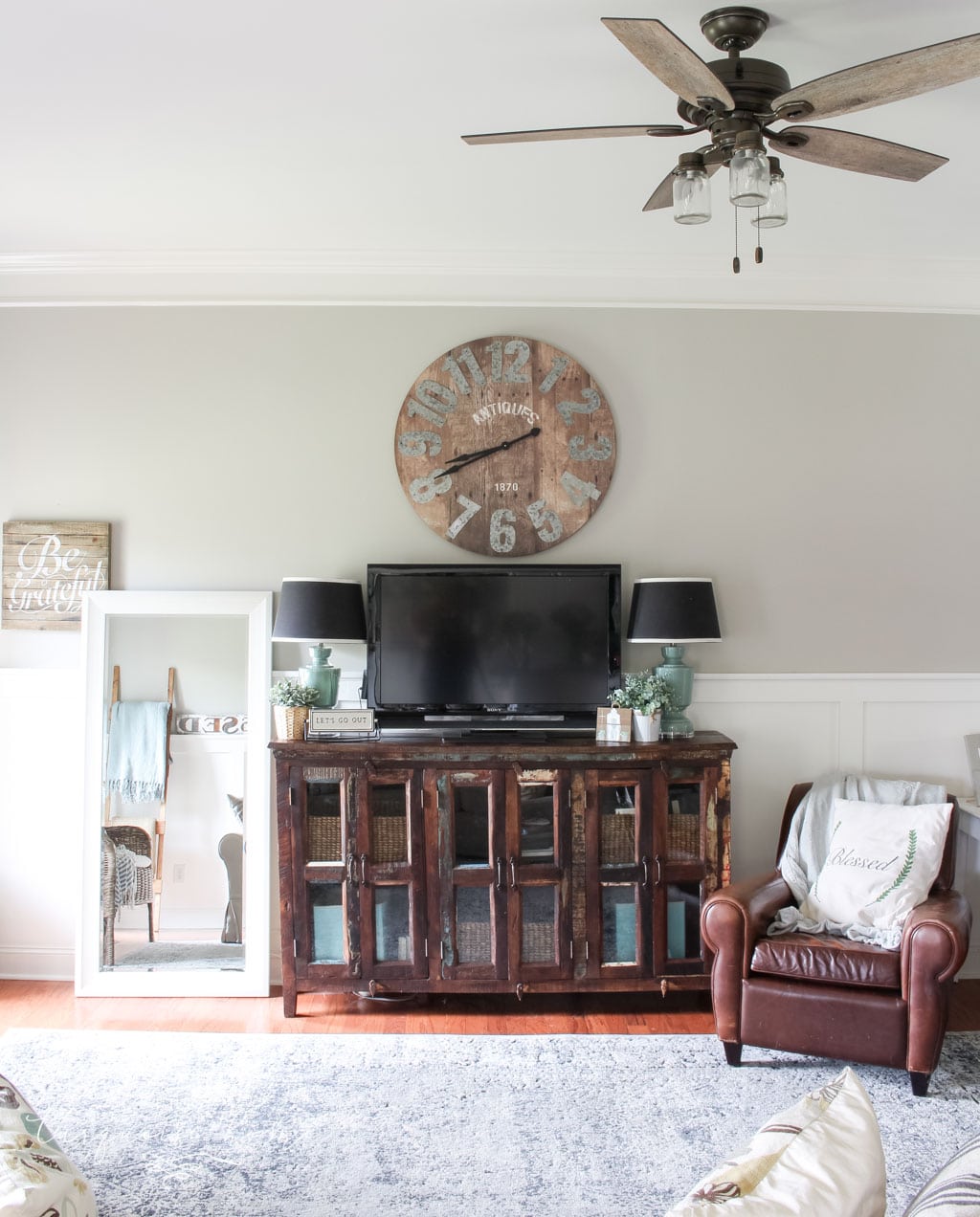 8. Wall Treatment and Statement Mantel
Take the focus off of the TV with a beautiful wall treatment. Use bricks, shiplap or wall moulding to create beauty around the television.
Lauren McBride added a brick fireplace surround and a rustic wood mantel to create a cozy fireplace mantel and hearth. No more decor is needed (except for a couple of neutral candles)!
The following fireplace has gorgeous trim that envelopes the TV mantel decor and creates a beautiful focal point!
9. Cover it Up
If you really hate the idea of a TV out in the open, cover it up! Use something like barn doors, a removable piece of art or a screen to hide it when not in use.
10. Create a Gallery Wall
Surround the TV with framed art and photos to create a gallery wall effect. This will make the big black box less noticeable and draw your eye to other parts of the wall!
This is a great way to create a gallery wall around a TV! So, even if you don't have a mantel, you can still create a beautiful display.
Frequently Asked Questions:
What size TV should go on a mantel?
This depends on the size if your mantel. Don't buy a TV larger than three-fourths (3/4) the width if your mantel. Preferably the TV shouldn't be wider than two-thirds the width of the mantel. So, if your mantel is 76 inches wide, get a 50 inch wide TV.
How do you decorate a Christmas mantel with a TV?
For Christmas, drape garland on the front of the mantel and hang stockings from underneath the mantel. Use command hooks to keep the damage at a minimum!
Do you have your TV above the mantel? If so, what is your favorite way to use TV mantel decor?
More Posts You Will Love: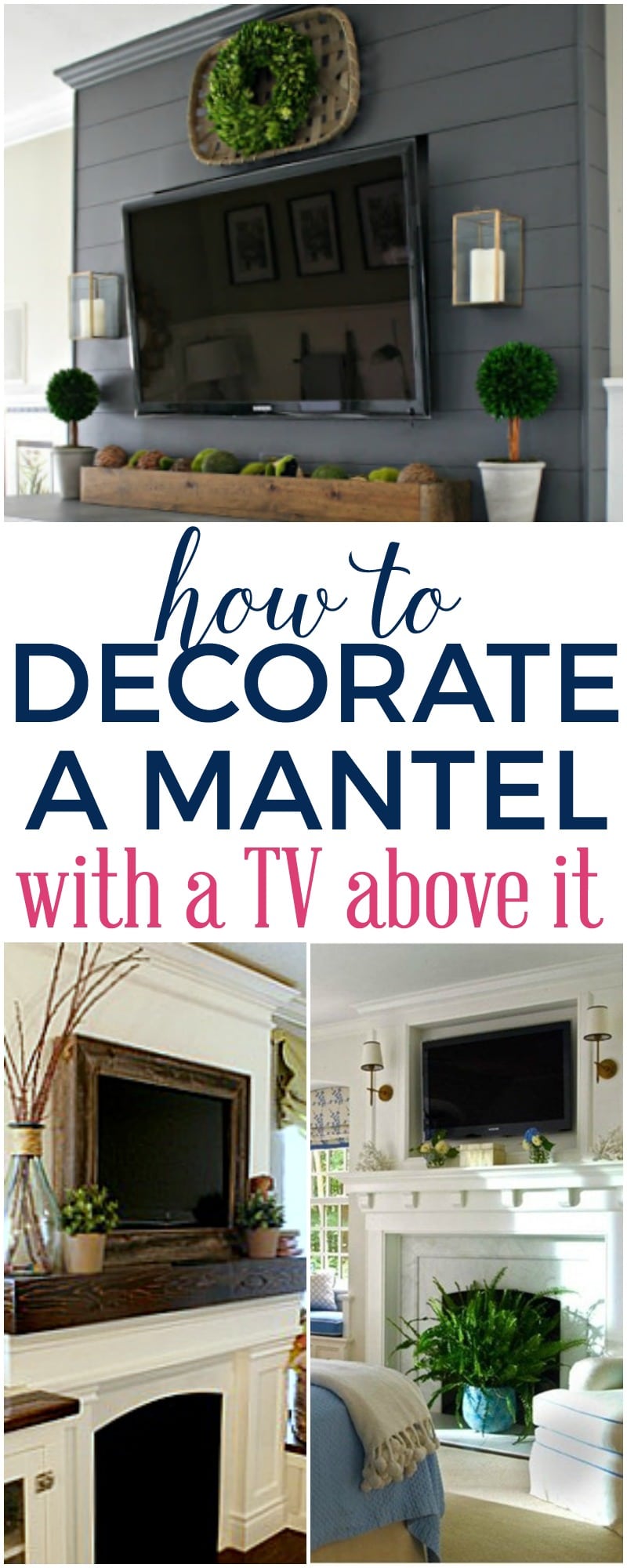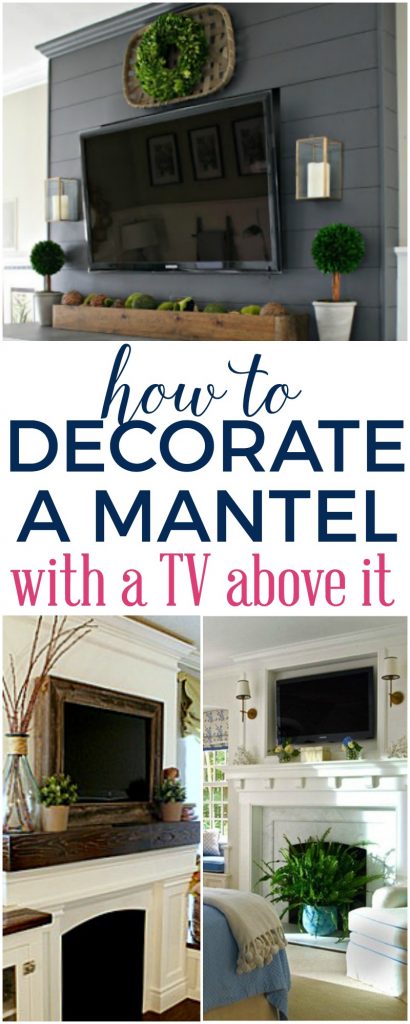 SaveSaveSaveSaveSaveSaveSaveSaveSaveSaveSaveSaveSaveSave