Quick and Easy DIY Harvest Sign
My DIY Harvest sign took me less than two hours to complete from start to finish. It was so stinkin' easy thanks to a few strokes of luck and handy tools I already had around the house.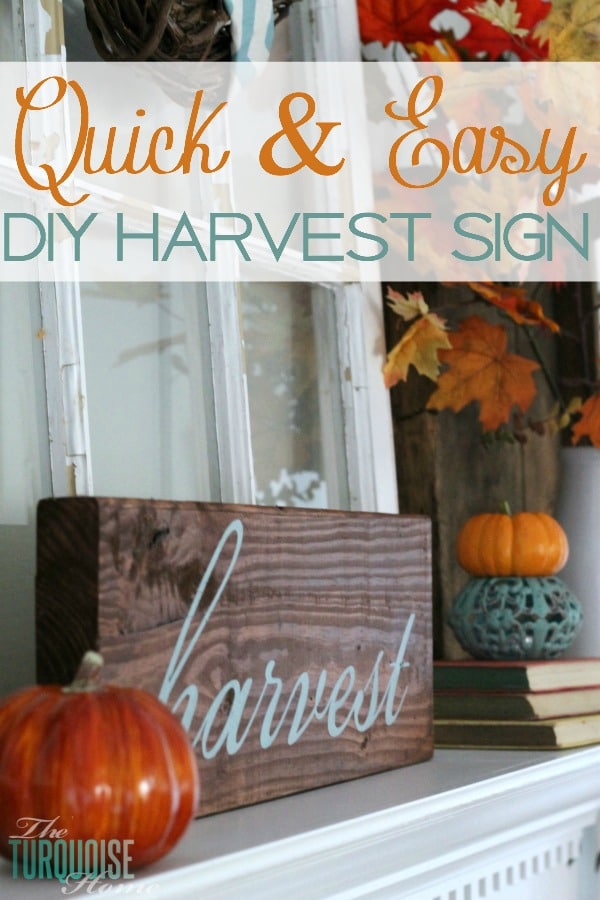 When I was making my mantel, which I shared all about the process HERE, I wanted something in the middle that grounded the whole vignette. Luckily I keep almost all of my scrap wood from my projects, so I went out to the garage and found a wooden board that I thought would work in that space. It fit perfectly. Yay!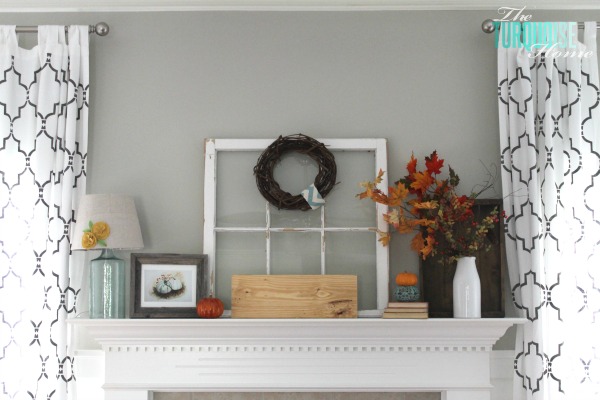 But now I needed to make into a pretty sign and quick. It was around 11:15 on a preschool day, meaning I had about an hour and a half to make this sign before having to go pick up my daughter from preschool.
This post contains affiliate links for your convenience. See my full disclosure policy.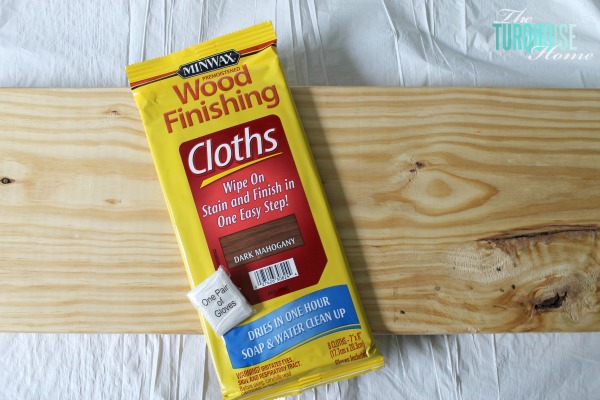 I remember I had these stain cloths from Minwax in the dark mahogany color. I used them at a conference to stain some unfinished picture frames and they worked like a charm.
So, I busted mine out and found that they even came with one pair of plastic gloves. Awesome!
I love that they have little to no odor and can be cleaned up with water. Amazing!! One of my least favorite things about staining is having to use mineral spirits to clean it up.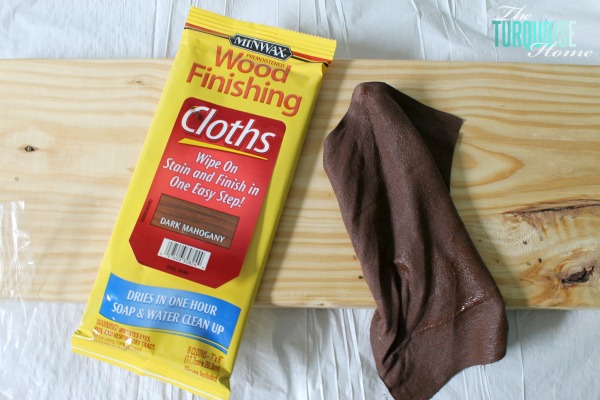 So, I pulled out one wipe and followed the instructions on the back. Within a few minutes, I had applied the coat of stain and wiped off the excess. Now I just had to wait for it to dry. These stain cloths are so great for small projects around the house – love them!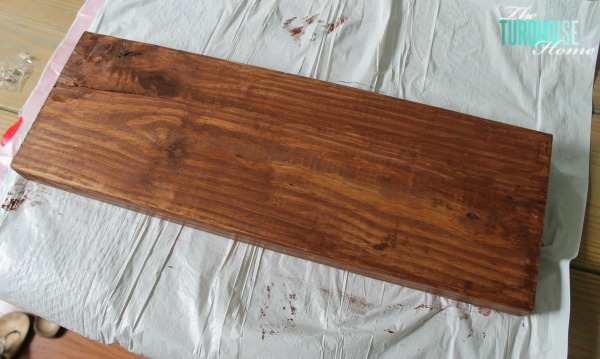 While it was drying, I created my word in my Silhouette studio and cut it with contact paper. (I didn't get any pictures of this process, but I have several posts on creating stencils with a Silhouette and contact paper HERE and HERE.)
I used Bickham Script Pro for the "harvest" font and quickly had my stencil ready to go. Once the stain was dry, which took about 30 minutes, I stuck the stencil on the board and applied a quick coat of Mod Podge. Click here to find out WHY I use Mod Podge first.
And then I painted a coat of Stratton Blue (Benjamin Moore color in my kitchen) after the Mod Podge had dried. I peeled away the stencil before the paint had a chance to dry and voila! I had a simple and quick sign for my fall mantel, which I love!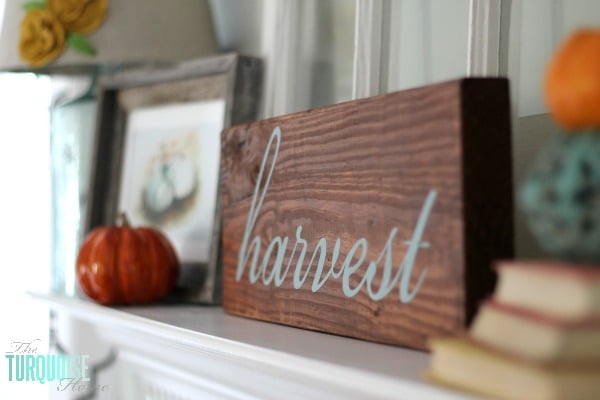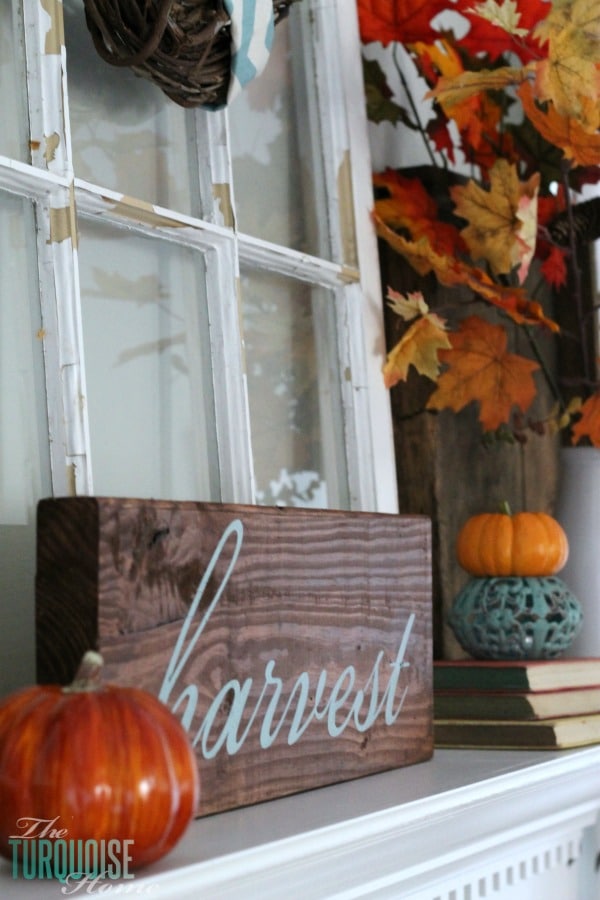 It truly is the star of the show on my mantel and I love how I used things I had on hand to create it. Cost was $0 to me and I used up leftovers I already had. That's a winner in my book!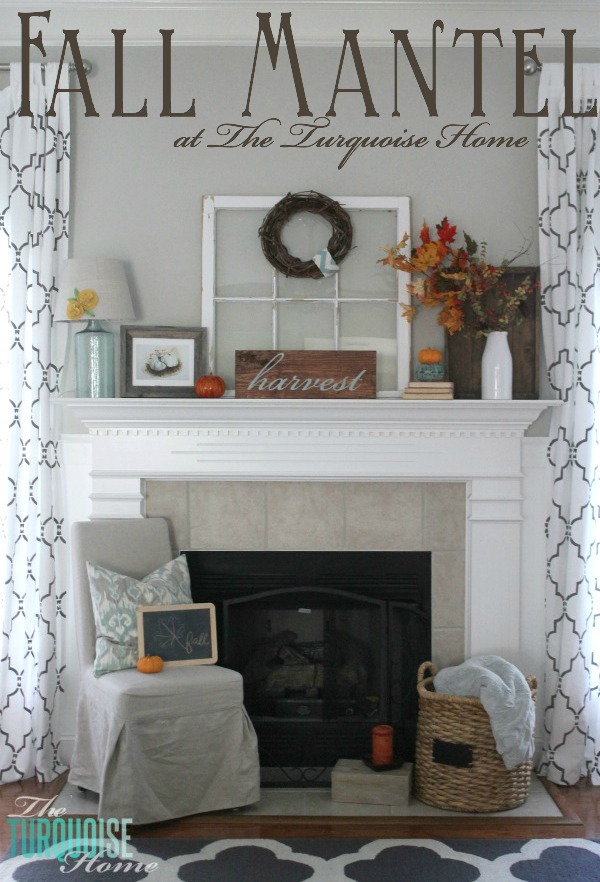 Turquoise & Orange Fall Mantel
More Posts You Will Love: