Sherwin Williams Agreeable Gray
Agreeable Gray by Sherwin Williams is an extremely popular soft warm gray paint color. It's a beautiful hue and the #1 bestselling Sherwin Williams paint color – for good reason!!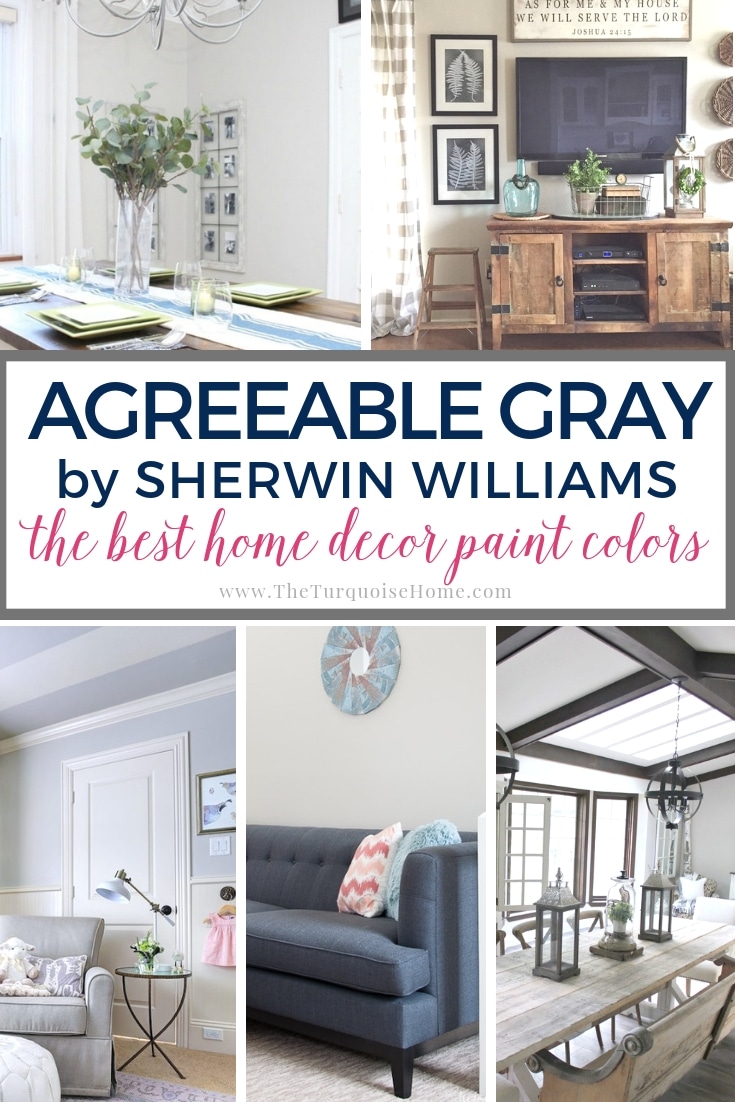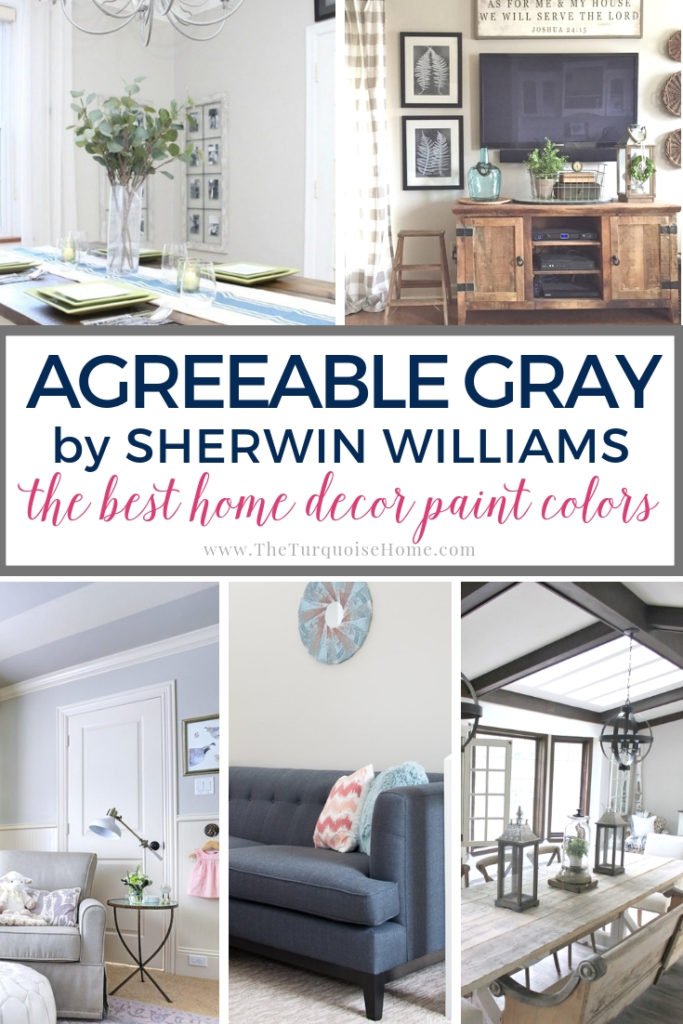 This post contains affiliate links for your convenience. See my full disclosure policy here.
NOTE: If you're painting the room yourself, these tools will help tremendously. And this post will give you my best tips for painting a room in 5 easy steps.
Agreeable Gray Undertones
Agreeable Gray has been described by numerous people as "the perfect greige"—as in a color that hits all the notes and balances between gray and beige. Just like all greige colors, the base of this is a warm, creamy (dare I say agreeable?) gray tint.
Don't be fooled, though. Much like every other shade of paint, SW Agreeable Gray will look different in each room thanks to different lighting. For example, if you paint a room that is facing north, the paint will appear to have a blue-gray hue with less of the beige tones.
South facing rooms or any rooms that get plenty of natural light will notice the paint color tends to be a soft, warm gray with the absence of green undertones that are generally super common in a greige. Instead, you have a creamy, warm gray that is absolutely liveable.
Tip: Use Real Paint Samples
Any time you are choosing a new paint color, you need to try out the real paint color in your home first!
The easiest and quickest way to do that is with Samplize! I solely use them for paint samples now. There's no mess, no leftover sample pots of paint. Plus, these no-mess, peel and stick rectangles made from real paint, are easy to move around the room and easy to save for future reference!
What Colors Coordinate with Agreeable Gray?
If you are looking for a few colors that will work well with Agreeable Gray by Sherwin Williams, you certainly have options. The paint is neutral enough that almost any color will work with it.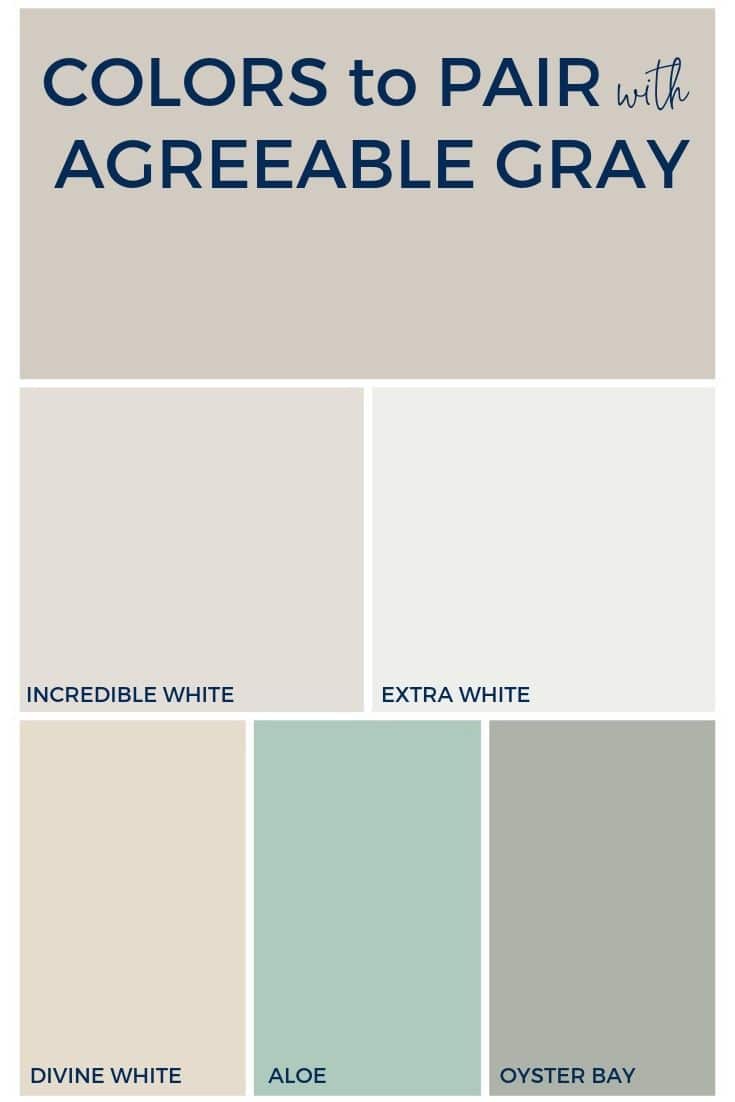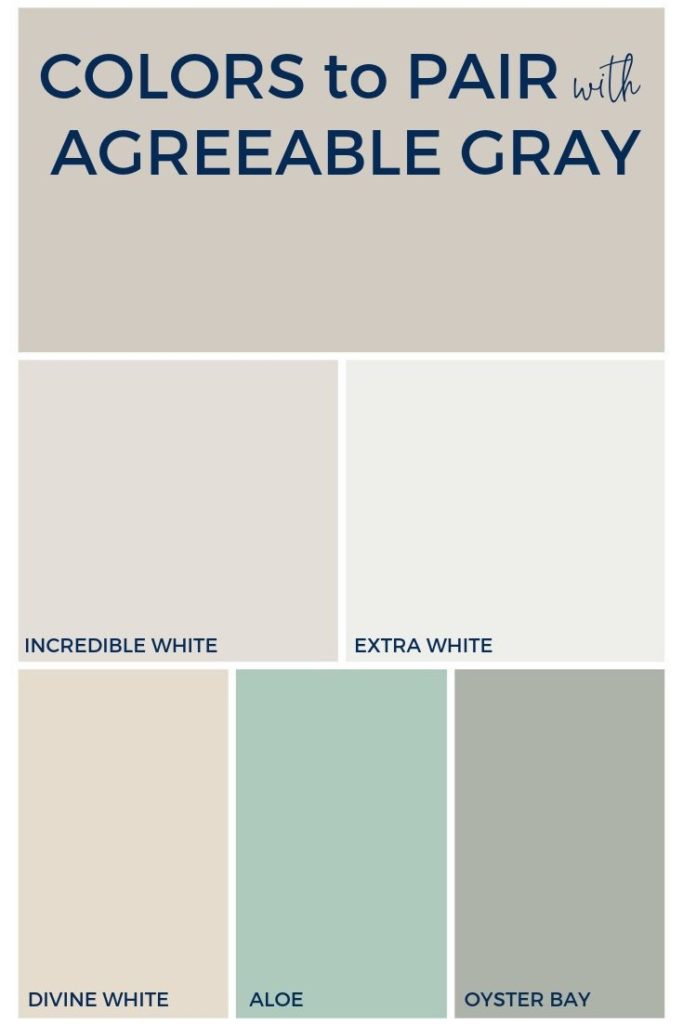 However, there are a few colors that are known to work especially well such as
If you are looking for a totally different color that will stand out in a fun way, try Sherwin Williams Coral Reef. It's a pretty coral that offers a bright pop of color.
Rooms That Have Agreeable Gray
All the theory is nice, but let's talk about some real-life rooms that have this pretty paint showcased on the walls. As you'll notice, the color looks slightly different in each room, yet always looks basically flawless no matter where it is.
Agreeable Gray in Bedrooms
This gorgeous nursery stopped me mid-scroll. How pretty is this entire room from Honey We Are Home? The top half of the wall is Agreeable Gray, as is the darker stripes on the ceiling. As you can see, the ceiling shade looks slightly more purple than on the wall, but both are neutral and gorgeous. In case you are wondering, the other shade there is Divine White by Sherwin Williams.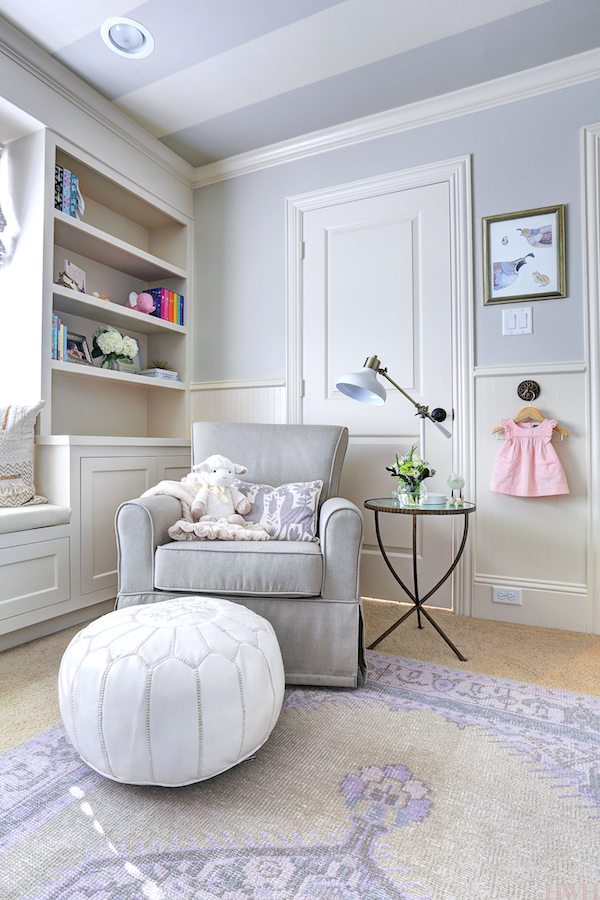 Ya'll know I can't pass up a good nursery, so here's another room showcasing Agreeable Gray. This beautiful boy nursery from Living Letter Home has the perfect neutral backdrop with the wall paint—see how creamy-gray it is on most of the wall here? Once it hits the corner where there is less light, it is a more blue/purple gray which is similar to the room above.
Agreeable Gray in the Living Room
The living room is certainly a busy area in any house. That's why I think it's especially important to set a peaceful tone for the space by covering your walls with a color just like Our Vintage Nest did in this living room with Agreeable Gray.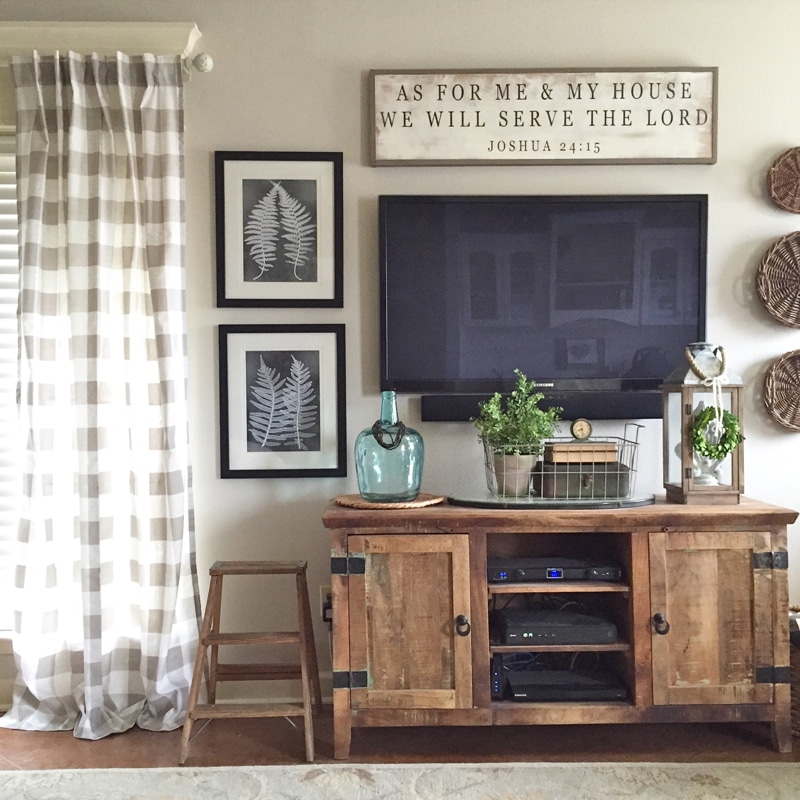 It's also always fun to see how the same paint color looks in a living room with very different decor, like this traditional living room from Our Southern Home SC. Like every other example, Agreeable Gray looks awesome in this space and totally works with the surrounding style.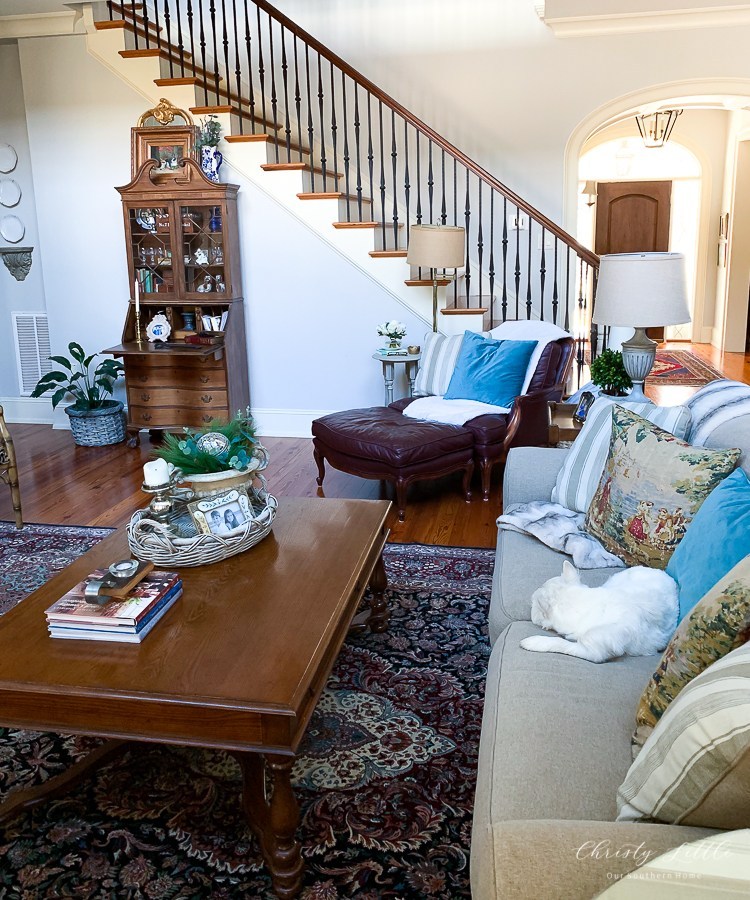 Let's do one more living room example just so you can compare the color in this room from Houseful of Handmade with the others above. This room has really pretty natural light which is giving that creamy greige look the paint is famous for.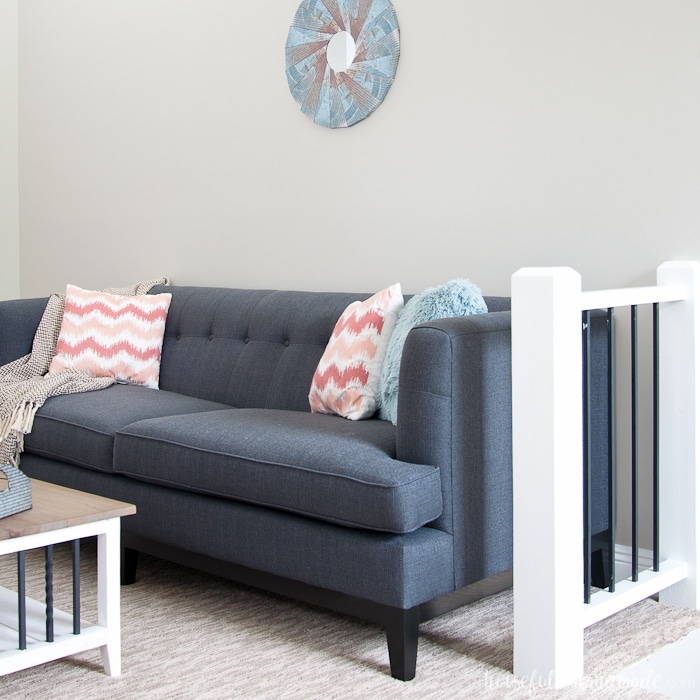 Agreeable Gray in the Dining Room
If you are looking for another room that would look great with a couple of coats of Agreeable Gray, try the dining room. While it will work for any style, I am especially found of this farmhouse-style dining room from Green With Decor.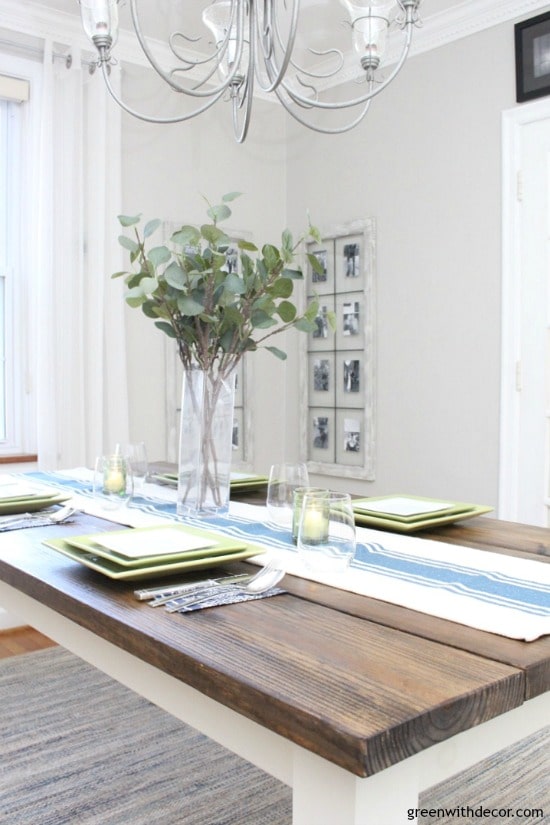 Need more dining room eye-candy? This room from Kylie M. Interiors is absolutely stunning. The color is perfect and looks fantastic both on the walls and ceiling in this pretty room. I could spend hours dining and lounging here!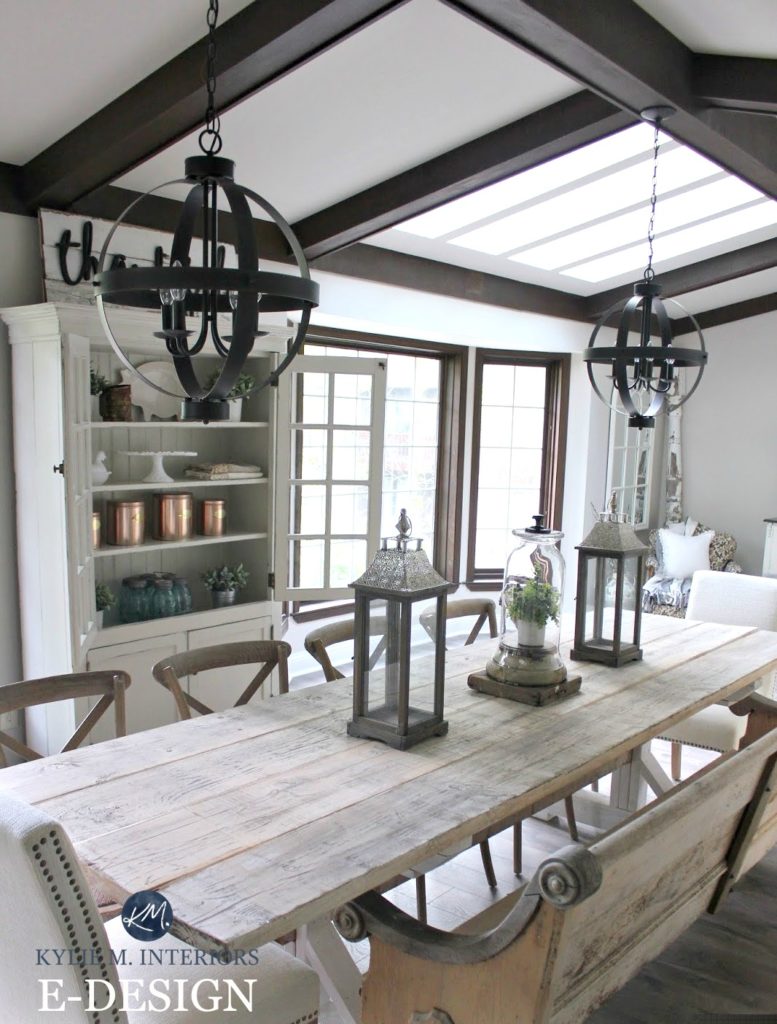 As you can see, SW Agreeable Gray really lives up to its namesake with a pretty warm gray that works with every style and room. Are you convinced to try it yet? If you've ever used this color in a room, leave a comment below and tell us about it!
Also, if you've ever struggled to choose cohesive paint colors in your whole house, you need to check out my post: "How to Create a Whole House Color Palette" – including a helpful worksheet!
More of the Best Home Decor Paint Colors:
Tips for Painting a Room Yourself
I've gathered some of the best tools for painting a room yourself. First of all, you'll want to check out this post I wrote: Painting a Room in 5 Easy Steps. These tools are the top tools I use when painting my own rooms, which is how they get painted 95% of the time!
More Posts You Will Love: