Beautiful Interior Door Paint Colors
A fun trend in the last few years is to paint interior doors with a non-white paint color. Learn more about this trend, how to make it work in your home, and get inspiration for some beautiful interior door colors you'll love.
Let's chat about some interior door paint ideas.
In the past, the standard regarding interior doors was to either have wood doors or paint the doors white. And no matter whether you had wood or white, the trim always matched the doors.
In the past few years, however, a new trend of painting interior doors non-white colors has started to become more popular.
You may have seen this (or even tried it!), but if you haven't, it's time to check it out.These pretty possibilities are just the tip of the iceberg of this fun trend.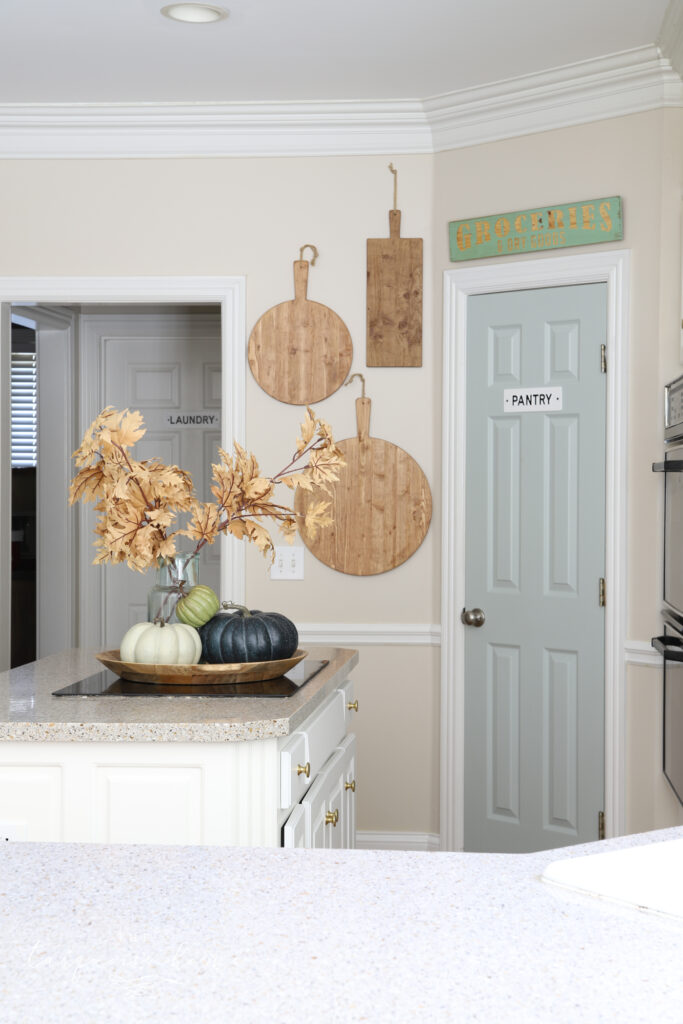 I recently tried out a different paint color on my kitchen pantry door. I was nervous to paint every door in my home a non-white color, but I plan to do more of them after living with it for a few months!
In my old house, I also painted the interiors of my exterior doors Hale Navy. So, if you're nervous about painting your doors, maybe try it out with a couple doors first, and see how it goes!
The Trend of Using Non-White Interior Door Paint Colors
Right now, the trend is to paint white walls or other (often light) neutral colors such as gray, greige, or beige. In addition to the wall paint colors, interior decor can often be very neutral.
Personally, I love a good neutral palate, but I also think we were meant to enjoy some personality (read that as color). There are situations where all of that neutral can come together in a tendency to look monotone and dull.
That's what I love about this interior door paint color trend – it's a really fun new way to add another layer of color!
I get the neutral wall and decor that I love but I also get to enjoy splashes of color and pops of personality that I crave.
My favorite part of this trend is that it's a very simple fix to make if I get tired of the color. Plus, it's even easier than painting furniture when you want an updated look without a big commitment.
There's also something super fun about it – breaking that white door standard almost feels stylishly rebellious. 😉
Do All Interior Doors Need To Be The Same Color?
The short answer is that they can be, but they don't have to be the same color.
Now, here's the more detailed answer.
Your interior doors can provide some variety for your decor. This is particularly true when applied to the color of your front door. For a while now, it's been more commonplace to see variety in both the color and style of the front door.
If you are updating your interior doors, you don't need to paint them all the same color, but you should keep something about them the same throughout the house to maintain cohesion and consistency.
For example, you might choose the have all of the doors leading to the rooms a certain color, but you want to keep the closet doors white, or a different color altogether. You will probably want to keep the same style or finish if you choose different colors.
If you plan to paint all of the doors in your home, I would keep them mostly the same color, unless you have a special accent door (like a closet door or pantry door) or want to paint the exterior doors something different.
Do Interior Doors Always Have to Match the Trim?
No, not at all. There's no right or wrong way to do this.
Whether your doors and trim match is entirely up to you and depends on your current decor, your personal preferences and whether you want to invest the money and energy to change them so they match each other.
Let your home decor be a reflection of your personality instead of an expression of how anyone says a home should be decorated. This means that the decision of whether your interior door paint colors match your trim, contrast it, or stand out in a rich, vibrant color that's completely different from the rest of the room is entirely yours.
In short, it's your house, and you are the one who looks at it all day long, so make it aesthetically pleasing to you!
9 Gorgeous Examples of Interior Door Paint Colors
It's one thing to talk about how amazing a non-white painted interior door looks, but it's entirely different to see for yourself. That's why I've gathered up 9 incredible examples of interior door paint colors that add instant personality to your home.
1. Pops of Blue
Muted shades of blue make really great accent colors, and a fun way to use accent colors is with painted interior doors. This interior front door from Fox Hollow Cottage pops (not too loudly) in Wythe Blue from Benjamin Moore. The muted shade of blue/aqua allows for play with the decor.
Related Post: The Best Blue Paint Colors For Your Home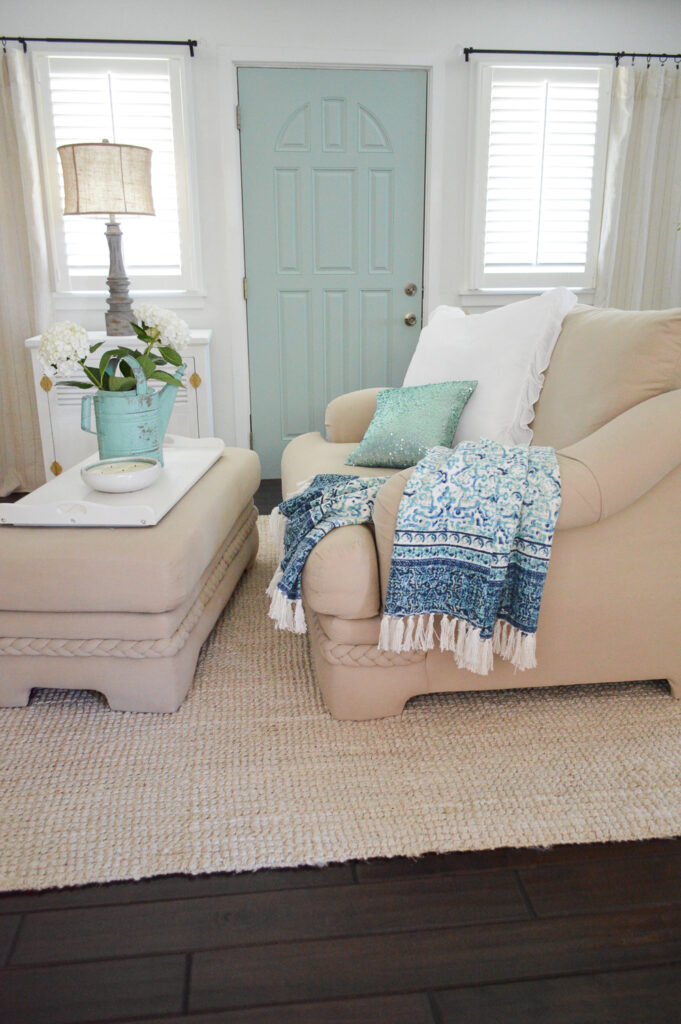 2. Bright Rays of Sunshine
If you need a happy pick-me-up color, take a look at Yellow Highlighter from Benjamin Moore. This door from Pretty Handy Girl is a bright and sunny breath of fresh air that can be muted a bit with surrounding decor if you want to balance it out some!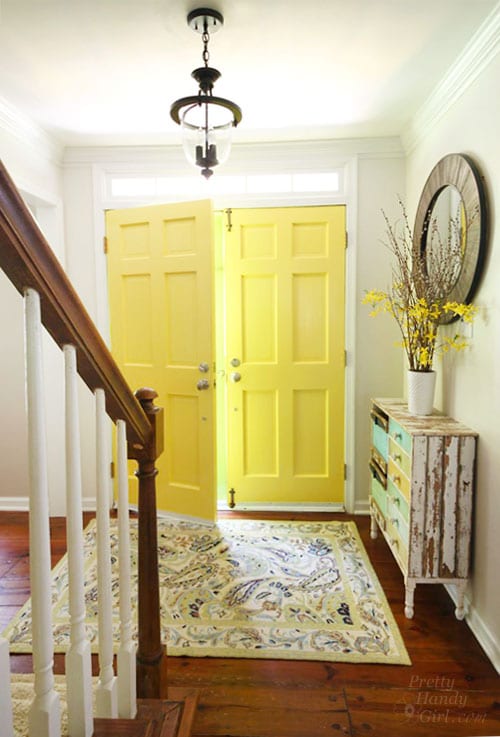 3. Raindrops and Rose
Bold and beautiful!
This Milano Red interior door is a refreshingly vibrant spot of color that's perfect for a kid's room. Young House Love nailed it with this fun bold poppy color on the door that's also brought out in the teardrops on the wall.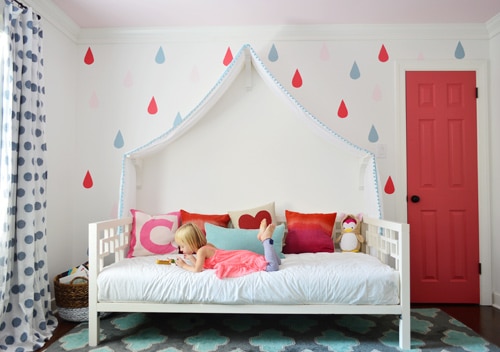 4. Pink Boho
How about a lovely pink? Take a colorful rug or piece of art and pull one of the colors from it to use on your doors. It really ties everything together in a fun and playful way like this entry way from Maggie Overby Studios.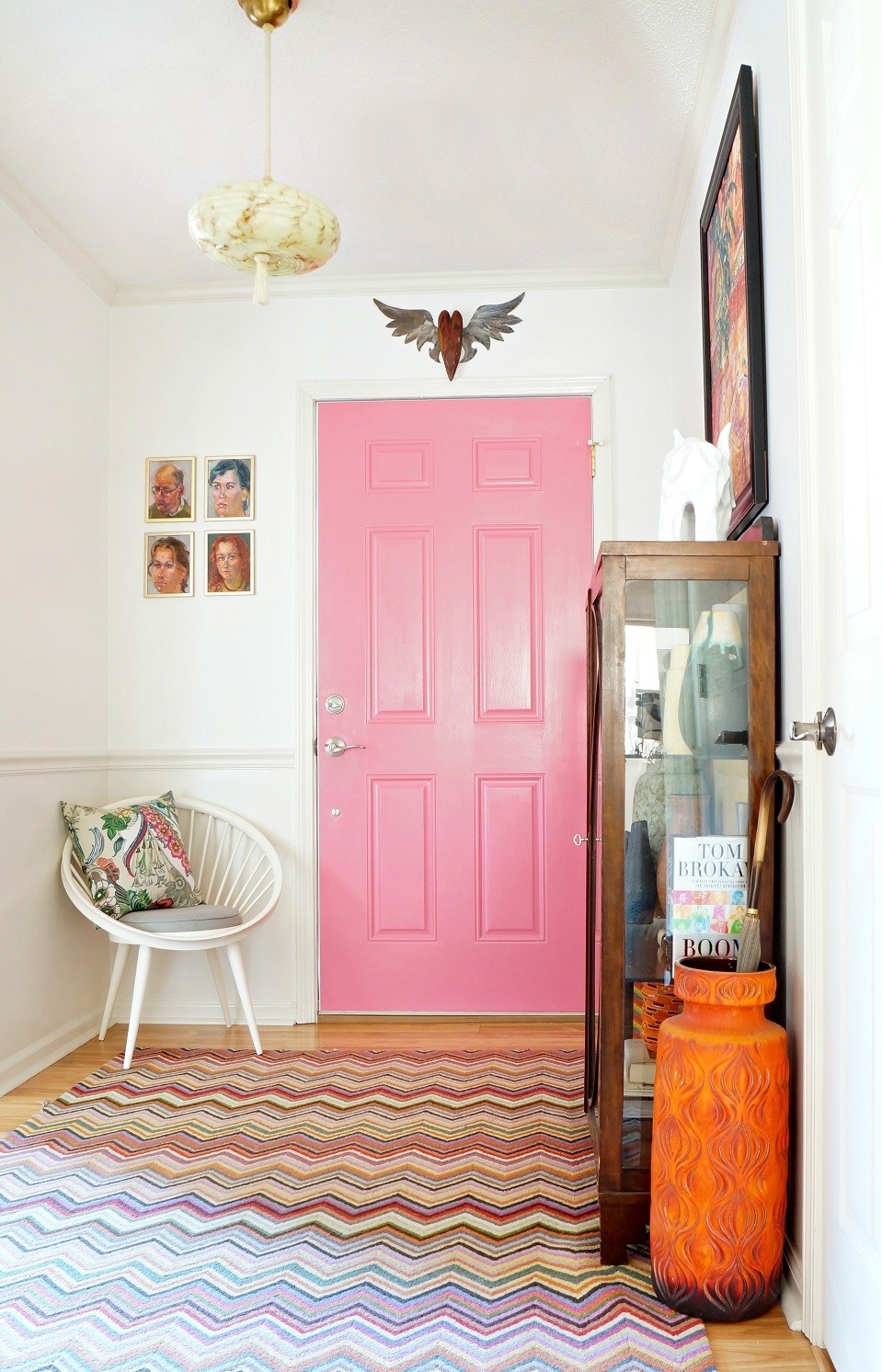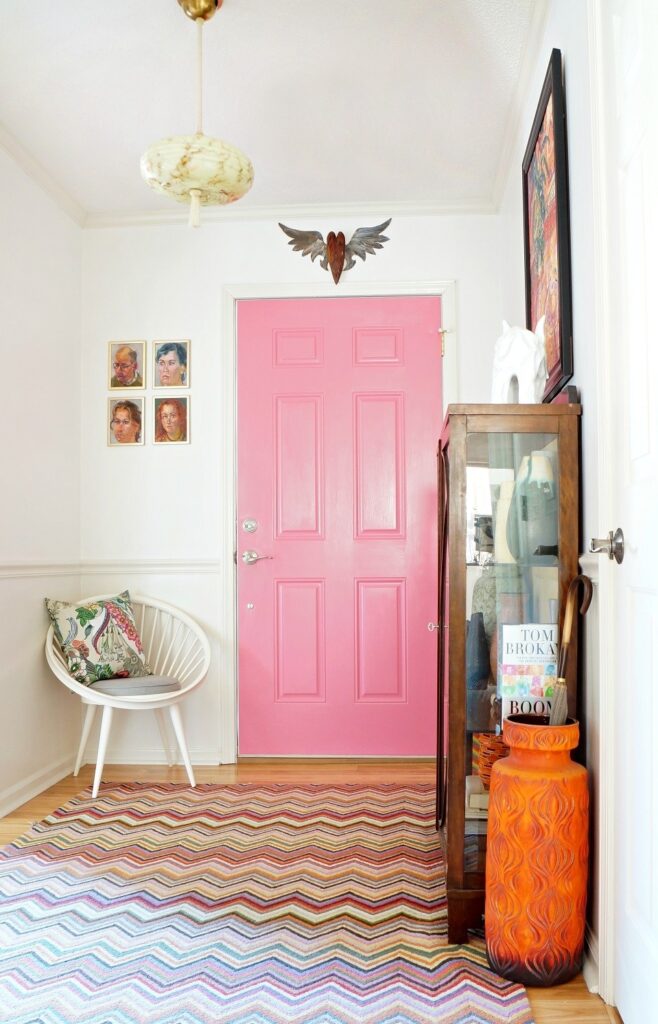 5. Go Deep
These deep blue doors from Addicted 2 Decorating are mesmerizing. I just love the color and how it stands out in a bold yet quiet way.
It manages to both bridge and highlight the contrast between the neutral walls and trim and dark wood floors – stunning!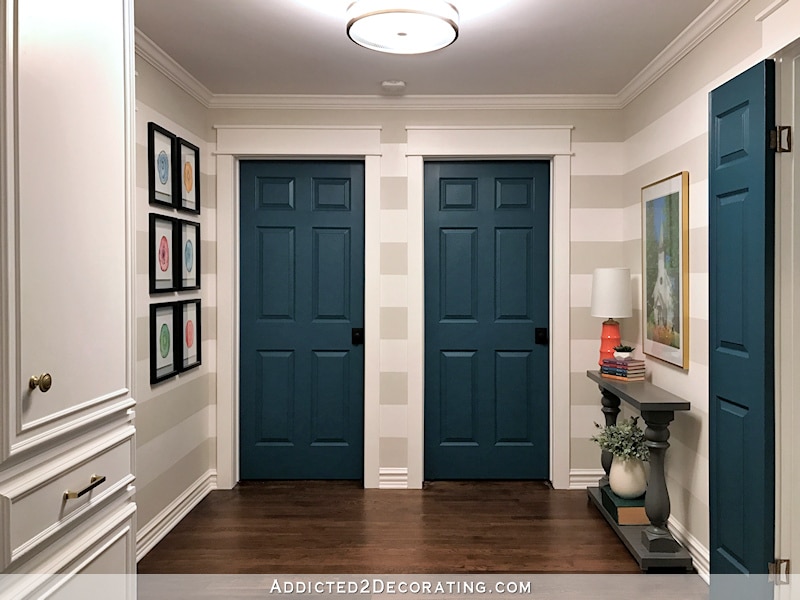 6. Subtle Blue Gray
If you would prefer a softer touch, this Oyster Bay interior door color that Southern Hospitality used fits the bill. It offers a bit of personality but isn't so bold that it presents a challenge for the surrounding decor.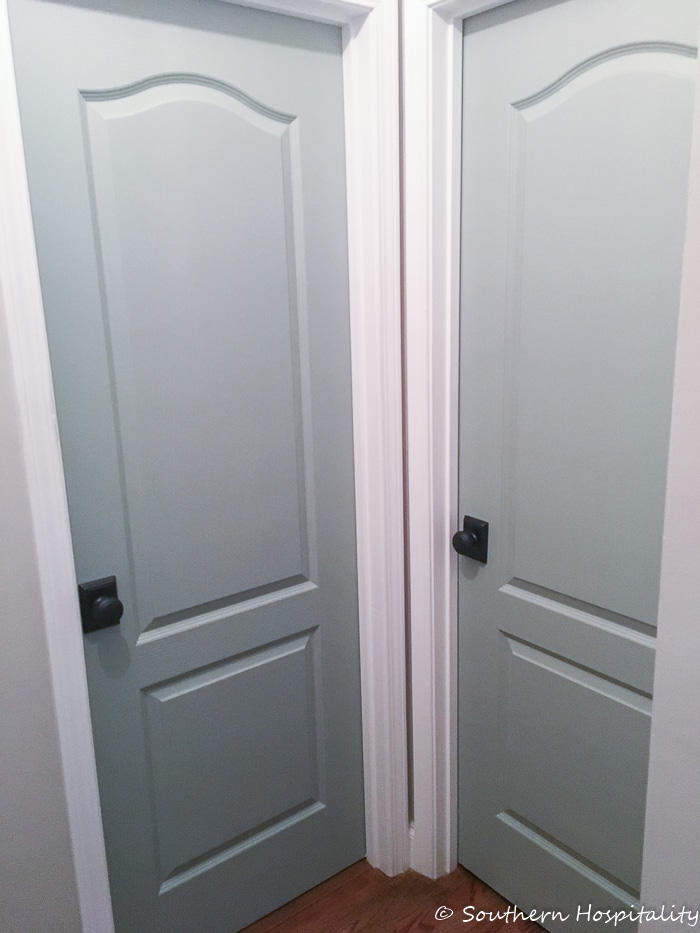 I have seriously considered painting all of my doors Oyster Bay as well, so I dipped my toe into the painted door waters with a little bit lighter color: Comfort Gray.
7. Classic Colors
It just doesn't get any more classic than black and white. A painted black interior door makes a bold statement that looks clean, simple, and breathtaking.
The combination of color and door style from Monica Wants It is timeless.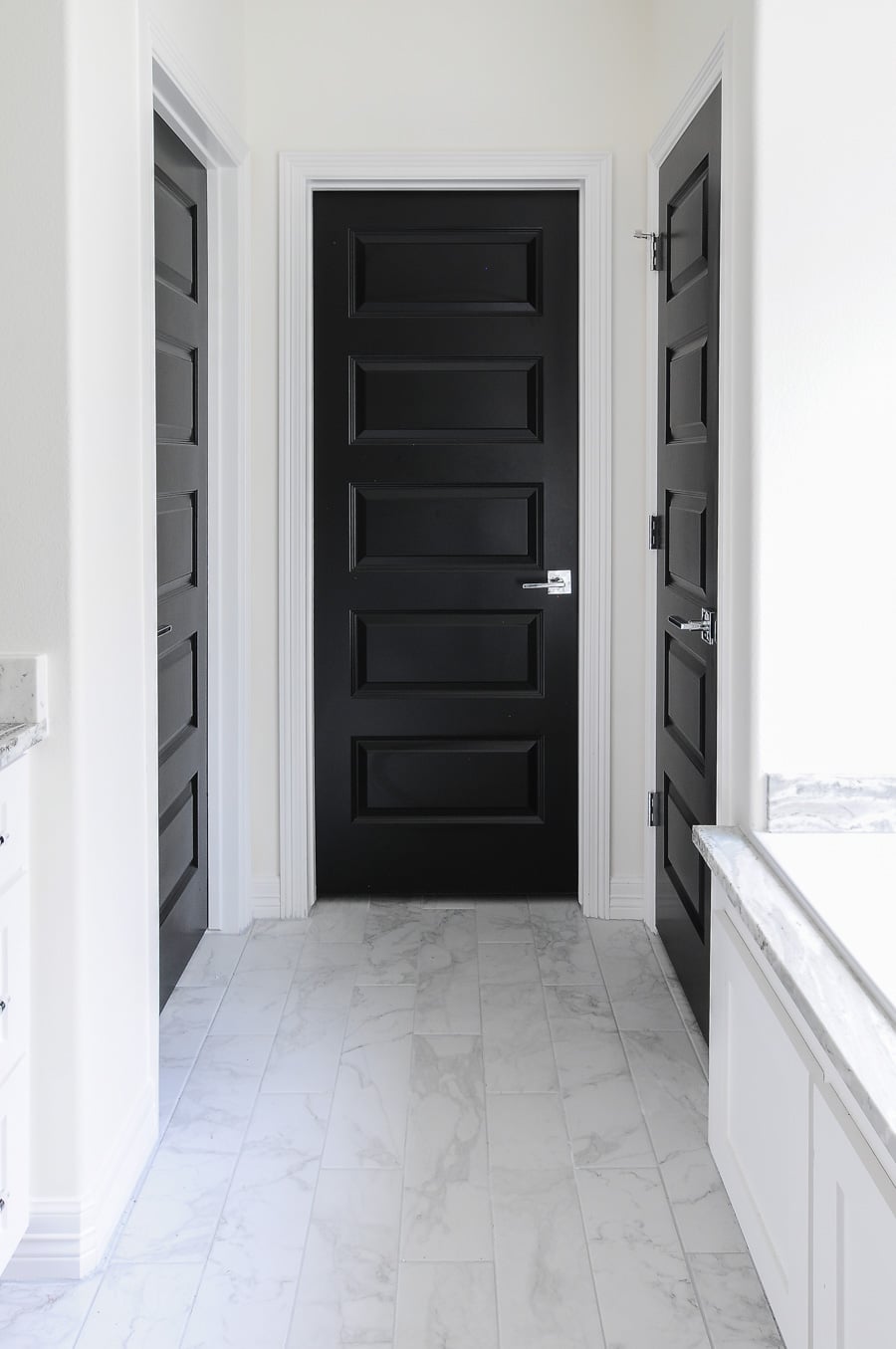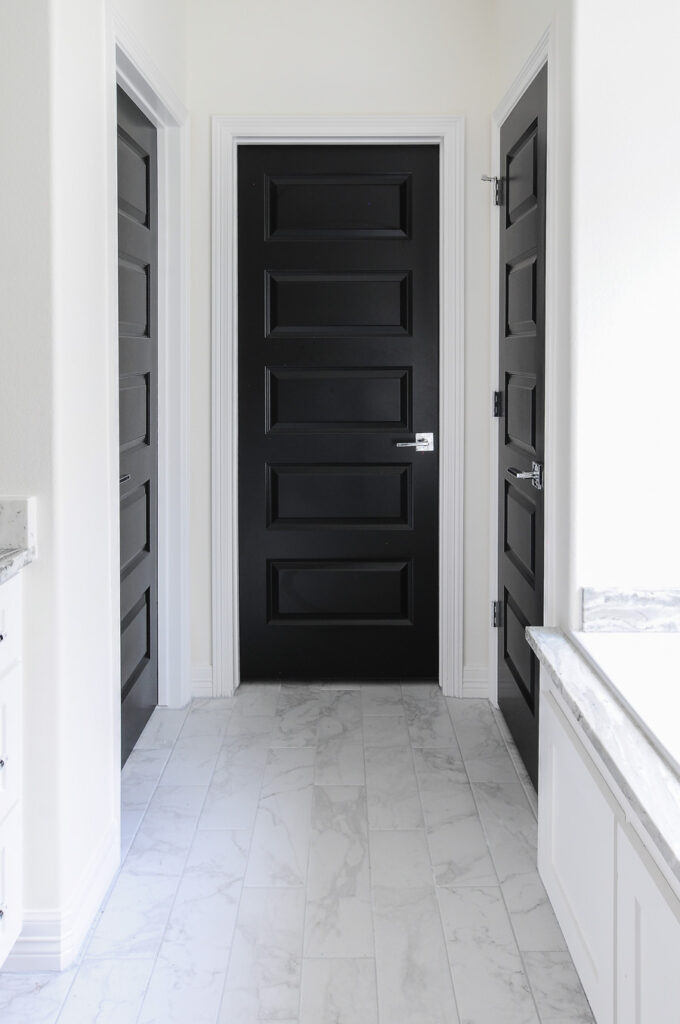 8. Warm Dark Neutral
If black is too strong of a color, go with gray!
This Kendall Charcoal door from The Inspired Room is a great example of keeping the decor dark, but neutral. The pop of color that the door provides stays within the color scheme but goes several shades darker.
I love that it's dark gray but soft and warm at the same time.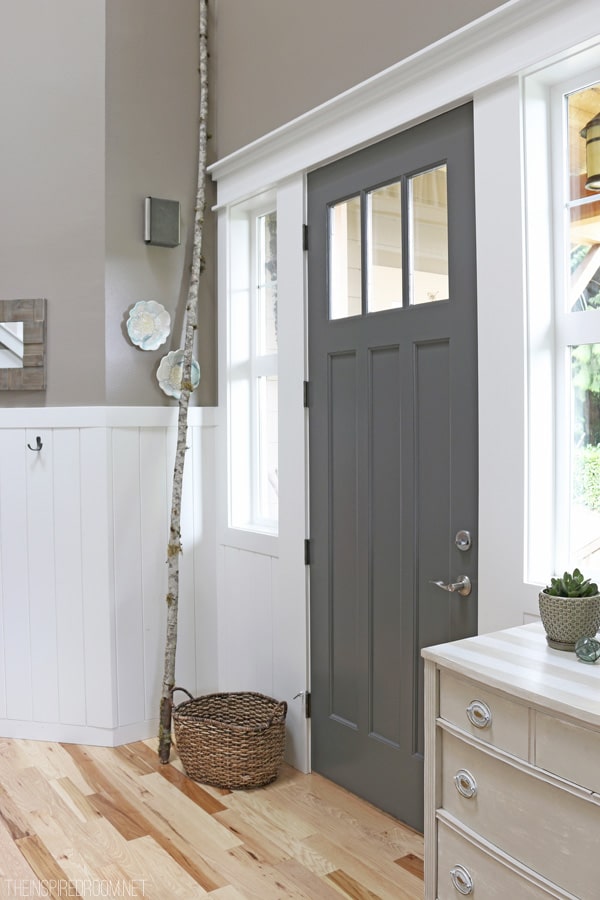 9. Color Punch
Bright green interior doors are a bold color choice, but it really works with the navy walls and white trim. The strong color palette from A Turtle's Life For Me works really well in the space and creates a fun vibe.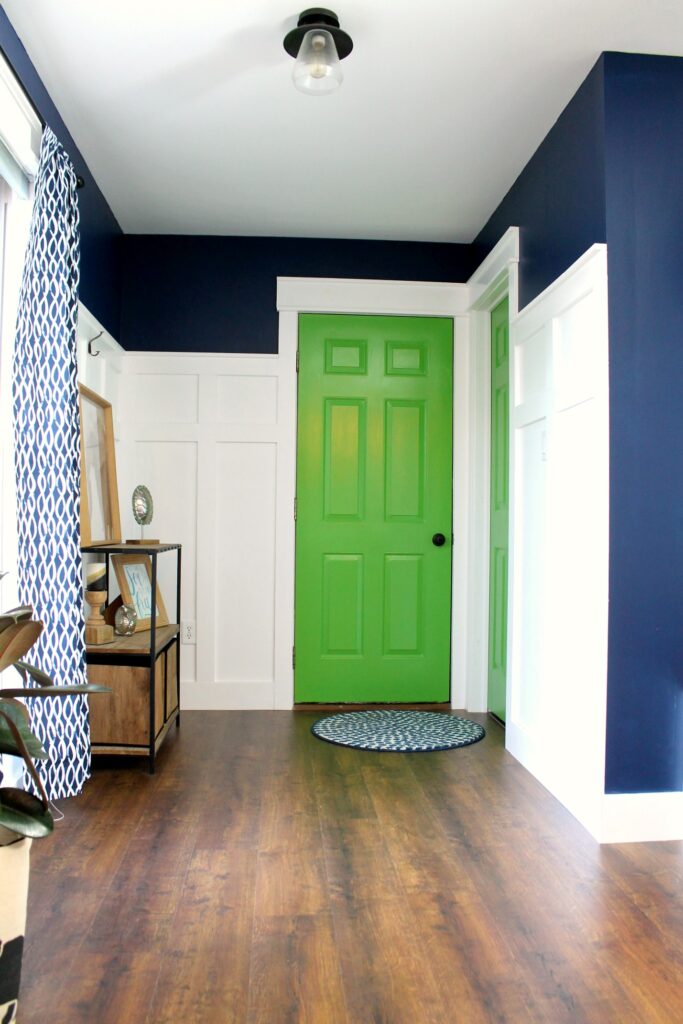 From bold to understated, I tried to highlight a variety of color options to show you just how amazing non-white interior door paint colors can be!
Which one is your favorite? Share in the comments below!


More Paint Inspiration
MORE POSTS YOU WILL LOVE: