How to Decorate a Living Room
Learning how to decorate a living room can radically change the entire feel of your home. From working with what you already own to carefully selecting art to hang on the walls, this quick guide will show you exactly how to decorate a living room—the easy way!
If I had to choose a room that we hang out in the most, it would be hard to choose between our living room and kitchen. Yes, the kitchen is the heart of the home, but when you think about it, so is the living room. Because we spend so much time there—and it's so prominent in the home—it's one of my favorite places to decorate.

I certainly got an opportunity to redecorate my living room one summer not too long ago. In fact, a lot of things changed in my living room that summer. Our fridge had a faulty water filter, which sounds like no big deal except for it leaked everywhere and totally damaged our floors, which meant they all had to be replaced.
Plus, our drywall got damaged too (super fun), so everything had to come off our living room walls so they could be re-painted. The silver lining is that while I wouldn't call our flood "fun", I would definitely say some good has come from it. Namely, I get the chance to decorate my living room all over again.
UPDATE: Since I shared this, we moved to a new home and I got to decorate a new living room using these same tips!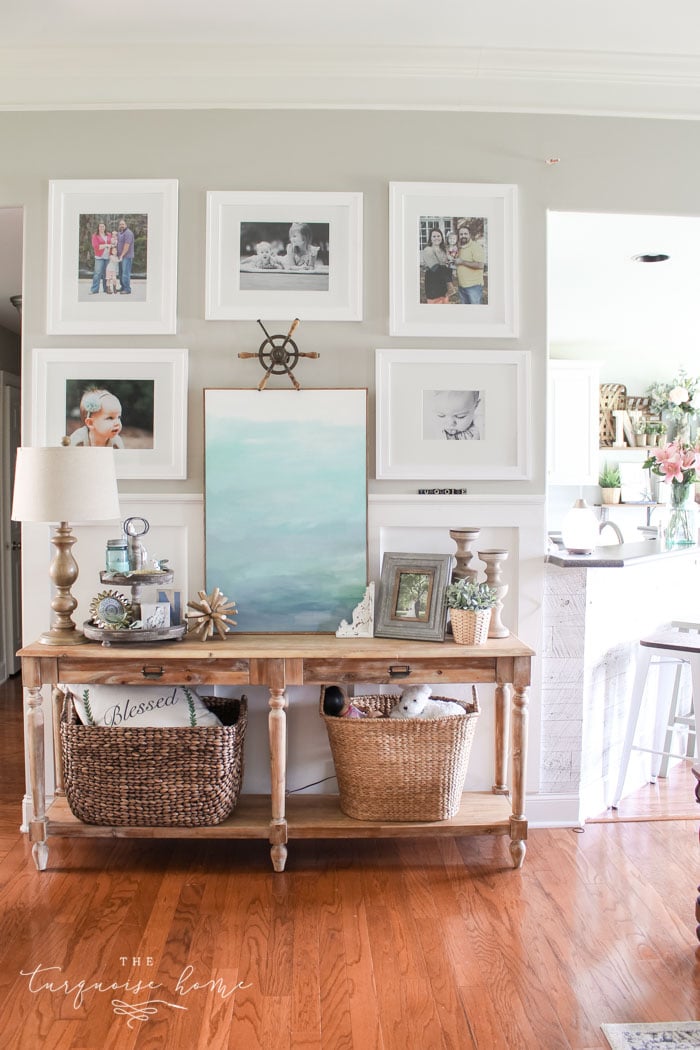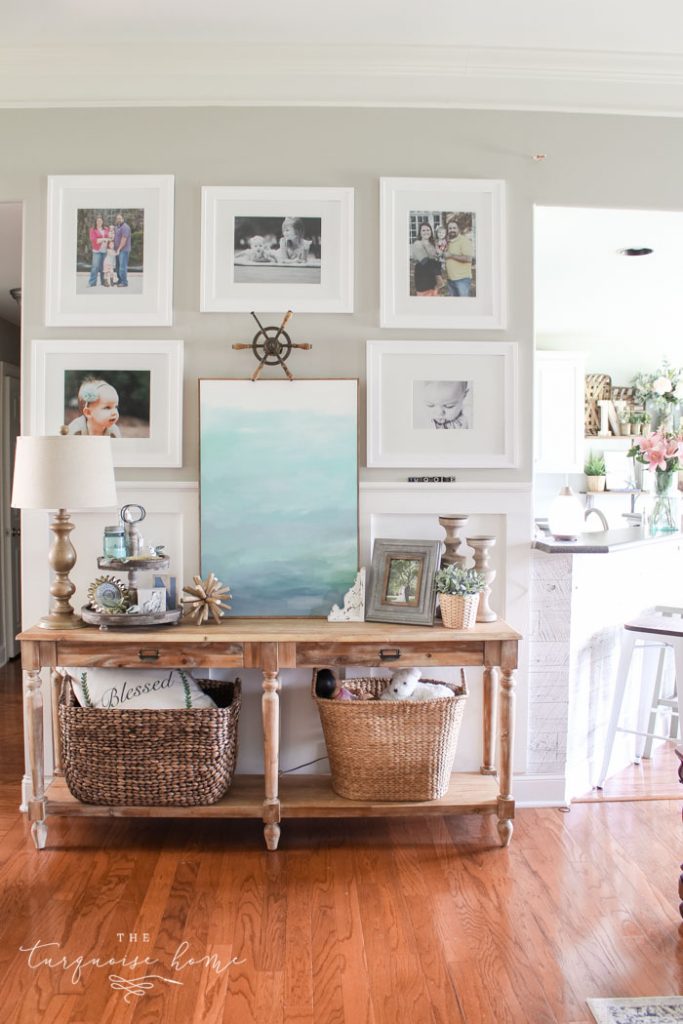 Currently, our gallery wall is gone as well as the clock over the TV. We have new flooring in here and new larger TV that will be mounted on the wall as soon as our new sectional arrives in the next few weeks. I'm back at square one in a lot of ways with my living room and am re-thinking art on the walls as well as furniture arrangement.
So, I thought it would be the perfect time to create a "how to decorate a living room" post as I've been navigating the situation. Here are some of my favorite living room decorating ideas.
How To Decorate A Living Room
When it comes to decorating we all know that styles come and go, but these are solid living room decorating tips that will work in the long run. Don't feel overwhelmed or stressed when it comes to adding character and charm to your space. It will all be okay, and the result is going to be a relaxing oasis that you get to call home. Let's get started on your new adventure with these tips and ideas to inspire you:
Step #1: Arrange Your Furniture
Choosing and arranging furniture is one of the most important steps during the entire process of decorating a living room. Why? Because how you arrange the furniture is going to set the stage for how much space you have to work with.
The best way to start is by looking around your room. What are your eyes drawn to? Is it floor-to-ceiling bookshelves, a picture window or a beautiful fireplace? Whatever your answer is, decide to make that the focal point of all your decorating.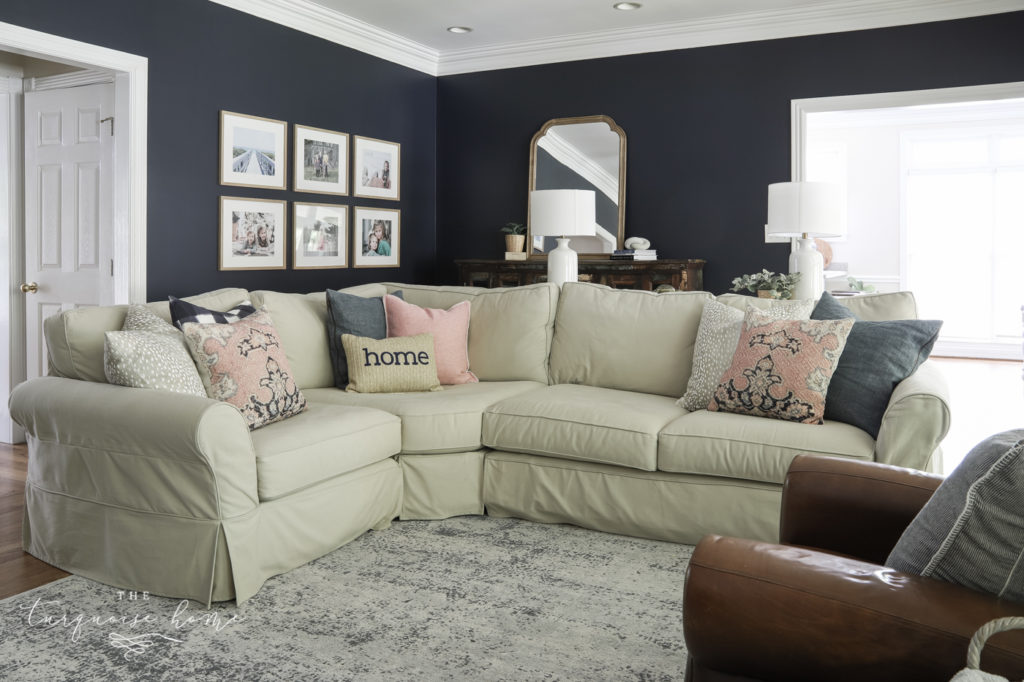 Next, think about the flow of traffic. You don't want to put a chair or table right in front of an area that is normally used to get to another room. If your living room is large enough, pull the furniture away from the walls. It's so much more welcoming that way in my opinion. When placing your couch, chairs, coffee tables and other items around the room, it's more intimate when they are closer together.
If you want to know more details about how many inches to have between furniture pieces or how many pieces to put in a room, check out my post on "How to Choose and Buy New Furniture."
I'm a big believer in working with what I have, so even if you don't want to replace any furniture, you don't need to! Swapping a sofa with a few chairs and moving the coffee table around can make all the difference.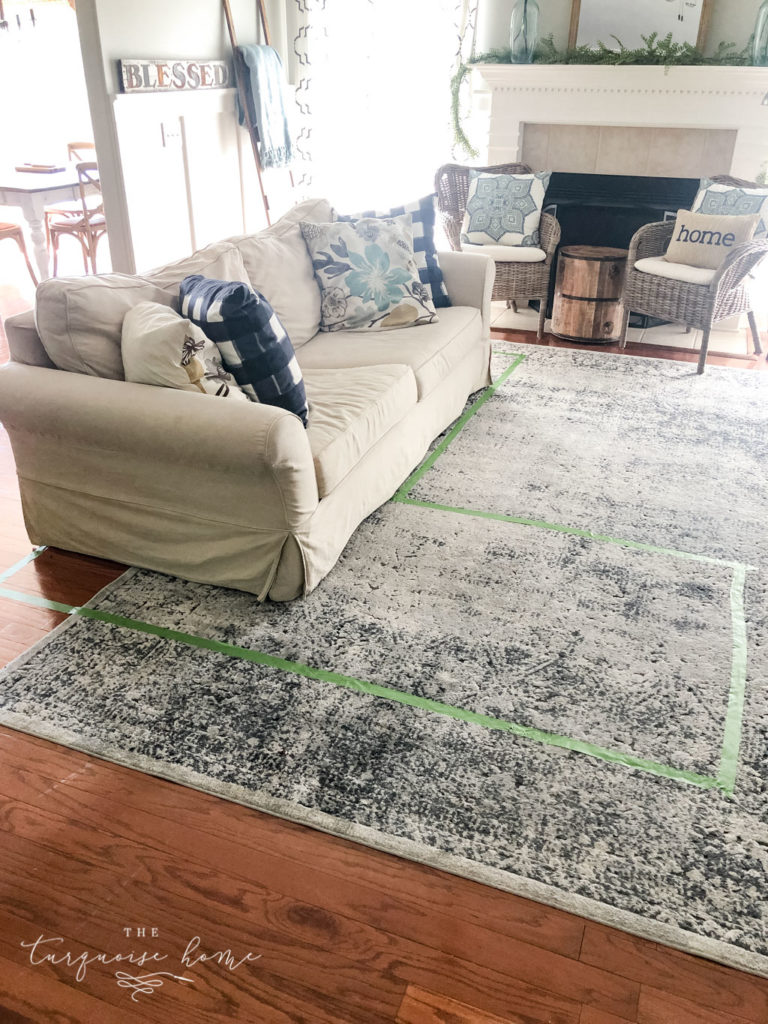 Before you buy any new furniture make sure to measure the space! I will go into detail shortly, but this step is so important I wanted to mention it a couple of times. Make note of the measurements in your phone or in your home binder, and keep it handy as you shop!
Pick the Size of Area Rugs Carefully
When it comes to area rugs, choosing the right size can seem baffling but it's so important. You don't want a tiny 3 x 5 rug in a huge room or it will just feel strange. On the other end of the spectrum, when you add a large area rug to your living room, it will make it look like the room is larger than it is.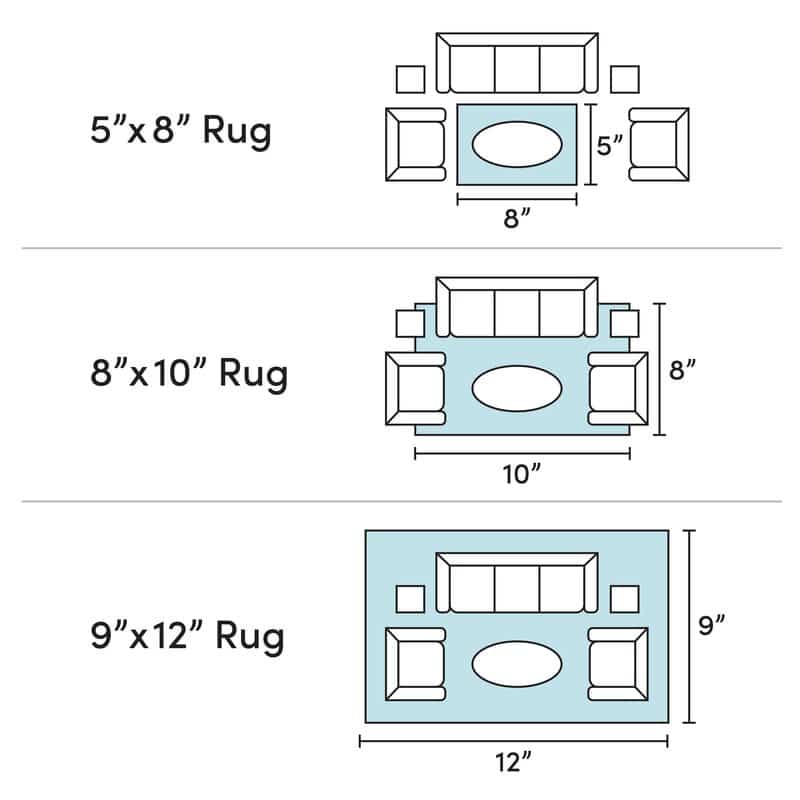 Always make sure to find an area rug that really fits your space. It's important to allow enough space to have 18 inches between the edge of the rug and the wall.
It's completely acceptable to have the front legs of your couch on the area rug. Otherwise, the rest of the furniture (except the coffee table) should either be large enough everything fits on it or small enough nothing is on it. (See the above diagram.)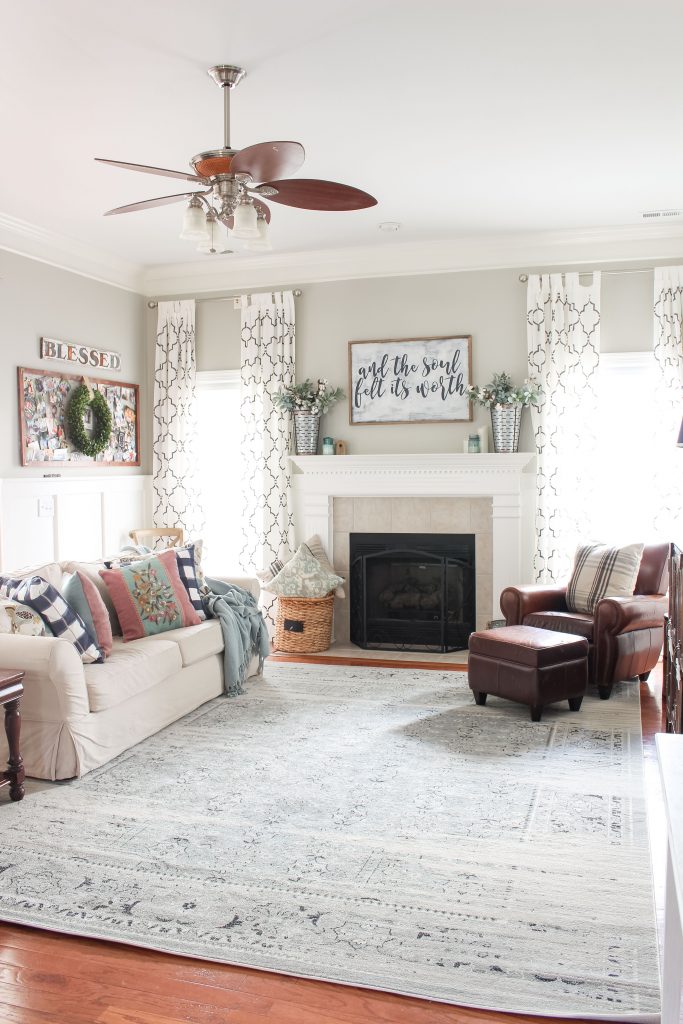 Choose a color that goes well with your color scheme. Don't be afraid to add a little pop of color to add some extra character when you decorate a living room with a rug, either.
Read more about choosing the right size rugs for your home HERE!
Where To Hang Artwork in the Living Room
Art is a lovely way to add color and texture to your space. Additionally, if you don't have a natural focal point, a large painting or another art piece could be used as the focal point.
In the living room, you don't have to hang all the art really high. Your living room should be an inviting space and most of the time people are going to be seated. So feel free to add pieces lower here than you would in other rooms.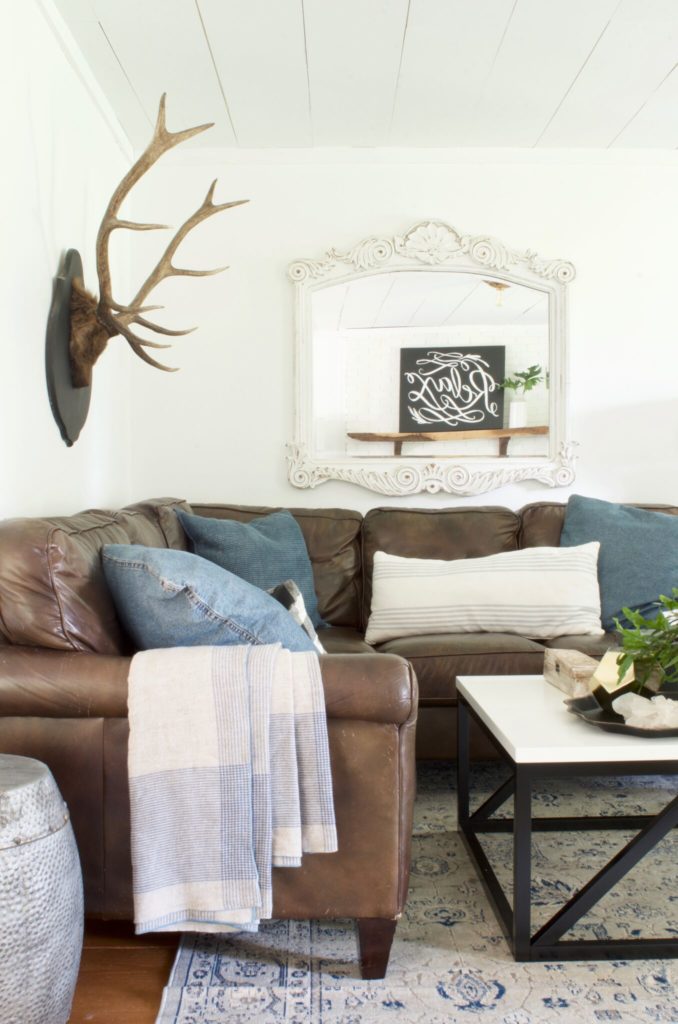 If you opt to hang a large piece of art above your couch, keep in mind it should be at least the 2/3 the size of the sofa. Otherwise, if you pick a piece that is too large or too small, it just will make the entire room look off. One way to combat this is to do a gallery wall to take up the space, rather than a single piece. Learn more about how high to hang art HERE.
Add beautiful art pieces on the sides of your windows. A generally rule is to allow at least 4 inches between the window and the piece, but sometimes rules are meant to be broken like Bre from Rooms for Rent and her beautiful mirror above her couch that overhangs the window trim. LOVE!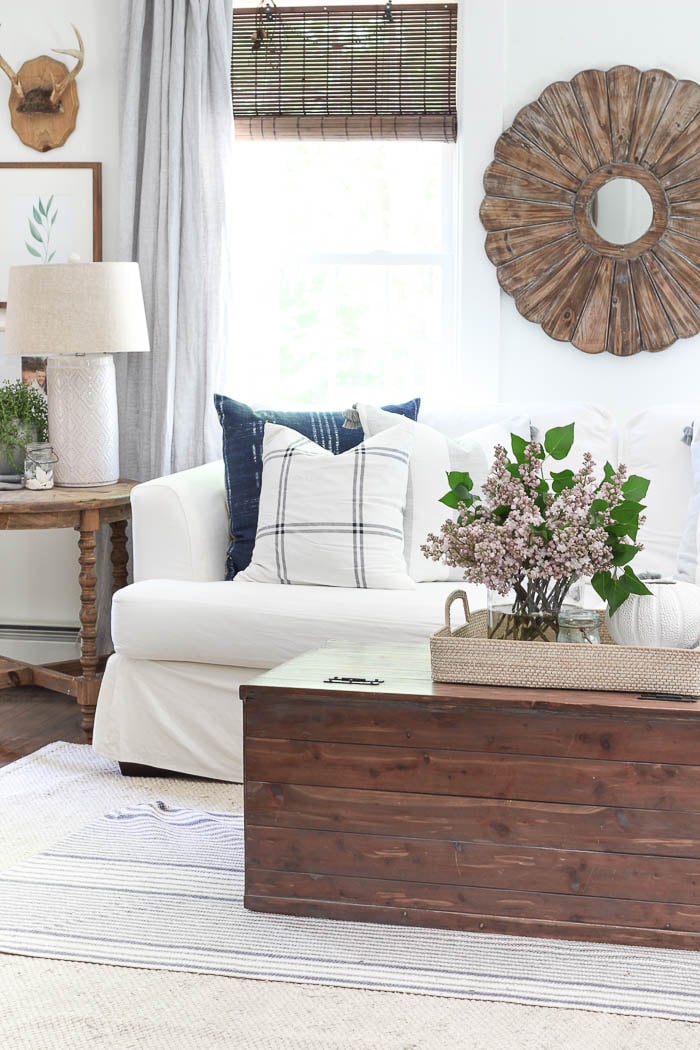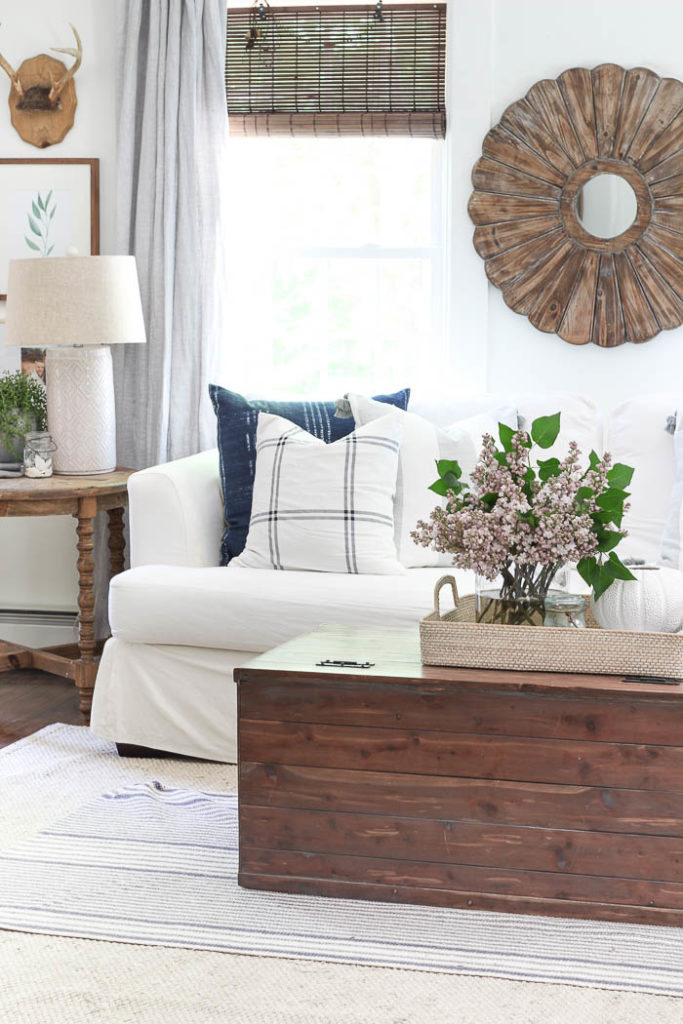 Either way, you want to add a stunning piece that makes an impact on the space!
When it comes to hanging group art, measure your space before you begin. Then make sample of your art with paper and painter's tape. You can arrange and rearrange the "art" as you wish until you end up with a design you are in love with. Then put the art in place.
Odd numbers are always better than even because it is more naturally pleasing to the eye. Place any large pieces in the center of your arrangement then fill in space with smaller art.
Need help decorating a large wall in the living room? Check out my DIY Wall Decor Ideas HERE!
Set The Stage With Lighting
Adding lighting is not just a great accent piece, it's completely functional and inviting. The living room shouldn't be too bright because it is space that is used for relaxing, watching tv and visiting with friends and family. Give it a romantic feel with lights that can be dimmed. They also are best for watching tv too.
Use lamps to add some extra lighting that's not blinding. Using accent lighting is fantastic for nighttime. During the day, natural light is best. If you like, you can even highlight art pieces with light to help them stand out in the room.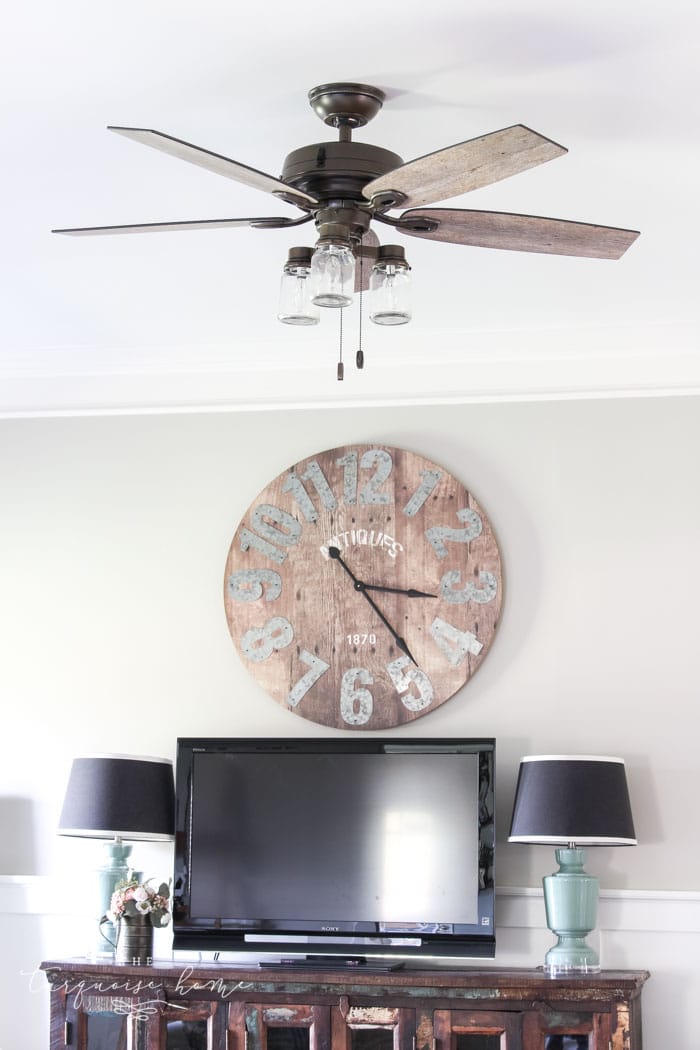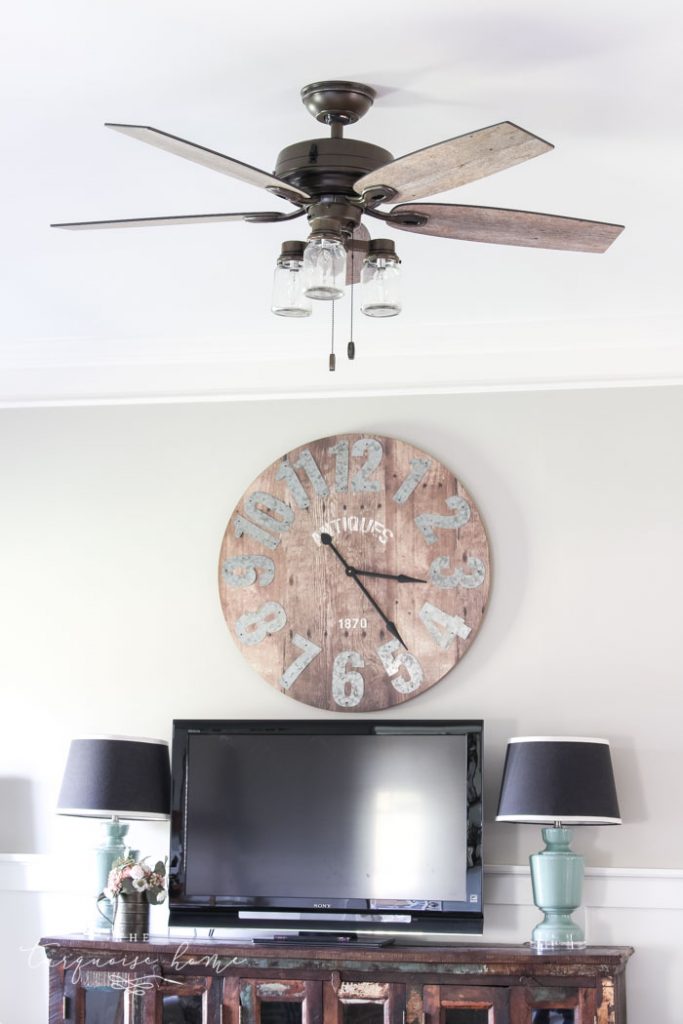 While we do have a beautiful ceiling fan that I love – with lighting – we rarely turn on the lights. Instead we utilize the lamps every single day, even having them set to turn on and off via our Amazon Echo. We can control them with our voice (turning them on and off and even dimming them, too) and it's one of my most favorite features in our room. 😉
Choosing Paint Colors
When it's time to choose a paint color or colors, keep in mind when you decorate a living room that you will be looking at it for a long time. (Unless you choose to repaint, of course!) So, choosing something that you love is very important. No pressure. Ha!
Generally, I gravitate towards more neutral tones, but I definitely have a fondness for brighter shades from time to time as well. If you prefer a bright, bold color I recommend just using it on one wall and tone down the others.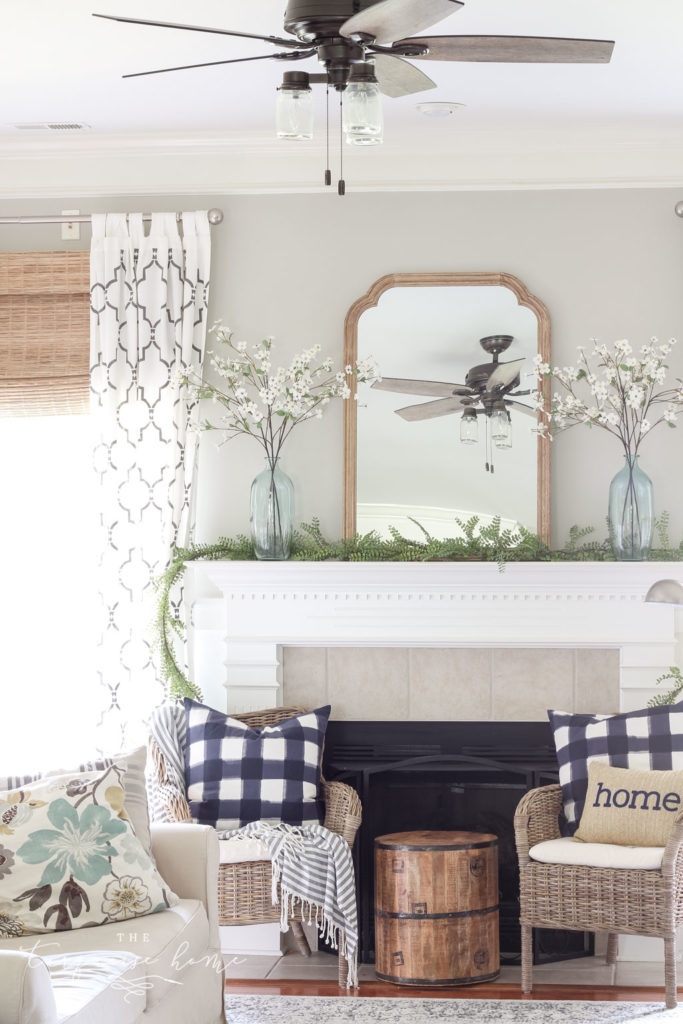 White is always fabulous because it adds natural light and gives the room a sleek stylish feel. Grays (like this one), tans, and taupes are timeless colors that are neutral and goes well in most spaces. A good mix between color and muted tones is a pale blue—it looks great in most homes and is naturally calming, which is always a win for a space that will have a lot of children in it!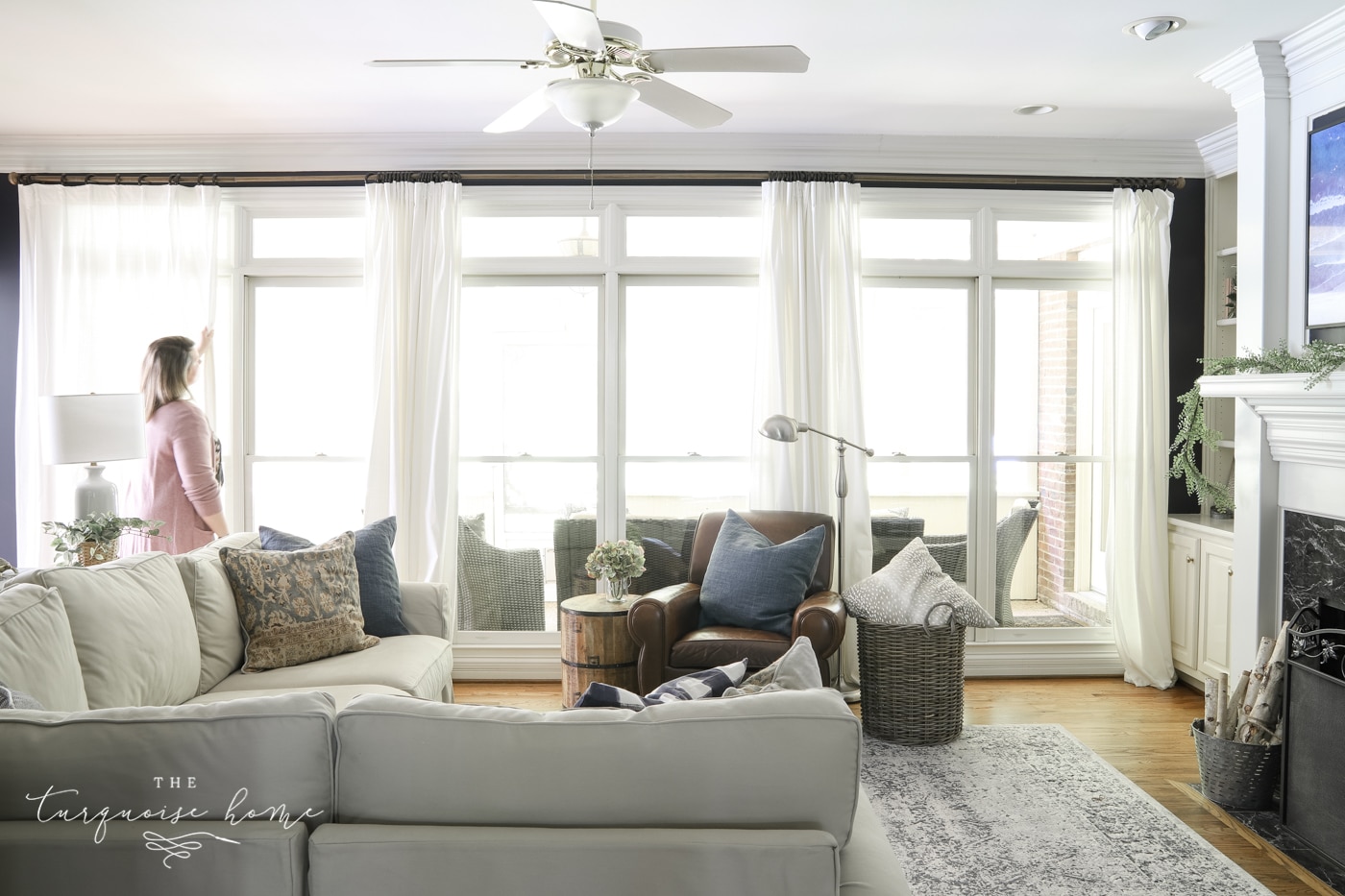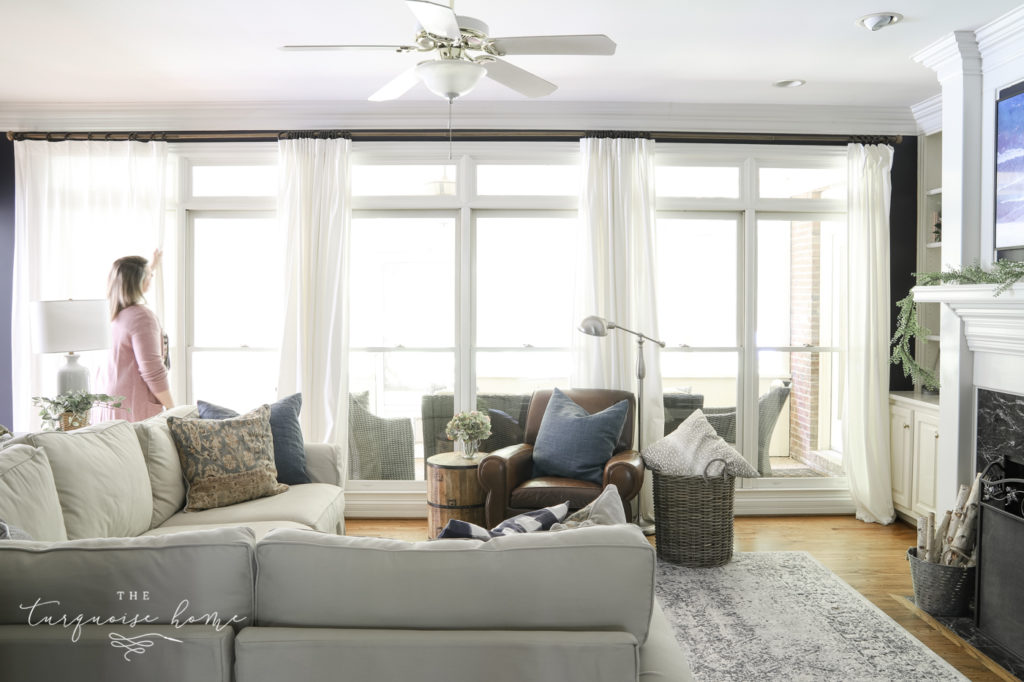 If you have an especially closed-in living room, I recommend that you stay away from dark colors. They can make the room feel dark and small and not inviting unless they have a ton of natural light. Larger rooms or rooms with a lot of natural light can handle dark colors much better and can create a cozy atmosphere.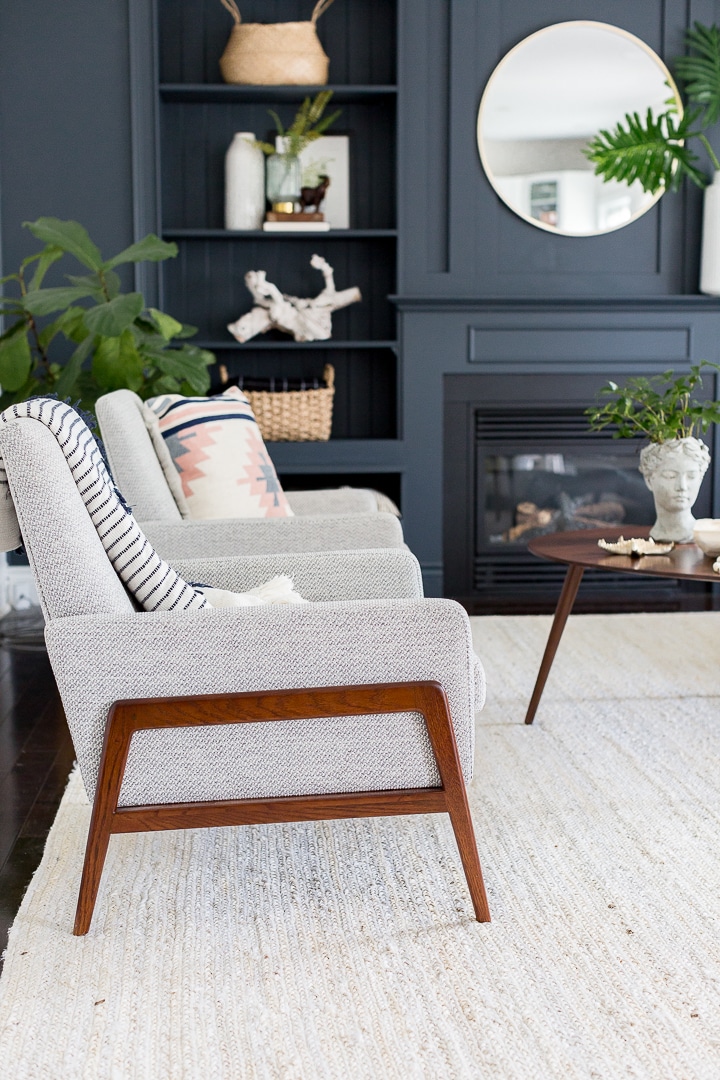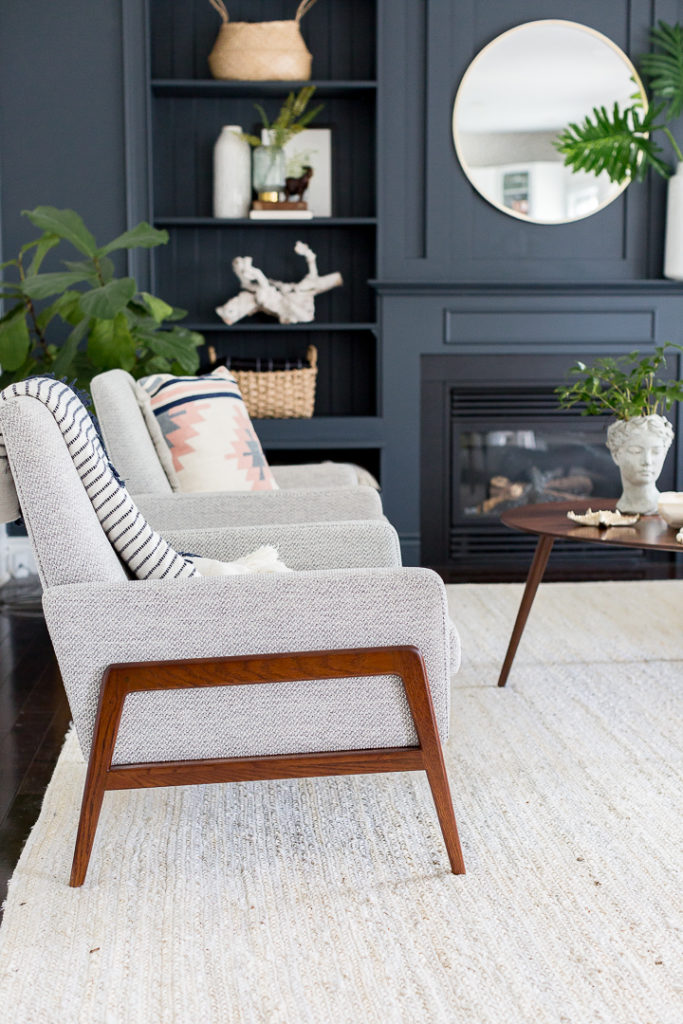 Ultimately, the decision is yours and there aren't any wrong answers. As long as you love it, that is what matters. Go with soft or vibrant colors depending on what you enjoy the most.
Space Planning & Measuring
Lastly, space planning and measuring your living room is one of the key components of any makeover. You need to know your space and how much you have of it. The most important step is to measure it accurately. I recommend measuring more than once and writing down what you get each time. Make sure they match up and you are good to go.
Now, what are you going to do with those measurements? Depending on what you prefer, you can either draw the room on graph paper on a much smaller scale. Then measure your furniture and see where everything would fit best.
The second option is to try a virtual room website that gives you a 3D visual of your room. Use whichever is easiest for you to work with.
When it's time to decorate a living room, you don't have to be afraid! Remember, there are so few things in a living room that you can't easily undo or change up. Happy decorating!
MORE POSTS YOU WILL LOVE: