15+ Work-At-Home Mom Gift Ideas
As a work-at-home mom, I know what gifts I would like to receive – or things that I already have that would make great gifts! So I rounded up these top 15+ work-at-home mom gift ideas! If you know someone who is a work-at-home mom, then these are some great gifts. And if you ARE a work-at-home mom, then you may want to pass this list along. 😉
This post contains affiliate links for your convenience. See my full disclosure policy here.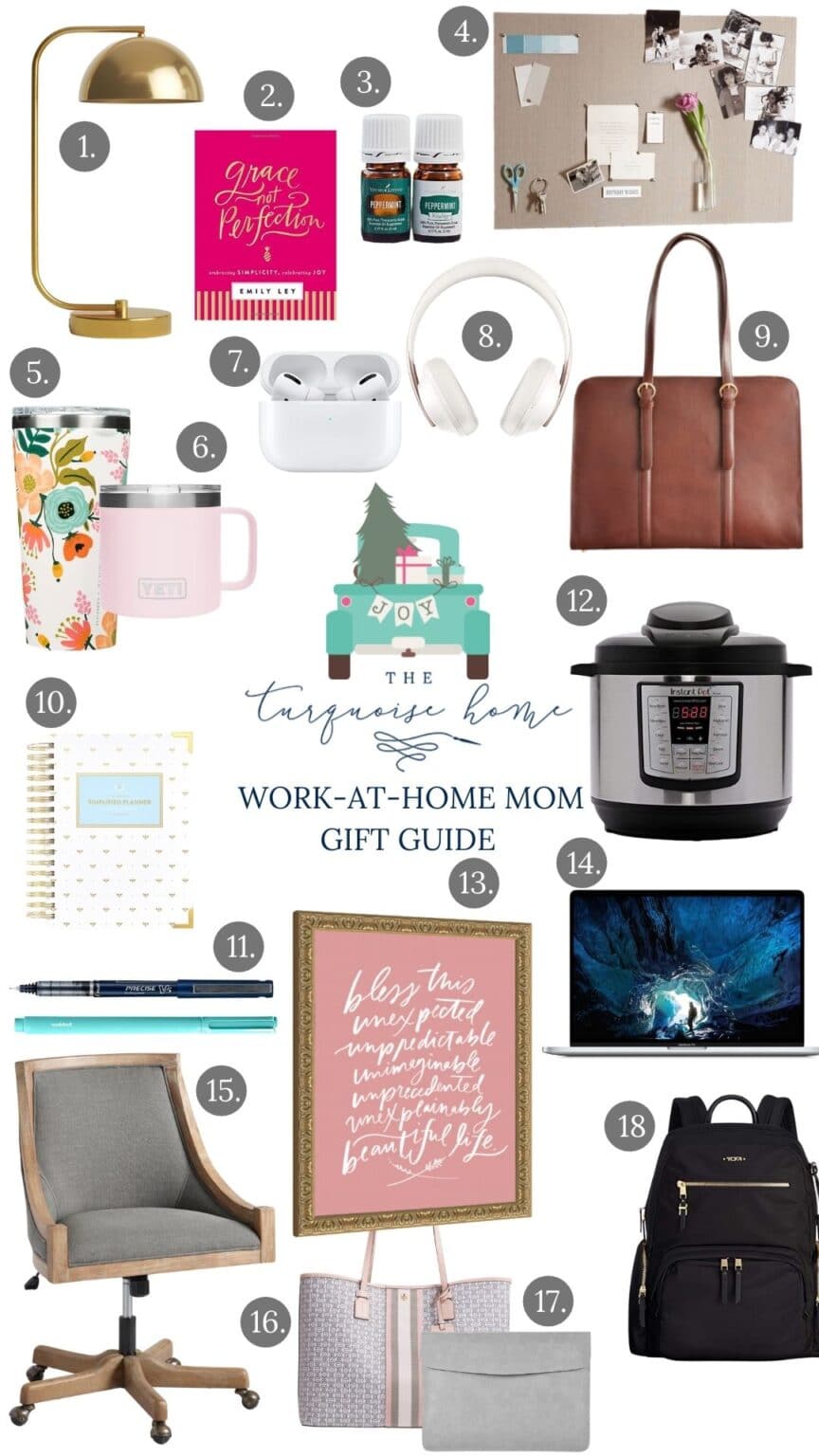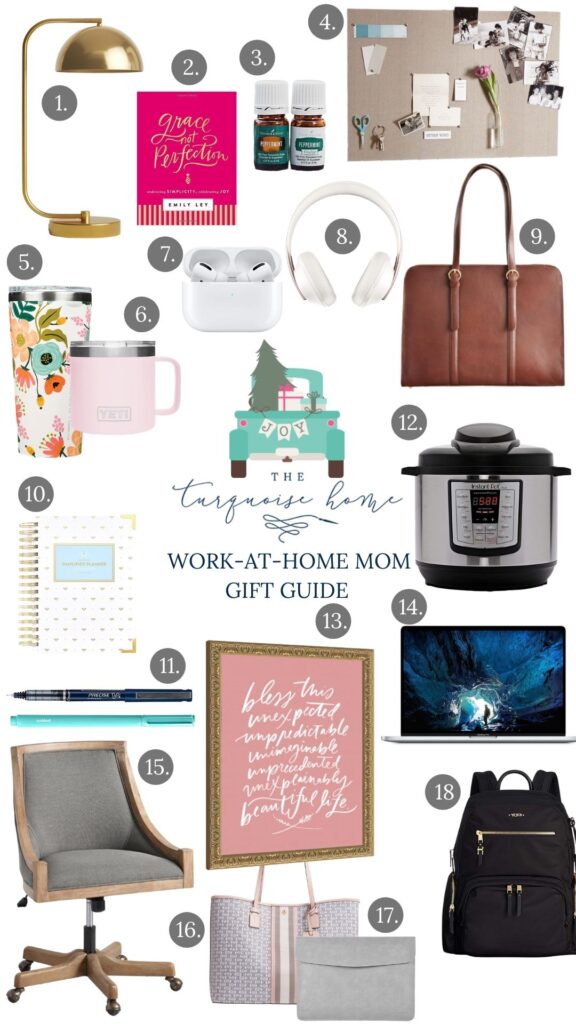 1. Brass Task Lamp | 2. Grace, Not Perfection |3. Essential Oils | 4. Linen Pinboard | 5. Pretty Floral Coffee Tumbler | 6. Yeti Rambler mug | 7. AirPod Pros |8. Noise-Canceling Headphones | 9. Leather Messenger Laptop Bag | 10. Simplified Planner | 11. Poppin Pens & Precise v5 pens | 12. Instant Pot | 13. Bless This Beautiful Life Art | 14. Macbook Pro | 15. Charcoal Gray Desk Chair | 16. Large Tote Bag | 17. Laptop Sleeve | 18. Laptop Backpack
Good lighting is so important while working, so a task lamp is crucial, especially when you have to work late at night or early in the morning. I love my brass task lamp!
As a mom who is in the thick of the elementary years, and running a business, this new release has been a cool drink of water. Ahhhh. Emily Ley has such a way with words and gives us busy mamas the permission to give ourselves grace and to make self-care a priority. So, so good!
The work-at-home mom most likely has the hardest time finding time for self-care. That's where essential oils come in.
Crank up the diffuser with some Stress Away and Peppermint essential oils in the afternoon for a quick de-stressing pick-me-up! Or roll on some En-r-gee in the morning to get up and going.
I love to diffuse a citrus scent and mint for a refreshing aroma. Creating a spa-like atmosphere at home is one way to care for the work-at-home mom's soul!
Mama's gotta have a place to put all of her special notes. I have a great pin board behind my desk where I keep my brand information to keep me on the right track, my current top to-dos and other various notes that I need to keep close to me. I also love this wood framed pinboard!
If the work-at-home mom in your life is a coffee (or tea) drinker, then she needs this adorable floral tumbler coffee mug! It's so cute and I don't know about you, but as much as I love an open mug, my coffee gets too cold, too fast. So, a pretty tumbler is my jam.
I also love this Yeti Rambler mug if I want a handle on my coffee. It'll keep my drink warm all day long!
Sometimes the mamas have to try to work while the kids are home. Maybe the hubby is watching the kids or a babysitter, but it's hard to concentrate when you can hear kiddos crying on the other side of the door. They are fine, of course, but that mama instinct kicks in and it takes everything inside not to run out and see what's the matter. (Ask me how I know. 😉)
Grab a set of these noise-canceling headphones and you'll be none the wiser.
I personally love my AirPods and have heard wonderful things about the AirPod Pros for being noise canceling!
A cute laptop bag is a must! And, I even would go as far to say that the work-at-home mom needs one that doubles as a purse, so she doesn't have to carry two bags when running out the door to a business meeting or Starbucks reprieve. Simplifying is imperative to success!
You can always buy a large tote bag and a laptop sleeve for your laptop.
A busy work-at-home mom is juggling a bajillion things and needs a place to dump all of the brain things, but not miss anything. Right? Now that I am juggling two kids in elementary school and all of the normal things we have to do, I can not LIVE without my Simplified Planner. It's just that – simple!
I hate overcomplicated, so this is perfect with a place for the to-do list, a schedule, a place to write dinner plans and notes. Not to mention, they are breathtakingly beautiful!! 🎉 (I'm using the 2021 Calendar Daily in Gold Bee this next year.) See my best tips for using the Simplified Planner HERE.
I am a pen SNOB and Poppin pens are the prettiest ball point pens I've found! They are pretty, write so smooth and come in a variety of colors. The best thing? They don't bleed through the pages of my planner. 🙂 The come in a variety of colors, but of course, my favorite one is turquoise!
But in my opinion, these navy Pilot Precise v5 pens are hands down my favorite pens. They aren't quite as pretty, but I LOVE the way they write and the navy ink is *chef's kiss.*
The instant pot is a non-negotiable when it comes to me working-from-home. In the winter, I use the slow cooker feature about 2 times per week. And the pressure cooker is a fabulous life saver when I realize it's 5 pm and the chicken I need for dinner is still frozen!
Any encouraging or inspiring art is a blessing to a working mom. And what a sweet sentiment to remember as we dodge curveballs every day from this Bless This Beautiful Life Art! See more Inspirational Wall Art HERE!
I cannot stress enough how important it is to have up-to-date and high-functioning tools! If the work-from-mom in your life has a job related to technology, then a work-horse computer is a must! I recently upgraded my 4-year-old MacBook Pro with another one and it has made my work flow so much more efficient. I know this is a high ticket item, but it's Christmas!
Sitting in a comfortable chair is important because you spend so much time in it! But I also want to think that form and function are not mutually exclusive.
I recently purchased this amazing laptop backpack for when I travel. I'm obsessed with the pockets and compartments and the quality. They literally thought of everything. And it's 150% worth the price! I traveled on a plane with it not too long ago and it was a dream!
I love that my 15″ laptop fits in its own zipper compartment and it's so easy to remove when going through security. I believe in investing in pieces that will last for years to come, and this is one of those!
Life is busy for a work-from-home mom, but it's super important to get enough water every day. The large Yeti Rambler keeps ice frozen 2 times longer than a plastic tumbler. I can attest that the ice in my cup will stay frozen all day long! It keeps the water cold and I drink so much more water now that I have my Yeti cup.
Bless her! The very best intentions of getting dinner on the table every night is just not always going to happen. There are definitely busy weeks with huge deadlines with little to no time for cooking. You cannot go wrong with a restaurant gift card to her favorite place for carry out!
What would YOU give a work-at-home mom?
Or if you are a WAHM, what would you want to receive?
MORE FAVORITE POSTS YOU WILL LOVE:
SaveSave