Blue and green plaids with pops of red in the living room give a classic Christmas vibe! See my 2020 Christmas decorating plans in the living room and the rest of the house.
I've never planned out my Christmas decorating plans other than sketching them on a piece of paper in my Holiday Planner, but this year is a different kind of year.
I know it's always a controversial topic when bloggers start sharing their Christmas ideas and decor in early November, or even October. But I hope you know that my heart is to inspire and help YOU prep and plan for your decor early so that you can snag things you love before they sell out. My hope is that you can prep your decor early and enjoy the process instead of feeling last-minute and rushed.
This year I was feeling particularly overwhelmed by the idea of decorating a whole new space. We moved into this house in December last year and I threw up a tree in the living room, decorated it with our family ornaments and called it done – as seen below. (The living room has come a loooong way since then!)
This post contains affiliate links for your convenience. See my full disclosure policy.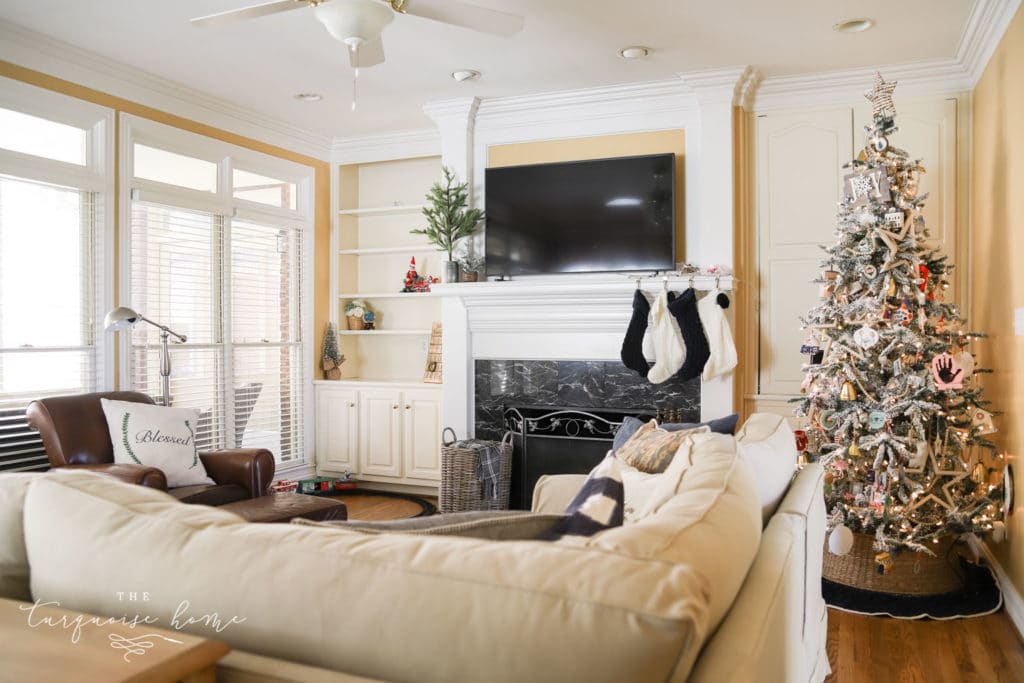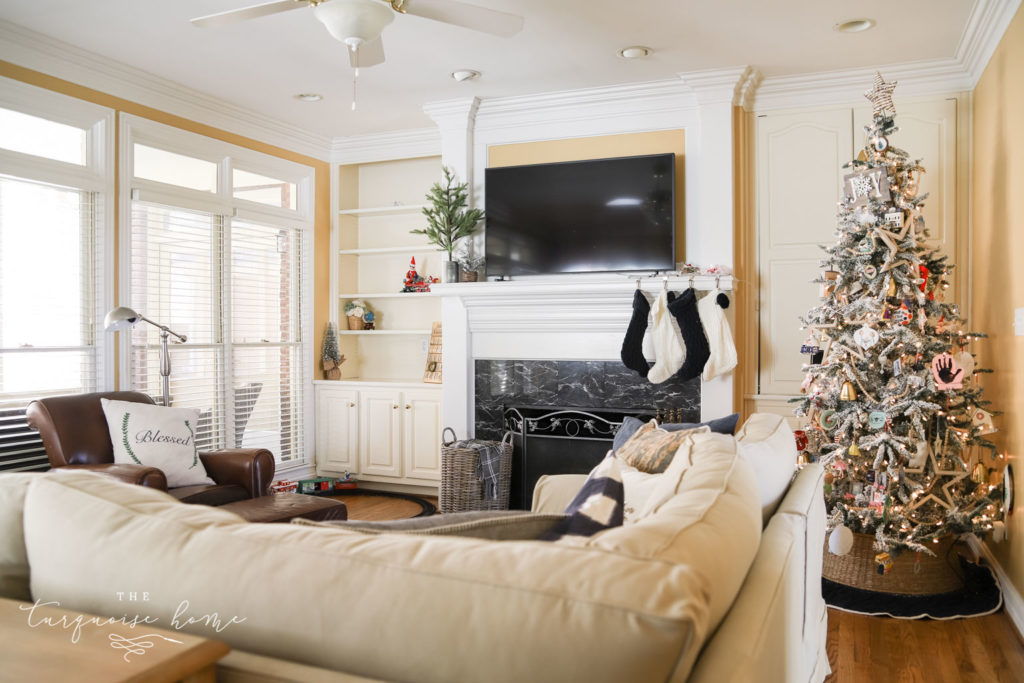 But I plan on decorating my normal way this year and decorating a new space felt daunting without first putting some ideas down on paper – or on the blog. ☺️
But first, I want to show you my newest purchase that has been a much-wanted gift to myself. 🎁🎄
I've been wishing for this particular Christmas tree for two years now. It's definitely an investment kind of tree, but I hemmed and hawed over the price and wondered if the size would even work in our living room. I thought it might be too big, but I also wanted it to fill the space nicely.
Grand Frasier Fir Christmas Tree | Woven Basket Tree Collar
It arrived last week and I set it up Halloween night! It's SO perfect for this corner of our living room. Filling it up perfectly, but not too overwhelming. I love how full the branches are without anything on them and I'm so happy with it! I will be decorating it soon and sharing it in the coming weeks, but I wanted to share a little sneak peek with you here first!
OK, now on to my Christmas decorating plans.
Christmas Decorating Plans for the Living Room
I mostly wanted to get my living room decor figured out, so I don't over buy and have to return a bunch it stuff. It helps me see it all together first, in this mood board. I shared how I make these mood boards (here), if you need to do the same thing!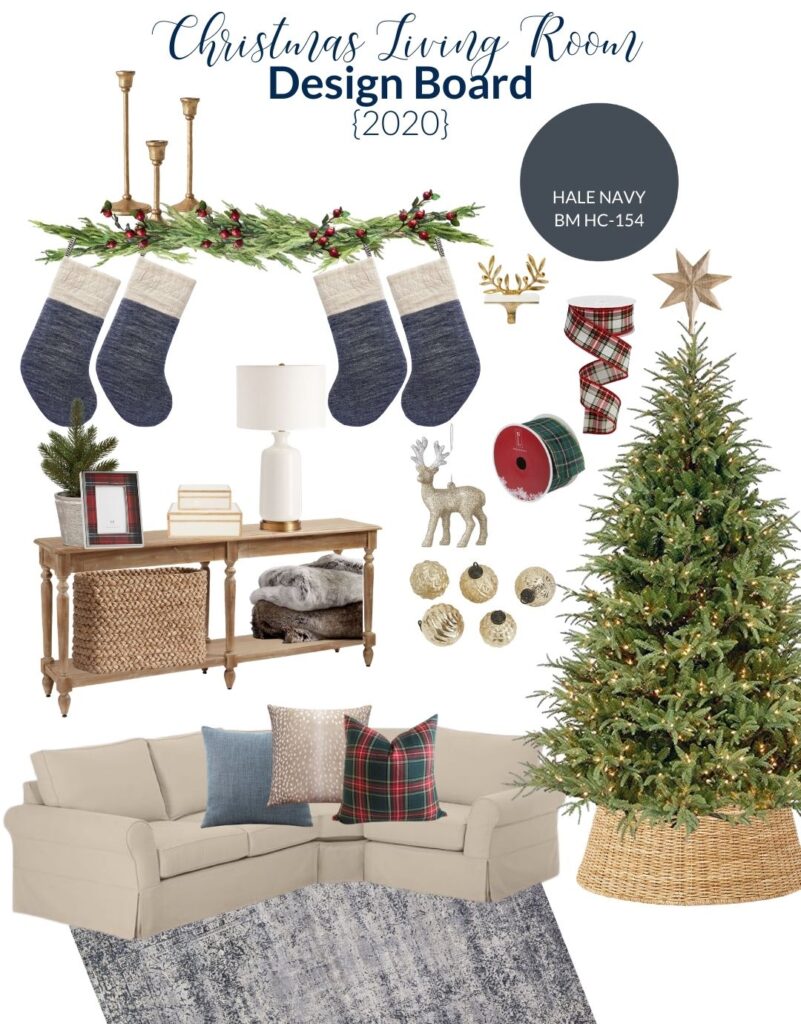 Brass Candle Sticks | Cedar Garland | Pomegranate Stems | Blue Stockings | Stocking Holders | Red Plaid Ribbon | Green Plaid Ribbon | Deer Ornaments | Mercury Glass Ornaments | Console Table | White & Brass Lamp | Storage Boxes (Large & Small) | Red Plaid Frame | Faux Mini Tree | Faux Fur Throw | Star Tree Topper | Grande Frasier Fir Christmas Tree | Woven Basket Tree Collar | Sectional Sofa | Midnight Blue Linen Pillow Cover | Fawn Pillow Cover | Red Plaid Pillow Cover | Blue "Vintage" Rug
I wanted to keep things neutral with classic pops of red. I LOVE plaid at Christmas time, so what better way to bring in some red with these plaid accents to go with my favorite green and blues. I think it's going to be beautiful.
I'm still waiting on a few pieces to arrive, but as soon as I get the room all put together, I'll be sharing it here!
Christmas Decorating in the rest of the house
Now, as for the rest of the house, I have a few ideas, but I'm going to have to play around with the new spaces and see how my existing decor works in them. I'm still working on my kitchen makeover, but it should be done by the end of this month, so I'm waiting to decorate it until I have the makeover done.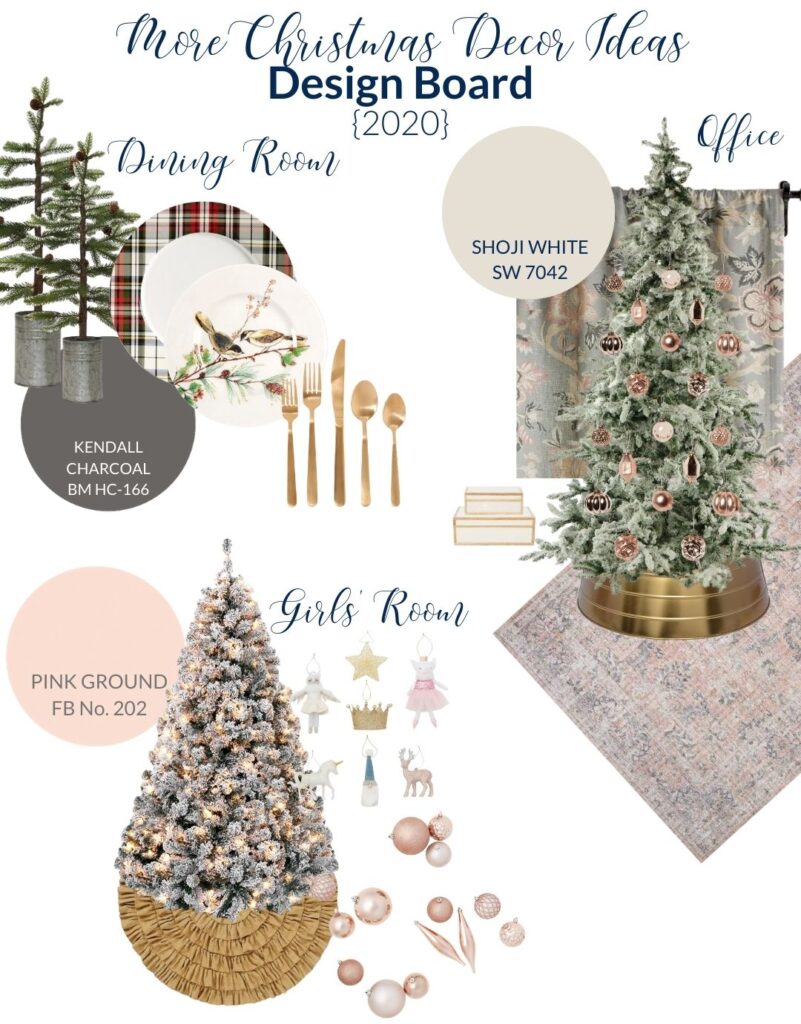 Faux Trees (shop similar and here) | Plaid Plates | Winter Song Plates (retired) | Gold "Silverware" | Floral Curtains | Flocked Mountain Pine Christmas Tree | Gold Ornaments | Brass Tree Collar | Blush and Gray Rug | Flocked Pre-Lit Tree | Ruffled Burlap Tree Skirt | Girly Blush Ornaments
I'm excited to start a fun new tradition of putting a tree up in the girls' room. They are going to be thrilled when this box of 85 blush ornaments arrives to decorate their full-size tree. I'll be using the flocked tree that I had in our old living room in their room, so it's going to be so cute and festive!
Since my office is on the front of the house, I plan to add my flocked mountain pine tree in there in one of the front windows. The colors in my office are blush and brass, so I'll be continuing the color scheme with the tree. These gold ornaments are gorgeous and the brass tree collar is so pretty!
Then my dining room is across from my office, also on the front of the house, so I'm still deciding if I'll put a tree in there or not. But I definitely want the plaid theme to carry into my dishes. I have some retired Lenox china that is called winter song, and I'll pair them with the plaid dishes! I'm sure I'll add more Christmas stuff in there, but we'll start there!
I hope this gives you an idea of where I'm going with my Christmas decor this year! I am excited to take you along. Since I haven't really decorated much for any other season, I'm excited to transform our new home into a joy-filled space for the holidays.
Do you like to go all out for your Christmas decorating, or do you like to keep things more simple?
MORE POSTS YOU WILL LOVE:
Get Instant Access to my Guide to Customize Your Home on a Budget
Grab your FREE guide for 10 Ways to Customize Your Home on a Budget: simple projects to transform your home from builder beige to a home with character and charm!