25 Teacher Appreciation Gift Ideas
These 25 teacher appreciation gift ideas will let your hard-working, favorite educator know you're grateful for all they do for your kids.
Teachers have long been the unsung heroes of the community. They work hard, and deserve to be appreciated on a regular basis. Teacher appreciation gifts are a popular way to show that special teacher that you care.
Being a teacher is a noble profession that requires wearing many hats and juggling many responsibilities, often simultaneously. This year, with many students learning remotely, teachers have had to take on more tasks on top of the ones they already tackle on a daily basis.
While Teacher Appreciation Week gives students and parents the opportunity to shower these shapers of young minds with well-deserved gratitude, teachers work around the clock until that last bell rings before summer (and many don't even stop then!). Here are 25 teacher appreciation gift ideas to show your appreciation now!

The History Behind Teacher Appreciation Week
Eleanor Roosevelt first persuaded Congress to proclaim a National Teacher Day as far back as 1953, but it wasn't officially declared until 1980. In 1985, the National PTA established Teacher Appreciation Week during the month of May.
Since then, American students and their parents have observed this week as a way to show appreciation for their teachers by presenting them with gifts and cards.
How to Choose a Teacher Appreciation Gift
There are many different ways you can show your appreciation to that special teacher in your life. Before you dive in, consider the following factors before deciding on the best teacher appreciation gift from your family to your teacher.
Time: How much time do you have to devote to shopping or making a gift? If you're a procrastinator or are juggling a busy schedule, you may opt for a simple gift card or something you can order on Amazon. If you have a little more time to spare, a fun DIY project might be right up your alley.
Budget: If your budget is tight, take a look at any supplies you might have lying around the house, then take advantage of the many free printables available on the internet to make a really special, personalized gift. If you have a little money to spend, you might choose to treat your teacher to something luxurious you know they'll love.
Personality: What personal details do you know about your teacher that might clue you in to what he or she might like? What special touches can you include to make your gift extra personal?
Enlist your student to help brainstorm ideas. After you give a little thought to each of these factors, it's time to start shopping or hunting for supplies to create your teacher appreciation gift.
Great Teacher Appreciation Gift Ideas
Here are some of my favorite teacher appreciation gift ideas from around the internet. There are some really cute, creative and practical ideas out there!
1. DIY Planter + Free Printable Tag
I had a blast making these sweet DIY planters for my kid's teachers for Teacher Appreciation Week this year. They cost very little and are simple to make! I also included some free printable tags to give them an extra personal touch.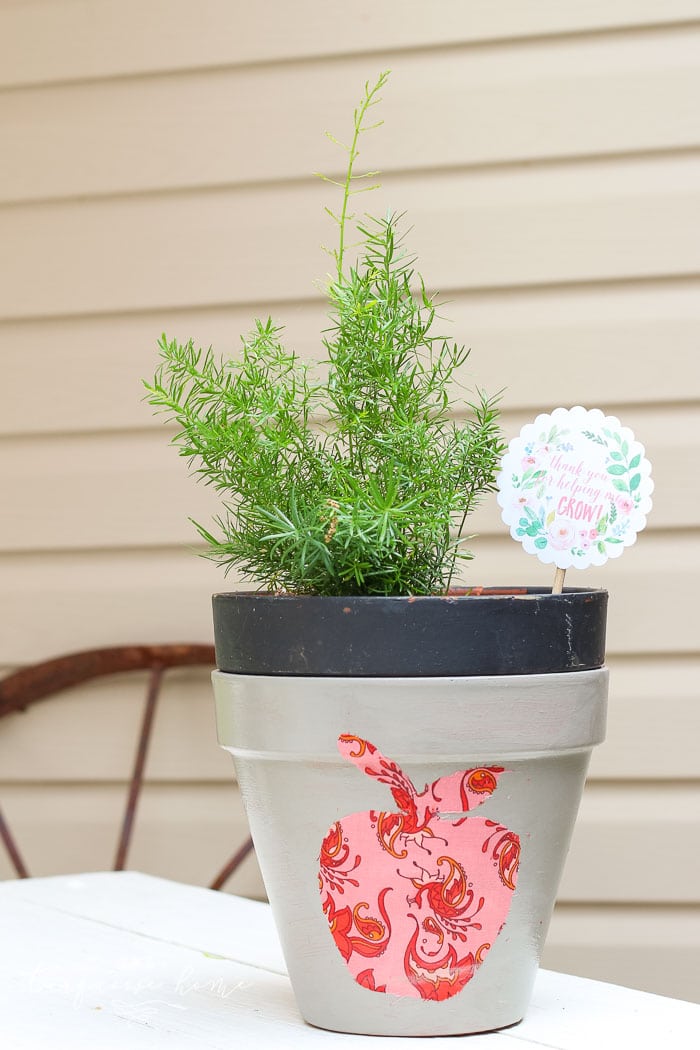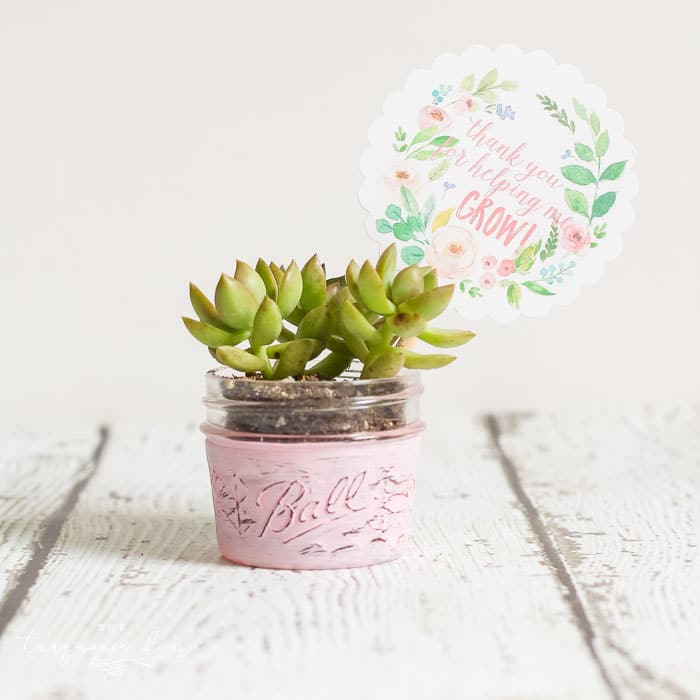 2. DIY Teacher's Treat Jar + Free Printable Sticker
I can't think of anyone more deserving of chocolate than a teacher. This DIY Teacher's Treat Jar is perfect for the hardworking teacher who could use a little treat every now and then.
I designed this simple "Teacher's Treat" sticker really quickly in the Silhouette Studio Designer Edition, which you can download for free. I then used printable white sticker paper and adhesive corrugated paper to make the stickers for the mason jar.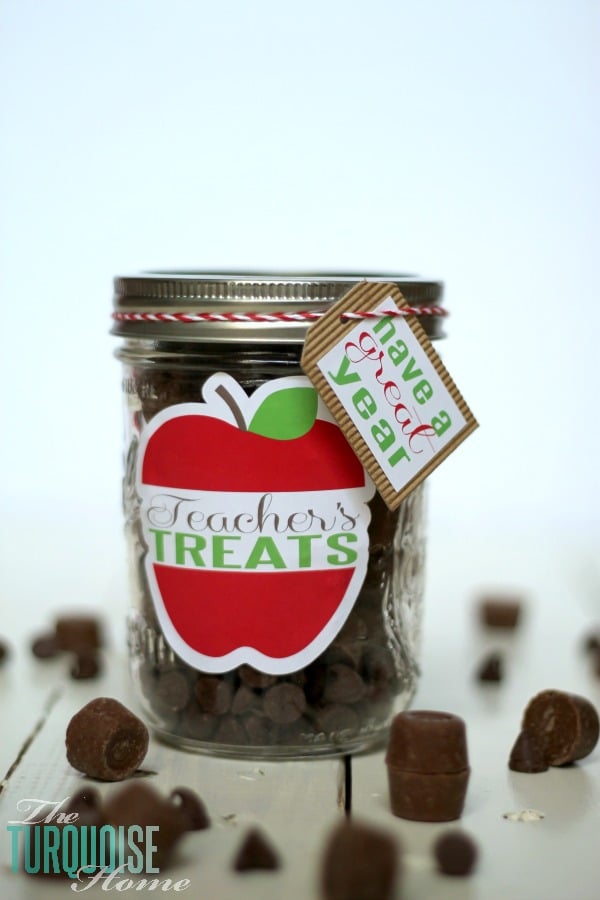 3. Anti-Bacterial Hand Soap Gift + Free Printable Tag
Who says thoughtful gifts can't be practical? We all know that classrooms can be an absolute germ-fest, and it's so important for teachers and students alike to keep their hands squeaky clean.
This hand soap gift with free printable tag from Eighteen 25 is an excellent gesture. Alternatively, you can use this same idea with bottles of hand sanitizer that can be kept around the classroom.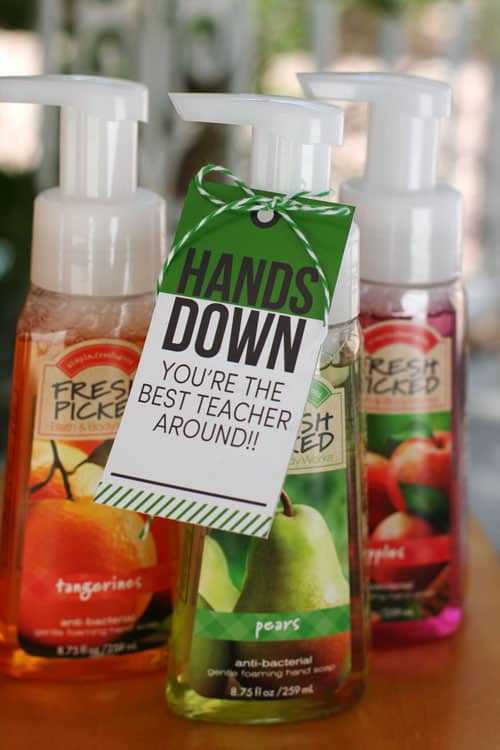 4. Teacher Survival Kit + Free Printable Label
This Teacher Survival Kit with free printable from Tried and True Blog is chock full of handy items a teacher can use throughout the year. It's also so easy to put together! Any office supply store will carry pencils, pens, highlighters, Expo markers, paperclips and candy, but you can find decorative paint cans on Amazon.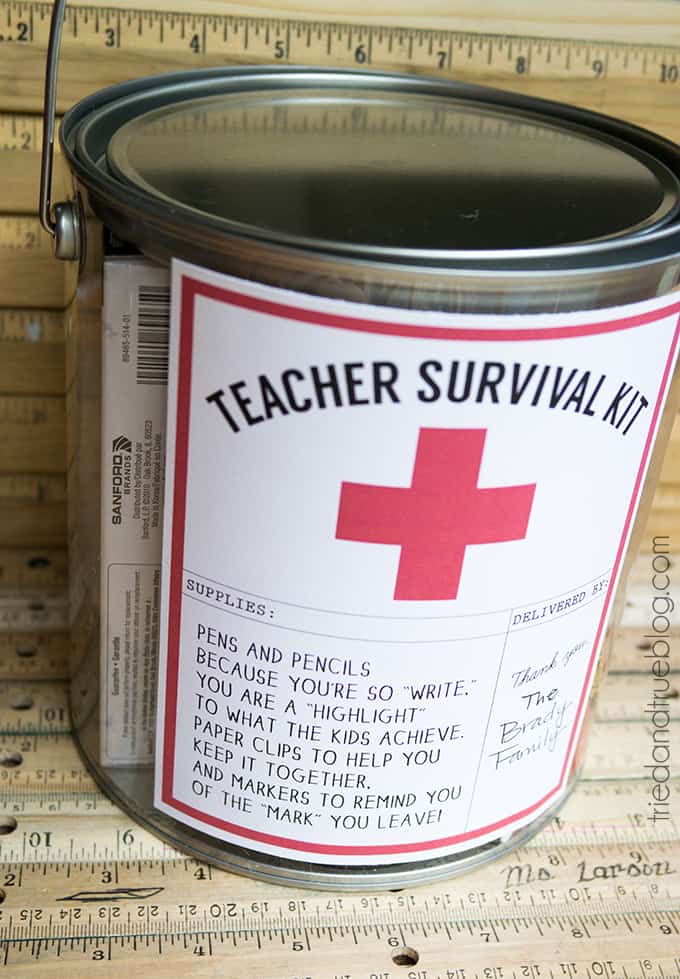 5. Nacho Average Teacher Gift Basket + Free Printable Label
How cute is this nacho gift basket idea from See Vanessa Craft? She filled a galvanized bucket with everything needed to make delicious nachos – chips, salsa, queso and cactus sipper cup (for margaritas or any drink of choice!). She even added a gift card to her favorite local Mexican restaurant. This makes such a unique gift. Plus, who doesn't love nachos?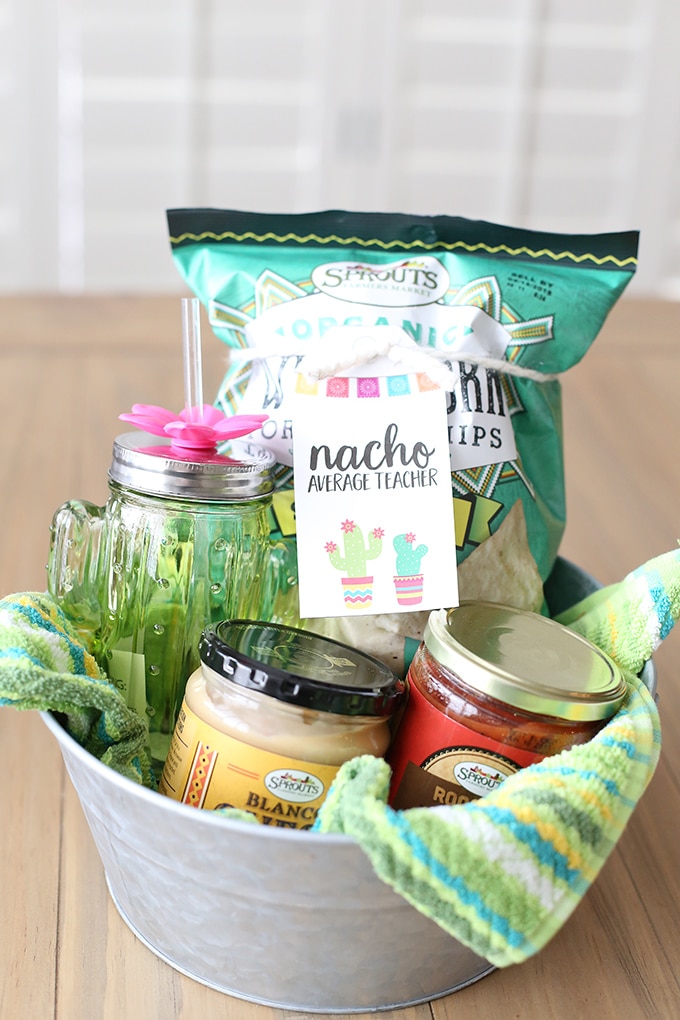 6. Thanks A Latte Starbucks Gift Card Idea + Free Printable Tag
This Thanks A Latte Starbucks Gift Card Idea + Free Printable is so cute! It's a great way to dress up a gift card and make it super special. Alison shared a clever tip: when buying the gift card, ask for an extra cup or two. Then just add some crinkle paper, a bow, and the printable tag. Cheers!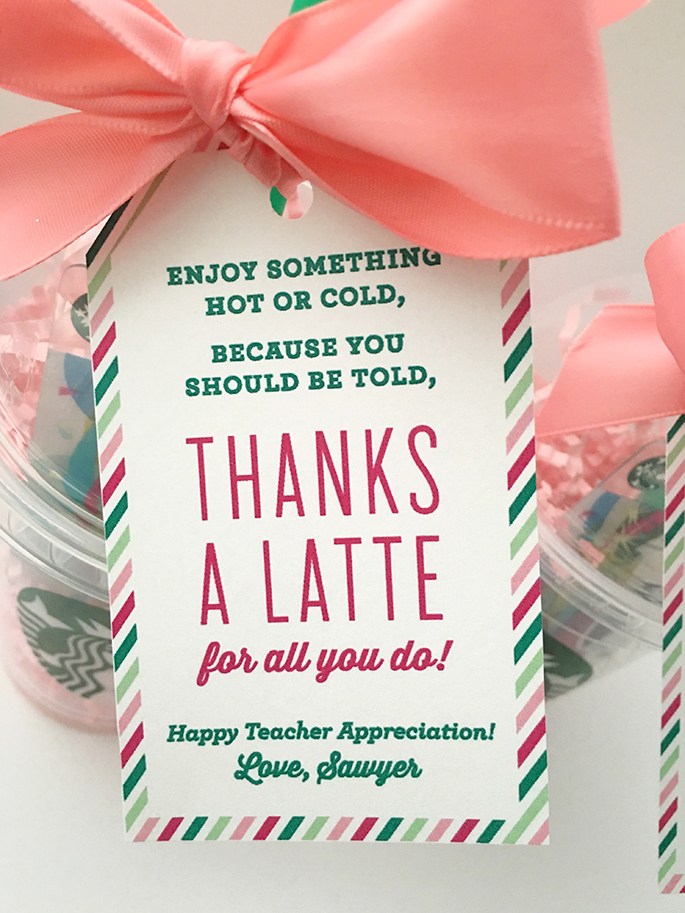 Quick and Easy Teacher Appreciation Gifts
Here are some additional teacher appreciation gift ideas that are great if you're pressed for time.
7. Printable Bookmarks
Printable bookmarks make an easy and free gift for any teacher who loves to read. Check out these great free printable bookmarks from Positively Splendid.
8. Canvas Tote Bags
Amazon has a couple of cute tote bags designed especially for teachers that you can order in a flash. I especially love these two:
9. Target Gift Card + Free Printable Tag
What could be easier or more useful than a Target gift card? Take it up a notch with a free printable gift card holder that takes almost no time at all. Take advantage of this great free printable Target gift tag from Landeelu.
10. Summer Readiness Kit
This summer readiness kit is a bundle of fun! A beach towel, tube of sunscreen and magazine will get your teacher looking forward to treating his or her self as soon as vacation hits.
11. VIP Room Service Door Hanger
Make sure your teacher gets what they really want by letting them choose! Plus, they'll feel like a real VIP. These editable, printable door hangers from Etsy are so cute, and they buy you a little time before having to go out and shop.
More DIY Teacher Appreciation Gift Ideas for Crafters
Love to DIY and have a little more time to spend? Your favorite teacher will love these thoughtful, handmade gifts!
12. School Supply "Cake"
This clever school supply "cake" from Happy Go Lucky Blog uses a precious tub of sanitizing wipes and is full of supplies every classroom goes through in a flash.
13. Homemade Jam + Free Printable Gift Tag
If you love keeping busy in the kitchen, this homemade jam with personalized printable gift tag from Kate's Kitchen makes a sweet gift from you to your favorite teacher.
14. "Berry" Candy Gift Basket
One cute homemade "berry" baskets tutorial uses paper berry baskets filled with berry candy, but these artsy stoneware baskets from Amazon are pretty and can be reused for many purposes.
15. Jar of "Chill Pills"
This jar of "chill pills" from Cook Craft Love is another fun candy jar idea with a twist.
16. DIY Teacher Appreciation Collage
This DIY costs nothing to make but a little time and maybe a touch of computer-savviness. Whether your student's class is learning remotely or in-person, this digital collage from Room Mom Rescue is such a thoughtful gesture from all the families.
DIY Gifts to Make with Your Student
Don't forget the reason for the school season! Put your students to work. After all, they're the ones who will be presenting their teacher with their gift of gratitude.
17. Pencil Flower Bouquet
This bouquet of pencil flowers is a cute project your student can help make.
18. Superhero Candy Bar + Printable
Enlist the help of your little one to make this superhero candy bar + printable from Artsy Momma.
19. Recordable Greeting Card
Let your kid decorate this blank, recordable greeting card and record a personalized message letting their teacher know how much they mean to them.
Best of the Rest
Here are a few more teacher appreciation gift ideas for your favorite educator.
20. "Teacher's Survival Kit" Cotton-Linen Drawstring Wine Bottle Bag (don't forget the wine!)
21. "Teacher Off-Duty" stemless wineglass
22. Gift card to their favorite restaurant, using this free printable card holder from The Crafting Chicks.
23. Gift card for a treatment at a local spa (they've earned it!)
24. This best-selling teacher planner from Amazon.
What do you think of these teacher appreciation gift ideas? How do you best show your appreciation – do you DIY, or would you rather buy?
MORE POSTS YOU WILL LOVE: