Simple Formulas for Styling Bookshelf Decor
Does decorating a bookshelf leave you stumped? Do you want to display your art, greenery, decor and books on your shelves, but have no idea how to style them? Here you'll find 5 no-fail formulas for nailing your bookshelf styling game!
When we moved into our new home, I became the proud new owner of built-in bookshelves! Yay!! I have always wanted built-ins, so I was so excited to decorated them. But when it came time to actually decorate them, I was at a loss.

A few months back, I wrote a general decorating post on "How to Decorate Shelves." And while it's super helpful with bookcase decor ideas, like what to put on your bookshelves: books, greenery, interesting objects, & more. But once I had collected all of my objects, I needed to know how to arrange them on the shelves.
First off, I realized that I need more decor for my bookshelves. Ha! I sold or donated most of our books in my decluttering efforts in our old house. My kids have a huge bookshelf filled with books, but my husband and I only had a tiny shelving unit in our previous home.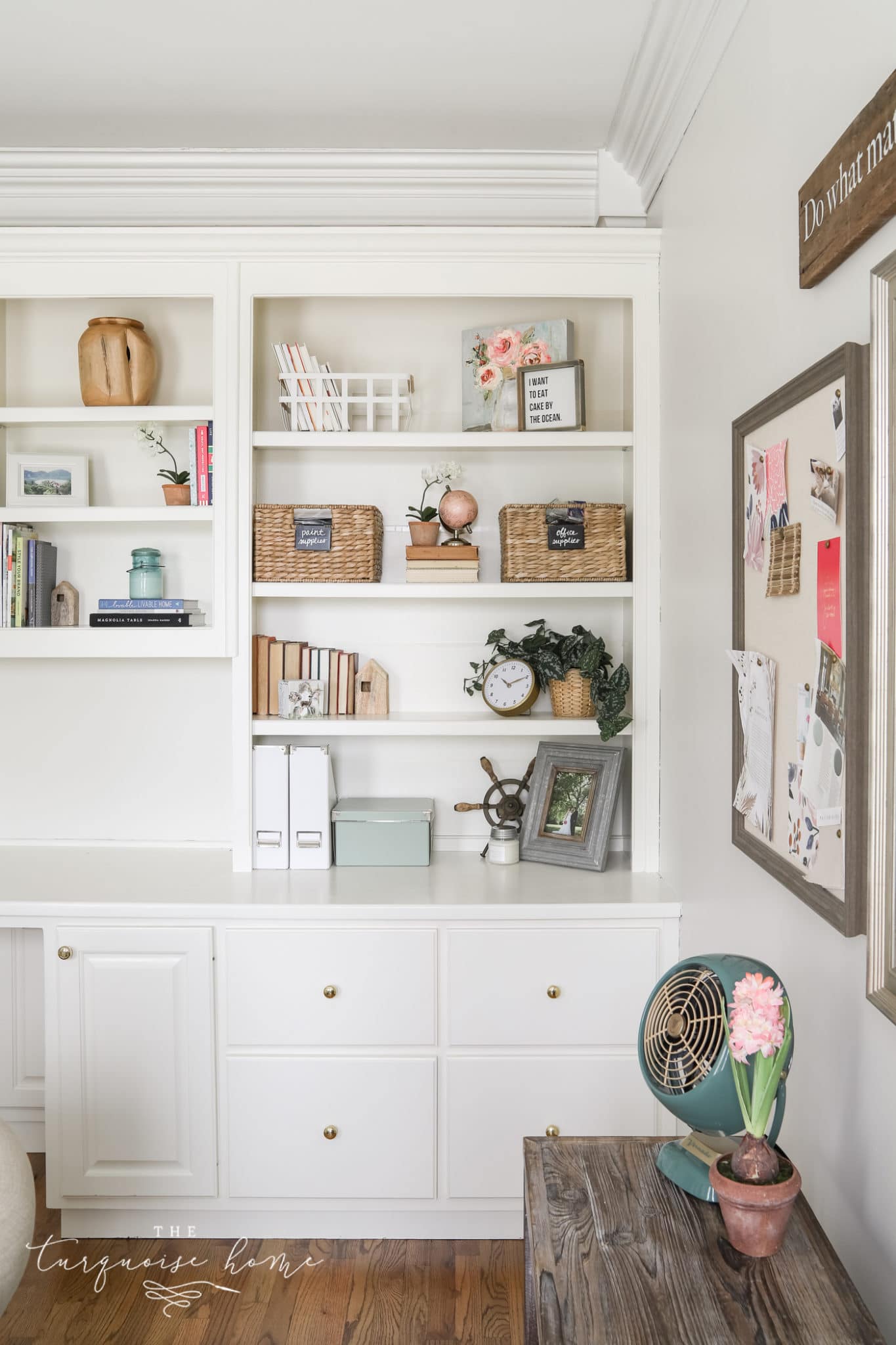 So, I don't have a ton of books to put on shelves in the first place! That excited me, though, because I wanted to use them mostly for decor anyway. I do love books, though, and have purchased a few gorgeous coffee table books about design & decorating that are not only interesting to me, but are beautiful in my home.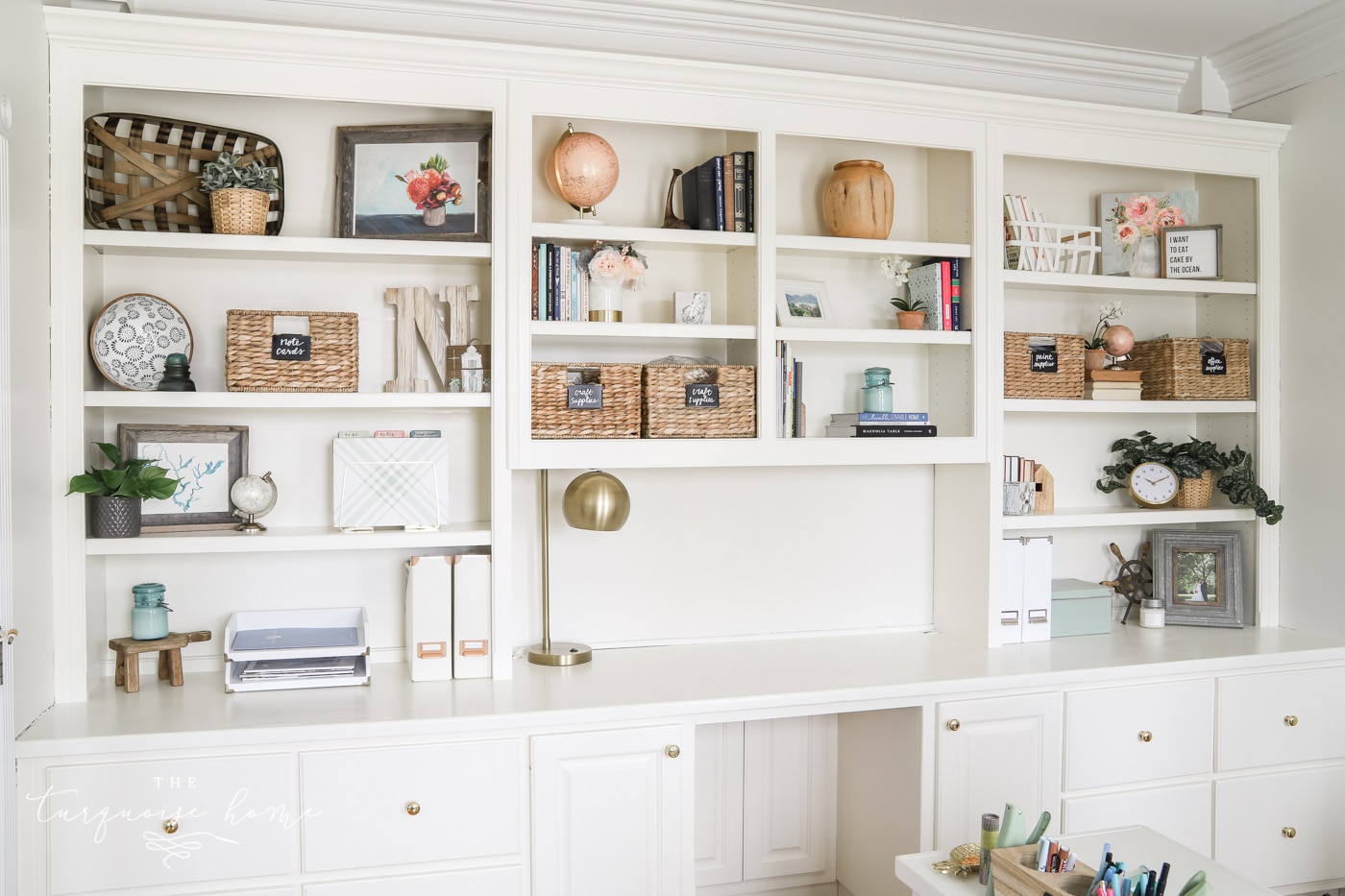 General Styling Tips for Bookshelf Decor Ideas
I started by collection all of the decor I could find in varying shapes and sizes. Everything like plants, art, decorative objects – anything that I found that I thought would look good on a shelf. I realized I'm very short on decor items, so I bought some at World Market.
Your bookcase decor needs will depend on the size of your shelves. For example, I have short and long shelves, so can't use super tall decor items. But if you have taller shelves, you can go for height!
Stick to a color palette. Everything looks more cohesive when you sprinkle the same colors throughout your shelves. For me, I knew I needed to use pink, because I have pink in my rug and the curtains I've ordered. I also have a lot of turquoise, obviously. So, these were a given.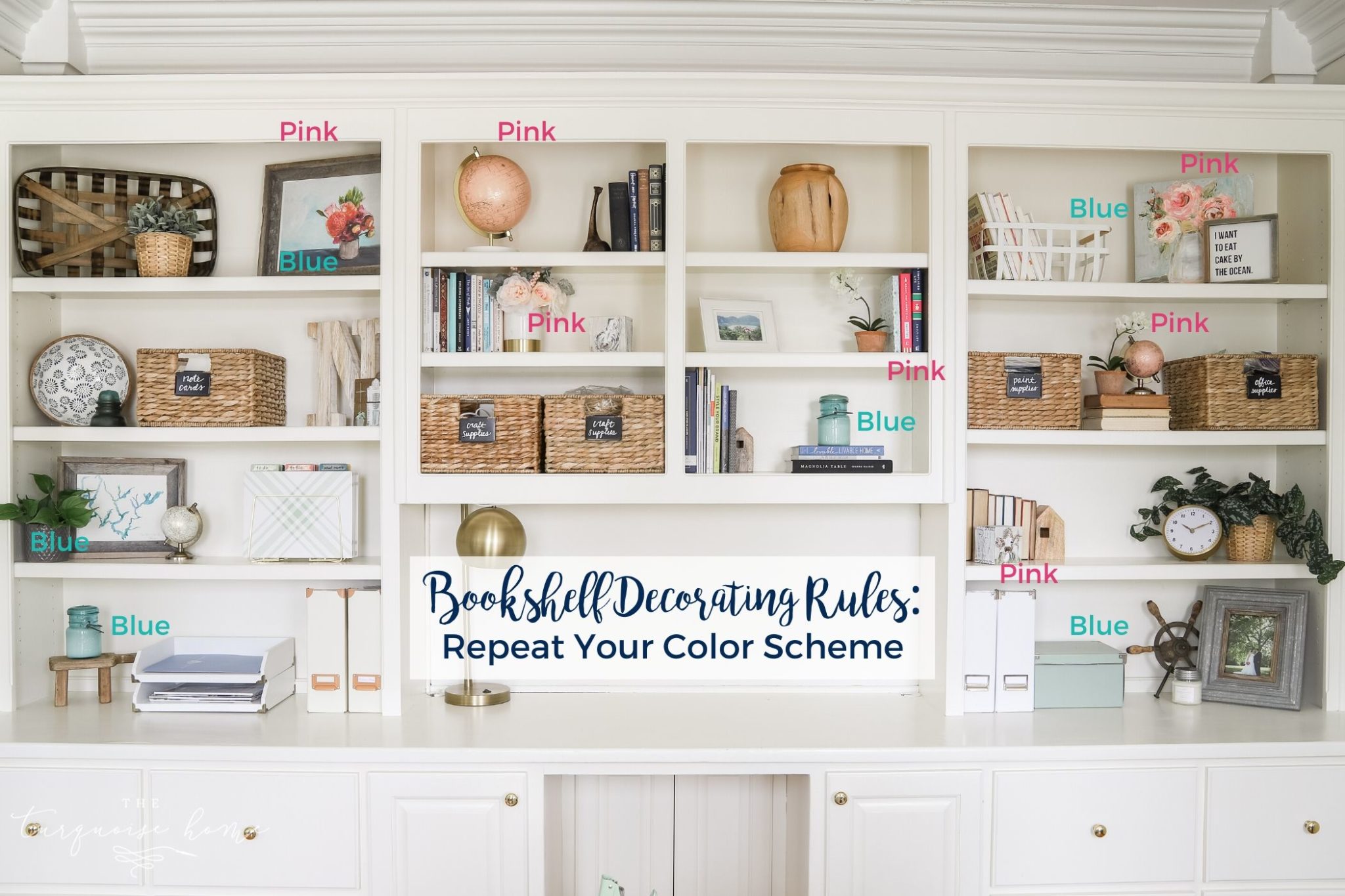 Use varying heights to add interest. And add height by laying books horizontally, then adding something on top of it.
Shop thrift stores for small items for your shelf styling and get some vintage books while you're there. (I need to go on a thrifting spree for some new-to-me items.)
The Rule of Three. Always work in odd numbers, if you can! Groups of 1, 3 and 5 are much more pleasing to the eye than even numbers. You can see above how I used this "rule of 3" or odd numbers to decorate the open shelves in my home office.
Formulas for Shelf Decorating
As I searched Pinterest and Instagram for how to arrange these items on my shelves, I found several patterns or formulas I could use that looked good!
Formula #1: Two or three books stacked horizontally with a small decorative object on top.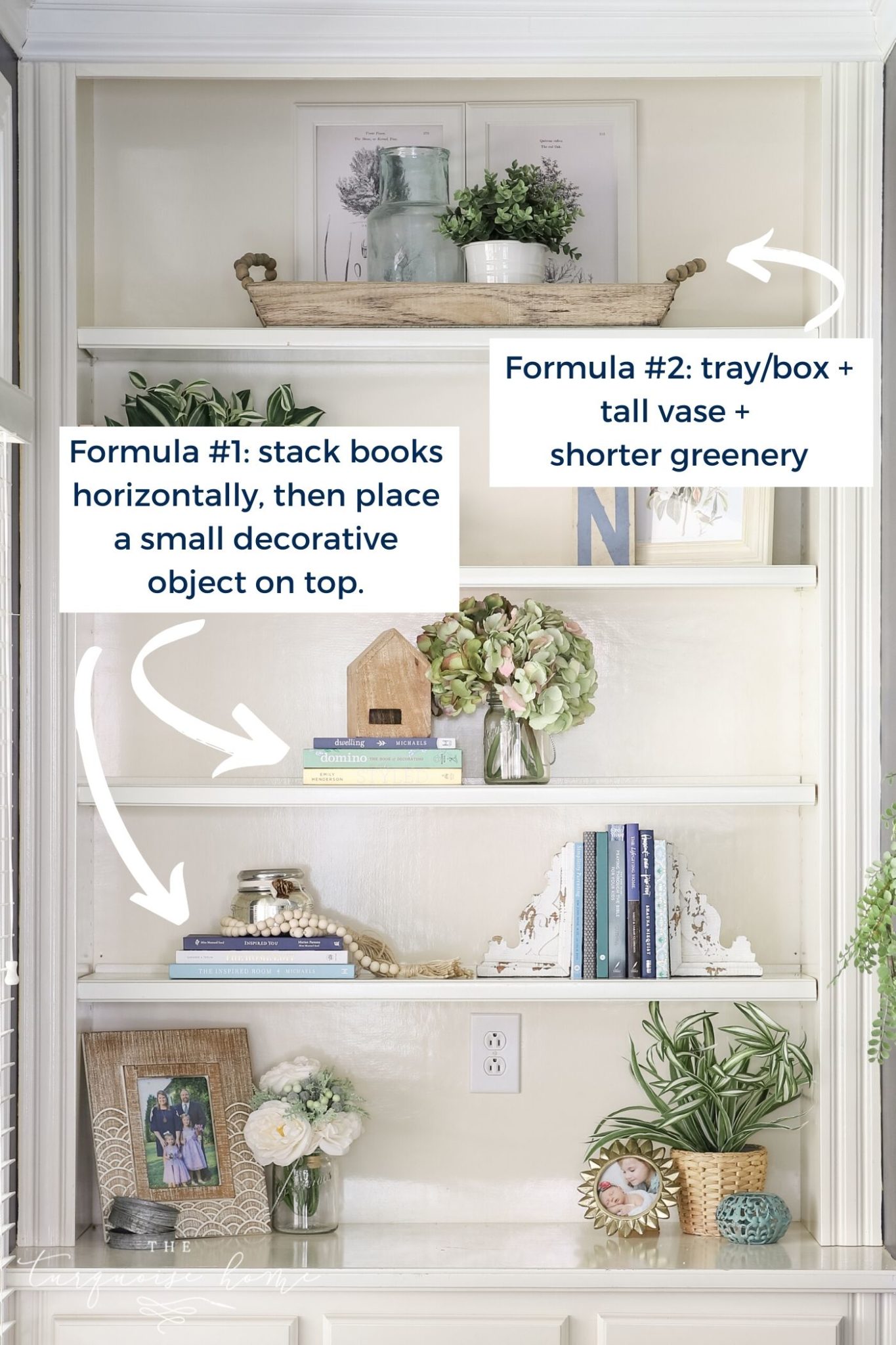 I've used this formula in several places around my house, not just on my bookshelves. But it's a great way to display those nicer hardback books in your book collection. It looks good on a shelf by itself or with other groupings of other items.
Formula #2: Tray or box + a tall vase + shorter greenery
This formula is easy to accomplish with just a few items that most of us have around the house. I also layered two printables (from Lauren at Blesser House's free printable library) behind the vase and greenery to give some more interest up there. I think the tray would also look really good filled with decorative spheres or greenery balls.
These free botanical printables are very popular, and you might like them, too!
Formula #3: Large art or decor item + another art or decor item layered in front + another large decor item to the side.
I've broken down this super basic formula into two parts, because it breaks the "rule of 3" about decorating with odd numbers. Essentially you're just using two pieces of decor or art, but when you pair it with another 1 large item on the shelf, it makes it a "rule of 3".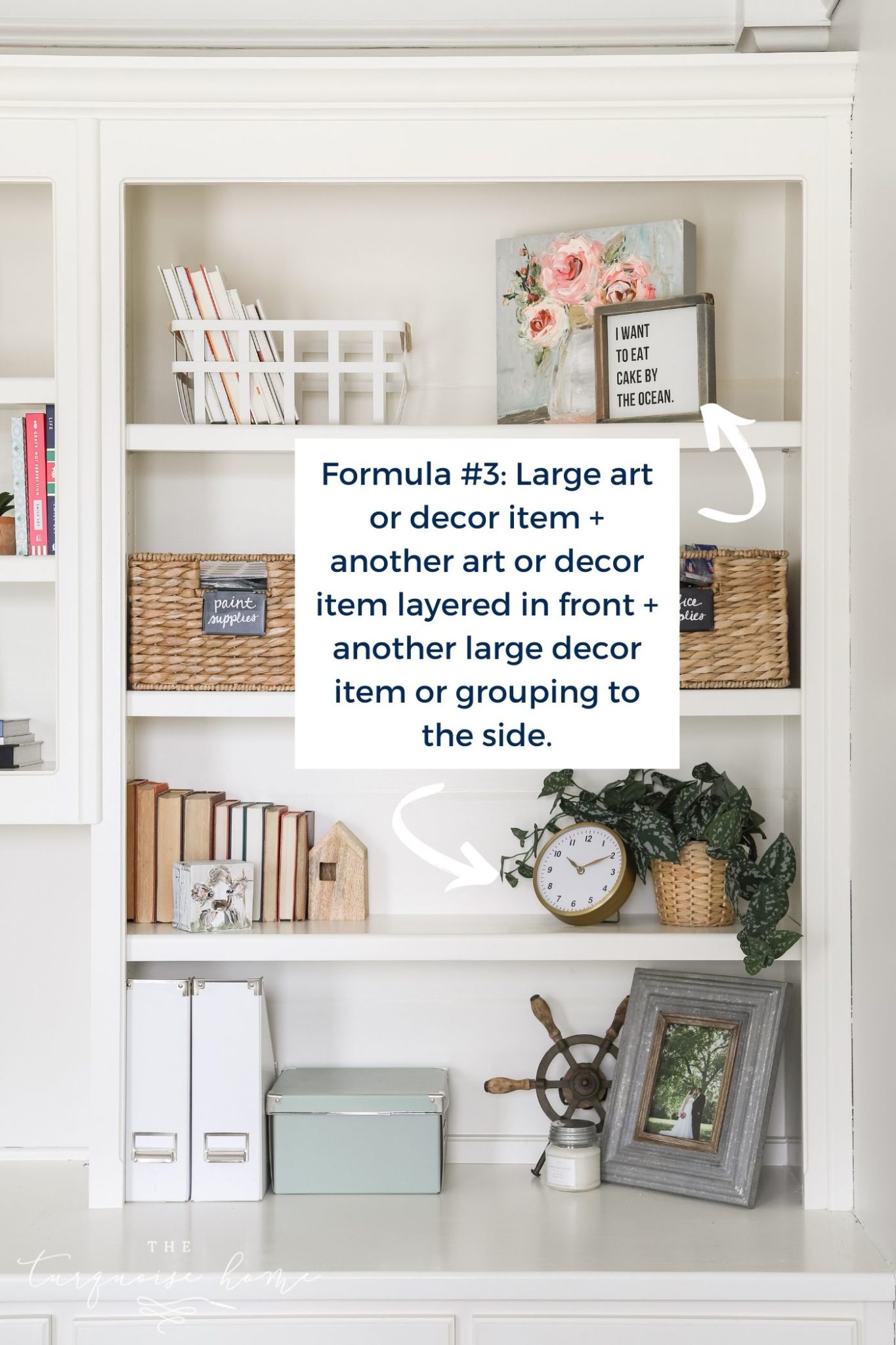 Here's another example of formula #3:
Formula #3b: Large art or decor item + another art or decor item layered in front.
BUT, I will still use this layered art/decor formula by itself sometimes when a corner of a bookshelf is missing something and 3 items just don't look right. It's the one time I feel it's ok to break that "odd numbers trump all" decor rule, because sometimes 3 pieces feel cluttered and 2 items look just right.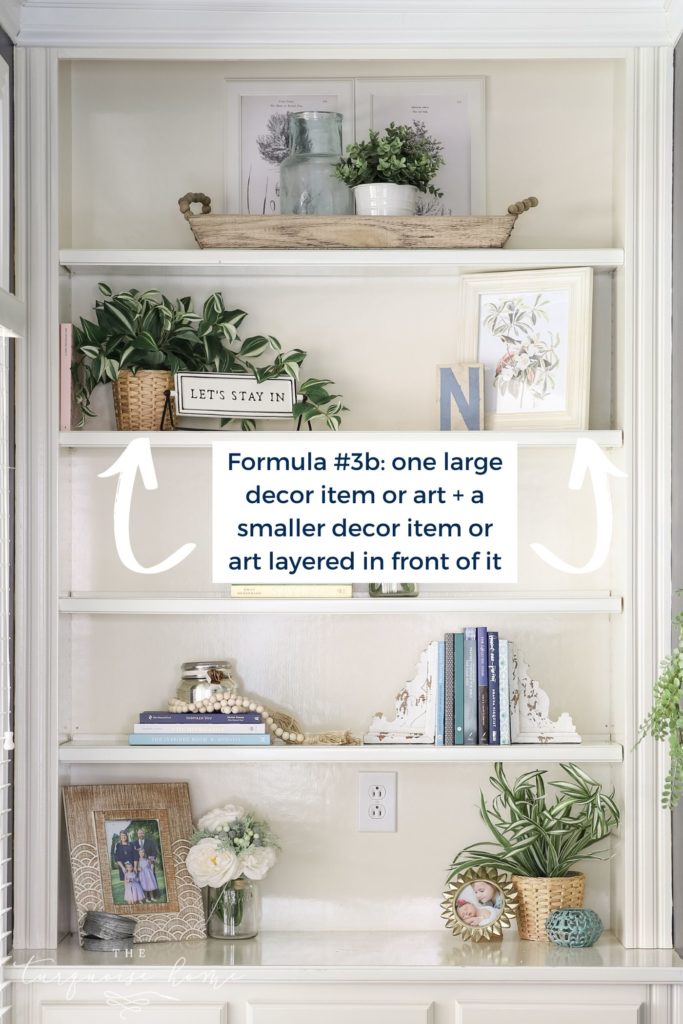 Formula #4. Group of vertical books + vase or book end
One of the easiest ways to display your books is by grouping them together with a book end or vase to hold them up. I really like pushing them up against the side of the bookshelf, then just using one book end. But I will also put them in the middle of the shelf like I did in my living room.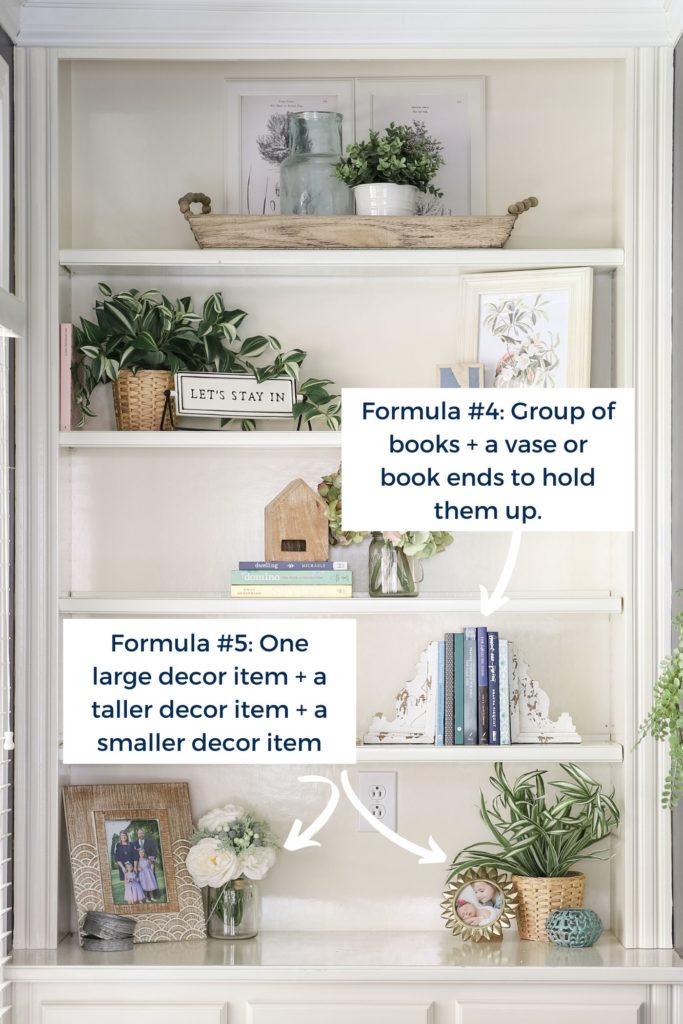 Formula #5: One large decor item + tall decor item + shorter decor item
Using varying heights, and the rule of three, this decor styling formula is a classic and easy way to decorate your shelves. It almost always works in every situation. And I've used it for years as I've decorated tops of tables and open shelves.
I'm sure I could search to find even more formulas for you to use in your shelf decorating, but I think these basic patterns and "rules" will take you a long way in your endeavors.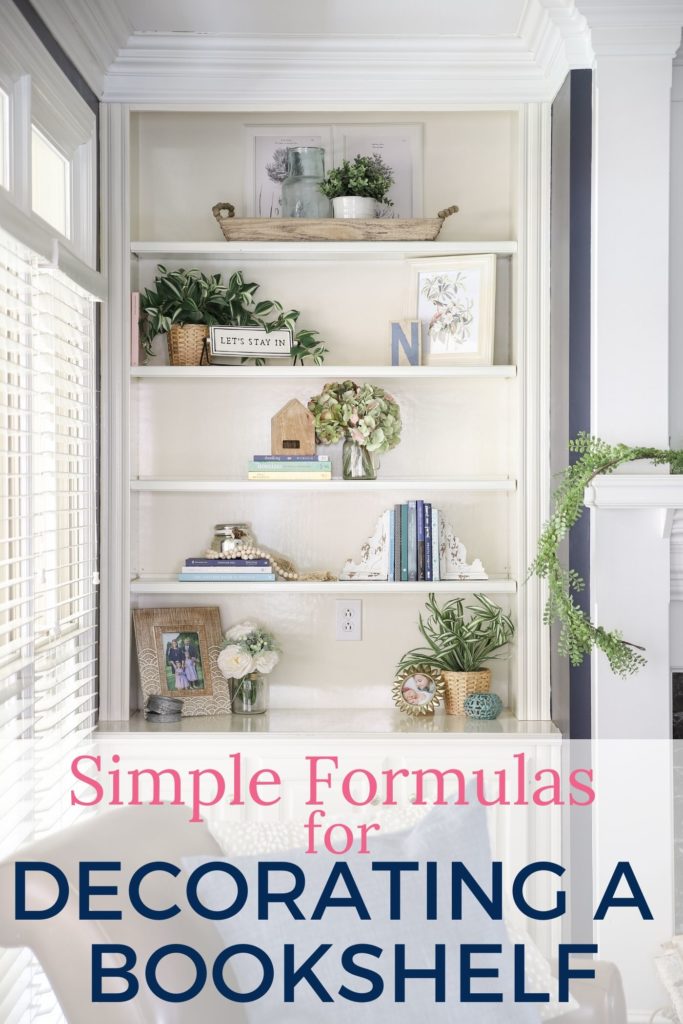 More Posts You Will Love: