Decorating with Books: 6 Book Decoration Ideas You'll Love
Books are an essential decor element for creating a lived-in looking home that feels cozy and comfortable. If you have ever wondered how to incorporate decorating with books into your everyday home decor, these book decoration ideas will help you!
We may live in a very digital world – a world of tablets and e-readers – but books are still a large part of life for many people! Figuring out how to store or display a growing collection of books can present an interesting challenge.
Most people think: bookshelves! However, even that plan can present enough options to leave a person baffled. Built-in bookcase? Accent shelves? Stacked books?
Thankfully (and potentially frustrating), there are many options.
This post contains affiliate links for your convenience. See my full disclosure policy.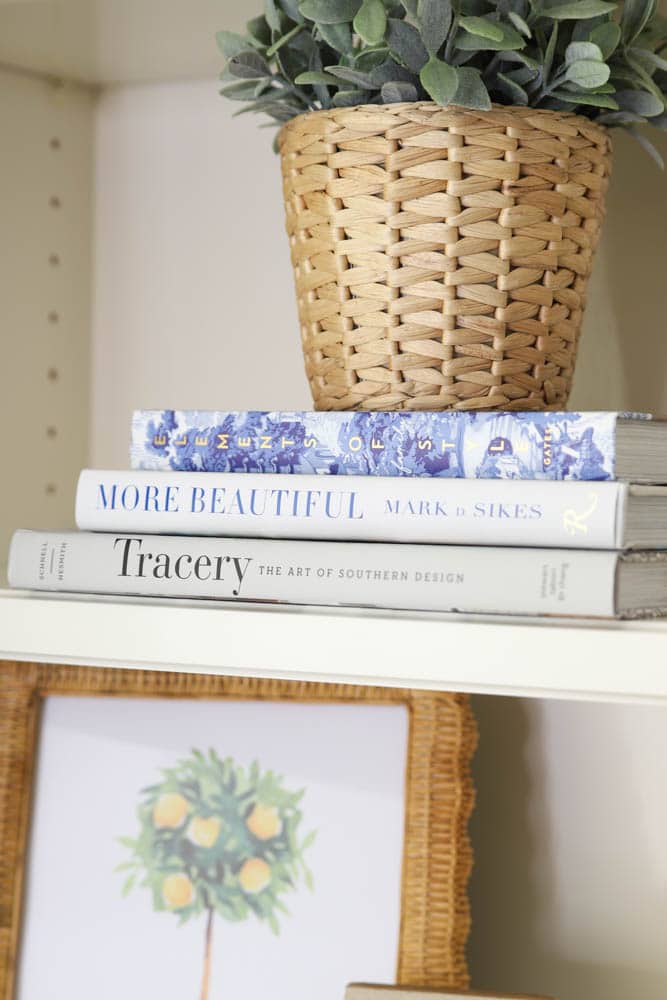 SOURCES: Elements of Family Style | More Beautiful | Tracery
What if instead of just storing your books on shelves you decorate with them? Decorating with books is both practical and delightful! If you have ever wondered how to decorate with books, you're in the right place.
I have been
Here are 6 different book decoration ideas to make storing your tomes both useful and beautiful.
Related Post: How to Decorate a Bookshelf
Decorating with Books: 6 Different Book Decoration Ideas
Truth be told: I may not have a ton of books in my house, but I love the way that books look as part of our lives. Old, first editions or newer volumes…they all add an element of hominess to a room.
Instead of just throwing your books on a shelf to collect dust, use a little 'outside the box' thinking to add personality to your home and your decor with books!
Here's how.
By Color
Never judge a book by its cover, right? Well, this is the perfect time to throw that saying right out of the window because you are definitely judging a book by its cover – at least by the color of its cover that is.
Grouping books together by color is a fun (and quick!) way to decorate with books that gives the room a playful feel, like this example from One King's Lane.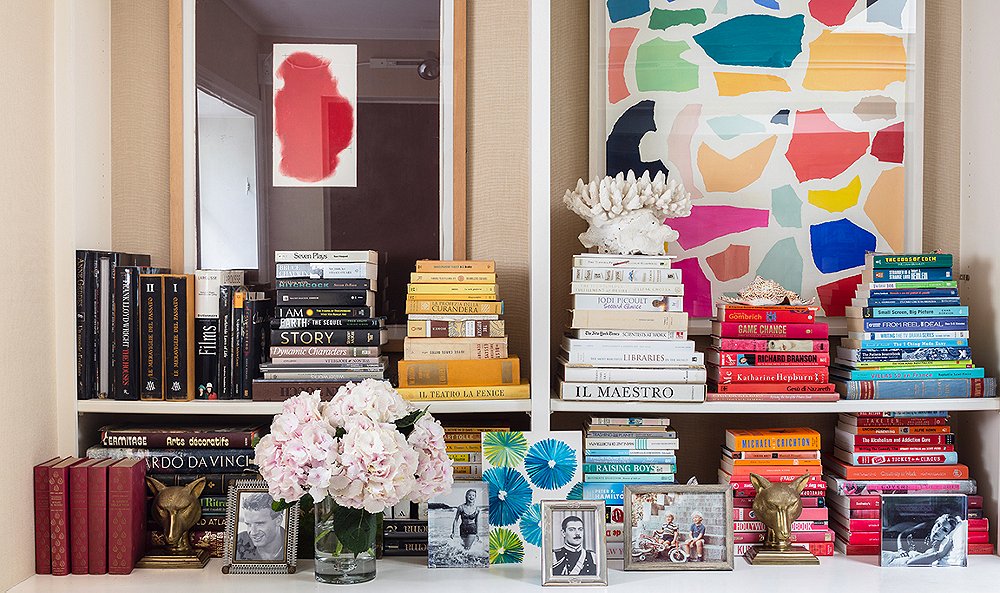 Use Books As Risers
Using old books for decor is one of my favorite things to do! Since you can incorporate them in so many ways, you can really find a way to use books that really fits your personality.
Old books make visually interesting risers and give depth and dimension to a space by adding height.
For example, in our living room, I used books as a riser for my faux spider plant to give it just enough height to be eye-catching while not being so high that it's "in the way".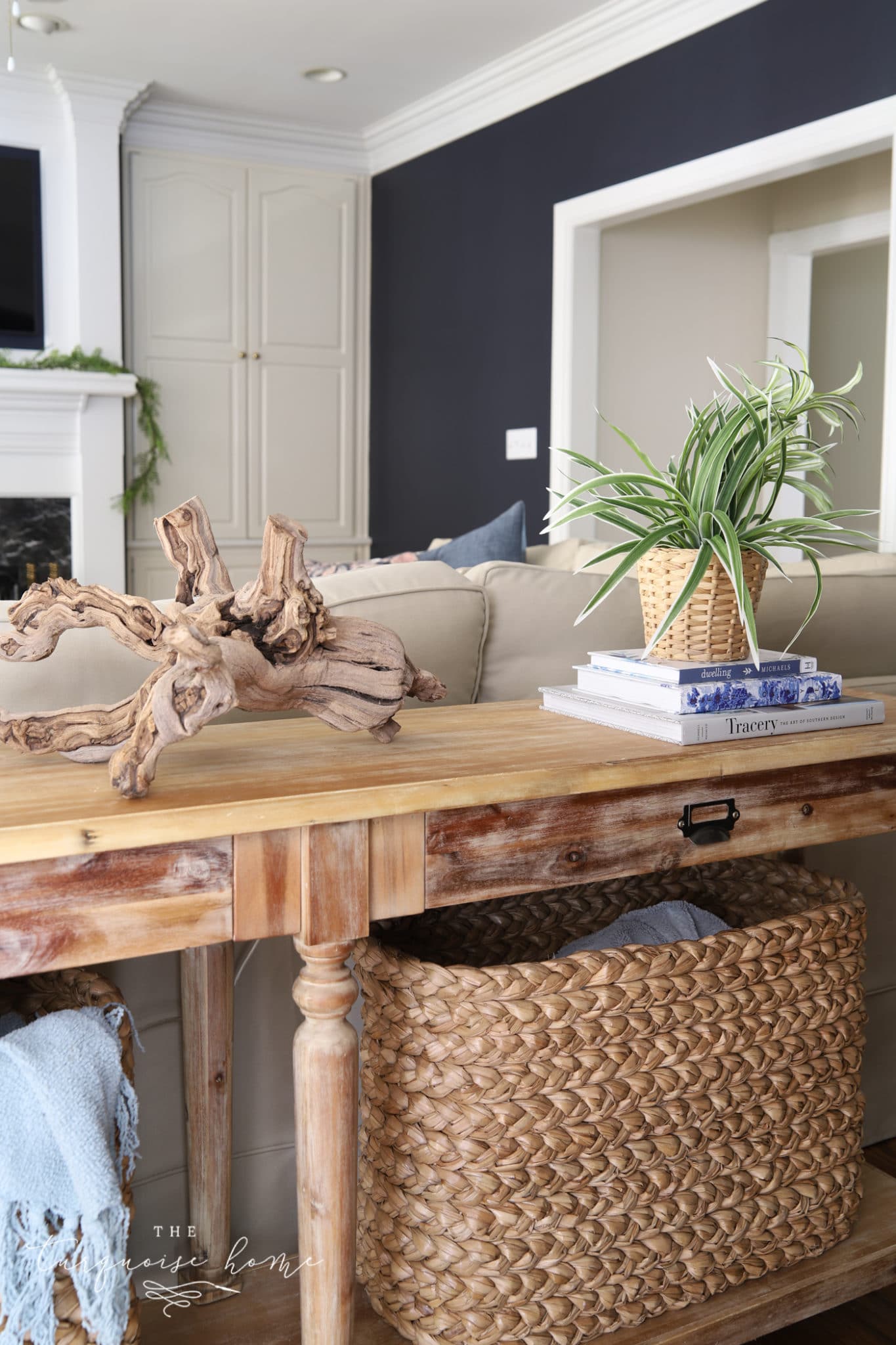 Or, this example from Z Design at Home has the lamp sitting on books. So pretty!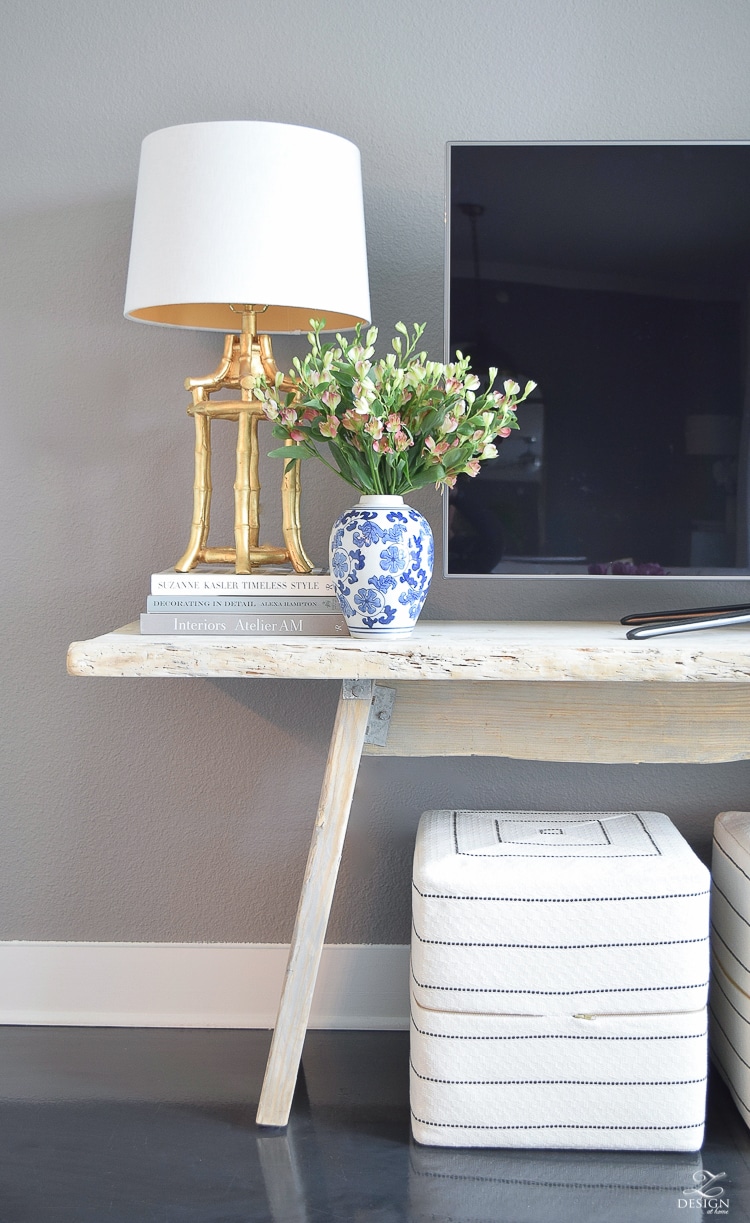 Fill In The Empty Space
If you have an open table (nightstand or otherwise) that you want to make a little more interesting-looking, consider adding books to fill in the gaps of open space.
I love this wonderful example from Design Darling, as she fills up the large open space of her bedside table with stacks of books beautifully arranged in multiple stacks.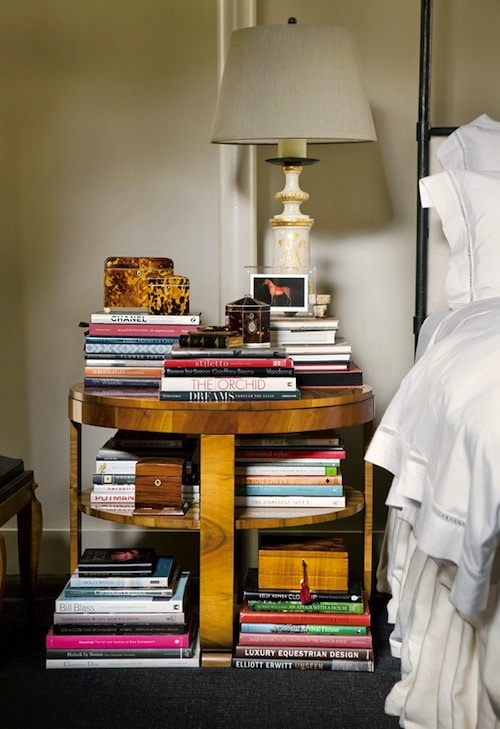 If you have unusual architectural areas in your home that need to look lived-in, add a stack of books as filler to the empty space, like this example from One Kings Lane! It's a beautiful way to display a lot of books without being in the way.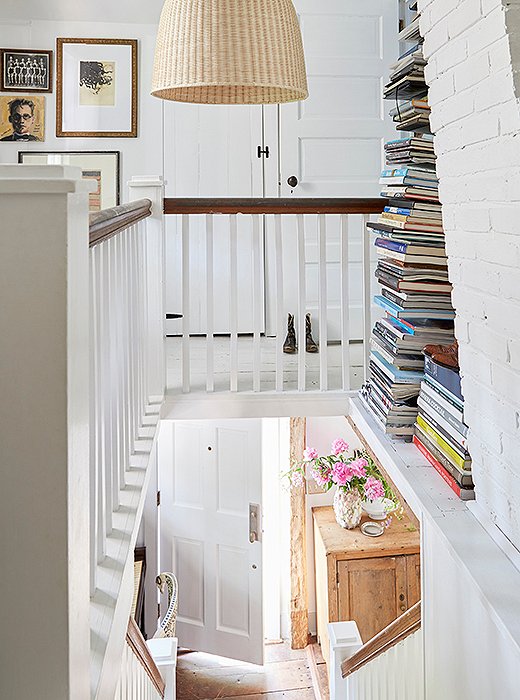 Add Elements of Subtlety
One way to use books in your decor is to highlight the colors of their covers by using them as pops of color in your decorating.
Another way to decorate with books is to do the opposite: wrap them in brown paper, burlap, or some other material so that they become more neutral and add a subtle texture to your decorating.
This example from Stone Gable Blog shows off this concept very well with a beautiful vignette on her coffee table!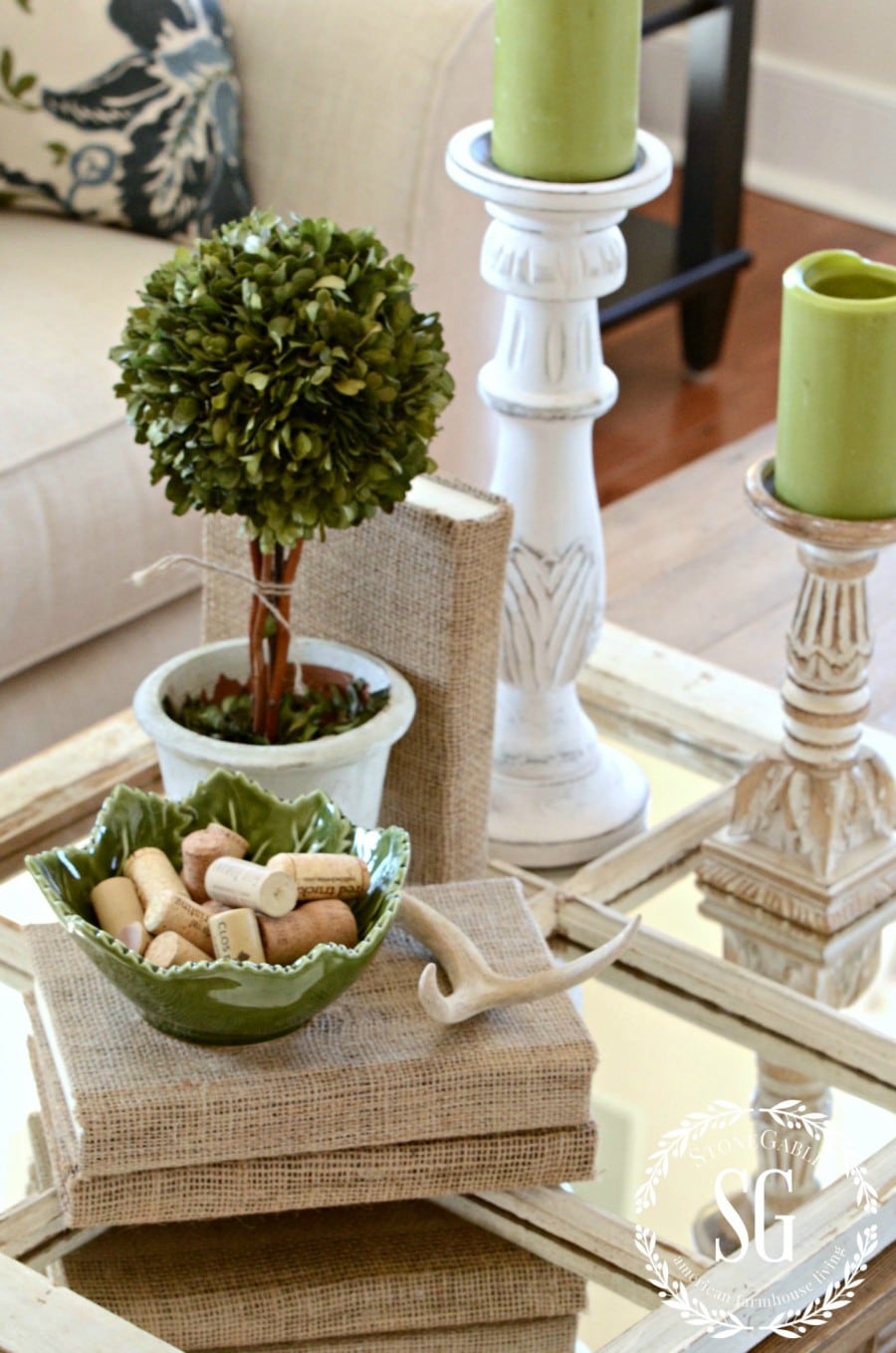 Stacked Books Decor
There's just something wonderful about looking at stacked books- the variation and yet the uniformity at the same time are breathtaking!
Books add an element of coziness to a room that few other aspects of a specific design can achieve.
Take, for example, stacking books. You can't stack anything else and get the same lived-in look or feel that you can when you purposefully stack books.
If you try stacking games, pillows, magazines, or anything else, instead of harnessing that feeling of comfort, you end up with something that looks cluttered.
I love the creativity of this DIY stacked book lamp idea from HGTV!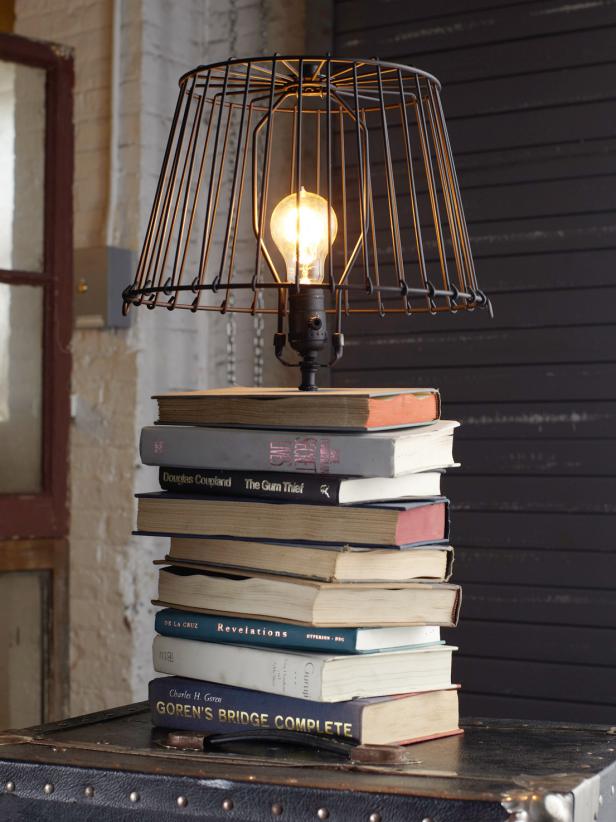 Or, perhaps you can use a floating bookshelf to stack books up high similar to this example shown on Lonny.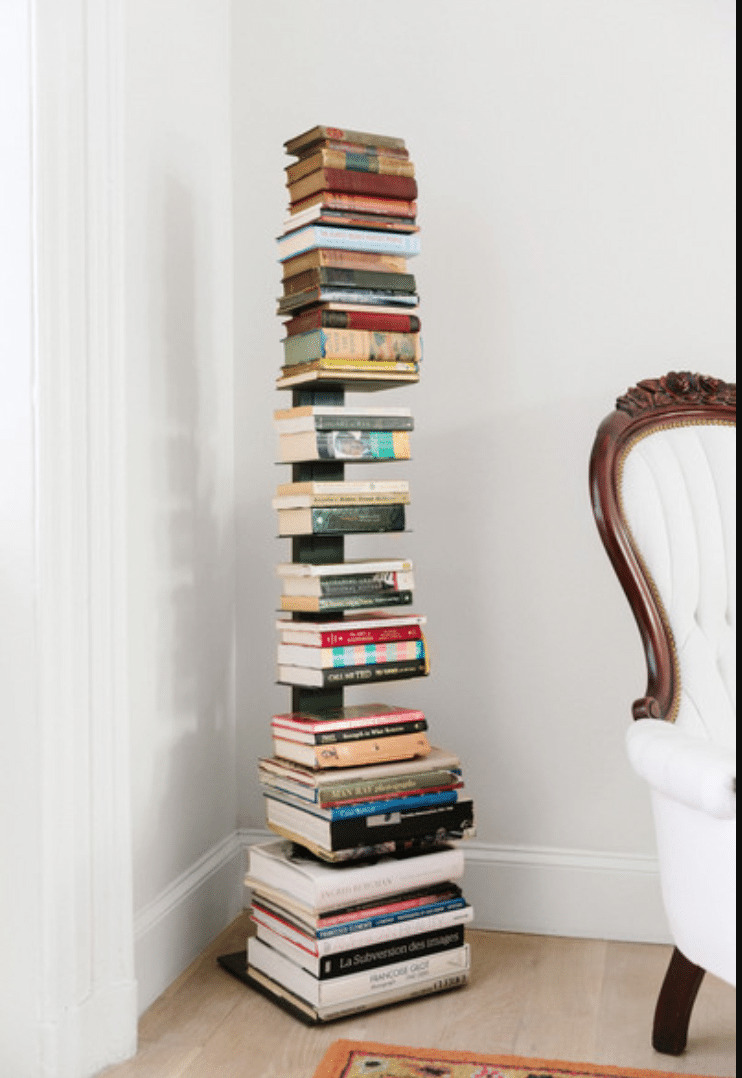 Get Creative
Sometimes it pays to think outside the box. Use these creative ideas to spark your own imaginative ways of turning your home library into decor.
In my daughter's room, I use Ikea spice racks as bookshelves and it works perfectly! I had three of these hard-to-find racks that had been tucked away while I figured out what I wanted to do with them. Then, one day, I had the spark of genius to hang them in my daughter's room for her books.
I love how they look!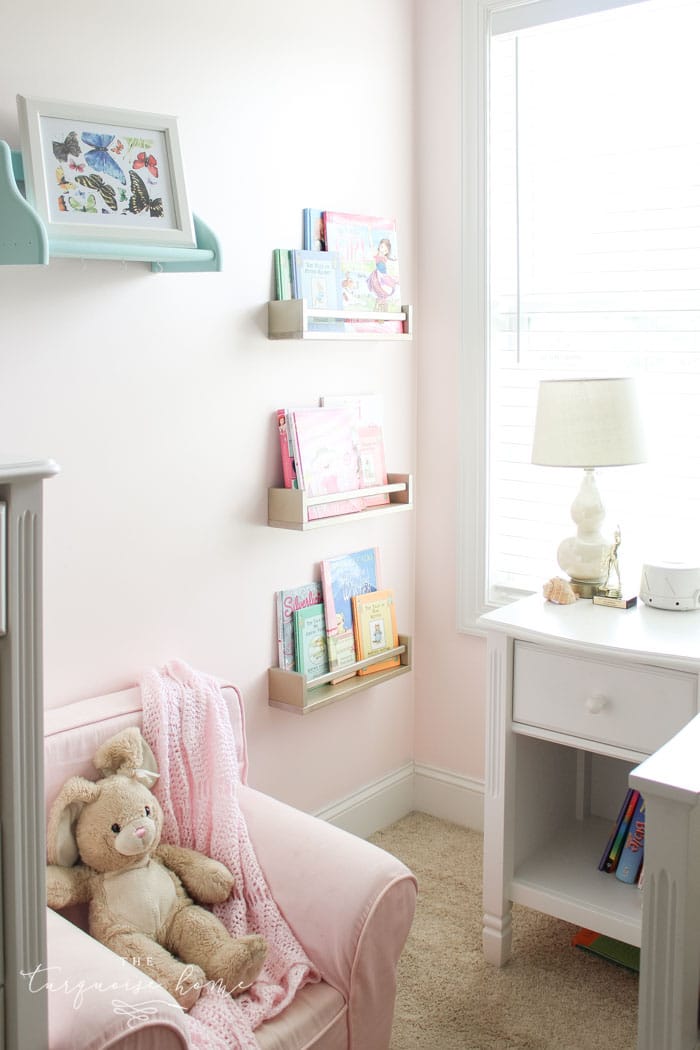 Or, these book ledges I put in my youngest daughter's nursery. How adorable is that?
Mix & Match with Decorative Accents
Use books to add varying shapes, colors, and sizes to your shelves as you decorate them. You can even combine several of the ideas I mentioned above on one large wall of shelves, as I did in our living room if you want!
Related Post: Simple Formulas for Styling Bookshelves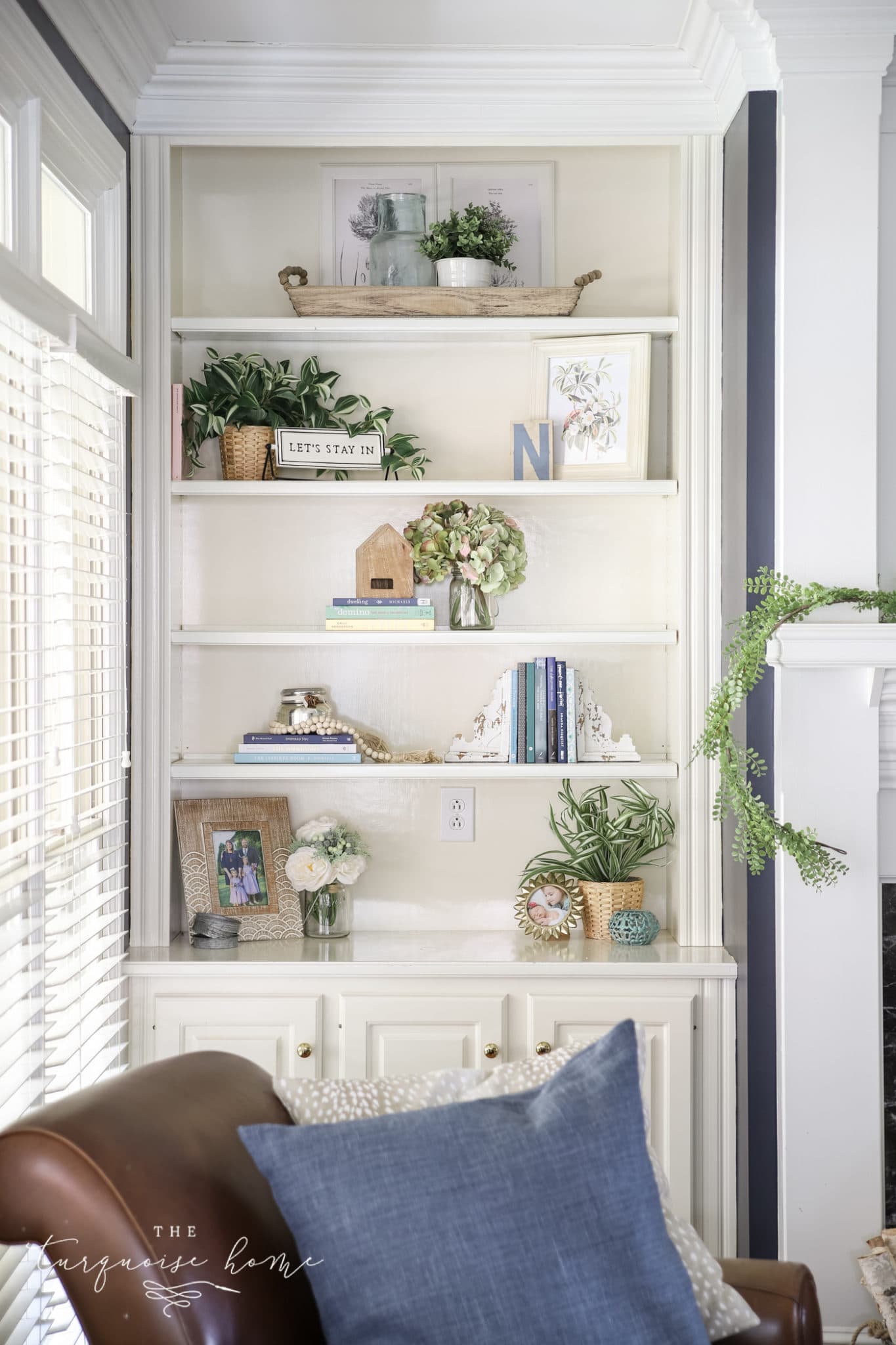 You can display the book spines in or out to add interest to your interiors, like the bookshelves in my home office!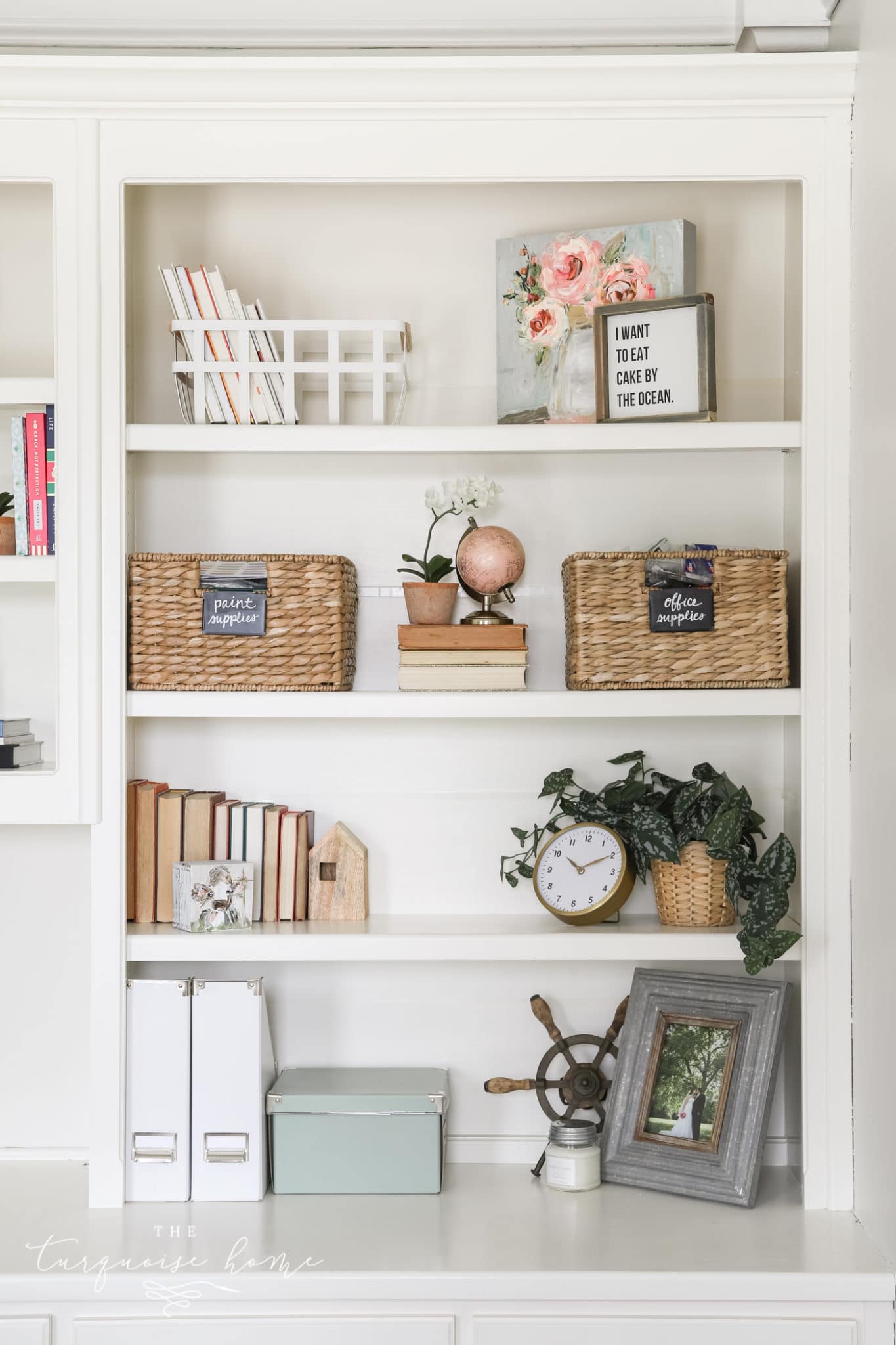 Where to Find Old Books for Decor
If you happen to be one of those people who live more in the digital world and don't have books but want some to create that really lived-in look for your home, there are several places you can pick up books affordably.
You can find a huge selection of new or used books on Amazon. If you are buying books solely for decor purposes, definitely buy used books to take advantage of cost savings.
Here are some great options to get you started:
Etsy is a fun place to search for books. Depending on what you're looking for, you are bound to find it. They sell vintage books, books by bundles, and books for decorating. Here are a few cute options I like:
Thrift Stores & Garage Sales
Thrift stores and garage sales often have books – and very interesting ones at that – at cheap prices. You can potentially find some fun conversation pieces at your local thrift stores or garage sales.
Public Library
Many public libraries have sales once or twice a year to clear out overstock inventory. You can find some great books for very little money at these sales.
I hope these book decoration inspiration helped you see how easy and beautiful decorating with books can be!
More Posts You Will Love: