25 Fall Fireplace Mantel Decor Ideas
Ready to start layering on the fall decor? Start with your fireplace! Fall mantel decor is the perfect way to start your decorating for the season. These 25 fall fireplace mantel decor ideas will help get your creativity flowing.
If you have a mantel, you already know that there are so many fun things you can do with it. Each season and holiday brings new ideas always to have it looking it's best.
In many homes, the mantel is a focal point in your living or dining room. So, it's important to showcase your beautiful mantel while you're having fun too. I love that my mantel is the first thing people see when they walk into my home, so I always decorate it first each season!
And just because it's fall doesn't mean you can only decorate in orange, yellow, red, and brown either. You will be pleased to see there are plenty of lovely ideas that aren't those typical fall colors. There is so much opportunity for individualization here—make it your own!
25 Fall Fireplace Mantel Decor Ideas To Impress
Go with vibrant colors or stick with more of the neutral tones. Just choose items that you LOVE, and the rest will fall into place. (No pun intended) 🙂
Take a look at these fresh and fabulous fall fireplace mantel decor ideas for some inspiration.
1. Go With A Rainbow Pumpkin Mantel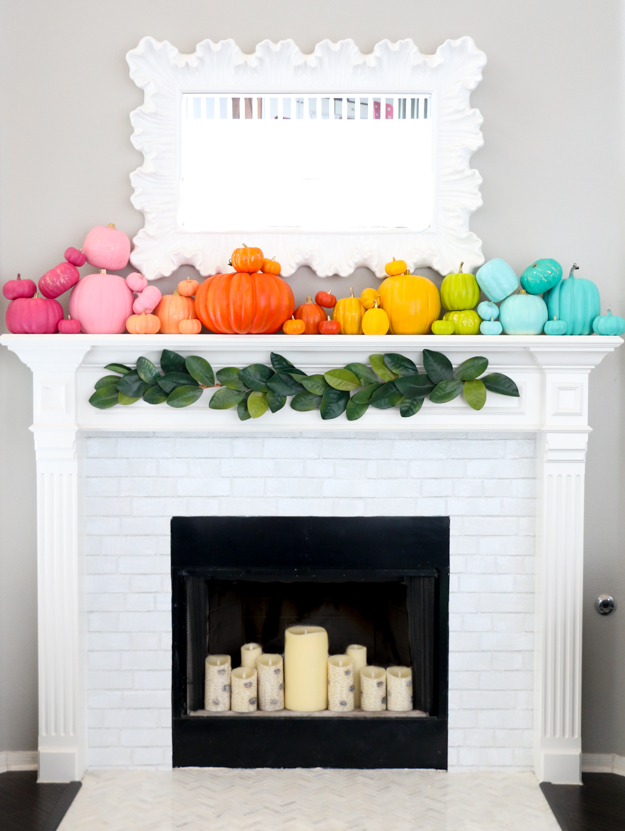 You will get TONS of compliments if you add beautifully painted rainbow pumpkins as Kara did from A Kailo Chic Life. Fall is filled with gorgeous colors, so why not add them to your space. Don't they look adorable? And I love her little garland accent below the mantel – so cute!
2. Go For Chalk Boards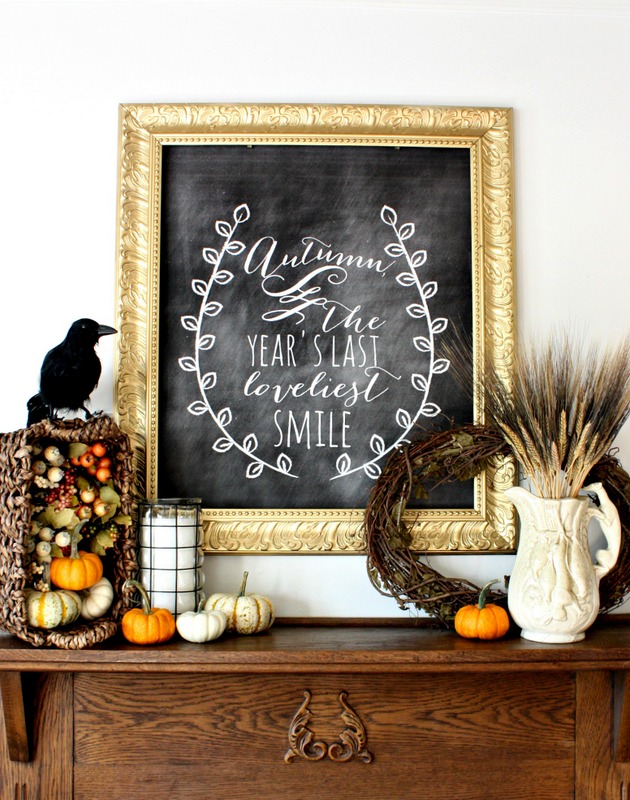 Am I the only one who gets a little giddy when it comes to chalkboards? They are so ADORABLE, and they add elegance and style to your space. They can be farmhouse or chic depending on what you want them to be. Check out how Kellie from Nest Of Posies completed this look.
3. Fall Apple Orchard Idea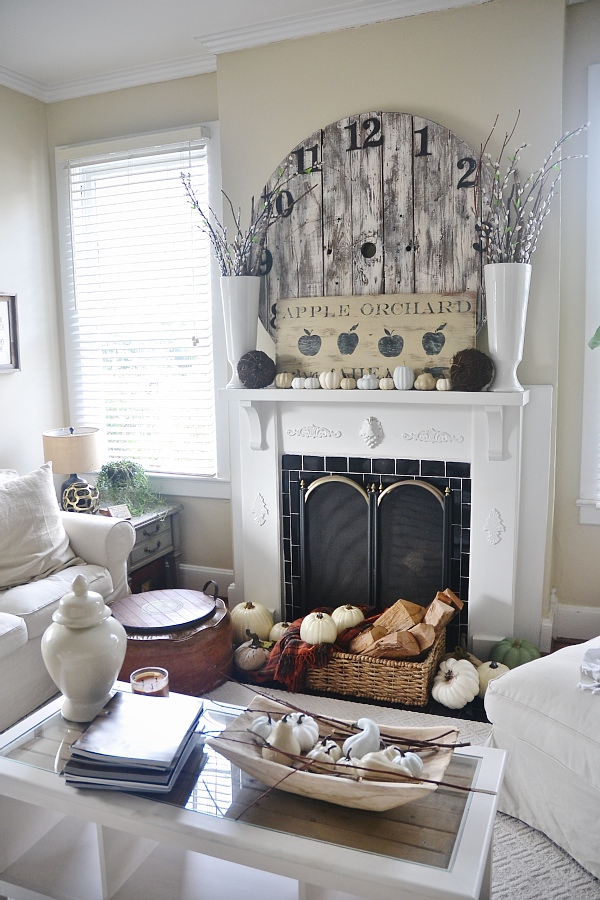 Raise your hand if you associate fall with apple orchards! I know I do, and I can't get enough of this lovely apple orchard sign that's hanging above the mantel. Lize Marie thought of everything when she decorated her fireplace mantel for fall.
4. Metallics Are Hot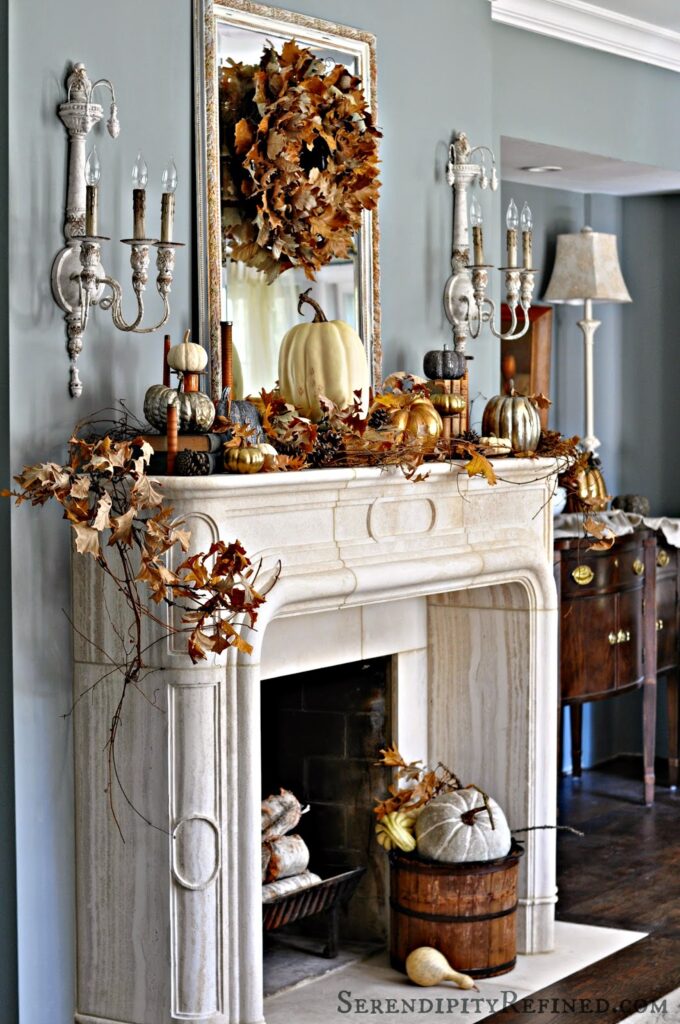 You can never go wrong with painting pumpkins metallic because they are amazing! If you look in any home decor section of online stores or in your local town, you will see metallic pumpkins are in for the long haul. Serendipity Refined knew what they were doing when they decorated this stunning fireplace mantel.
6. Use Nature To Decorate
As you can see in the photo above, that Serendipity Refined not only blew it out of the water with the metallic pumpkins, she also nailed it using nature to decorate too. Go for a walk or hike and grab a few twigs and leaves. You may even be able to find them in your backyard. They look gorgeous too!
7. Add Some Rustic Baskets
Another thing that I love is that she used a rustic style basket and added pumpkins and leaves. There are so many things you can do, and this photo is some fantastic inspiration. The neutral colors are stunning too.
8. Don't Forget The Candles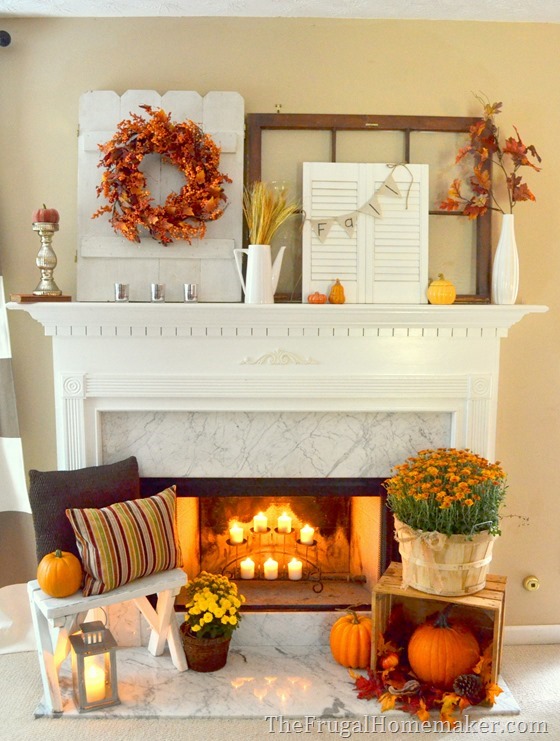 As you can see, using candles is a wonderful way to add light to the space and make it look even more inviting. If you love traditional fall colors, then you will enjoy this idea from Christina from The Frugal Homemaker. She shows you that you don't have to spend loads of money to make such an impact.
9. Use Real Pumpkins
Of course, you can always decorate with faux pumpkins, but if you are like me, you always end up with several. Instead of leaving them outdoors, bring them inside and decorate your mantel with them instead just like in the photo above.
10. Decorate With Vases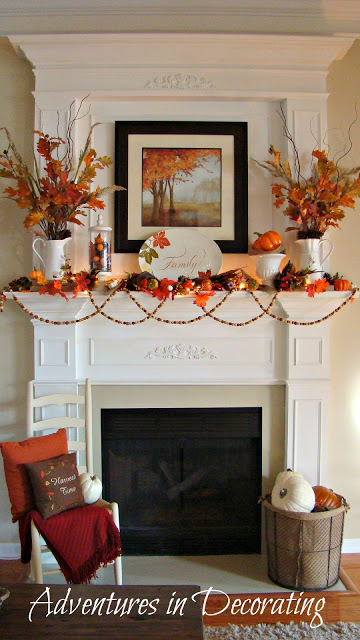 Becca from Adventures in Decorating shows us how you can add a few items to end up with a stunning fall fireplace decor. She found some inexpensive farmhouse style vases and filled them with various leaves and sticks. The result is delightful!
11. Use Platters
Add all sorts of styles of planter like Adventures in Decorating did. They are lovely, and you can choose something neutral or filled with fall colors that traditionally see. Either way, they add a glamorous look to your mantel, and it's fantastic for autumn decorating.
12. Go Wild With Crates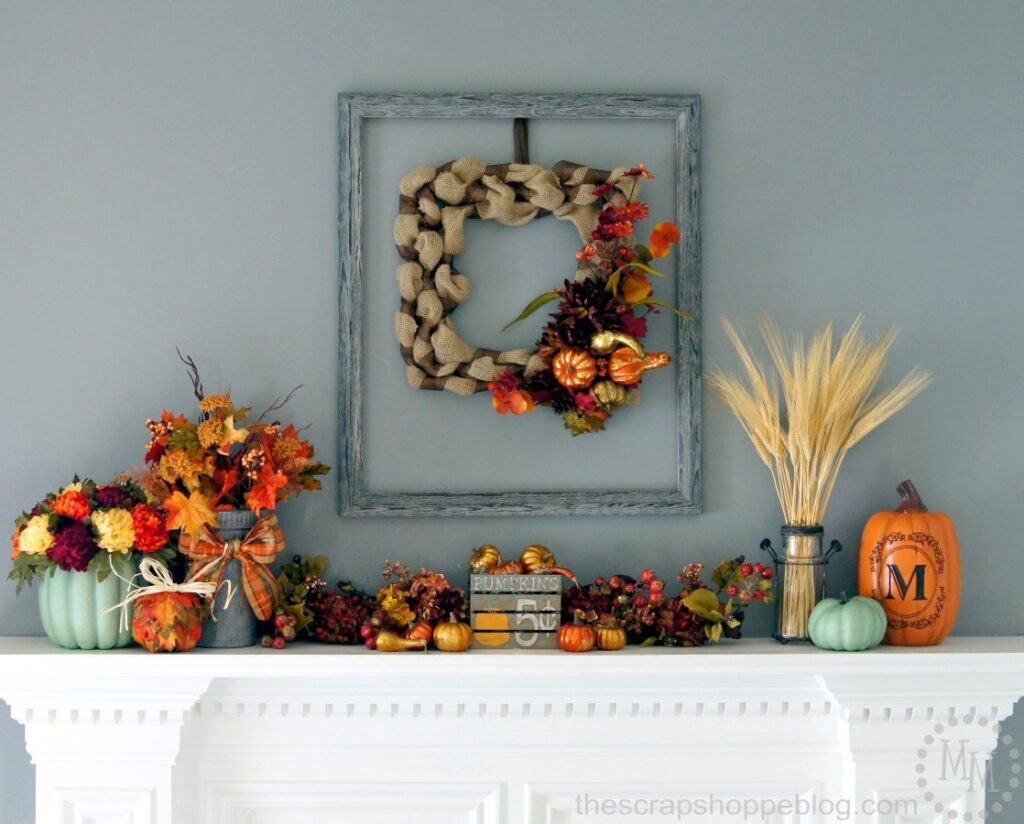 Check out how Michelle from The Scrap Shoppe Blog made this adorable wooden crate that is great for decorating for fall. It's easy to make and looks fantastic. If you don't love to make things DIY, then I am sure you could buy something that's premade.
13. Square Fall Wreath That's Awesome
Who says wreaths have to be circle all the time? Square shaped wreaths are amazing, and more people should decorate with them. Michelle at The Scrap Shoppe Blog gives you a detailed look on how to make your own square fall wreath with minimal effort.
14. Don't Forget The Wheat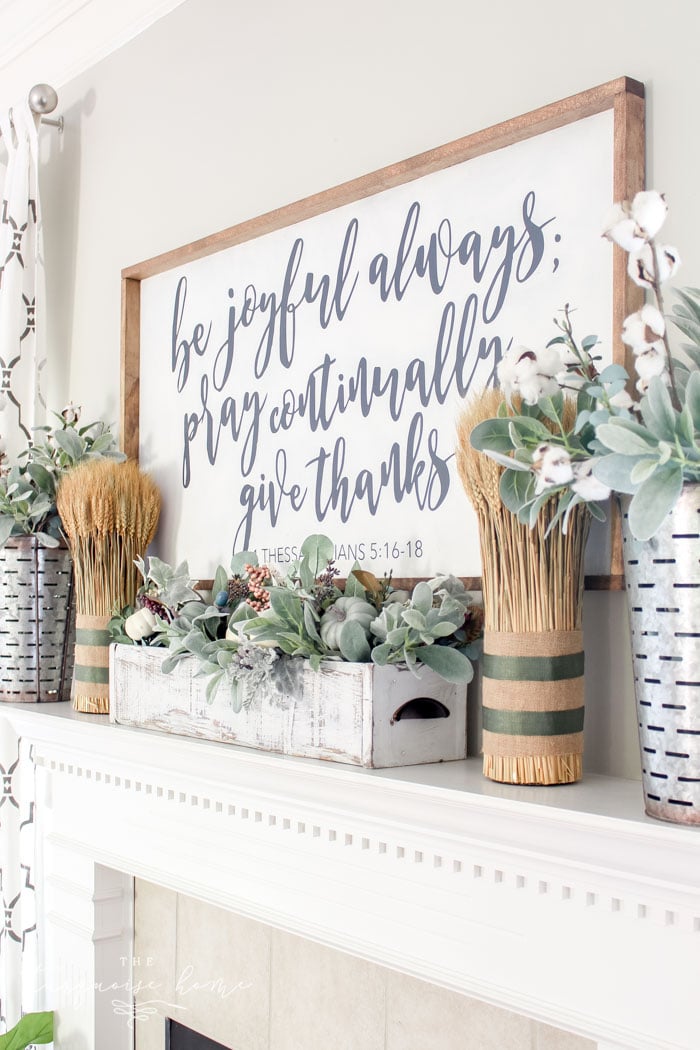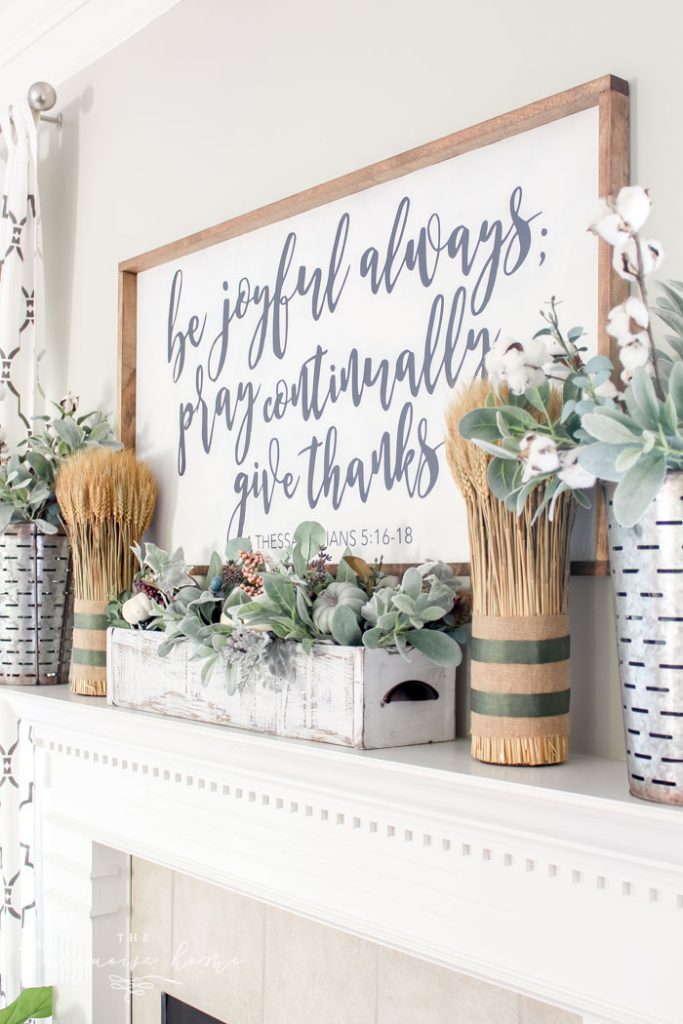 Use a simple vase and add a bundle of wheat for a rustic natural element, like The Scrap Shoppe Blog did in #12. If you live in an area where you can find real wheat, then don't be afraid of using it. Otherwise, buy a bundle of wheat from a home goods or craft store, like I did a few years back!
15. Go For Simple Fireplace Mantel Decor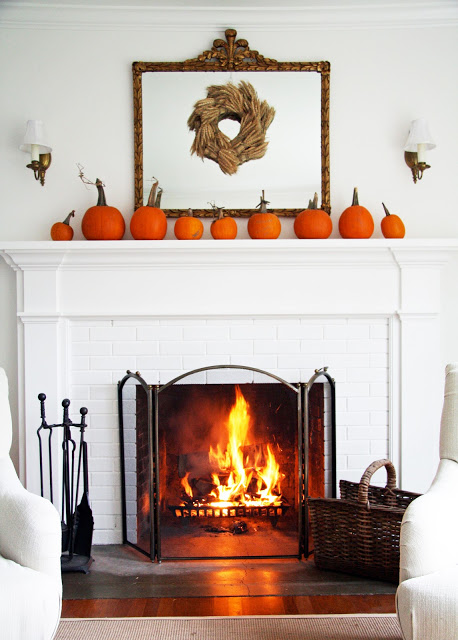 In The Fields showcases how you can add a touch of fall without going too crazy. Sometimes simple is better than over the top. So if you prefer an uncomplicated decorating style, this is for you. They used different sized small pumpkins across the mantel, and it turned out beautifully.
16. Rustic Windmill Is A Great Focal Point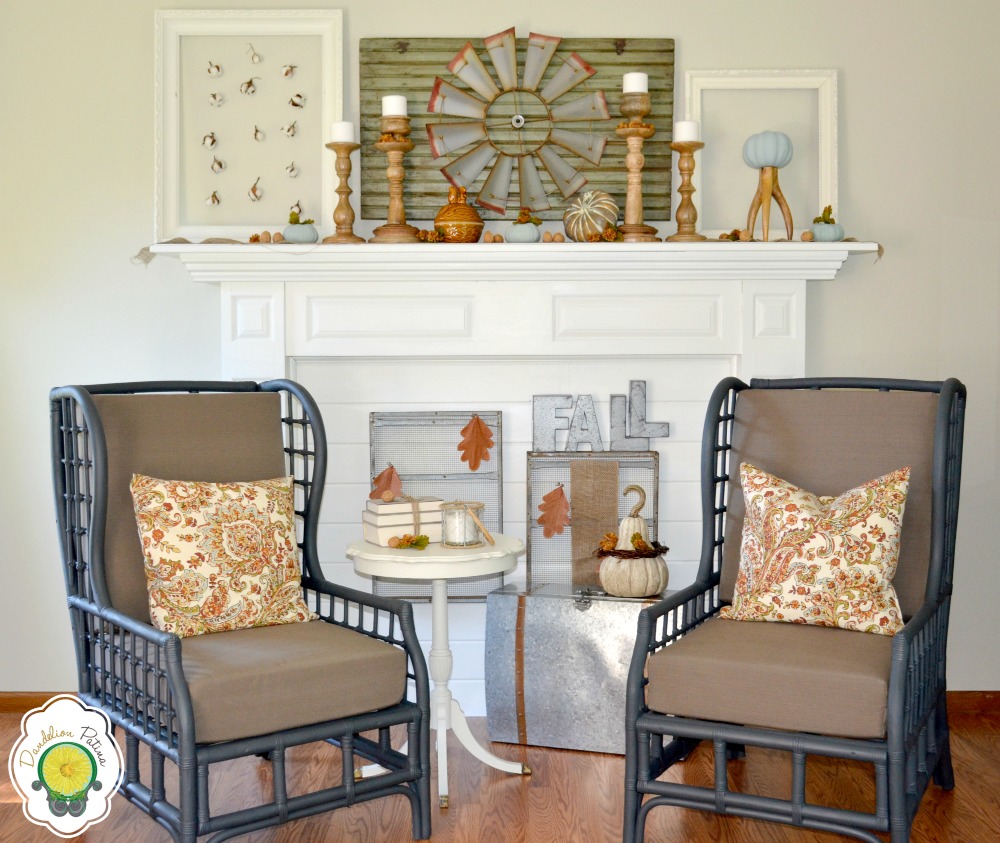 Windmills are beautiful, and if you have a farmhouse-style home, it's a must-have. Friends will ask you all about the windmill above your fireplace and wish they had one for themselves. Everything about this look screams fall! Michelle at Dandelion Patina outdid herself with this look.
17. Use Cotton For Fall Decorations
The thing I love about cotton is that it's lovely for all seasons! I especially think it's amazing for fall because it's so inviting and cozy just like autumn weather. Dandelion Patina took the cotton and used a large picture frame that was painted a romantic off white. It turned out perfectly.
18. Chairs Can Be Decorations Too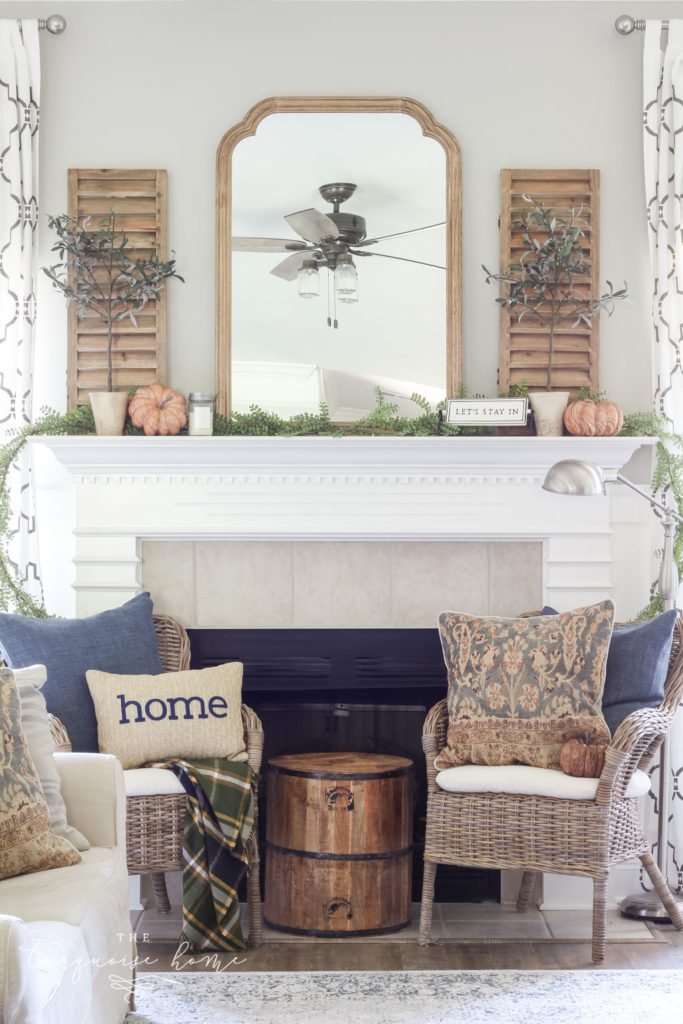 A couple of adorable chairs can make great fireplace decor ideas. Place them on either side of your fireplace. It will look amazing, and you can add some pillows for the season. It will complete the look of your room and chairs are lovely decorations. The room will have a chic style, and you will feel invited to stay.
19. Gourds Are Gorgeous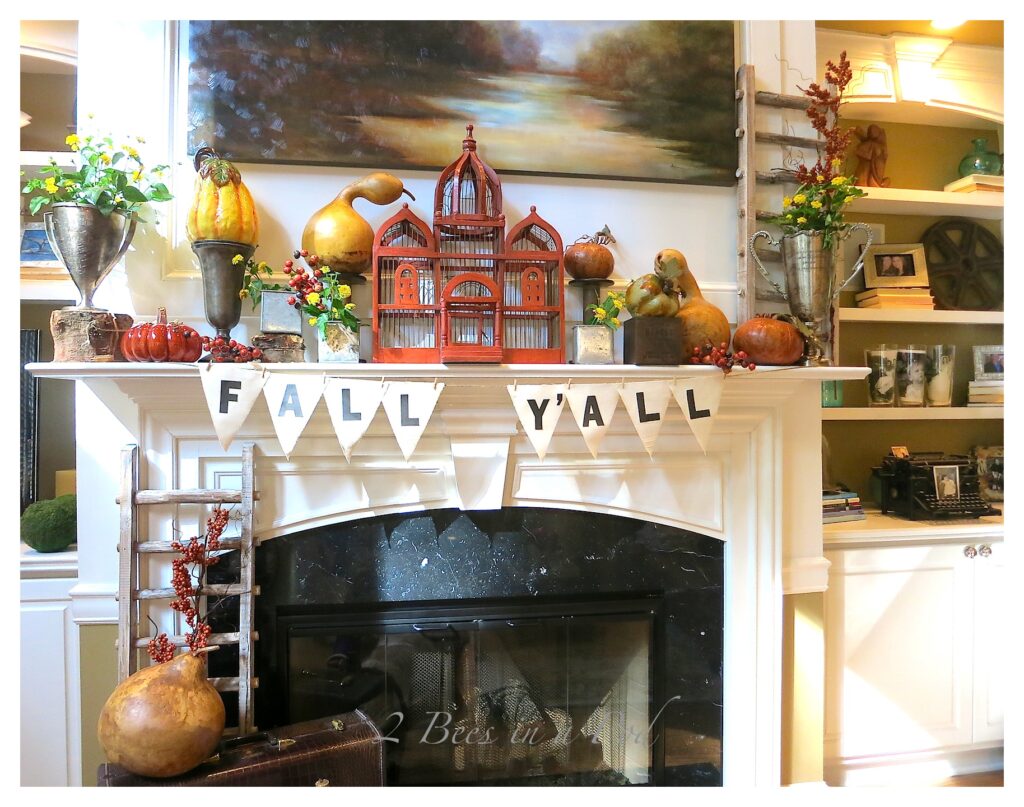 Gourds really are so amazing when it comes to fall fireplace mantel decor ideas. Jenn and Vicki over at 2 Bees In A Pod placed the right amount of gourds around this fireplace mantel. There are so many varieties and sizes, and you can place them on the mantel and even in a basket on the floor.
20. Go With Traditional Designs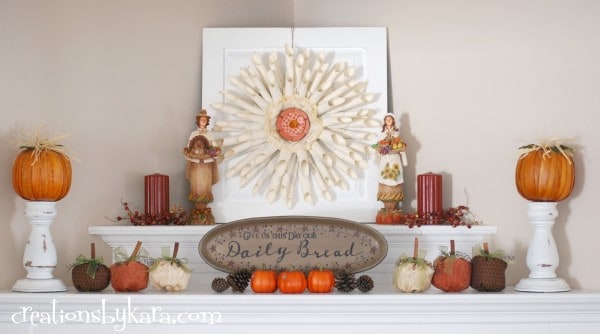 Using traditional colors and decorations is something that never gets old. These classical designs are a hit, and Kara from Creations by Kara really used some fantastic pieces. Pumpkins on pillars, candles, and fabric pumpkins are all a hit.
21. Mason Jars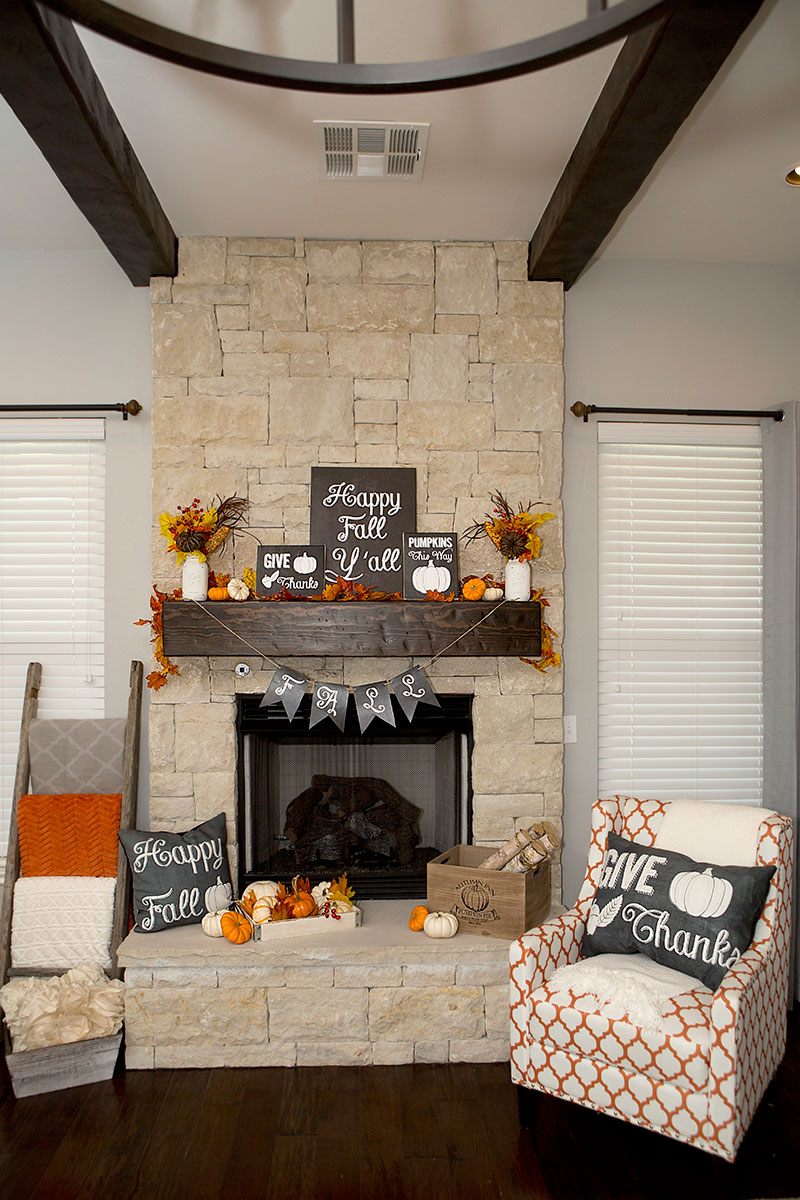 I absolutely love this style and design on this mantel! Kara from Clean Living Clean Eating used mason jars and painted them an off white color. Then added some gorgeous sunflowers, leaves, and corn. Doesn't it look fantastic?
22. Take Advantage of Chalkboards
You can use the chalkboard style on more than just signs. Kara also used chalkboards on pillows, a banner, and even a crate. It looks so clean and welcoming. You will feel invited to have a seat and sip on some pumpkin spice tea. It's impossible not to feel complete relaxation.
23. Layer Blankets on a Ladder
Propping up a ladder is a wonderful way to display throw blankets too. They will add color and style without being a main focal point. Pick a few blankets that match whatever color scheme you are going with, and you will be set. See the photo above for a reference.
24. Choose Different Colors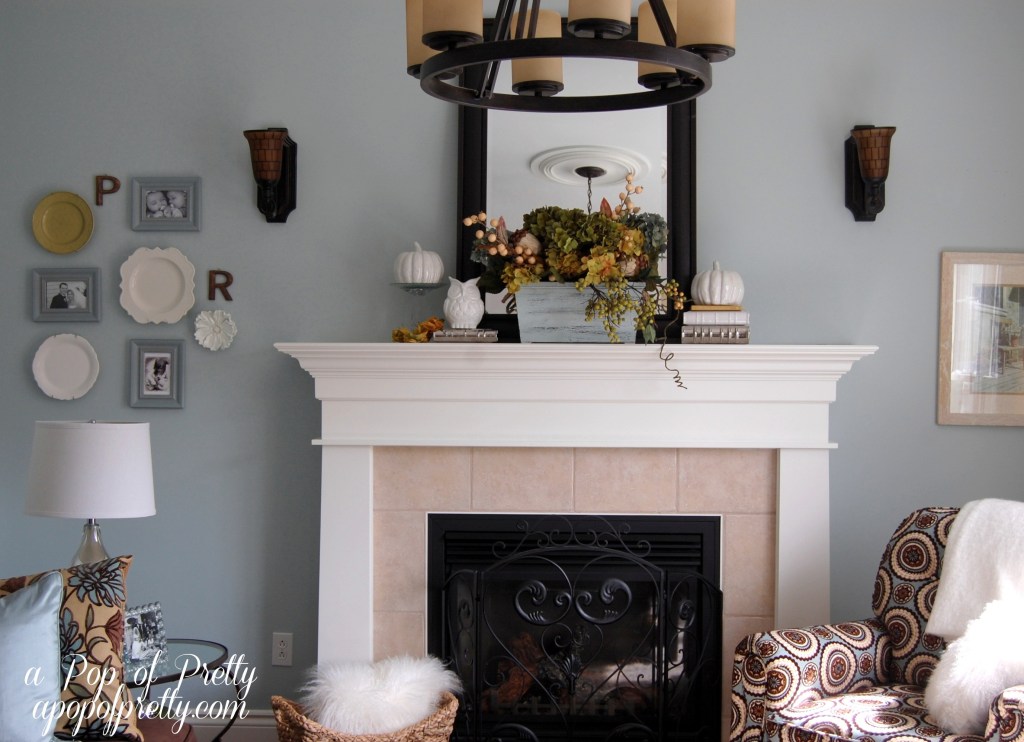 I can't get over how beautiful Kerri at Pop of Pretty made this fireplace mantel! She chose colors that aren't traditional at all. Whites, purple, and gold look lovely together. I think using cool tones is a game-changer when it comes to fall decorating. The white pumpkins are subtle and fantastic.
25. Flower Arrangments Are Delightful
Whether you make the flower arrangement yourself or purchase one that's already made, they add some color and vibrance to the room. Choose something that is large and has some depth to it, so it stands out just like the photo in the one of this fireplace mantel above.
I hope you have been inspired by these 25 Fall Fireplace Mantel Decor Ideas to update your mantel. You are going to feel so good when you walk into the room and see your new designs. Happy Fall!
More Posts You Will Love: