Simple & Neutral Fall Mantel Decor
Beautiful fall mantel decor with lots of blue and neutral details shows how to incorporate fall decor with simple decorating ideas.
This time of year is magical for sure. Sharpened pencils, anticipation of the cooler temps and glorious leaves falling to their collective resting place. Hopes of a renewed sense of purpose, finishing the year strong and preparing for the holidays to come.
And if you're anywhere near the South – the promise of cooler temps is a clear bright spot of the season. 😉 This post contains affiliate links for your convenience. See my full disclosure policy here.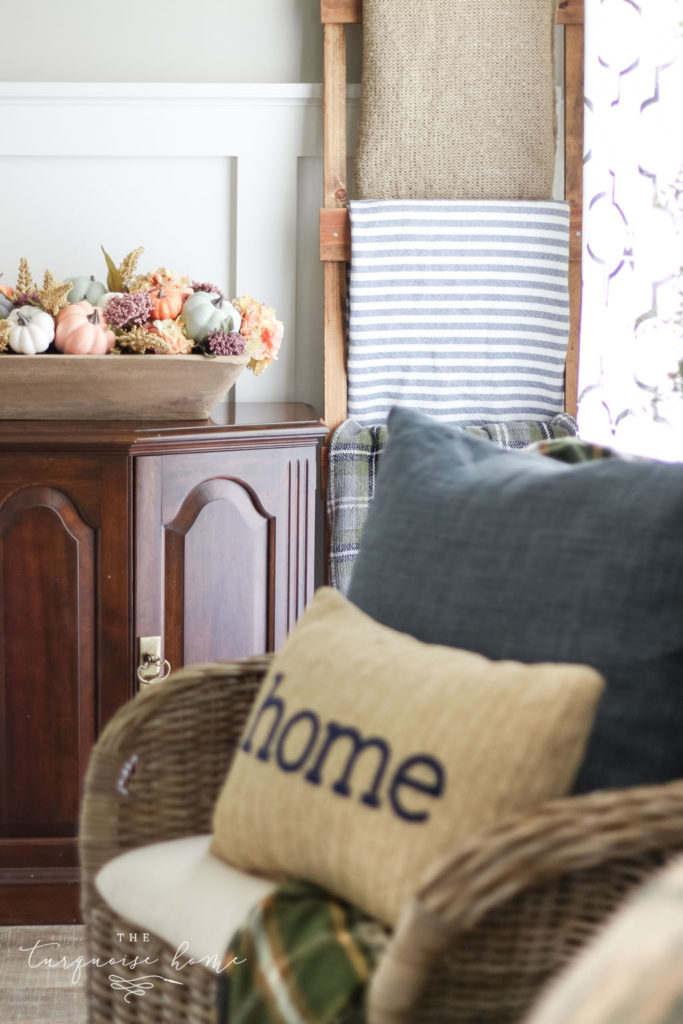 It's exciting, cozy and expectant. Saturdays are spent with friends and family – cookouts and football. Sweater weather starts and the much anticipated boots are pulled out of the closet. Sweater weather is my favorite weather, y'all.
The lazy, sweaty days of summer give way to early mornings with a chill in the air. And it's a welcome change after months and months (and months) of 90-degree weather.
Note: I'll share a list of all the sources at the end of this post, so be sure to check that out if you have any questions. You will see some of the images in little carousels along the way; you can just click the image to shop the items.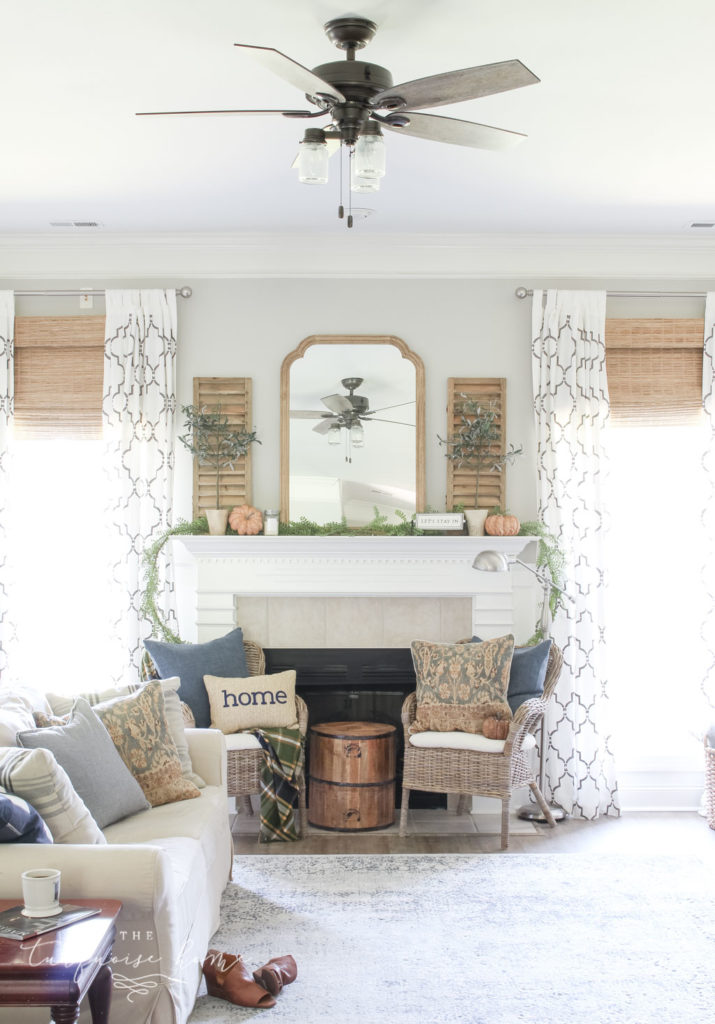 I wanted to channel allll of these feelings and emotions with my decor, as I always want to do every year. But this year I wanted more cozy, more warmth. Hence a lot of browns and medium blues. I was craving simplicity and texture as opposed to more and more stuff.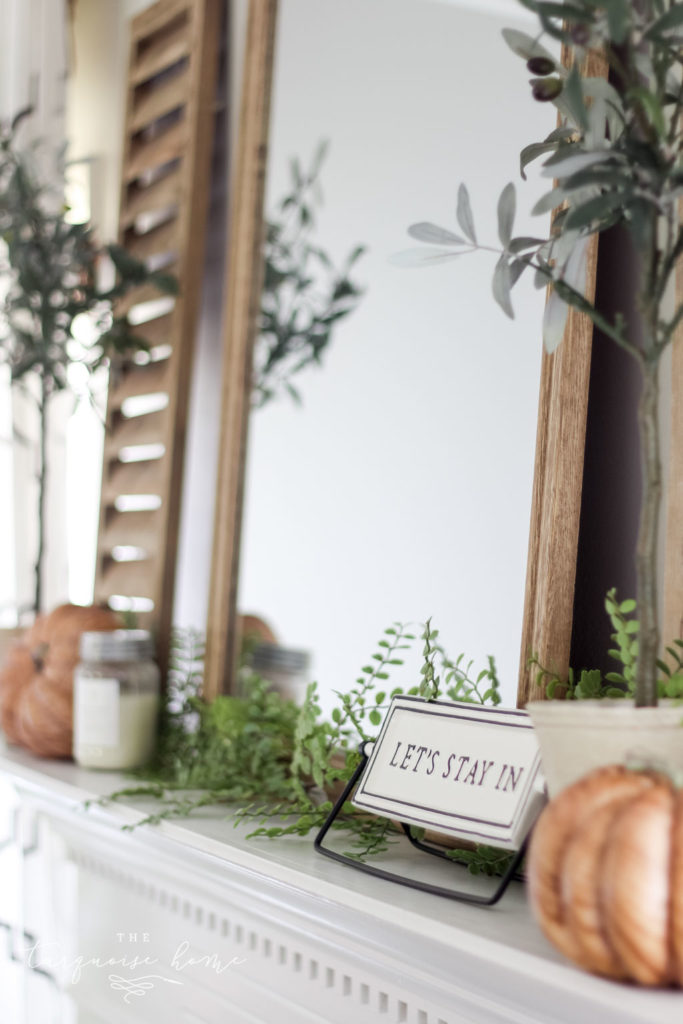 In addition to craving simplicity – I had to resist every urge not to put some faux plant or faux foliage on the little table in between the chairs – I also have been craving more symmetry lately.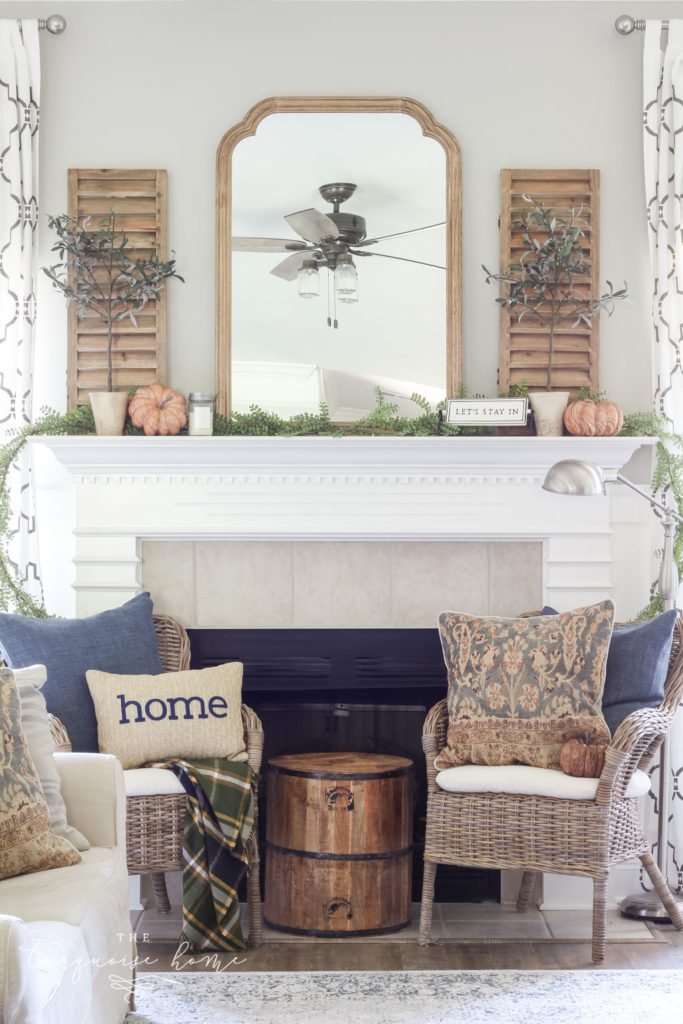 There was a time when I did a lot of off-centered vignettes, and I still have those in other spots around my home. But over the past year you've seen more and more balanced decor on my mantel. And I really feel like it creates a sense of calm and order in my home.
I mean – it's not exact symmetry, but it's definitely balanced.
What truly made this room work for me this year, though, was all of the pretty pillows and the textures and the blues and browns. I'm just in love!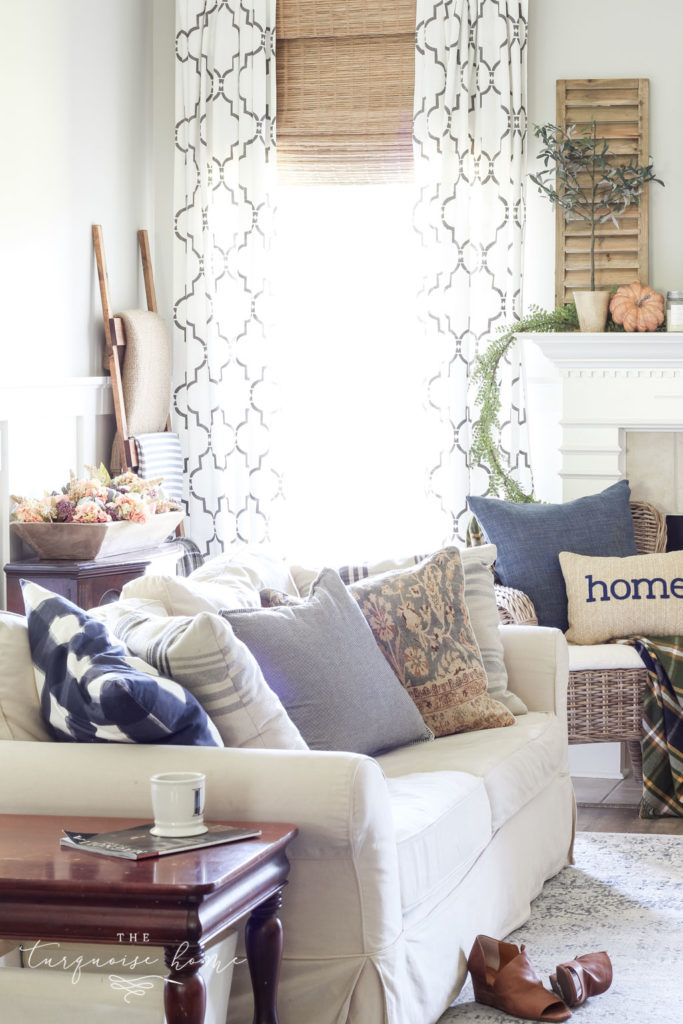 You may notice some colors missing from my usual mantel decor. For instance, there's no turquoise this year. Instead I'm using navy and medium blues, which remind me of blue jeans – the epitome of fall. (One of my favorite fall trends I highlighted in this post.)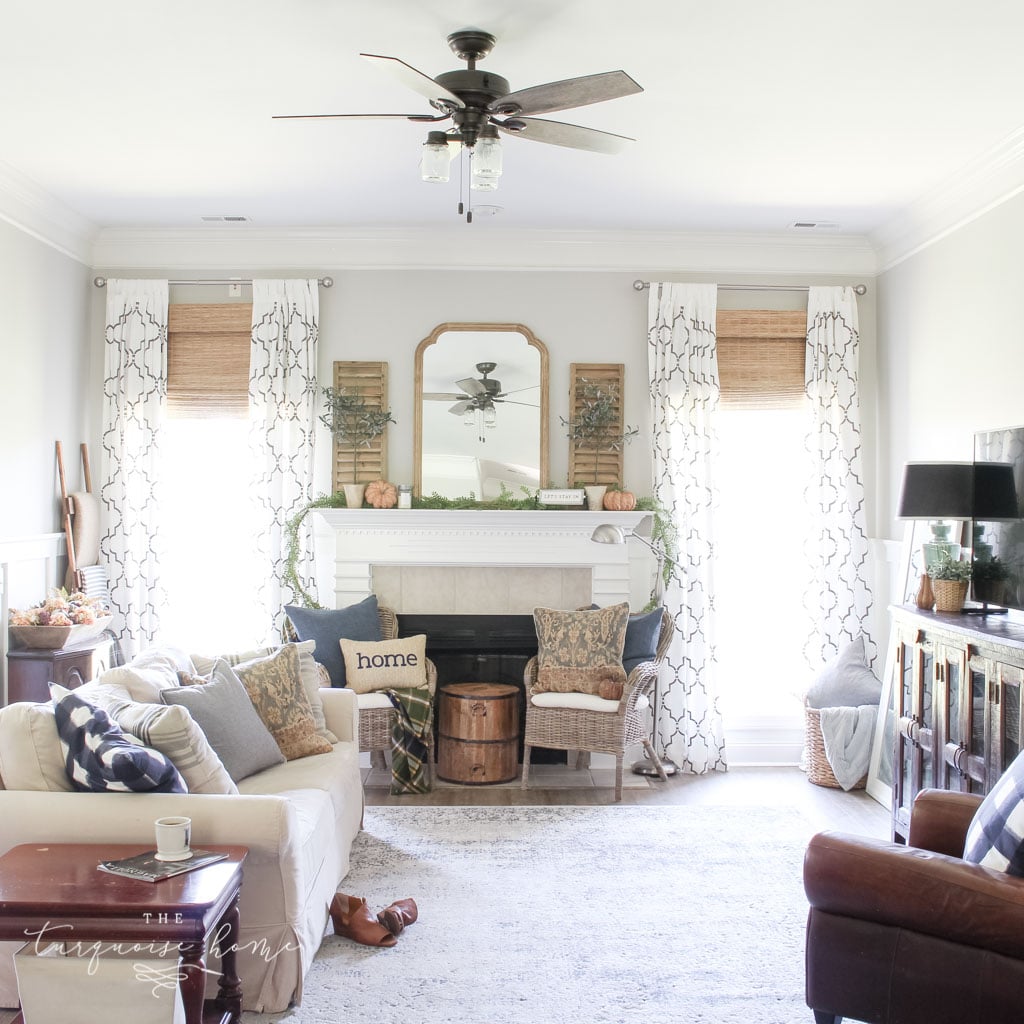 And lots of wood tones and browns along with fall greenery. It's a different vibe for me, more warm colors. But I'm all about the more neutral palette. One of my friends on Instagram called it the "Joanna Gaines effect" and I think she's on to something. But I'm loving it!
I did make an exception with the fall centerpiece I made with a few oranges, plums and light blues. But it's just a small pop of color and I really love it. I just moved it into here for the pictures as it usually lives in the dining room as a table centerpiece.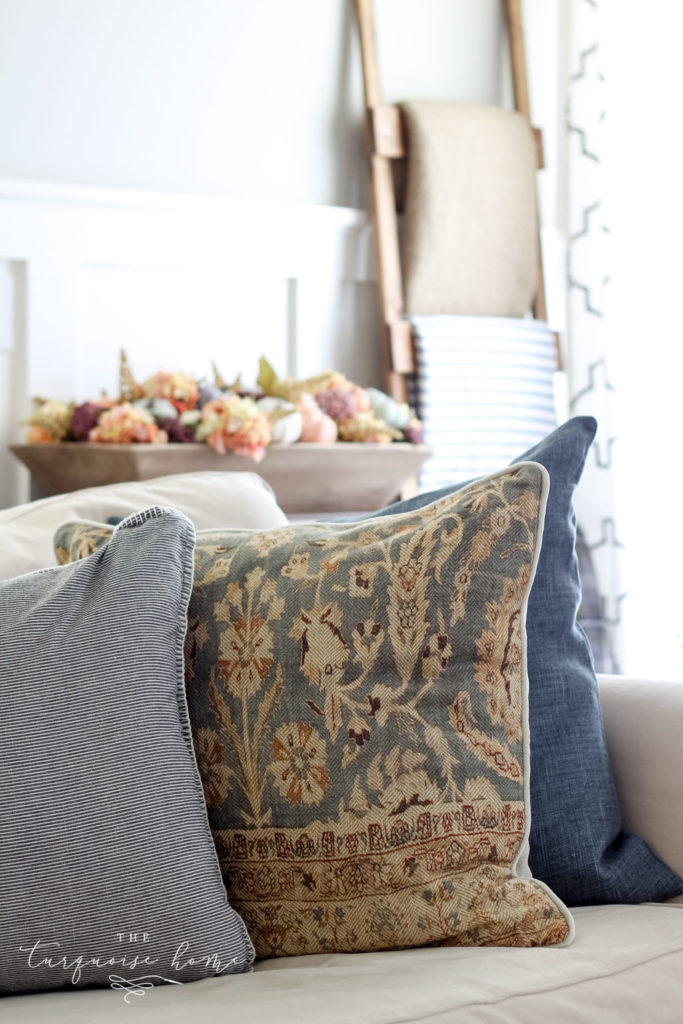 Do you like to decorate for each season? Or do you decorate once and leave it up all year (with the exception of Christmas)? I really love to at least change out the pillows each season and grab a few decorative items. But I'ma big fan of leaving some things in place all of the time, too.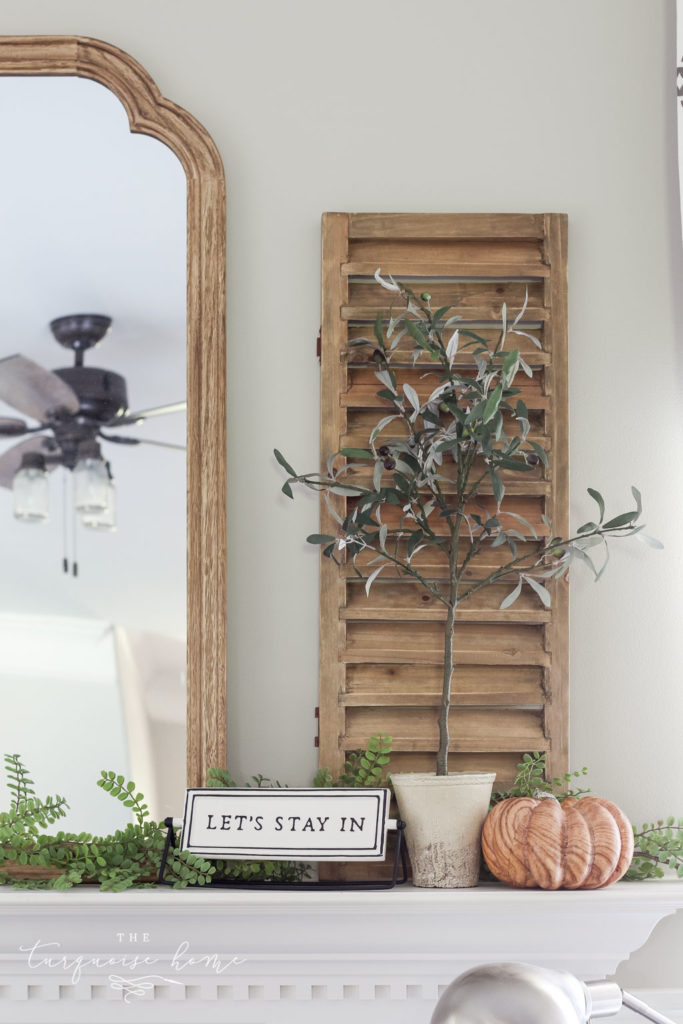 Like that big mirror over the mantel? I bought two of them earlier this year to use in my master bathroom… but this one never made it past the living room. Once I set it up there just to get it out of the way, I fell in love. I think I'll just decorate around it from now on. Simple, huh?
I kind of love that you can see the reflection of the ceiling fan in the mirror, too. It's super cute and I love how it looks in the room.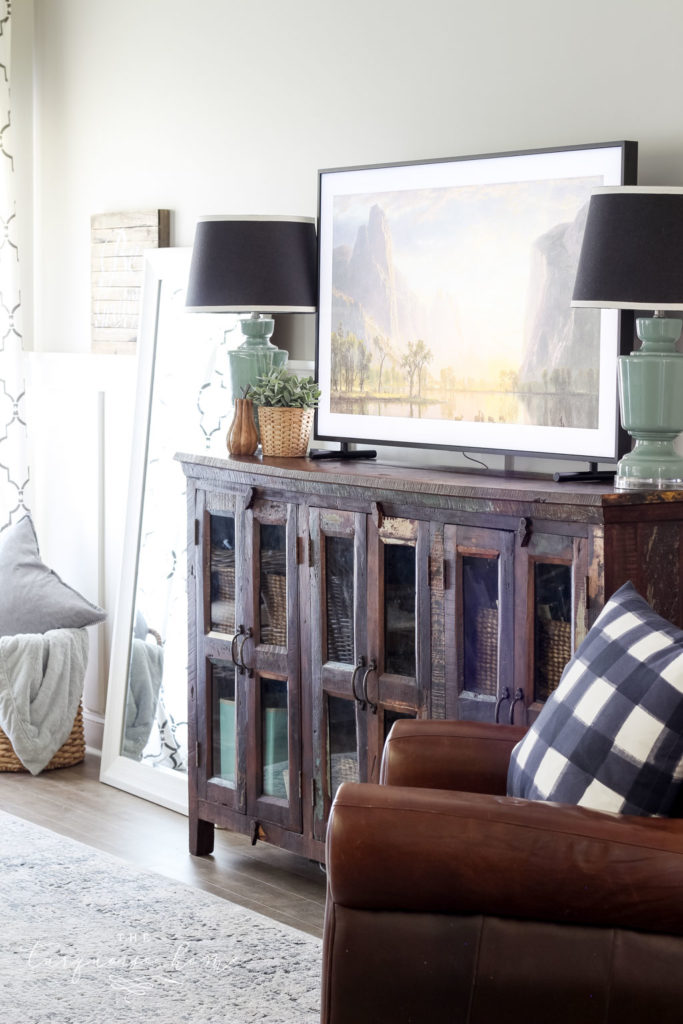 I'll leave you with this first look at our new TV, which is the Samsung Frame TV. I resisted my husband's pleas for a new TV for years, but when I saw that this TV displayed art while it was in standby mode – and that you can flush mount it on the wall to look like canvas art, I was sold!
I'll post a full review when we finally get it mounted on the wall once our new sectional arrives.
Hopefully you enjoyed my little tour of my fall mantel today – and gleaned some decorating inspiration for yourself. I'm excited to share more of my decor next week with my fall home tour!
Fall Mantel Sources:
MORE POSTS YOU WILL LOVE: