Vintage Distressed Blue Rug & Changing Your Mind
I get asked all of the time to help others decorate. And while that is part of what I hope to do here in this space – inspire you to create a home you love. I, in fact, am not a professional decorator. I don't always know what will work in a space until I try it. Sure, there are measures I can take, like taping out the size of a furniture piece first, or getting a sample before purchasing the whole bolt of fabric, but sometimes you just have to see something in the room first.
And if it doesn't work, then it's OK to then change your mind.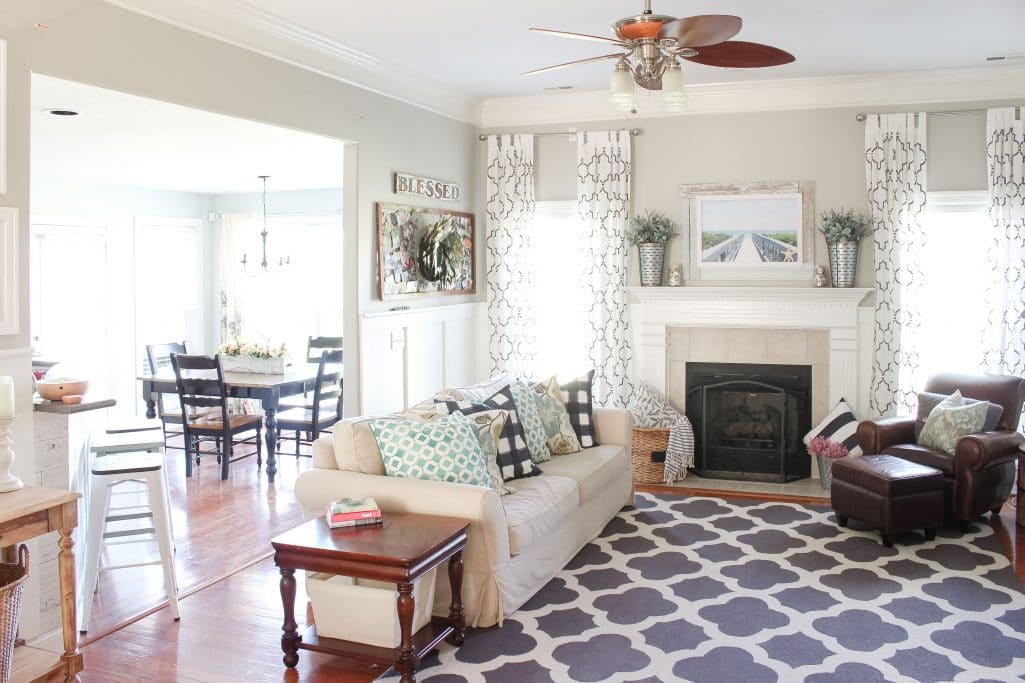 The original rug that I had for 6+ years.
I'm a perfectionist by nature, so I struggle with making a decision if I don't know for a fact that it's the right one. I hate having to do something twice, so this often leaves me paralyzed in indecision. But I'm working to overcome it. And you will see here, that courage in decorating comes with risk and sometimes you just have to make a decision and learn that doing things twice is part of it. (It literally makes me want to break out into a nervous sweat.) And that it'll all be OK in the end.
Dramatic, much? LOL (Just a bit.)
If you remember, I recently asked for help in deciding on a new rug for my living room. I had been living with the same rug for 6 years and it was time for an update.
I finally saved up the money, debated my decision for 6 months and then took the plunge with an online purchase. The rug was gorgeous and I was just positive it would work well in my home. I had seen it in other people's homes and loved it.
But as soon as I rolled it out and saw it in my room, I didn't love it.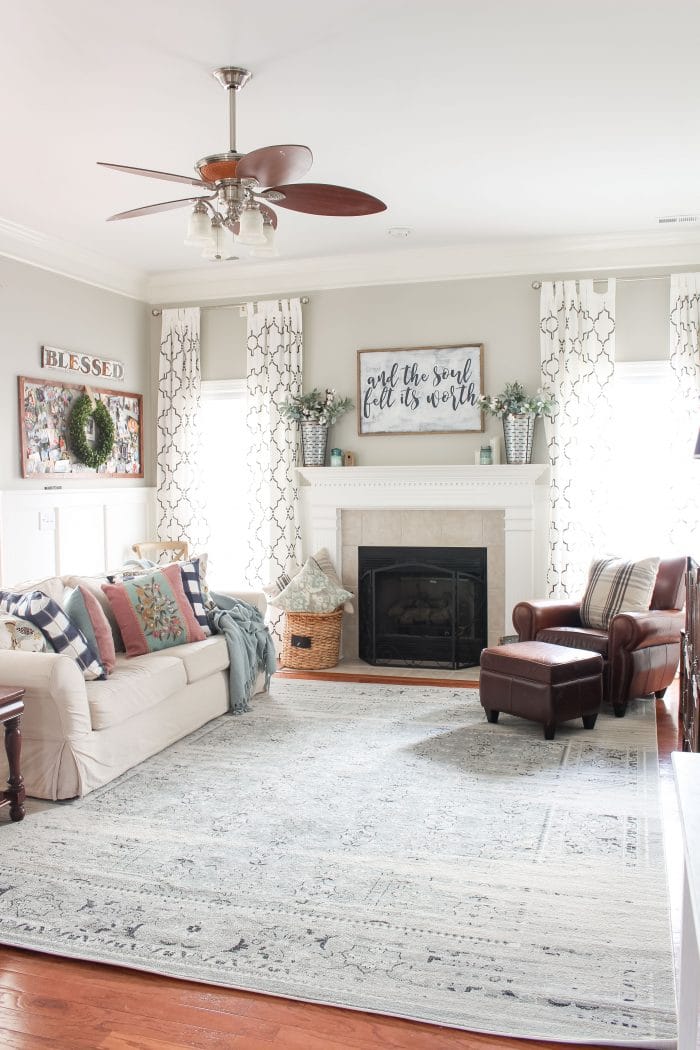 I mean, I loved the rug, but not the rug in my room. I really wanted to love it, though. So, I sat with it for a few days. I asked all of you what you thought. And I so appreciate your honesty because your comments confirmed what I was feeling.
The light blue colors, which I loved, just did not work with my turquoise, blue/greens and pinks. It was all just too much color and not enough neutral.
I also thought it was too light with my lighter-colored couch.
The previous rug had worked to anchor the space, and while it now felt open and airy, it also felt like everything was floating in the room. Nothing was grounded. Well, except for our dark leather chair in the corner, which stuck out like a sore thumb. 😂 That was not the look or feel I was going for.
I wanted an updated, vintage-looking rug. But I also wanted something that worked well with the other colors in the room and also anchored the space.
So, I went on a hunt to find a similar rug, but a bit darker and less pale blue colors.
I am happy to report that the second rug I purchased turned out perfectly! The description said it had navy, gray and oatmeal colors. This is exactly what I needed, because my walls are gray, my couch is oatmeal and I love to use navy as an accent color.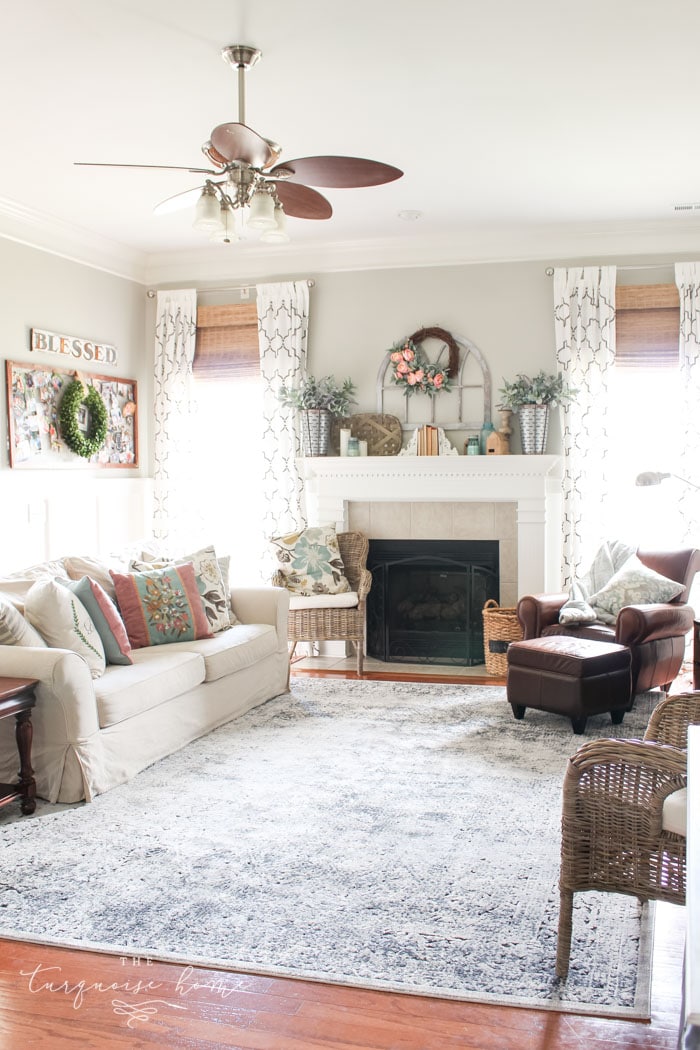 Scroll and click/tap images below to shop my Living Room:

It's actually darker in person that it looks in the above photo. The shot below helps you kind of see how it looks in real life.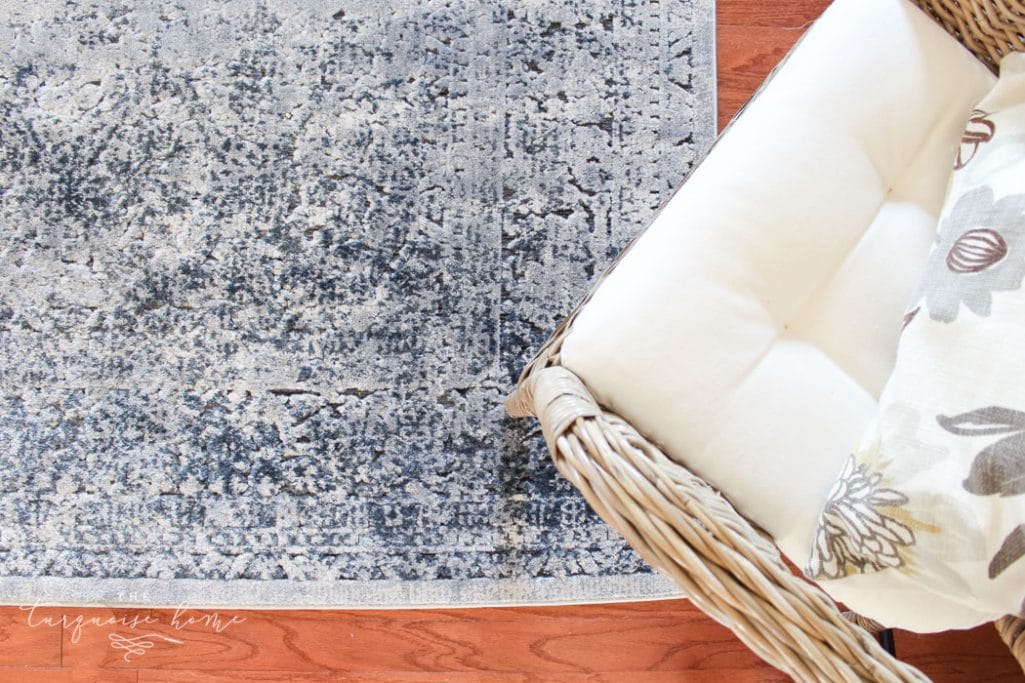 I love the new rug and now I think of it as my teacher, telling me: don't settle for something if you don't really LOVE it. Don't try to make something fit just because you won't want to re-work the space or return something or go through the hassle of selling something you just bought.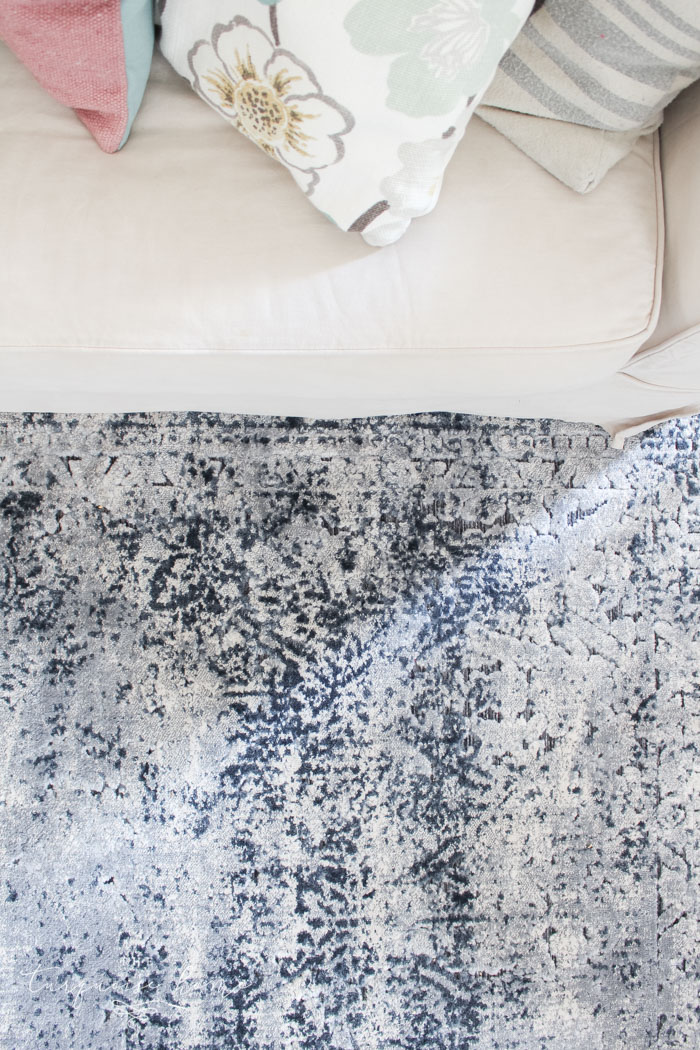 It turns out a friend of mine loved the first rug I purchased and bought it from me. It looks beautiful in her living room!
What do you think of the new rug?
If you're looking for some of my favorite vintage blue rugs, check out this post here!