My Favorite Updates for DIY Kitchen Makeovers
You'll want to makeover your own kitchen decor when you see how simple it is to create a space that you love! These simple updates give this kitchen makeover just the personality and style it needs without any renovation or contractors. It's all DIY approved and super affordable!
It's safe to say that I have completed one full makeover in my home this year, which took only 3.5 months. 😜 Whoop!! 🎉 It seems like a long time for a few cosmetic changes, but it's really quite fast for me. I'm proud of myself for staying the course and finishing something I started in less than a year.
I think writing down my home goals for this year and writing down my design plans for this room played a huge role in my finishing it. Writing down your goals is no joke and really does help you stay the course.
Now that it's wrapped up, let's take a look at some simple, mostly budget-friendly cosmetic changes you can make to any space you want to spruce up. Most of these are renter-friendly, too! There was no major demolition or even painting the walls! So, I hope you find these steps helpful when it comes to looking at a space you don't particularly love. It's not hard to change it to make it into a space you adore!
But before we jump into the changes, let's look at a before picture…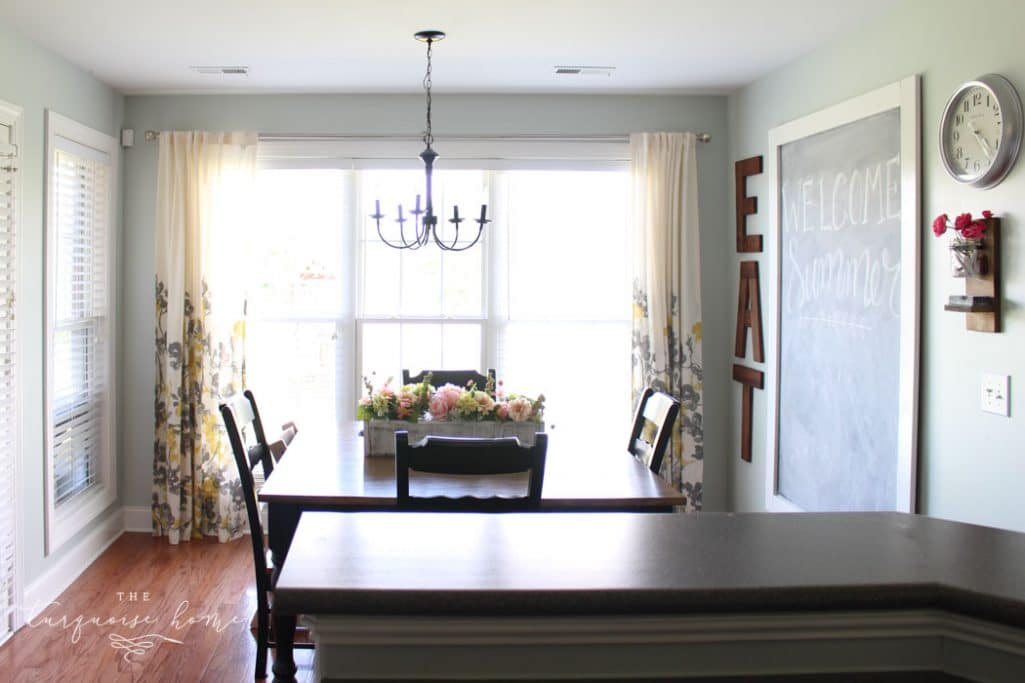 There is absolutely nothing wrong with this eat-in kitchen. But I wanted to infuse a little more of my style and personality into the space, change some finishes and items to reflect my love for all things traditional/coastal farmhouse.
The curtains had been a quick purchase back when we moved into the house 6+ years ago. I wanted to hang the curtain rod higher at the time, but I couldn't find longer curtains that I liked. Also, the wall color was darker when I chose the curtains, so they didn't look quite the same with the new wall color. (It's Sea Salt by Sherwin Williams.)
The table had good bones, but wasn't exactly what I wanted. And the window blinds were falling apart. It's hard to tell, but the blinds in the middle were completely missing. They fell down one day and we didn't fix them for more than a year and a half! 🤦🏼‍♀️
And here's how it looks today! I love how it turned out. So, let's talk about what went down in this room!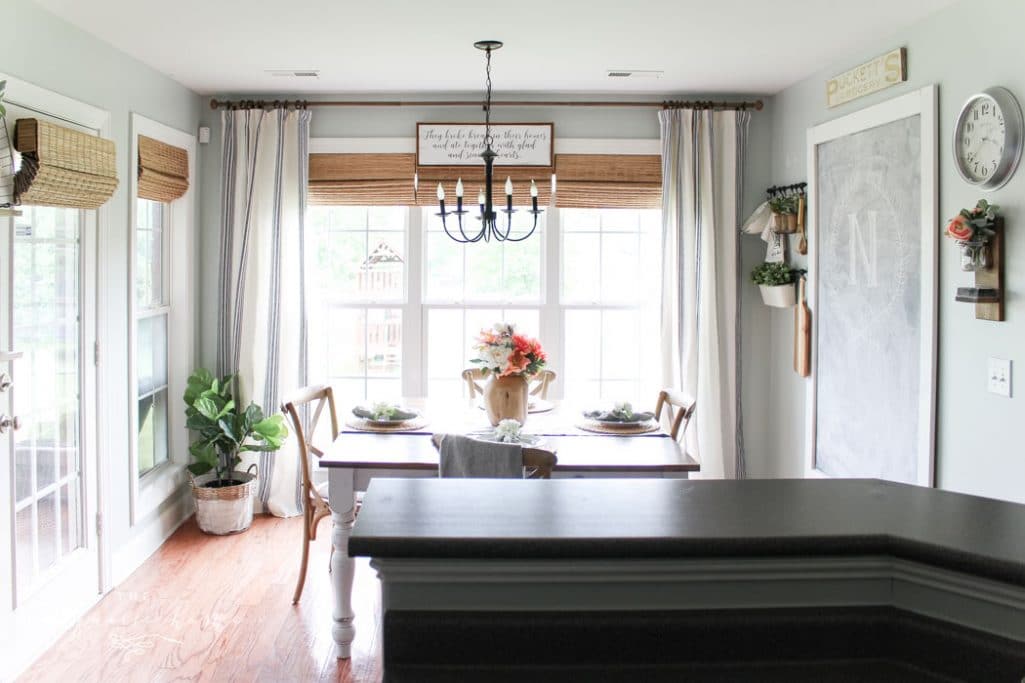 I'm going to share the general updates you can make in your space, but I'll link to the posts about the specific changes I did in each point!
This post contains affiliate links for your convenience. See my full disclosure policy.
My Favorite Updates for DIY Kitchen Makeovers
1. Paint or Stain the Furniture
This is always the first step to take if you don't love the look in a room. Is there a piece of furniture that you love the bones, but not the finish? Or that you would love more with a little paint or stain? I liked the farmhouse table in my eat-in kitchen, but I didn't love the finishes.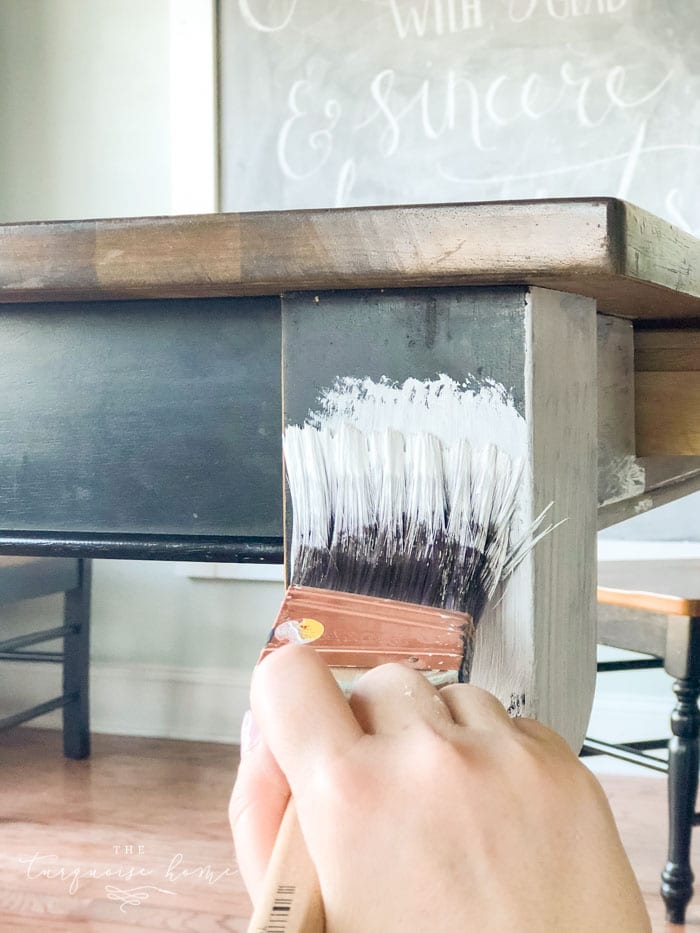 I actually stripped and re-stained the tabletop a couple of years ago, but never did anything else with it until recently. So, for this makeover, I painted the black base with my favorite easy paint technique. See it here. I love the new lighter look!
2. Change out the Knobs
This is a simple solution for any furniture that you want to give an extra detail of personality! Our table has 4 drawers in it and the knobs were plain wood that matched the table top. I traded them in for some green and white, hand-painted ceramic knobs that give a nod to my love for all things coastal.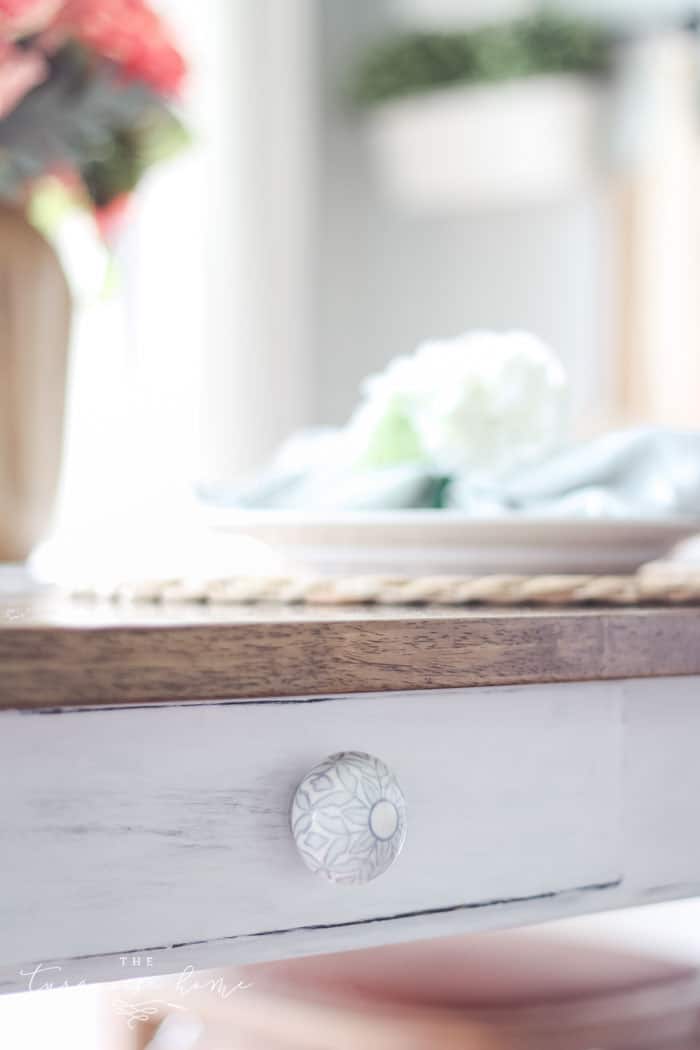 3. Add Texture and Interest to the Walls
Think outside the box when it comes to adding decor to the walls. Some ideas you could use are baskets, plates, planters, taxidermy, hats, letters, shells – the only limit it your imagination!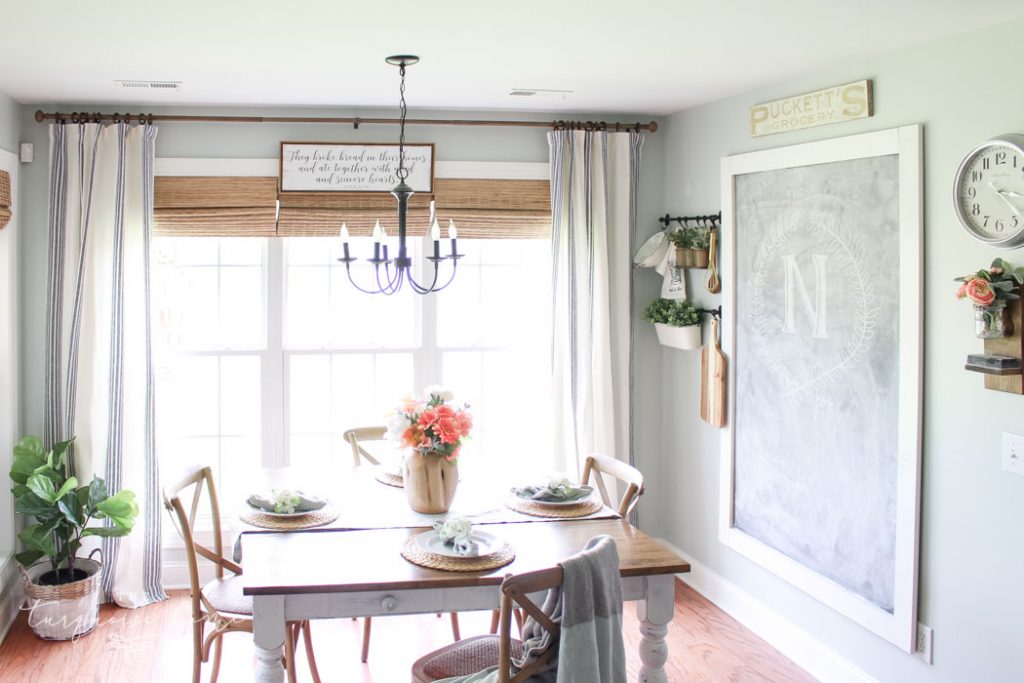 As you can see in the "before" photo at the beginning of the post, I used to have an "EAT" sign on the wall between the chalkboard and the windows. I made it years ago and I just wanted something different for that space. But I didn't want art. I wanted to add texture, depth and interest. It took me forever to figure it out, but when I finally did, I think it was a home run!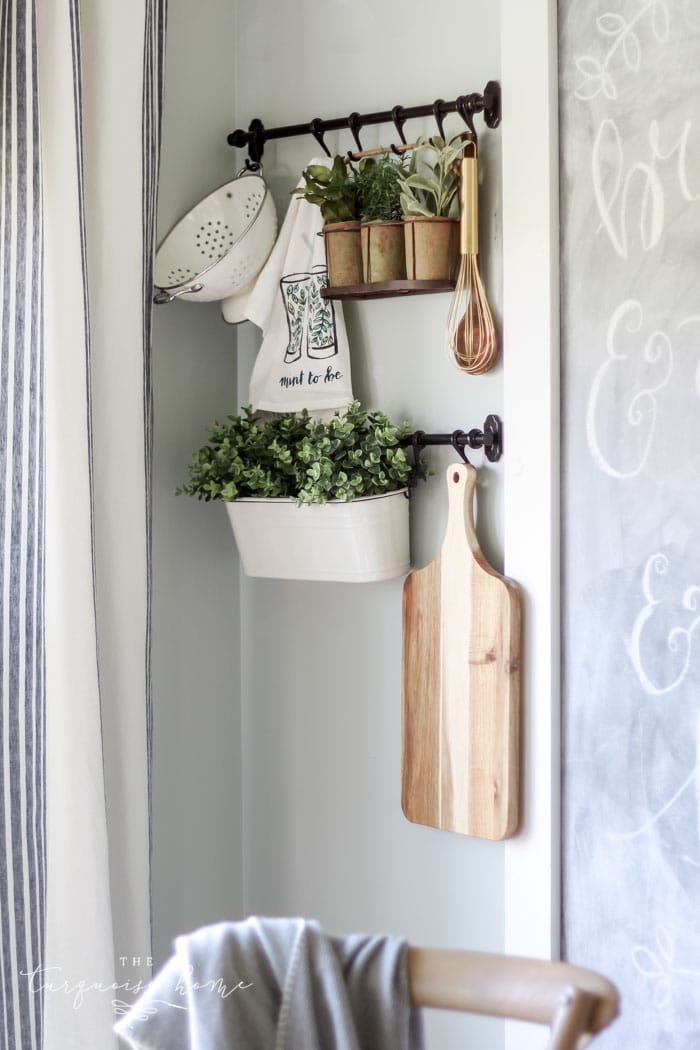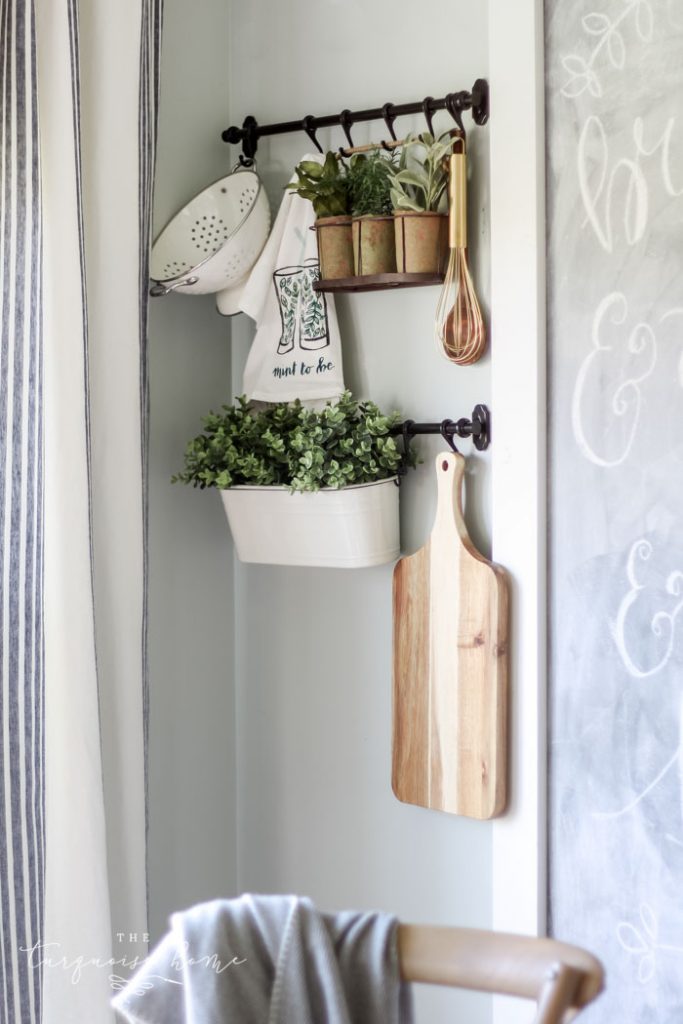 See all of the details of this Fintorp hanging system here!
4. Typography Signs
Art is always an option and I love to use all kinds of typographical art and signs throughout my home. I'm obviously a writer and love the written word, so I love to have encouragement or inspiration displayed throughout, which doubles as art. It's always fun to hang it in unconventional ways, as well.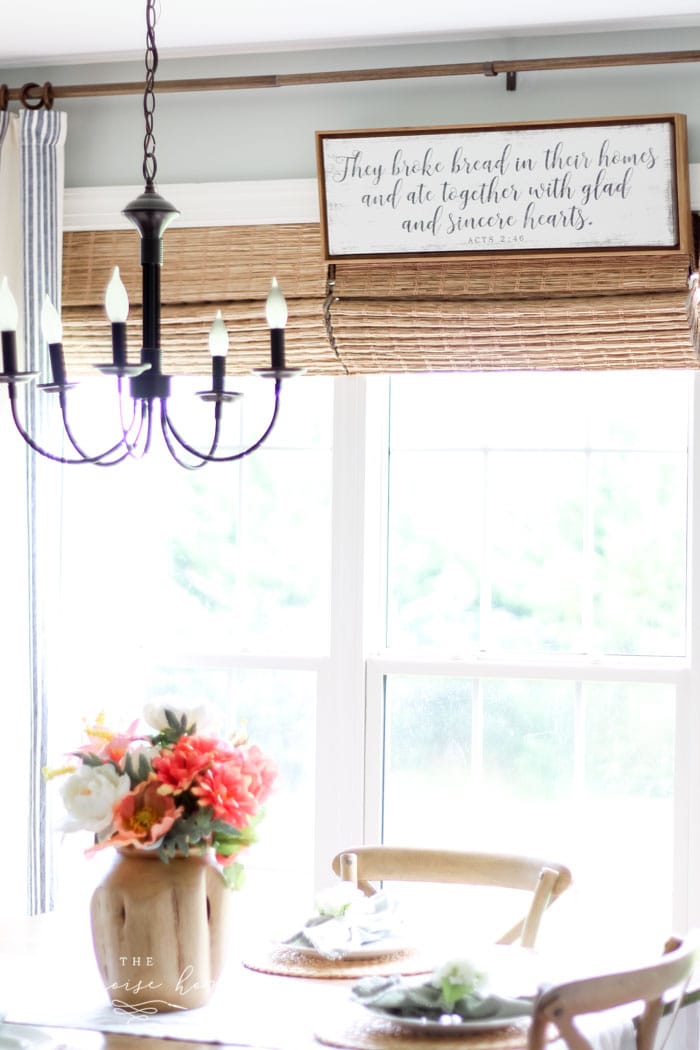 I love this sign with the verse from Acts 2:46, which is perfect for any kitchen or dining room. I felt like the window needed a little something extra since the curtain bracket just sits in the middle of that wall. So, I hung the sign over the window trim and top of the blinds. I love how it turned out! Don't be afraid to think outside the box!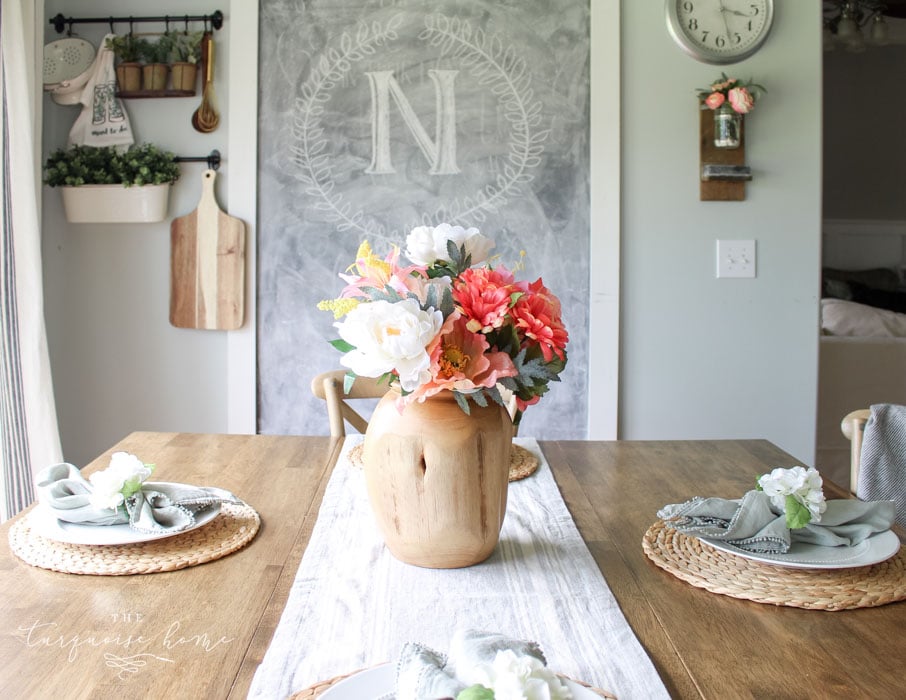 5. Curtains
New curtains are always a fun way too change things up when it comes to making over a kitchen, or any room! My tips for hanging curtains are to hang them high and wide, making the room and window appear larger than it really is. I have another tip for a great curtain ring hack that I discovered when I hung these curtains. Find it here! (These are the curtains I purchased and the curtain rod.)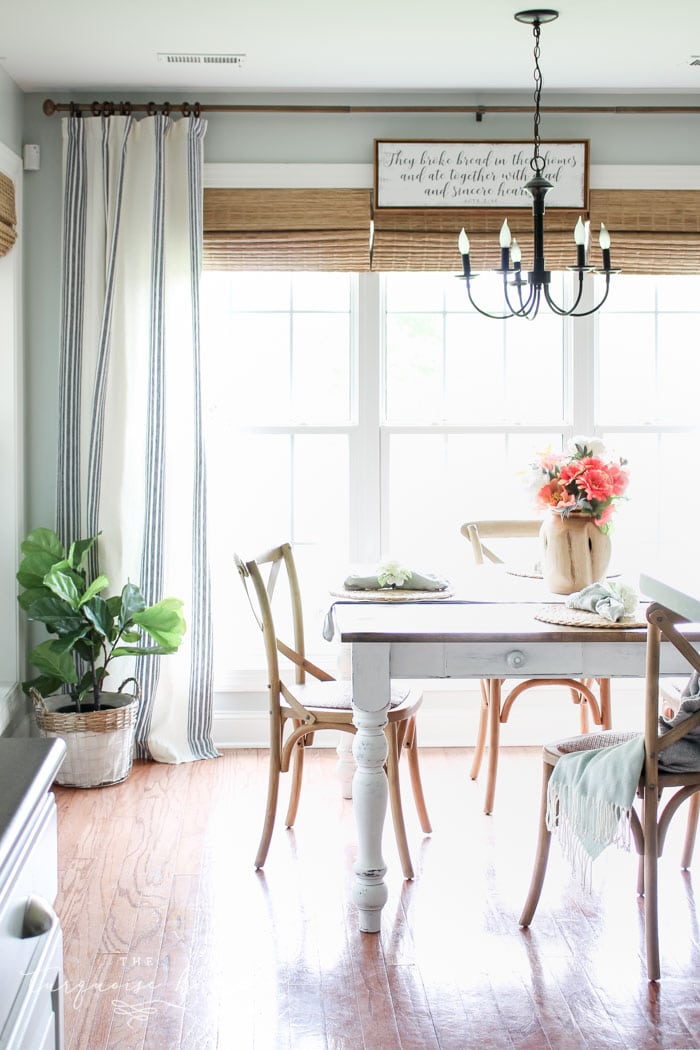 6. Blinds
Yay!! Who doesn't love some gorgeous bamboo shades? This was probably my most desired update for this little DIY kitchen makeover. And I could not be happier with how they turned out! These blinds are from SelectBlinds.com and they are the jute wheat color.
I wrote alllll about everything you need to know to select and install bamboo blinds in your home over here. Use my code TURQHOME for an additional 5% off their already great prices!
So, go check that out if you're in the market for some. This change for sure made the biggest impact on the space and while it's not necessarily a budget-friendly update, it's a worth-saving-up-the-money update! Go get ya some!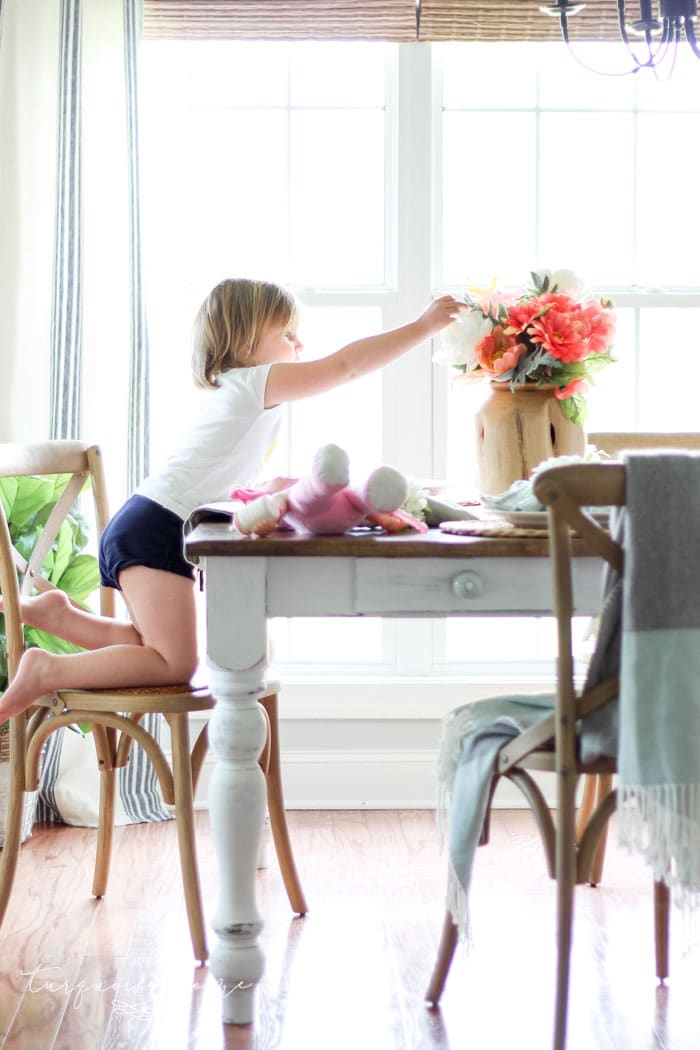 7. Mismatched Chairs.
You can either use several different styles of chairs around a table to add some new life and interest. Or just change out the chairs from the ones that came with the table. That's what I did! I took the old ladder-back chairs away and replaced them with these smaller, x-back chairs that I love!
I'll be honest that I love this new look, but I do love the heaviness of the old chairs, especially with my kids being little. They like to climb on the kitchen chairs and these will tip on them. So, I may have to refinish the old chairs and use them until my kids are old enough to sit still! 😉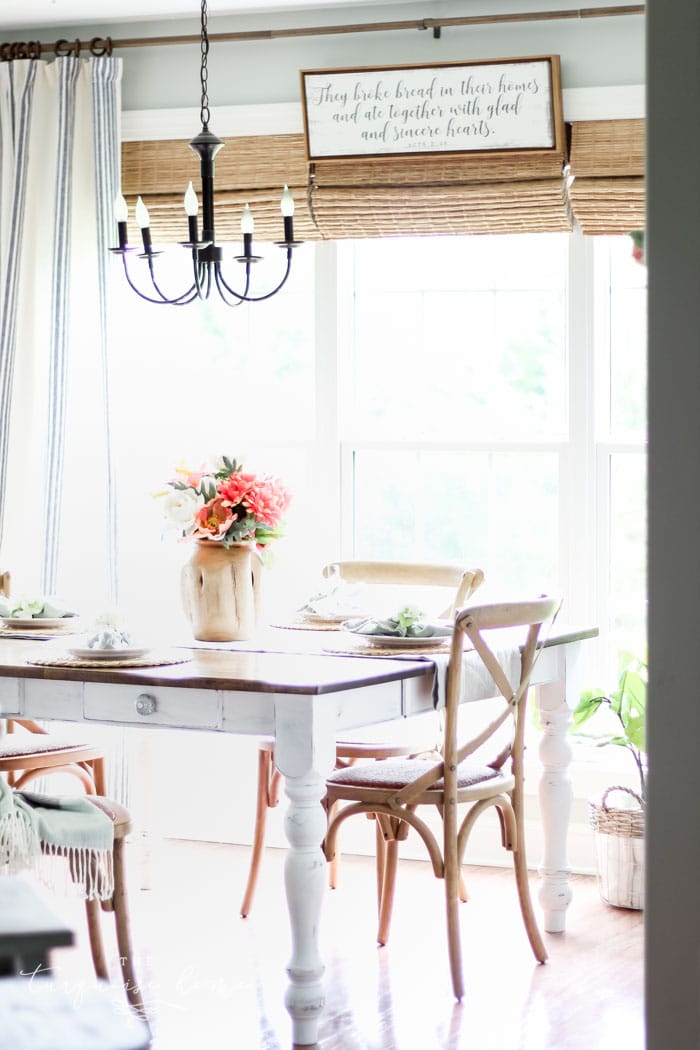 8. Lighting
Obviously if you don't love the lighting in your kitchen, change it out! I changed the chandelier in this room a few years ago, because I just couldn't stand the old light any longer. While this new chandelier is simple, it adds to the more modern farmhouse look I love. It's super budget-friendly, too, which is always a plus!
Let's take a quick look at a side-by-side comparison of this kitchen makeover before and after. I just love a good before and after, don't you?

It looks so much better than how I envisioned it would look and it's so much more me! Yay!!
What are your favorite updates for a kitchen makeover?
Sources:
Hand-painted Knobs (sold out)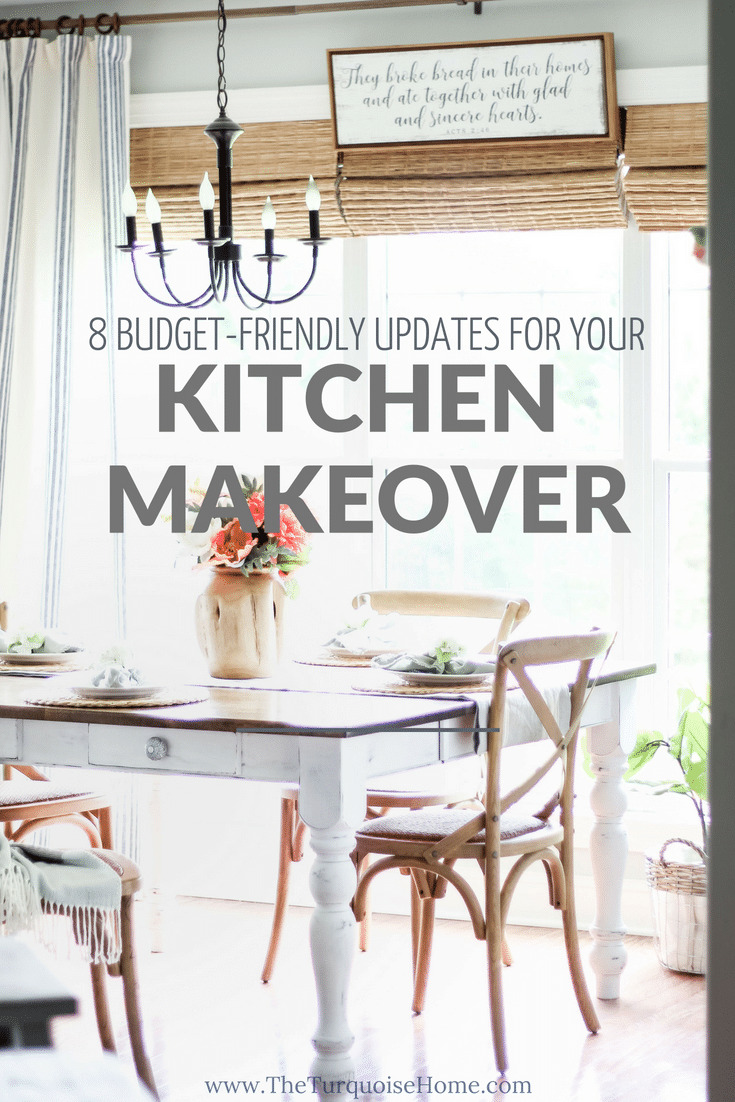 More Posts You Will Love:
SaveSaveSaveSaveSaveSaveSaveSaveSaveSaveSaveSaveSaveSaveSaveSaveSaveSaveSaveSaveSaveSaveSaveSaveSaveSaveSaveSaveSaveSave