New Curtains and a Budget-friendly Curtain Hack!
We already have progress in the Eat-in Kitchen, folks! I feel so proud of myself for already checking something off of my home goals list and it's not even Valentine's Day! Whoop!
I can't wait to show you how the new curtains look and this fabulous curtain ring hack that I learned from my friends on Instagram. It saved me nearly $50 just from this one recommendation, not to mention that both the curtain rod and curtains were on major sale. And it looks good, which is the litmus test, of course.
That's what we call decorating on a budget! I'm always trying to find the cheapest way to get the look I want. Are ya with me?!
OK, so let's take a look at how the eat-in kitchen area looked before we started this makeover. If you need a refresher on what we're doing in here you can see my design plans here.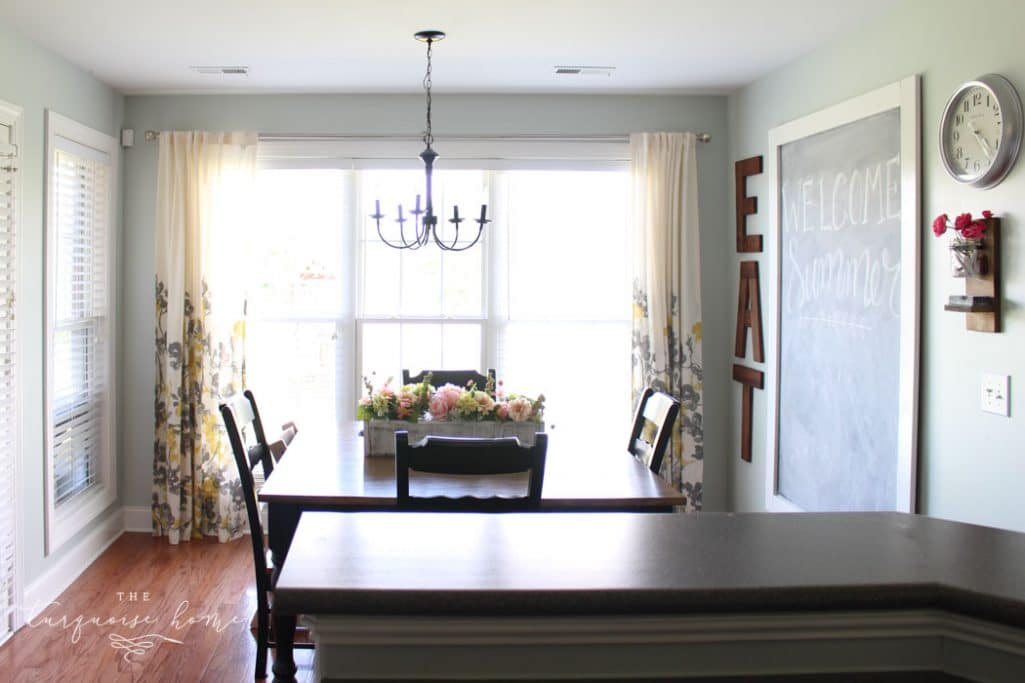 It's not bad at ALL. I just wanted to update the curtains and the table, maybe change out some decor items and call it a day.
And here's what it looks like today!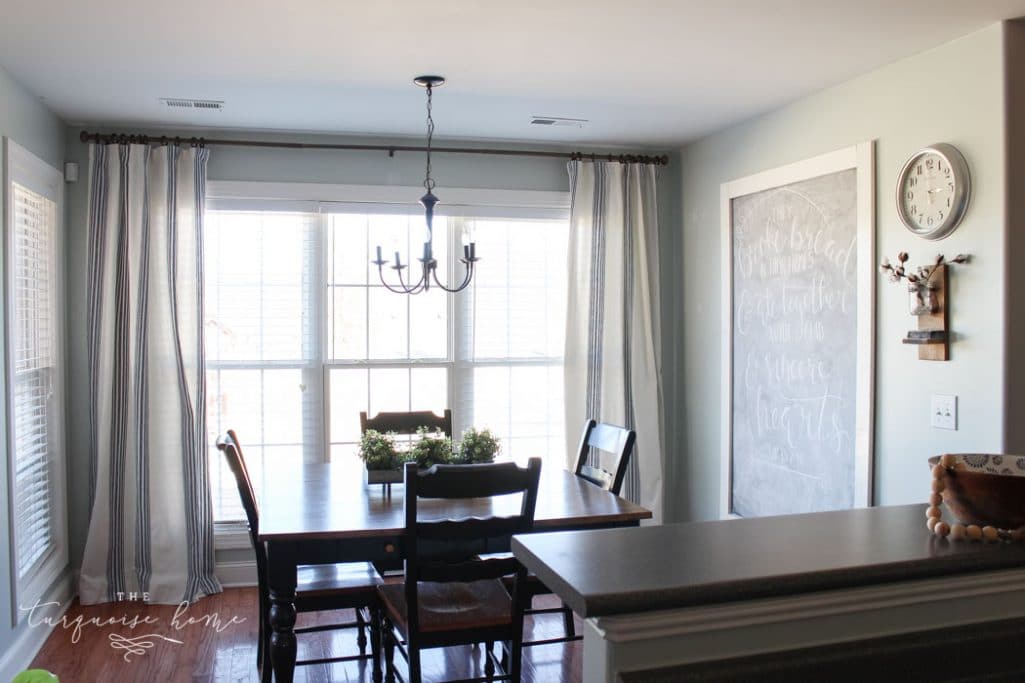 You'll notice that the old curtains were hung just above the window trim. I've always said to hang curtains as high and wide as possible to make the room look larger and the ceilings taller. It also allows more light in since the curtains aren't exactly covering the window, just hanging next to it.
But the old curtains were too short for me to hang the curtain rod any higher. But this time I made sure the curtains were long enough to hang the curtain rod high and I'm so happy with this change. It makes all the difference in the world!
I fell in love with these navy striped curtains after seeing them in my friend Sarah's office. And they were on major sale!


I also love this curtain rod, which was 25% off, plus another 20% off when you ordered for store pick up. So I ended up snagging it for $18. Seriously!!
The excitement over the great deals made me forget about curtain rings or the curtain hooks. But once I got them hung up, I realized I needed some. So, I checked Pottery Barn online and the rings that go with the curtains I bought were going to run me $70+. Nope, not happening. I'm not paying $70 for some little curtain rings. Granted, they look gorgeous, I'm sure, but that's a big ol' nope from me!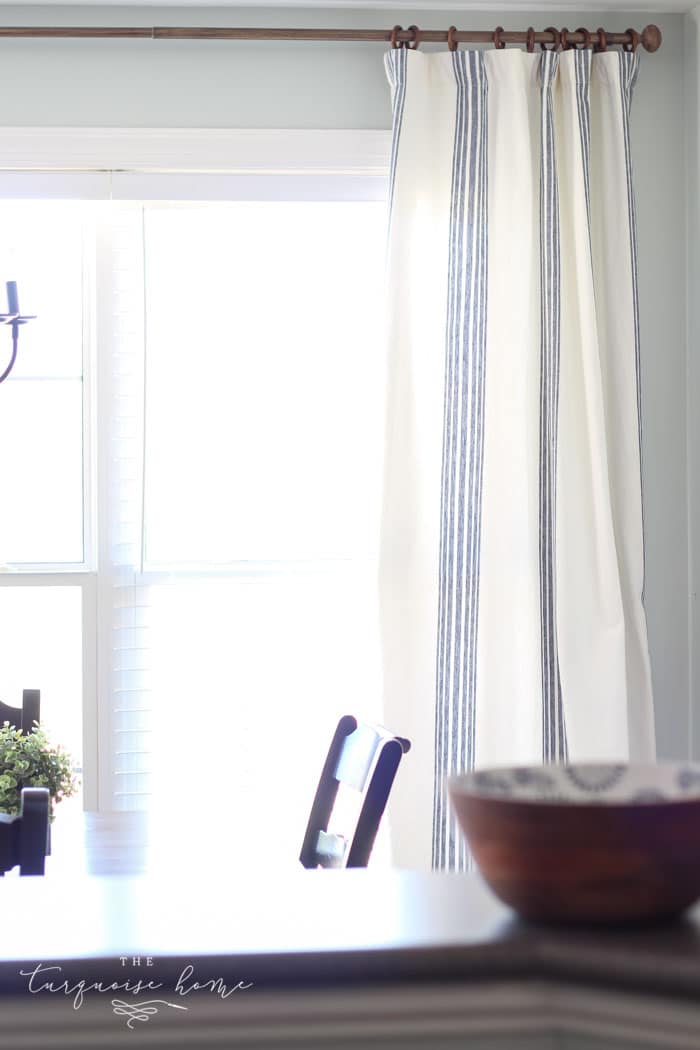 So, I went out and bought some Target curtain rings because I've bought them before and that's all I know!
But I was sharing about my dilemma on Instagram stories and my friend Amy messaged me about another brand that I could try.
Check out the video on how that worked out and how I used them in a different way than they were intended …
Don't you just love this home decor community? I do! If I had never shared my struggle with those curtain hooks and rings, then I would have never learned about these awesome rings!
They look so good and make the curtains the perfect length, honestly. I don't think I'll end up hemming them and just let them puddle on the floor just a smidge.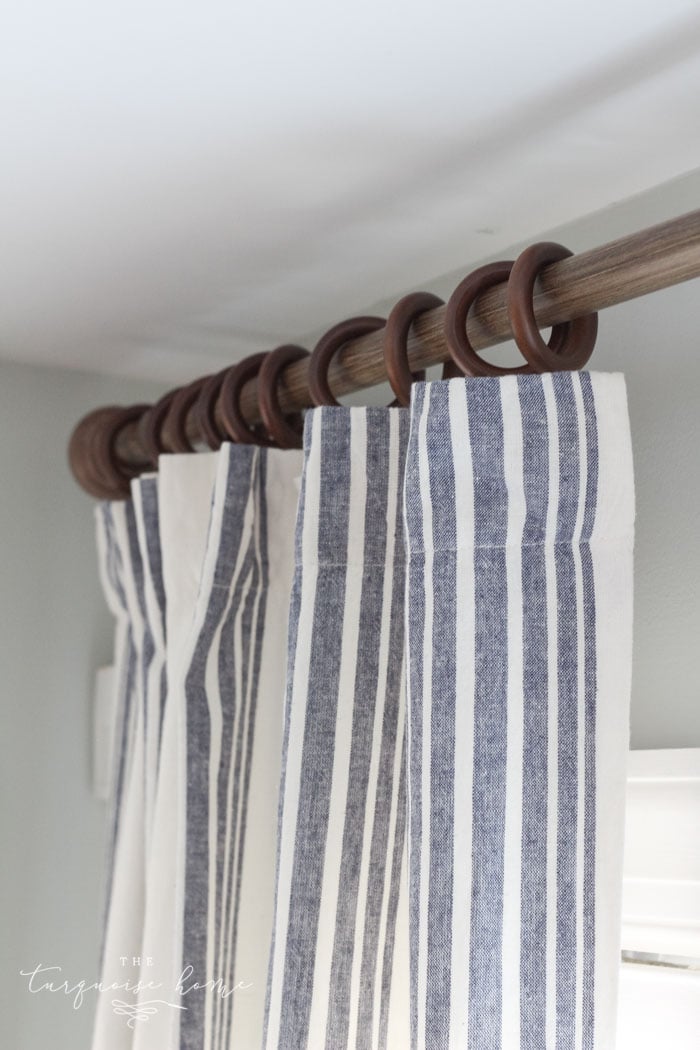 The new curtains and curtain rod match my evolving style and being able to get longer curtains and raise the curtain rod a little bit, really helps to make the space feel up-to-date. As I mentioned before, you want to hang those curtains high and wide in order to elongate the room and make the windows seem as large as possible.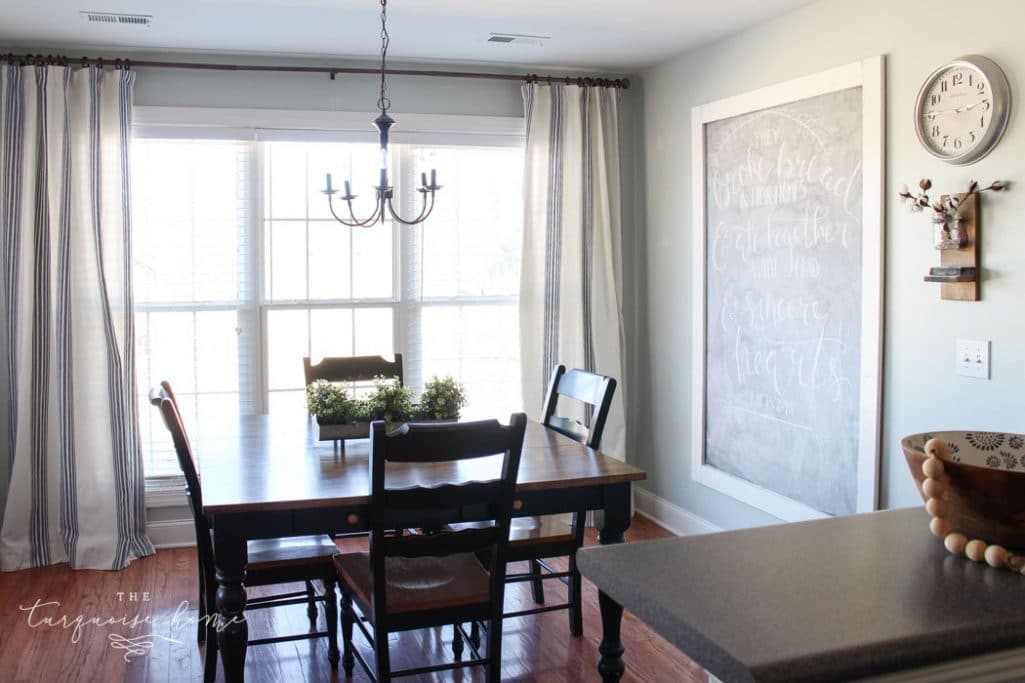 I'm so excited to have one more makeover to-do crossed off my list. Here's the whole list:
Replace the light fixture. (Done in 2016.)
Panel the back of the bar. (Done in July 2016.)
Paint the walls. (I painted them.)
Replace the curtains and the curtain rod. (yay!!)
Sand, stain and paint the eat-in-kitchen table. (I sanded and re-stained the table top 2 years ago, but never finished the chairs. And I never painted the table legs, either. I have the paint and everything, I just need to do it!)
Change out blinds for bamboo shades.
Add a "family established" sign and some other decor.
Buy 2 wicker chairs for the heads of the table.
I'm halfway done with this makeover thanks to work I've been doing for the past, oh you know … 2 years! 😋 So that's exciting! And then we'll move on to the living room makeover.
What do you think about the curtain ring situation? How do you like the new look?

SaveSave
SaveSave