If you're on the hunt for a warm neutral to cozy up your space, consider Benjamin Moore Pale Oak. Today's paint color spotlight, this color can be used in many different spaces and can completely transform the look of the room with its subtle greige hue.
Benjamin Moore Pale Oak (OC-20) is a light neutral with a clear hint of color. Somewhere between gray and beige, this taupe and greige paint color is a popular choice for those looking to create a comfortable and welcoming room. It can also be called a mushroom paint color.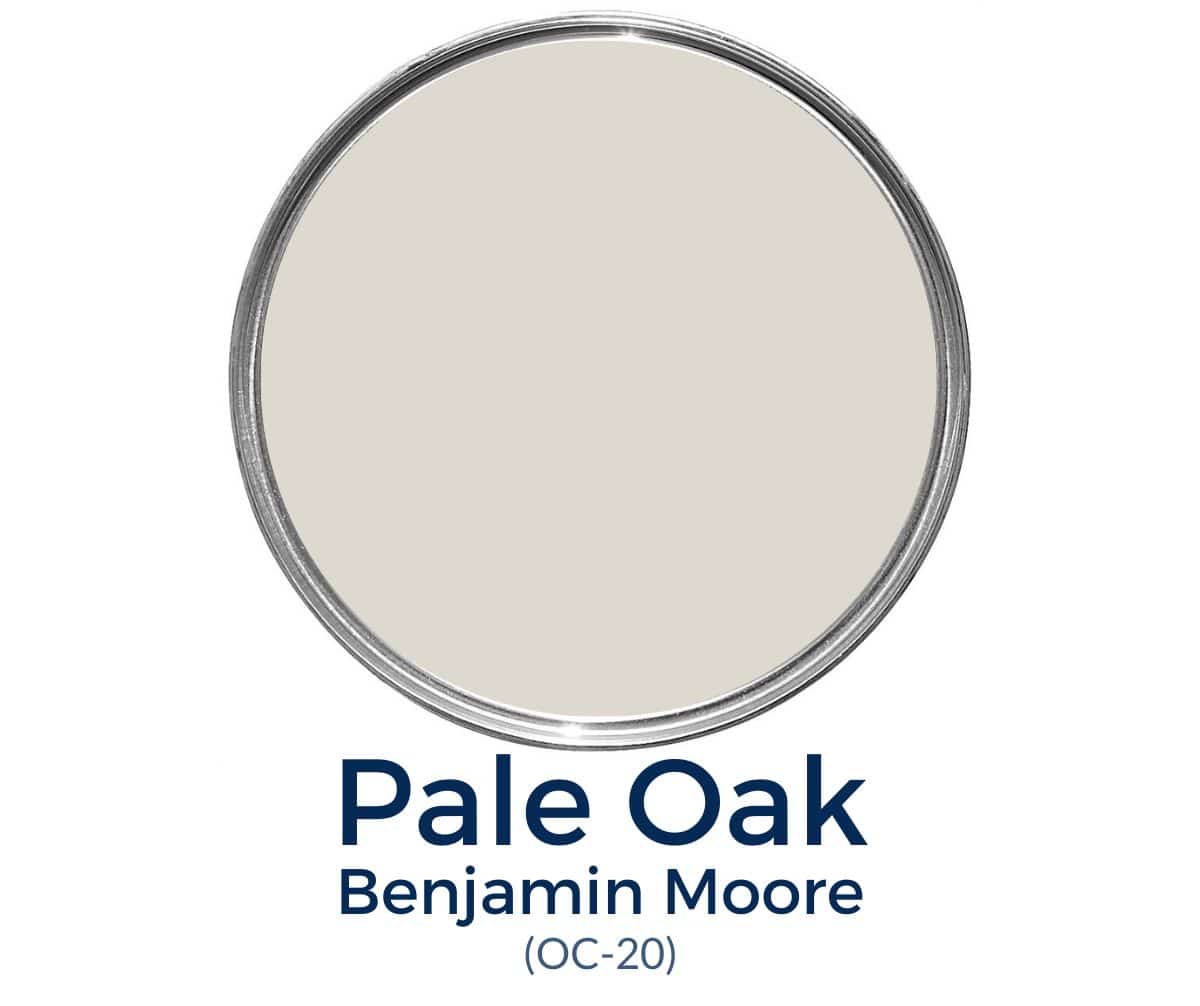 While some call Pale Oak a chameleon color, since it can work in many different spaces, it will always remain warm. You'll soon see just how different it can look in various spaces!
If you're here, you're considering BM Pale Oak as a color for your home. Let's dive into what you can expect from this popular greige paint.
Tip: Use Real Paint Samples
Any time you are choosing a new paint color, you need to try out the real paint color in your home first!
The easiest and quickest way to do that is with Samplize! I solely use them for paint samples now. There's no mess, no leftover sample pots of paint. Plus, these no-mess, peel and stick rectangles made from real paint, are easy to move around the room and easy to save for future reference!
Undertones of Benjamin Moore Pale Oak
BM Pale Oak will look very different depending on the light in your home. It's one of those paint colors that you'll really want to swatch and test beforehand to make sure it looks like you want it to.
The most noticeable undertone is pink. Typically, pink isn't a very popular undertone; I will admit that you must be careful with it. But when used right, it can offer a unique glow and color to a room.
Others note that it has yellow undertones. Yellow doesn't shine through as much in my eyes, but it's worth keeping a watch for.
In most cases, Pale Oak appears like a light shade of grey rather than a true greige.
Is BM Pale Oak warm or cool?
Pale Oak is definitely a warm tone. Compared to traditional greiges, it is much warmer than you might expect. Because it's not as cold as some, it's good for cozying things up a bit while sticking to neutrals.
Light Reflectance Value of BM Pale Oak
Pale Oak has a light reflectance value (LRV) of 68.64. If you're new to LRV, the closer to 100, the lighter it will be. The closer to 0, the darker it will be. It is a method that many designers use to measure how much light the paint will reflect.
At 69, it has a pretty high LRV for a greige. With lots of natural light, it will wash away the color a bit and look like a nice and warm gray or off-white.
With little light, the warm light, greige colors will shine through much more. However, you'll probably still want to pair it with some interior lighting.
As you can see, the amount of natural light will really change up how this color may look in your home.
Pale Oak Color Strip
Other paint colors on the sale color strip with Pale Oak, include:
Baby Fawn OC-15
Cedar Key OC-16
Dove Wing OC-18
Seapearl OC-19
Pale Oak OC-20
Winter White OC-21
What colors go with Benjamin Moore Pale Oak?
For fans of white paint color, it's hard to go wrong with White Dove. It's a warm, creamy white that makes any home feel like a hug. It is warm but has gray undertones, so the color never feels too yellowy like other whites.
As a beautiful neutral, you can use it with rich accent colors. It will allow these bolder colors to pop within the room, whether on an accent wall or fireplace mantle. One of my personal rich and bold colors to pair with it is Hale Navy – it has a gray undertone that can be teased out.
For trim, I also suggest a fresh and pure white. Sherwin Williams Alabaster White barely has undertones and provides that near-impossible true white. I also highly recommend Simply White, and that's the color I painted my own trim!
Benjamin Moore Pale Oak vs Edgecomb Gray
If Benjamin Moore Pale Oak isn't a traditional greige color, then Benjamin Moore Edgecomb Gray certainly is. It also can lean towards gray or beige but has minimal green undertones. At times, it can lean pink or green, but rarely will that shine through unless you directly pair it with green or pink.
Edgecomb Gray can look a bit dingy in dark rooms, but it won't wash out as much as Pale Oak in bright rooms. This is because it has a slightly lower LRV of 63.
Do avoid pairing Pale Oak with green beige colors like Revere Pewter or Edgecomb Gray because their green undertones will really make the pink pop in Pale Oak. You can see that in the side-by-side comparison below.
In my house, I used Edgecomb Gray in my kitchen, hallway and entryway. It's one of my favorites! I choose to pair it with Shoji White instead of Pale Oak.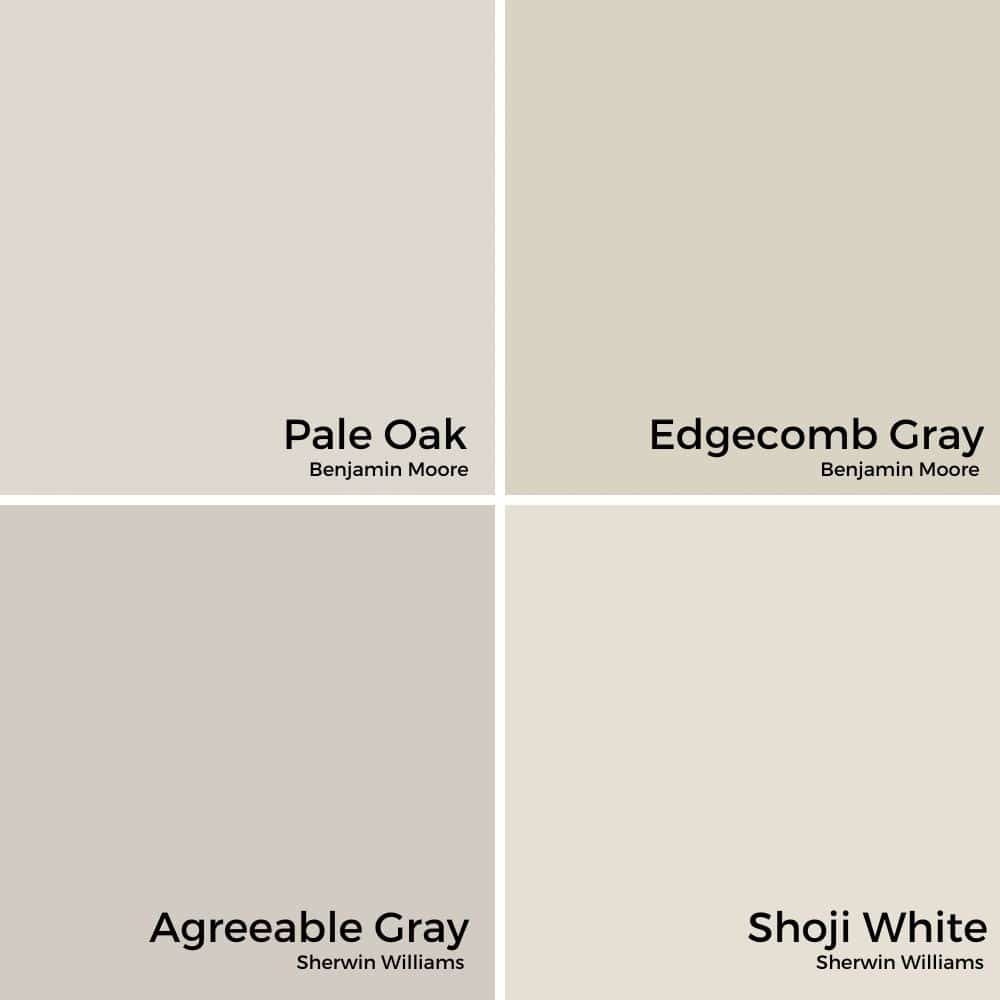 Pale Oak vs Agreeable Gray
Agreeable Gray is Sherwin Williams's number one best-selling paint color. You can say it's a popular one! Also considered a beige, Agreeable Gray can move towards the cool spectrum rather than the warm. This is partly due to the minor purple/blue undertones of the paint.
However, it is typically considered a warm greige. It has an LRV of 60 and is less likely to wash out in natural light.
What's the Best Trim Color for Pale Oak?
The most popular trim color in general is white or slightly off-white. It is a universally loved trim color and makes any other wall color pop! With that said, what's the best white trim color for BM Pale Oak?
All white paint colors are not the same. They have undertones that give them a warm or cool tint. But, can find the best white paint color if you know how to spot the undertones. Since that would take a class to share about undertones, let's start with these options:
Benjamin Moore Pale Oak in the Home
Here are some pointers for some of the most common spaces you might be considering using Pale Oak paint color in.
Bathroom
Bathrooms often have a lot of white, so you will want something with some color on the walls. Using a Pale Oak paint color in the bathroom will provide a very clean and bright space while keeping it nice and warm.
The smaller and darker the bathroom, the warmer it will look. If you're lucky to have a large bathroom with lots of natural light like this space from A Thoughtful Place Blog, BM Pale Oak will appear much grayer.
Unless you have pink towels or a shower curtain, you probably won't notice any undertones in the paint when using it in the bathroom.
Bedroom
In the bedroom, you can get pretty creative with accent colors. Thanks to its neutrality, using Benjamin Moore Pale Oak as the paint color in the bedroom will allow you to pair all kinds of patterns and colors.
If you have soft blues in your bedroom like in this design from Anne Hepfer Designs, Pale Oak will pair very well with blue and warm metallic hues. Overall, you can expect a pretty tranquil space for the bedroom, which is usually what folks are going for!
Living Room
More often than not, living rooms favor open floor plans. Pale Oak would be a great option for large or transitional spaces. It is a good neutral color when plenty is going on!
Living rooms tend to change the most in any home. They become an entertaining space for guests one moment and a cozy night in with the family the next. Likewise, they're often decorated for seasonality, looking completely different in the holidays than in the summer.
For ever-changing spaces, you want a soft, neutral color that can ebb and flow with the seasons – and Pale Oak can do just that for you!
This photo from A Thoughtful Place is the perfect example.
Kitchen
We all know that anyone in need of an instant change should give a fresh coat of paint a try. When it comes to the kitchen, you can easily add BM Pale Oak as a warm neutral. The color will look especially good if you already have earth-toned tiled floors, backsplash, or countertops.
Warm wood will also pair well with the color if your kitchen has hardwood floors or wood cabinetry. You can even use the color for the cabinetry itself like CC & Mike did in their remodeled space.
If you have crisp white cabinetry that is super popular with farmhouse kitchens and modern and sleek styles, the Pale Oak paint color can add a little warmth to the kitchen.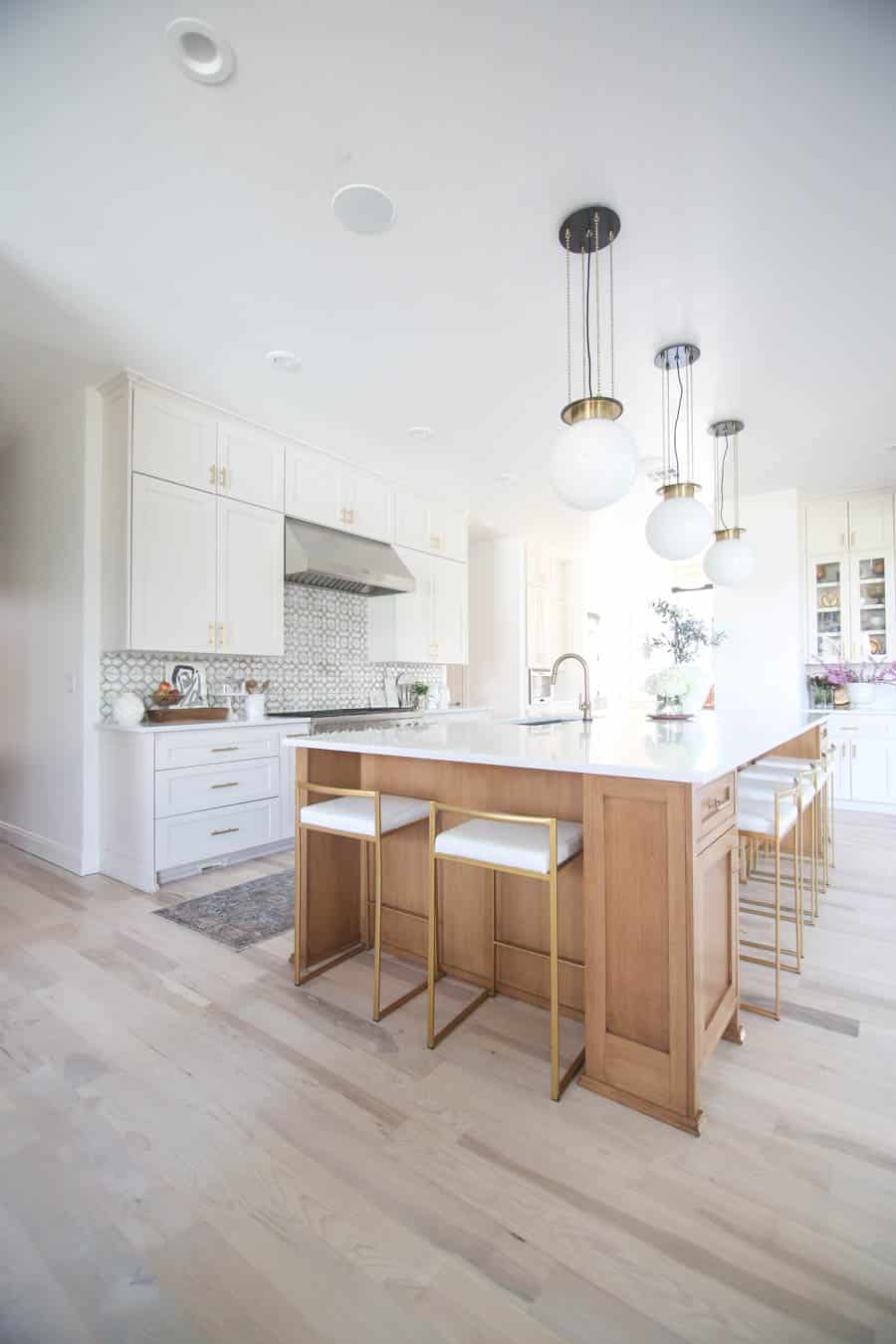 No matter how you use it, Pale Oak by Benjamin Moore creates a warm and inviting space. If you've used it in your home, let me know how it looks in your space!
More Paint Colors
Want to check out some more paint colors? Here are some of my favorites!