Simple Fall Mantel with Harvest Wreath
Welcome friends! If you lived near me, I'd invite you over for a cup of coffee and I'd light my new Pumpkin Spice candle and we'd sit in the living room and enjoy the cool A/C and fall vibes while it's still in the 90's most days around here. 😂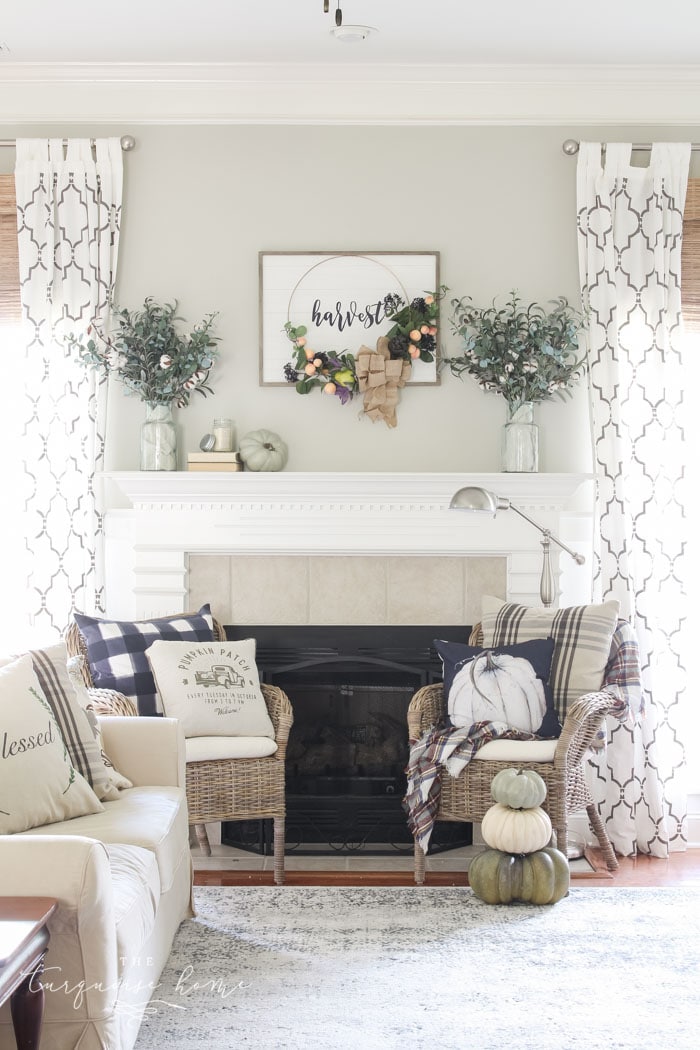 Regardless of the humidity outside, it feels like fall in my home! 🍁🍂🏈🌽
I'm sharing my home tour with some of the best home decor bloggers out there! I'd love for you to stick around to the end of the post to "meet" their gorgeous fall homes, too.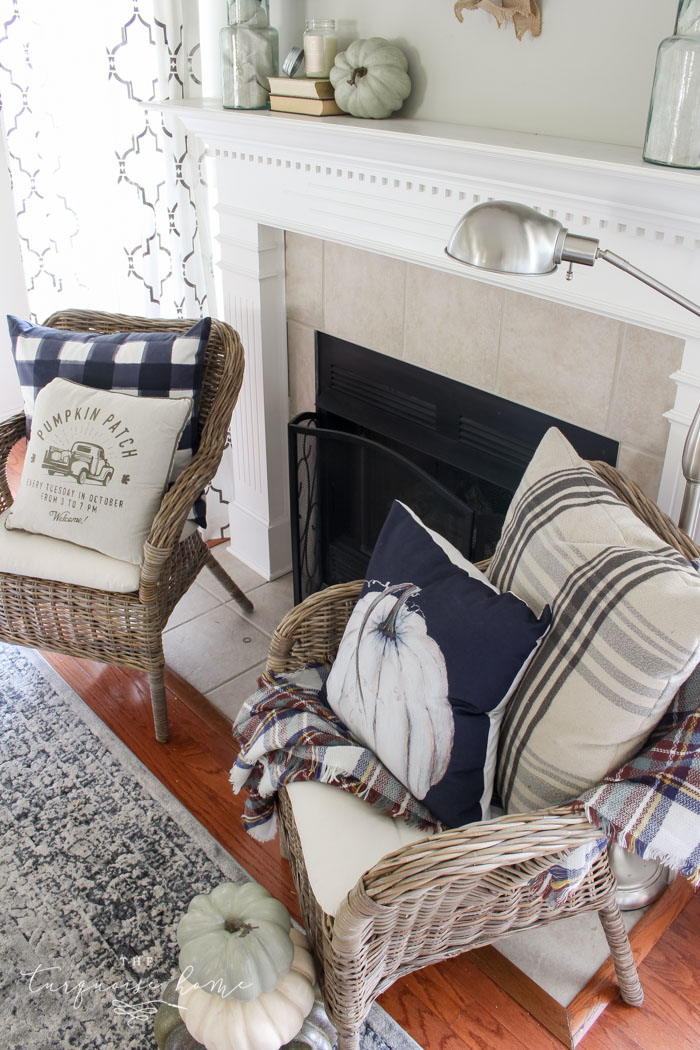 I went a little extra on my open shelves in the kitchen an added a lot of decor in there, so I decided to keep things a little more simplified in the living room.
I'll share more fall decor as the season progresses, but for now the mantel is a simple reflection of the weather to come in a few months. Haha! It'll be chili pot luck, cardigan-wearing weather in just a few weeks. (Please lord, let it be true! #fingerscrossed)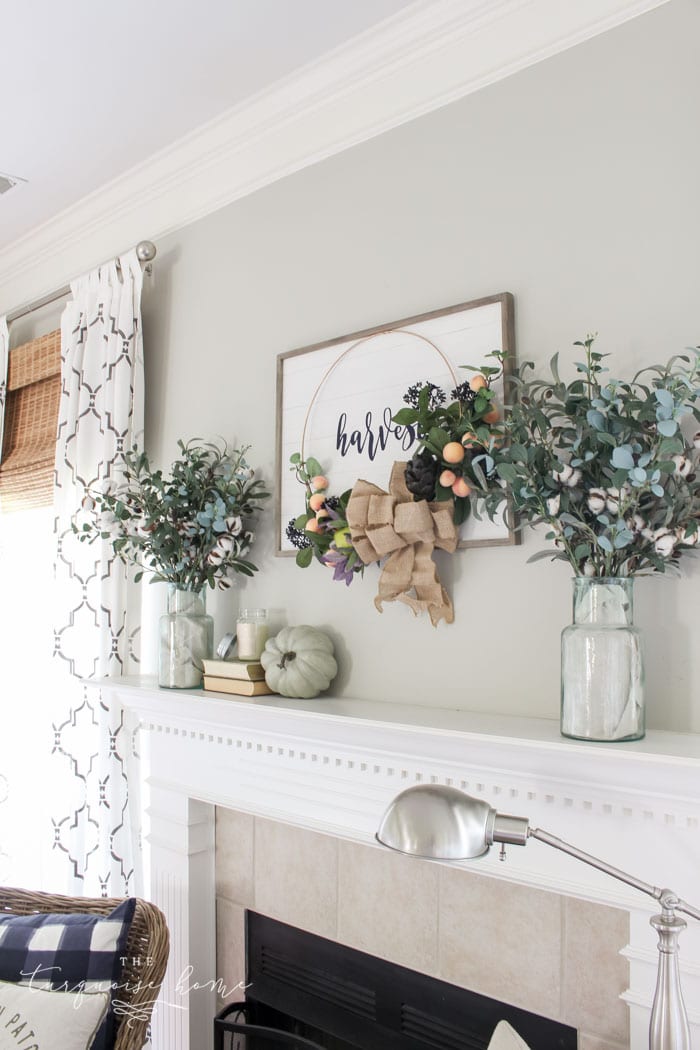 I tried to stick with what I had on hand and just use it in a new way.
The fall wreath with faux shiplap is a new craft this year. You can find the tutorial here. I added the "harvest" typography in the middle just because it felt like it needed a little somethin' somethin'. (I always have people ask, so I'll go ahead and tell you that I used this font and my Silhouette machine to create the word.)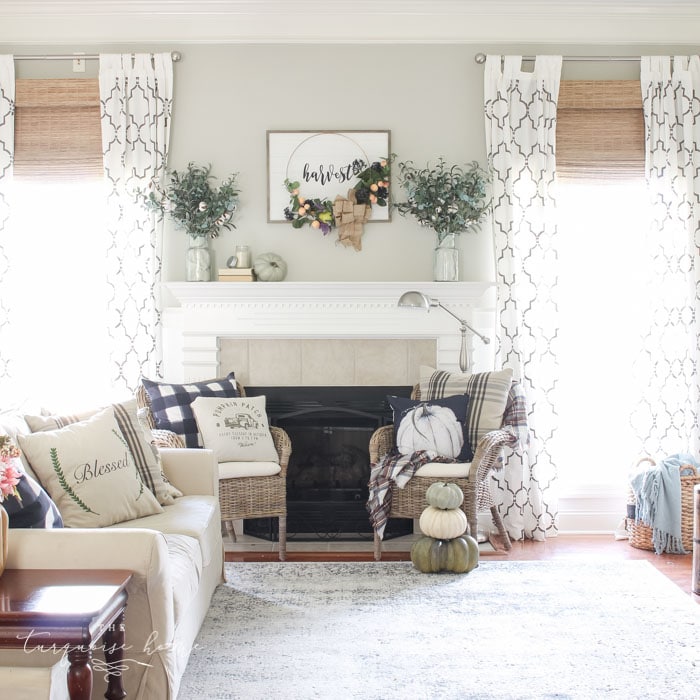 But I've just been craving more simplicity around my home these days. I have plans to do a major decluttering before the holidays get cranked up. And so I think you'll find a little bit of that craving reflected in my fall mantel decor.
It's been a couple of years since I really decluttered, so it's time!
For my fall mantel decor, I used my two favorite glass vases filled with olive branches, a little bit of seeded eucalyptus and cotton stems. The two books were a thrift store find and my pumpkin spice candle is just one of my favoritest things in the world right now. It's sooooo yum!
The pumpkin patch pillow was one of my favorites this year at a store I love.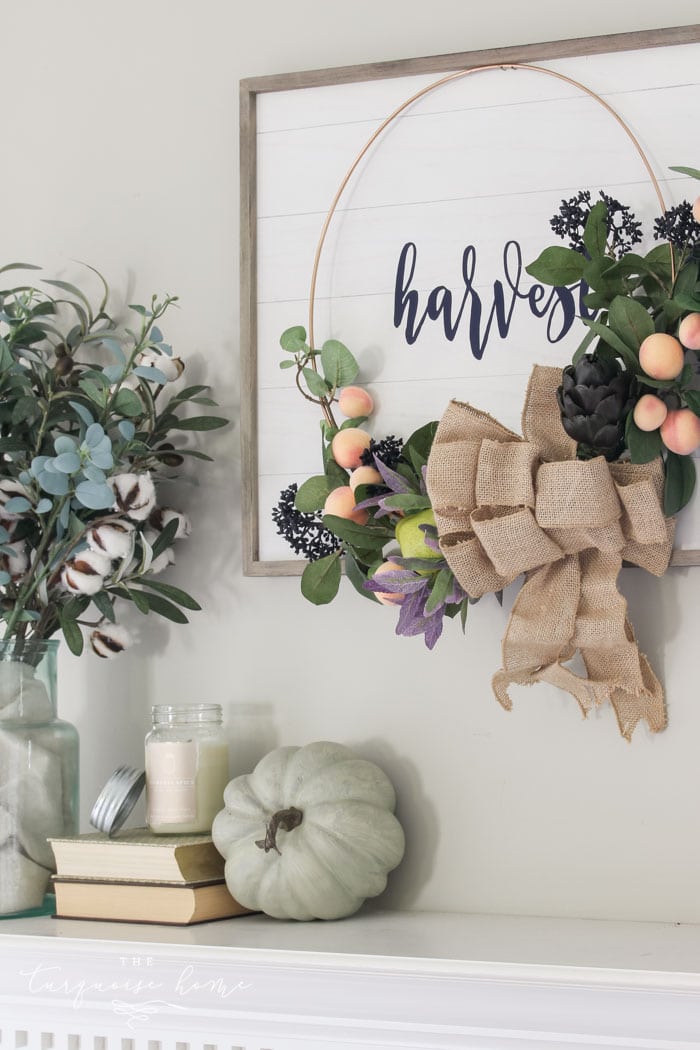 And the navy and white pumpkin pillow comes from one of my favorite artists. She paints the most gorgeous watercolors. I ordered her pumpkin pillow last year, but I messed up on my order and I didn't get the replacement cover until I was done photographing last fall. So, it has been sitting patiently to make its debut this year! And I LOVE it!!!!
The trio of pumpkins stacked on top of each other was a last-year find as well.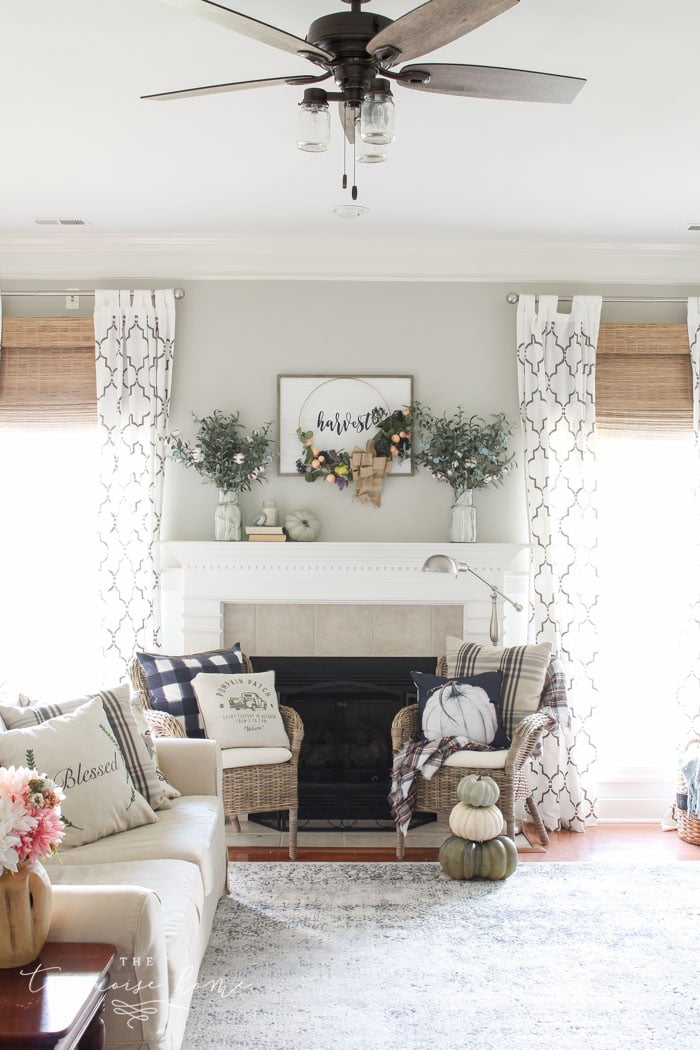 I hope that no matter where your heart is this season – whether it's full and abundant or seeking a little bit more simplicity that you will find rest and comfort in your home! That's the cozy feeling of fall to me!
Sources for my Fall Mantel Decor: