Naturally Rustic Fall Mantel
This fall mantel gathers rustic, outdoorsy elements together to create an asymmetrical vignette. The leaves, pumpkins, wheat and apples collect the outdoors in a celebration of the harvest season.
Can I be honest with you?
I know I can, because we're friends like that. And friends are honest with each other … so here goes.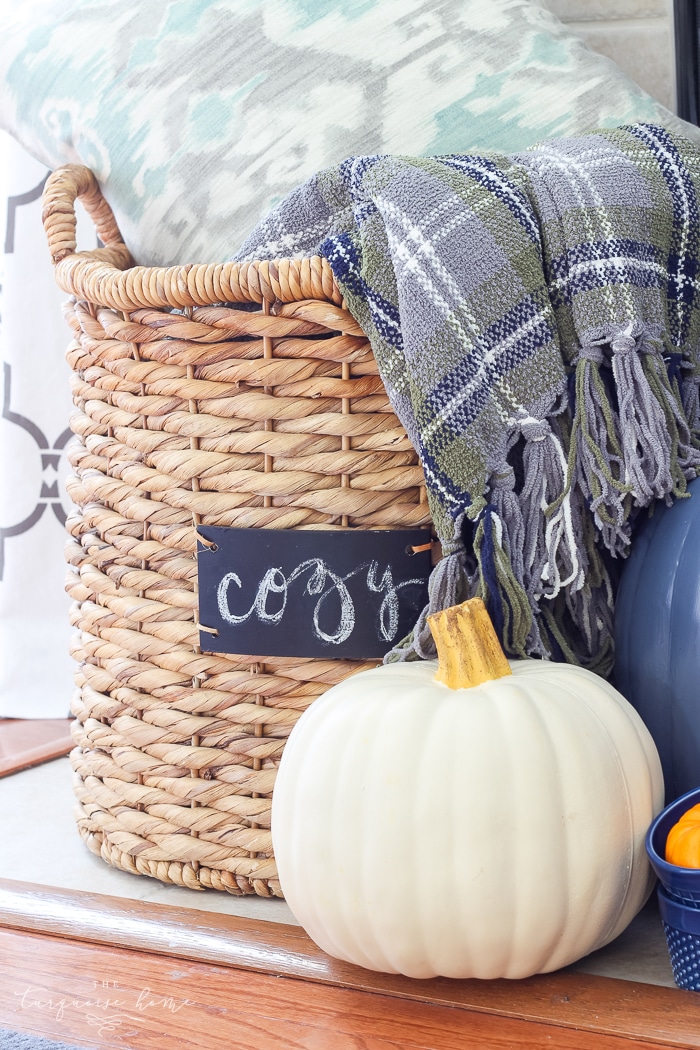 I didn't want to decorate for fall.
*gasp*
I know. I'm just not feeling it this season.
I normally love to decorate for fall. I love to cozy up the house getting it ready for cooler temperatures and nights spent drinking hot chocolate by the fire. And I typically get really excited and have a vision for how I want to decorate my home for the autumn season.
But this year has been a challenge. Maybe it's the 99° weather this past weekend that makes it hard to feel like sipping spiced apple cider? (You think?! Just maybe.) But the struggle has been real. And sometimes that happens and it's OK!
This post contains affiliate links for your convenience. See my full disclosure policy here.
What to Do When You Don't Want to Decorate?
I know. First world problems. 🙂 But it's a real thing sometimes, so let's discuss.
For me, when I need to decorate for a party or a season and I'm just not feeling it, the trick for me is just to start. I move past the feelings and start decorating with what I have! And most of the time when I just jump in and start moving stuff around, I find myself getting inspired and enjoying it.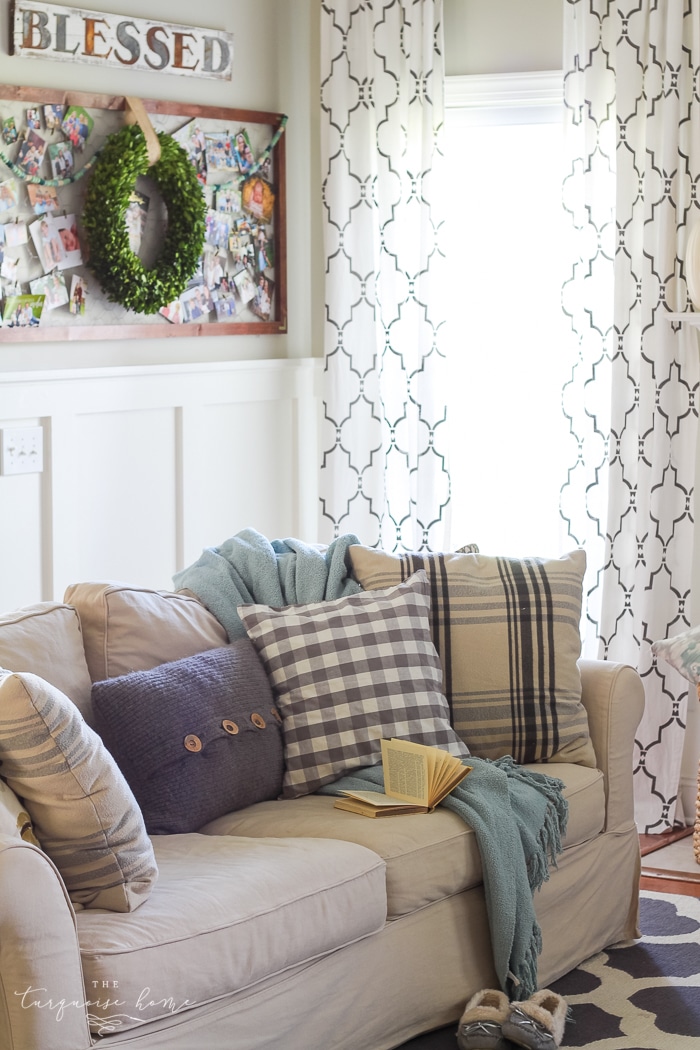 You see, normally I find the inspiration first. But sometimes that inspiration just doesn't come.
By the way, do you know that there's a science behind decorating mantels and table tops? Yep! There is! So, if you ever find yourself stuck, you may want to check out the basics here. It can be helpful to go back to the basics when you're struggling with how to start.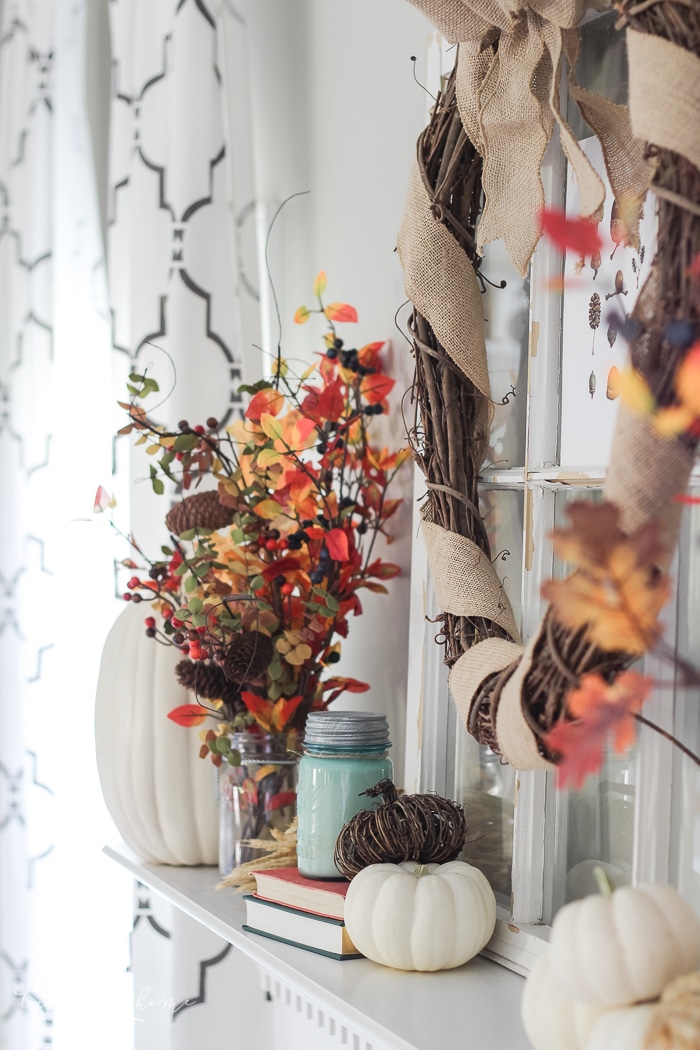 The gorgeous blue vintage Ball jar candle is from my fave candle shop (click here)!
So, I just started adding things to my mantel and bringing in rustic, cozy elements that would evoke a sense of autumn, warmth and harvest.
Once you start moving things around, just begin to layer textures and heights. Obviously you'll want to pull in all kinds of nature that evoke a sense of all. I shared how to decorate a mantel last year, and it may help you too!
I started out with this look on the mantel and I lived with it for a few days.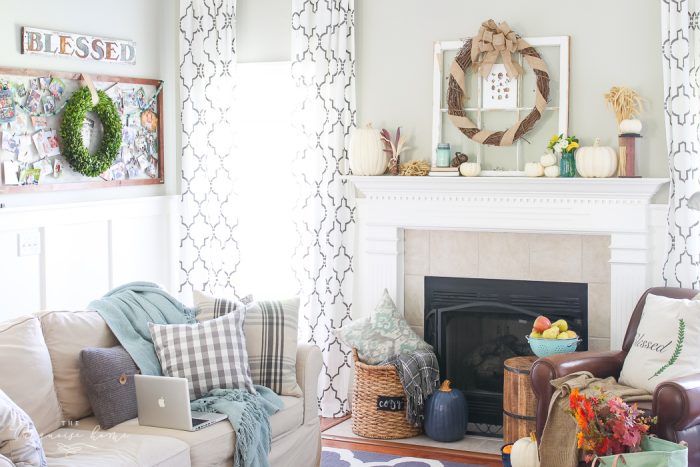 And then I decided that it did not have nearly enough color for my taste! I had tried to go neutral-ish and just add creams and grays to my blues. But in the end, I've just got to have some of those traditional fall colors
This post contains affiliate links for your convenience. Read my full disclosure policy here.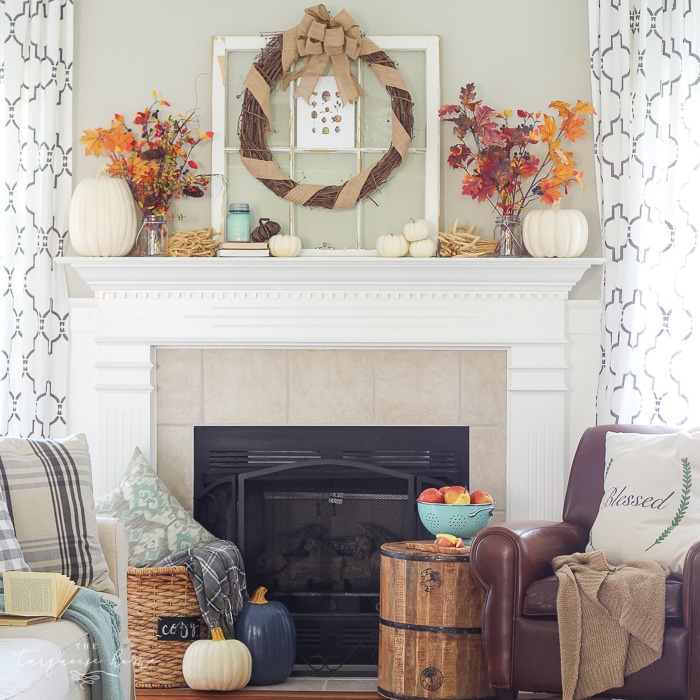 (Living Room Sources: Glass vases, Large White Faux Pumpkin, Small White Faux Pumpkin, Blessed Pillow (DIY), Leather Armchair, Turquoise Ball Jar Candle, Turquoise Colander, Basket with Chalkboard (similar), Oversized Plaid Pillow (similar), Wood Drum Table (no longer available), Plaid Chenille Throw (similar), Acorn Art, Curtains)
So, I ended up with something a little more traditional with those fall leaves taking center stage.
Sometimes you just have to live with a look for a few days to decide if it's right for you, or not. And it's OK to change it!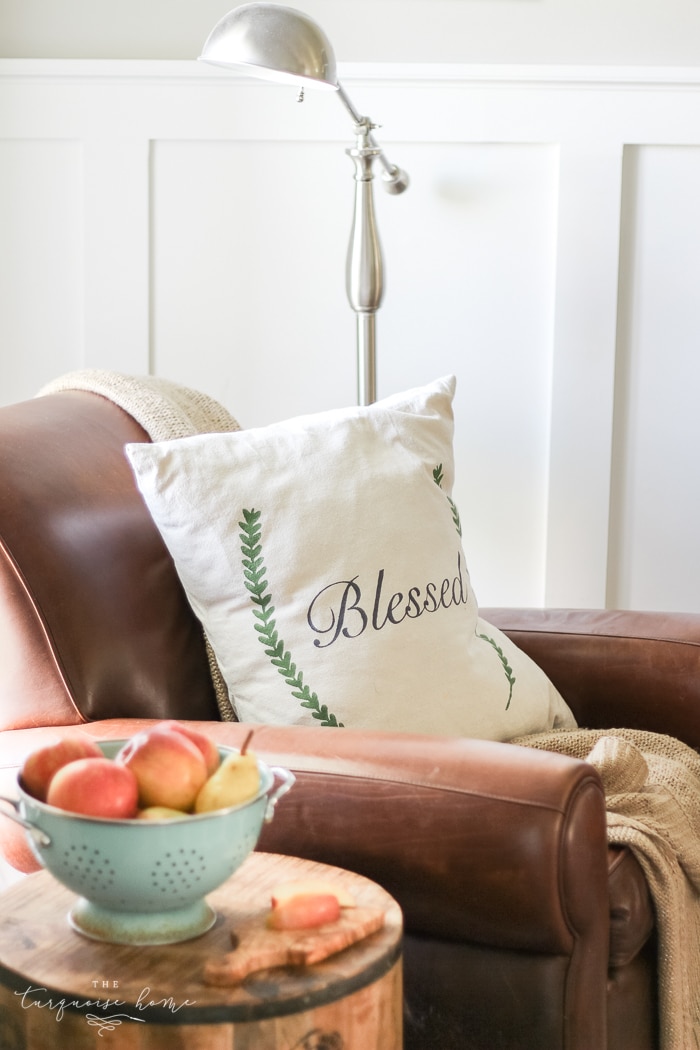 I'm fairly pleased with how it turned out. And I'm happy that it's going to be a lovely reminder as Mother Nature ushers in the cooler temperatures this coming week and weekend. #finally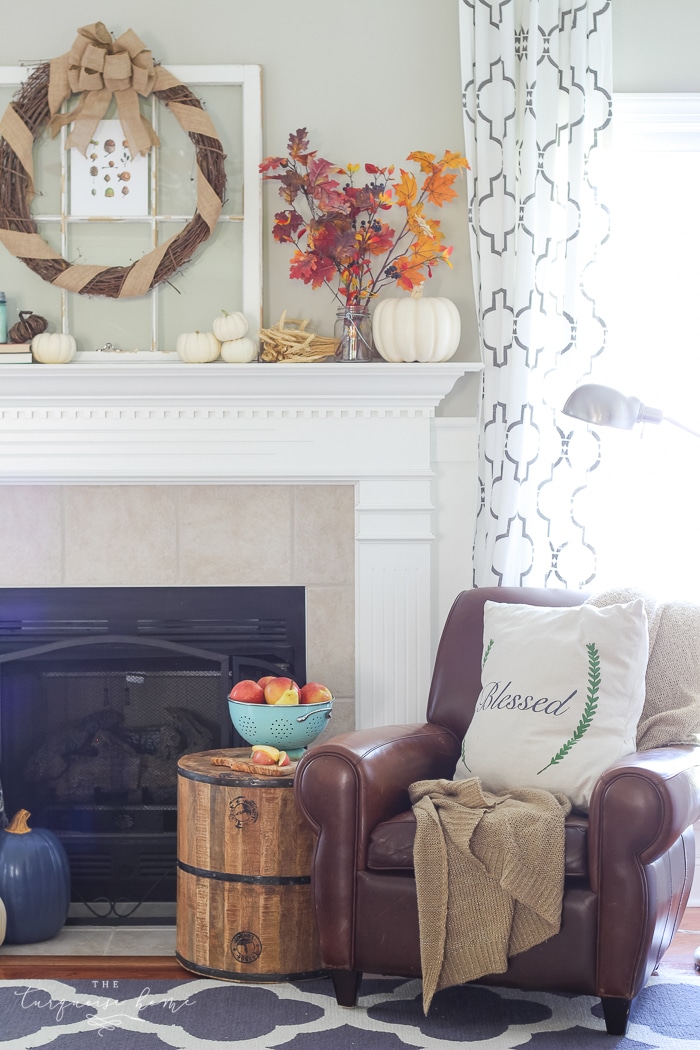 The faux foliage is some of my favorite fall accents. They are from Hobby Lobby and I love the fun and whimsy they add to the space.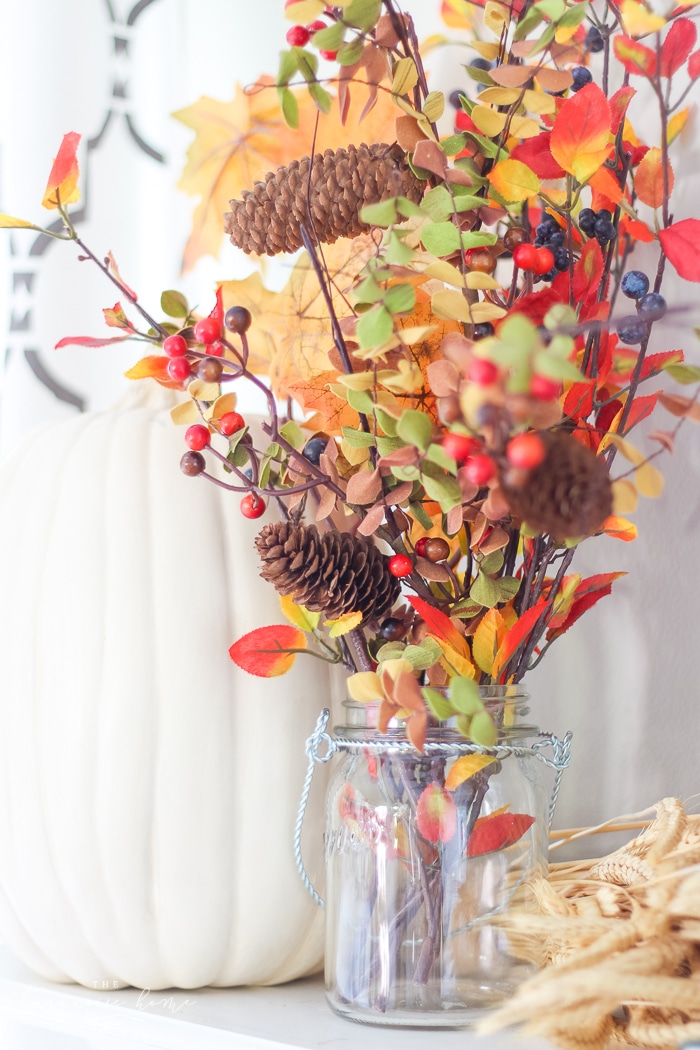 And I've been eyeing those glass mason jars with metal hangers for years now and finally just bought some. They are super inexpensive, so I'm not sure why I waited this long.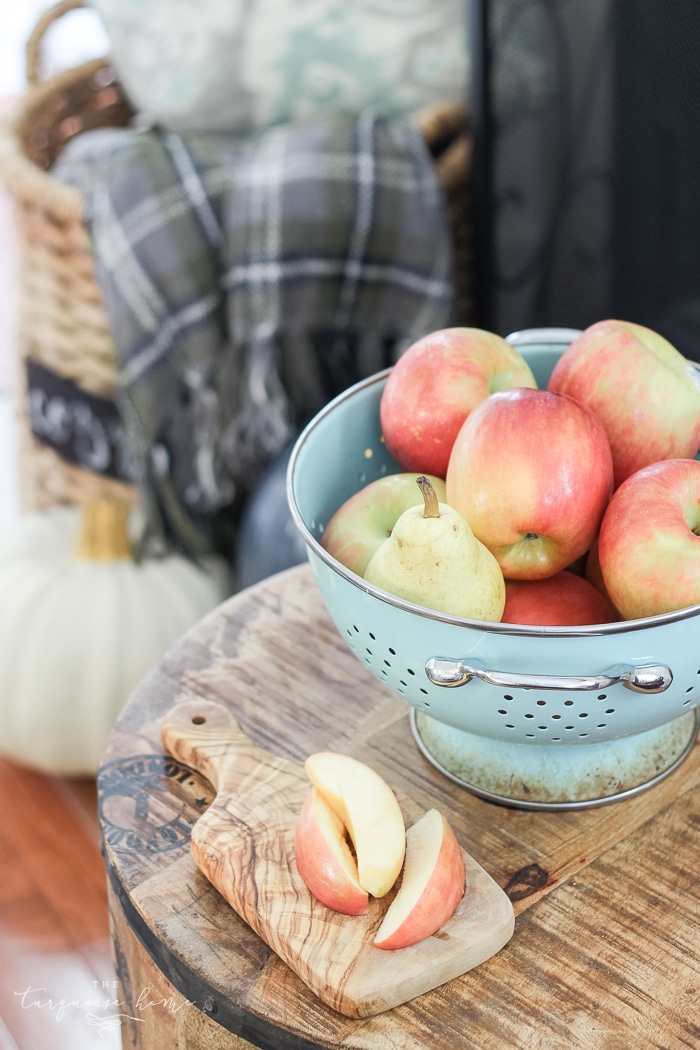 We eat a ton of apples at our house, so we love to gather them in our turquoise colander and have them set out for a healthy snack. I think we eat 3 apples a day in our house!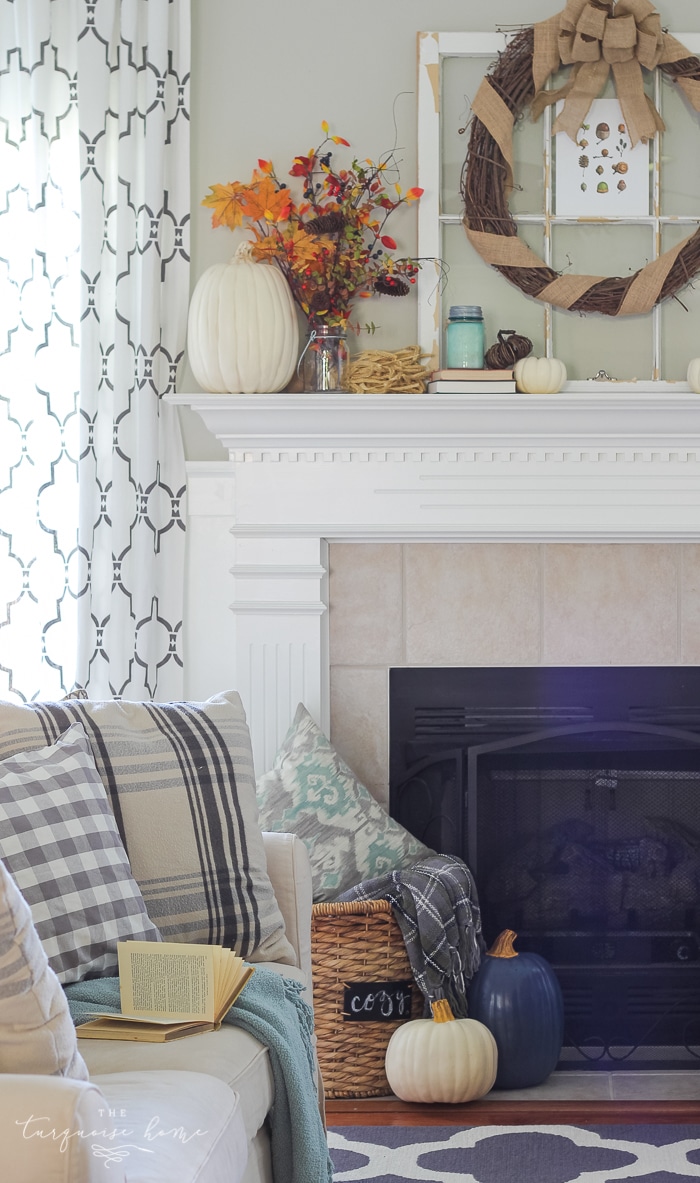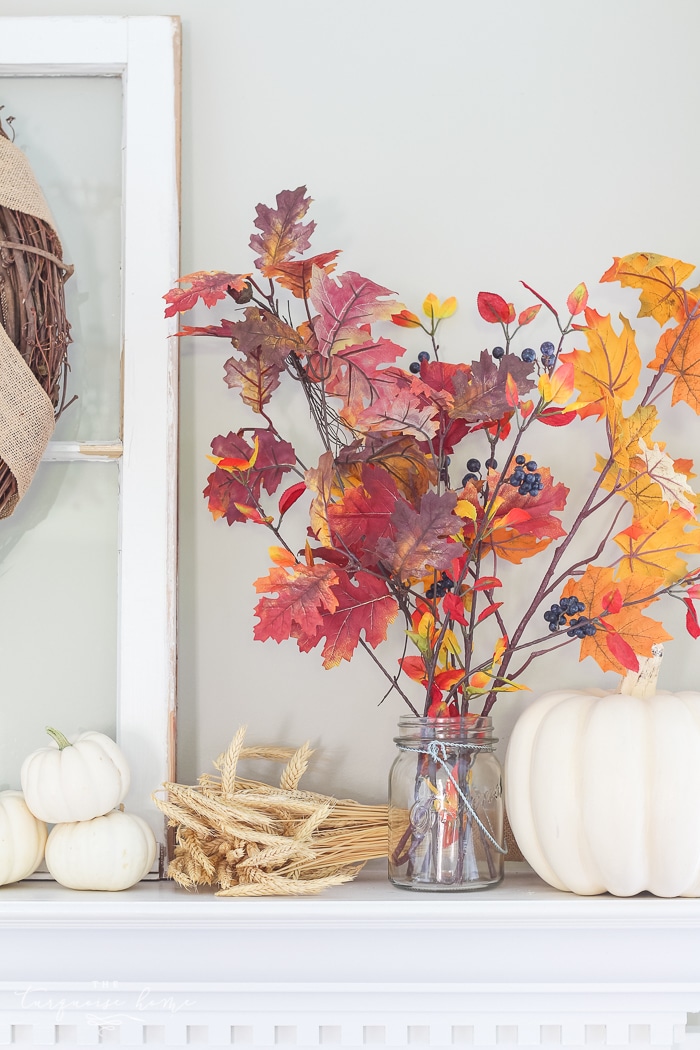 One of my favorite purchases as been this Art for the Traditional Home book. It comes with 40 fine art prints that you can tear out of the book and use throughout your home. I've used many of them over the past 3 years.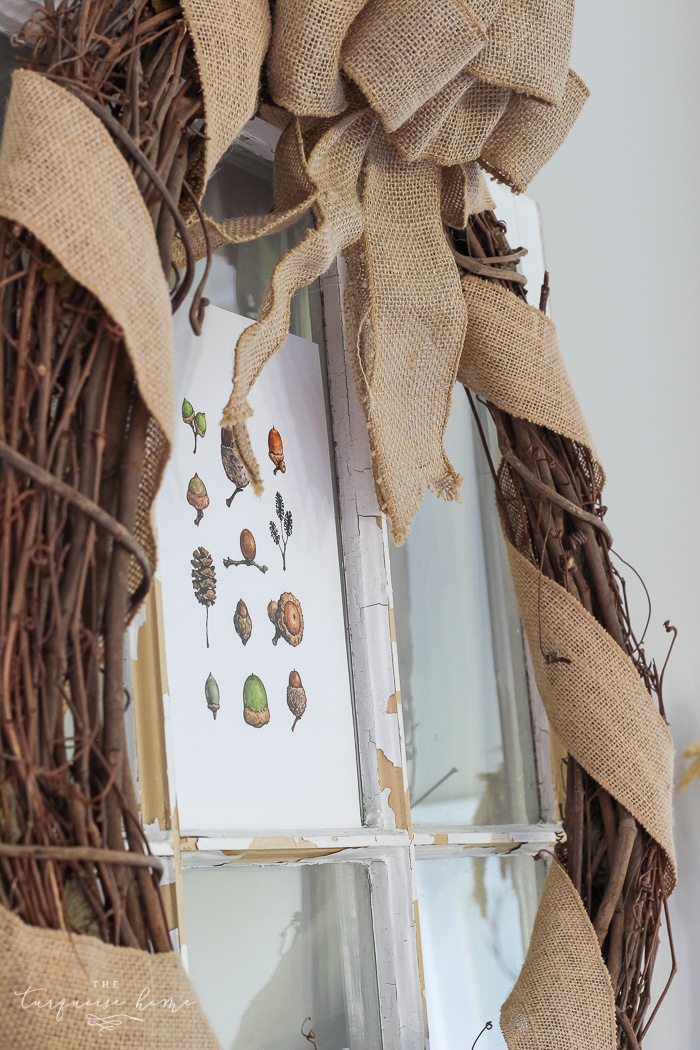 I thought the acorn art was a perfect little addition to my window frame on my mantel. Art doesn't have to be expensive or complicated.
Speaking of art, I recently filled my frames on my gallery wall in the living room. But these are my family photos, which is the best kind of "art" in my book. 🙂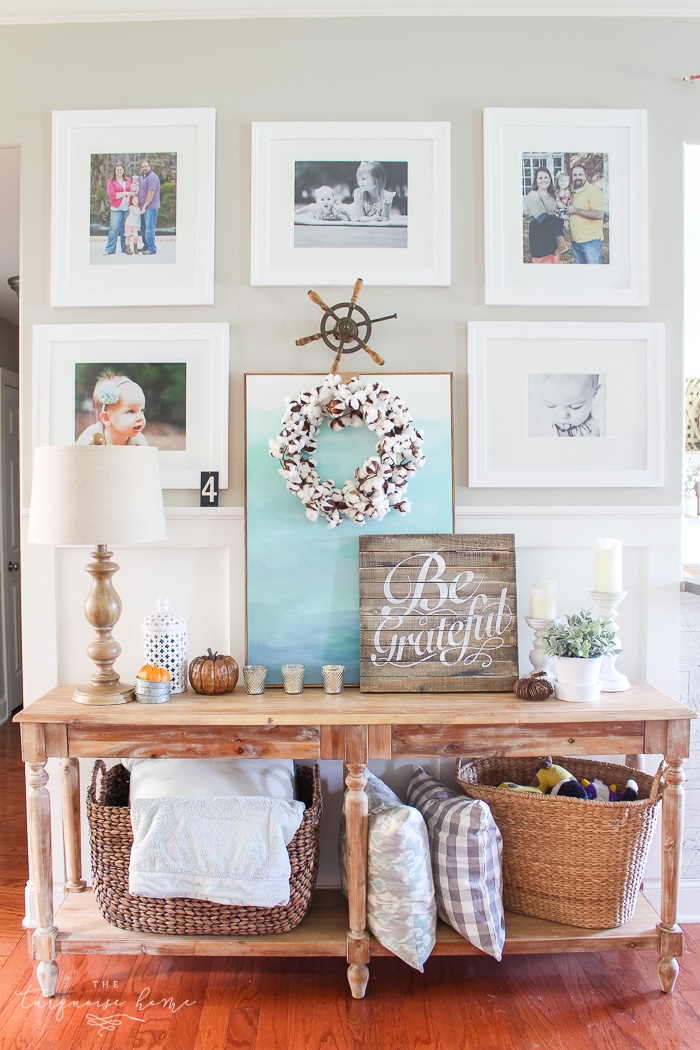 I added a couple of autumn touches to the space, including my favorite fall purchase this year: the hand-carved wood pumpkin. I'm obsessed and keep moving it around the house. Ha! (They don't seem to be available online anymore, unfortunately, but I found mine in the store.)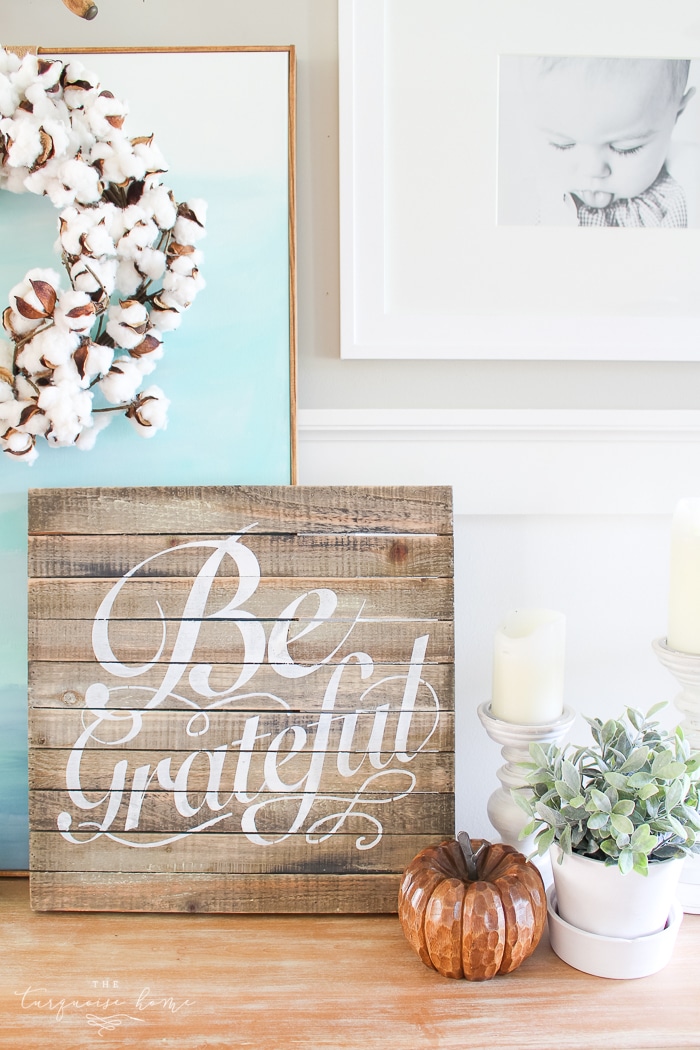 (GALLERY WALL SOURCES: Console Table, Faux Sage Plant, Be Grateful Sign (similar) or DIY tutorial, Rustic White Candle Holders, Gray Buffalo Check Pillow Cover IKEA (no longer available), Cotton Boll Wreath (similar), Turquoise Abstract Art (DIY), Mercury Glass Votives)
I probably should have shared this with you first, but let's just go backwards, shall we?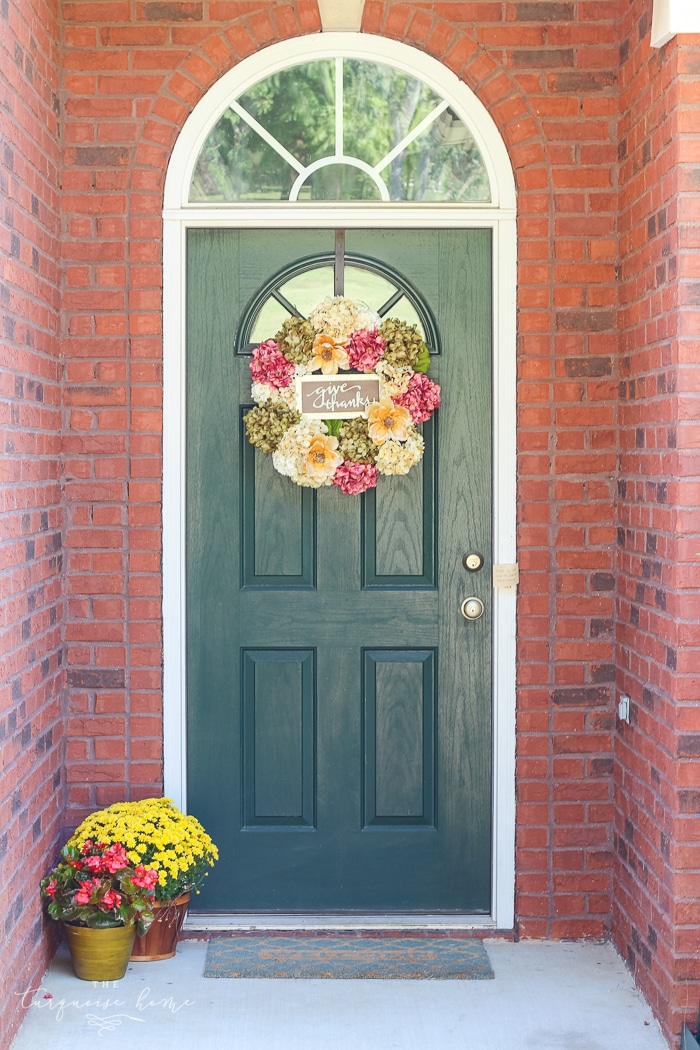 I love my new front door wreath that I made last week. It's so pretty to see when we drive up to the house or I walk out the front to water the plants out there.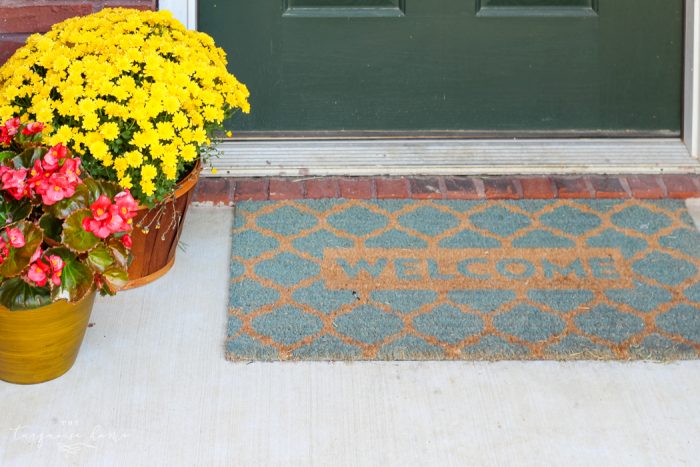 See my latest layered fall door mat faves here!
We'll see how long they last. I've been known to kill a mum quicker than you can say, "it's hot in here."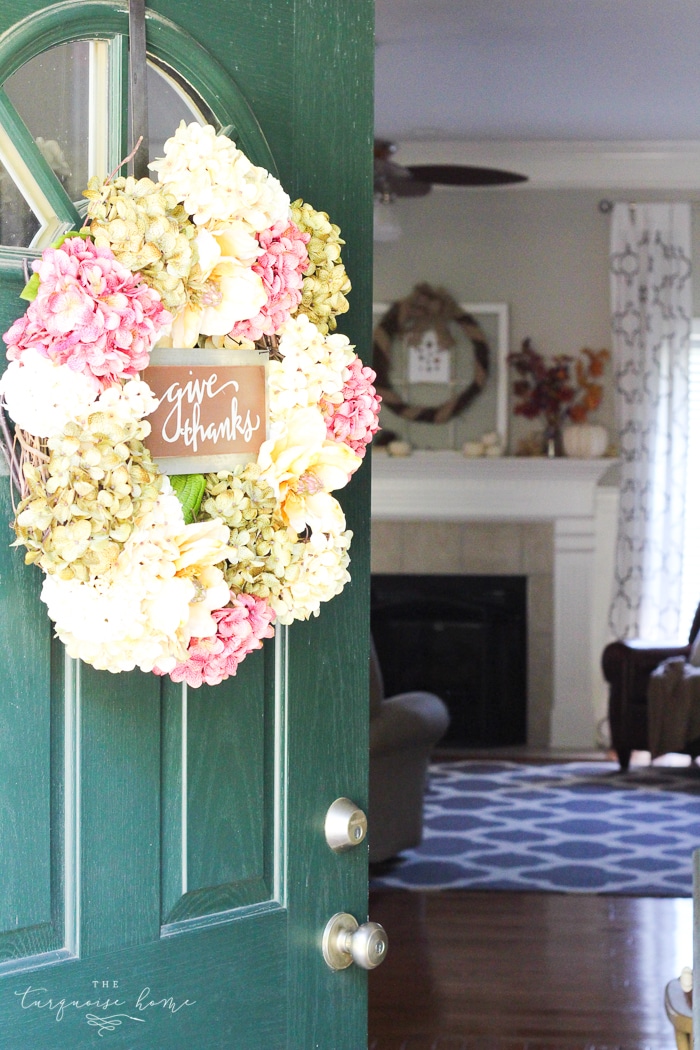 And from here you can enter the house and come see the living room, which you've already seen by now! Ha! Nothing like a backwards fall home tour. 😉
Hopefully it'll be my favorite color by the time Christmas rolls around.
Just to recap what to do when you don't know where to begin decorating …
Just start!
Get back to the basics.
Layer textures and heights.
Take away and re-arrange if needed.
Thanks for checking out my fall living room. I have a few more fall posts up my sleeve in the coming weeks, so stay tuned!