Fall Doormats You Will Love & How to Get the Layered Look!
Dress up your front porch by layering these adorable fall doormats over larger flat weave rugs. It makes quite the cozy first impression for fall!
As with most everything in my home, I like to change my decor out for each new season. I do some seasons bigger than others, but let's be honest – fall is one of my biggest decorating seasons. There's just something about the air turning crisp and getting to don the warm & fluffy sweaters than makes me want to decorate with all things cozy.
My front door is definitely the first place I start and I usually start with two things: my fall wreath and my fall doormat.
This post contains affiliate links. See my full disclosure policy here.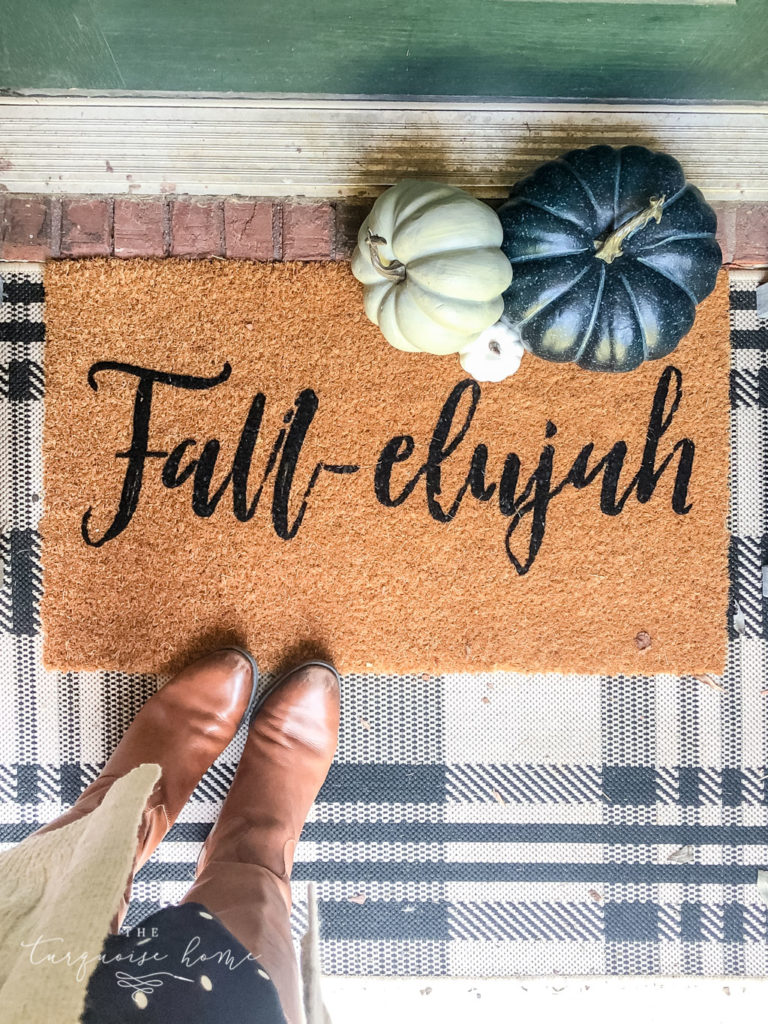 I updated my front porch this year with this "Fall-elujah" doormat. Riding Boots | The BEST Skinny Jeans | Plaid Rug (sold out in this color, but other colors are available here sometimes – I have the black/bone rug in 2'7″x5′)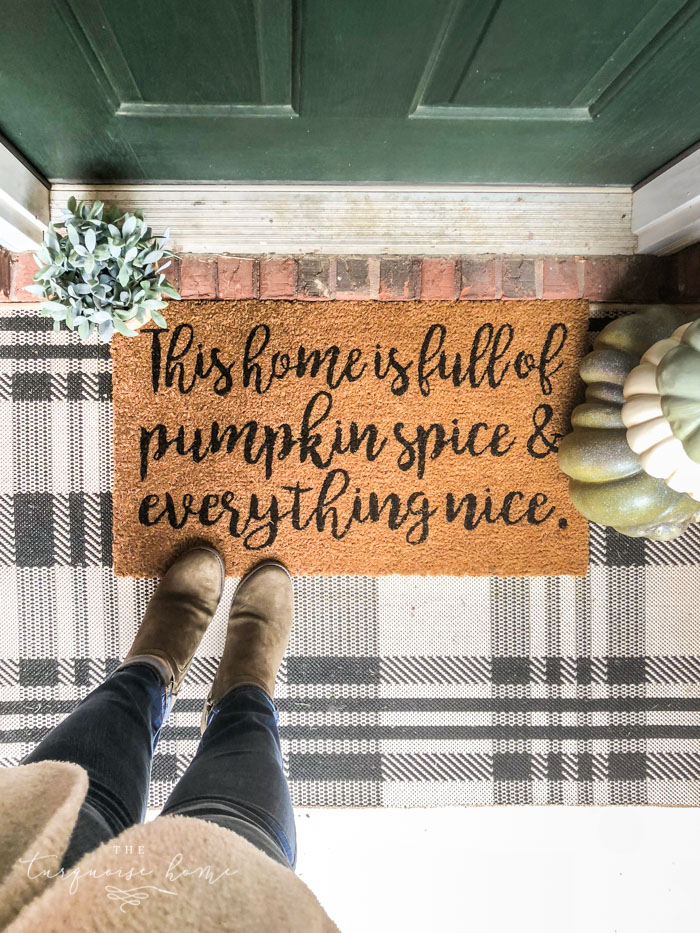 My front porch from 2018: Full of Pumpkin Spice Fall Doormat (sadly it's sold out, but I found this one!) | Favorite Wedge Booties for Fall (olive color) | The BEST Skinny Jeans | Plaid Rug (sold out in this color, but other colors are available here sometimes – I have the black/bone rug in 2'7″x5′)
This pumpkin spice doormat is not only affordable but speaks to my pumpkin-spice loving heart. (I know it's sold out and pumpkin spice might not be for everyone, but there are some other cute options for fall. Check them out here!)
A couple of years ago, I jumped on the two-rug trend for the front door and I love how it makes the front stoop feel cozier and like an extension of the inside of the home.
I also love how easy it is to just grab a new graphic doormat and throw it down for an updated, seasonal vibe. So, I'm going to share some doormats as well as some layering rugs that would be cute with them! It's such a fun look! Grab up one of these to get into the season right away!
Top Fall Doormats You Will Love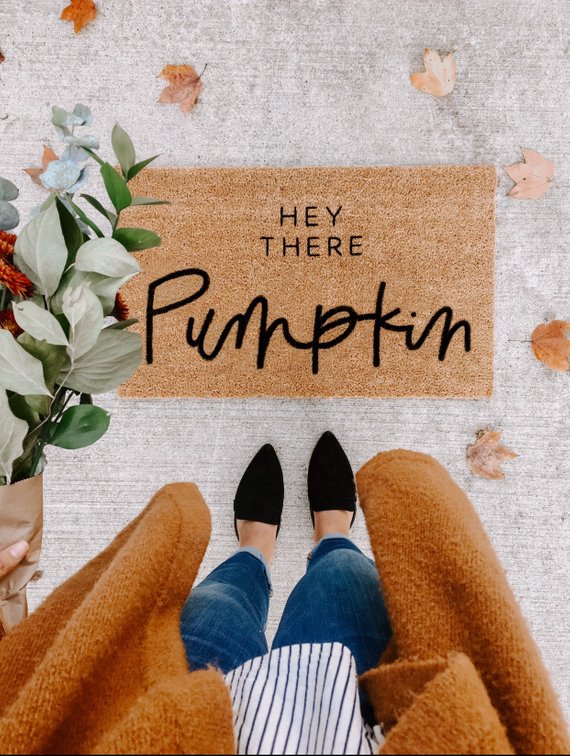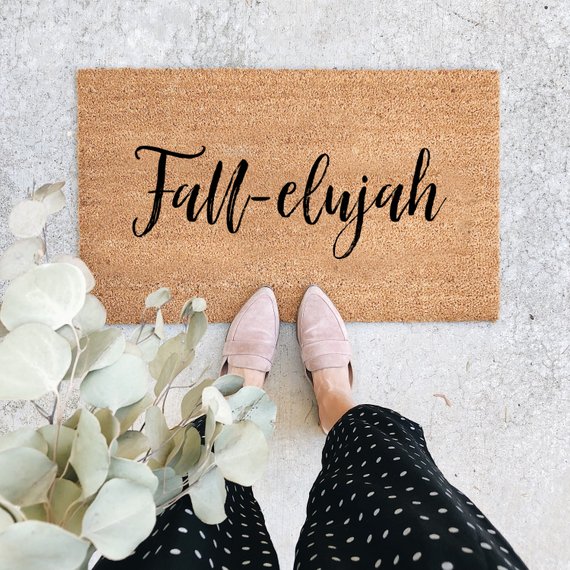 Fall-elujah Doormat – a truer sentiment has never been said! This hand painted mat is the one I bought in 2019 for my own front porch and LOVE it!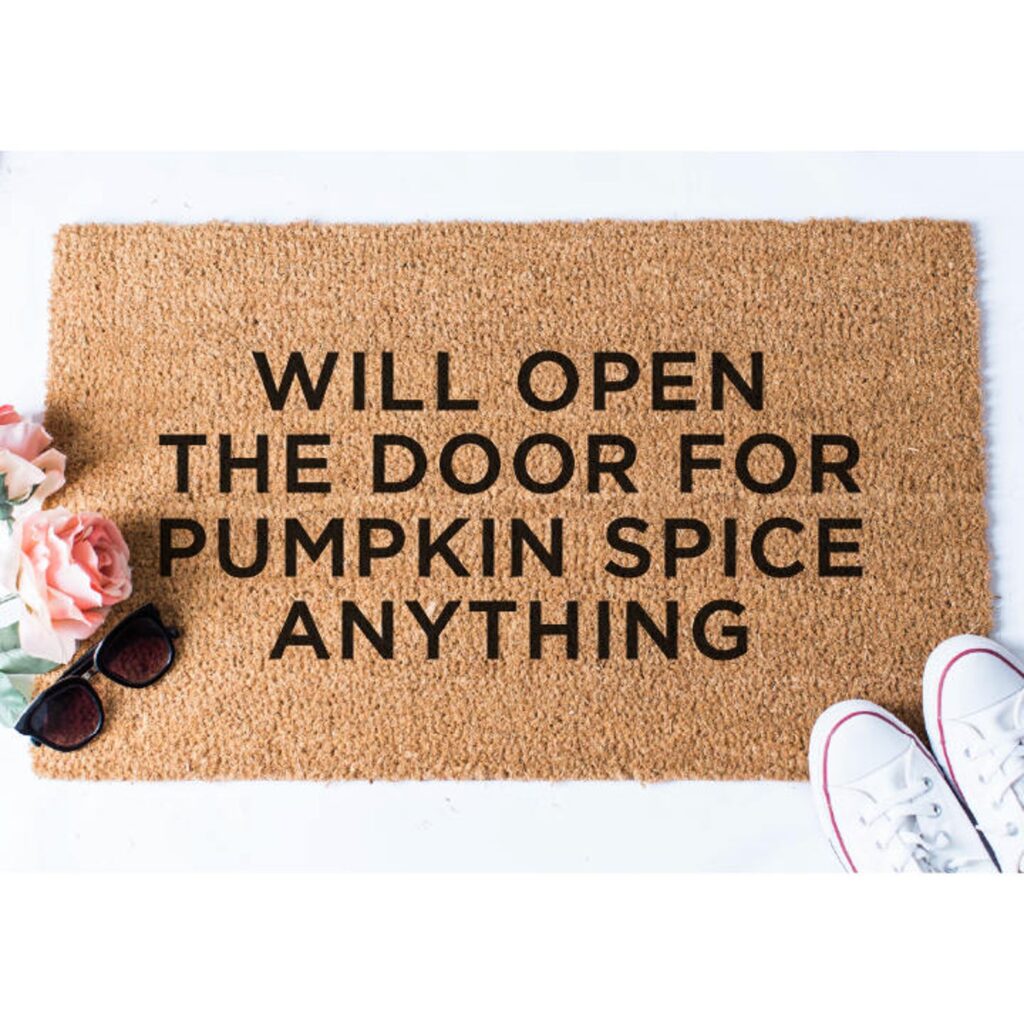 Pumpkin Spice Anything Fall Door mat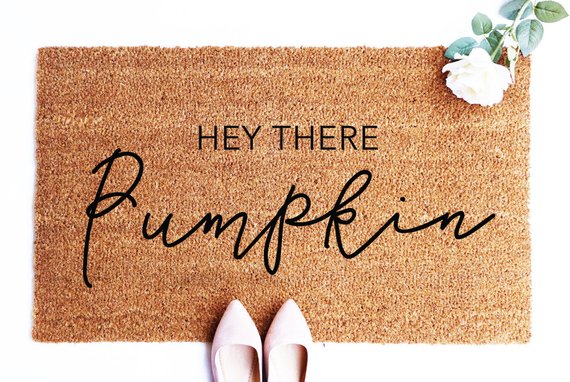 Hey There, Pumpkin Doormat – another option from the first rug up there!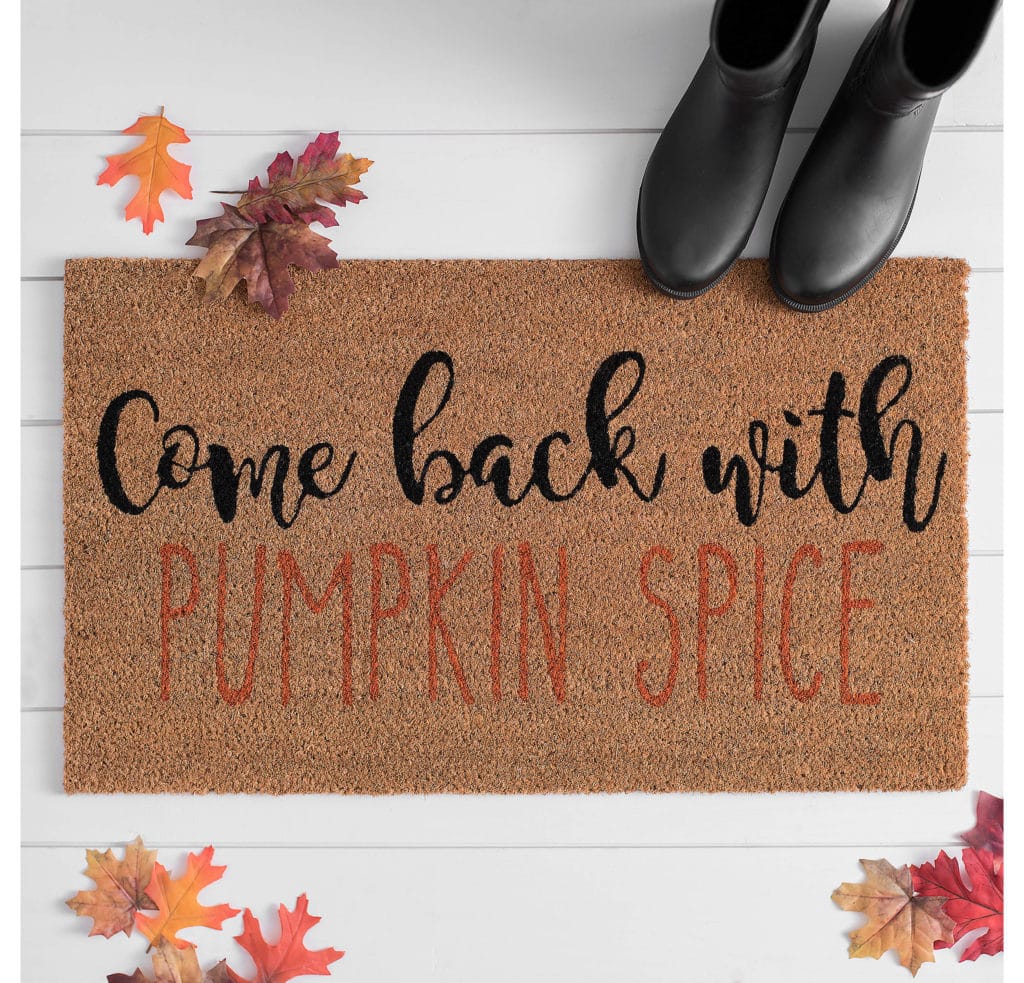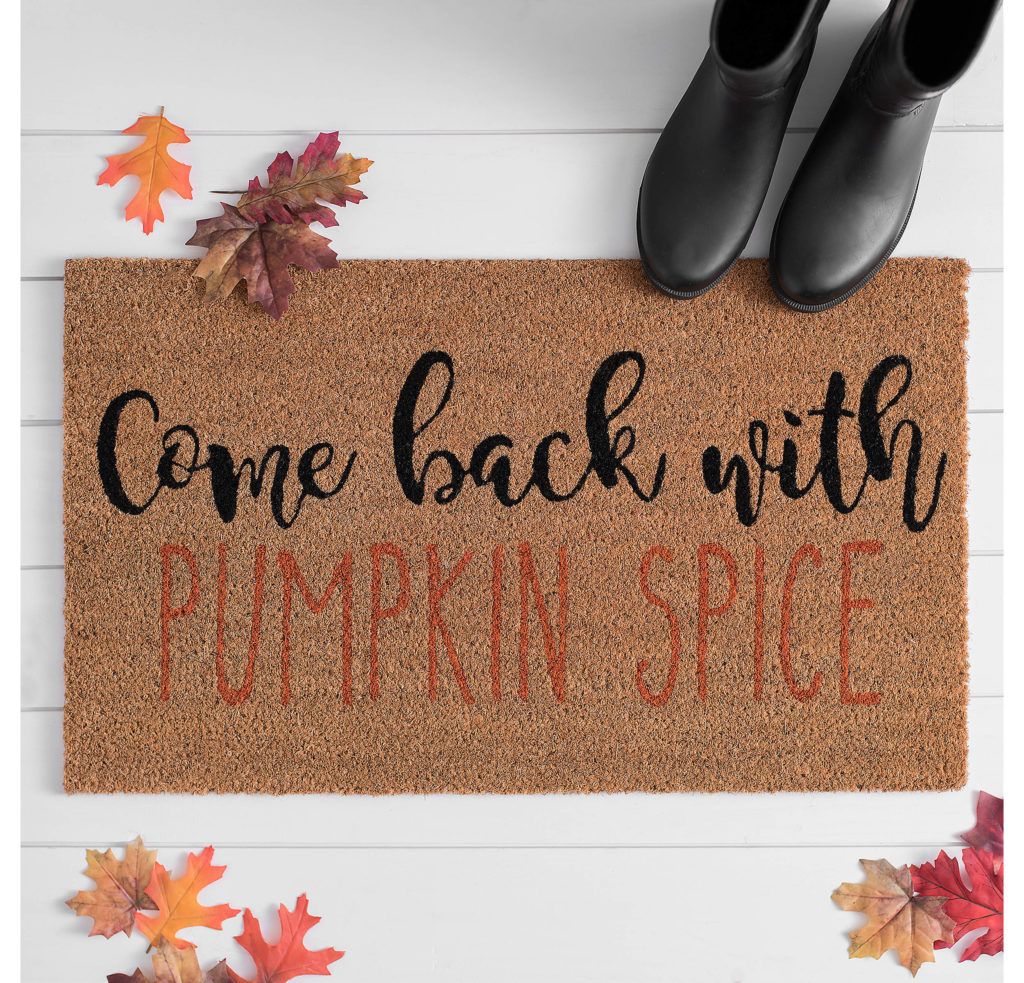 Come Back with Pumpkin Spice Doormat (Similar)
Schmidt's Pumpkin Fall Doormat (Similar)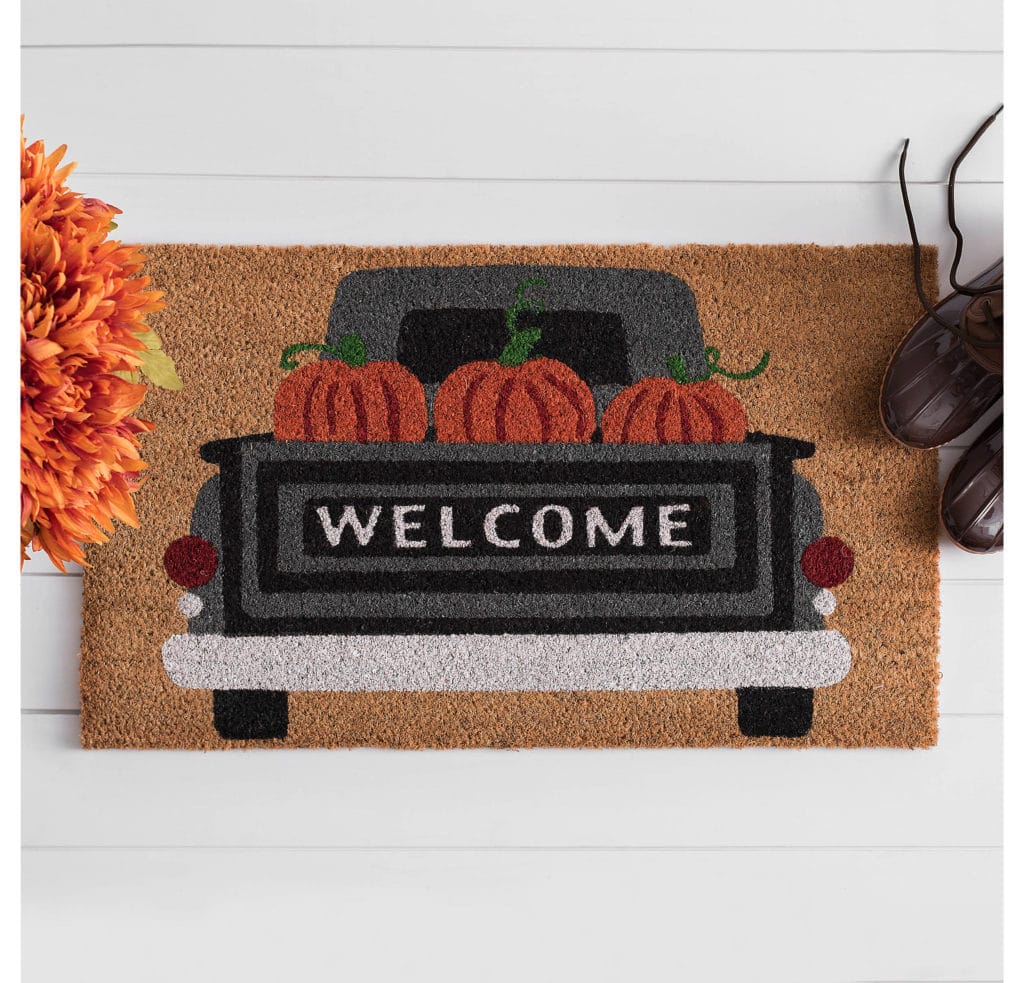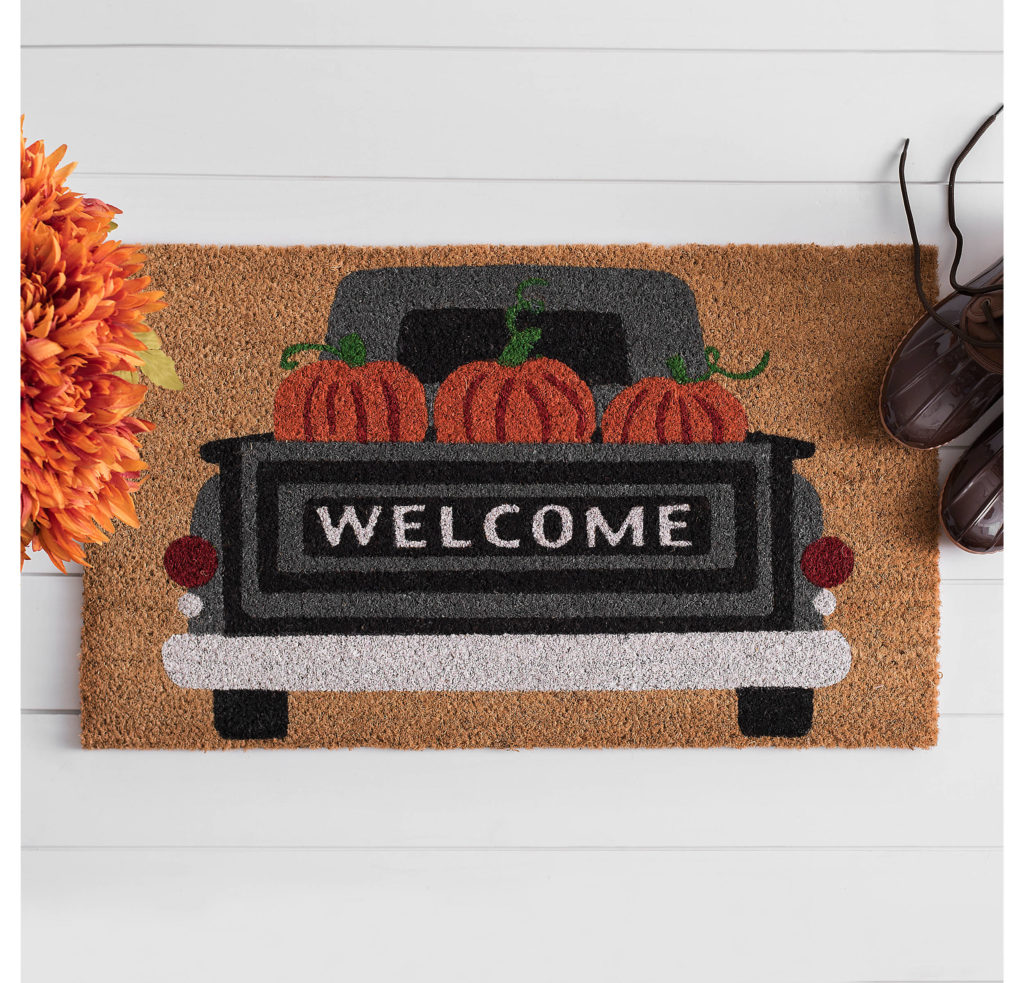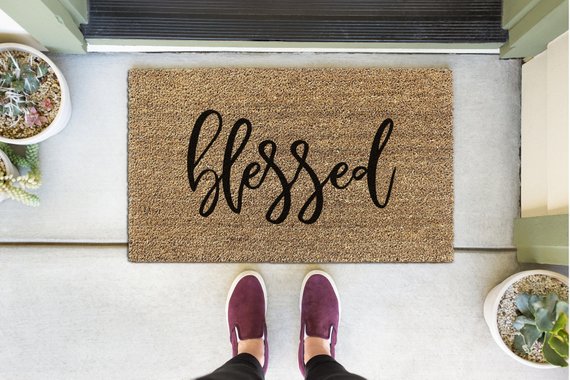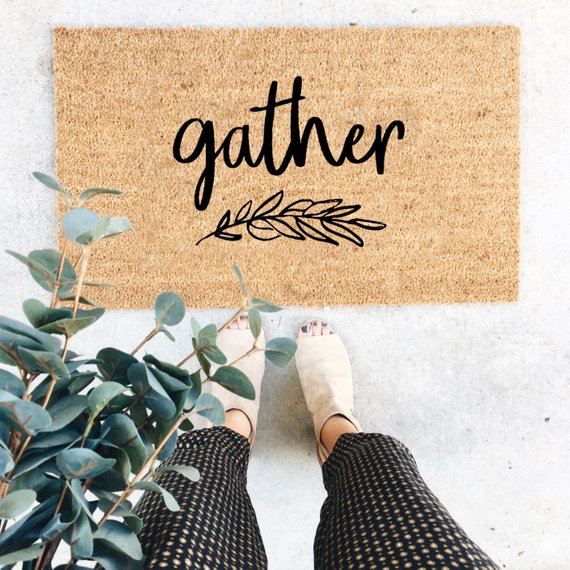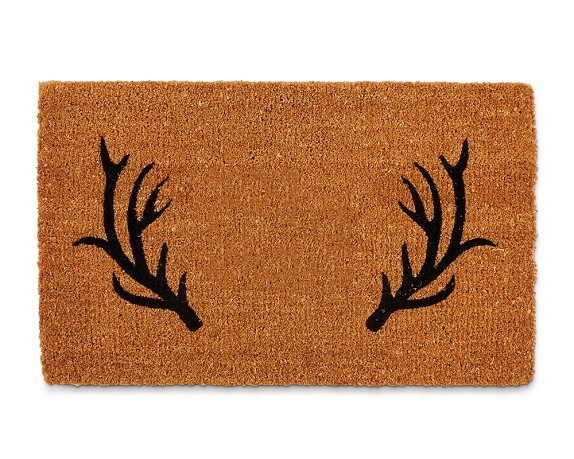 Antler Doormat – can order with or without an monogram initial in the middle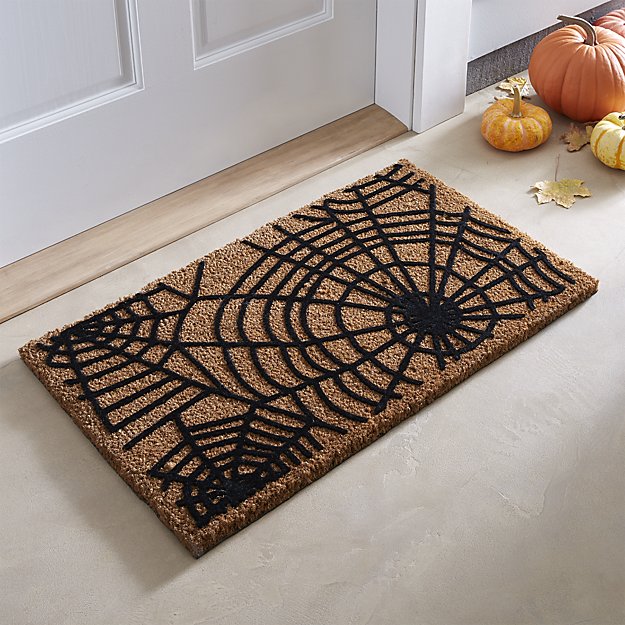 Spiderweb Doormat (Similar) – If you want more of a Halloween vibe, check out my Halloween Decor post here.
Layering Doormats for a Cozy Look
Unfortunately the layering rug I bought two years ago is almost always out of stock. (You can sometimes find it in stock here and here.) BUT I have found some beautiful alternatives and linked them below.
And I paired them with the fall doormat I think would be the cutest! Grab any of these combos for the perfect fall layering doormat look!
(Tip: measure your rugs to make sure the bottom rug is larger than the top doormat. Usually a 2'x3′ rug will be perfect for layering, but always check before you order!)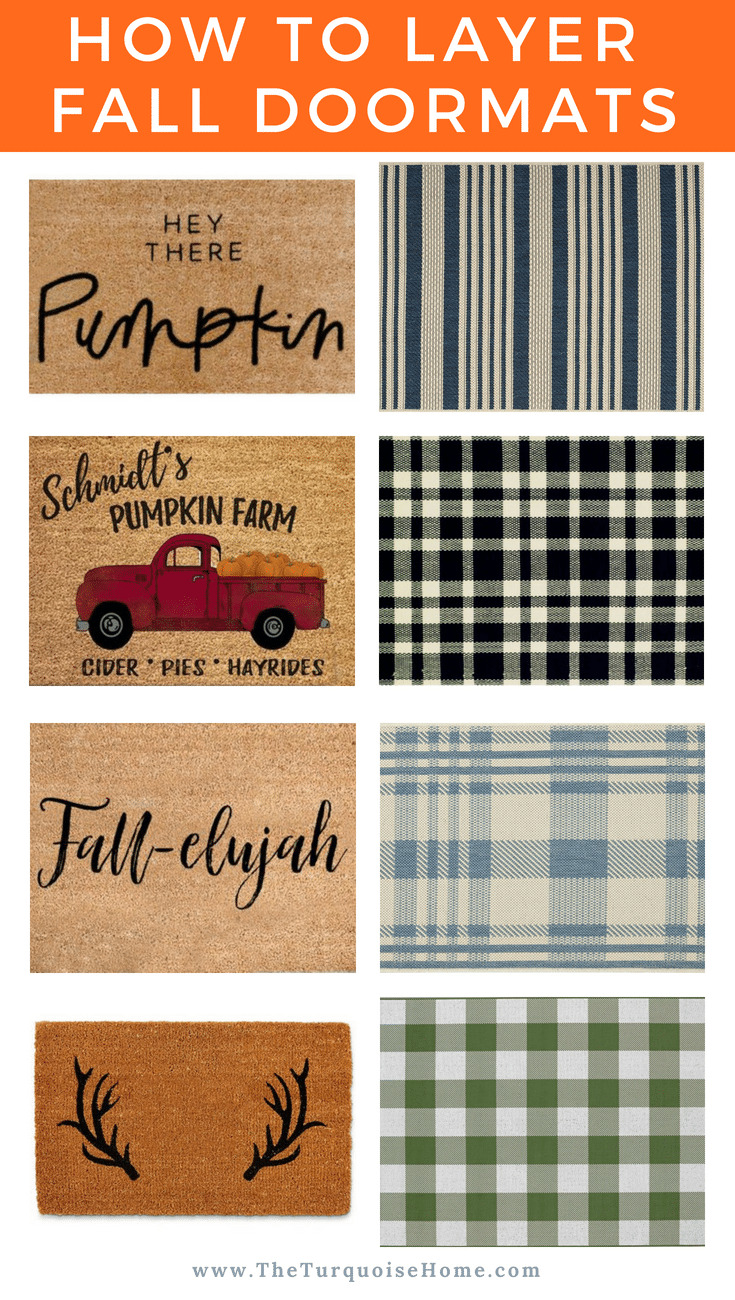 Fall Doormats (left column): 1 / 2 / 3 / 4
Layering Rugs (right column): 1 / 2 / 3 / 4
Shop more layering outdoor rugs here by swiping and clicking on the image you like!

Top DIY Fall Doormats
And if you don't want to buy one of these combos, you can always go the DIY route and make one of your own!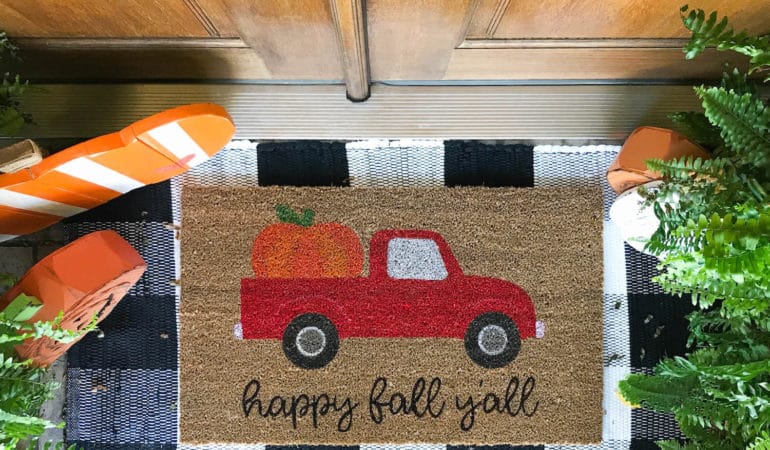 DIY Red Truck with Pumpkin Fall Doormat from Kayla Brasher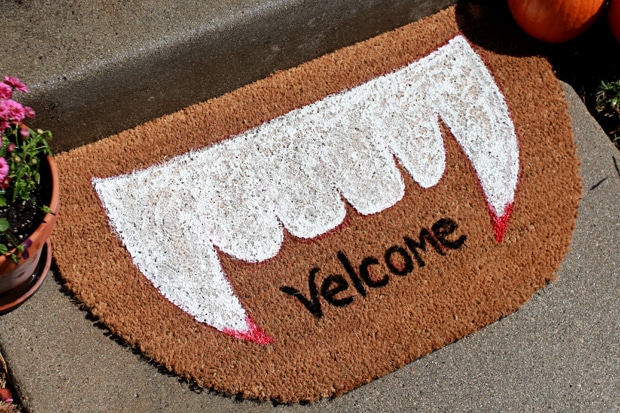 DIY Vampire "Velcome" Fall Doormat from Creative Live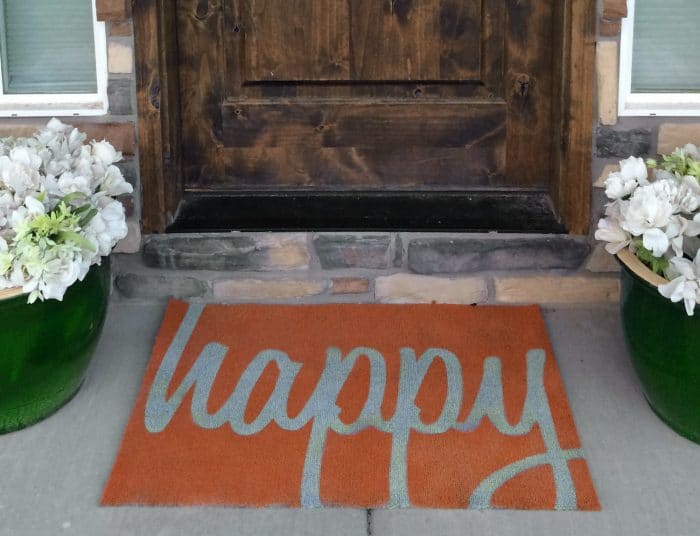 "Happy" Fall Doormat from Craft Remedy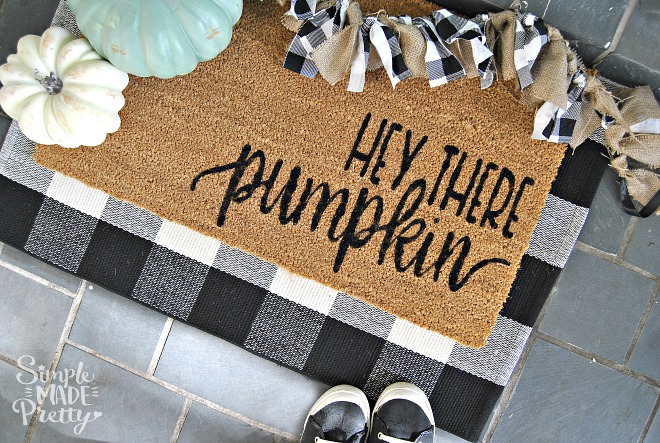 DIY Hey There, Pumpkin Fall Doormat from Simple Made Pretty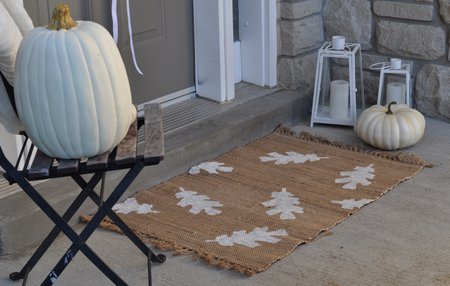 DIY Leaf Fall Doormat from Life is a Party
DIY Halloween Bats Doormat from The Paper Mama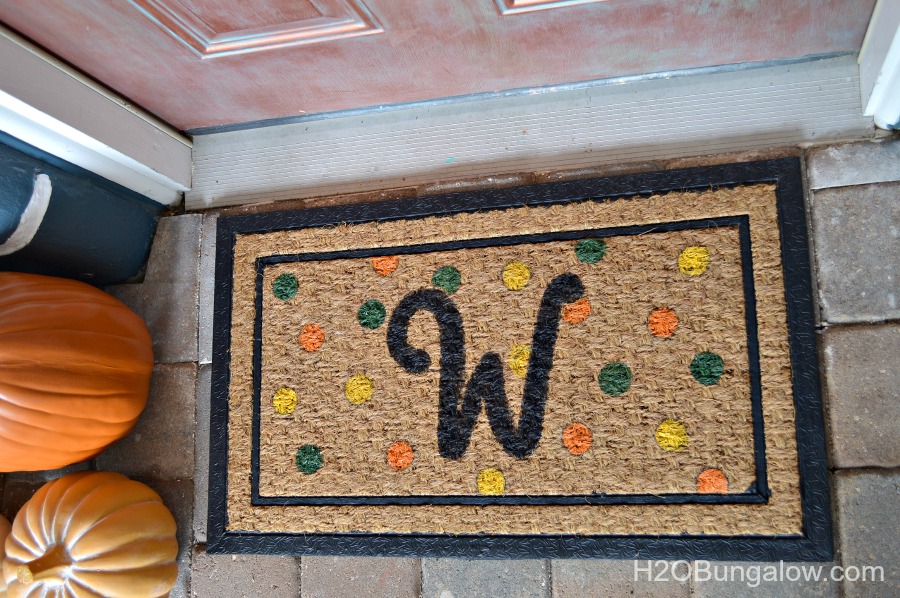 DIY Monogrammed Fall Doormat from H2O Bungalow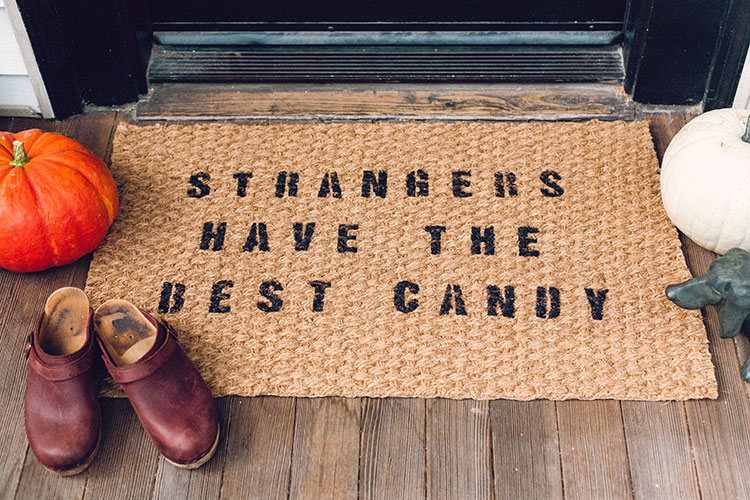 DIY Halloween Doormat from Jojotastic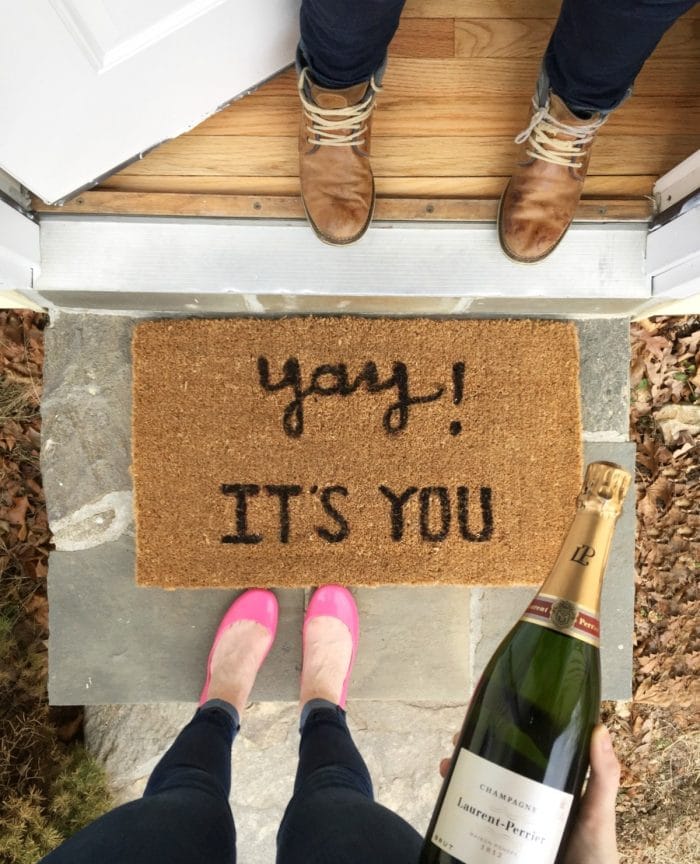 Yay! It's You Doormat from But First Coffee Blog
(The sweetest thought no matter what time of year it is!)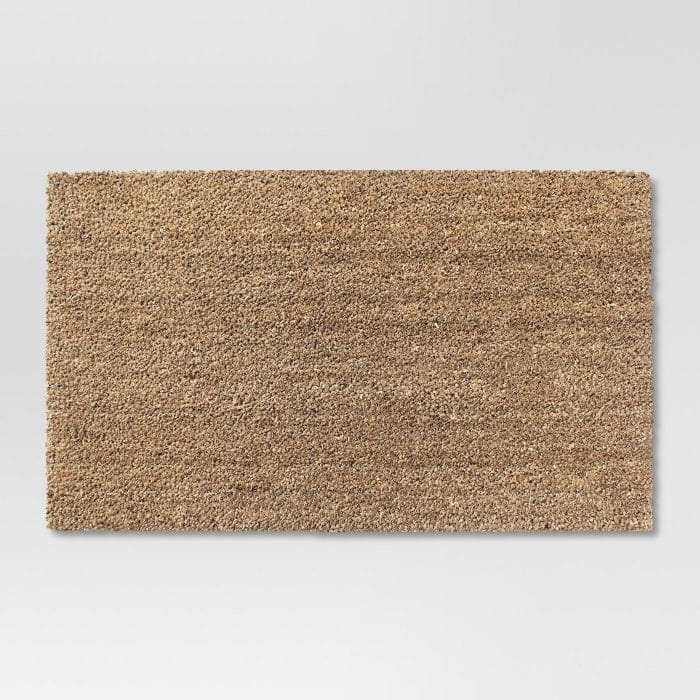 Plaid Coir Doormat to Make Your Own!
More Fall Decor Posts You Will Love: