DIY Wood Bead Garland with Tassels
How to make a cute DIY wood bead garland in about 10 minutes!
Have you seen these pretty wood bead garlands all over the home decor scene for a while now? They are like pretty wooden necklaces for your decor. Ha! It's a really fun trend that brings interest, texture and movement to your home decor accessories and vignettes.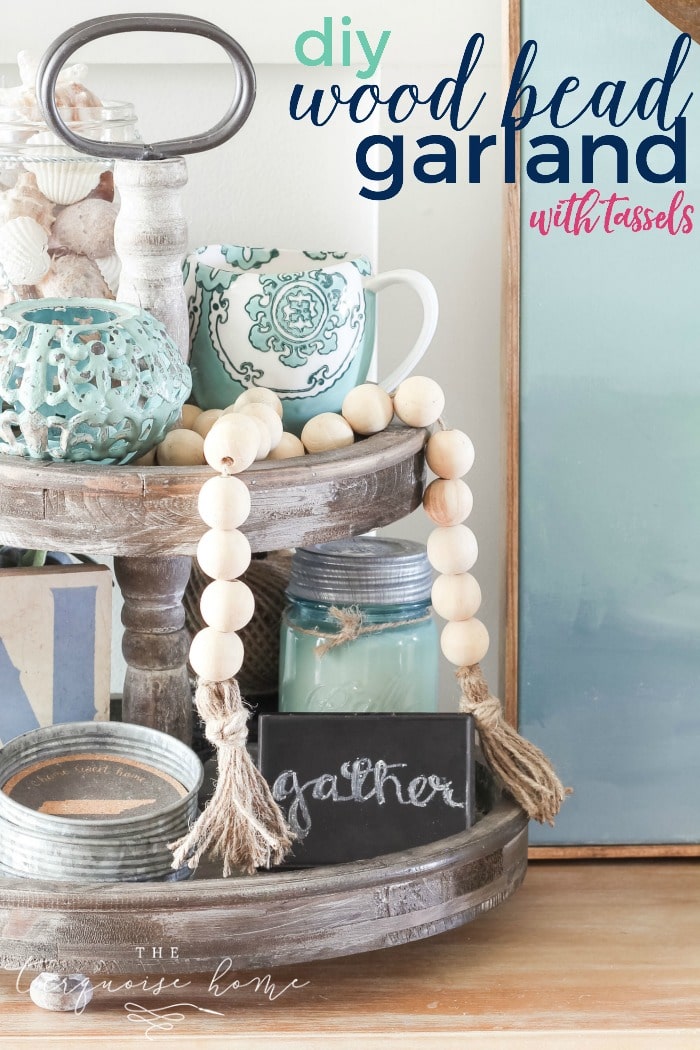 I made this wood garland in about 10 minutes, which was awesome because my kids were going crazy and I needed to make it and snap some pics faster than Joanna Gaines can create a new business idea! (That girl can crank 'em out, #amIright!?)
I'm always a little late to the trendy parties, so this time is no different. So if you're a little late like me and haven't picked up one of these cute wood bead garlands, yet, I'm going to show you how to make one today.
When I say that it's super easy, I mean the easiest craft around. You only need 2 products and some scissors and you'll be ready to go!
This post contains affiliate links for your convenience. See my full disclosure policy.
Supplies You'll Need for a DIY Wood Bead Garland with Tassels
Wood Beads (I bought mine here.) – I bought a couple of sets in order to make mine with 27 beads.
Jute Twine (or similar twine, yarn or string)
Scissors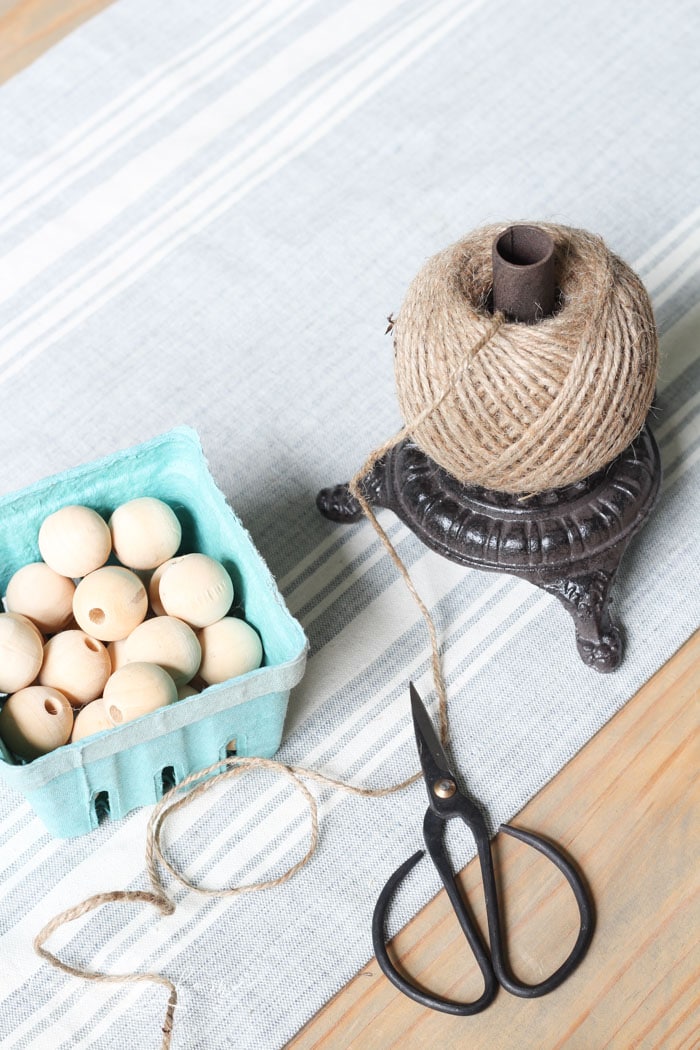 Steps to Make a DIY Wood Bead Garland with Tassels
Step 1. Gather Your Supplies.
These 25 mm wood beads that I used are perfect, but you could buy smaller or larger beads. I wouldn't go smaller than a 14 mm size bead, though.
Step 2. Make Your First Tassel.
What you'll do is grab an end of the jute and start wrapping it around the four fingers on your hand. This isn't an exact science. Just start wrapping.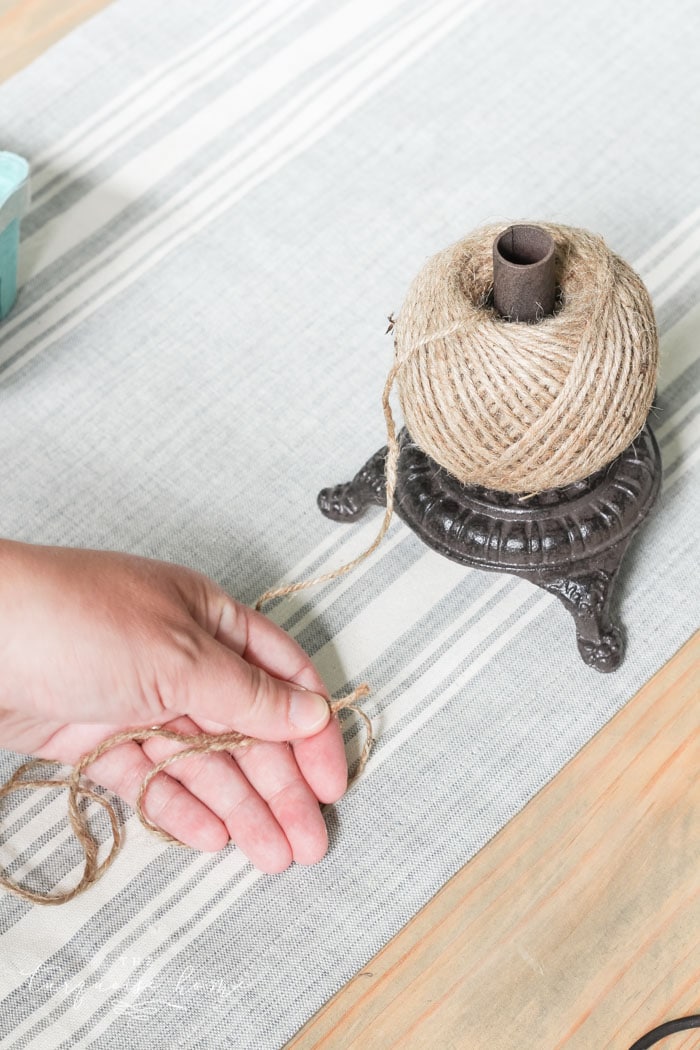 I kept track of the number of times I wrapped it, because you'll want to make it match the tassel on the other end. I think I wrapped it 15 times.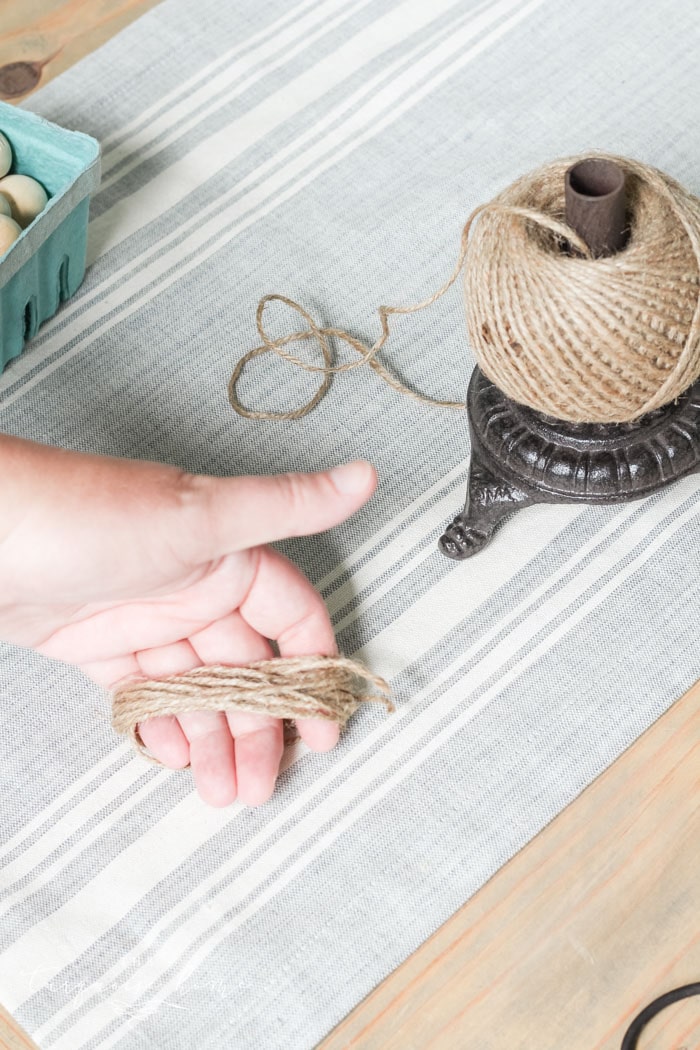 You'll want to make sure that when you end it, the cut end is at the same end as the end where you started. Does this make sense? See the two ends sticking out above my pointer finger.
Step 3. Tie off the Top of your Tassel.
Pinch the end of the tassel on the opposite side from the cut ends.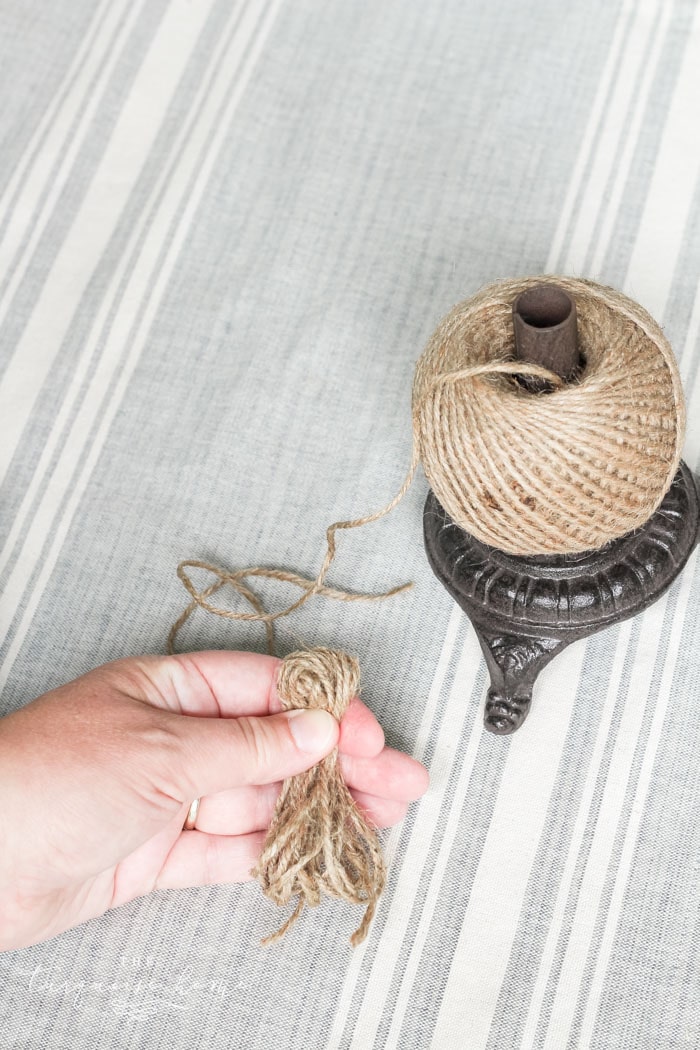 Take the end of your jute and tie that top end of the loop together like in the picture below. The whole thing will then be attached to your whole jute string.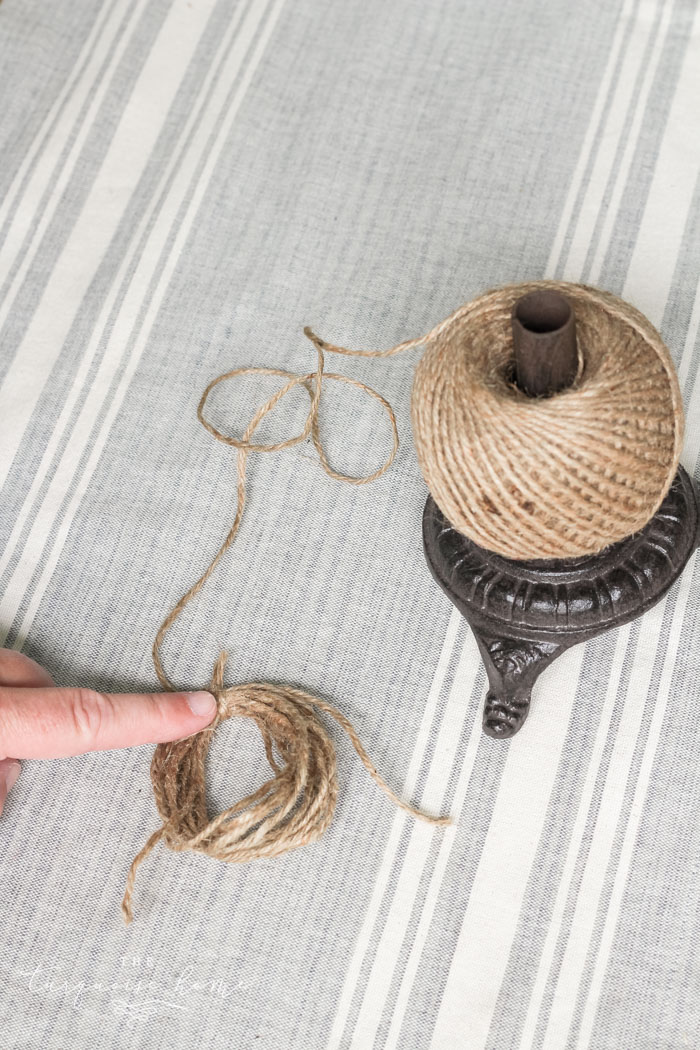 Step 4. Wrap the Top of the Tassel.
Now you'll take a long-ish piece of jute and wrap it around the end of the tassel near where you just tied the loops together. I tied it off and tucked the loose ends into it with the end of my scissors.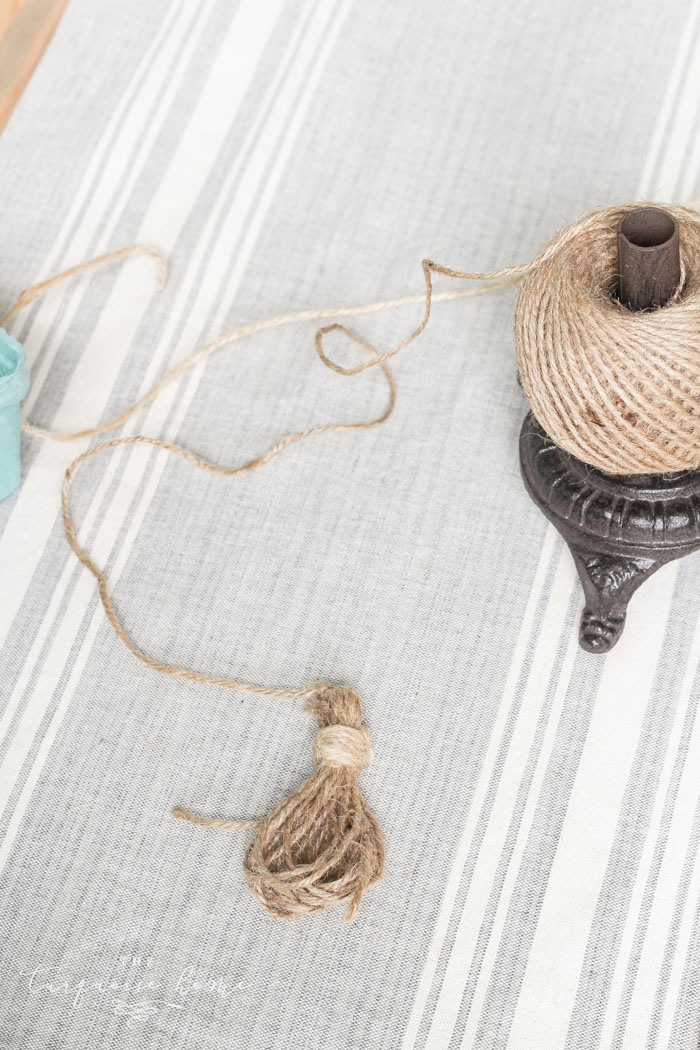 Step 5. Cut the Bottom Loop to Finish the Tassel.
Just cut through the bottom loops and if the ends are uneven, shape them up!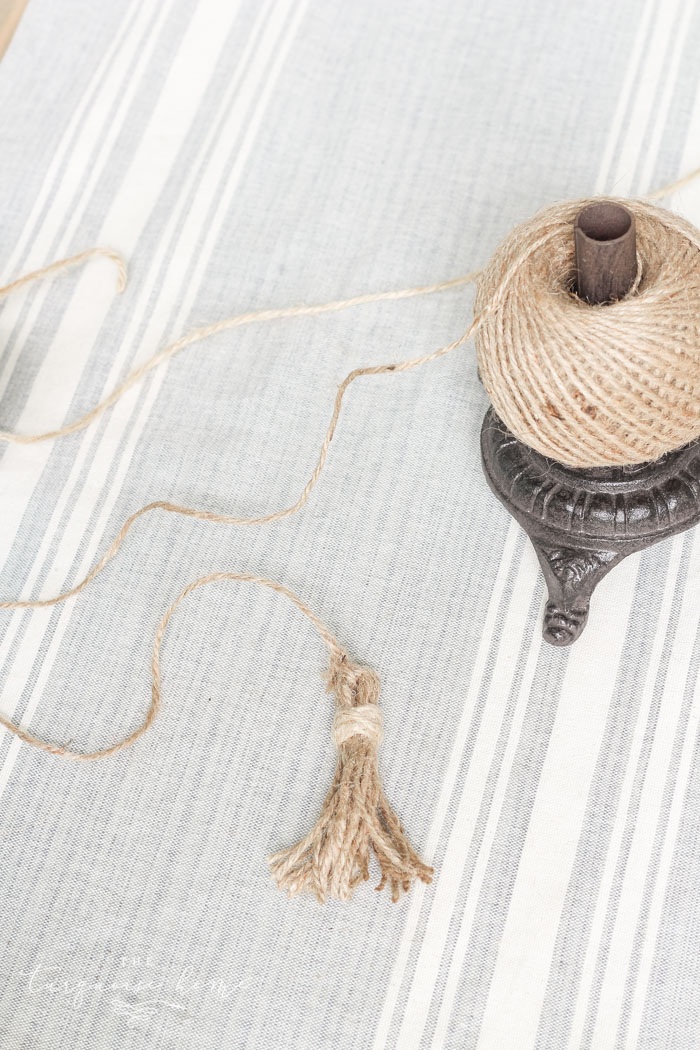 First tassel done! Yay!
Step 6. Cut your String to the Length you Want.
Mine is about 26 inches long not including the tassels and it has 27 beads on it. You'll want to cut it longer than your final length by about 10 inches or so. And yours will differ based on which farmhouse beads you use or how many.
Step 7. String Your Beads on the String.
I used 27 beads, but you can use as many as you want! The longer garlands can be wrapped around multiple times, or you can make 2 garlands, like me!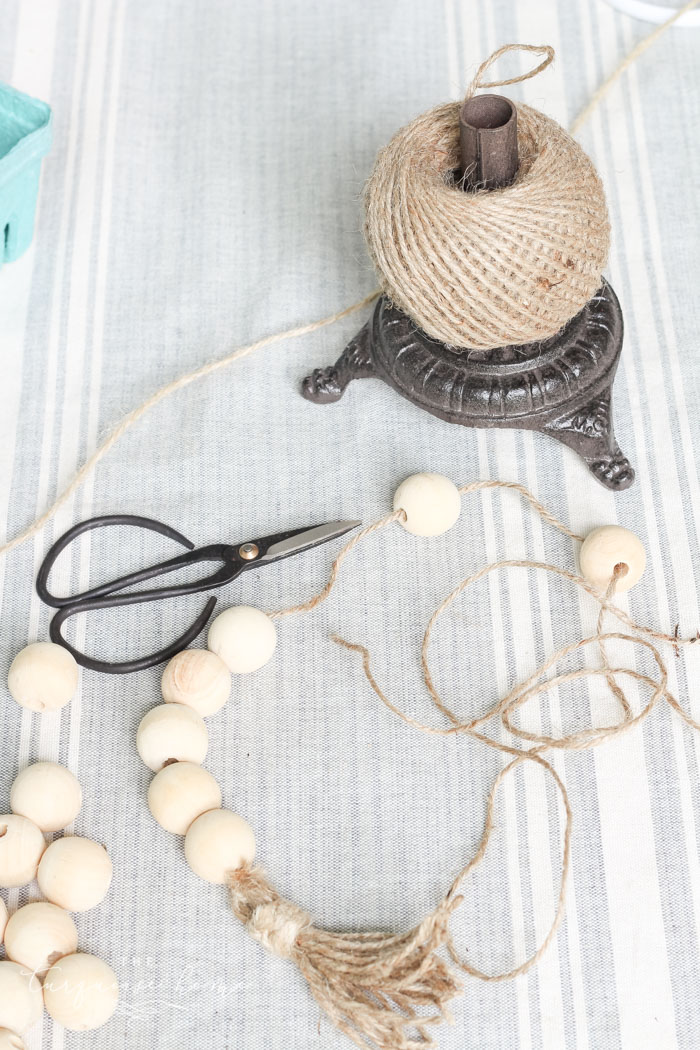 Step 8. Make Another Tassel (Steps 2-5).
Only this time you'll cut the end of your main jute piece with beads on to the length you want for the finished product. I left an extra inch on mine for some movement. And tie the top of the tassel with this end of your garland.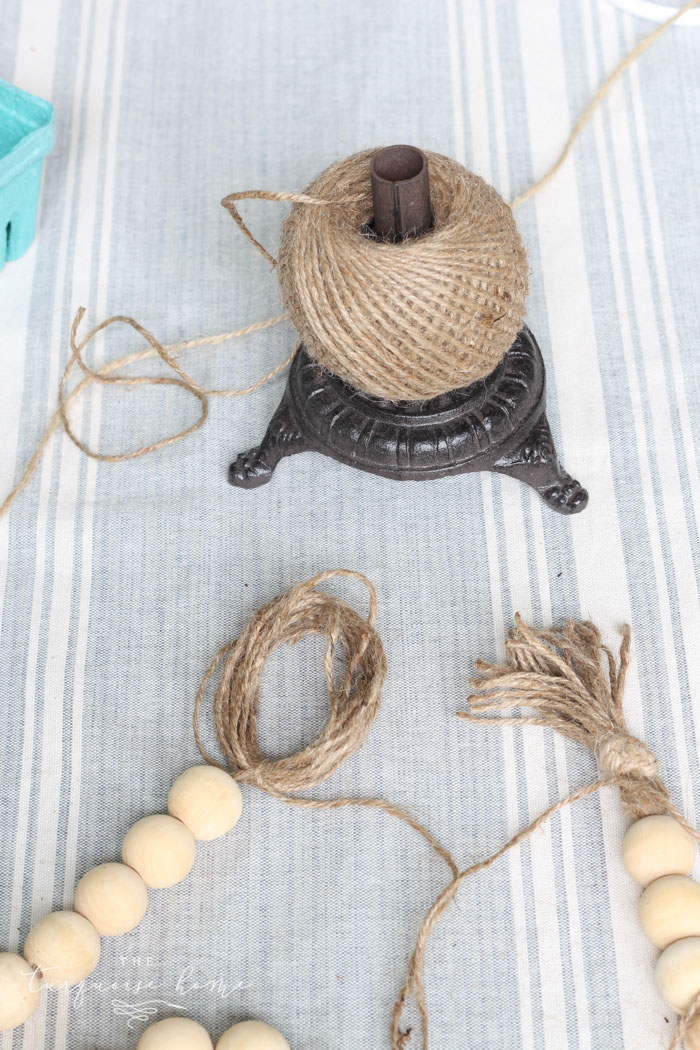 Once you're finished with the second tassel, you're done! It was so easy, wasn't it? This is a very basic garland, but you can customize it any way you'd like.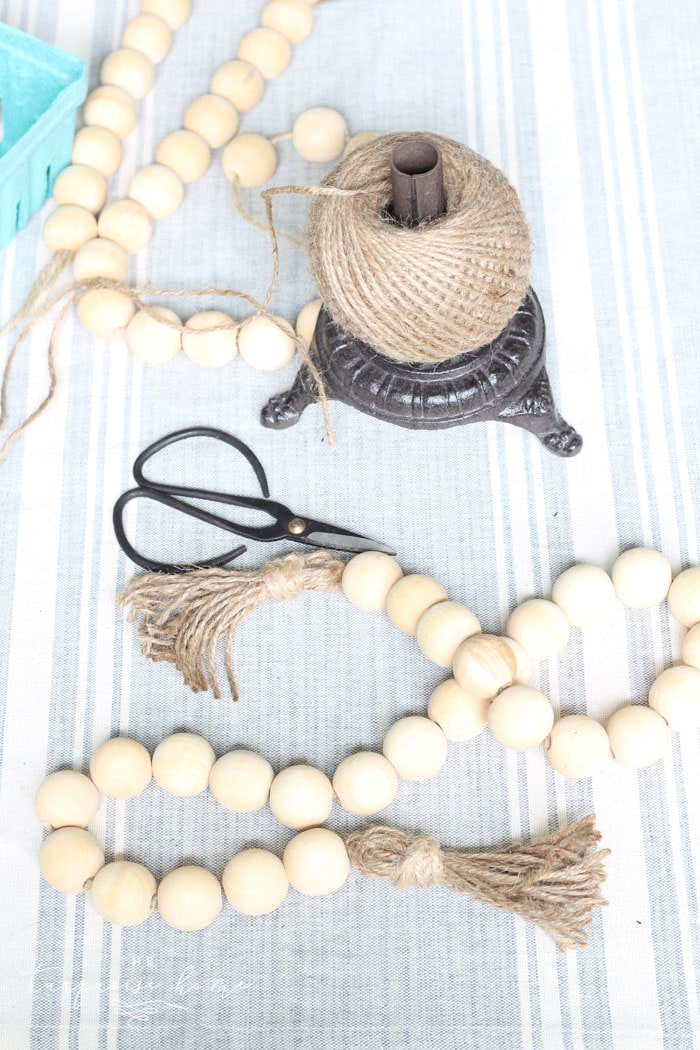 You could paint the beads (or buy colored), buy different size beads, add charms to the tassels or use different materials altogether. The possibilities are endless!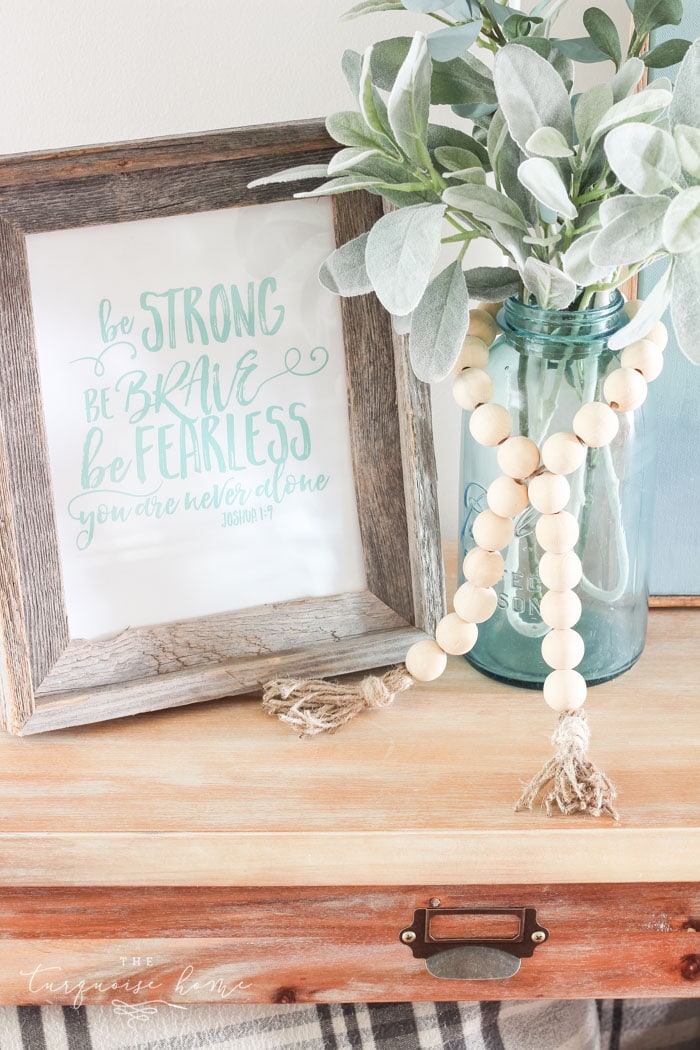 I used mine a couple ways to show you how you can use it, but literally the options are endless. You'll see these all over and get ideas for how to use them in your decor.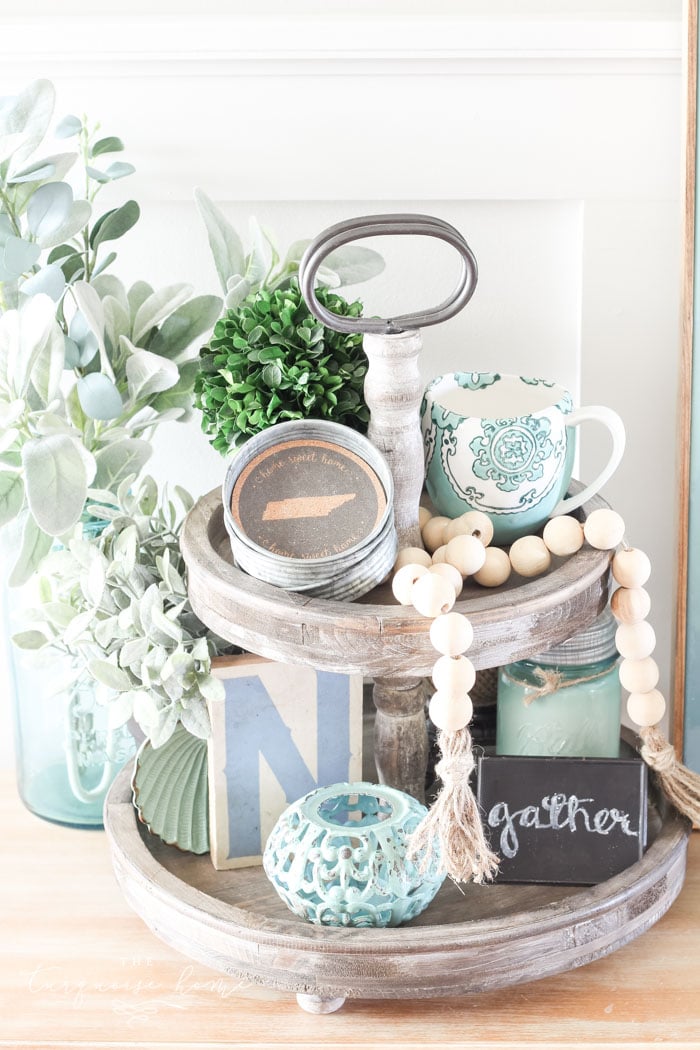 In the end this quick craft will leave your DIY heart super satisfied! It's easy, quick and cheap and will make your decor look so cute!
Your jars and vases will be accessorized with simple texture that you will love styling in new ways every season! And your tiered trays will be so very fancy. Ha!
I think I'll start a "find the wood bead garland" game in all of my home tours from now on. Whatcha think? 😂 😜
How do you plan on using your new simple craft accessory?!
Don't Have Time? No Problem!
If you're like me and sometimes just don't even have 5 minutes to do a craft, then there are some wonderful options to purchase these pretty wood bead garlands on Etsy!
There are so many cute options for colors and little details. Some are even cheaper to buy than to make on your own!



MORE POSTS YOU WILL LOVE:
SaveSave
SaveSave