The Best Window Treatment Options for Every Room
Looking to find the best window treatment options for your home? Here are a ton of ideas for every room to get you started in your search.
Whenever I see a bare window in a home, I see so much opportunity to dress up the window.
Windows can sometimes an area neglected by home decorators or left as an afterthought once the rest of the design is complete. For me, if a room doesn't feel complete, it's because it's missing window treatments!
With so many window treatment options out there, there is something for every room in the house. From tiny bedroom windows to large and high living room windows, you can really let your inner designer shine through with the right type of window coverings.
This post contains affiliate links for your convenience. See my full disclosure policy.
Window Treatment Options for the Kitchen
Roman Shades
Perfect for smaller-sized windows above the counter or sink, roman shades let in a ton of light while also ensuring the window doesn't appear bare.
In my kitchen, I have fabric roman shades that hang above the sink. I love that I can leave them open while I look outside and wash dishes but can easily close them at night, so no one sees me searching for a midnight snack.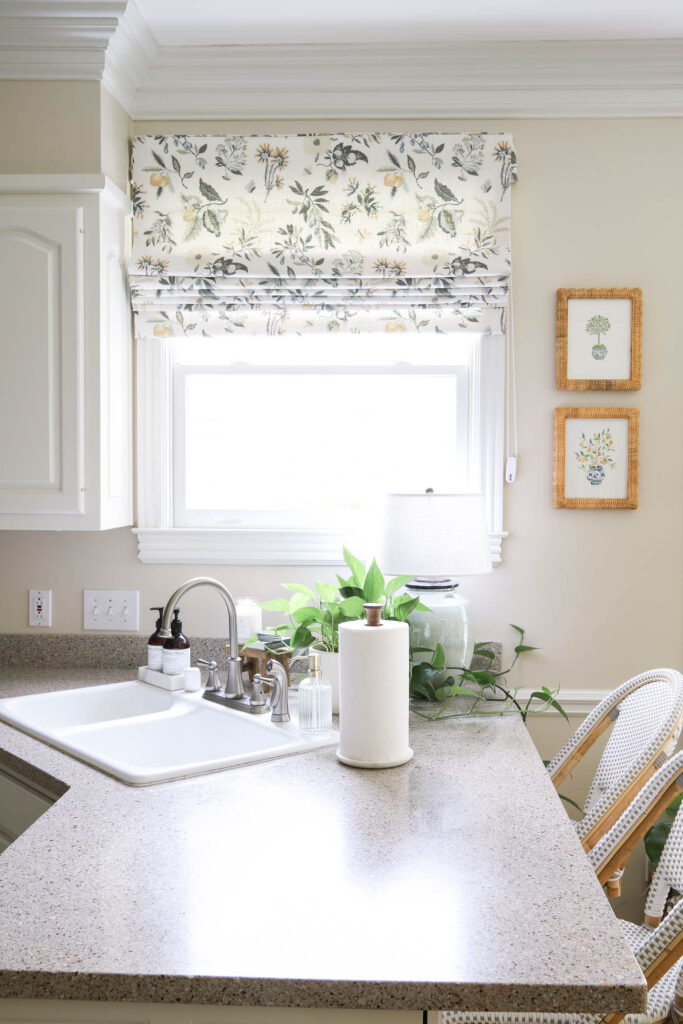 Shop this Kitchen Look By Tapping the Images Below:

Café Curtains
Some people prefer to have only cordless options in the kitchen, so they don't accidentally interfere while cooking or cleaning. Strung along a rod, you can either cover a portion of or the entire window. This depends on how much light and privacy you prefer. They look especially cute in the kitchen, emitting a timeless European café look.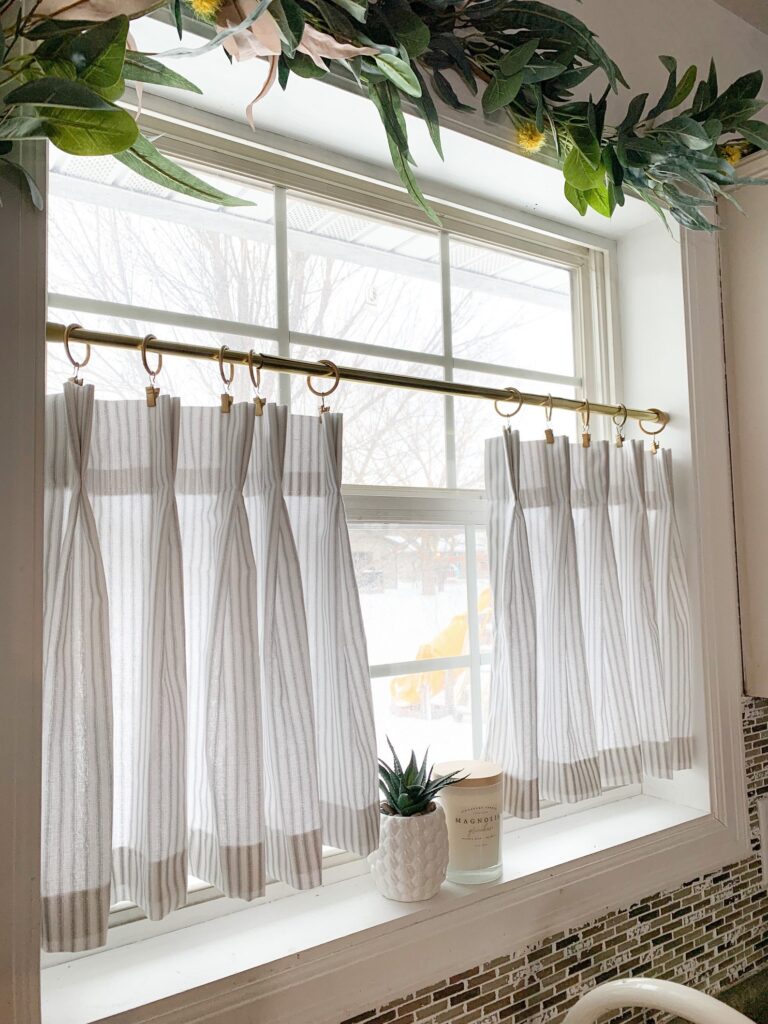 Faux Wood Blinds
When it comes to the kitchen, there most certainly will be spillage. From dirty dishwater to soup, you want something easy to clean in the kitchen. Faux wood blinds are easily wiped clean and keep the kitchen looking fresh.
Types of Window Treatments for the Living Room
Curtains
What would this list of window treatment options be without curtains? Curtains are so versatile, working in just about any room and design style. They come in bold or neutral colors, patterns or solids, tall or short…you name it!
In my current living room, I chose breezy white curtains across the back wall of windows with an extra long curtain rod. They provide a soft, cozy texture for the room, but don't block too much light and give some privacy at night.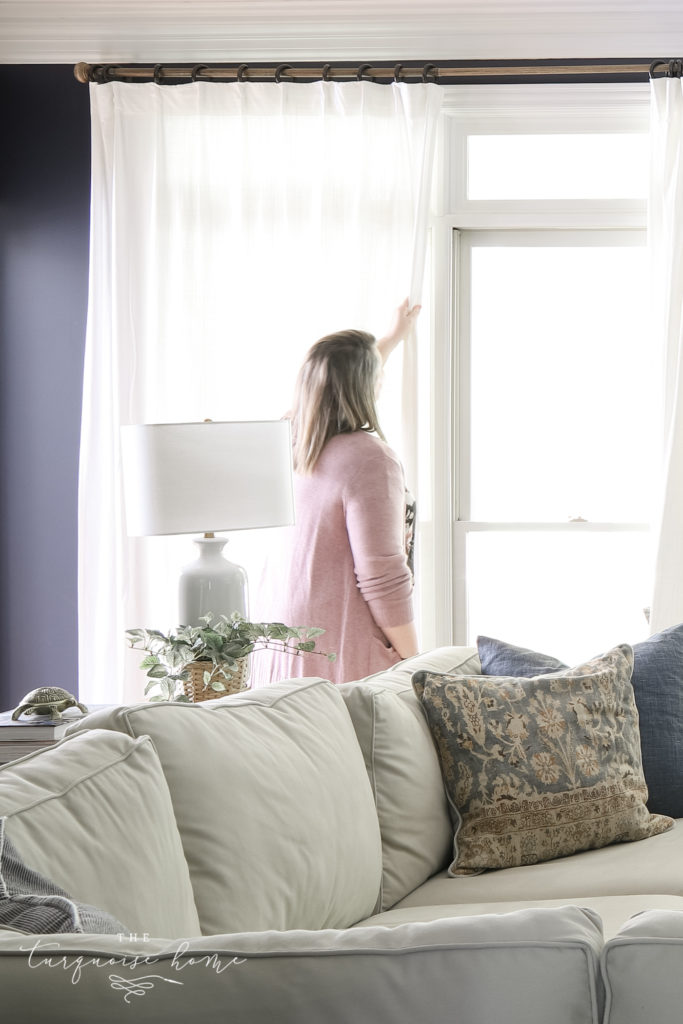 In my old living room (below), I had Moroccan-style fabric curtains that fit in perfectly with my design. Pro-tip: make sure to hang your curtains above the windows to make the window appear larger than they are. They instantly draw the eye this way.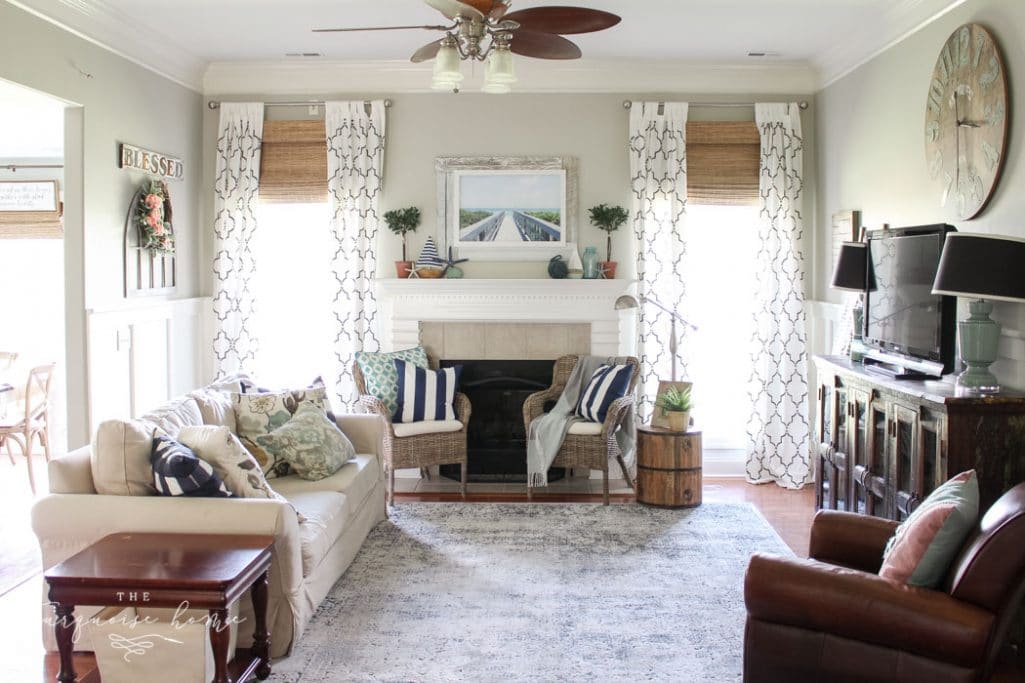 Roller Shades
Roller shades are extremely effective at covering big living room windows. They come in varying fabric thickness, some filtering light and others blocking it completely.
They're easy to roll down or hide away as needed. An economical option, roller shades work wonderfully for the everyday living room.
Panel Tracks
Vertical blinds are no longer the go-to option for sliding doors or picture windows. To cover these large windows, consider panel tracks. A more modern take, they slide back and forth as they are mounted to the wall or ceiling.
Simply slide the panel to let the light shine on in!
Another option: If you prefer the look of a curtain to panels on a track, try hanging the curtains from a ceiling track!
Motorized Shades
Many window treatment options are easily motorized. You can use smart technology to open and close your windows from the comfort of your own couch.
This also helps for living rooms (or any room) that has extremely high windows that you cannot easily reach. Motorizing them allows you to block out the light at the touch of a button, a simple voice command or on a schedule.
Window Treatment Options for the Bedroom
Wooden Shades
In my bedroom, I use bamboo roman shades. I love the natural look and the texture they bring to a room. I also believe that a bedroom should feel cozy and inviting, and wooden shades certainly fill that quota. The roman shade style also is easy to raise up and down, ready to let the light in once you're up and at em'.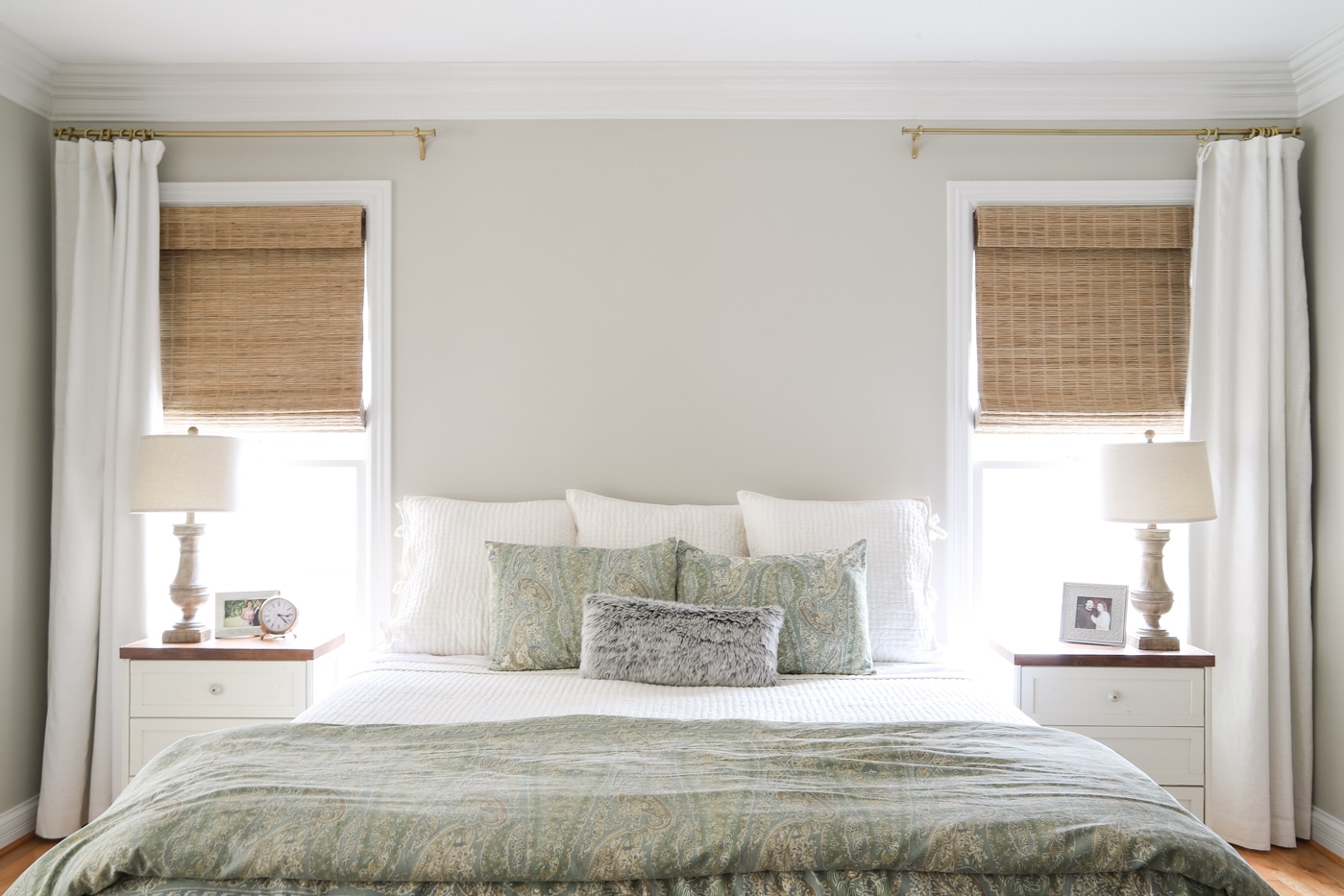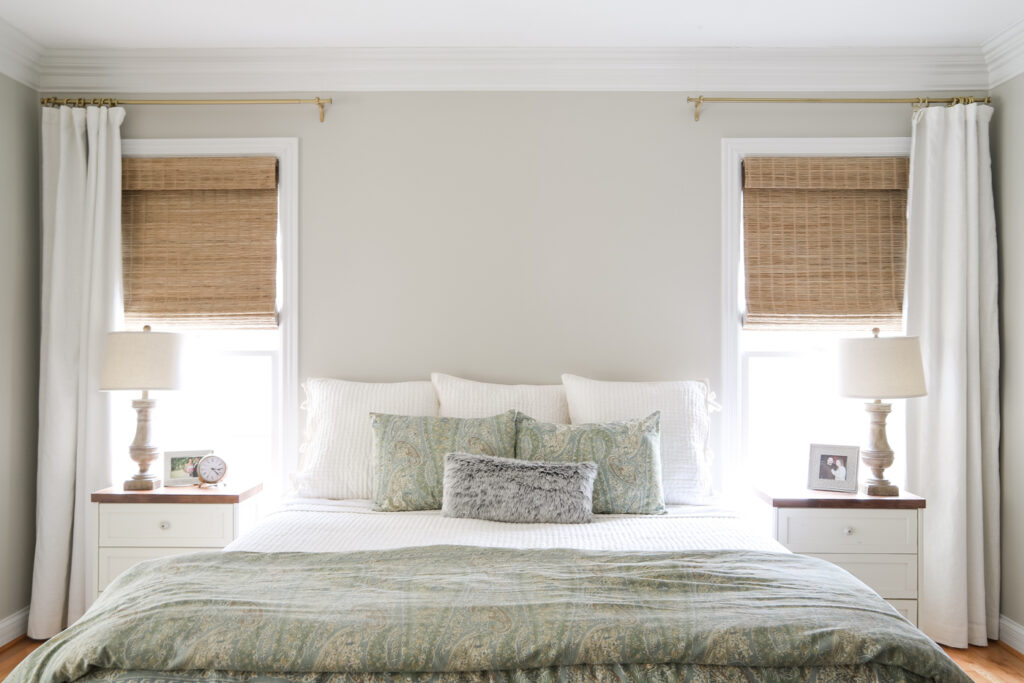 Shop this Bedroom Look By Tapping the Images Below:

Blackout Shades
We also use black out shades in our bedroom. If you're a light sleeper and sunlight streaming in the morning wakes you up, blackout shades may become your new best friend. Designed to completely block out the light, you can add them to your current window treatment or have them all on their own.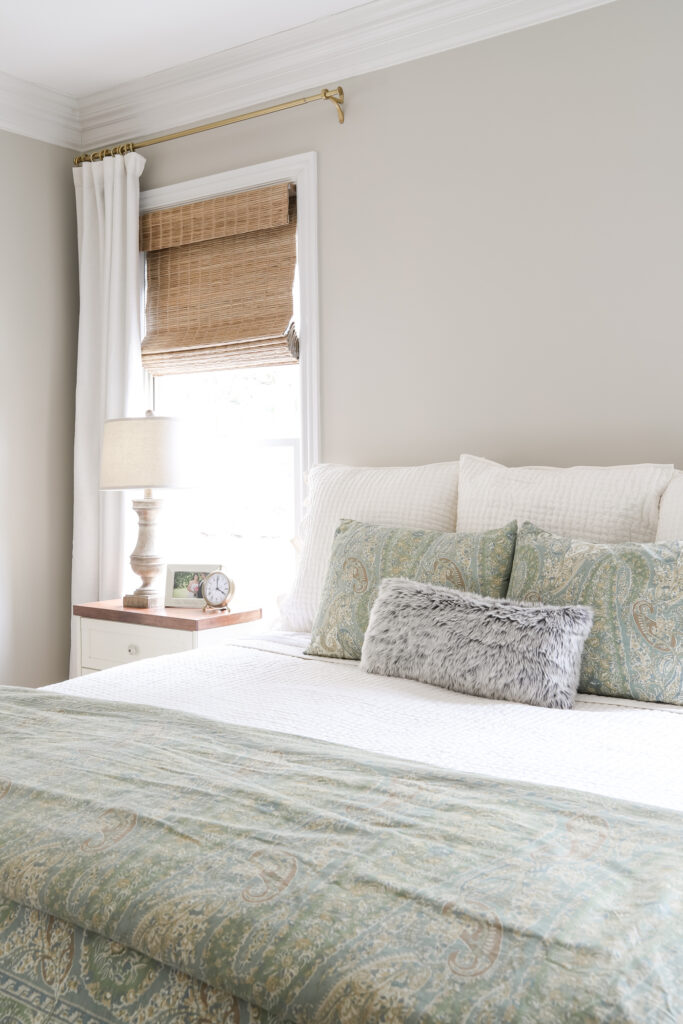 They also are wonderfully useful in nurseries or kid's bedrooms for blocking out the sun for mid-afternoon naps. Yes!!!!
Shop Blackout Curtains By Tapping the Images Below:

Fixed Shutters
If you want the classic look, consider adding fixed shutters to your bedroom windows. Attached with hinges, you can open the shutters completely for lots of light or just the slats for filtered light.
You can find them in wood or plastic options, broth providing a ton of privacy and security while you sleep away.
Thick Drapes
Curtains work in just about every room. When it comes to the bedroom, I recommend going with a thicker material. This will help to block out the light better, as well as insulate the room when it's cold outside. You can also pair a sheer curtain with a blackout curtain behind it to get the same effect.
Types of Dining Room Window Coverings
Tall Drapes
For a formal dining room, consider adding extra tall drapes to the room. Hang the drapes above the window, ensuring the fabric goes from floor to ceiling. This creates an elegant and dramatic effect for a dining room used primarily for entertaining.
This stunning example from Stone Gable shows exactly what I mean!
Shoji Panels (or Room Divider Screens)
This one is a little out of the box for the typical southern home, but if you want a modern (yet timeless) option, consider shoji panels.
Traditionally used in Japanese decorating, they are made of a bamboo or wood structure and rice paper. Light filters through the paper while still providing privacy. They work as room dividers as well as a door and window treatment option.
Shop Shoji Panels By Tapping the Images Below:

Sheer Curtains
Some dining rooms act as a transitional room as well as a place to sit down for dinner. Sheer curtains let enough light in all throughout the day while still providing a layer of privacy.
Bathroom Window Treatment Options
Cellular Shades
I swear cellular shades were made just for the bathroom. You can adjust cellular shades to raise from either the top or bottom. This allows for the top of the window to remain uncovered to let light in while covering the bottom part of the window for privacy.
Made of soft paper or cloth material, they also help to trap air and insulate, which keeps your bathroom warm during the cold season.
Venetian Blinds
Perhaps the most common and economical blind option, Venetian blinds remain a classic for a reason. You can find them in wood, metal, or plastic, coming in all sorts of colors to match the design in your bathroom. While they may not be the most stylish, they do their job well for a powder room or en suite bathroom.
I would choose metal or vinyl materials for the bathroom!
---
While this list separates window treatment options by room, many of them work in any kind of space, from hallways to the guest bedroom. Which of the options inspire you the most?
MORE POSTS YOU WILL LOVE: