Hi friends! Let's talk about my new kitchen lighting today! I'm thrilled to have these two lights replaced and on to the next project on my list.
Replacing builder-grade lighting is one of my favorite things to do, but I haven't been able to replace many in our house yet. #reallifebudget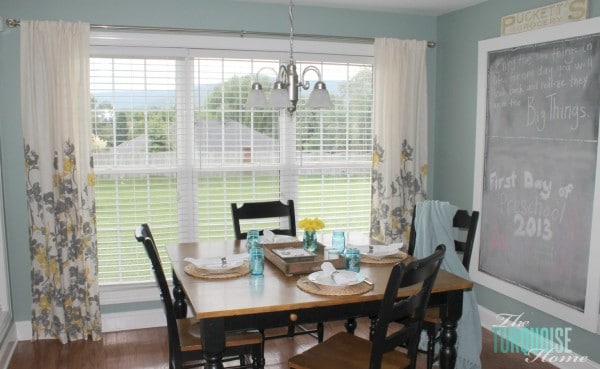 Eat-in kitchen with old, not-my-style chandelier
Three lights that I really didn't like when we moved in were the chandeliers hanging in our dining room and eat-in kitchen and the "boob" light in our kitchen. They worked perfectly fine, but they were not my style at all! I replaced the dining room light when we first moved in, because I brought a chandelier with us from our old house. You can see that one HERE.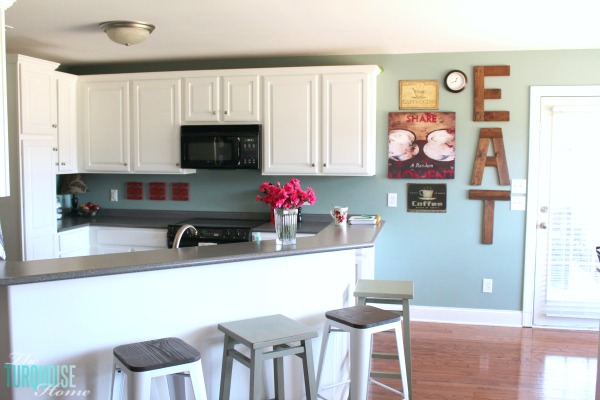 Old flush-mount light in the kitchen
And we recently replaced the flush-mount ceiling light in our kitchen and the chandelier in our eat-in kitchen area. Yay!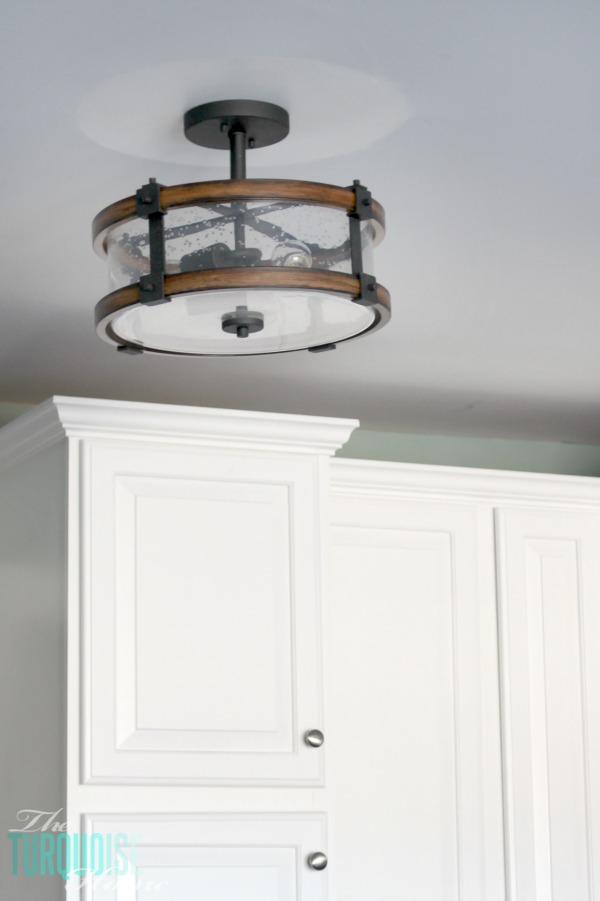 We chose the Barrington Semi-Flush Mount Light in Wood and Distressed Black in the kitchen. It's a very nice light for our budget. I liked the rustic, industrial, farmhouse vibe and it's different from anything I've seen anywhere else.
It has really pretty seeded glass. But don't be fooled by the "wood" – it's really painted metal. But that's fine with me.
For those of you who follow me on Facebook and Instagram, you will remember that the light came with Edison bulbs. I was excited as I've never used Edison light bulbs and thought they would look great in the light. But, I didn't realize that almost all of them give off a very yellow glow.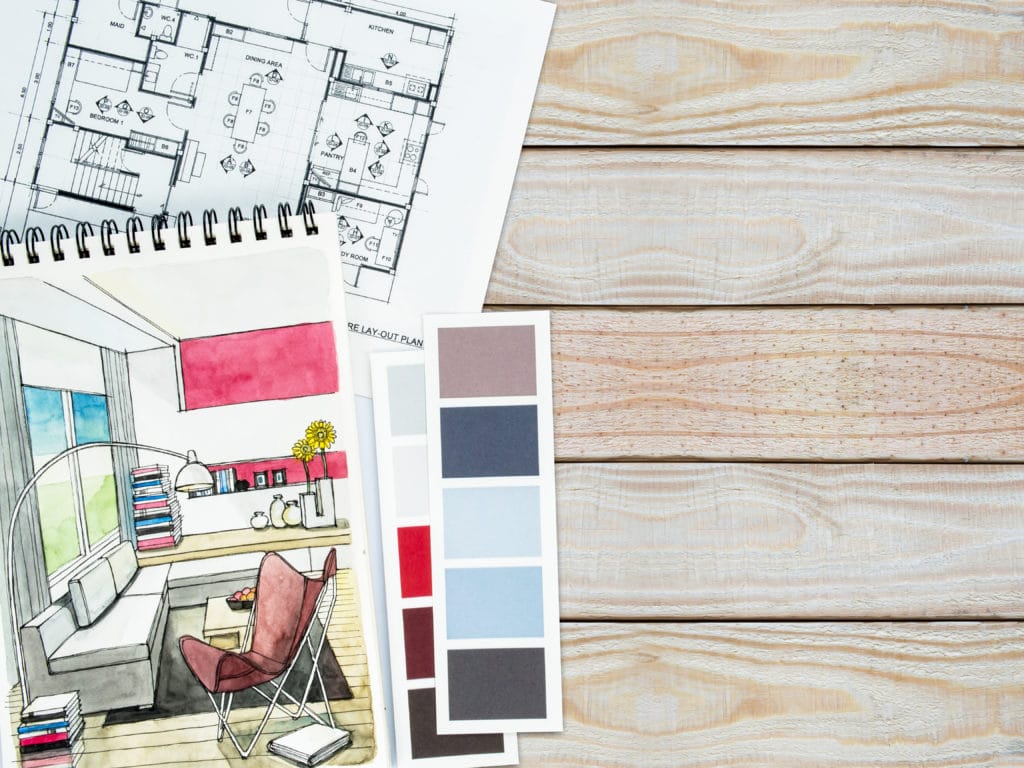 Grab your FREE Decorator's Easy Cheat Sheet
And learn the 7 essentials every room needs!
I cannot have my new white cabinets looking yellow!
So, I was sad until all of my Instagram and Facebook friends reminded me that they sell clear incandescent bulbs. Duh!!
Update: I've found the perfect Edison-style bulbs that don't give off too much of a yellow glow and they look great!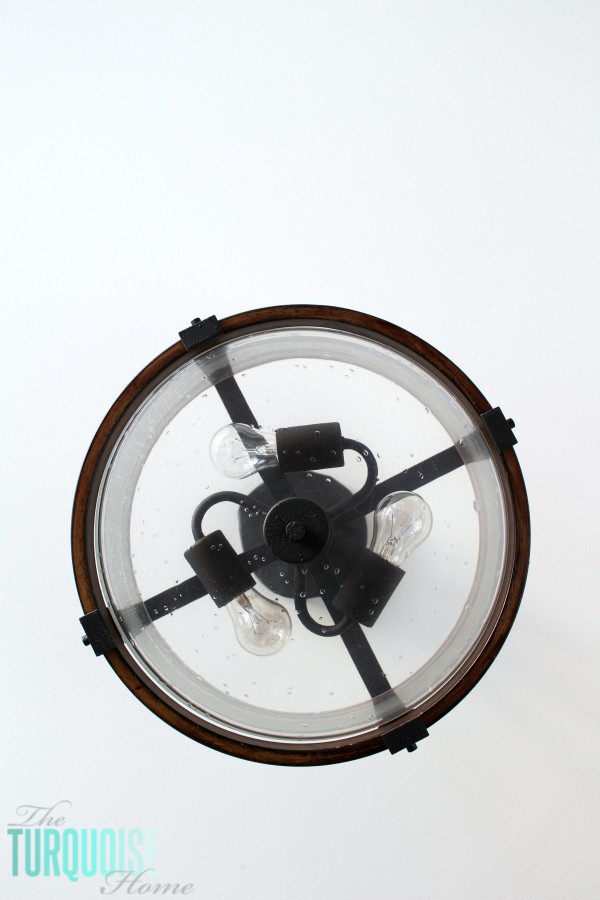 Problem solved! Bright, white lighting and the bulbs look good in my new fixture. I bought 60 watt bulbs, because that's what I always buy. But with clear bulbs and a clear fixture, it's a little too bright for my liking. I'll probably go with 40 watts next time. 🙂
Now, the new lighting in my eat-in kitchen!
I found this awesome, inexpensive chandelier on Amazon. It's simple, and perfect for my space.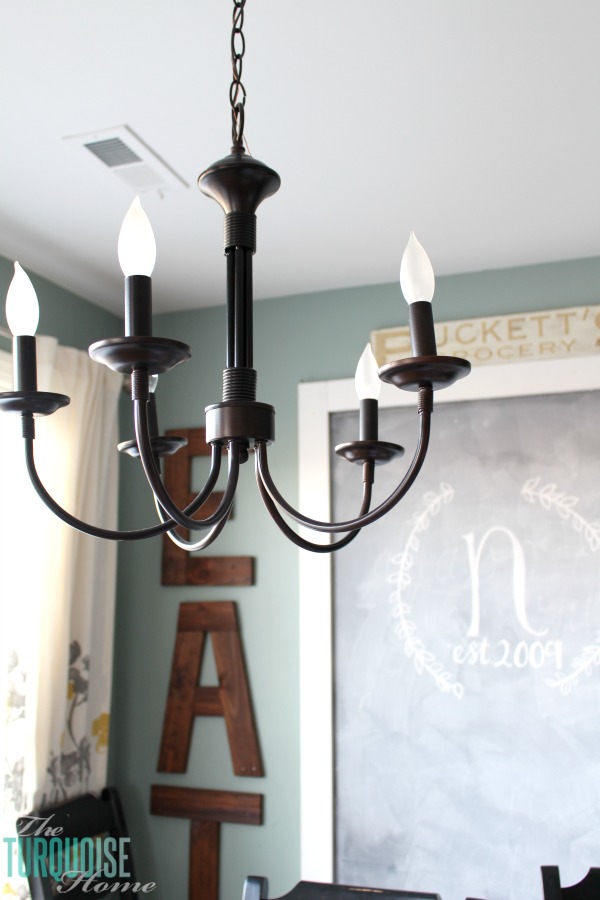 I'm thinking about adding some jute to the middle section to just give it some texture.
They also sell an 8-light chandelier and 4-light chandelier just like it, if you need a different size I thought about going with the larger light, but decided the smaller one would work just fine.
Whatcha think?
I'm so excited that another project is checked off the list for the kitchen. I used my Christmas money to buy these, so I'll have to wait until my birthday next month to make some more big changes. 🙂
Want to see my home goals for this year and what all I'm hoping to accomplish? Click here.
I rounded up my favorite budget-friendly farmhouse lighting, which I think you will love!! They are all less than $150. Whoop!! {Click HERE!}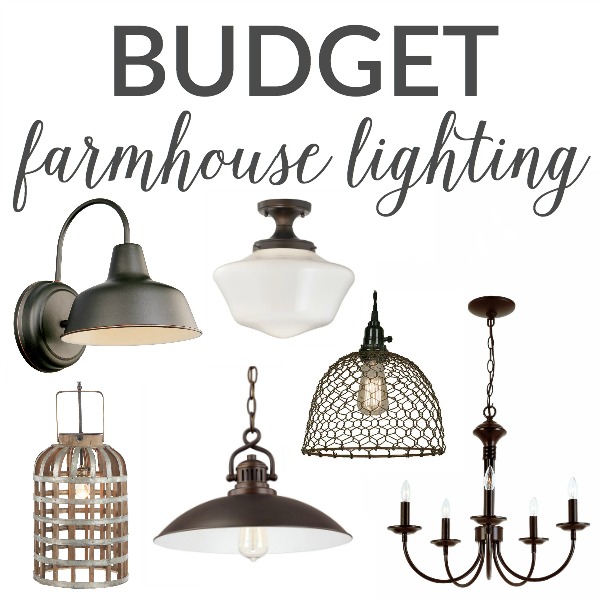 You may also like: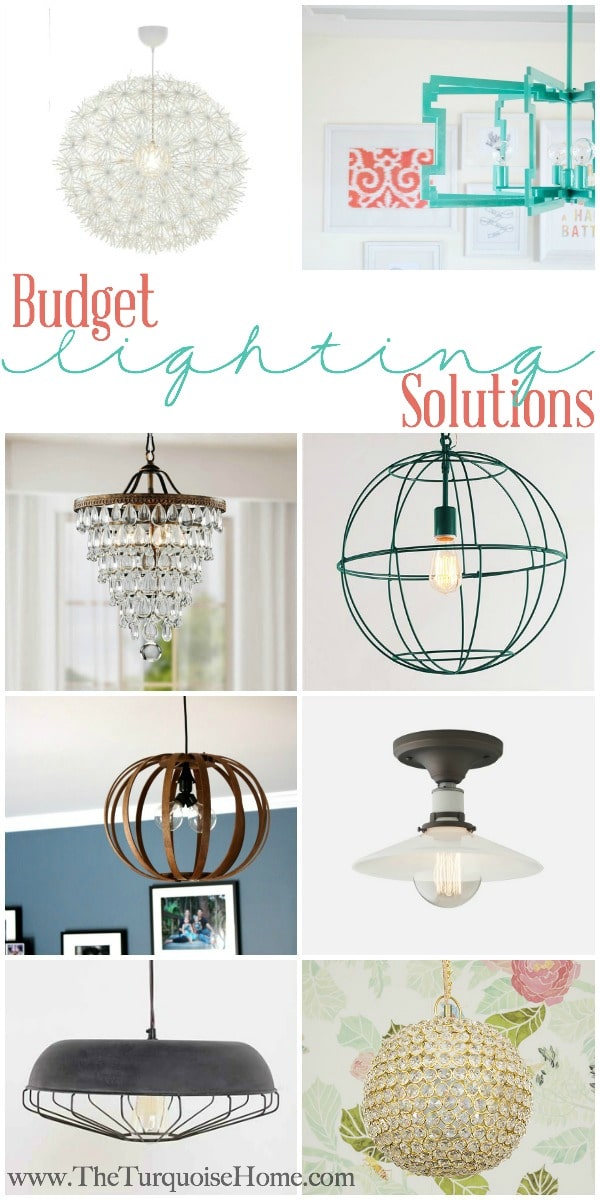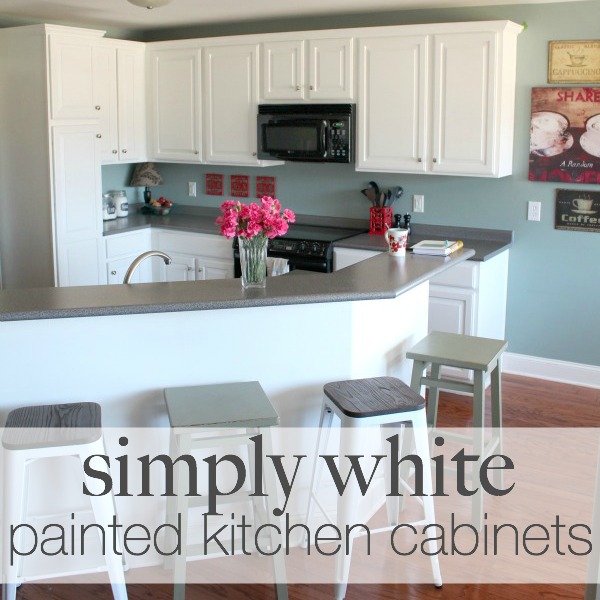 Simply White Painted Kitchen Cabinets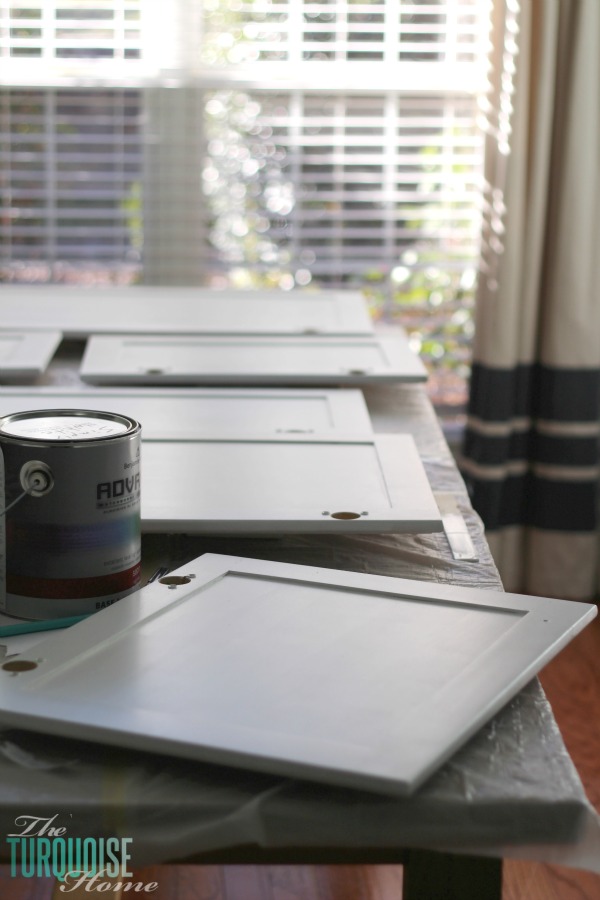 How to Paint Kitchen Cabinets without Fancy Equipment
Disclosure: This post includes affiliate links, which does not mean you pay a penny more when purchasing through my link. It means that in helping you easily find some of my favorite products, I receive a small commission if you purchase. Thank you so much for supporting The Turquoise Home! {P.S. I only share products I truly love!}