Hey hey hey!! It's another day of Christmas decorating at The Turquoise Home and I'm so excited to welcome you into my kitchen! I love to redecorate my chalkboard every season, but I rarely decorate my actual kitchen, much less share about it here.
Other than paint the walls, we haven't touched the kitchen since we moved in almost 3 years ago. But it's high up there on my wish list of things to do. The only problem is that it'll take a large chunk of money and until I'm ready to save up for it and pay cash, I'll just keep putting it off. The thought of painting all of those cabinets on my own kind of intimidates the heck out of me. And tiling? I've never done it before, so that intimidates me too. So, we'll see.

In the meantime I've decided to embrace my less-than-magazine-worthy, but very functional and wonderful kitchen and share it dressed up in a little bit of Christmas decor.
First off, the view from the eat-in kitchen area. It's not a huge kitchen, but I am blessed to have it! I already have a few pops of red in here, so I just continued with that a little bit. I'd like to phase the red out, but for now it's one of the few rooms that still has some red 365 days a year. 🙂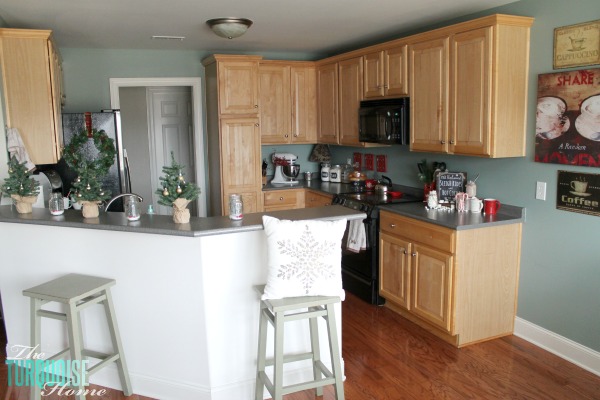 What's a Christmas kitchen without a hot chocolate station? Definitely a must here in this kitchen. I may or may not indulge in a cup of hot chocolate every night. It's my grandmother's recipe and it's so rich a creamy. If you try it, you will love it!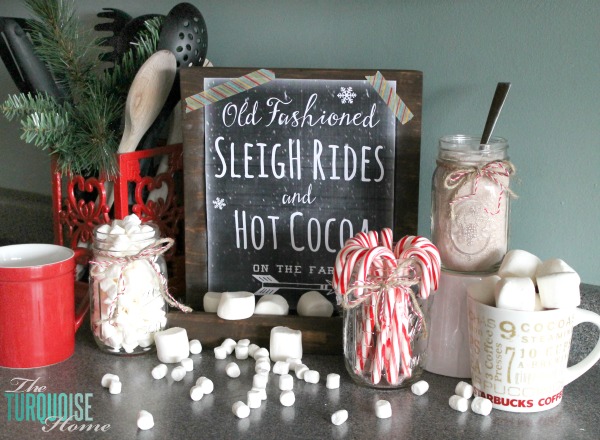 By the way, isn't that the cutest printable? My theory this Christmas has been that if you wait long enough all of your bloggy friends to make the cutest printables and then you can fill your home with them! I've seen so many great ones and I've snagged a few for my kitchen. This Sleigh Rides and Hot Cocoa printable can be found at Clean and Scentsible.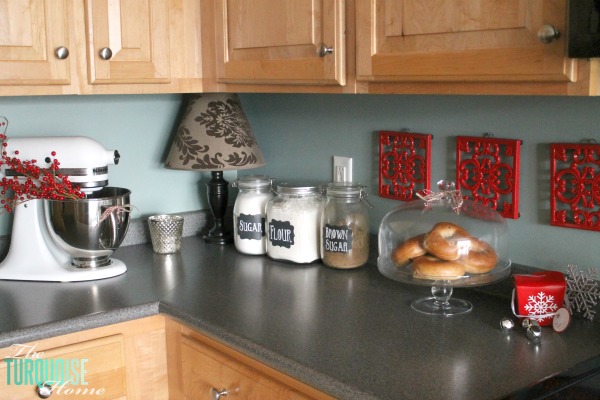 I pulled out my Kitchen Aid mixer and am ready to whip up some Christmas cookies this morning with my girl. I love doing these fun seasonal traditions with her. I know she'll be doing a lot of the frosting and sprinkling, so who knows how they will turn out. But most important is that we're spending quality time together – and … that we're eating sugar cookies! YUM! Gotta keep my baking supplies close, so I love my glass canisters with chalkboard labels.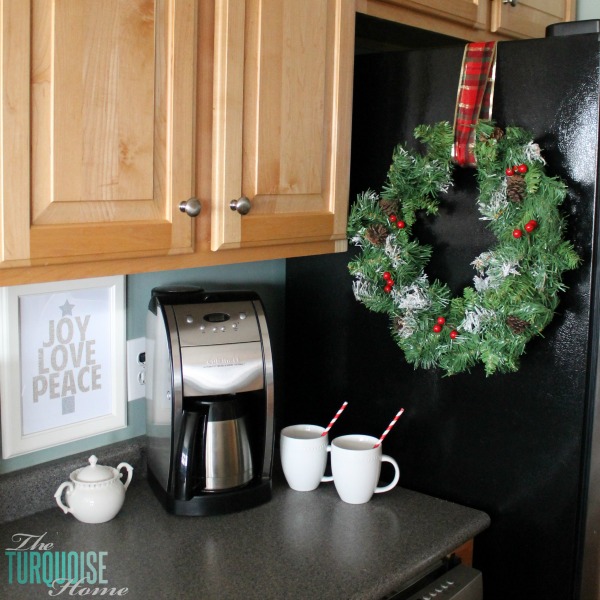 I love this little coffee area in our kitchen. We keep the actual coffee, filters and mugs in the cabinets, but I thought I'd dress it up with this Joy, Love, Peace printable from Yellow Bliss Road and a festive wreath. I normally keep my Christmas card photos on the side of the fridge, but now that I have my Christmas card display holder, I have moved them all there. I'm digging the cleaned off fridge.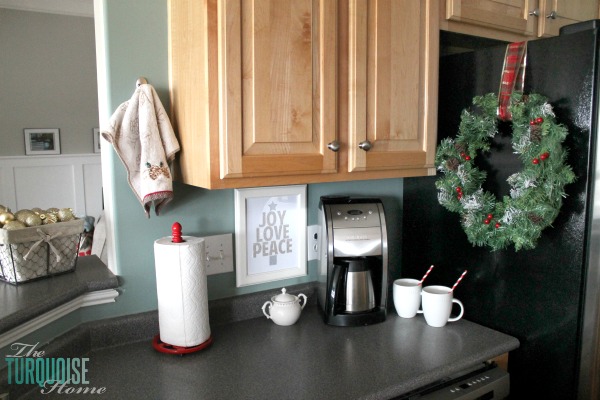 I love my open floor plan and how I can wash dishes as the sink while admiring my mantel and little Christmas tree. It also doesn't hurt that I can watch football from this view point, too. 🙂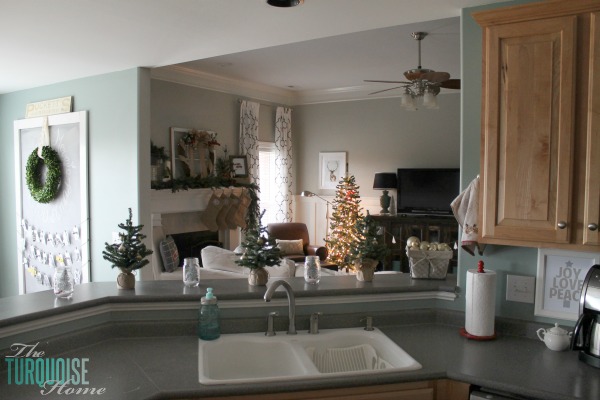 I added some little faux trees from the Target dollar spot and some bottle brush trees from Walmart to mason jars on my bar countertop. Oh and I love to decorate with gold sparkly ornaments, so you'll find them corralled in my home in numerous places. So festive, but so cheap! I tend to always pick up more in the after Christmas sales every year. #cantstopwontstop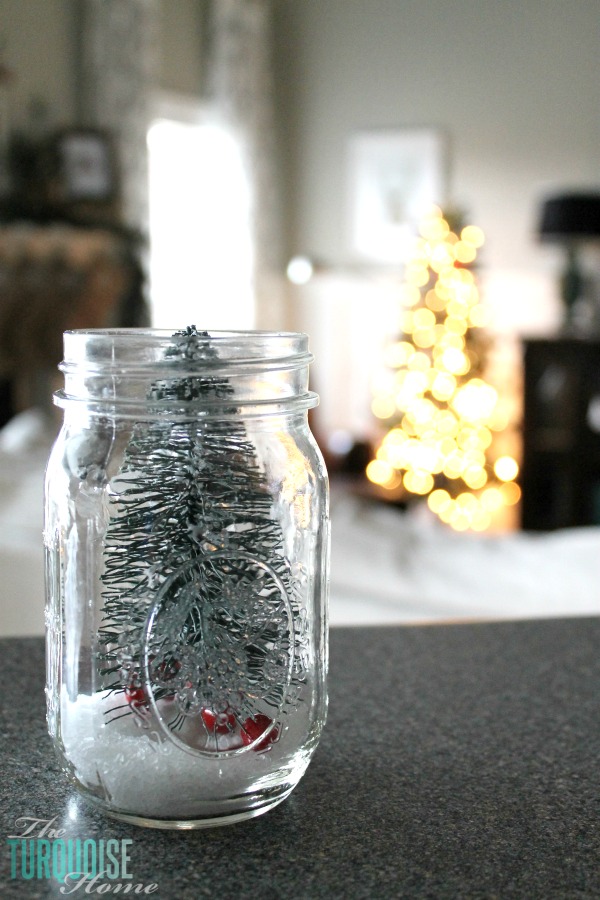 Looking from my kitchen into my eat-in dining area, you'll see my fun little huge Christmas chalkboard. Like I said, I love changing it out for every season. My writing isn't perfect this go-'round, but I kind of love the imperfectness of it. And … I'm too lazy to change it. Ha!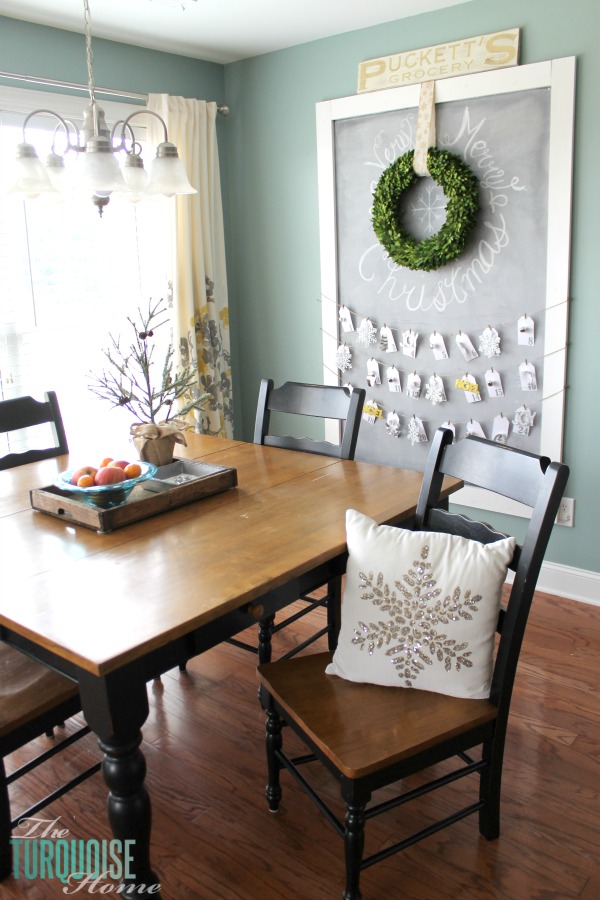 I've loved having a boxwood wreath and knew that it would look perfect on the chalkboard for Christmas.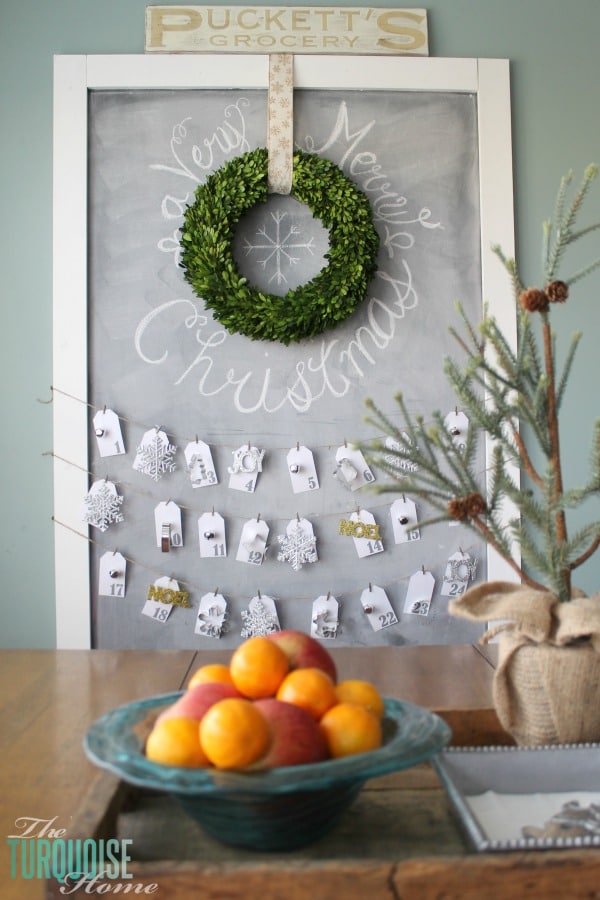 I know that we've already passed the first of December and my advent calendar should be nearly half empty by this point, but I'm just leaving them alone this year cause it's pretty. I think next year we'll set it up before the beginning of the year and then put an ornament on the tree every day. I haven't told Miss A what it's all about and she's left them alone, so I think I'll let sleeping dogs lie this year. Otherwise I'll hear 100,000 times a day "can I put another ornament on the tree???"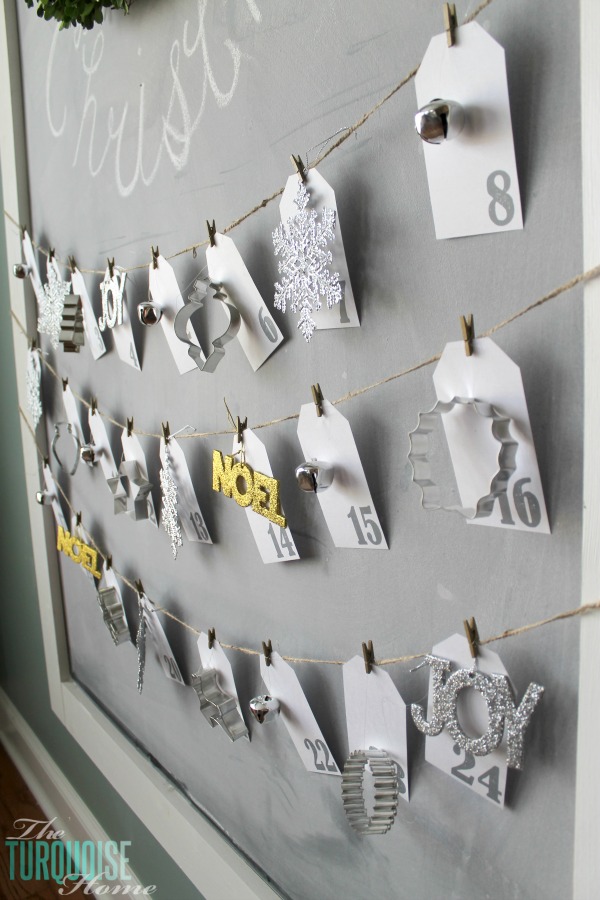 The advent calendar cards are another free printable from The DIY Mommy. Love those free printables! And I ordered the gold mini clothespins from Amazon. They are just the cutest!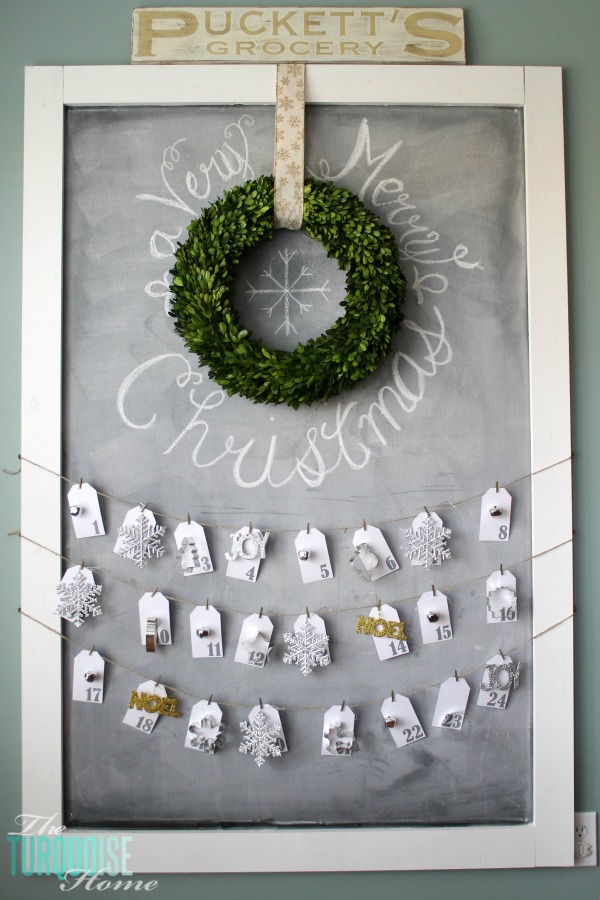 Thanks for coming to my Christmas kitchen today! I've loved showing you around. And I hope you've seen that it doesn't have to be magazine-worthy to embrace and decorate your home.
Do you add Christmas touches to your kitchen? Or do you go all out??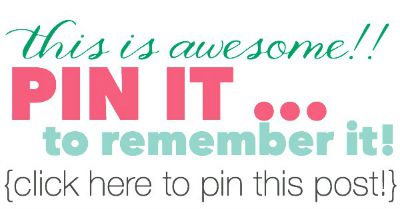 Disclosure: This post includes affiliate links, which does not mean you pay a penny more when purchasing through my link. It means that in helping you easily find some of my favorite products, I receive a small commission if you purchase. Thank you so much for supporting The Turquoise Home! {P.S. I only share products I truly love!}