Adding a New Stair Runner
Adding a stair runner to our wooden stairs adds texture, style, comfort and safety to our home. We love how it makes the stairs quieter as well!
If you follow me on Instagram, you saw me go round and round about this seemingly simple update to our home. Ha! But I'm happy to say that it's done and I love the results! (So does my whole family.)
Let's take a look at how the stairs looked originally.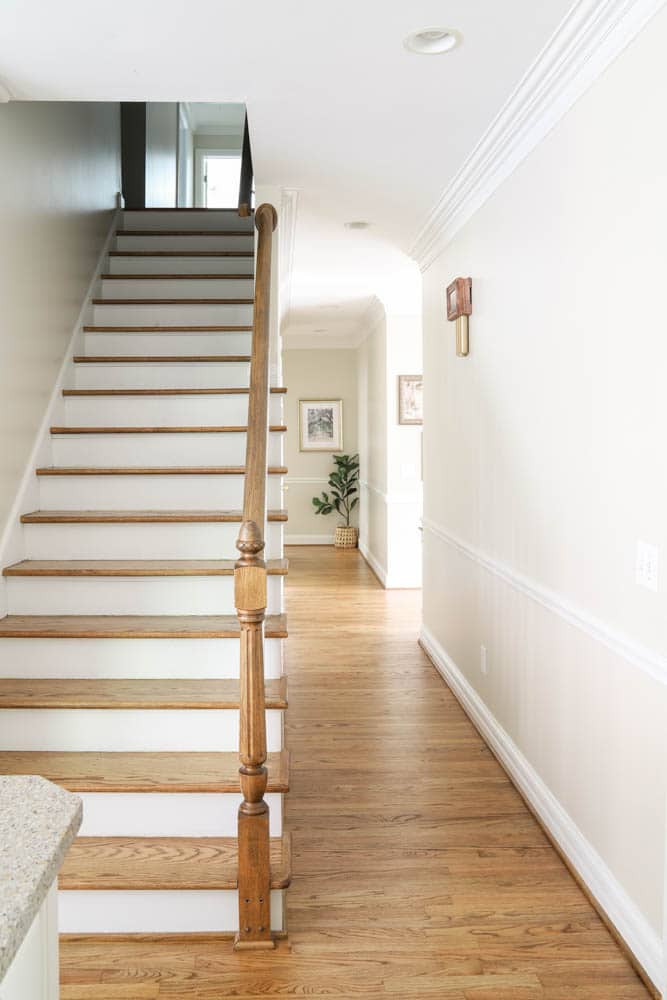 These stairs lead into our kitchen, which I was unsure about how I would like that when we bought the house. But I love them! It's so easy to talk to anyone upstairs because the kitchen is the hub of our home.
Since they come right into the kitchen, I'm including this runner in my kitchen makeover plans. It's not mentioned in the original post, but I've shared about them in subsequent home goals posts. 🙂
Why Did We Need a Stair Runner?
I got several comments that we didn't need to cover up our beautiful hardwood stairs with a runner. But after several people (including our children) slipped on our stairs, we decided that for safety reasons it was the right decision.
One of my daughter's first reactions to the new runner was, "yay!! Now we can wear our socks on the stairs!" The girls have been too afraid of falling down the stairs to wear socks on them–until now!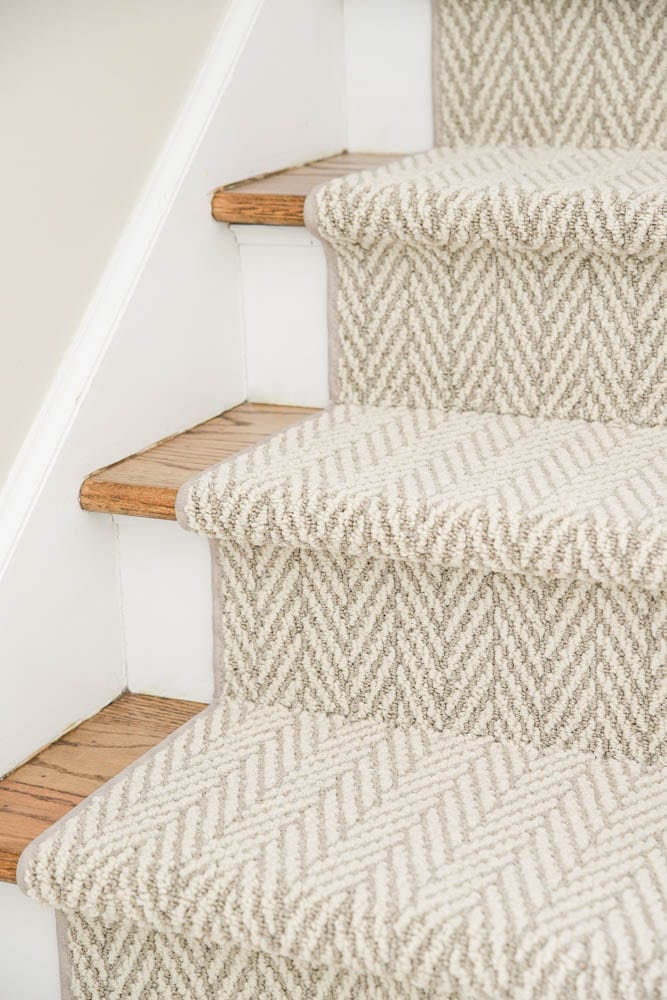 Three of our bedrooms are on the 2nd floor, including our guest bedroom, and I hated the idea of my parents–or any guest–ever slipping and falling down the stairs. And if someone still falls down, at least the stairs will be more padded now.
I also loved the idea of adding some texture and pattern to our kitchen space. The stairs come straight down into our kitchen and I've been finding as many ways as possible to personalize this space.
The good news is that if we ever decide we don't want them, we can pull them out and touch up any holes. There was carpet on these stairs before we moved in (the previous owners removed it and refinished the stair treads). And while I can see the marks from where the carpet was before, it was fine!
Which Carpet Did We Pick?
After trying to find a more affordable options, like sisal or a pre-made runner, I ended up with the first carpet I loved: Anderson Tuftex Only Natural carpet in the Plaza Taupe color. It goes perfectly with our Edgecomb Gray walls and I like that it's got a herringbone pattern, but doesn't feel super busy or loud.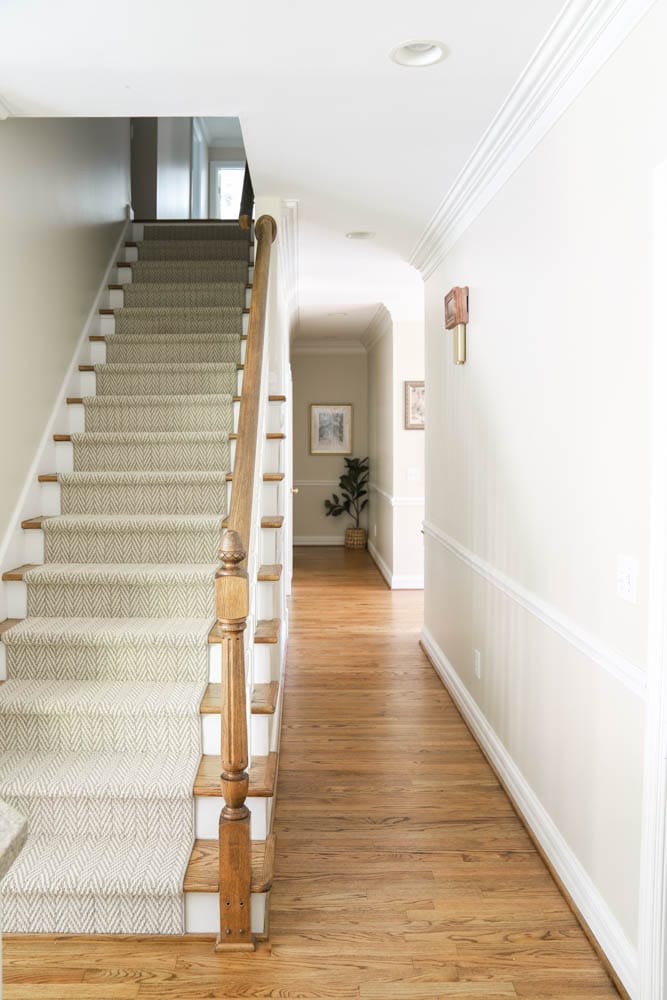 After I ordered samples from a sisal rug company, I was worried they would feel to rough. And my kids love to sit on the stairs and talk to me while I'm cooking. I wanted it to be comfortable for walking, but also sitting. In my research I also read that when sisal wears down it gets slick. So over time the sisal stair runner would get slick and possible still cause someone to fall.
I even ordered a sisal runner and was planning to DIY everything myself, but in the end I returned it and decided to go with carpet and not try to DIY it.
Some decisions we had to make before we ordered the carpet
How wide to make the runner? We measured our steps at the top and they are 37 inches wide. So, I chose a 30 inch wide runner, which left 3.5 inches on each side.
I also decided to center it on the top of the stairs. Originally I wondered if we should center it on the top or the bottom, but realized the open side of the stairs looks like the width of the wall when the runner is centered on the top of the stairs. It would essentially look really funny if it were centered on the bottom opening, as opposed to the top opening. Does that make sense?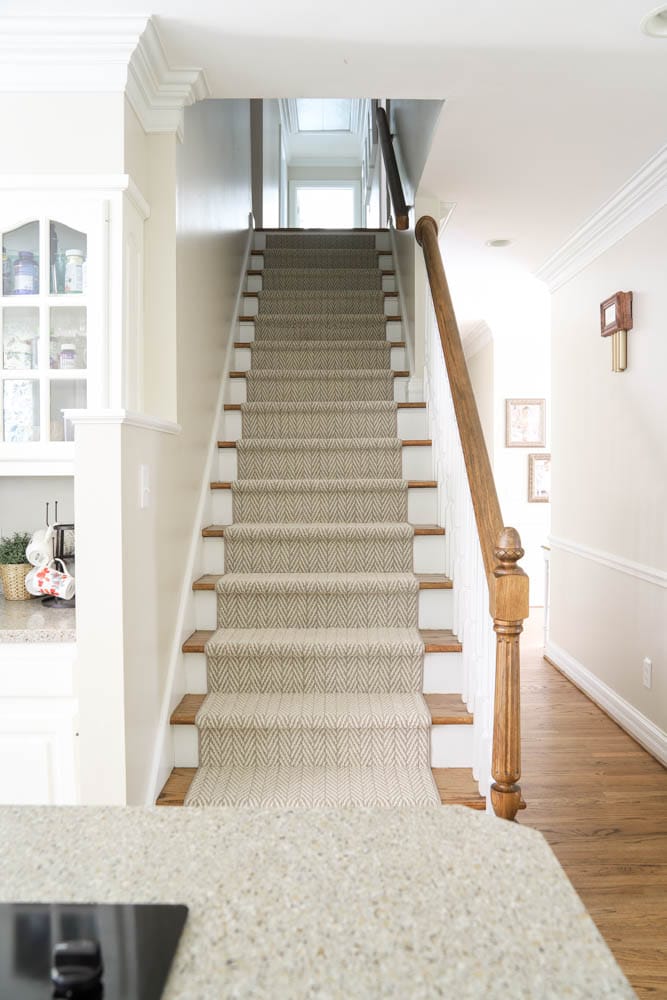 How do we plan on cleaning it? I've had several people mention that carpet is harder to keep lean that wood stairs. Obviously, right?! First, we have a "no shoes upstairs" rule, which we had even before the carpet. So that cuts down on tracked in dirt to start with.
But we will just use our Dyson cordless stick vacuum to keep it clean. It's the same way we always keep the stairs clean. We've had that stick vacuum for 3 years now and I still use it daily. Love it!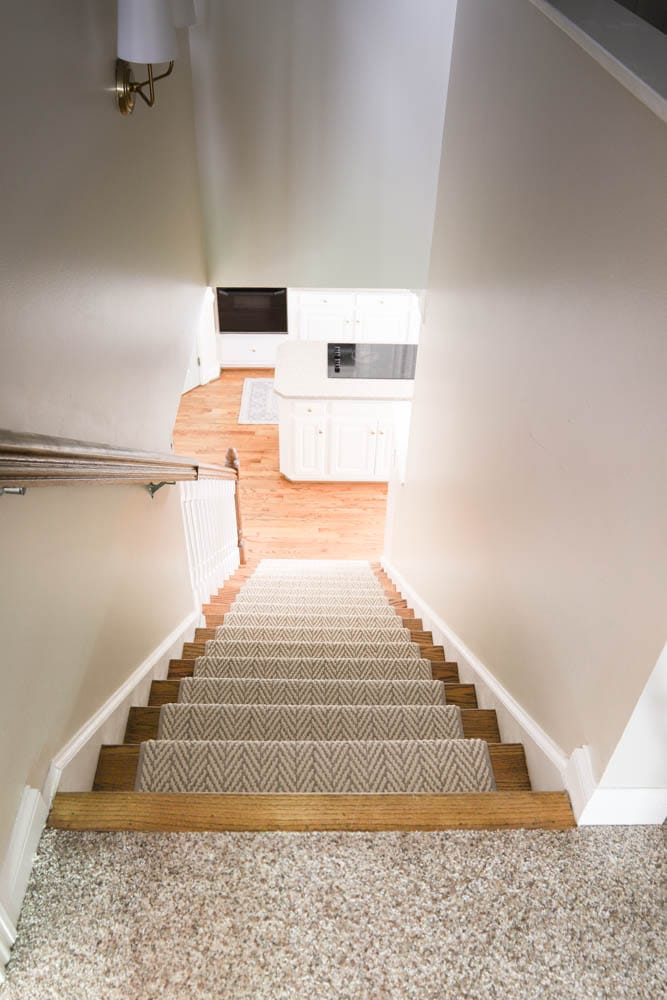 Stair Runner Installation
I'm a DIYer at heart and knew I could do this myself if I were going to order a pre-made runner and just have to cut it once in the middle. No problem! So many other people have done this themselves.
When I ordered the carpet, I learned that the binders had to "seam together" (is that a thing??) the carpet every 3 steps. So, I decided to hire the carpet company's installer to do it for me. I didn't want to mess it up! In the end, I'm glad I did this because the guy who ordered the carpet didn't order enough and had to order more out of his pocket.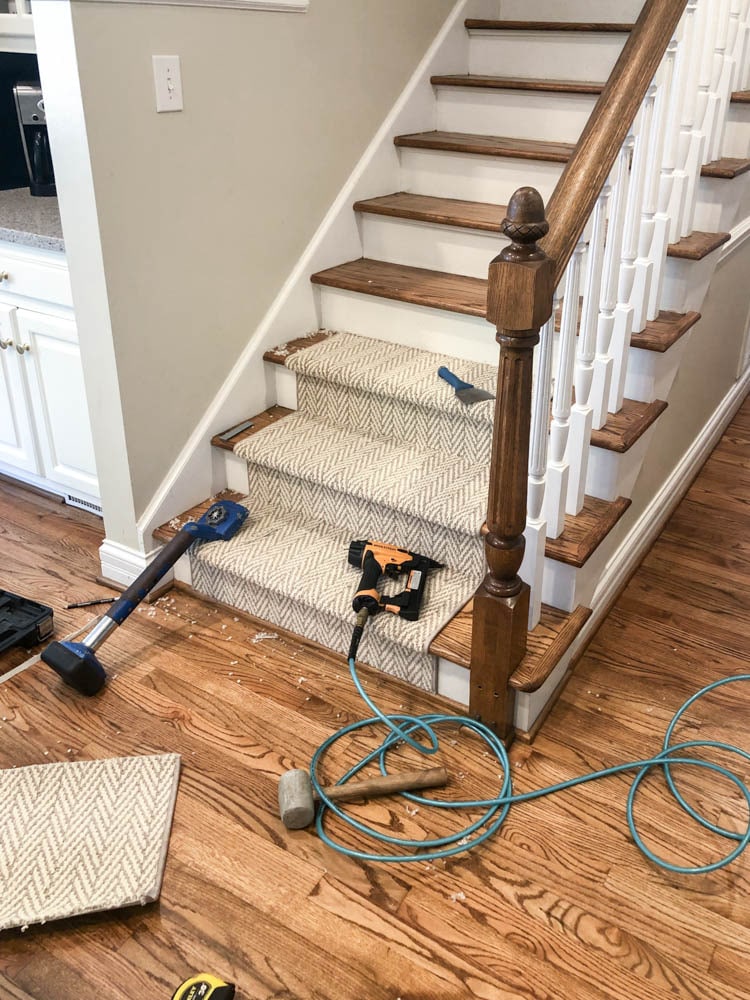 At the end of the day, when the installer came back to finish the last 3 stairs, he was in such a hurry that he didn't do as well of a job on them as he'd done on the first 12 stairs. But I was able to just take my staple gun and staples and fix what he had missed. It pretty much told me that I could have done it myself if I had taken my time and worked slowly.
If I ever had to do a stair runner again, I'd probably just DIY it.
In the end, I'm thrilled with how it turned out. I'm thankful we're one step further to being done with the kitchen projects. And I'm loving this view in my home! Now to figure out what to put on the walls in this hallway – if anything! We'll see!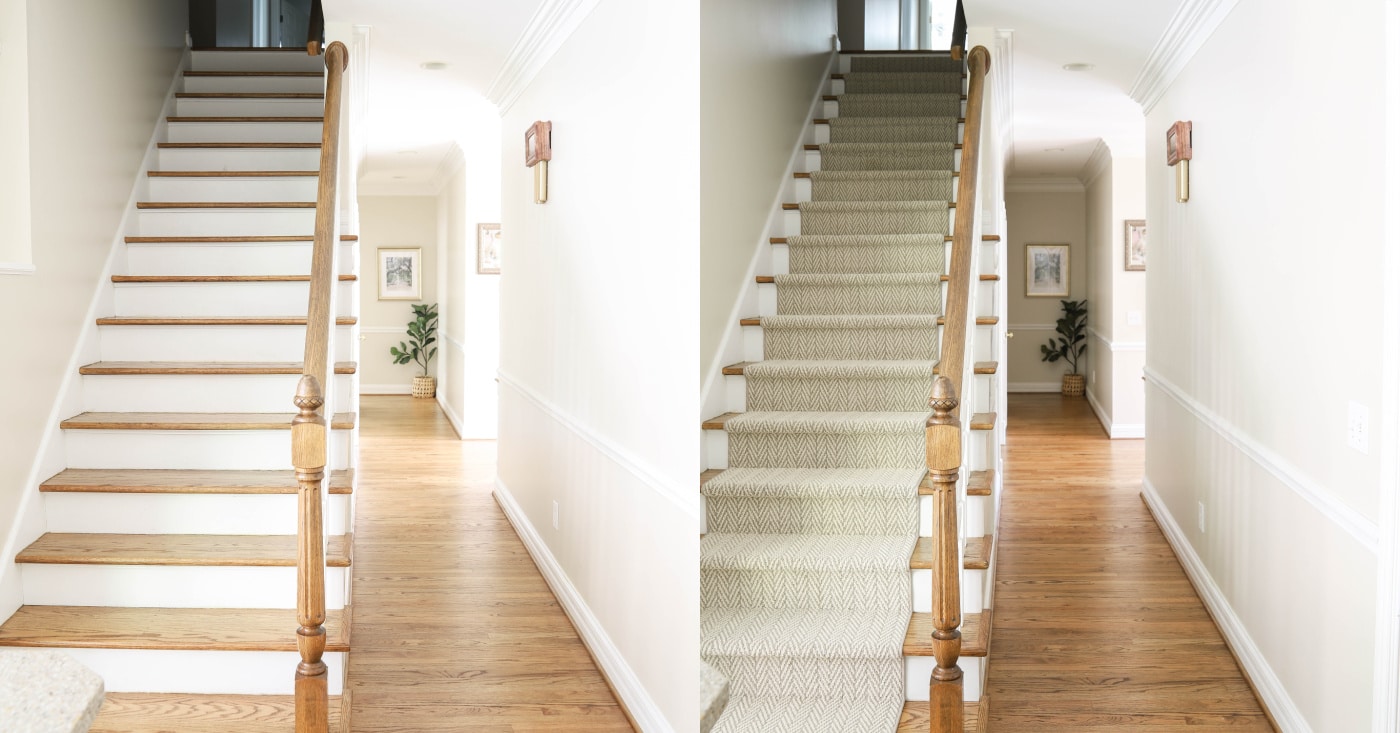 See More Kitchen Updates:
MORE POSTS YOU WILL LOVE: