This DIY flocked Christmas tree has all of my favorite farmhouse decor with cotton stems, lamb's ear, galvanized snowflakes, large simple ornaments and wooden beads. I've been planning it since last Christmas and I'm so happy with how it turned out!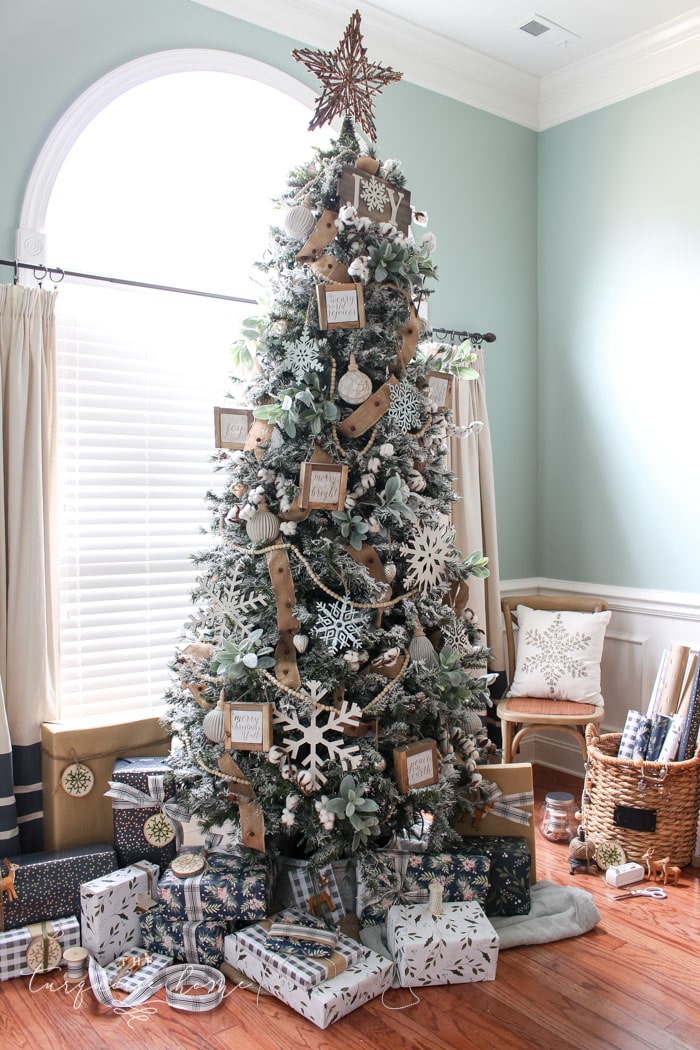 Every Christmas season, I really like to keep the same Christmas ornaments on my main tree and just change out the ribbon or add a few new ones each year. But this time I went in a completely different direction.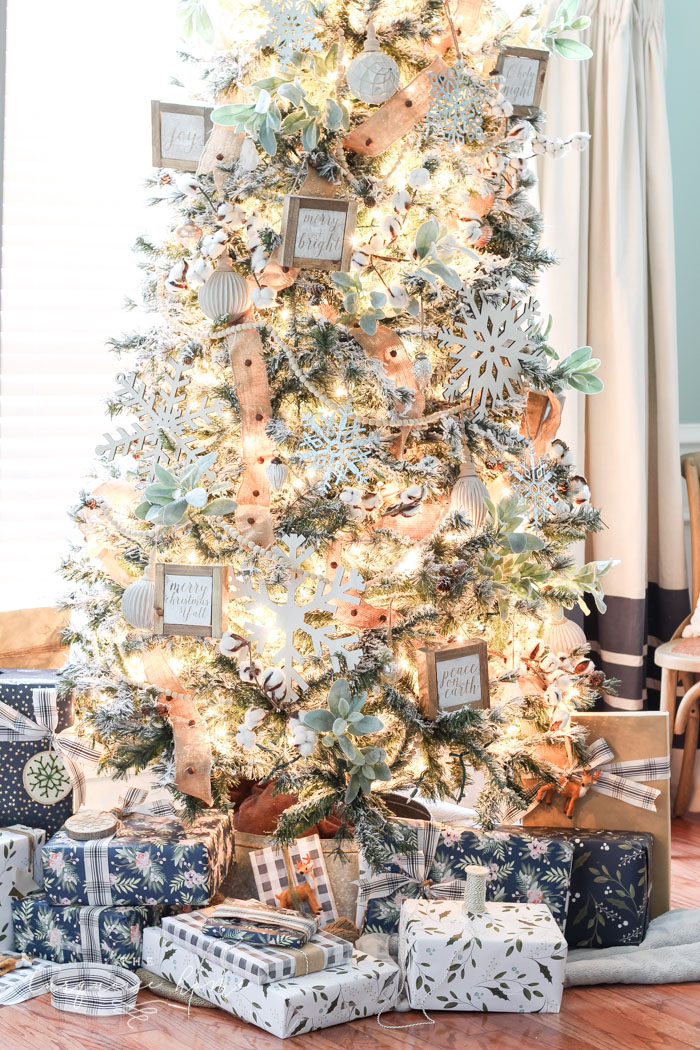 You can see my trees from 2016, 2015, 2014, 2013 and 2012. (You'll get quite an eyeful of some terrible photography back in the day, but I love looking back and seeing how far I've come. 😉)
I'll probably go back to my normal routine next year, but decided to change it up with a fun new look this year!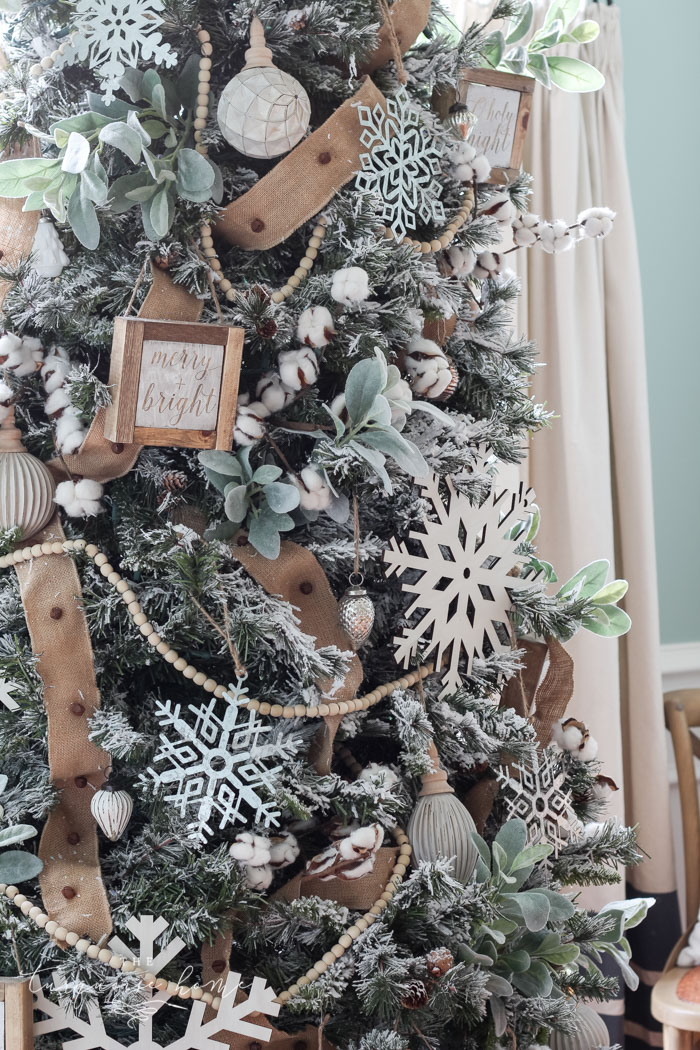 I started by flocking my normal, green pine tree that I got from Hobby Lobby a few years ago. Hobby Lobby Christmas trees are the great quality for the price for sure!
I couldn't justify buying a new tree when I had a perfectly good one, so I just did what any DIY girl would do and flocked it myself! (I don't usually buy pre-lit trees, because I find the regular trees without lights last longer since led lights will burn out.)
It was super easy and I love how it turned out. (I flocked another artificial Christmas tree that had just been sitting in the attic, too, because it's so simple and easy.)
Find the full DIY Flocking Tutorial here. (It's not heavily flocked, but I like the way it looks, so I'm good with it!)
This post contains affiliate links for your convenience. See my full disclose policy here.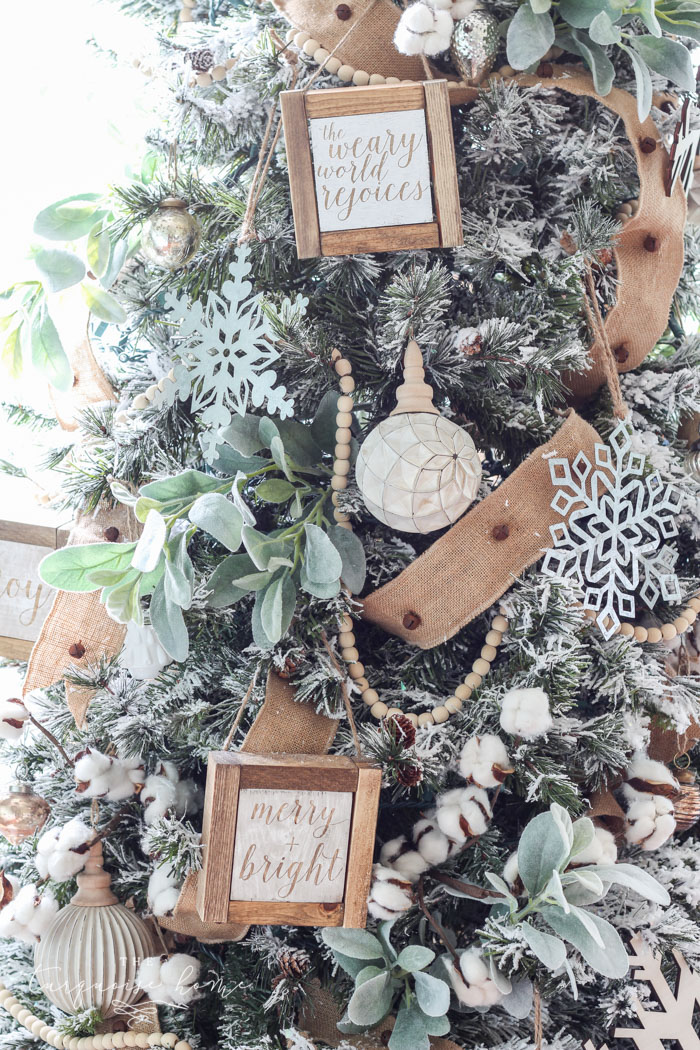 By the way, if you want to buy a Christmas tree that's already flocked, I've had this one in my living room for years and it's amazing! It's super budget-friendly, too! (And I know I said I don't normally buy pre-lit trees, I made an exception with this one.)
How to Decorate a Flocked Christmas Tree
My flocked tree features a beautiful new twig star tree topper from Pottery Barn a few years back. (It's now sold out, but this one is similar.)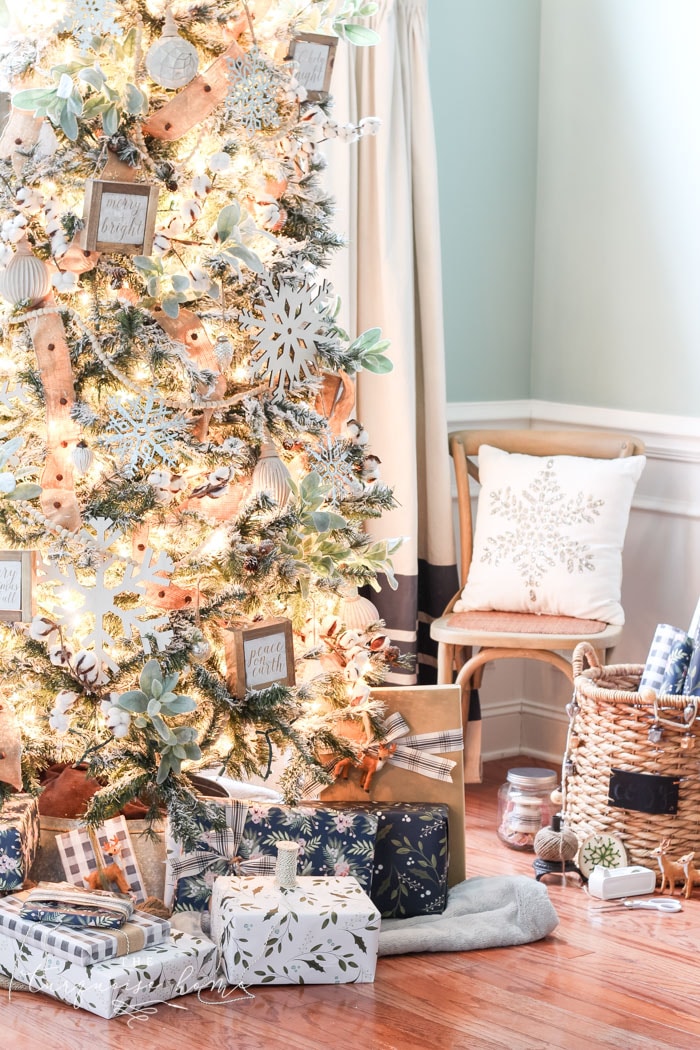 Once I was ready to decorate the tree, I started with my burlap jingle bells ribbon. I like to have it look like it's cascading down the tree and kind of jump around. So I cut it into smaller pieces and tuck it into the tree and weave it around.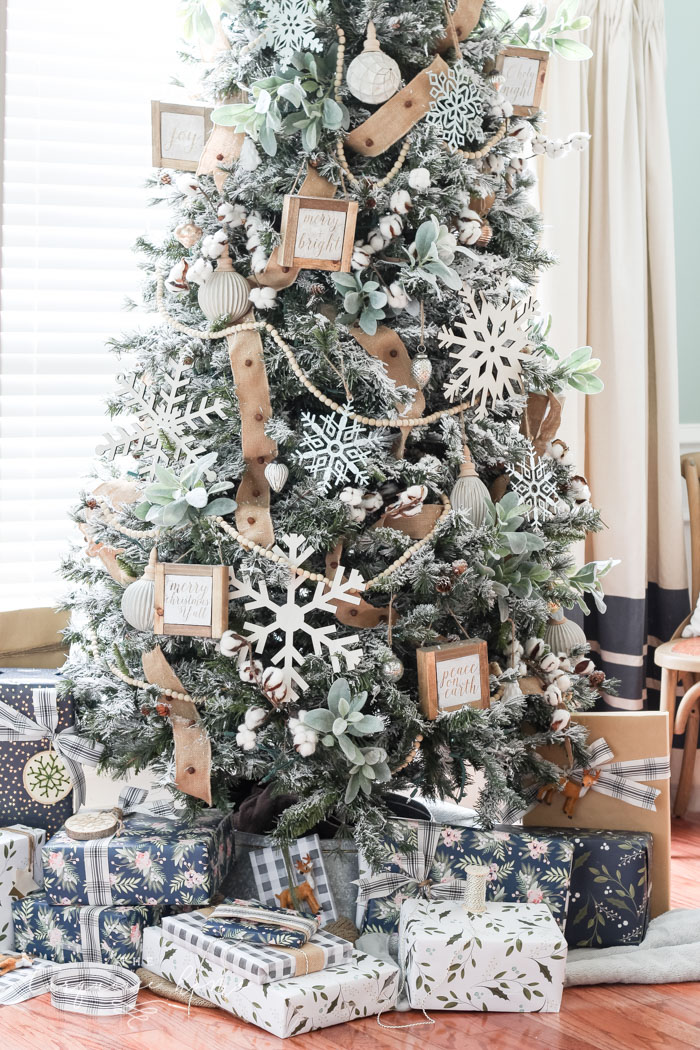 Then I took my natural wooden bead garland and draped it across the front of the tree. I just had enough to cover the front, so it's actually not on the back of the tree, which is fine!
I placed my largest ornaments on next, which are the DIY wooden sign ornaments (full tutorial here) and the large wooden snowflakes.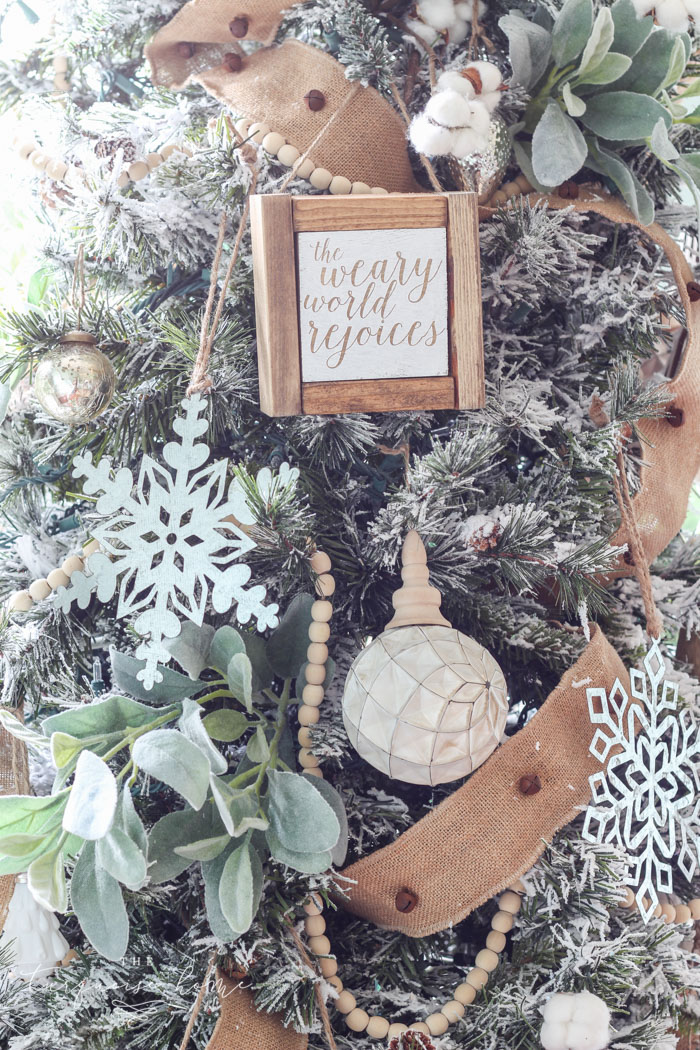 Then the galvanized snowflakes, which I LOVE. They are from Kirkland's a few years ago. I can't find them this year, but they have other similar & great options!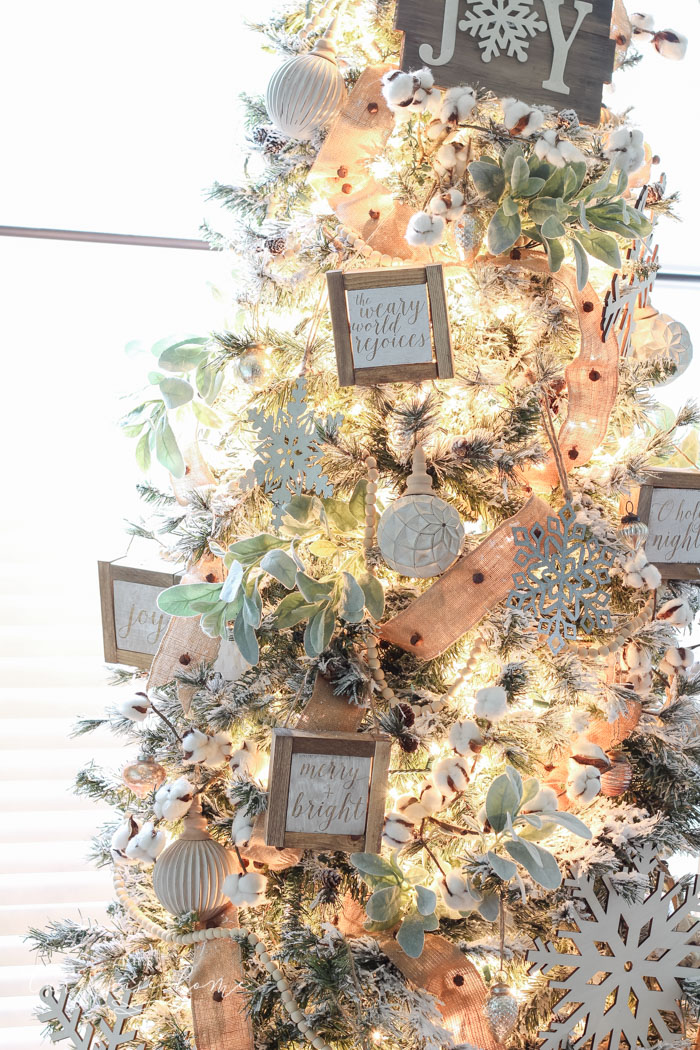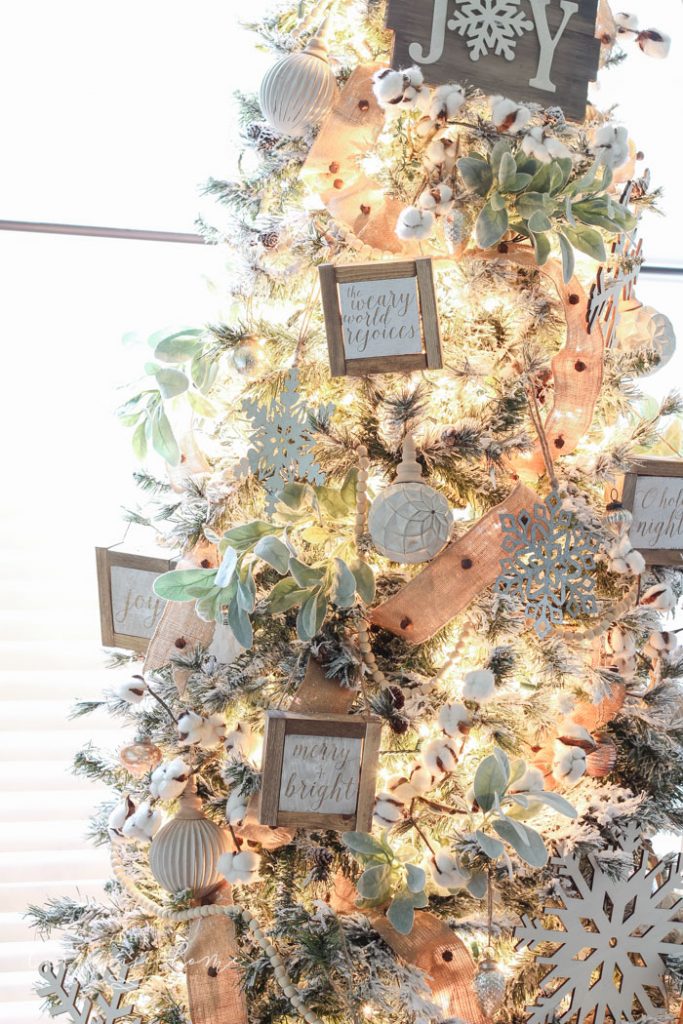 The large globe wood and glass ornaments are from Kirkland's, too as well as the "JOY" sign at the top. I bought a bunch of other large wooden plank signs, but they didn't look quite right. My tree is a "slim" tree, so there's just not a ton of space for ornaments.
I've now put a sign at the top of my tree for the past two years and plan to do it again. I just love the look on a farmhouse Christmas tree. I've rounded up some new signs that would look so cute on any tree!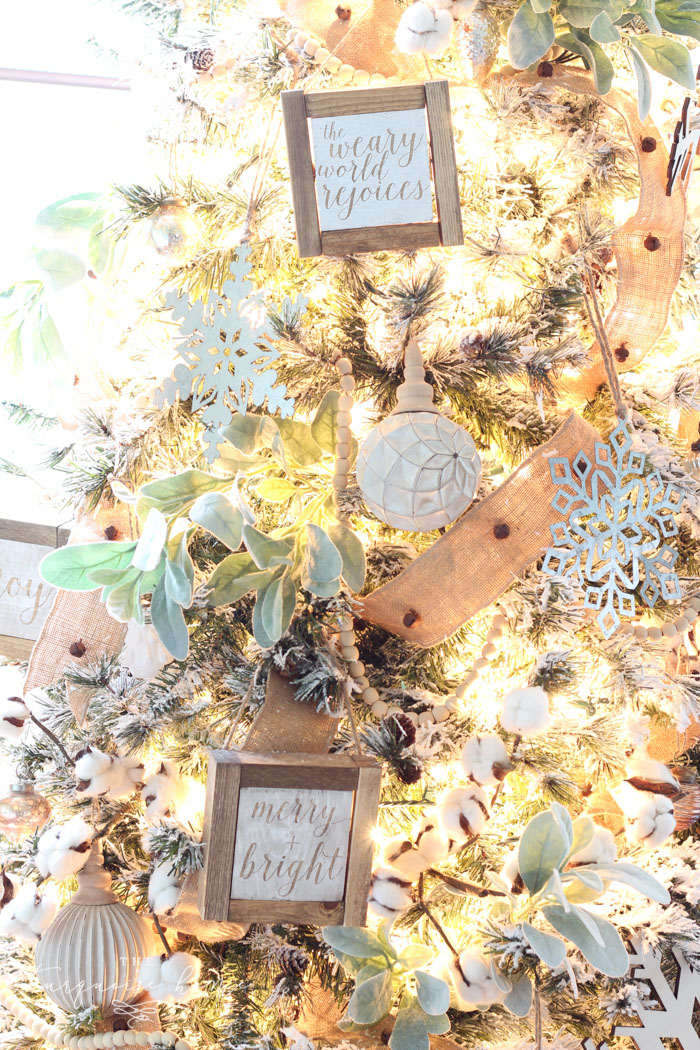 I added some of my old mercury glass ornaments that I've collected over the years for just a touch of sparkle and bling.
Then I filled in all of the empty spaces with lamb's ear stems and cotton stems.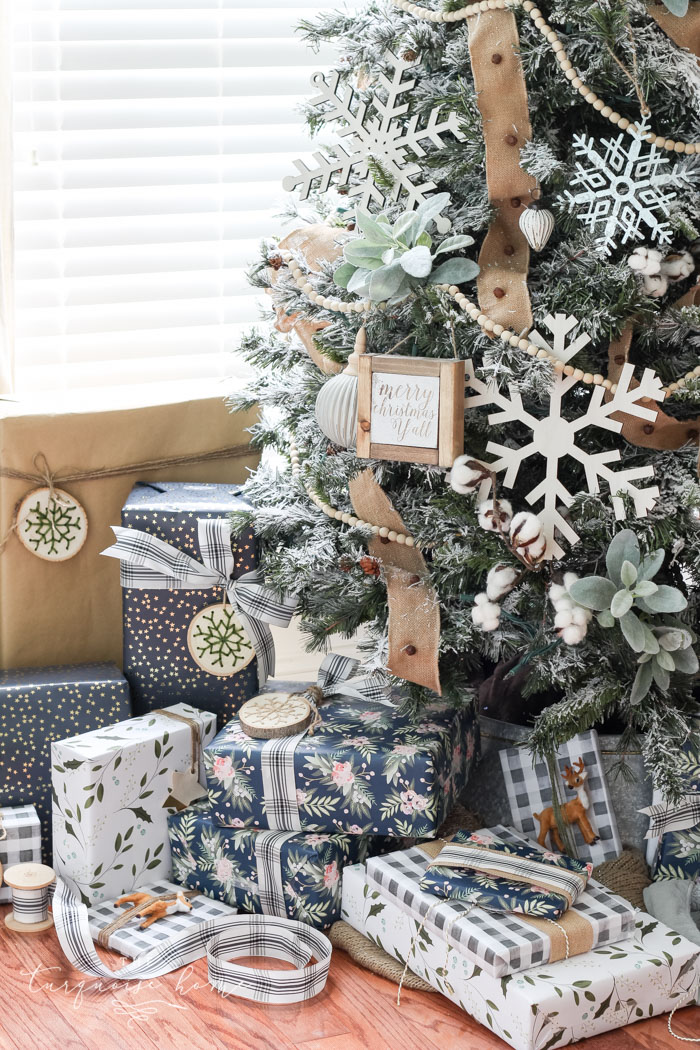 To top it off, or rather "bottom" it off in this case, I grabbed a galvanized tree collar that's hard to see in any of these photos, but I assure you it's gorgeous! 😂
All for a pretty neutral, natural farmhouse looking Christmas tree! I'm in love with the results this holiday season.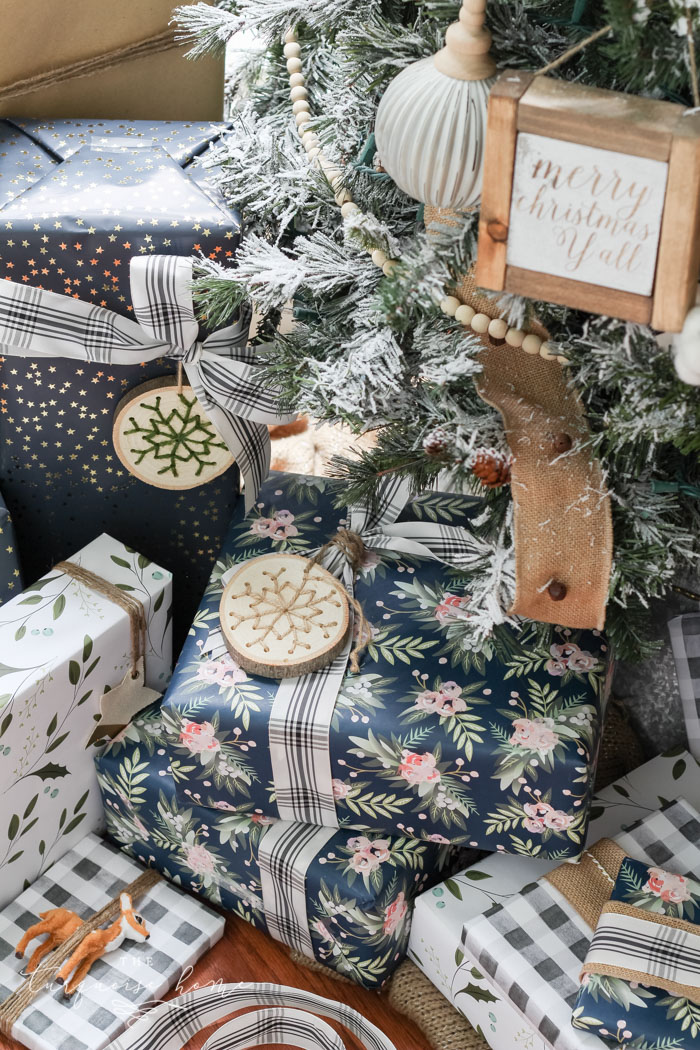 I love the wrapping paper, too, and how it looks with the tree. If you want more info on the wrapping paper or my tips on creating simple, but gorgeous wrapped gifts that also double as home decor, then click here!
What do you think of my non-traditional neutral, farmhouse-style, white flocked Christmas tree? Would you create a tree like this in your home?