A simple Christmas mantel with green and navy decor can be beautiful for the holidays. I'm so excited to use mostly items I already had to create this festive look!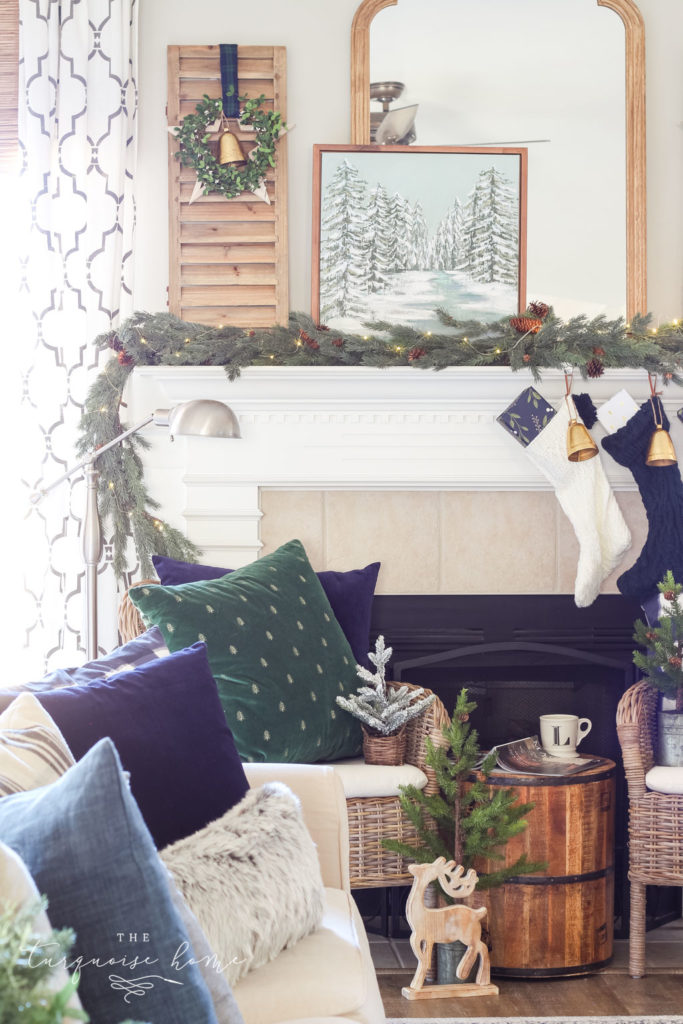 After years of decorating my mantel and changing it up completely each season, I have finally found my favorite way to change it up without starting totally from scratch. (Right before we move, of course.🤣)
This post contains affiliate links for you convenience. See my full disclosure policy here.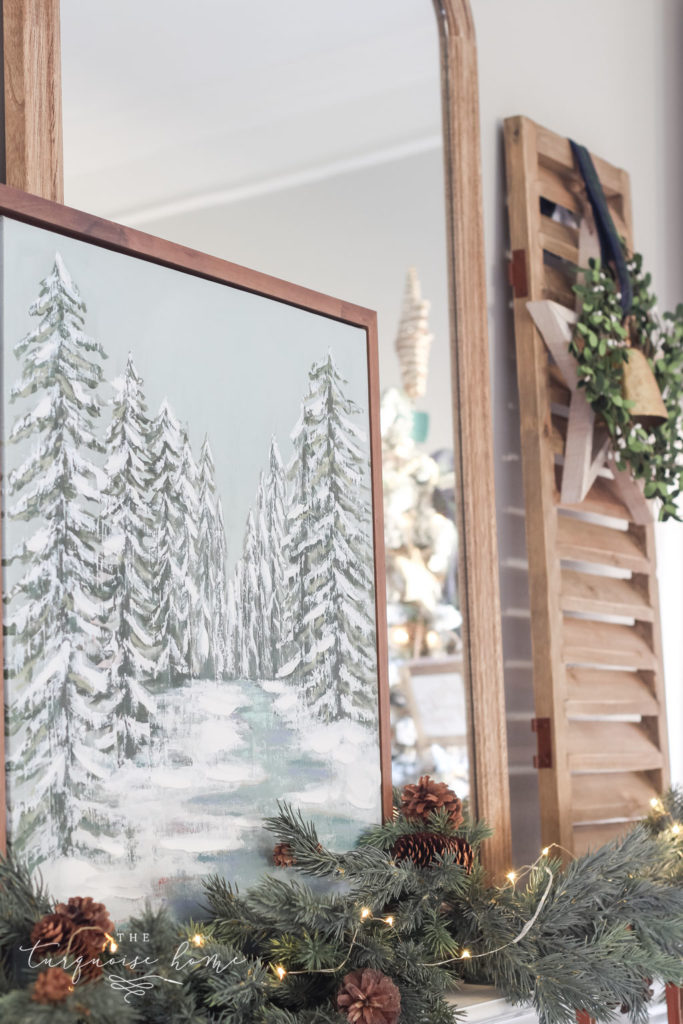 The mirror and the shutters! I love the mirror when I put them it there this summer and then I added the shutters when I decorated my fall mantel. And now I'm leaving them up for Christmas, too. So, my advice to you would be find an anchor piece, like a mirror, that you can leave up year 'round and decorate around it.
Adding a little bit of decor to my mantel now is a whole lot less daunting than starting with nothing, you know?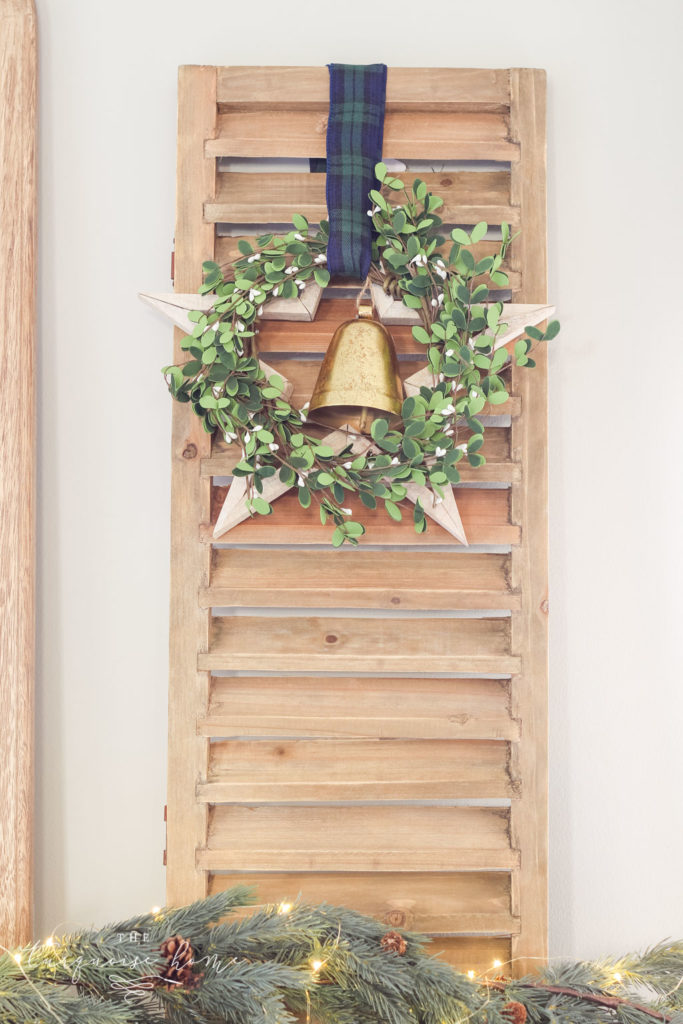 It can work the same way with a TV above your mantel, as well! Maybe having a giant black box over the fireplace isn't such a terrible thing after all. It helps to narrow down your decor options, right? Ha!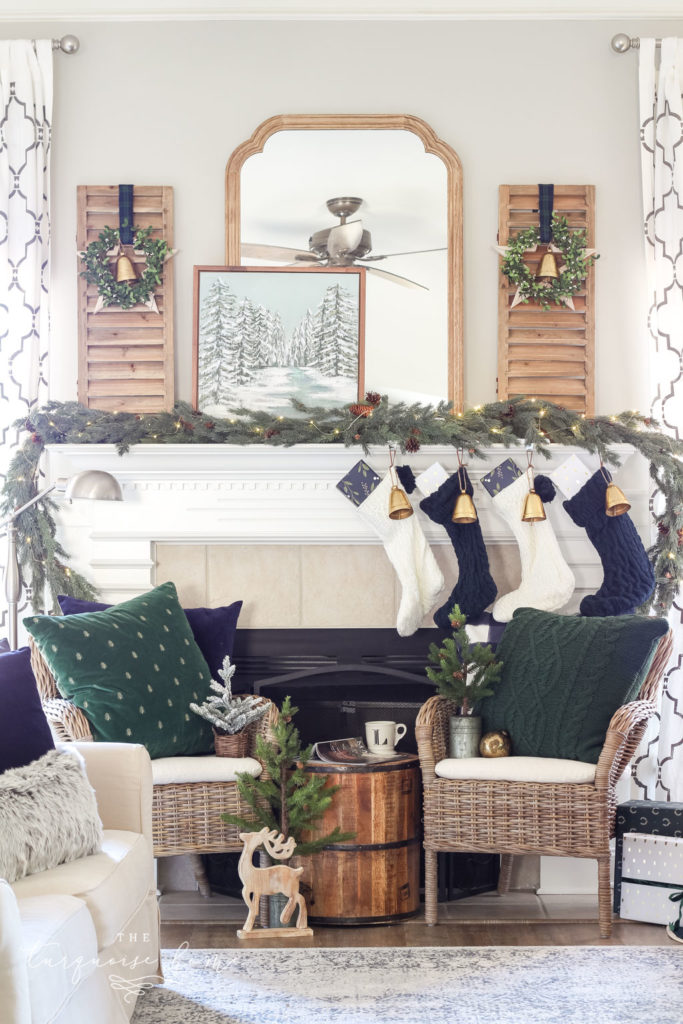 And in a nostalgic, slightly sad, twist–this is the last time I'll get to decorate this mantel as we're moving next week and my new mantel will be much more ornate. Annnndddd… according to my husband, will also have our TV above it. 😳 So, I'll be joining most of the rest of the population and trying new ways to decorate around a TV over my mantel. Heyyyyyy!!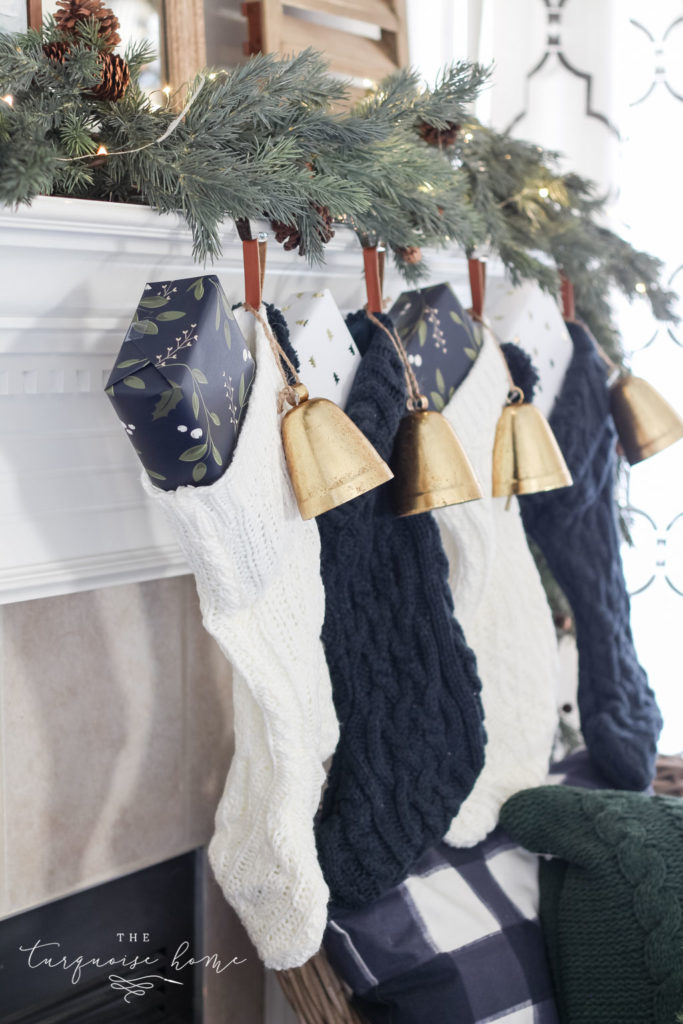 I did write a post a few years back about that very "decor dilemma." So, if you're trying to figure out how to make the TV and beautiful decor work together, check out How to Decorate a Mantel with a TV above it.
When I added the large mirror and shutters above my mantel this summer and fall, I knew I had found a winning combo. I can change little things about my decor (using items I already have) and it still looks great!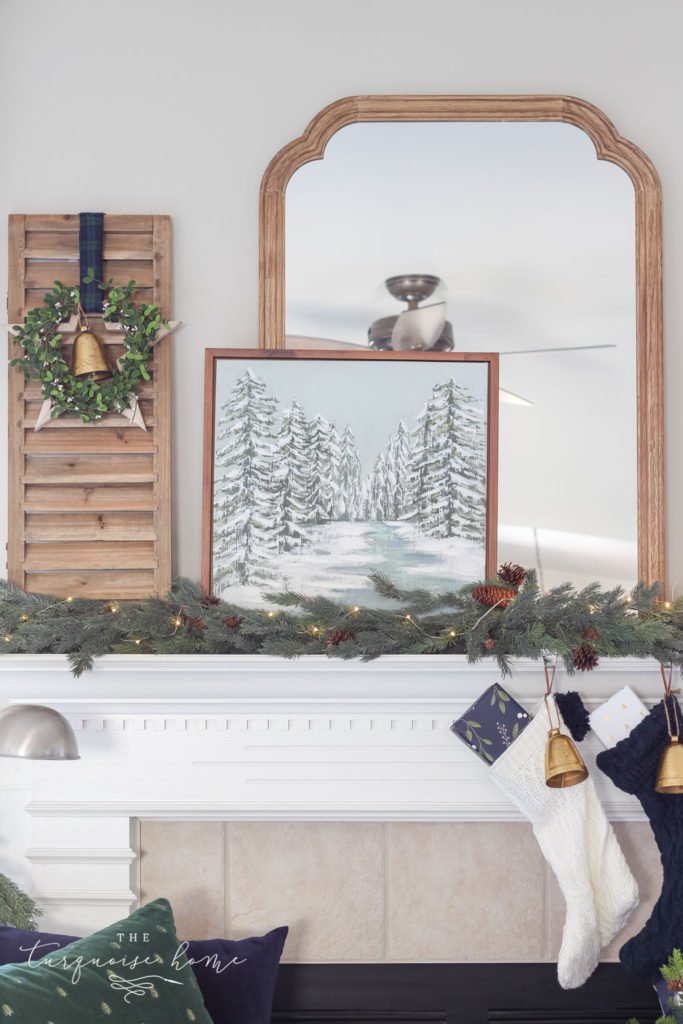 For instance, I wanted a layered look over the mirror, so I added this pretty snowy scene on a canvas. Simple, yet a statement piece.
Then I added some wooden star oversized ornaments with some old wreaths from last year and a bell ornament. Simple, yet pretty and festive.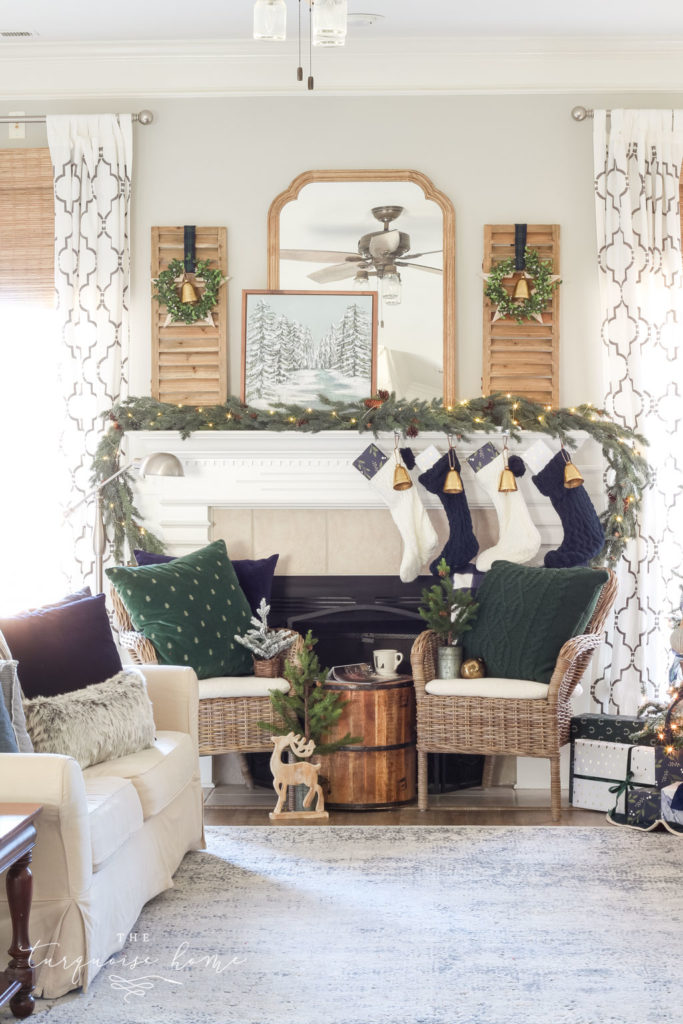 The chairs got a mix of old and new pillows, of which only one won't work after the holidays. I'm always looking for ways my Christmas decor can double up as winter decor, you know? It's less work when all of the festivities are over and easy on the wallet, because you're only decorating once this season!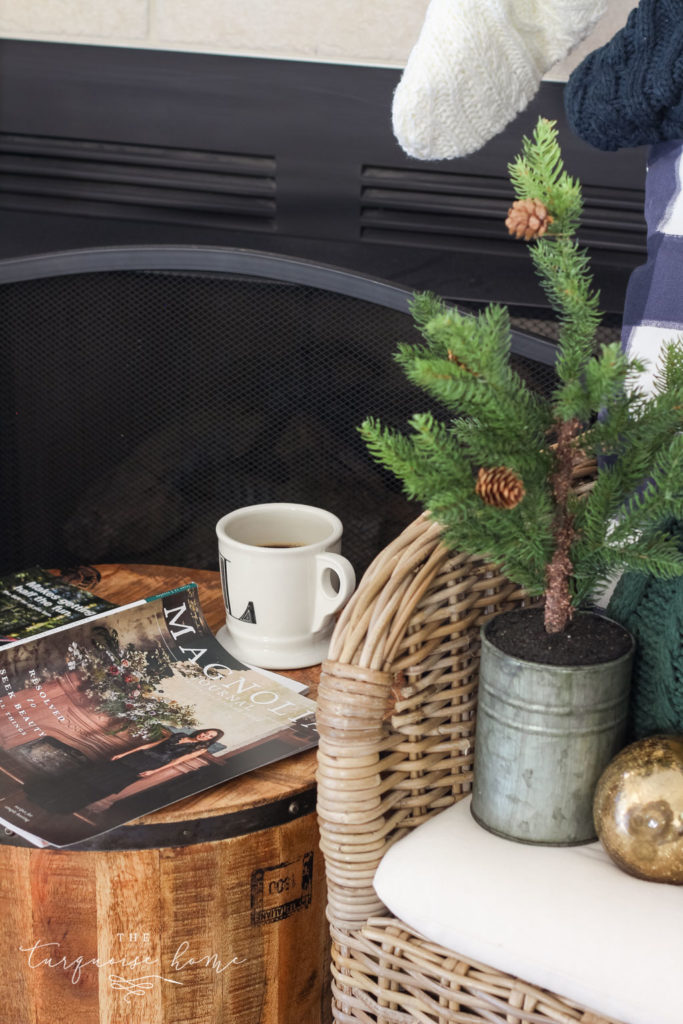 These velvet pillows are a steal in my opinion. They look so much more expensive than they are, even with the fabric back on them. I think it's a nice two-toned effect. And then the chunky sweater-style pillow is always a great winter idea. I bought mine in dark green, but there are other color options as well!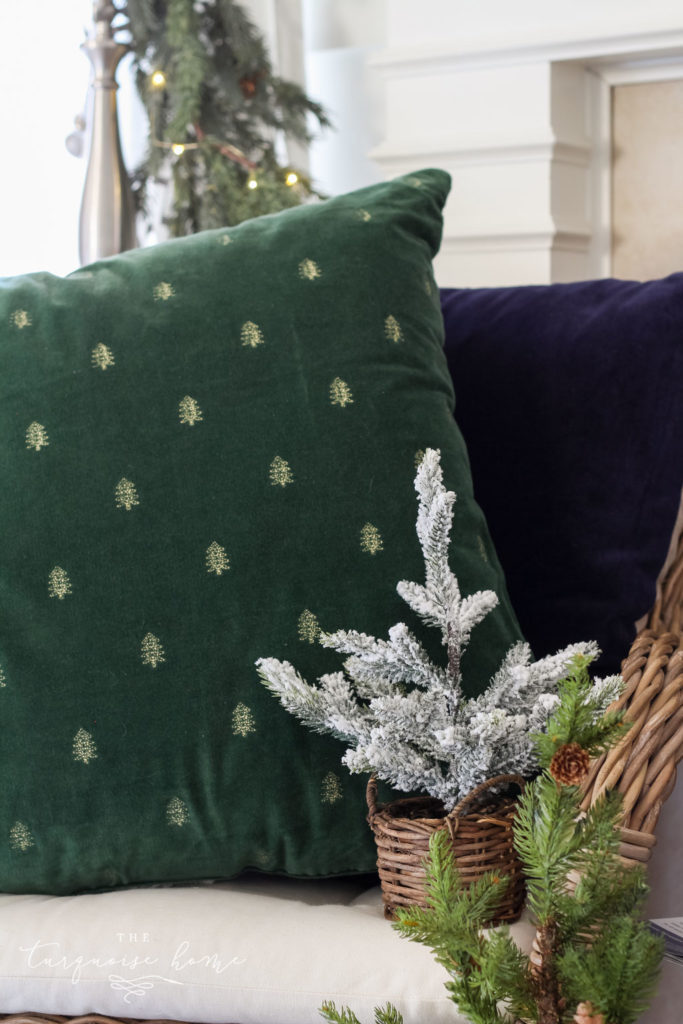 The velvet and gold embroidered tree pillow will have to be tucked away for next year, but it was so cute and pretty that I had to bring it home with me.
The greenery on the mantel is faux – something I have been using for years. I think I got it at Hobby Lobby years ago. I merely added some twinkly fairy string lights to it for some extra fun.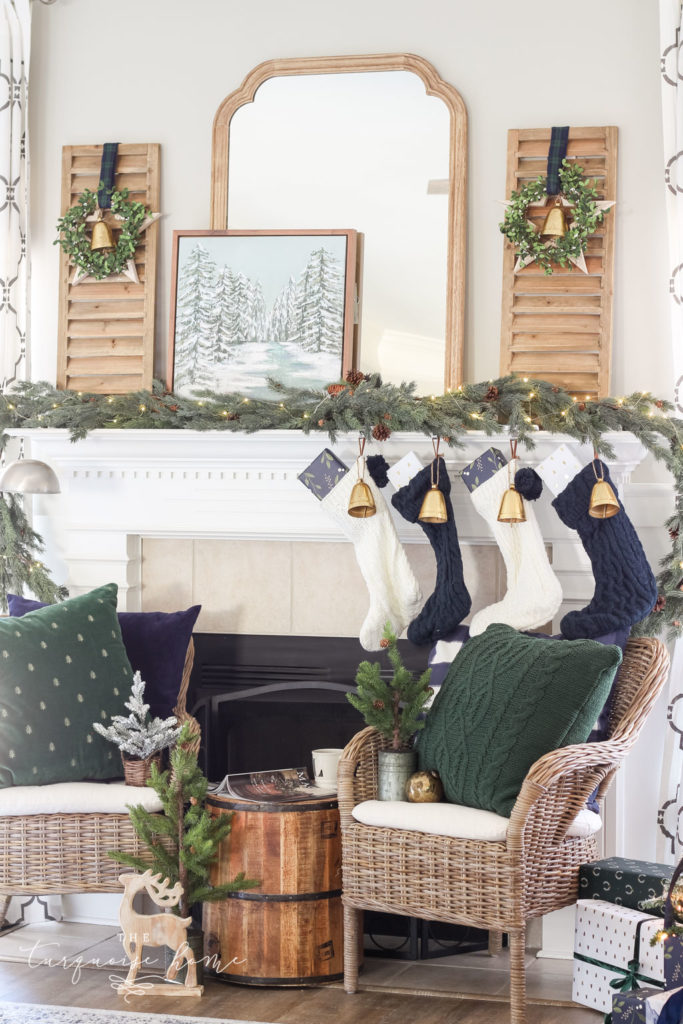 The stockings are one of the few Christmas-y items on the mantel, and are from last year's decor. I really still love them and I'm glad to see they have similar stockings in stock again this year.
I'll share a little sneak peek of my Christmas tree this year – and will be sharing more details later this week!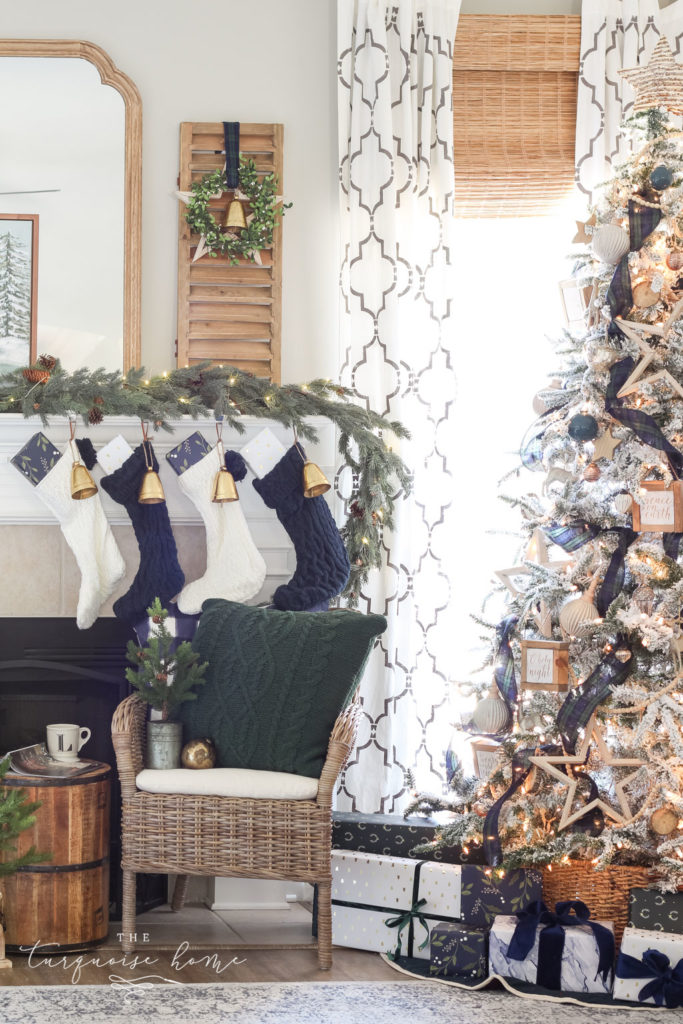 Have a wonderful Thanksgiving if you're in the U.S.! I hope you have a wonderful meal and sweet family and friends to celebrate with this year.
Shop My Christmas Mantel Look by tapping any of the images below:

More Christmas Posts You Will Love: