DIY Stenciled Drop Cloth Throw Pillow
Learn how to make your own DIY drop cloth pillow with a stenciled message from my own calligraphy: sunshine & summertime!
A few weeks ago I hurried home from church on a Sunday afternoon, fed my family, left for the afternoon and walked into a room filled with strangers. It was a day I had been excitedly looking forward to for a couple of months.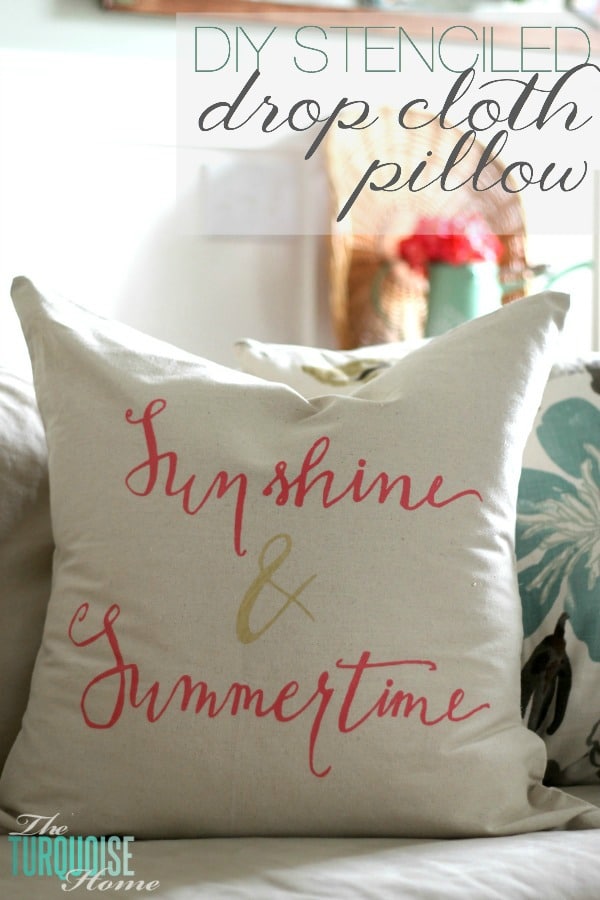 And that's odd for me because I don't usually look forward to spending hours making small talk with women I've never met before.
I walked in, a little nervous, but determined to give it my all and learn something new.
The 4 long tables were decked out in gorgeous flower arrangements, pens, pencils, erasers, sharpeners, and pretty folders. The ladies were dressed casually, but nice.
Instagram
The young lady in the front of the room quickly asked me my name and pointed to a seat at the front of the class. Well, at least I'll be able to see the board well, even though I hate sitting in the front.
A few hours later and I was thoroughly enjoying my schooling in hand lettering class.
I take that back – I was gobsmacked, enthralled and wondering where this had been my whole life. I spent most of my childhood doodling my name, all kinds of words on every sort of scrap of paper I could find. And now I'd finally been taught how to make it pretty.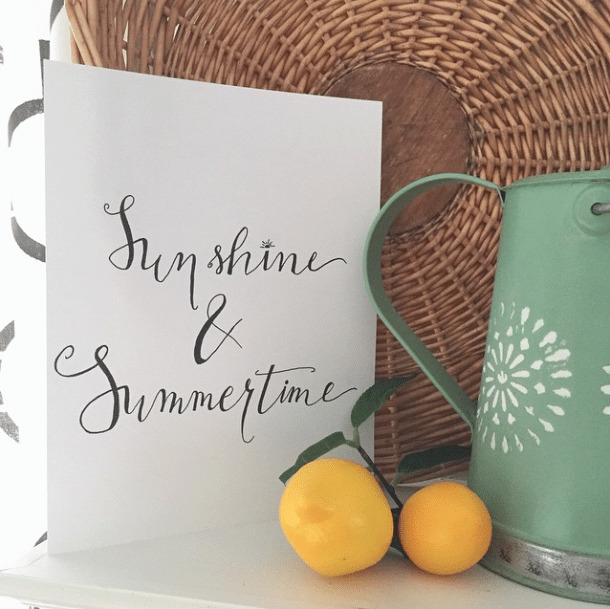 While I'll admit I have a long way to go and need a lot of practice, this is something I don't mind practicing over and over again. It's therapeutic, really.
So, I spent one afternoon while Miss A and Coach were gone for a bit and the baby was napping, practicing a little summertime lovely. I knew immediately that I wanted to figure out a way to incorporate it into my summer decor, but not by just framing it or putting it up on the mantel.
And since I love stencils, paint, and pillows, I decided to turn it into a fun pretty for the couch!
A DIY Stenciled Drop Cloth Pillow Tutorial
I've stenciled a drop cloth pillow before, but I wanted to recreate the tutorial a little differently today.
This post contains affiliate links for your convenience. See my full disclosure policy.
Supplies for Making a DIY Drop Cloth Pillow with Stencil
Drop cloth (I just pick mine up at the home improvement store.)
Needle, thread, sewing machine
Stencil
Paint/brush
Silhouette Cameo (optional)
Pix Scan Mat (optional)
1. Make Your Stencil
You can use whatever kind of stencil you'd like, but I wanted to make my own. I placed my hand-lettered sign on the Pix Scan mat. I don't know if I had to do that to transfer to the Silhouette, but I know this worked.
Then, I was able to create a cut file from my scan and I'm sharing it here for personal use only. I hope you enjoy it, for all of you who have a Silhouette machine.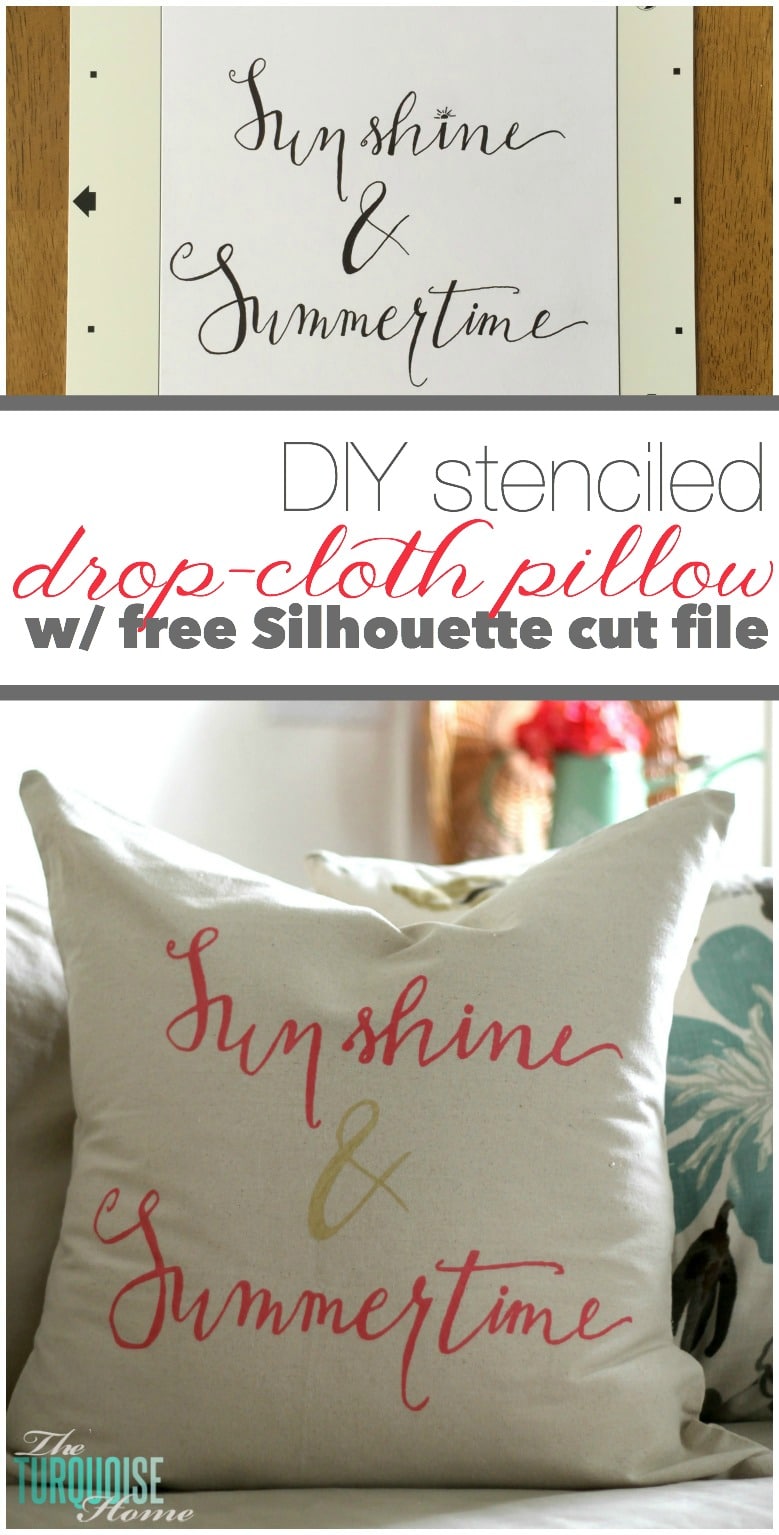 Sunshine and Summertime Cut File (for Silhouette users only)
2. Cut out the stencil using contact paper on the Silhouette machine.
My settings for cutting contact paper on the Silhouette are: blade – 3, speed – 8 and thickness 3.
3. Make the Pillow
I used my older pillow tutorial to make my pillow out of the drop cloth.
I cut three pieces of fabric from the drop cloth. Here are the dimensions of the pieces: 1 – 26″ x 26″; 1 – 20″ x 26″; 1 – 16″ by 26″.
I'm using a 26″x26″ pillow form, and I like the finished pillow to be filled out a little bit, so I make the pillow cover a little smaller than the pillow.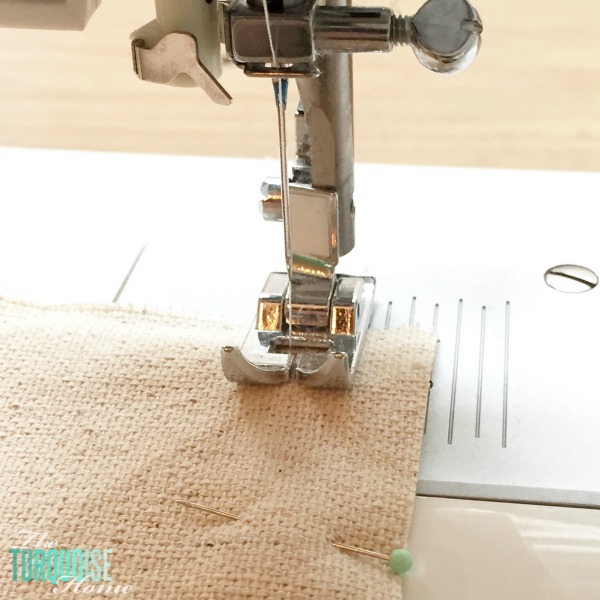 4. Stitch around the edges to make the pillow
Since it didn't matter which sides of the fabric were on the outside or inside, I just placed them over each other and stitched around the edges on my sewing machine.
5. Use Transfer Tape to Put the Stencil on the Pillow
Once the contact paper was cut out, I used transfer tape to get it on the pillow.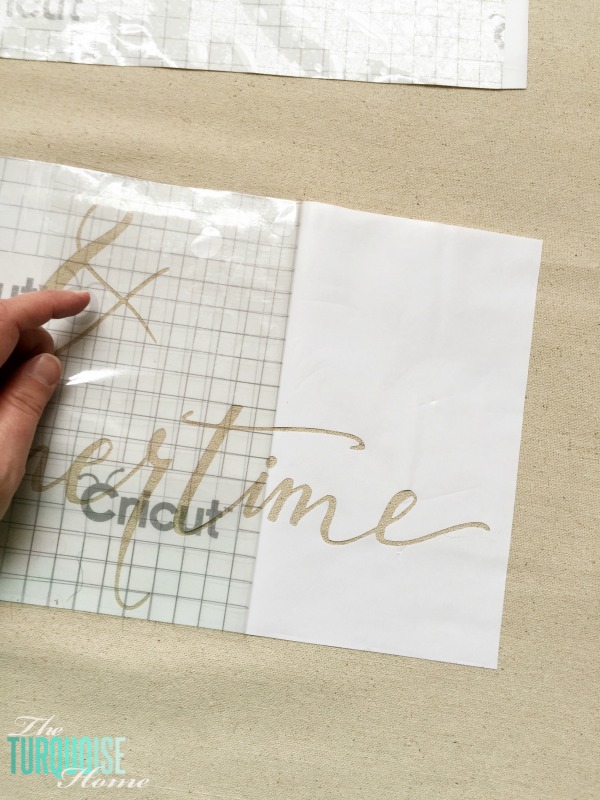 6. Paint over the stencil onto the pillow
Important Step: I placed plastic bags between the layers once I was ready to paint!
I used some leftover pink and gold paint to stencil the words onto the pillow. Use a craft foam brush and use up and down strokes all over the stencil. The key is to use just a little bit of paint. Dab your brush before putting it on the stencil—more like a dry brushing.
7. Remove the Stencil from the Pillow
Once dry, I lifted up my stencil and admired my handiwork!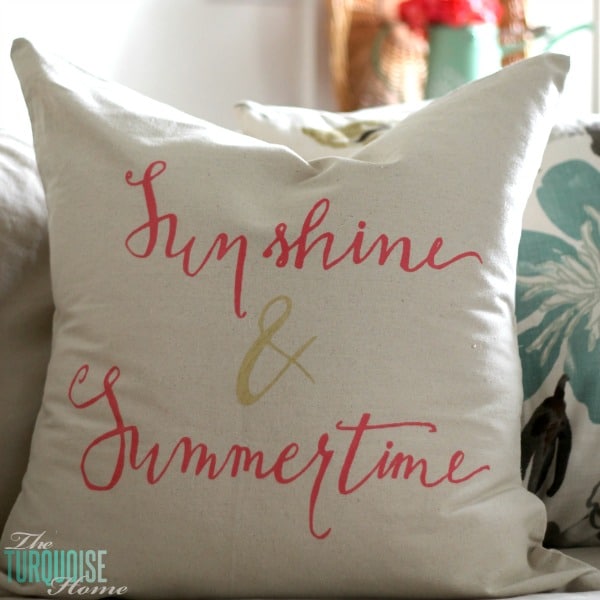 Isn't she pretty? My new pillow pairs perfectly with my Garden & Lemonade Stand Summer Mantel, don't you think??
I'm pretty excited about my personal touch on the couch for the summer. I have a few more drop cloth pillow ideas up my sleeve. I hope to share them soon!
More Posts You Will Love: